This beachy gallery wall above a piano is such a good way to fill a big blank wall! Plus download your own copy of that pretty green pier photo!
We're making progress in the living room!
I know we're kind of jumping all over the place with projects in different rooms, but that's kind of how decorating goes sometimes so here we are.
You might remember in my living room design plans post, I mentioned we were getting my grandparents' old piano. We put it along the wall where my painted desk used to be.
Of course, then we needed some wall decor above the piano, which led to this beachy gallery wall: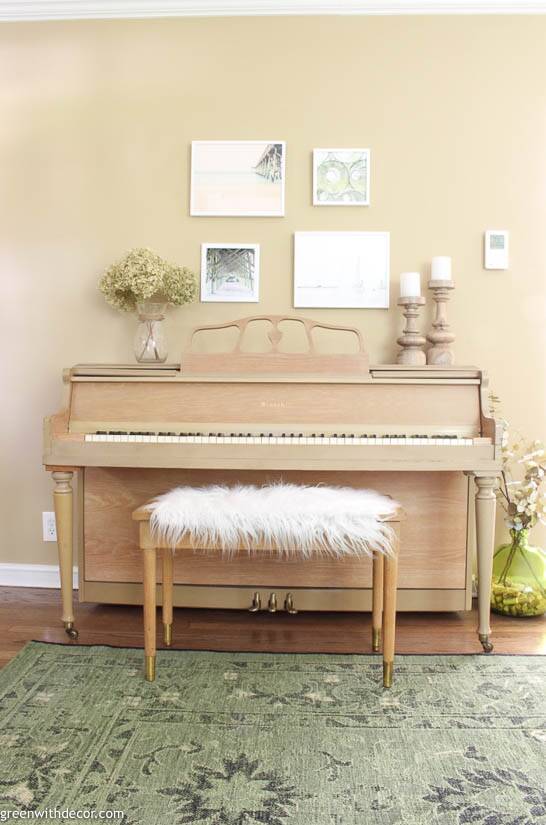 I used my handy wall gallery hanging trick to figure out exactly where I wanted the pictures.
It's soooo much easier than hanging things in the wrong place and then having to either live with them like that or move them and deal with wrong nail holes that need to be patched and painted.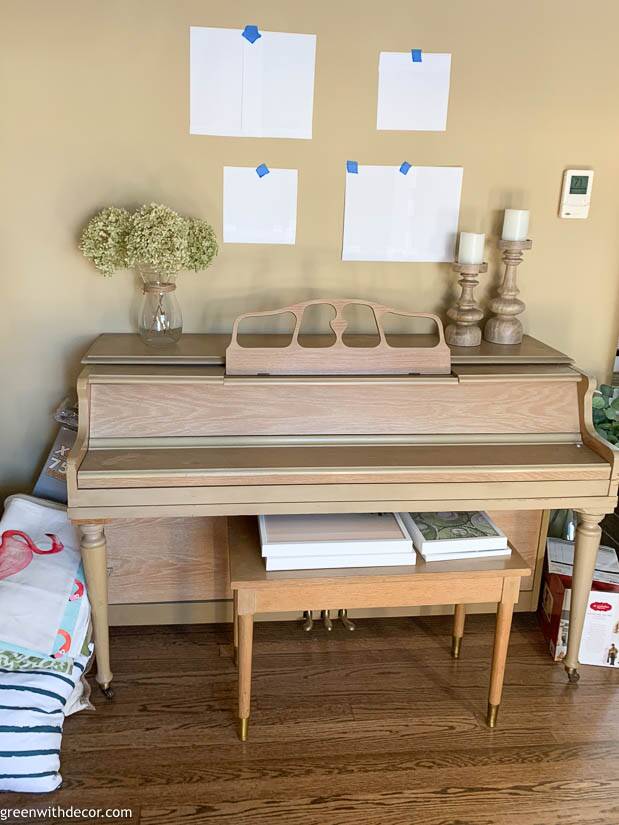 I added the hydrangeas (dried from my grandparents' garden, ironically – pairs well with their piano!) and the candlesticks for some height.
Tutorial for drying hydrangeas is here … these on the piano are two years old and still going strong!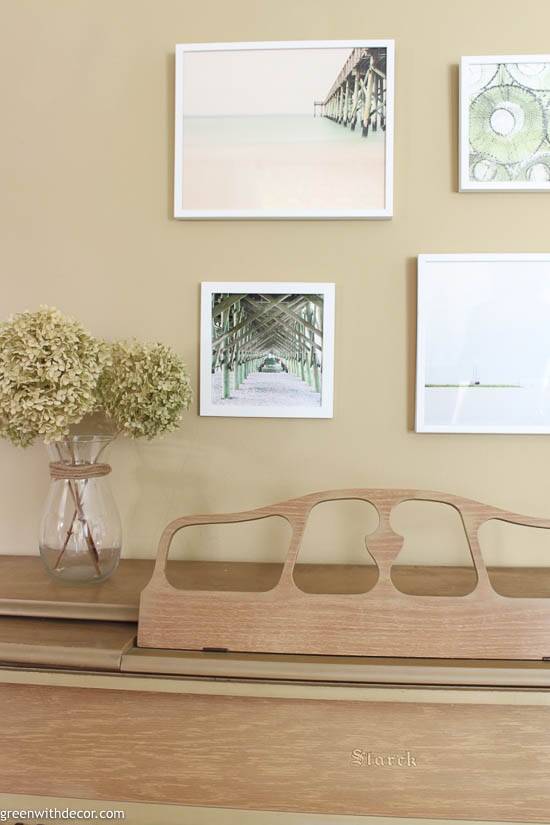 This post contains affiliate links. This means if you click the link and buy something, I may receive a small percentage of sales at no extra cost to you.
I used all of these beachy pictures (plus one more) in our gallery wall at the rental house.
I talked ALL about how to plan a gallery wall here if you want to read about how I pick artwork that goes together for a cohesive look … things like paying attention to the colors, having an overall theme, etc.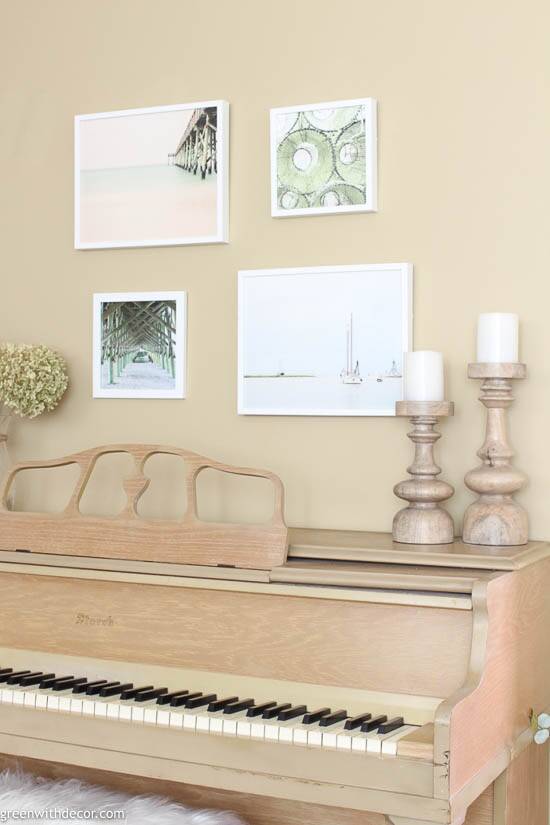 The green pier is actually a picture from our trip to Folly Beach!
I love that we mixed in a vacation photo with all of the rest. (If you want a high-res copy of the pier photo, just scroll to the end of this post, and you can download it! We use it in this frame.)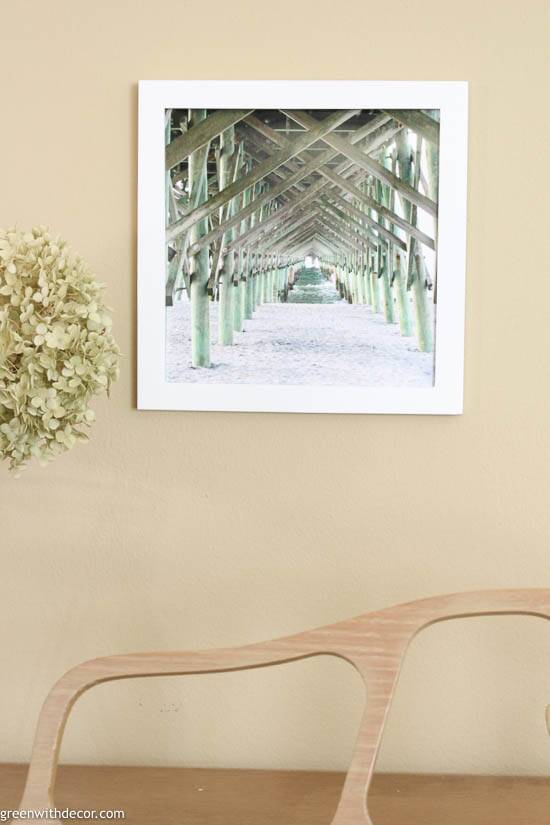 So mark another wall off the list of walls left to decorate!
The pile of wall decor is getting smaller as we get more and more hung up.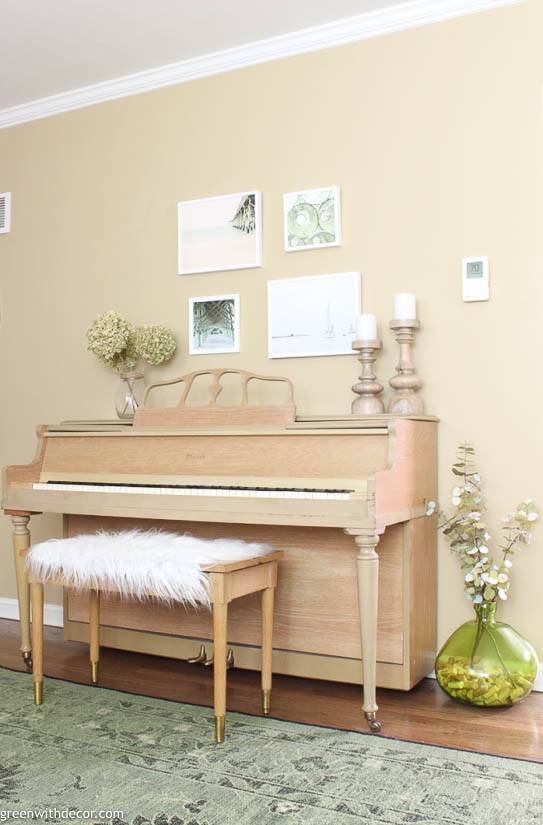 More to come in the living room … you can see the white built-in bookshelves we added, which even though I love this gallery wall above the piano, really are the star of the show in here!
Want a copy of the Folly Beach pier photo?
Sign up in the box below, and the link for the free printable will arrive in your inbox shortly. You'll also be signed up to get blog posts and alerts about new printables moving forward. (If you're already an email subscriber, you won't get added to the email list twice.)
*Please note: All printables and downloads designed by Green with Decor are for personal use only. Please do not alter the files or claim them as your own. These files are not intended for resale, nor are the printed versions of these files.
Note the picture can be printed as an 8×10 or smaller. I printed it as an 8×10 and then cut it into an 8×8 square to fit in this frame.
GET THE LOOK:
Since a popular question I get is "Where'd you get that?!," here are links to the same or similar sources:
Do you have any other fun wall decor ideas for above a piano? I share all of my wall decor ideas here if you're looking for more!
Remember to bookmark or pin this post if you want to save it for later!

Pin it!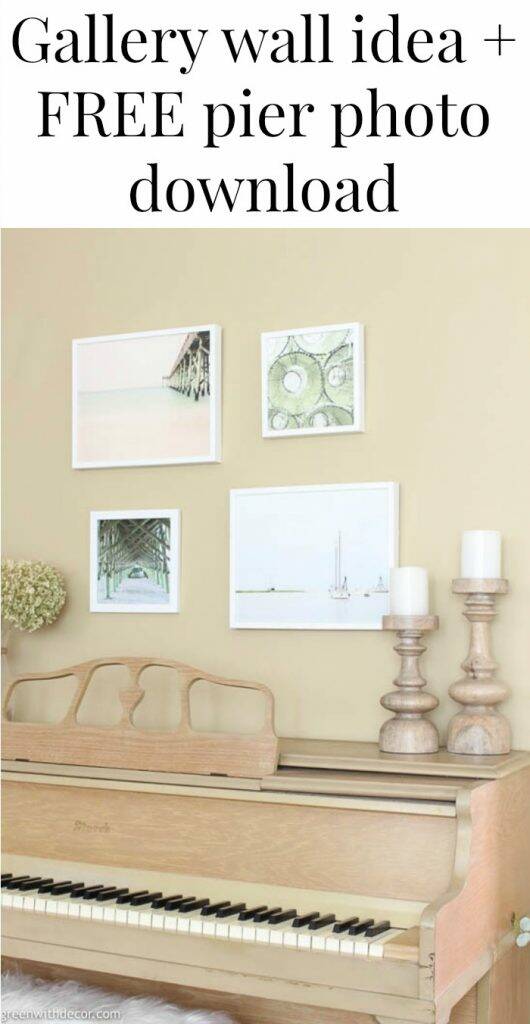 Want to read more posts like this?
Follow along: Get my emails | Facebook | Pinterest | Twitter | Instagram