Put together a casual blue and white patio with just a few key pieces. These easy blue and white patio decorating ideas are perfect for summer.
I am SO excited summer is finally here.
Spring didn't really happen this year, and something about actually seeing the sun just makes me happy. Weird, right?!
We gave our rental patio a bit of a makeover this year … well the furniture got a makeover anyway.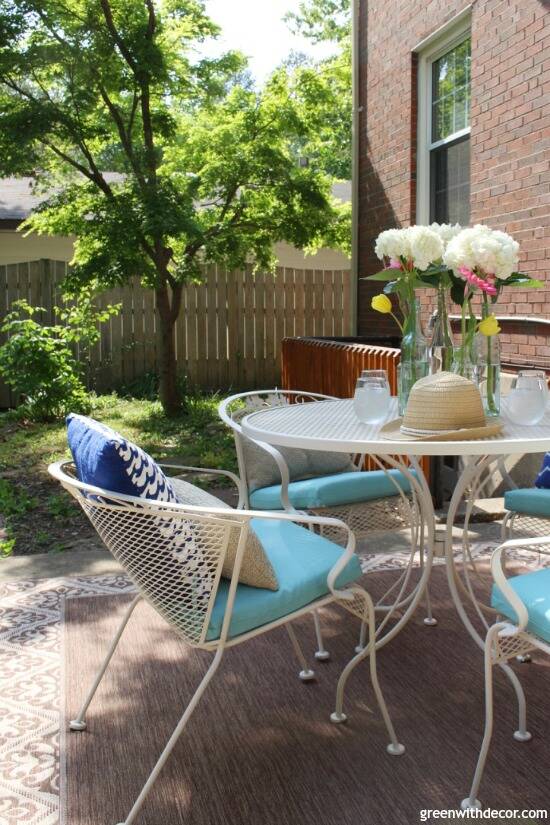 You can see last year's rental patio here. We liked it (and it's still one of my favorite ever centerpieces!), but the table was in desperate need of a paint job. So what better excuse to pick a new paint color and revamp the color scheme a bit out there?!
I'm loving the blue and white patio.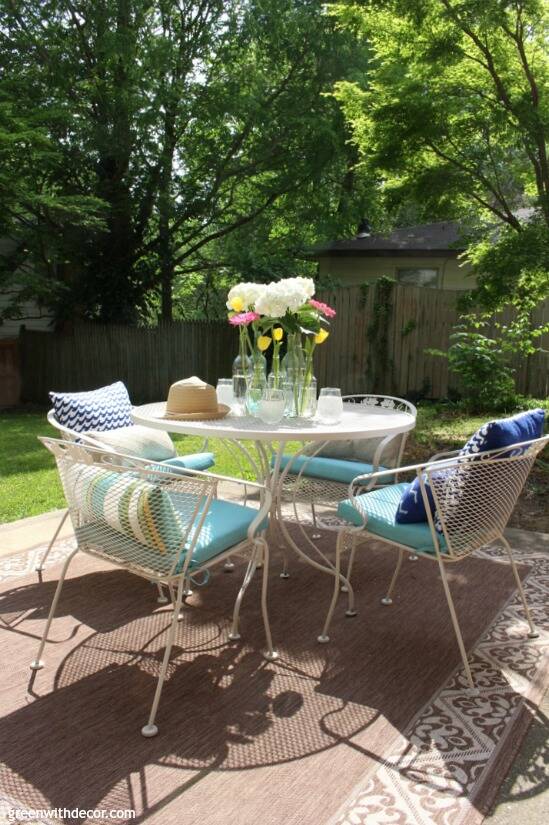 Today's post is part of the annual Summer Outdoor Tour hosted by my friend Tara from Lehman Lane. Be sure to check out the other bloggers' outdoor tours linked at the end of this post for more patio decorating inspiration!
(If you want to check out posts from previous years, you can see last year's rental patio or our Milwaukee patio/backyard from two years ago.)
This little refresh was super easy – always amazing what some paint and new pillows can do for a space!
But first let's look back at what this space originally looked like, because you can't really appreciate a decorated space until you see the 'before' right?!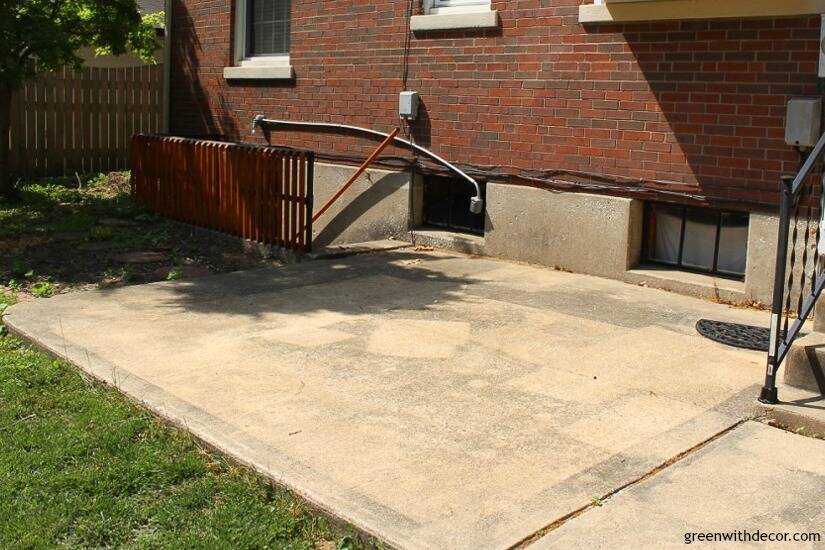 And now: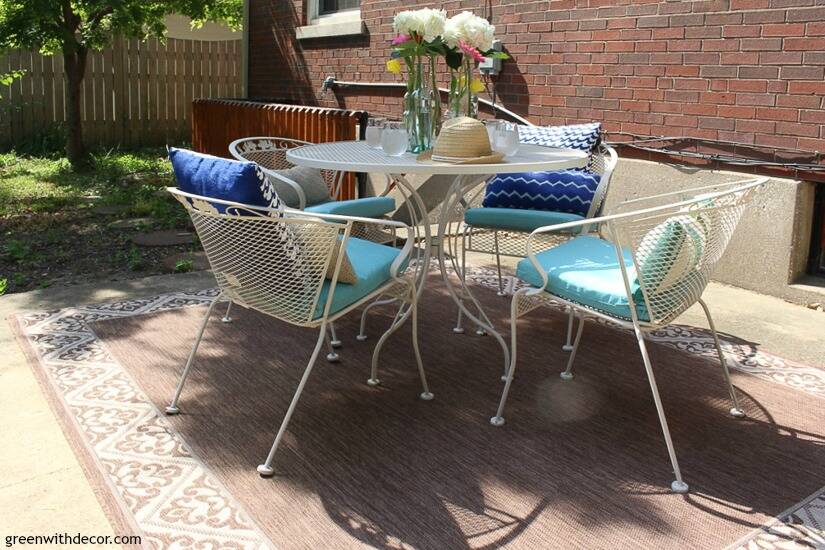 This post contains affiliate links. This means if you click the link and buy something, I may receive a small percentage of sales at no extra cost to you.
Patio furniture
We painted our metal patio furniture with Wagner's paint sprayer, and it was so easy! And way cheaper than buying new.
The paint color is Old Map by Behr. I wanted something light/tan but not too white or too dark. I picked a neutral so it'd be easy to swap out cushions/pillows.
Outdoor pillows and cushions
Speaking of, I just always seem to have my eye on outdoor pillows. The new patio furniture paint color, of course, led to some shopping.
I got these blue and white pillows, these blue and aqua pillows and these tan pillows. Pillows are just such a cheap, easy way to update the look of any room (or patio, which I'm totally counting as a room!).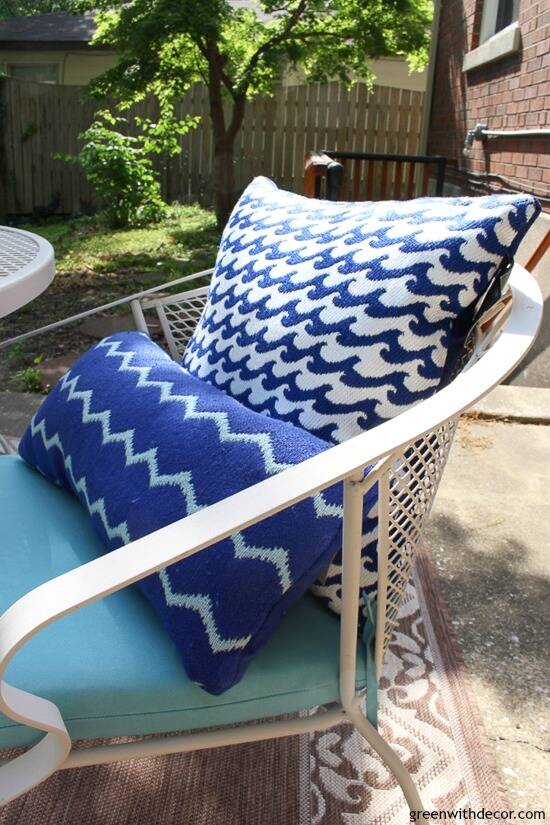 You can see my favorite outdoor pillows (all under $15) here. I really want them all.
Outdoor rug
We kept our outdoor rug we've had for a few years. I'm so glad we went with a neutral so it'd be easy to swap out furniture colors and pillows.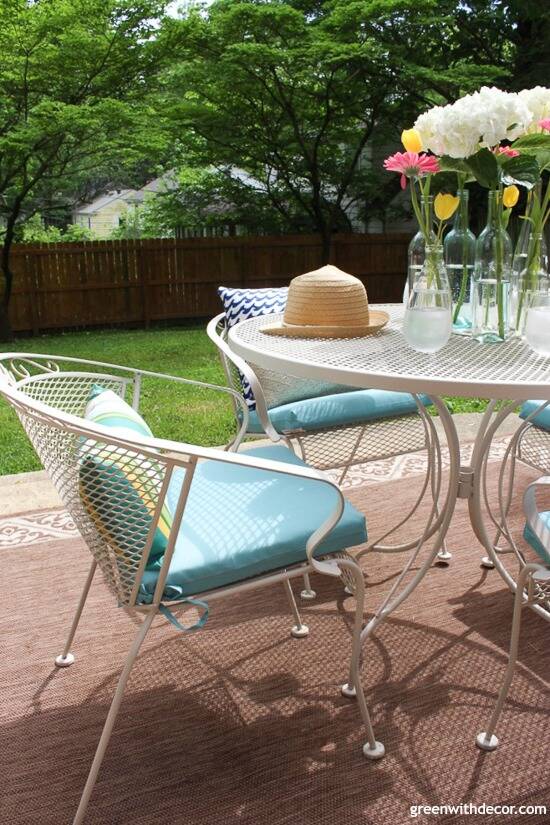 If you're also dealing with an old, discolored patio, an outdoor rug does wonders and is worth every penny! Just cover it up and forget about it.
Outdoor centerpiece
I'm always saving wine bottles, sauce bottles, you name it from the recycling bin. I popped in some fresh flowers from the grocery store and – instant easy centerpiece.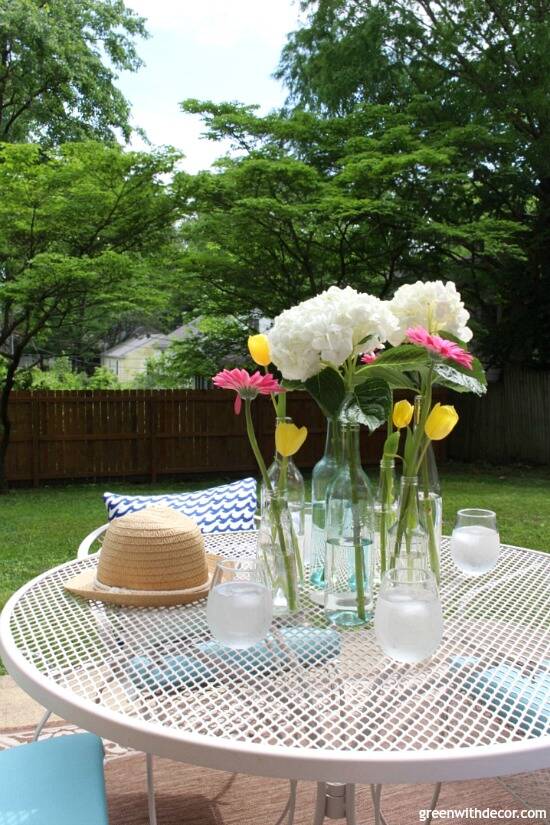 Of course we had to include some pink flowers – if you saw our news from yesterday!!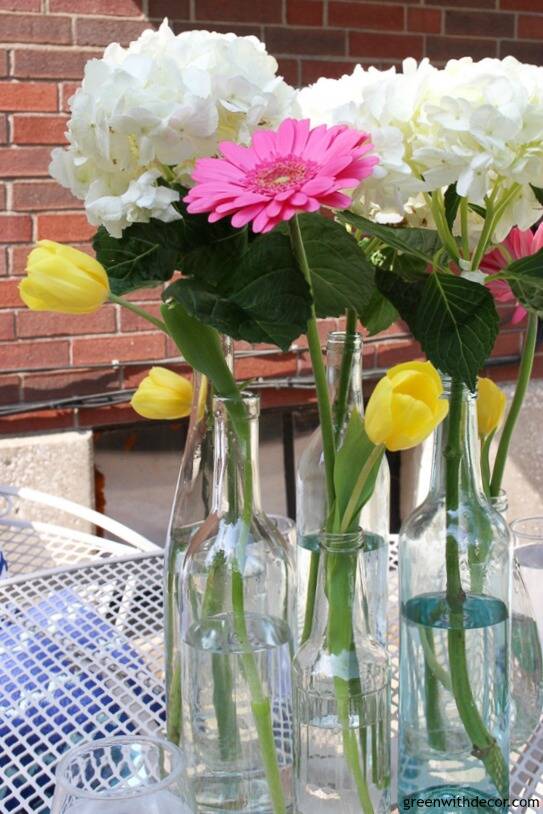 Speaking of flowers, we're a little lacking on flowers and landscaping around here, it being a rental and all. But my mom just painted her plastic planters, and they look awesome if you want an easy DIY for outside!
I promise landscaping is on the to-do list for some year … ha!
And a total side note, those plastic wine glasses are PERFECT for the patio. Even if I'm drinking water for a few more months (wine does taste better out of them) … no worries about anyone dropping them and watching them shatter!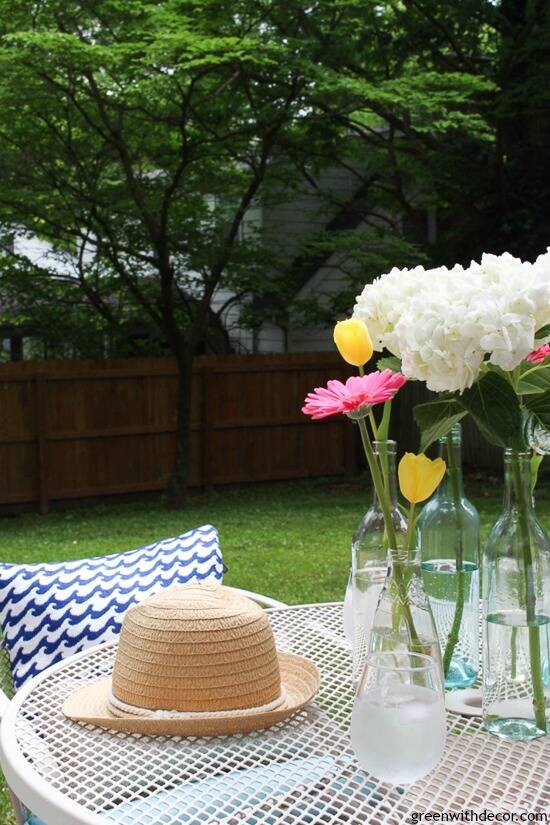 If you want more patio decorating and outdoor DIYs, I have a whole list of outdoor projects here, including fun Fourth of July DIY silverware jars, an easy tutorial for cleaning a grill with a heat gun and more.
GET THE LOOK:
Since a popular question I get is "Where'd you get that?!," here are links to the same or similar sources:
Remember to hop around and see the other bloggers' patio decorating ideas below!
Remember to bookmark or pin this post if you want to save it for later!


Pin it!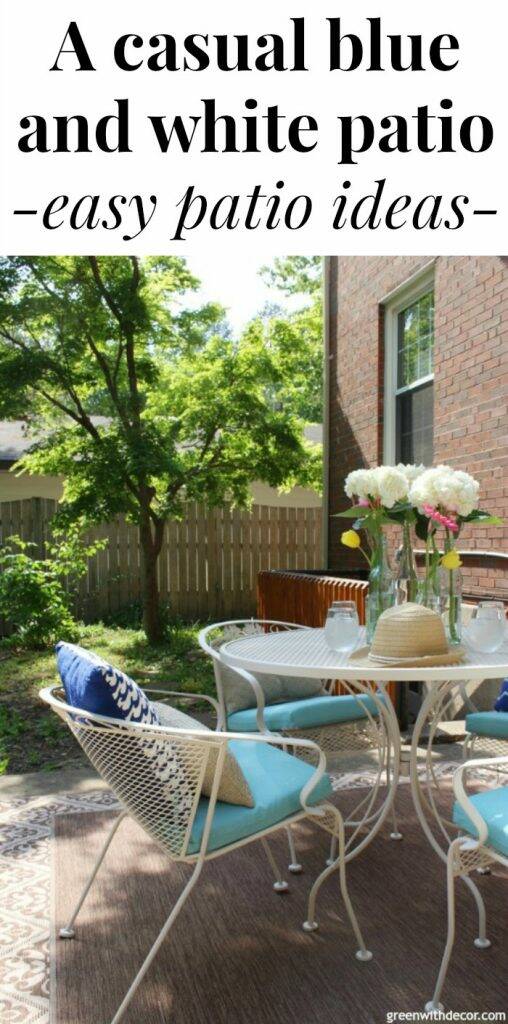 Want to read more posts like this?
Follow along: Get my emails | Facebook | Pinterest | Twitter | Instagram