If you only had $100 to spend on an outdated bathroom, what would you do?
Paint! New fun towel hooks! New hardware! Reuse old wall decor! Get creative with storage!
So. Many. Ideas.
Here's our master bathroom now: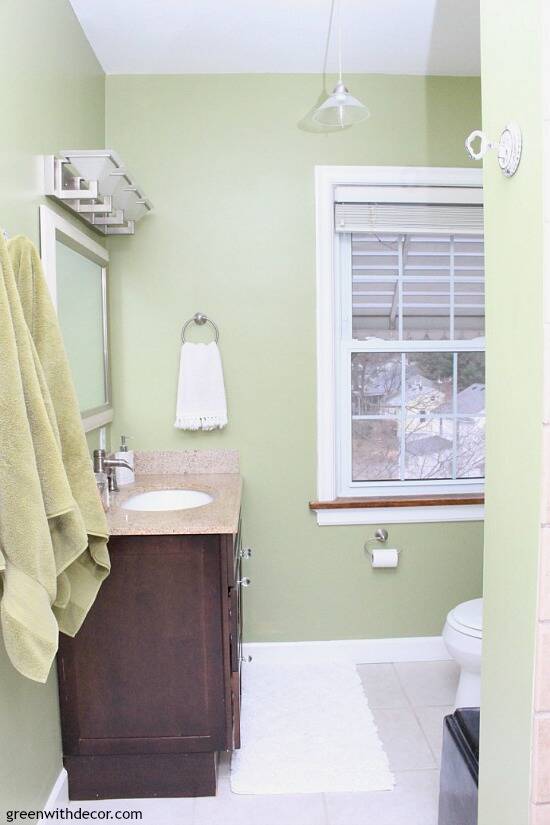 And remember how it started?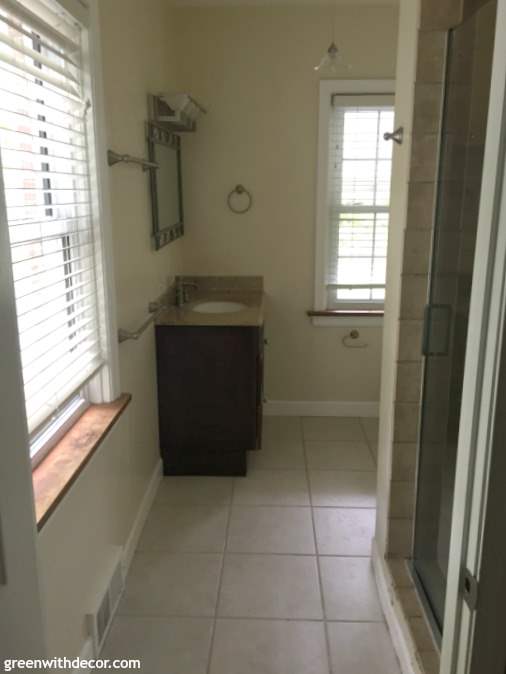 Another before and after for fun: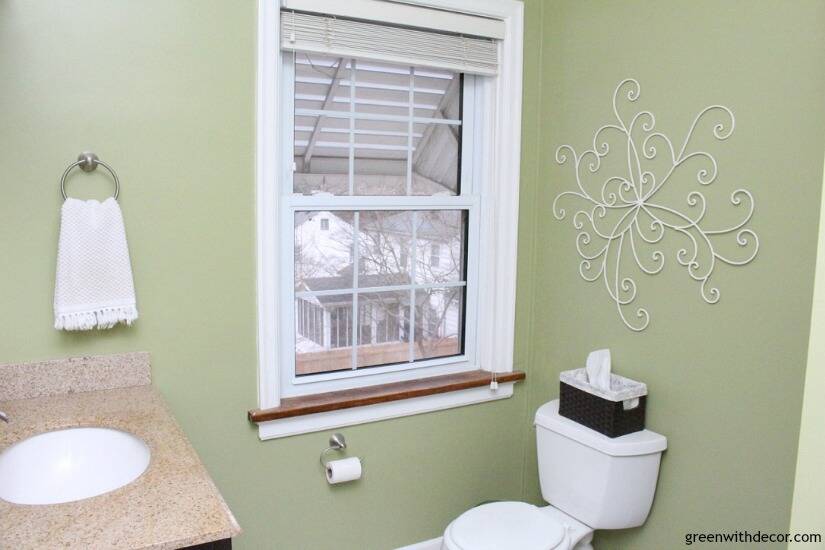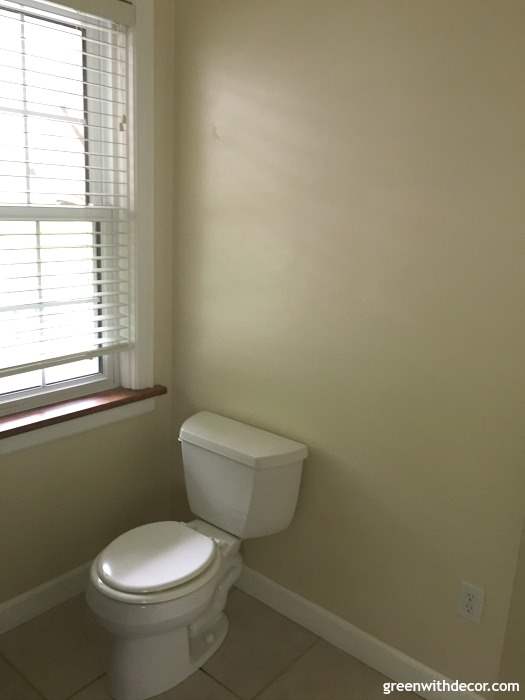 It's totally not fair the 'before' pictures were taken with a phone, but still. Such a difference, right?!
I talked about a lot of the updates we did in this post about updating your bathroom when you can't renovate.
None of them were hard, and they really all make such a difference.
This post contains affiliate links. This means if you click the link and buy something, I may receive a small percentage of sales at no extra cost to you.
PAINT:
We painted the walls in here, obviously, and it makes the room so much more bright and cheerful.
The color is Ryegrass by Sherwin Williams, and it's my faaaaavorite green.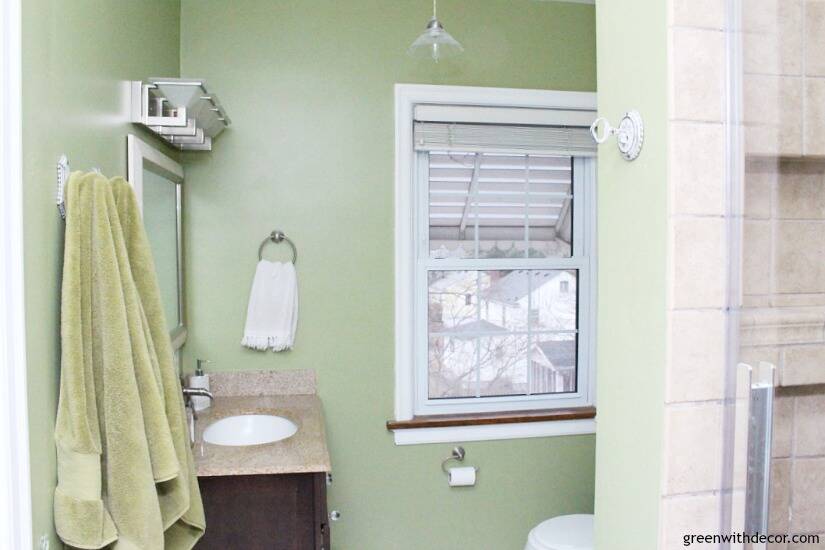 EASY DECOR SWITCHES:
Next up, some easy swaps. The mirror, towel hooks and vanity hardware.
The mirror was a sale find. The mirror was a little crooked inside the frame, but Kalen fixed it in about five minutes.
The towel hooks are from a local flea market. I really love them.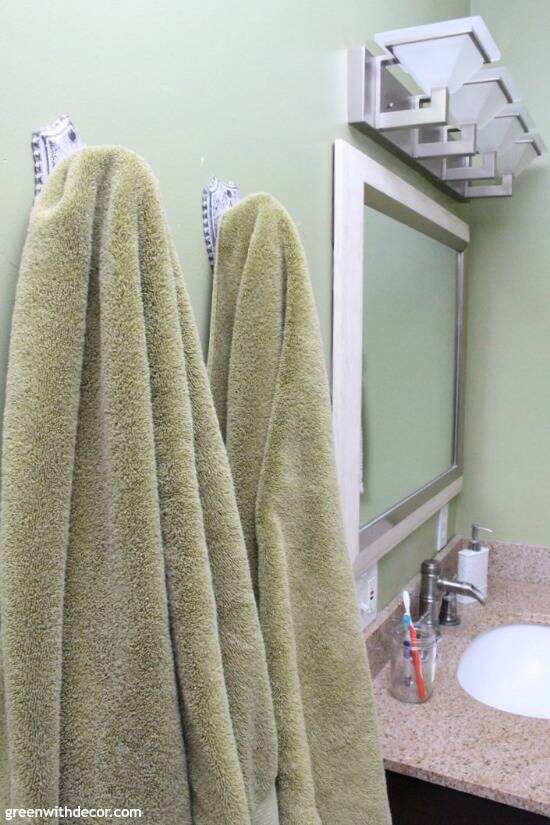 What is about old looking hooks that always looks good?!
(These are similar if you want the same look!)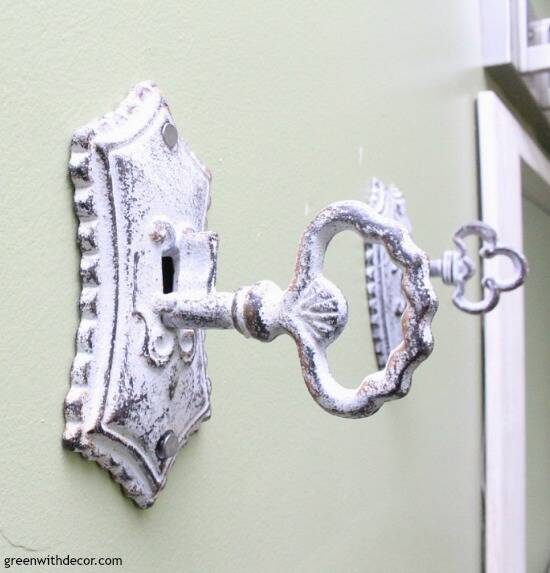 We're renting or I would have painted the vanity, too, but the hardware swap makes such a difference.
It seems like such a small thing, but I'm always amazed how fresh furniture or cabinets feel with new hardware.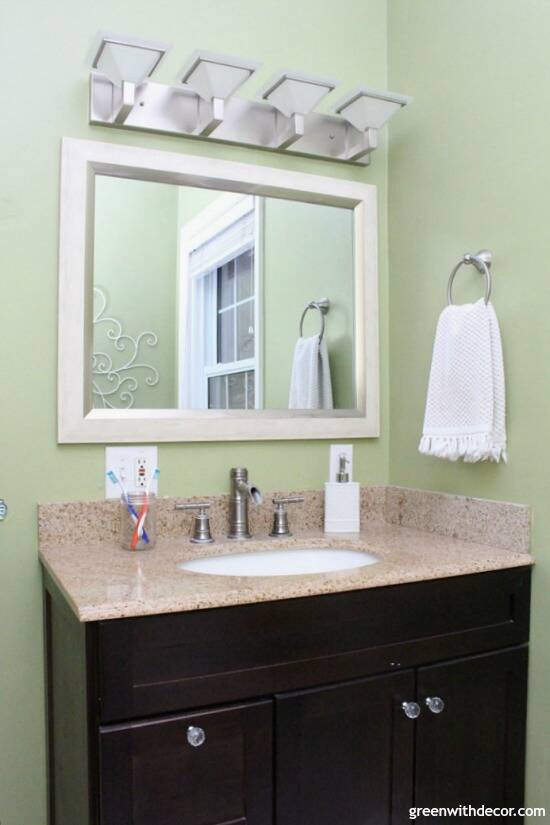 And for more fun, here's what this corner looked like before: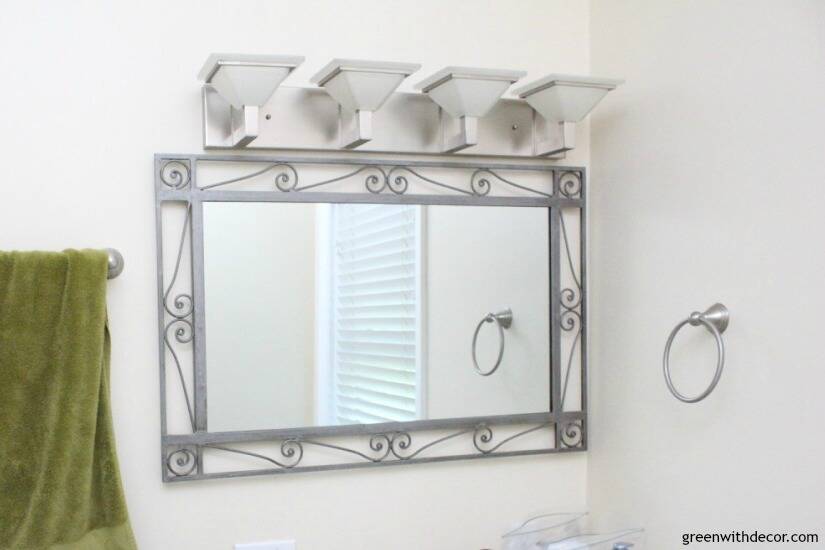 ON THE COUNTER:
We actually found the soap dispenser for $2 at the same sale we found the mirror. We have this similar one in another bathroom if you want the same look.
And that jar the toothbrushes are in?
It's a peanut butter jar I saved from the recycling bin, and isn't it perfect as a toothbrush holder? Gotta love free!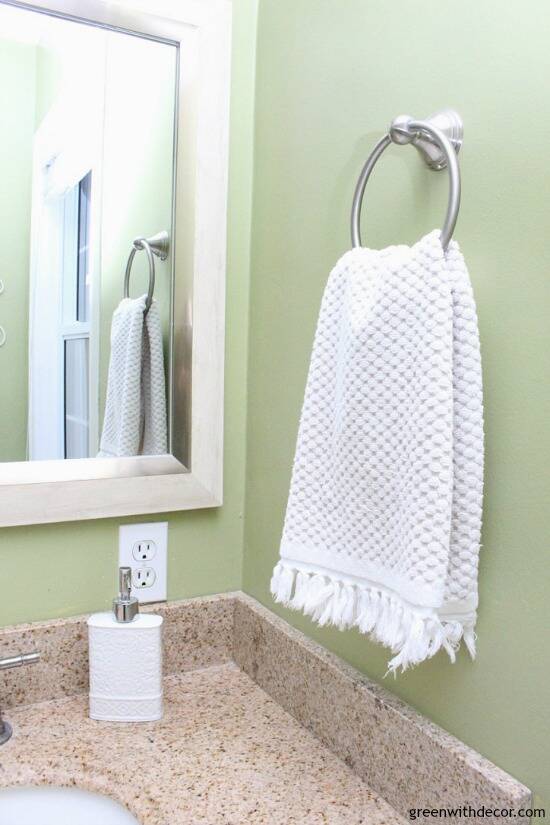 RUGS:
I also added a few rugs (this white one and this gray one) to brighten up the floor a bit – and keep our feet warm in the winter.
WALL ART:
I took an old black metal piece we had sitting around waiting for a home (it used to be in our family room) and gave it a couple coats of white paint.
I love how it looks on the green wall.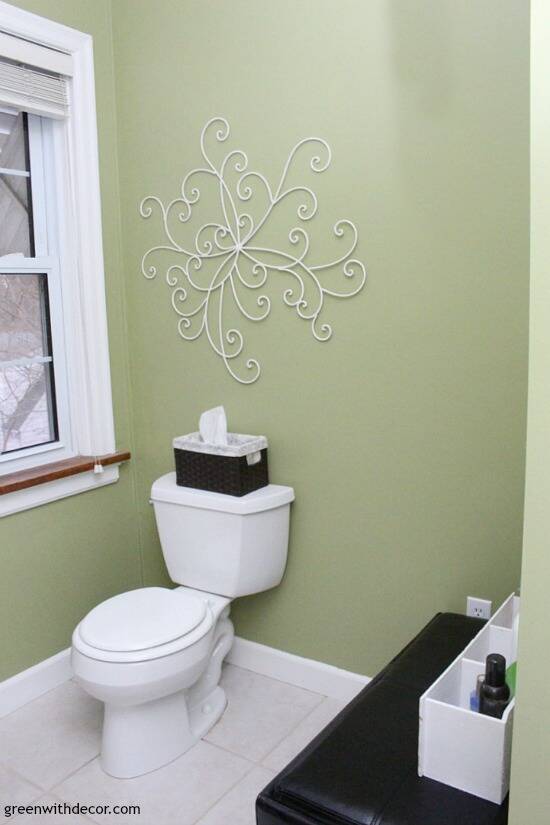 STORAGE:
We don't have a lot of of counter space in here, and it was making me a little crazy.
So I came up with something kind of weird. We had this old ottoman we used to use as a coffee table … and all of this extra floor space on the side of the shower … so I moved the ottoman in there.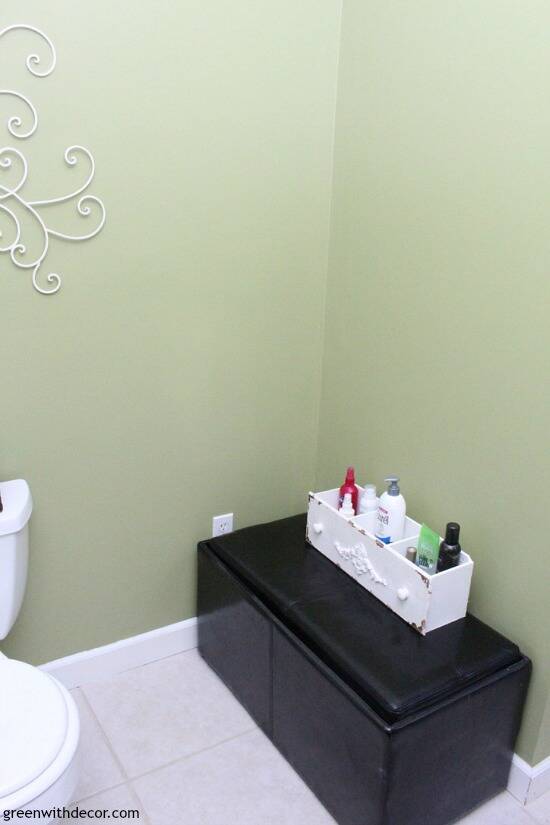 It's not exactly extra counter space, but it keeps the actual counter from getting too cluttered.
I had this old drawer I found on our trip to Waco that's perfect for holding toiletries.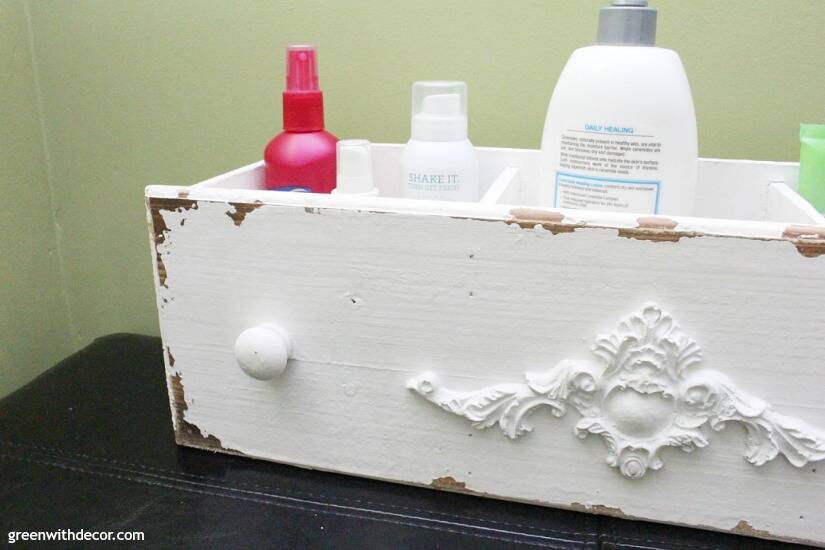 Sometimes you just have to be creative and use pieces in unusual ways, especially when you're renting.
(We have plenty of counter space in our bathroom at our Milwaukee house so I didn't want to buy a piece for this room that we wouldn't really need in the future.)
For tissues, I love these little boxes (pictured above) we have. They're just the right size for hiding tissue boxes.
GET THE LOOK:
Since a popular question I get is "Where'd you get that?!," here are links to the same or similar sources. We bought some of the pieces on sale or already had them sitting around (I'm a paint hoarder), which got us to this makeover for $100.
And that wraps up the $100 bathroom makeover reveal!
There are so many easy, budget-friendly updates you can make to a bathroom you don't love to freshen it up. What are your favorite ways to update a room?
You can catch up on this bathroom's makeover progress in these posts:
This little bathroom makeover is part of the $100 Room Challenge hosted by my friend Erin from Lemons, Lavender & Laundry, where bloggers update a room for just $100.
You can see all of the other bloggers' $100 room makeover reveals linked below!
Remember to bookmark or pin this post if you want to save it for later!


Pin it!


Want to read more posts like this?
Follow along: Get my emails | Facebook | Pinterest | Twitter | Instagram