This time of year, it's always a good idea to have the holiday cocktail bar set up just in case someone stops over for some holiday cheer!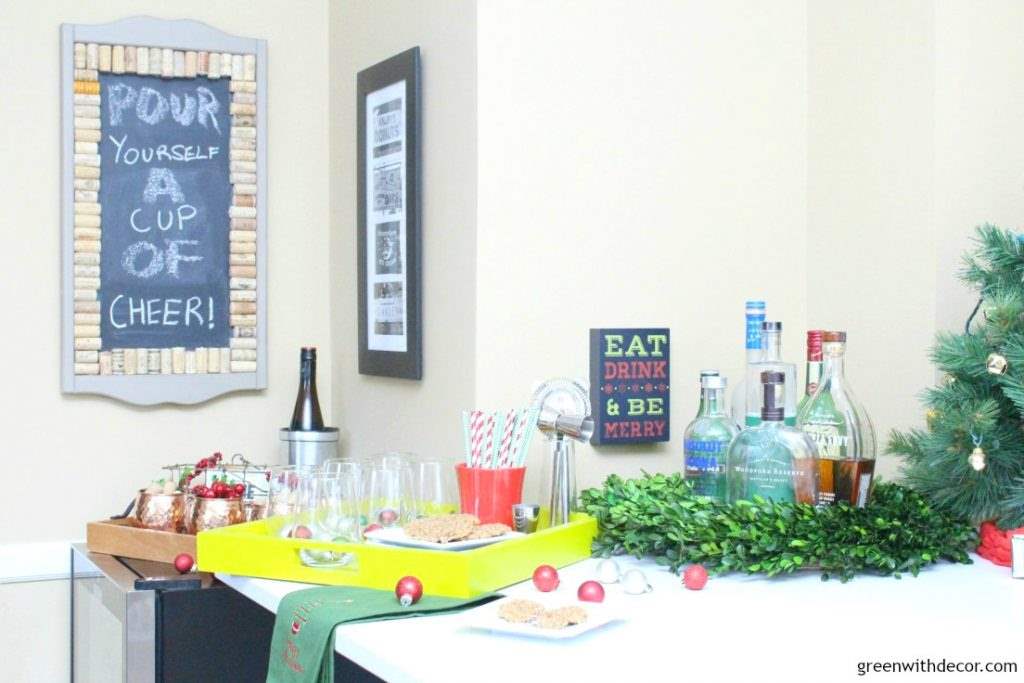 Thanks to Vicki and Jenn of 2 Bees in a Pod for hosting a Virtual Holiday Cocktail Party Blog Hop today. (If only this party was happening in real life!)
Bloggers are sharing all sorts of cocktail bars, cocktail recipes and fun cocktail-related DIY projects so remember to check out their posts. Links are at the bottom of this post.
If you're hopping over from one of the other ladies' blogs, welcome to Green With Decor! A few quick things:
I live in Milwaukee with my husband Kalen and our dog Oakley. We bought a fixer upper and renovated pretty much the whole thing. And I love decorating with the color green (which you'll see today!).
This post contains affiliate links. This means if you click the link and buy something, I may receive a small percentage of sales at no extra cost to you.
Tips for putting together our holiday cocktail bar:
1. Use trays to corral items.
Big surprise, but I just love trays. They look good, and they're functional. I used trays to hold all the dishes and utensils: plates, glasses, copper mugs, napkins, straws and cocktail tools.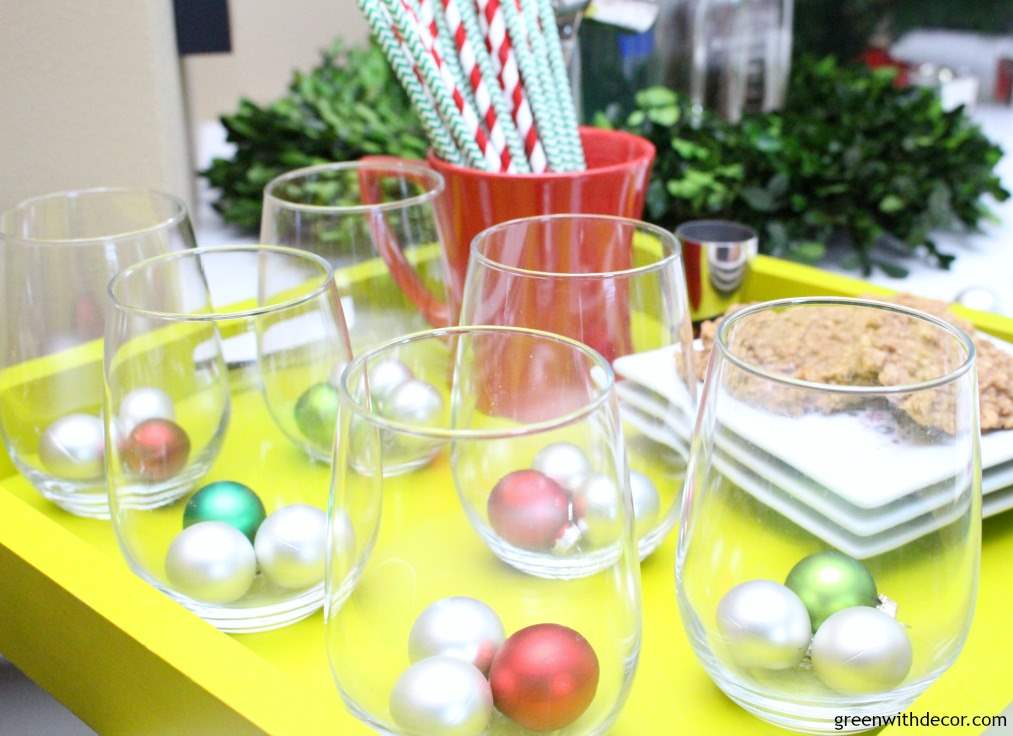 I don't see our green tray available online anymore, but they have it in aqua, white or a few other colors.
The brown tray on the wine fridge was a rummage sale find. It actually has an ugly stencil on it that I need to fix at some point (I have too many project ideas!), but a little Christmas table runner folded over covers that for now.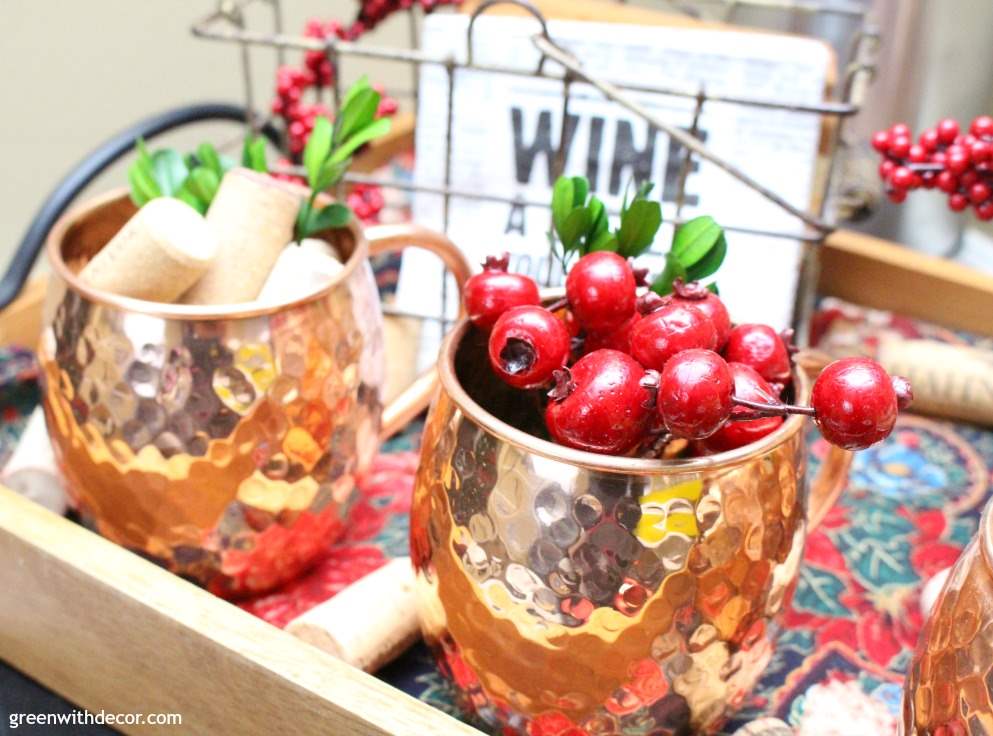 2. Use a wreath as a tray.
Instead of a tray for all of our liquor bottles, I used our new boxwood wreath to keep all the liquor bottles in one place.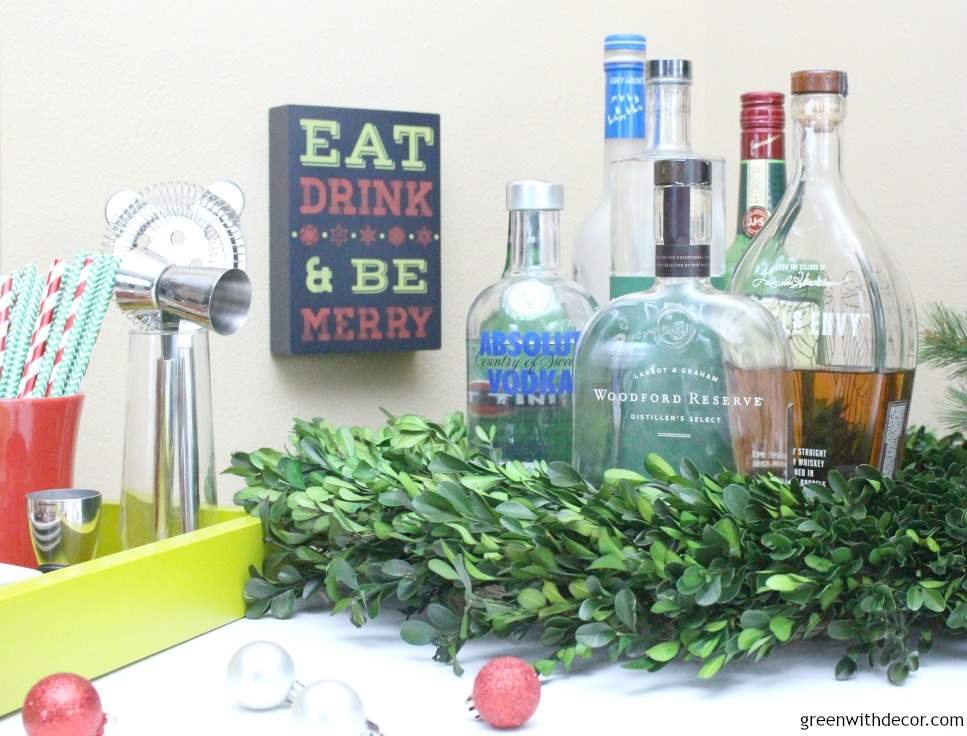 I was debating if this was a fun idea or if my love for decorating had gone a step too crazy, but everyone who's been over since has commented on what a clever idea it is. So I'm sticking with it.
3. Set out some bar tools
Festive straws are fun plus they work as little stir sticks when mixing drinks.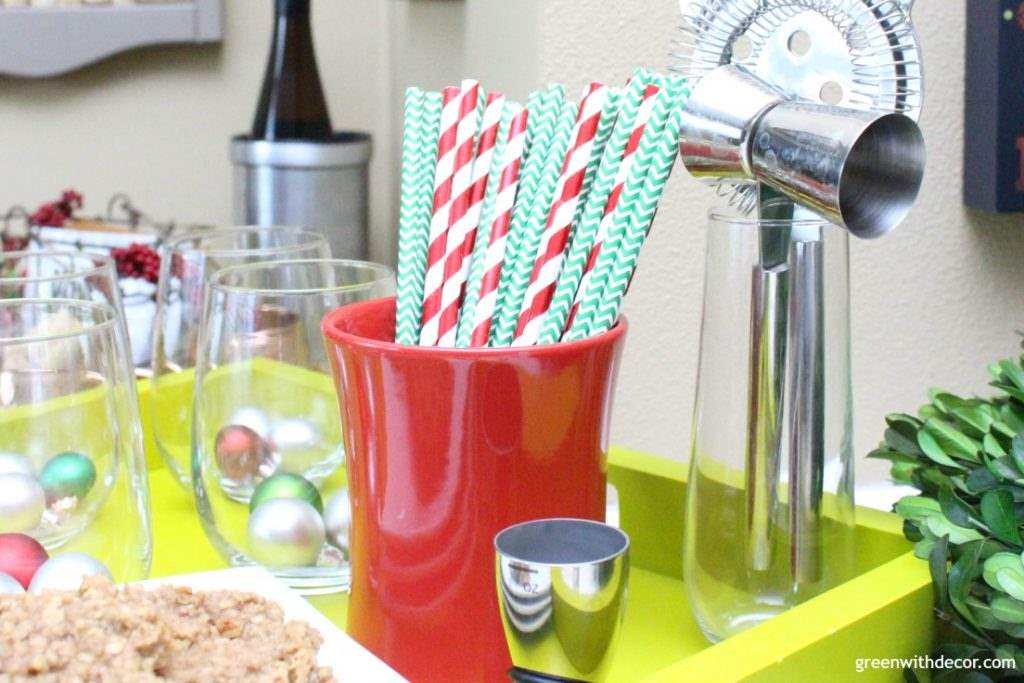 I have a little confession. I bought the red and white striped straws on clearance after Fourth of July last year …. and the green ones after St. Patrick's Day. I know I say this a lot, but seriously, shop after-holiday sales and you will save a ton of money!
The silver strainer and jigger are part of this bar tool kit we have.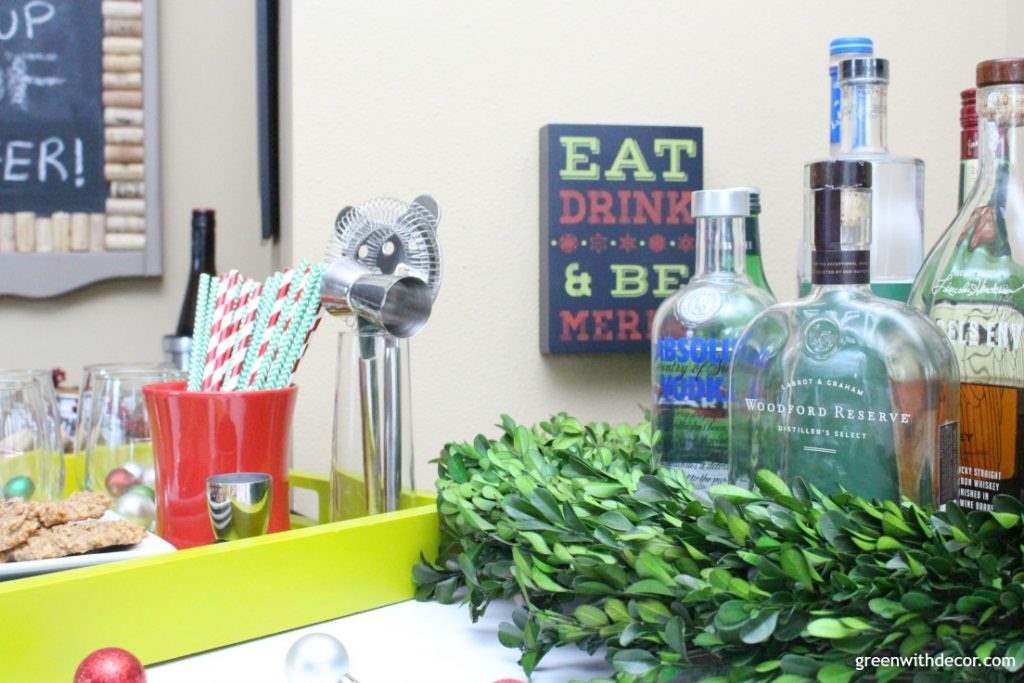 I'm currently using the tray from the set in the living room for this candle display.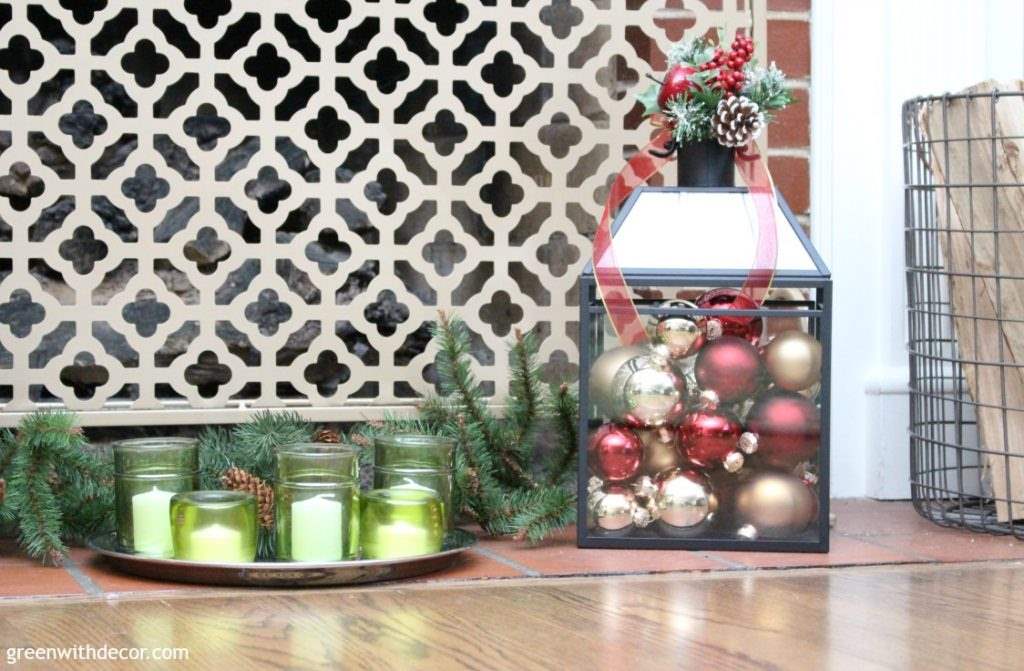 I'm not kidding when I say sometimes I just walk around the house 'shopping' for decorations for different rooms. Who says a cocktail tray can't be used in front of a fireplace!? (See more of the living room all decked out Christmas here.)
4. Get fun napkins
Again, I always buy these on clearance. I just can't bring myself to spend a lot on something that people literally throw away.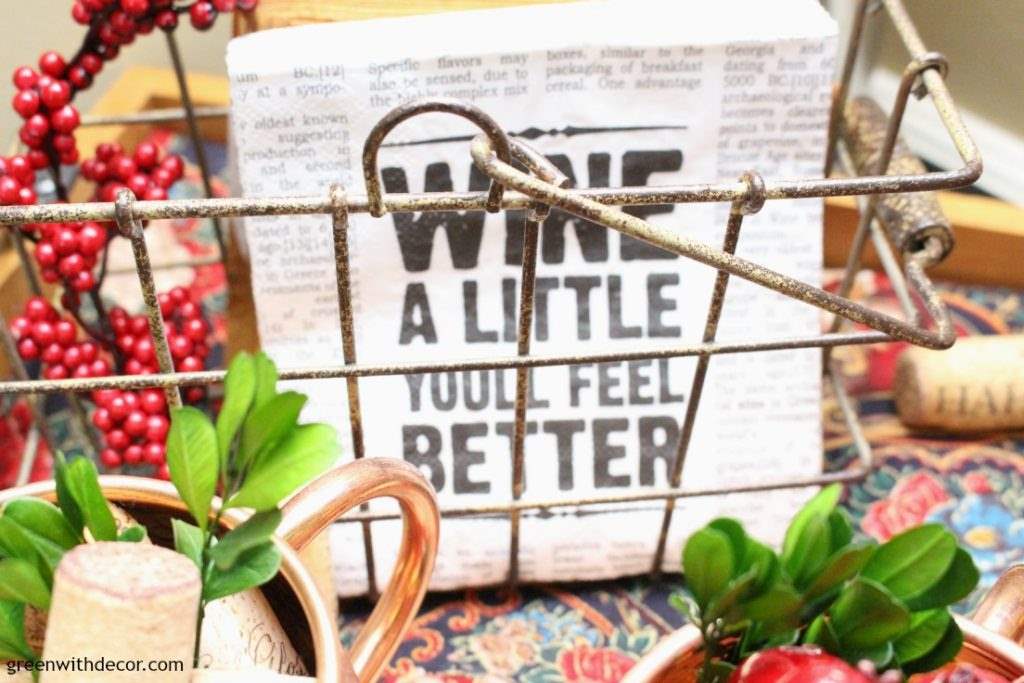 These wine ones were actually a gift from my mom's friend. How cute are they!?
5. Keep wine cold in a wine cooler
We love our wine fridge, but once a bottle of white is opened, you can't put it back in there on its side.
This little wine cooler (behind the mugs in the picture below) keeps wine cold forever, or at least until you finish the bottle.
6. Use Moscow Mule mugs to keep drinks cold
Whether you drink Moscow Mules or not, you have to get the copper mugs. They are just too fun. They keep your drinks SO cold.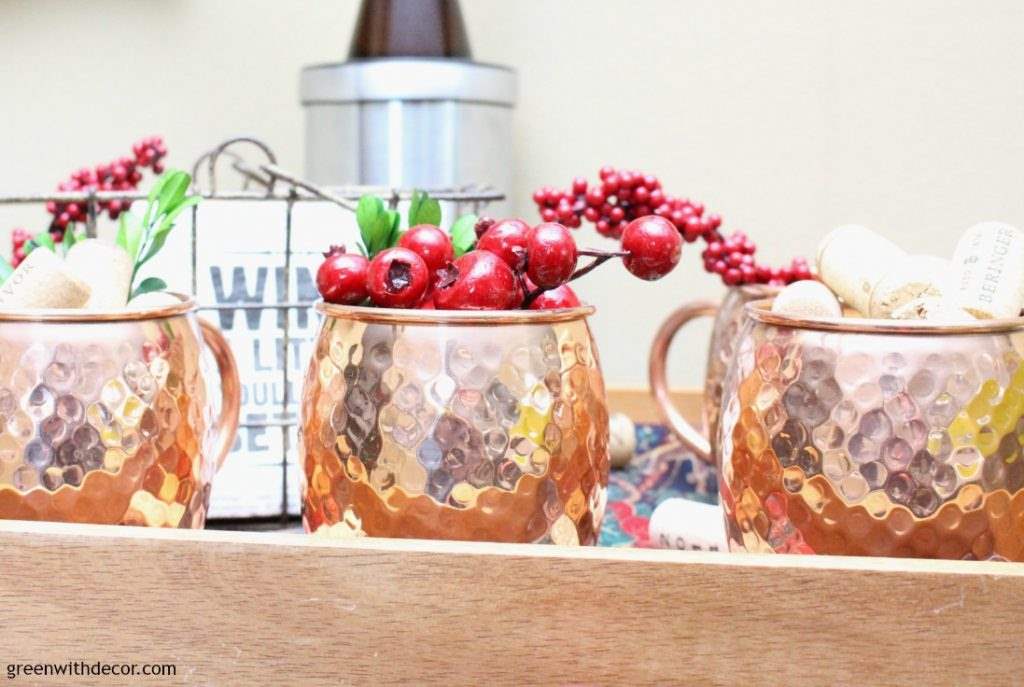 7. Add some festive decorations
Obviously the ornaments come out of the glasses before we mix any drinks, but I love how they look when we're just walking by or chatting a bit before we make a cocktail.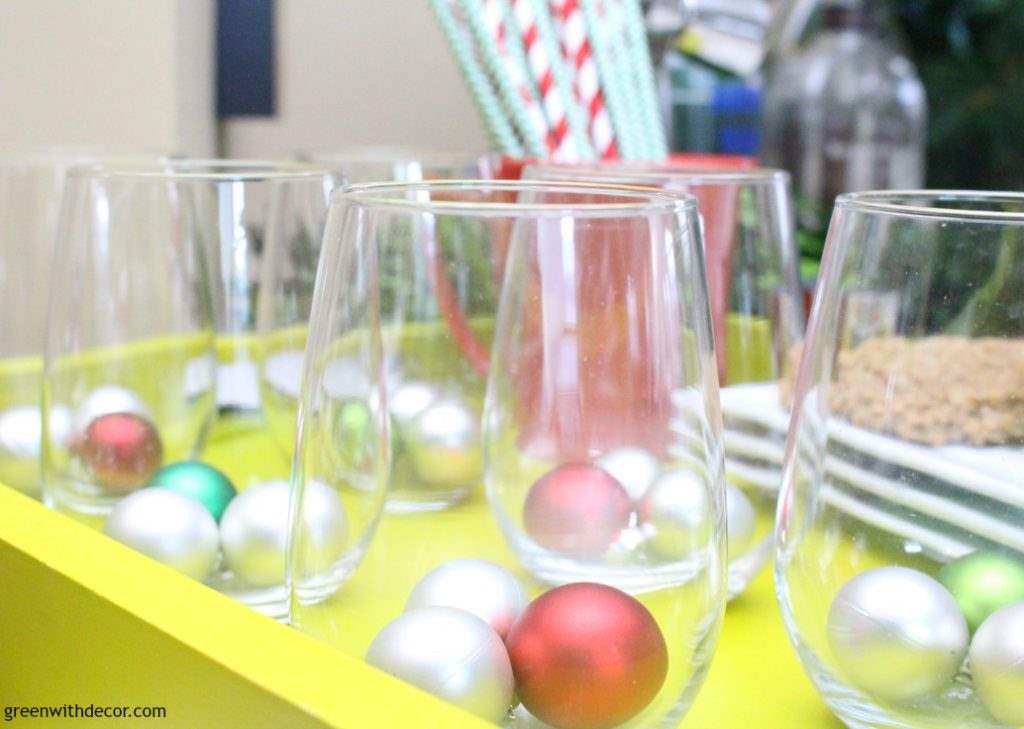 Festive plates are fun, too.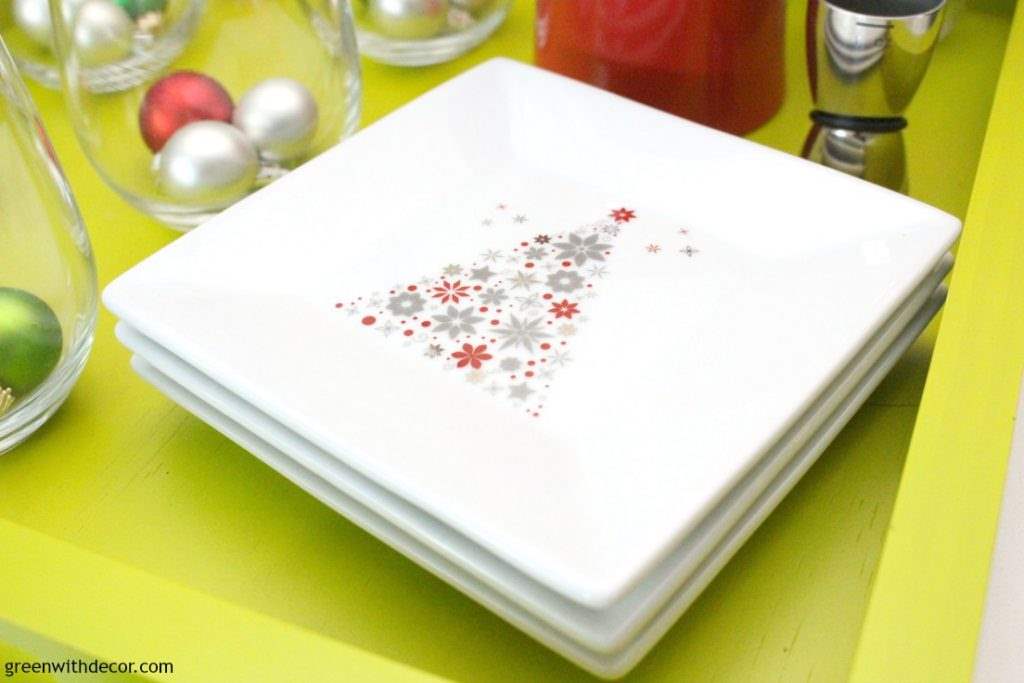 Plus I love our little 'eat drink & be merry' sign. Towels are a cheap way to add a little festive flair, too.
'Pour yourself a cup of cheer' is the perfect little saying for our cork chalkboard. (This was before I realized the easy trick for getting perfect chalkboard letters!)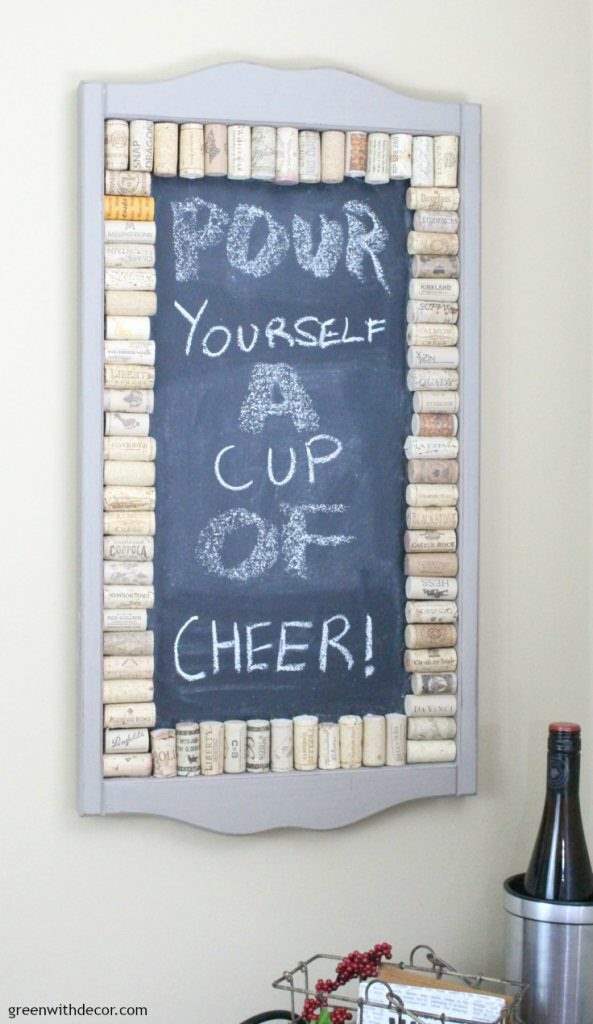 And that's the holiday cocktail bar. If only you all could come over for a holiday cocktail!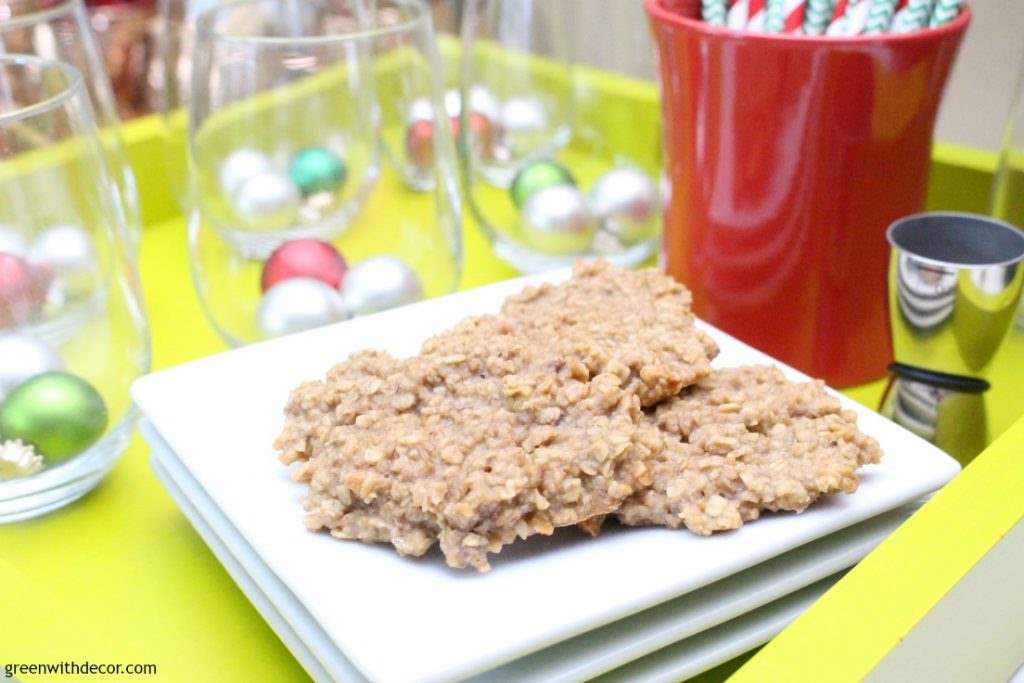 GET THE LOOK:
Since a popular question I get is "Where'd you get that?!," here are links to the same or similar sources:
Remember to grab a drink and check out the other ladies' cocktail posts!
Want more party ideas? Check these out, too:
Remember to bookmark or pin this post if you want to save it for later!


Pin it!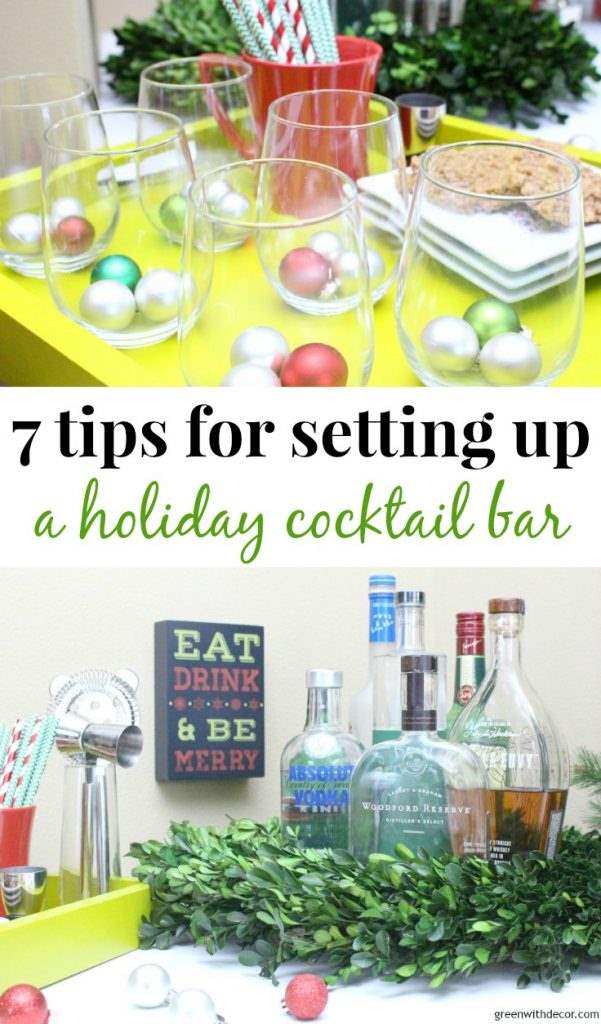 Want to read more posts like this?
Follow along: Get my emails | Facebook | Pinterest | Twitter | Instagram