I save way too many glass bottles and jars. We're talking wine bottles, liquor bottles, spaghetti sauce jars, peanut butter jars, you name it.
You just never know when you might need one for a DIY project!
I don't like Jack Daniels in the least (my brother and uncle drink it, so we usually have some in the house), but I've always liked the shape of the bottle. The square shape is just so different than the typical liquor bottle.
I love my Mason jar soap dispensers and one day it hit me: why not turn a liquor bottle into a soap dispenser? It's such a fun idea, in the right setting of course – in the basement if you have a bar down there, for your favorite (21 and over) college student, things like that.
For now, I took a few pictures of my new soap dispensers in the bathroom.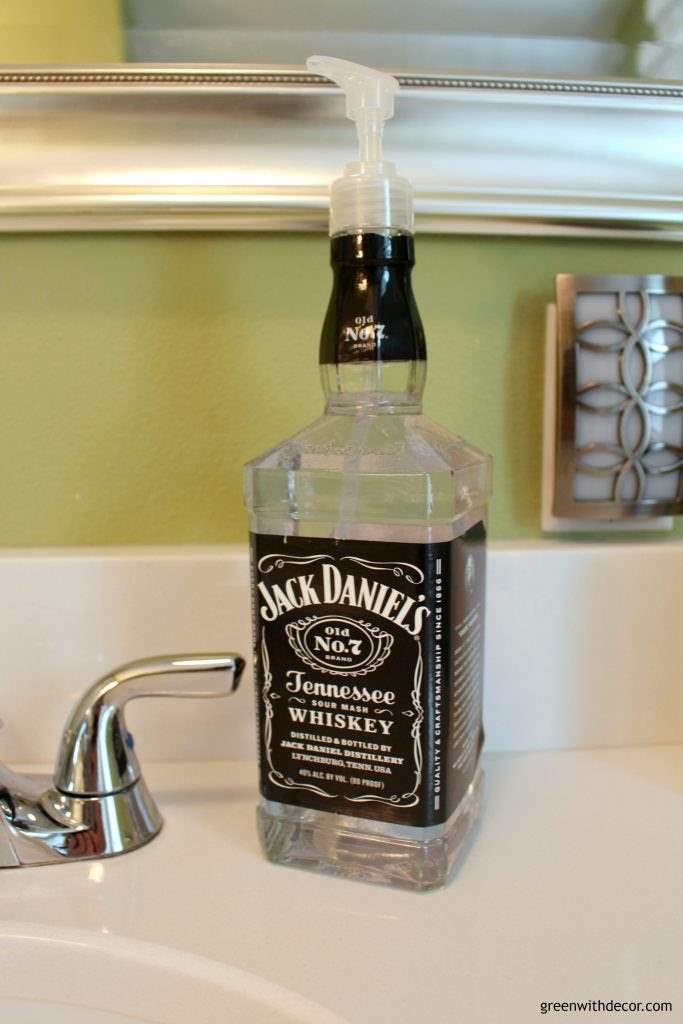 This post contains affiliate links. This means if you click the link and buy something, I may receive a small percentage of sales at no extra cost to you. 
These were so easy it doesn't even really involve a tutorial. I took a soap dispenser pump and screwed it on top of a Jack Daniels bottle, a Canadian Club bottle and a Miller High Life bottle.
I do love Miller Lite, but who wants to use soap out of a brown bottle?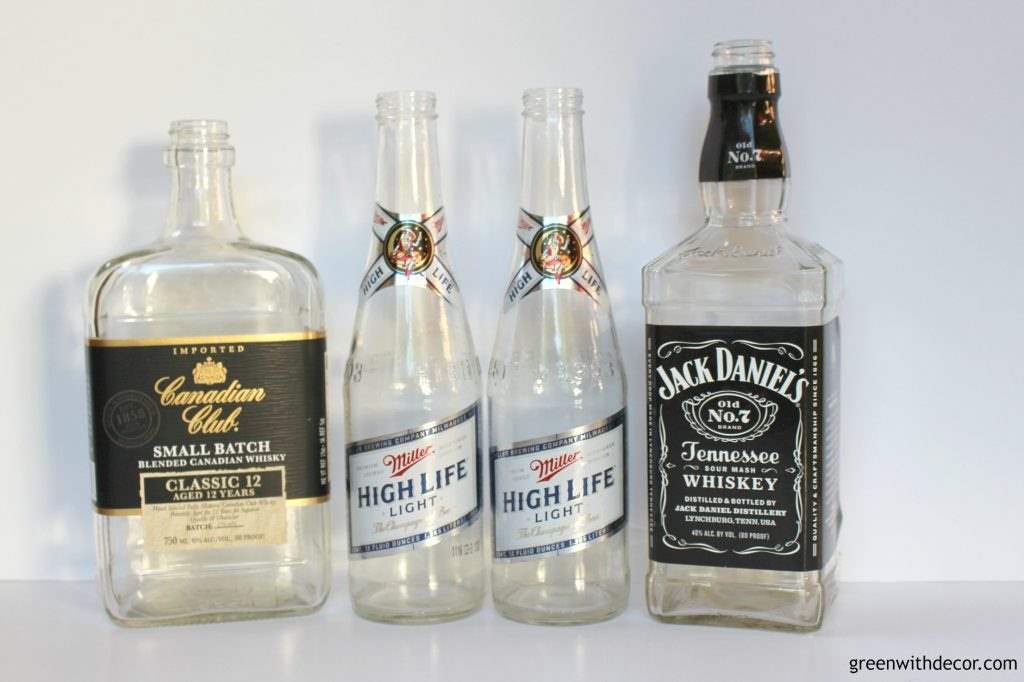 You have to use a bottle with a screw top rather than just a cork/pop top so that the soap dispenser can screw in and stay put.
Aren't they fun?!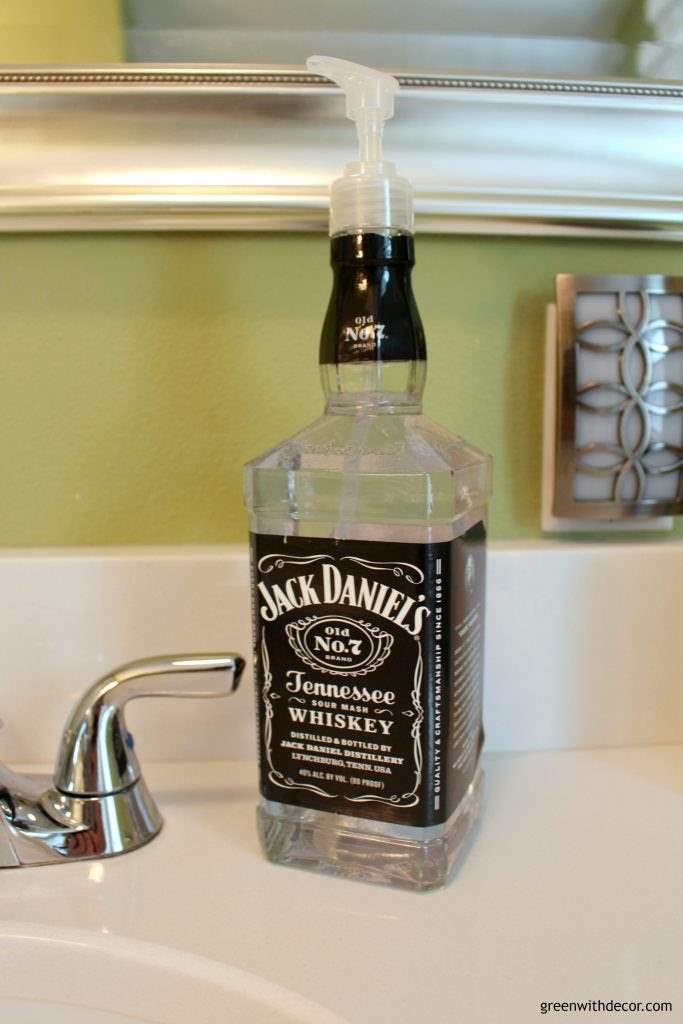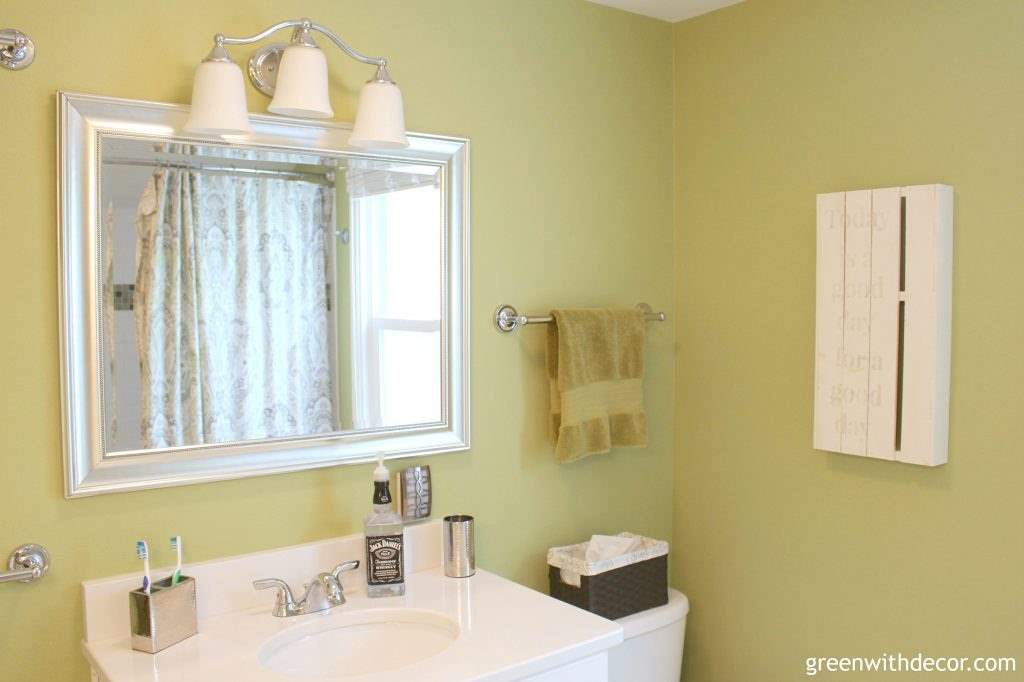 I'm also not a fan of Canadian Club either, but it's my Grandmom's favorite so we always have that in the house, too.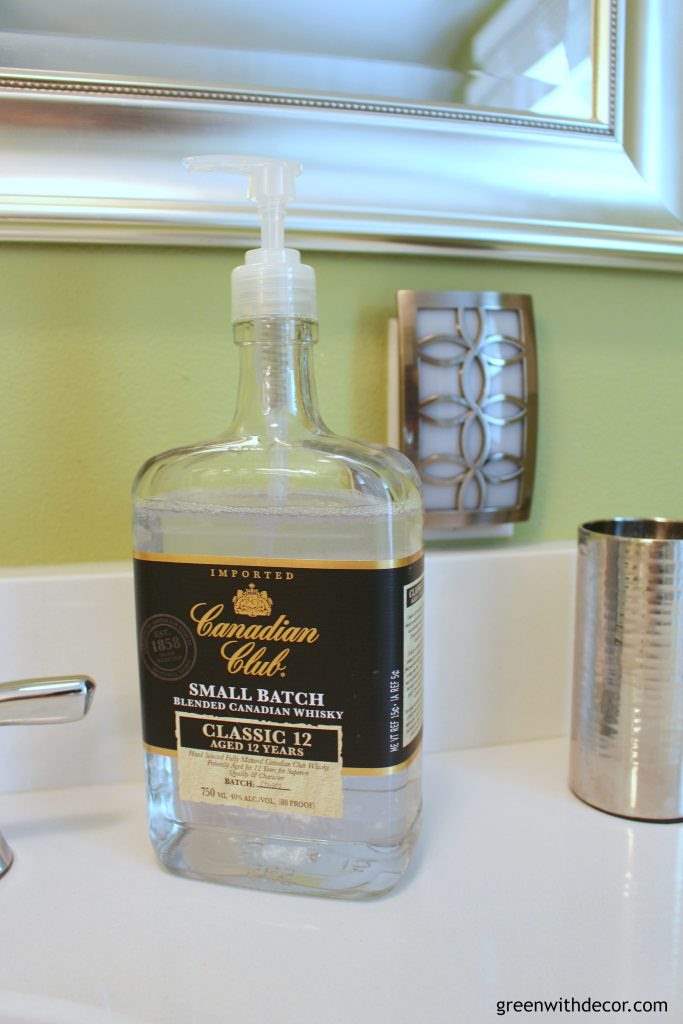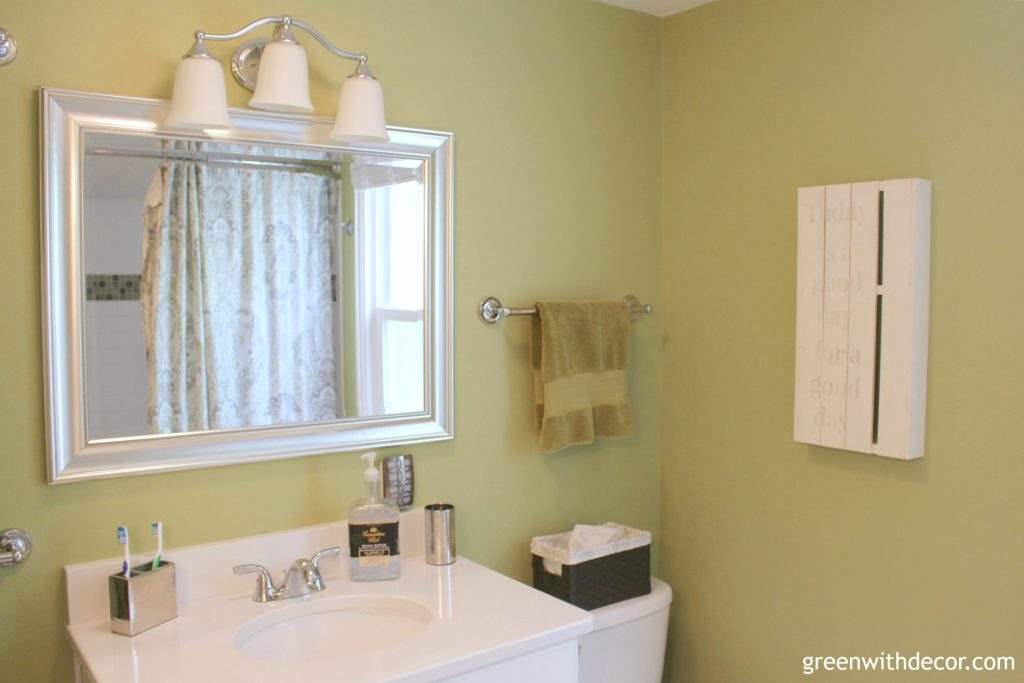 I left the labels on the Jack Daniels and Canadian Club bottles because I liked the look, but I took the label off the High Life bottle. I think it looked better as a plain glass bottle.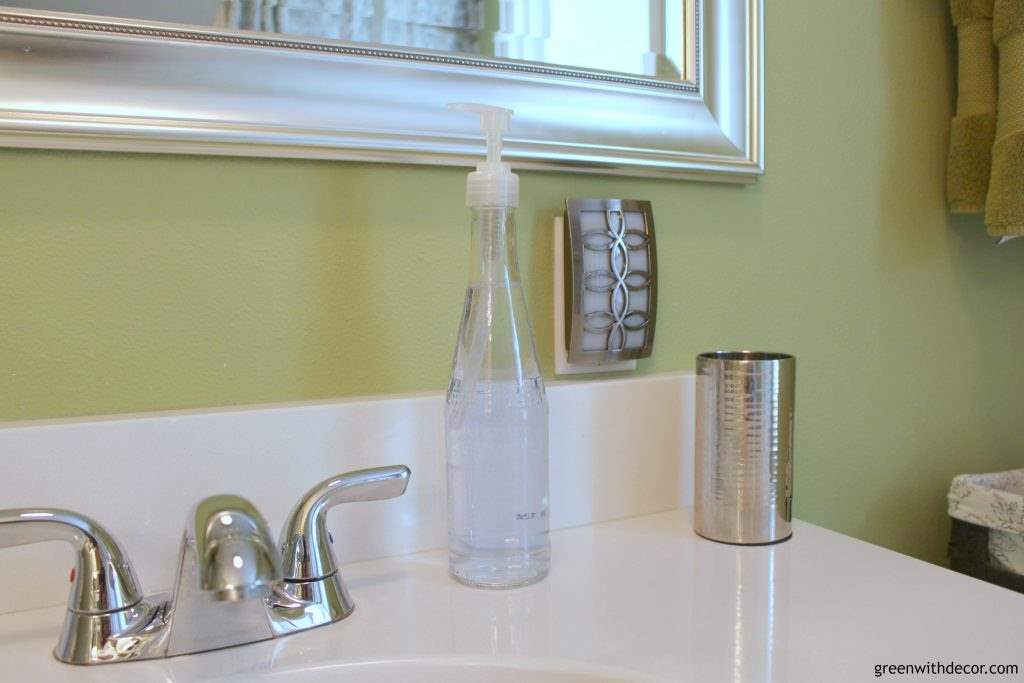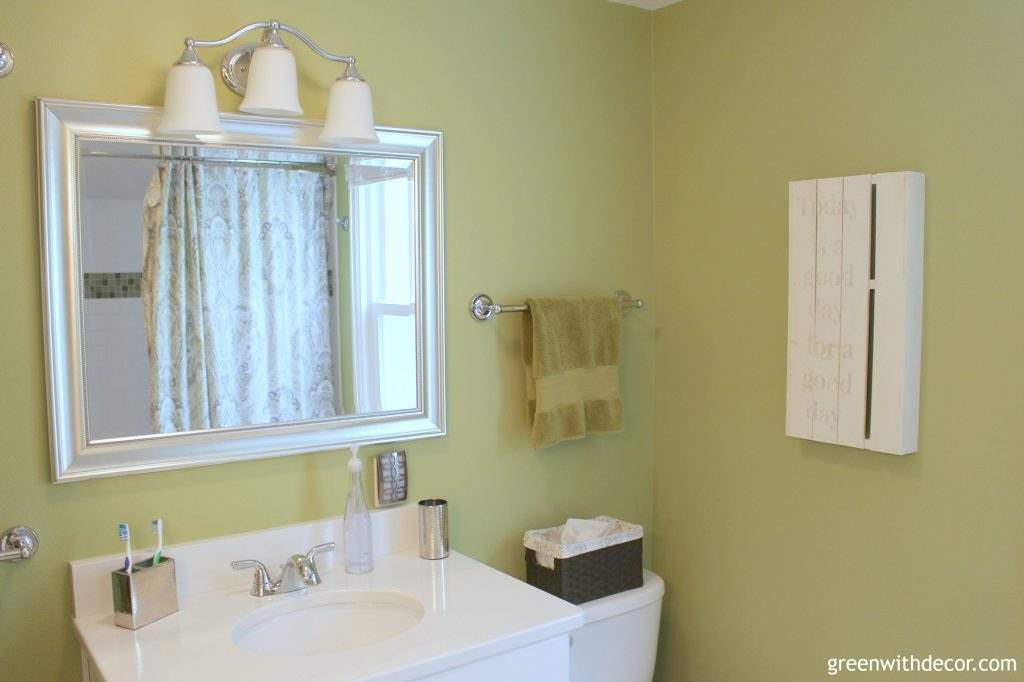 Have you reused beer or liquor bottles for a fun project? Let's hear it!
I'm off to Haven this weekend, an annual conference for design and DIY bloggers. I'm excited to hang with some of my blogging friends in person! Follow me on Instagram to follow along with the weekend fun.
GET THE LOOK:
Since a popular question I get is "Where'd you get that?!," here are links to the same or similar sources:
Wall color: Ryegrass by Sherwin Williams

If you want to save this post for later, remember to bookmark it or you can pin it here: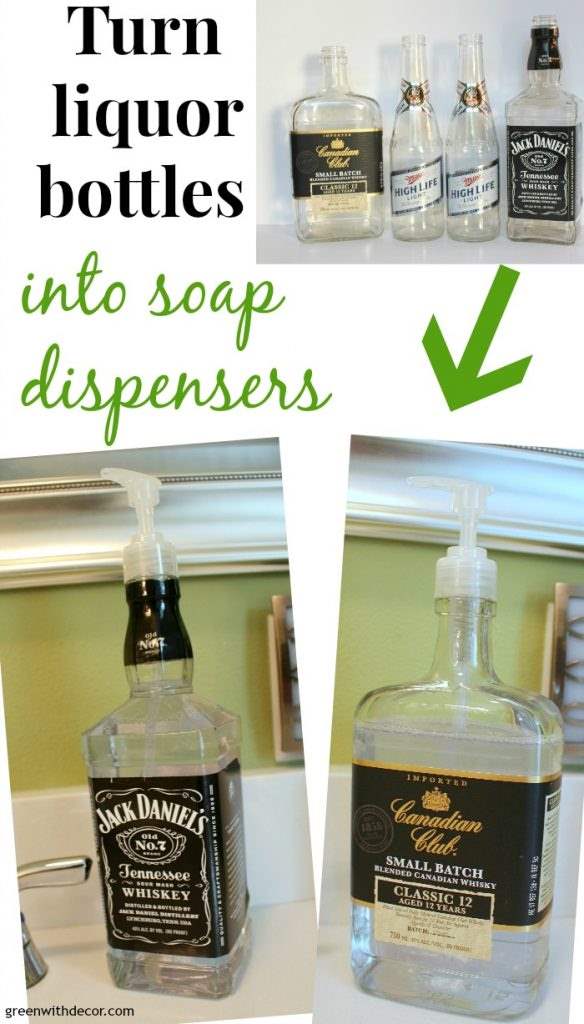 Want to read more posts like this?
Follow along: Get my emails | Facebook | Pinterest | Twitter | Instagram | Google+