Easily turn a beer or liquor bottle into a soap dispenser! These DIY soap dispensers are perfect if you're looking for a Jack Daniels gift idea!
I save way too many glass bottles and jars. Like really way too many.
But they make for such good DIYs, it's hard to toss them in the recycling bin.
I mean how fun are these DIY soap dispensers?!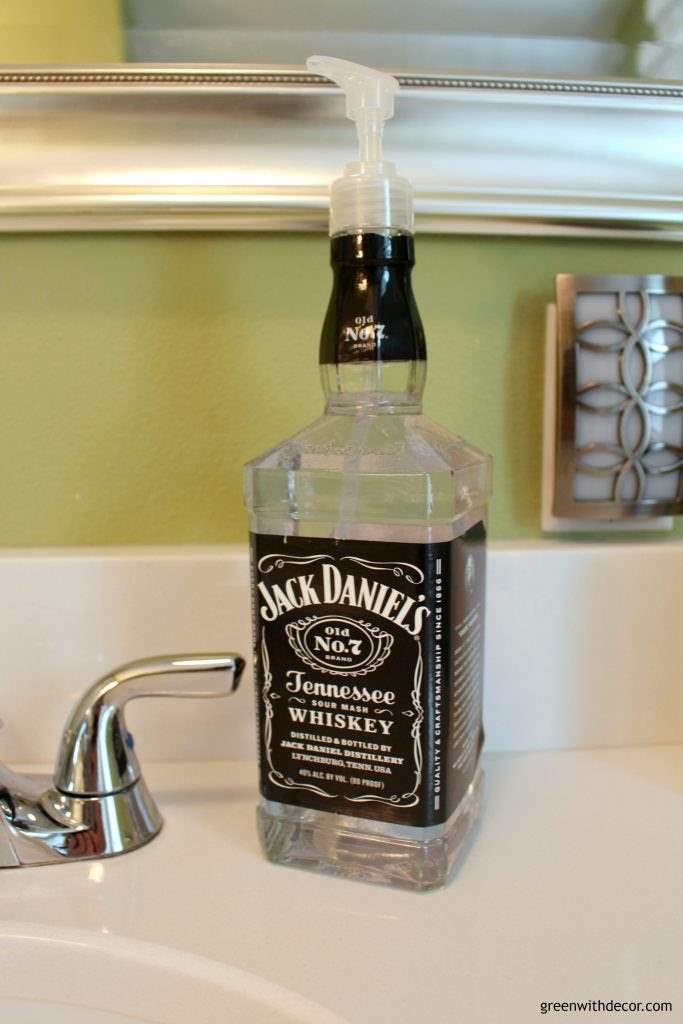 Can you really look at this Jack Daniels soap dispenser and not think of someone it'd be perfect for?!
I actually don't like Jack Daniels in the least (my brother and uncle drink it, so we usually have some in the house), but I've always liked the shape of the bottle. The square shape is just so different than a typical liquor bottle.
Can't say I like Canadian Club either … we keep that in stock for my Grandmom. Gotta keep your guests happy, right?! Happy, tipsy … tomato, tomahto.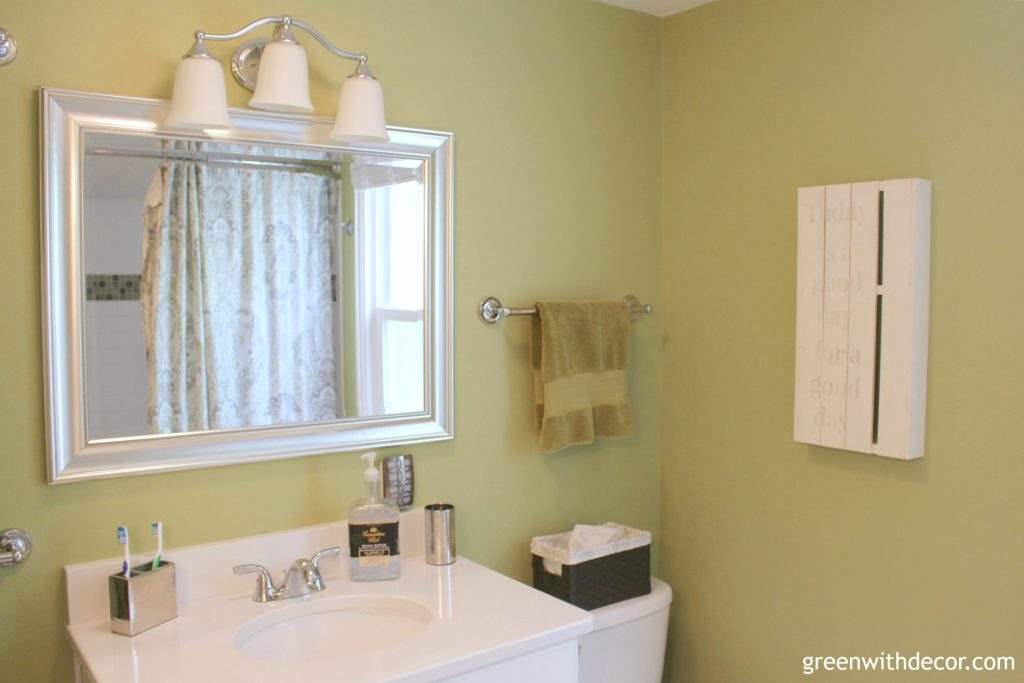 Since I'm a glass jar hoarder, one day it hit me: why not turn a liquor bottle into a soap dispenser?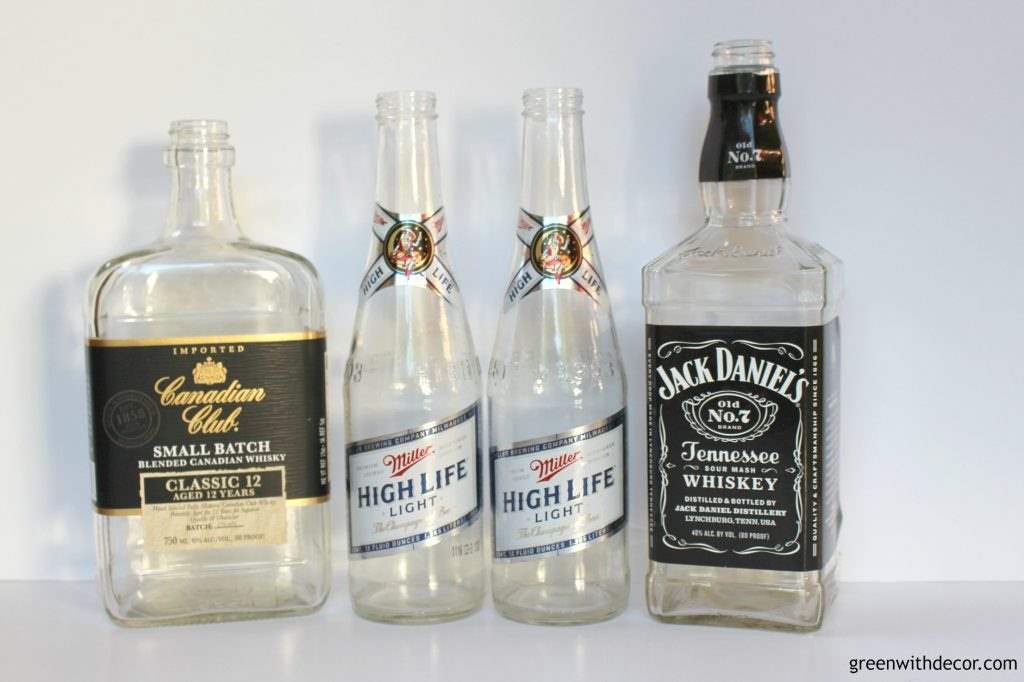 It's such a fun idea, in the right setting, of course – in a basement bar, as a Jack Daniels gift for the liquor lover in your life, as a DIY Father's Day gift for dad, for your favorite (21 and over) college student, things like that.
This post contains affiliate links. This means if you click the link and buy something, I may receive a small percentage of sales at no extra cost to you.
Supply list for liquor bottle DIY soap dispensers:
Bottles: Use liquor bottles with a screw top rather than just a cork/pop top so the soap dispenser pump can screw in and stay put. Otherwise you'll have to involve a drill and this project becomes a little more complicated. We're all about thee easy DIYs around here.
We used a Jack Daniels bottle, a Canadian Club bottle and a Miller High Life bottle if you're not sure off the top of your head which liquor bottles have screw tops (I definitely wouldn't have been able to just randomly recite that, ha, and we enjoy drinking!)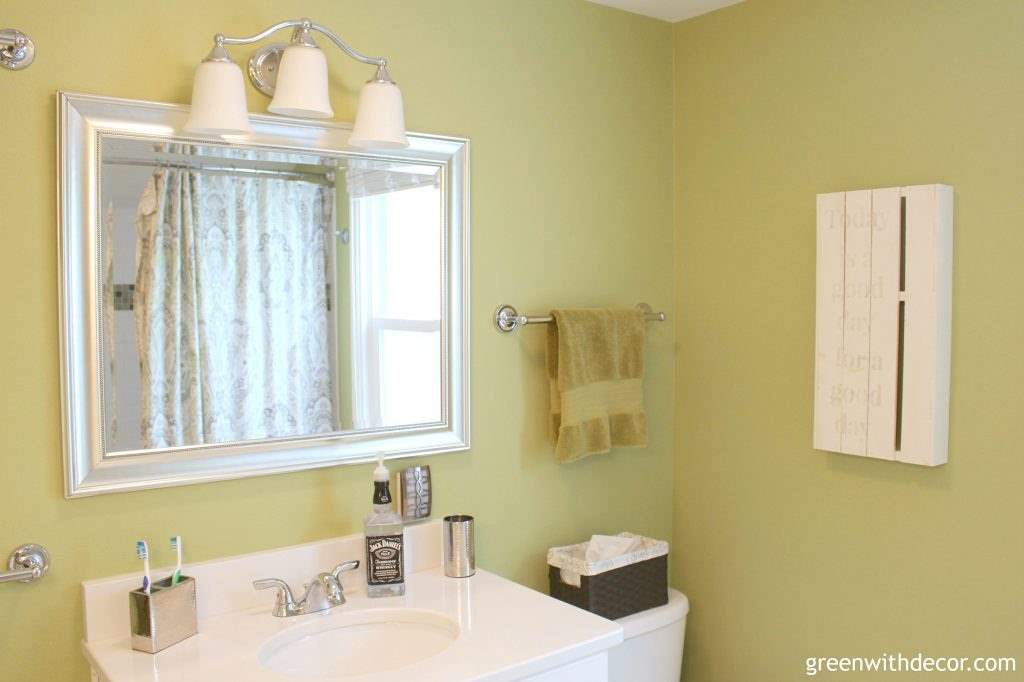 How to turn a beer or liquor bottle into a soap dispenser:
This is so easy I'm not even sure it really requires a tutorial.
1. Basically, decide if you want to keep the labels on the bottles or not.
We kept them on the Jack Daniels and Canadian Club bottles because I liked the look, but we scrubbed the labels off the Miller High Life bottles so we could just use the plain glass bottle.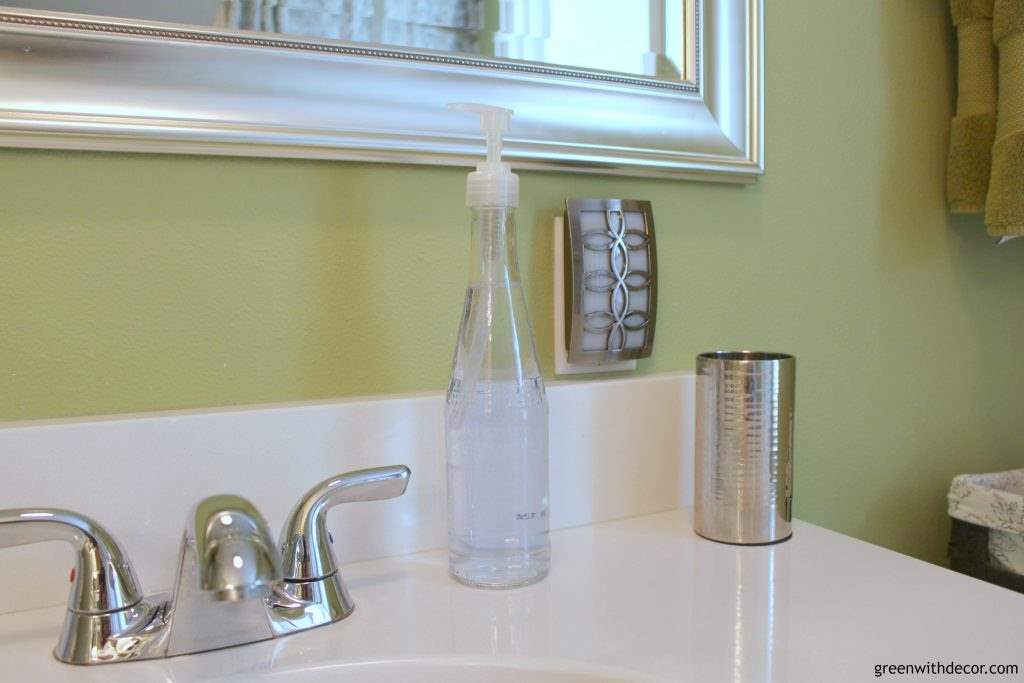 2. Screw in the soap dispenser pump and … you're done!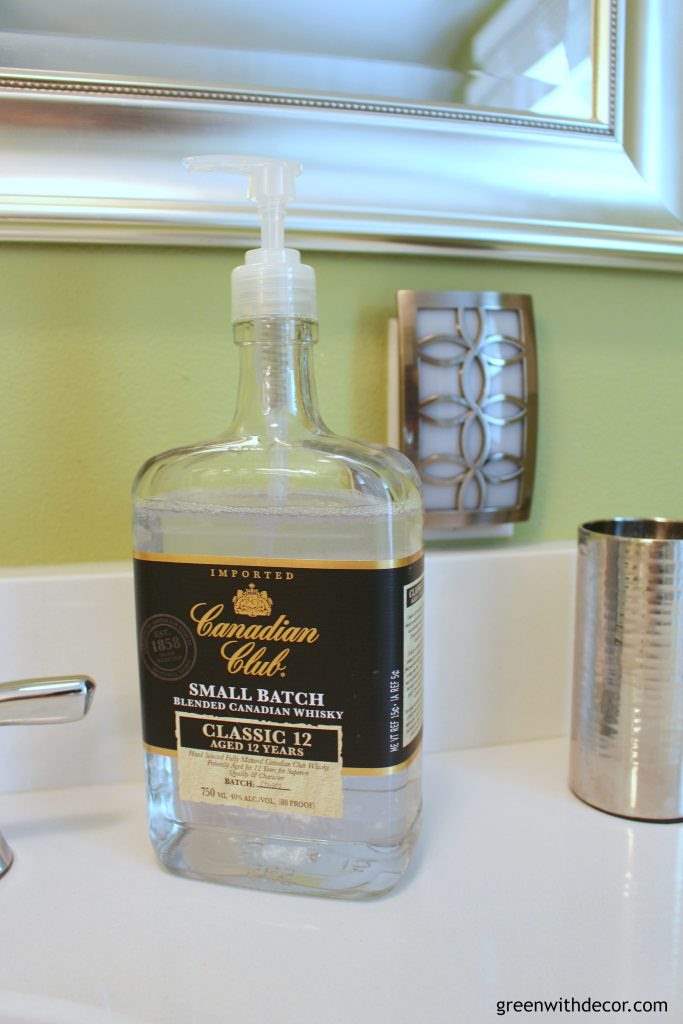 Aren't they fun?!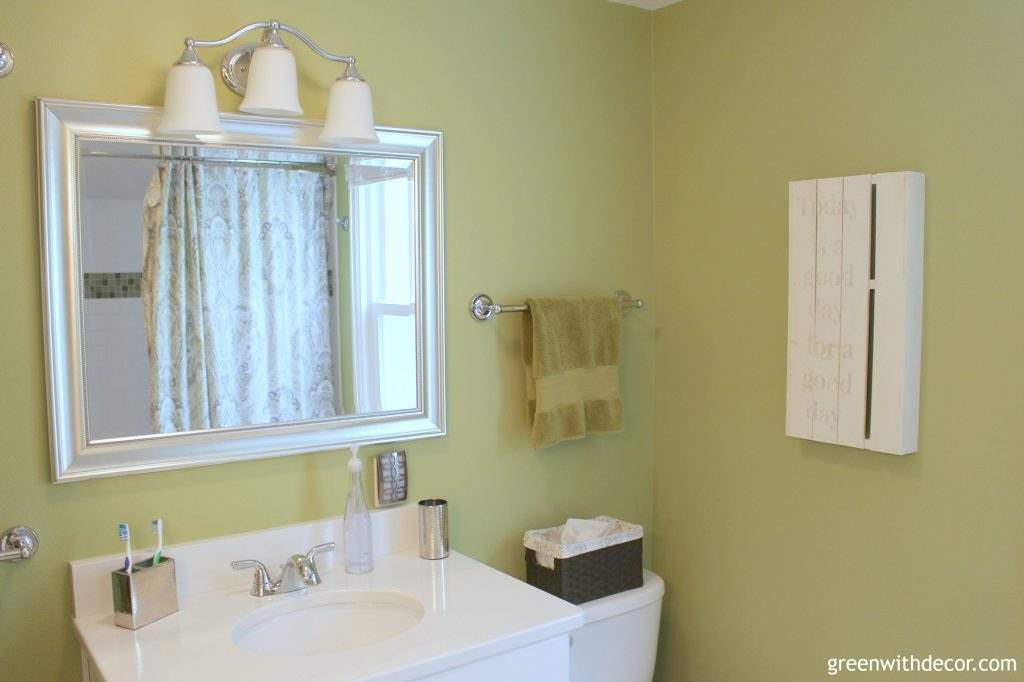 I think the Jack Daniels soap dispenser is my favorite. I just really love the shape of the bottle.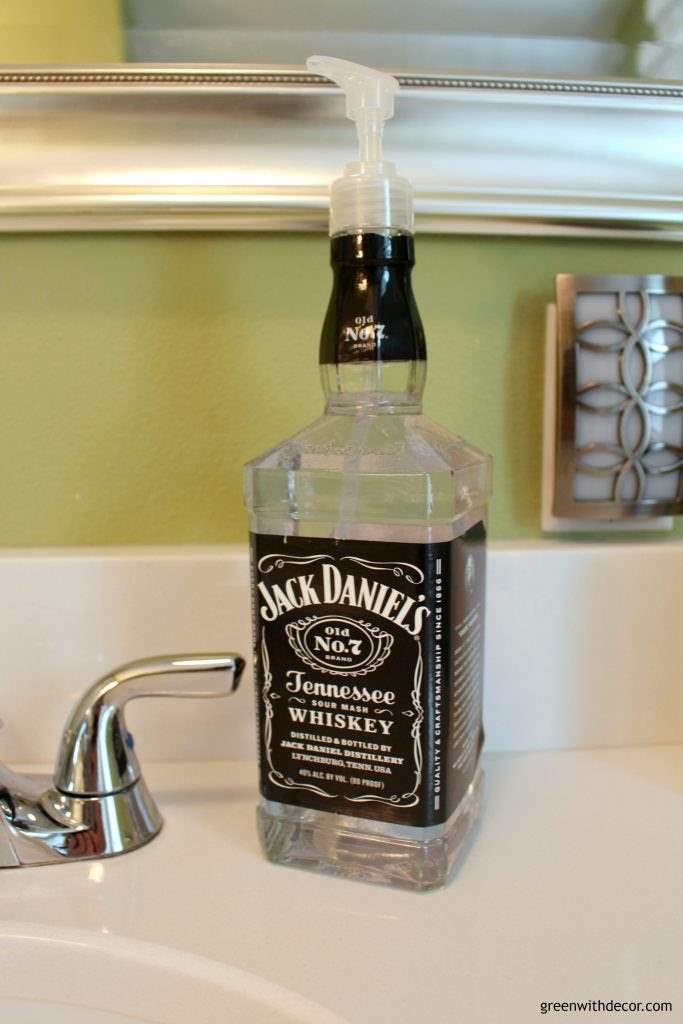 Have you turned a beer or liquor bottle into a soap dispenser? Or reused liquor bottles for a fun DIY? Or made another fun DIY soap dispenser? Let's hear it!
GET THE LOOK:
Since a popular question I get is "Where'd you get that?!," here are links to the same or similar sources:
If you're a fellow glass jar hoarder, let's be friends. And you might want to check out these projects:
Remember to bookmark or pin this post if you want to save it for later!


Pin it!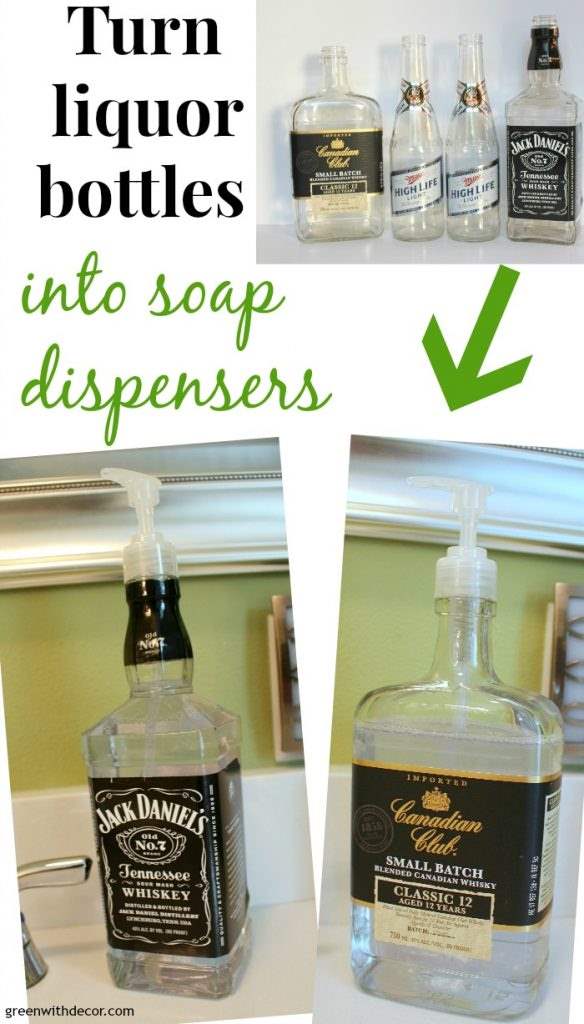 Want to read more posts like this?
Follow along: Get my emails | Facebook | Pinterest | Twitter | Instagram