This easy St. Patrick's DIY is easy, festive and a perfect wine bottle DIY!
I've definitely admitted to my glass jar/bottles hoarding collecting on the blog before.
For proof, just see these St. Patrick's Day jars, these Halloween jars, these snowmen jars, these liquor bottle soap dispensers, these spring jars, these Fourth of July jars … whew, okay actually that list wasn't as long as I was imaging it would be.
I basically use the front room in our basement as storage for random jars, bottles, tables, whatever pieces I come across that I want to do something with …. it's Kalen's favorite thing about me. #notsomuch
Well turns out it's a wonderful personality trait that all crafters and bloggers' husbands adore about their wives.
Oh, wait.
To help clear out some of our 'treasures', Sarah from Flourish & Knot is starting a new blogging series, The Zero Dollar DIY Challenge.
Every other month, a group of us will come up with a DIY project using ONLY what we already have in our house.
Well between my basement 'storage' for future projects and all of the crafting supplies I have in my craft closet, I could probably put together about 5,000 blog posts for this challenge.
Scroll down to the bottom of this blog post to hop over to see the other bloggers' projects.
We're in full-on St. Patrick's Day mode around here (of course!!), so I'm starting with a festive St. Patrick's DIY.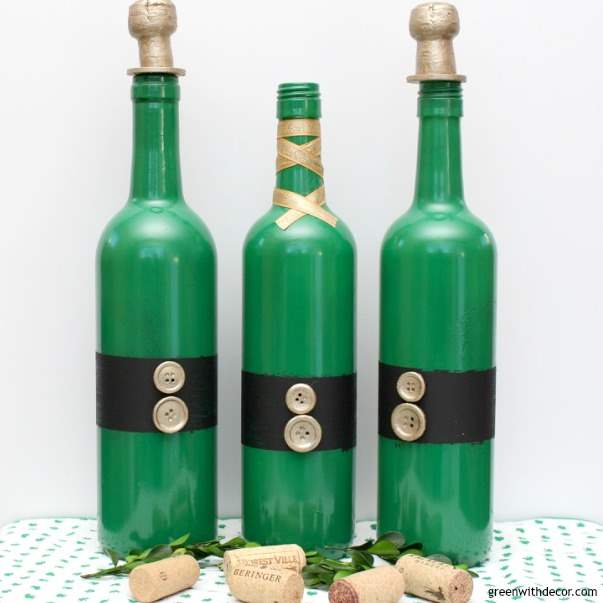 This post contains affiliate links. This means if you click the link and buy something, I may receive a small percentage of sales at no extra cost to you.
Supply list for St. Patrick's DIY Wine bottles:  
Old wine bottles (it's always a bummer when you're forced to drink in the name of crafting, but how else can you  do fun wine bottle DIY projects?!)
Drop cloth
Champagne corks
Wood circles/chips
Buttons
Rubber cement (or a hot glue gun)
Gloves (optional)
Small paint brush
How to: St. Patrick's DIY Wine bottles:  
1. Take the labels off your wine bottles.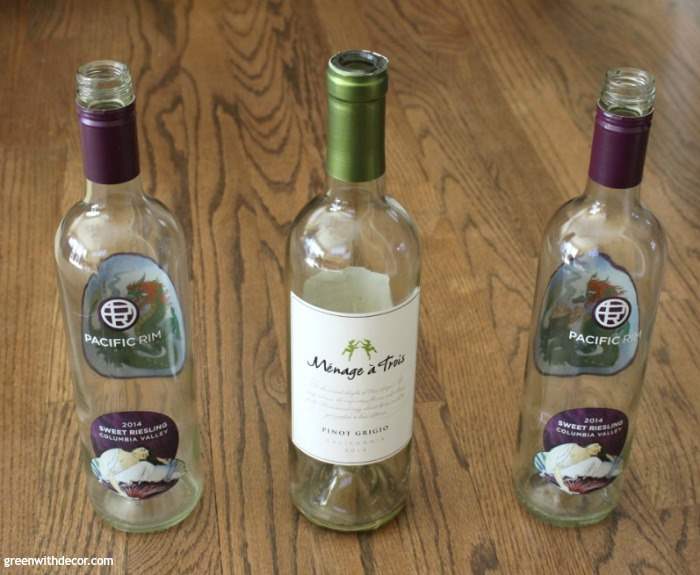 I've gotten a few questions about the best way to do this.
I'm planning to put a post together soon, because after years of scraping sticky labels off old jars and bottles, I've become an expert in this. We all have our talents. (I might need more hobbies.)
2. Spray paint the wine bottles.
I gave them two coats. Let them dry.
3. Use painter's tape to tape off a 'belt' for your leprechaun.
I even brought a ruler downstairs with me so I could make sure the belt was in the same place on each bottle and then immediately abandoned that idea and just eyeballed it.
I set the buttons on the wine bottle for placement and went with it.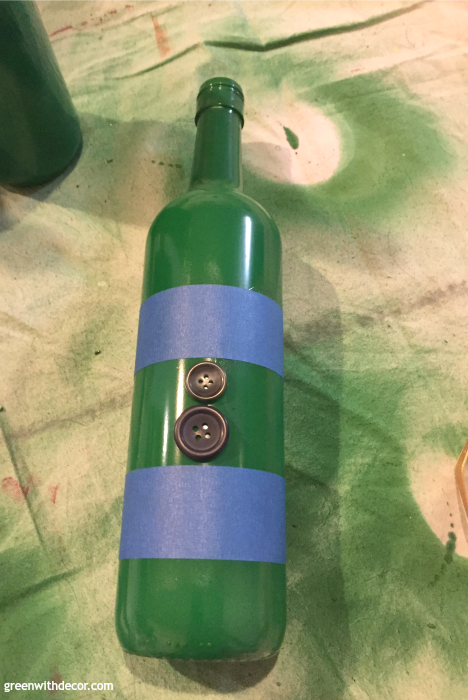 4. Paint on the black belt.
I used a foam brush for this, it was one of those quick painting things a foam brush was perfect for.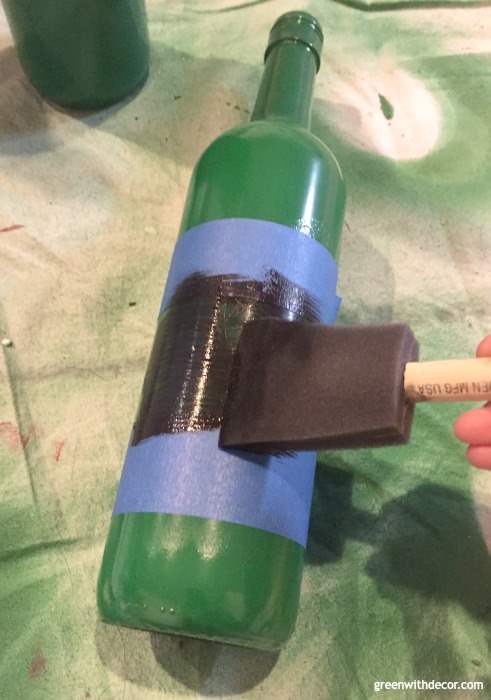 Then take the painter's tape off.
5. Glue your champagne corks to the wood chips to make a leprechaun hat.
You could use regular wine corks, but I think the champagne corks look more like little hats.
Honestly, I don't even drink champagne (hello, headache), but our neighbor does, and he knows me so well, he saves wine corks for us (me).
Love good neighbors!
Paint them gold.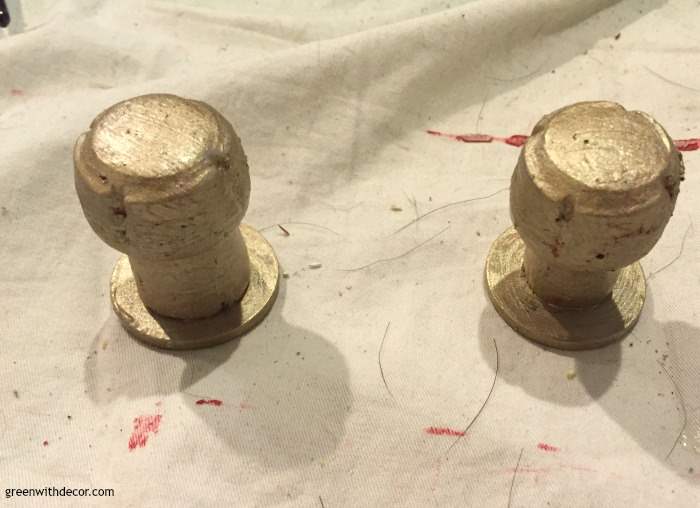 6. Paint the buttons gold.
I mentioned my button collection when I made these Christmas tree cards.
Hey, at least I'm finally doing something with the buttons after saving them for all those years!
Since we had to use paint we already had for this challenge, and I didn't have any gold spray paint on hand (I know, shocking, considering the spray paint collection in my craft closet), I went with this gold paint I had, which meant I needed to use a brush.
I really like this gold paint though so I'm okay with it! (But spray paint would definitely be easier if you're starting this project from scratch!)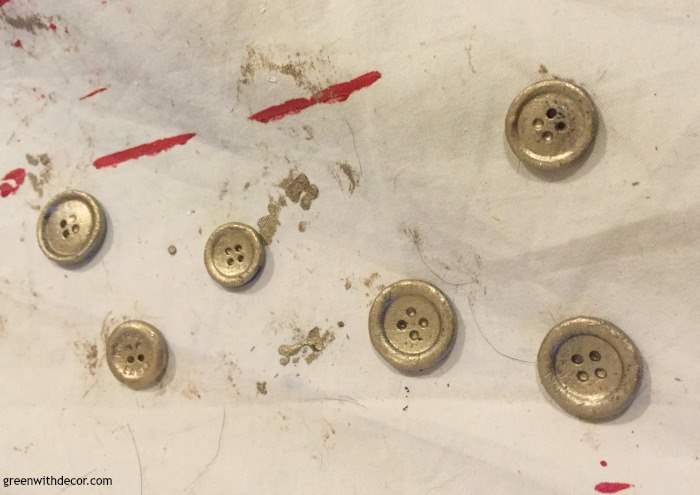 I put gloves on to hold the buttons/corks just so I wouldn't end up with paint all over my hands.
Note, I've gotten this gold paint on my hands during previous projects, and it does wash off easily.
Let it all dry, touch up any spots you missed and let it dry again.
7. Glue the buttons onto the black 'belt' and the hats to the top of the bottles.
For one of the wine bottles, I just used a little rubber cement to glue a gold ribbon on like a scarf.
Apparently, this one is a girl leprechaun.
All done!
Three fewer wine bottles (yay for wine bottle DIY projects!) and a little less paint in my collection. Kalen is thrilled.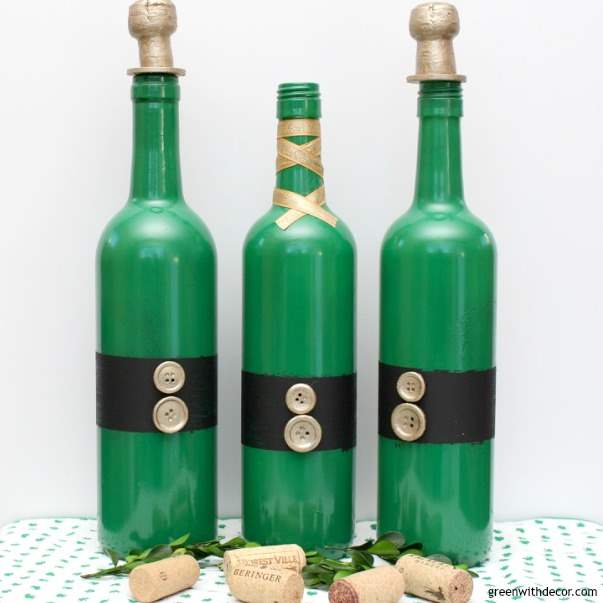 Such a fun St. Patrick's DIY, right?!
If you're prepping for St. Patrick's Day, too, you'll want to see these ideas:
Remember to check out the other ladies' There for the Making projects!
DIY Birch Business Card Holder by Minty Green Dream
Chalk Paint Chair Makeover by 2 Bees in a Pod
Sponge-Painted Picture Frame Makeover by Flourish & Knot
DIY Chalkboard Monogram by Personally Andrea
Gemstone Wrap Bracelet by Lifeovereasy
"Hello Sunshine" Wall Art by Two Purple Couches
St. Patrick's DIY Wine Bottle Makeover by Green with Decor (you're here!)
DIY Barn Board Mirror – Ikea Hack by Vin'yet Etc.
DIY Organizational Clipboard by DIY Passion
Geometric Planter by Love Create Celebrate
Toilet Paper Roll Turned Plastic Bag Holder by Design Inside the Box
Chair Makeover by Simple Nature Decor
Vintage Toolbox Turned Craft Storage by My Creative Days
Remember to bookmark or pin this post if you want to save it for later!

Pin it!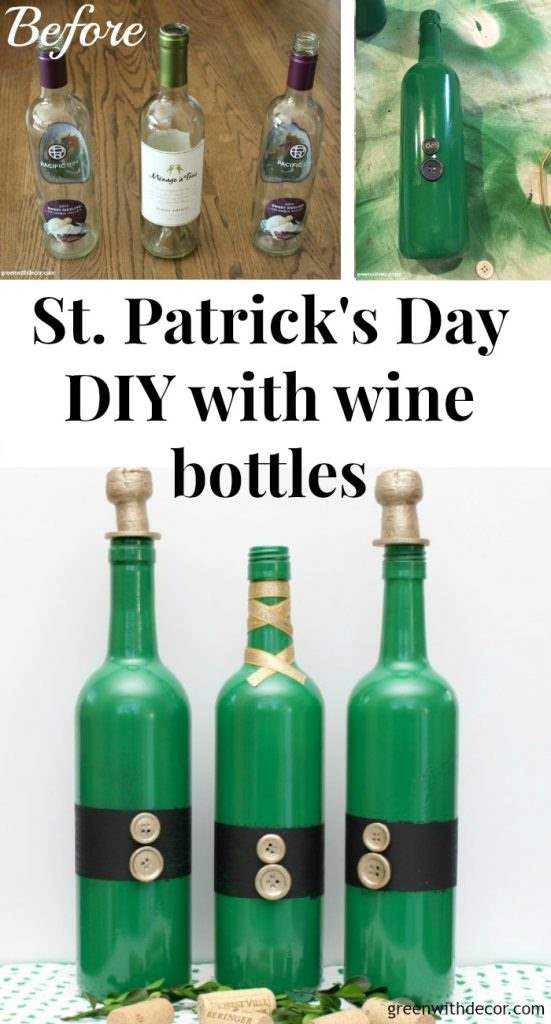 Want to read more posts like this?
Follow along: Get my emails | Facebook | Pinterest | Twitter | Instagram