This post walks through how to mix and match throw pillows, including how to mix colors, patterns and textures, plus where to buy throw pillows and inserts!

Throw pillows are a not-so-secret obsession of mine, and I figured it was time to share my tips for how to mix and match throw pillows.
All my years of flipping through magazines and scrolling through Pinterest have paid off, because I've realized what works and what doesn't when it comes to mixing throw pillows. So here's my system!
Hopefully it's helpful if you've ever been stumped on how to mix and match throw pillows.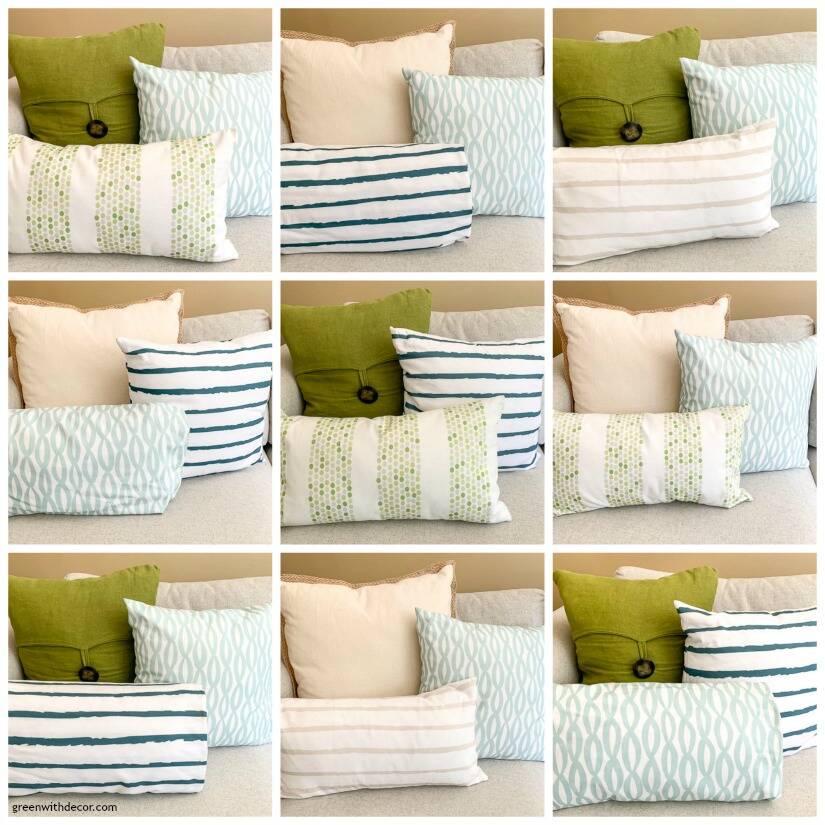 This post contains affiliate links. This means if you click the link and buy something, I may receive a small percentage of sales at no extra cost to you.
how to mix and match throw pillows:
I'll dive into all of the 'design rules' for mixing and matching throw pillows, but first I want to say I don't love the word 'rules' because that makes this seem like it isn't fun! And decorating your house should be fun.
That being said, I think guidelines are super helpful for decorating, especially if you're feeling stuck or frustrated.
But I also think that at the end of the day, it's your house, so you should do whatever you want. If something looks off and you want to break a rule a bit, do it.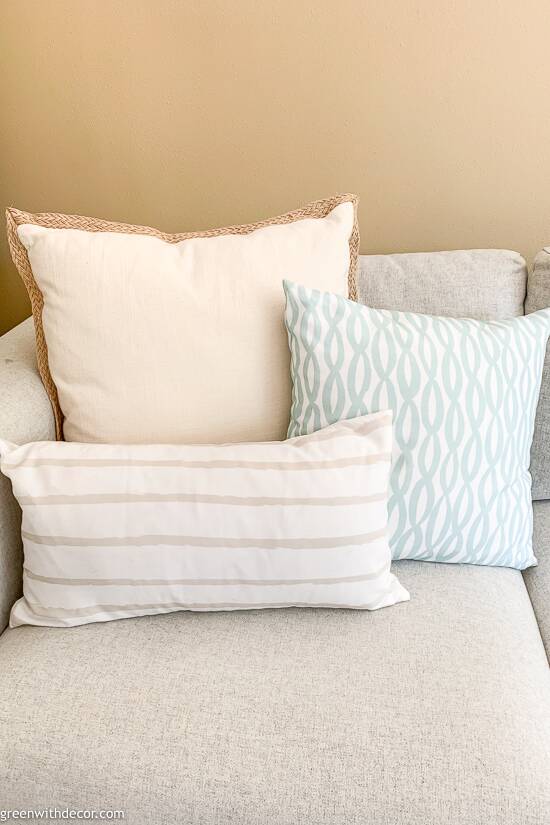 As you'll see, there are times I ignore the rules – and this is a blog post about how to mix and match throw pillows! At the end of the day, decorating is really more art than science.
I've included links below to the pillows we have, links to pillows I'm eyeing and links to inserts below so hopefully this post is as helpful as possible!
How many pillows per room:
One thing before we start. If you're wondering how many throw pillows to get for a living or family room, think about a grouping of 3 pillows in each couch corner and usually 1 per chair.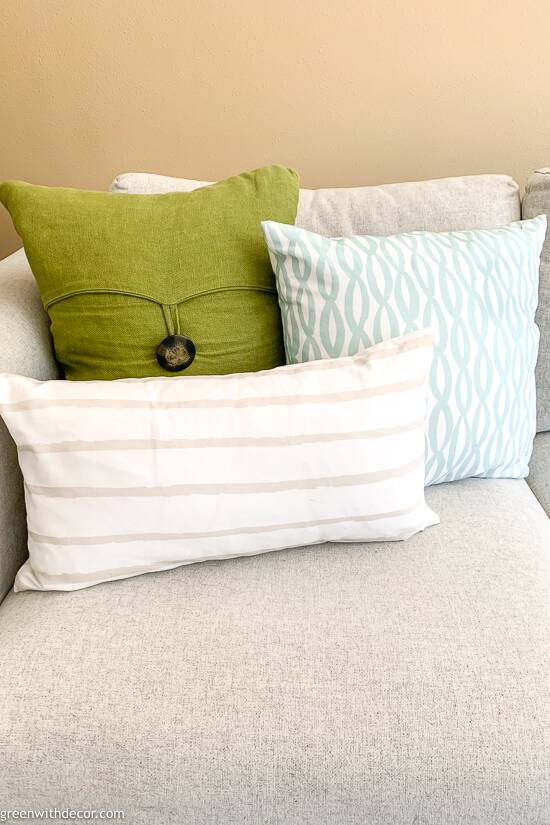 For a bedroom, think 3-5 throw pillows in front of 2 pillow shams.
Odd numbers are almost always a winner in decorating.
There are 4 things to keep in mind as mix and match throw pillows:
1. Colors
2. Patterns vs. solids
3. Textures
4. Shapes and sizes
1. Pick a color scheme:
When you're mixing and matching throw pillows, my favorite go-to color scheme is 2 colorful pillows and 1 neutral per grouping. Now, this doesn't mean only solid-colored pillows. (More on that in #2 below.)
As you're shopping, keep in mind that most shades of the same color work well together (dark blue/light blue, dark green/light green, tan/brown, etc.). If you get a bunch of pillows within the same color families, it's easy to mix and match them in different combinations whenever you want.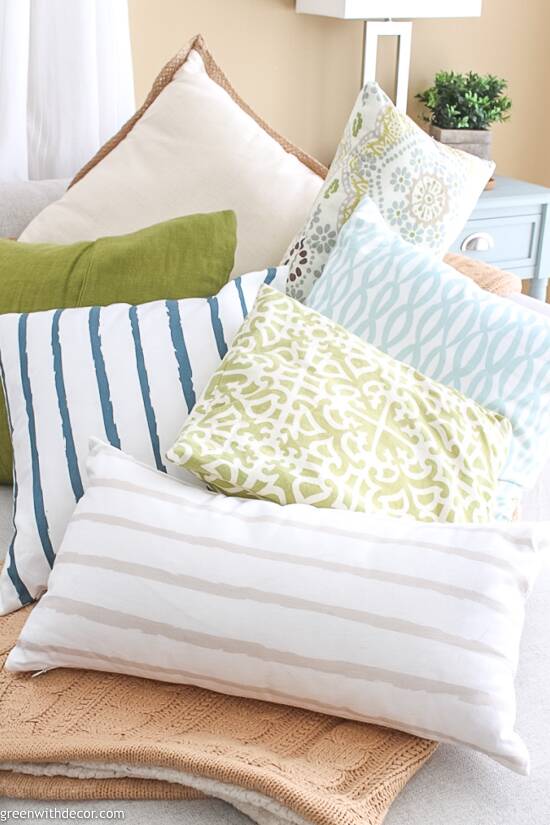 If the general color scheme of your house is the same, it's also fun to swap pillows between rooms when you want a new look.
The color of your couch can also play a factor in what color pillows you buy. Obviously, if you have a bright green couch, you're not going to want to buy any solid green pillows. Maybe stick to neutrals with smaller pops of color (including green).
I'm a big fan of neutral couches. We used mostly the same throw pillows with our darker brown couch as we do with this light gray one. Both couches provided a great neutral background even though one was dark and light.
How many of each pillow to buy:
I tend to buy pillows in pairs. Each grouping of 3 pillows in a couch corner doesn't have to be the same, and actually, I prefer they be different. I always say decorating should be more about balance than symmetry.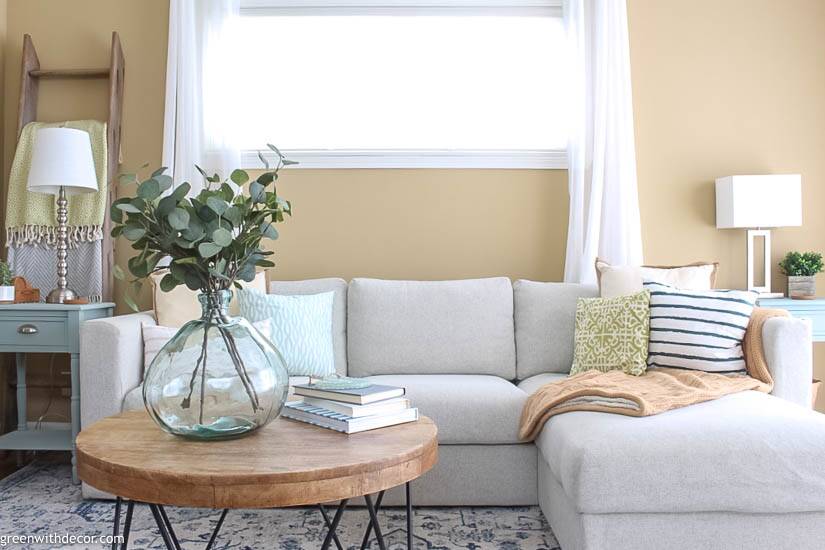 But it's nice to have a pillow repeat again somewhere else in the room. Or even have the same pillow featured in each couch corner, with the other 2 pillows of each different grouping.
Having a pillow repeat again elsewhere in the room makes it look like it belongs and gives the whole room a cohesive look, whereas having 7-10 different throw pillows throughout a space can look random.
2. Picking patterns vs. solids:
This combination works almost every single time:
1 solid: Keep in mind a solid pillow can have texture or a fun edge. (More in #3 below.)
1 busy pattern: Think anything nature inspired like florals or leaves, or just about anything with curves
1 simple pattern: Think anything with straight lines like stripes or plaid, or anything with a repeating geometric pattern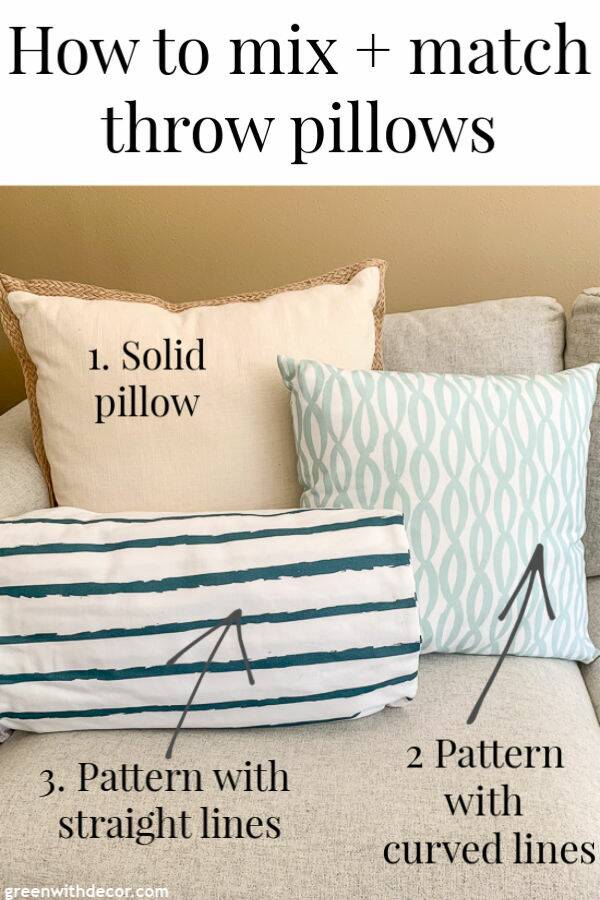 Keep in mind 'busy' and 'simple' are subjective and depend on your design style. Is your overall style bold or simpler?
A simple pattern in one arrangement might be bold in another. Just try to get two patterns that aren't the same design (e.g., two busy floral patterns).
Pattern scale: When you're looking at patterns, also keep in mind that one should be a bigger scale (big flowers or big plaid) and one should be a smaller scale (small flowers or small plaid).
Some say your biggest pattern should be your biggest pillow but again, I think design rules can be broken and this one comes down to a personal design choice and a few factors: how bold you want to be, what you like, and honestly, what pillows you can find in what designs.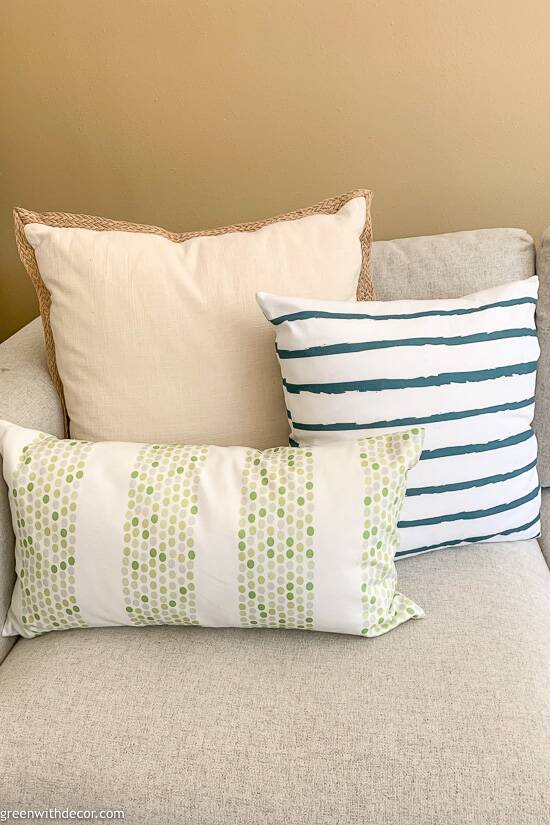 Shop solid pillows: one | two | three | four | five | six
Shop pillows with simpler / straight-lined patterns: one | two | three | four | five | six | seven | eight
Shop pillows with busier / nature-inspired / curved patterns: one | two | three | four | five | six | seven | eight | nine | ten | eleven
3. Pick different textures:
This is a great combo:
1 neutral textured pillow
1 colorful patterned pillow
1 subtle patterned pillow
Texture can mean all sorts of things, again ranging from simple to bold: a jute border, a fun zipper, buttons, tassels, pom poms, a 3D pattern, piping around the edge or even pillows made from velvet, leather, linen or fur.
You don't have to go overboard here (I certainly don't) but texture always gives an arrangement a little something.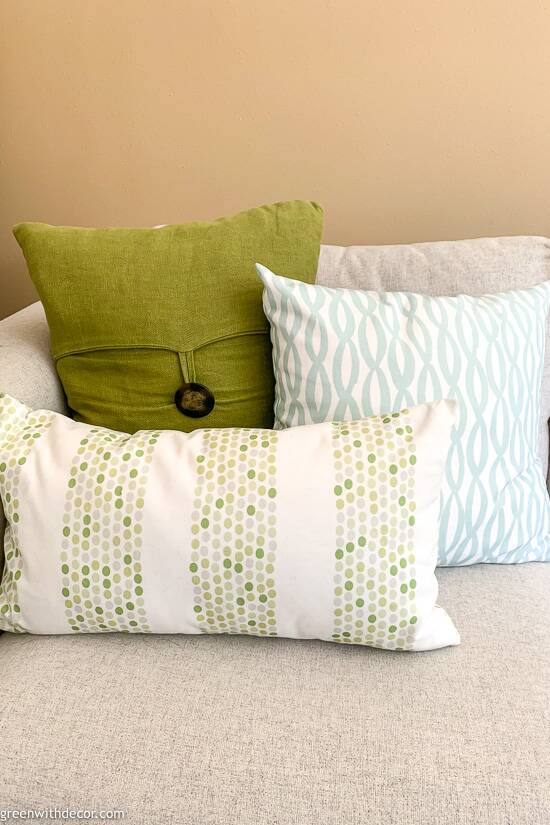 You'll want to balance texture and pattern so you don't have a lot of both, which can be overwhelming. As you start pillow shopping, you'll see a lot of really textured pillows tend to be neutral anyway, so this makes it easy.
Shop textured pillows: one | two | three | four | five | six | seven | eight | nine | ten | eleven
4. Pick varying shapes and sizes:
My absolute favorite combination of 3 pillows is a large square, a medium square, and a lumbar pillow. I stray from this sometimes as pillows get moved around our family room, but this is my favorite way to set up pillow arrangements.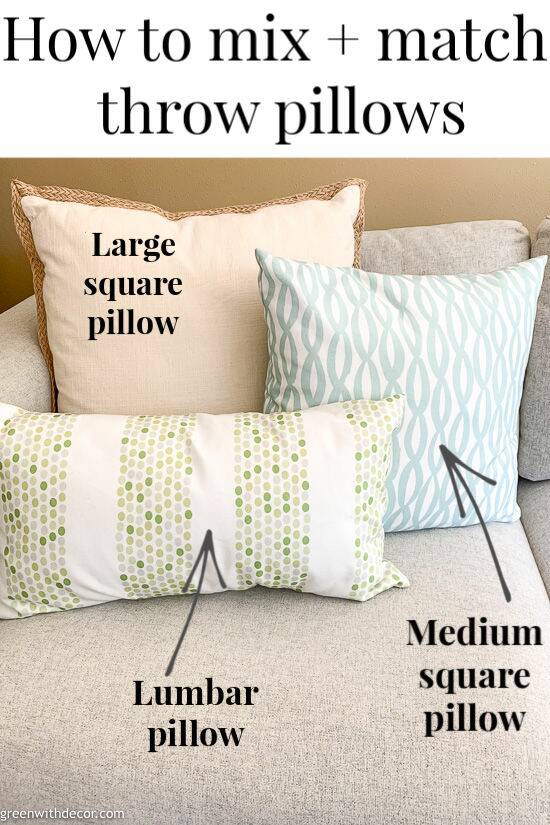 Pillows ranging from 18" x 18" to 24" x 24" are perfect for a couch or bed.
Large squares: 24" x 24" or 22" x 22"
Medium squares: 18″ x 18″ or 20″ x 20″. I generally don't buy square pillows smaller than 18"x18".
Lumbars: 21" x 12" is a great size. Don't go too small or it can look wimpy. Honestly, lumbar pillows are my least favorite. They're not as comfortable to lay on (big square pillows are the best!), but they definitely make a pillow arrangement feel 'complete' so invest in a few.
(Those small green + white small square pillows you see in some pictures are an exception. I liked the colors and pattern, and they were a random find at a local home decor store, so I bought them.)
With these 3 sized pillows, it's relatively easy to arrange them, with the largest pillow in the back, creating a triangle shape.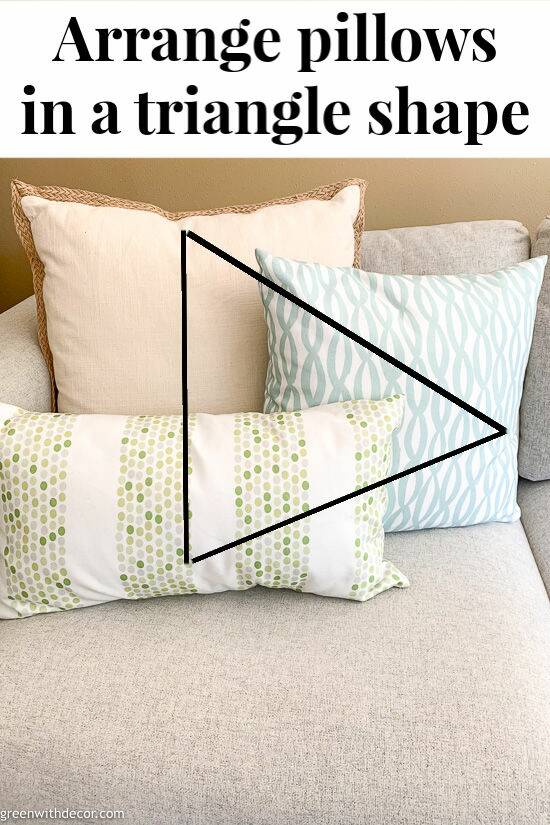 5. What inserts to use with throw pillow covers:
This one isn't related to patterns/colors at all but is definitely important to note if you find a pillow cover you love and need an insert.
Sometimes you'll come across just pillow covers, which is great, but then you need a good insert to make that pillow pop. You want your pretty new pillow cover to look good! (If your pillows are all pillows or covers that come with inserts, skip right over this section!)
Always buy an insert one size larger than the pillow cover. This will make your pillows look full (ex. buy a 20" x 20" insert for an 18" x 18" pillow cover).
if your pillows look flat, you need a bigger insert.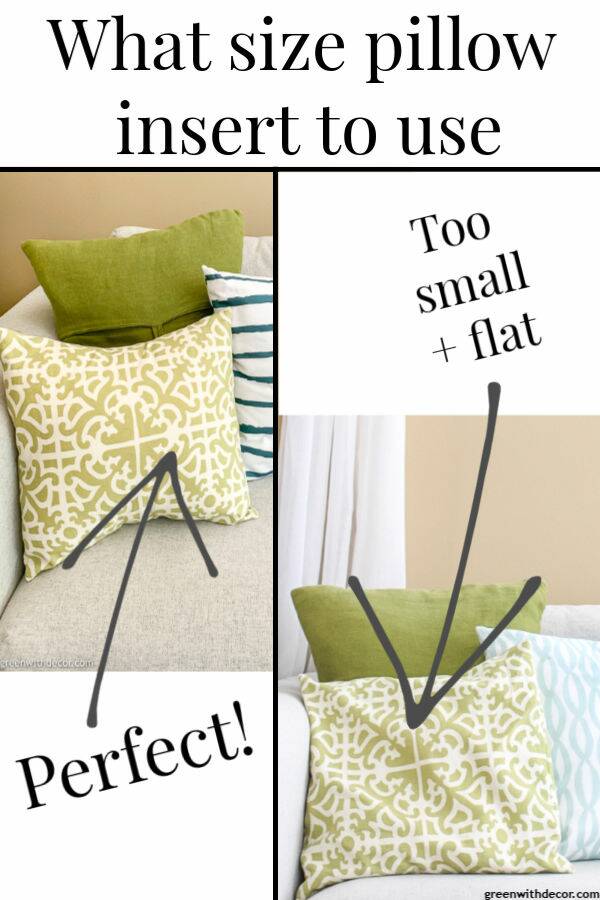 A bonus to pillow covers? They're easy to slip off and wash to keep clean and looking fresh.
Down inserts are great and comfortable. We all live in our houses! We use our pillows to lay down and watch TV, so they definitely need to be comfortable.
These are good down insert options: one | two | three | four
You can also check out the clearance sections of TJ Maxx or HomeGoods for throw pillow covers with good inserts. Just ignore whatever the pillow cover looks like (you can donate it later), you're only buying it for the nice, comfy insert!
Where to buy throw pillows:
Now that we've gone all through the 'design rules' for mixing and matching throw pillows, where to shop? I shared some links for pretty pillows above, but let's talk specific stores.
I've bought a lot of throw pillows from TJ Maxx, Homegoods, Marshalls, Target and World Market over the years.
Etsy is an almost hidden secret for great, affordable pillows for inside and out. You could spend hours looking through all of the gorgeous options on their site!
I also love our pillows from Minted. They're more expensive but great quality. They hold their shape despite being thrown on the floor all the time (tell me that happens in your house, too!), and they stay crisp and clean-looking. The whites still look white, and we've had them for years. 
And bonus, Minted's pillows come in a variety of sizes and colors so you can pick out exactly what you want rather than working around a pattern you love in a pillow shape you don't.
I love that with both Etsy and Minted you're supporting independent artists, all from the comfort of your couch!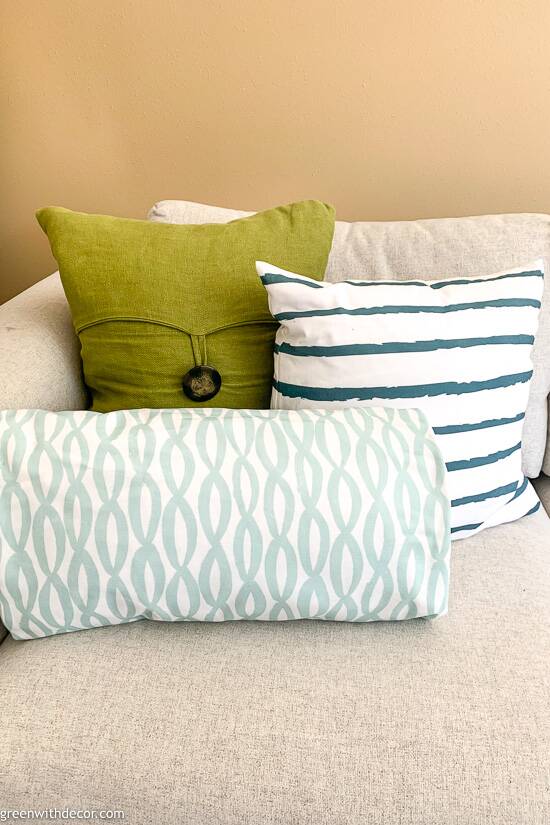 Testing patterns together before you buy:
if you're debating how the throw pillows you're eyeing will look together, take screenshots of the pillows online, then place them next to each other in Microsoft Word or PicMonkey. (See my easy tips for making a virtual design board here).
This way, you can see the patterns together before purchasing and decide if you like them together or not.
DIY pillows:
You can always make your own pillows, too if you find fabric you love. Here are my DIY pillow tutorials:
Wow, that's a lot to say on how to mix and match throw pillows! I hope it's all helpful.
What are your favorite tips for mixing and matching throw pillows?
If you want more of these decorating 101 posts, check these out:
Happy throw pillow mixing!
Remember to bookmark or pin this post if you want to save it for later!


Pin it!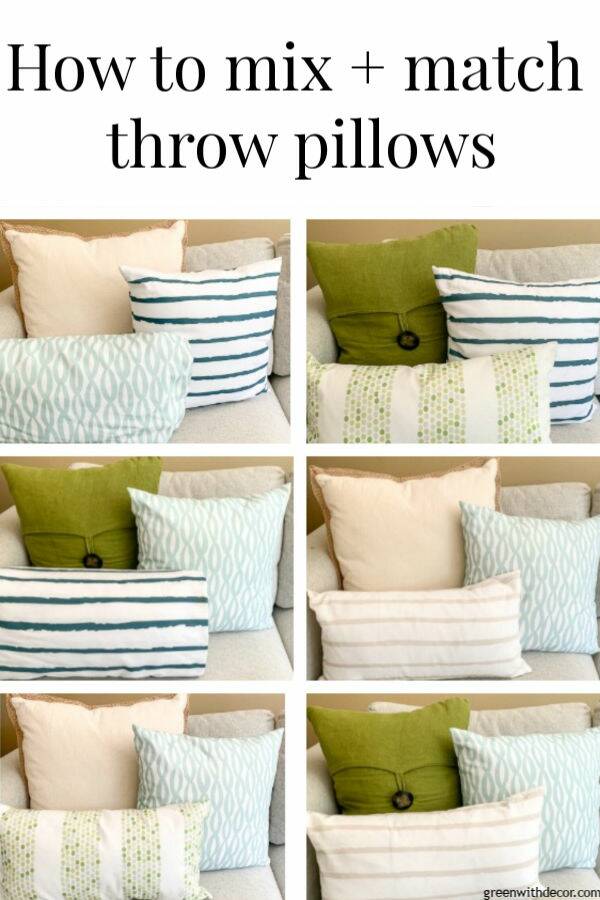 Want to read more posts like this?
Follow along: Get my emails | Facebook | Pinterest | Twitter | Instagram