Disclosure: PaperMart provided the gift wrap and twine, and Silk Paper Direct provided the wreath featured in this post as part of the Merry & Bright Holiday Home Tour. All opinions, images and love of Christmas decorating are 100% mine.
The Christmas home tour this week is continuing! I'm excited to share our Christmas family room today.
It's the room we spend the most time in (it has the TV with Netflix). Plus the family room has the Christmas tree with all of our meaningful ornaments, so it's pretty special.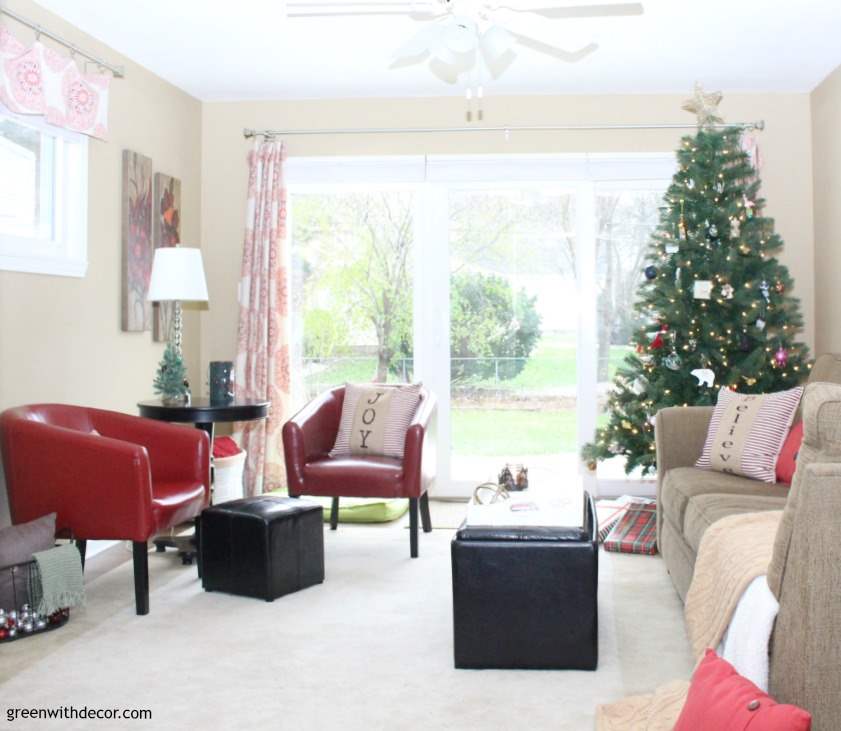 You can see the kitchen and bathroom tour here and foyer and living room tour here from earlier in the week if you missed them.
Today is week two of three of the Merry & Bright Holiday Home Tour hosted by the lovely Kellie of Design Asylum and Shelly of ConfettiStyle. Remember to hop over to see all of the other bloggers' houses all decked out for Christmas by clicking the links at the end of this blog post.
You can see my first Merry & Bright blog post all about dressing up cheap garland here.
Oakley was quite comfy on the couch and pretty much refused to move while I was taking pictures, so I just gave up and decided she'll be part of the classic Christmas family room tour.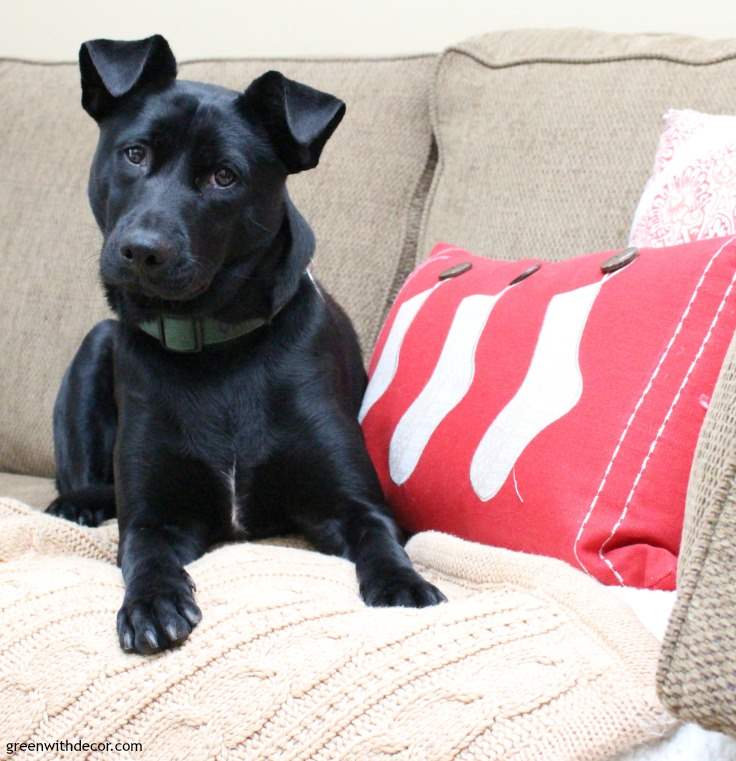 You may also notice we switched couches. This used to be in our living room.
This couch is SO COMFORTABLE. We put it in our living room when we moved in because it's bigger and that room is bigger. It made obvious sense. But we finally gave in and swapped the couches.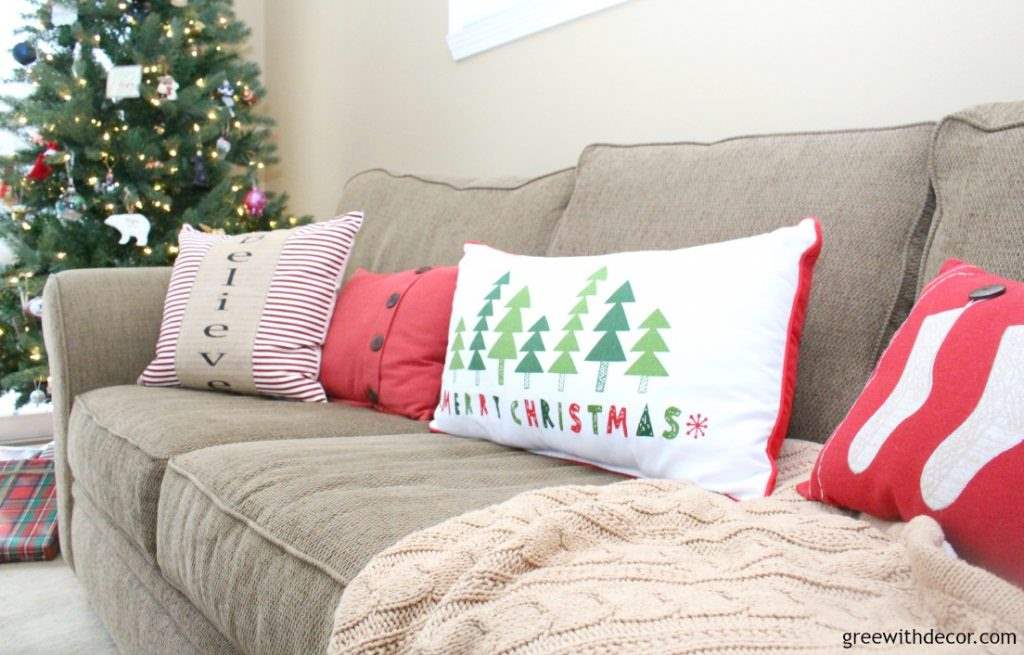 This one feels a little big in this room, and I need to figure out the small end table situation (after the Christmas tree comes down), but for now, I'm so comfortable I don't care.
Ironically, Kalen was more concerned about how the couches would look swapped than I was. I convinced him I'll figure it out.
His friend Zach was in town a few weeks ago, and I decided we finally needed to switch the couches because sometimes comfort wins over design. So Kalen and Zach swapped the couches. I'm sure he'll be visiting again soon given all the heavy furniture lifting.
Oakley seems to agree because ever since the couches got swapped, she basically spends her days sitting up there on her perch observing her kingdom.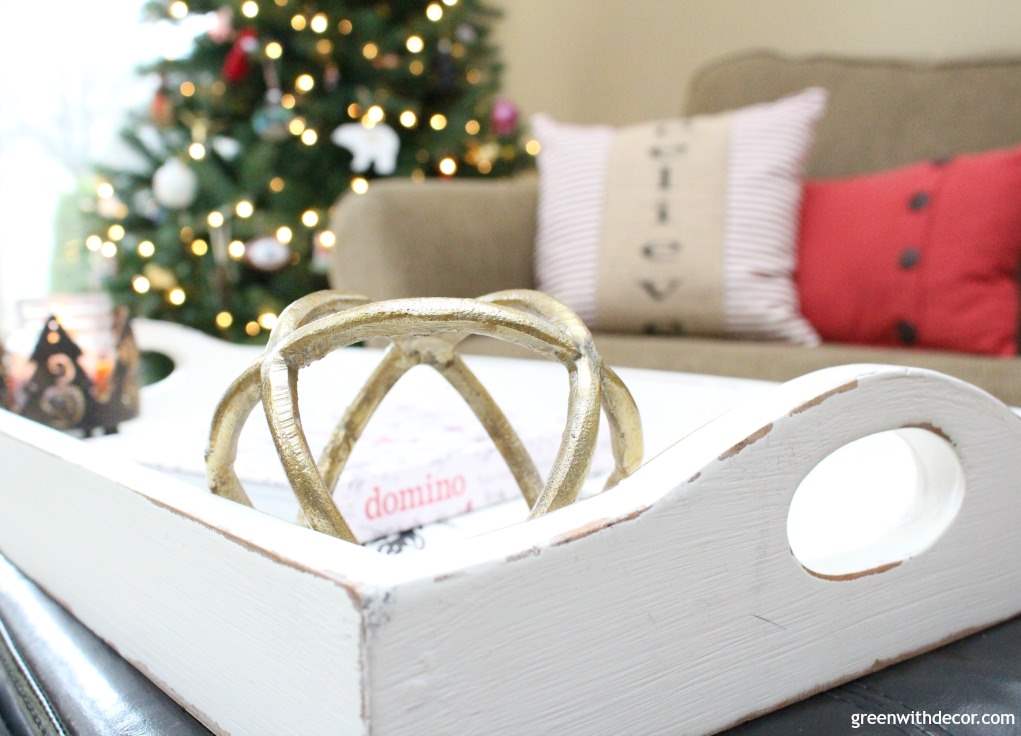 As for Christmas decorations in here, the tree takes center stage.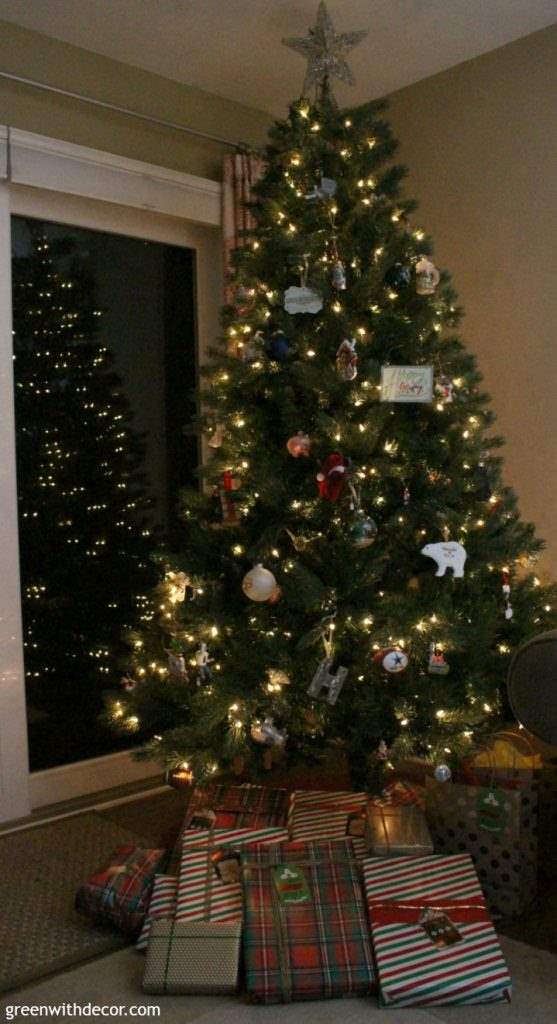 We collect ornaments everywhere we go – Packers games, Nashville, Vancouver, Aruba … plus other fun meaningful things like an Oakley look-alike and a pig (we met at a bar called The Pig & Whistle).
It's so much fun to look back on all the ornaments each year and remember fun memories from over the years.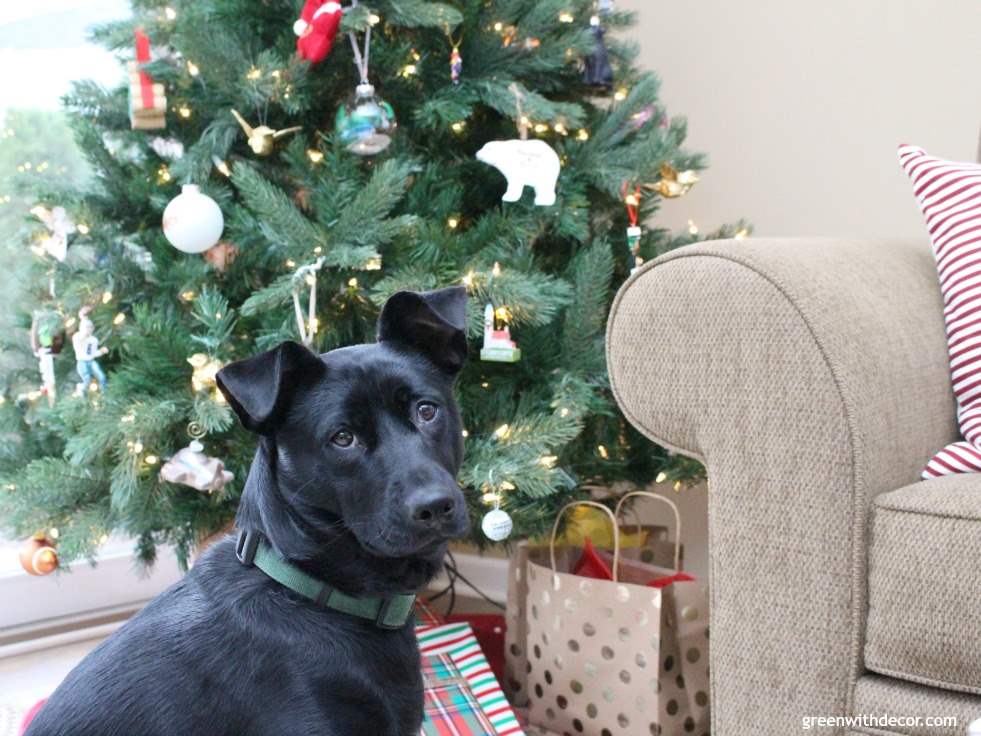 I'm slowly but surely getting the Christmas shopping done. I'm usually all about gift bags, but something about Christmas calls for lots of wrapping paper.
When I'm picking wrapping paper, I tend to mix in a neutral glam paper or two (like this gold polka dot) just in case I need wrapping paper for a wedding present throughout the year, I have some on hand. Otherwise, it's Christmas-themed paper all the way.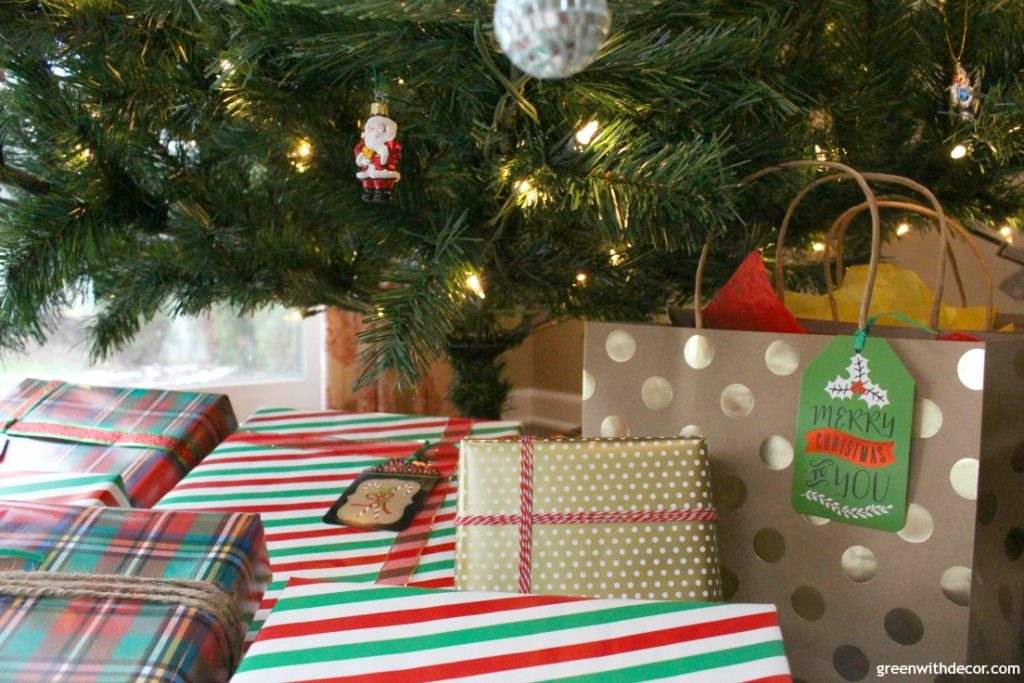 I'd love to be fabulous at making big pretty bows, but I'm just not. Instead, I tend to take ribbon and twine (yes twine, it works wonders!) and wrap them around presents a few times to add a decorative touch.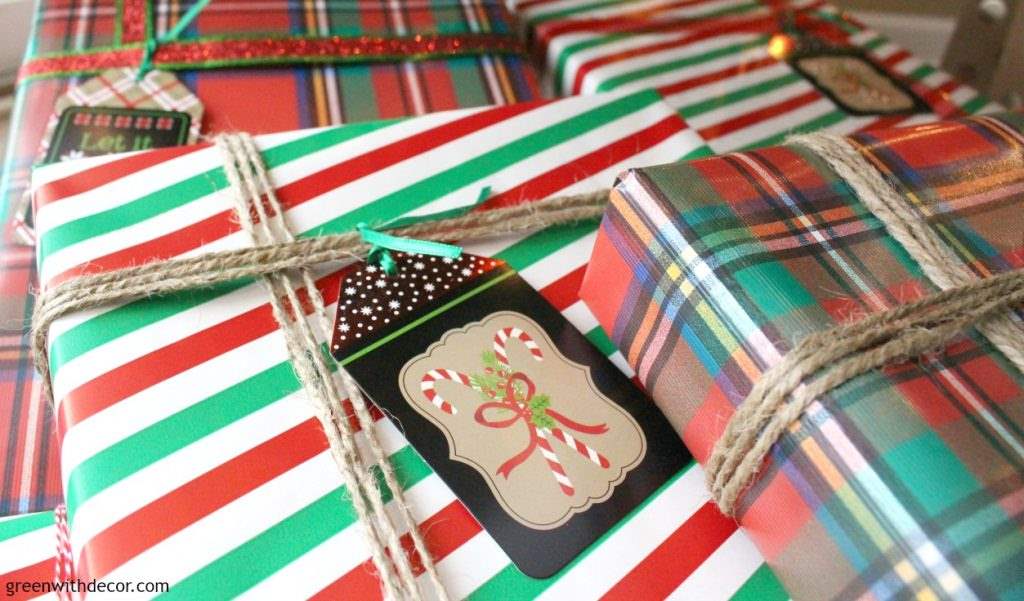 Plus these fun gift tags add a festive touch to the presents.
As for the rest of the room, of course throw pillows and ornaments are everywhere. They're just so easy and festive.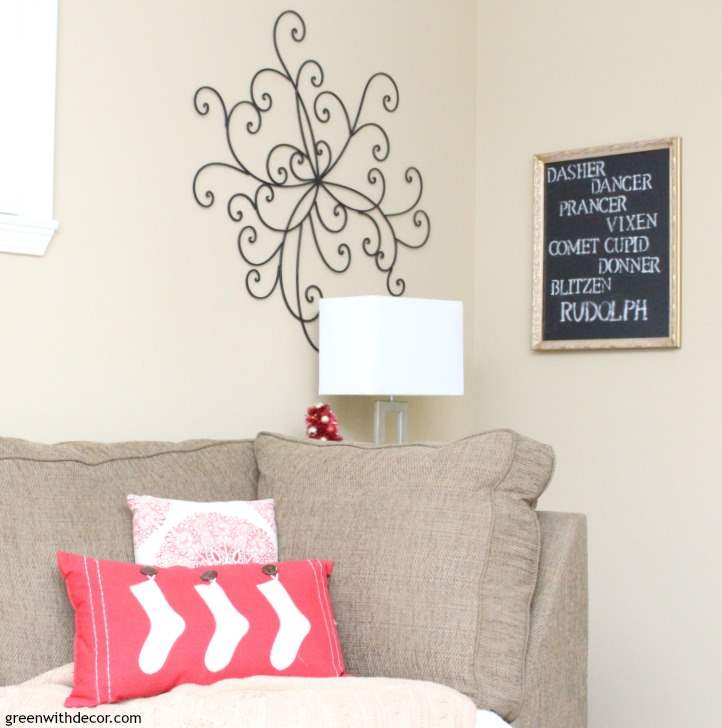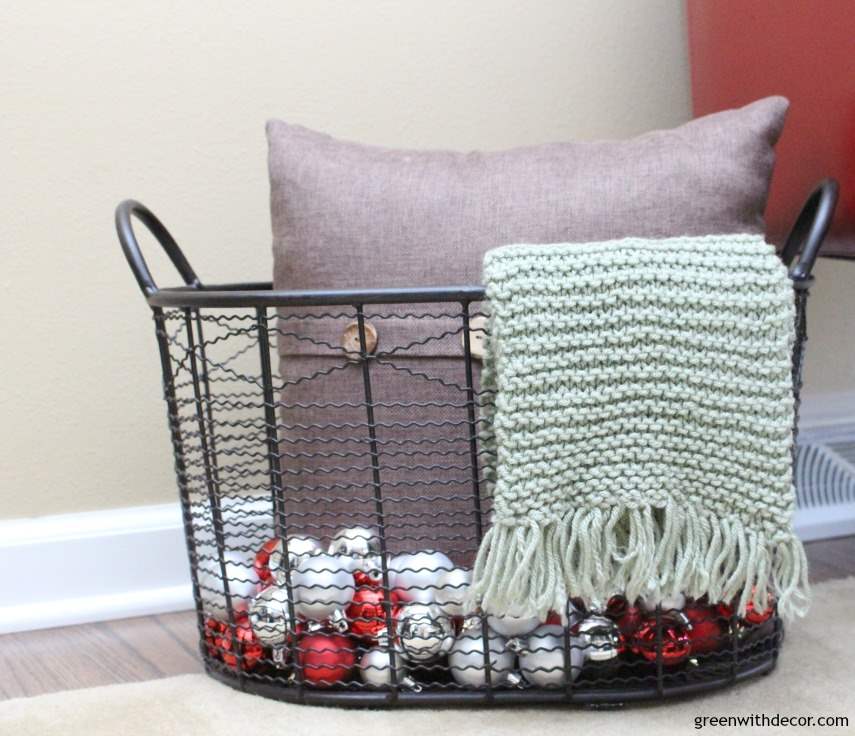 I love this big lantern. It's from the same collection as the two in the living room.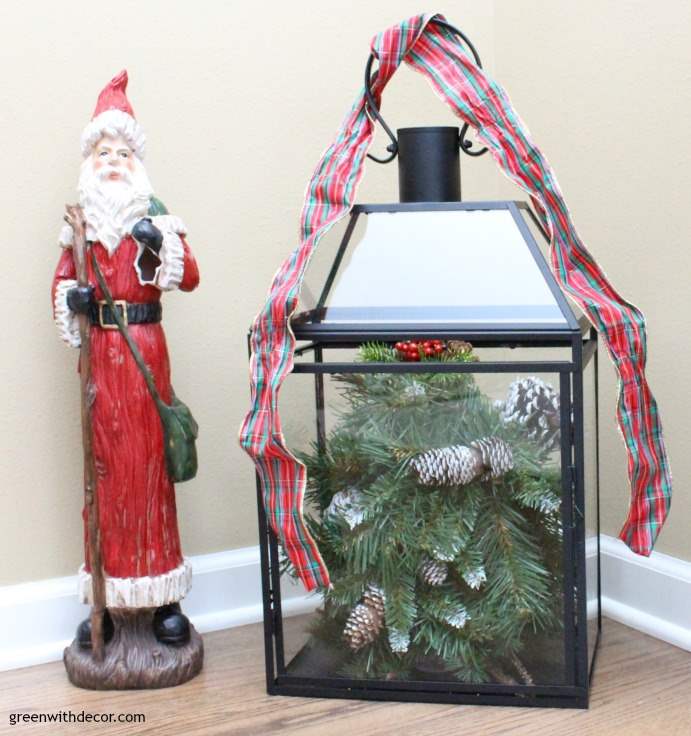 Oakley is absolutely terrified of the Santa statue, and we don't know why. But no matter what we do, we can't change her mind. So now it's just entertaining to watch her run by it hoping it won't come to life and attack her.
This little tree is from my grandparents, and I had to incorporate this little Santa 'believe' candleholder somewhere in the house for the holidays. I just love the word 'believe'.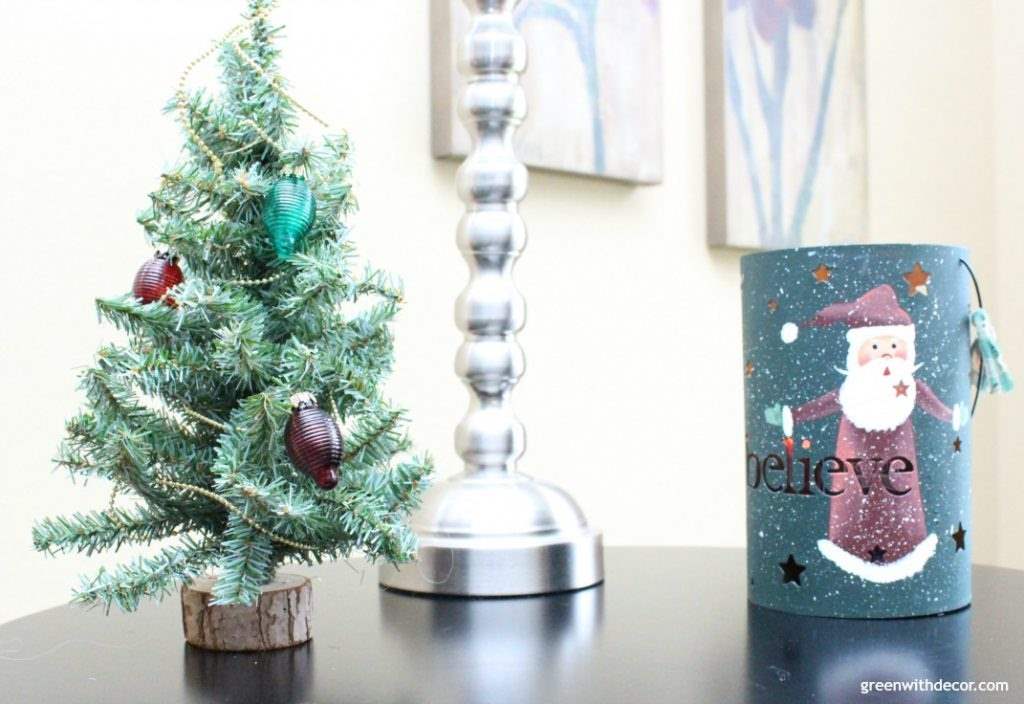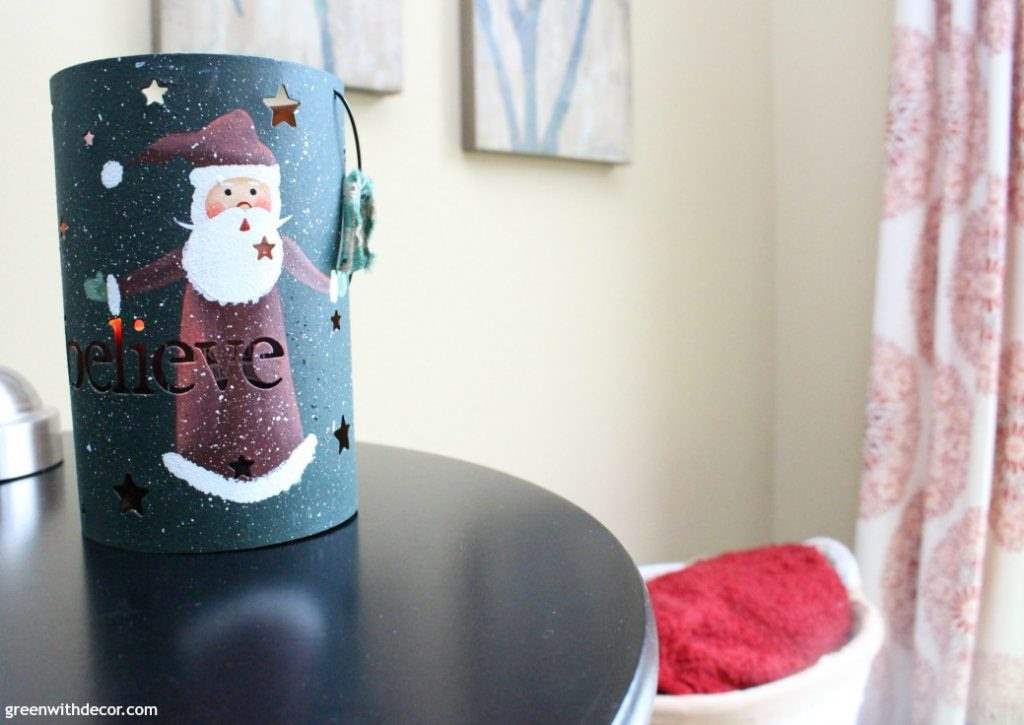 One more look at the foyer. I know we already talked about the foyer earlier this week, but this wreath just arrived, and I love it on the inside of our front door.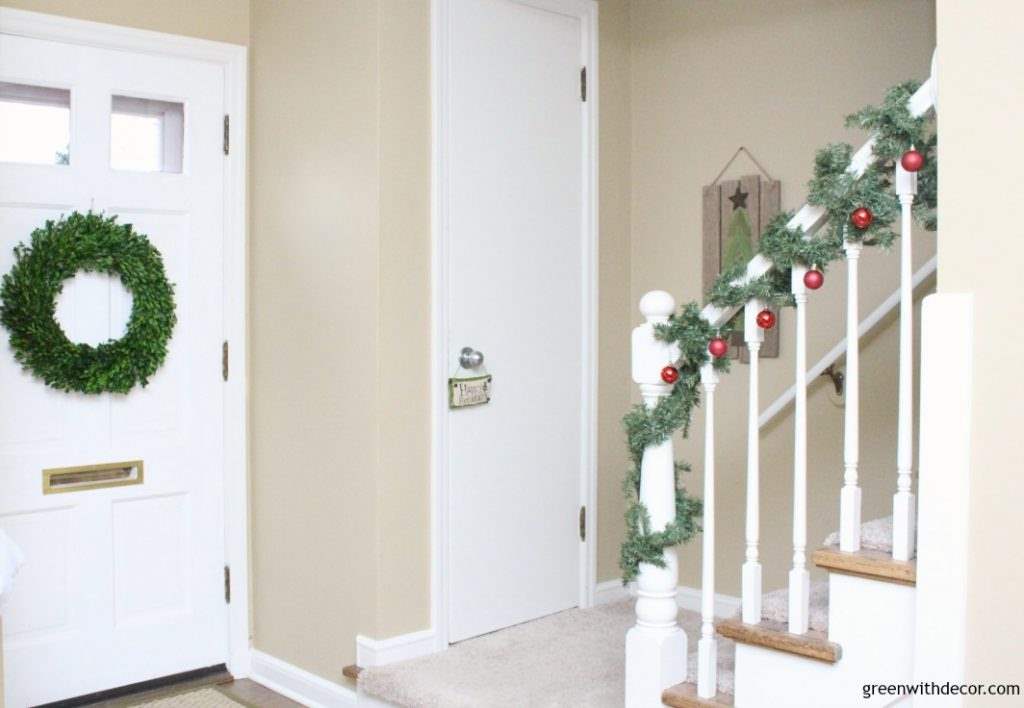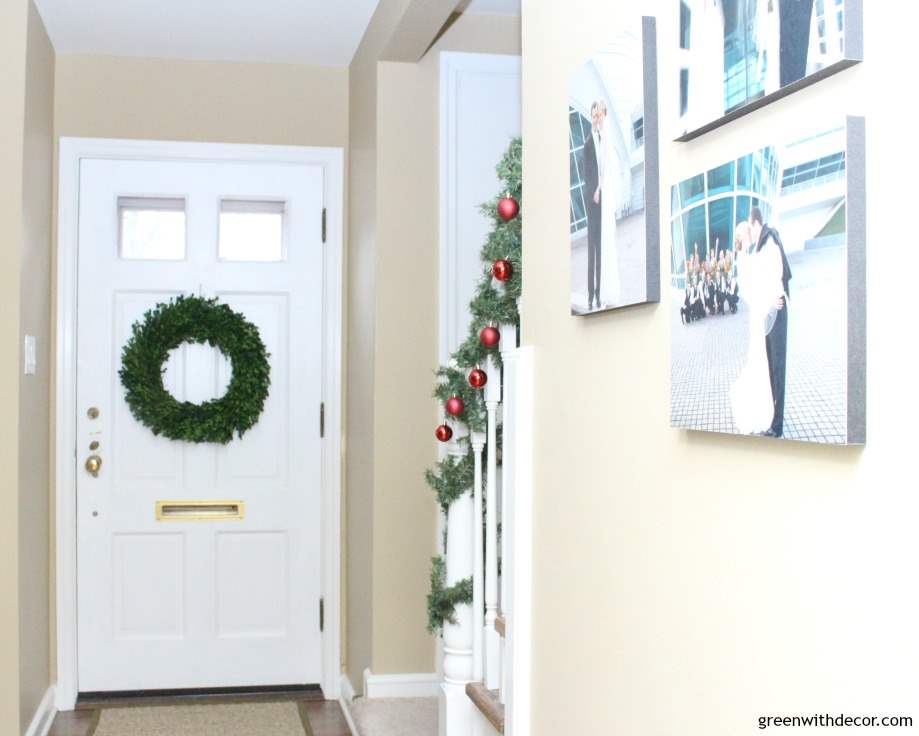 We have wreath on the front of our door, but since the door is typically closed, it feels festive to have something hanging around that we can see when we walk by.
I also debated pairing the wreath with this red truck welcome sign.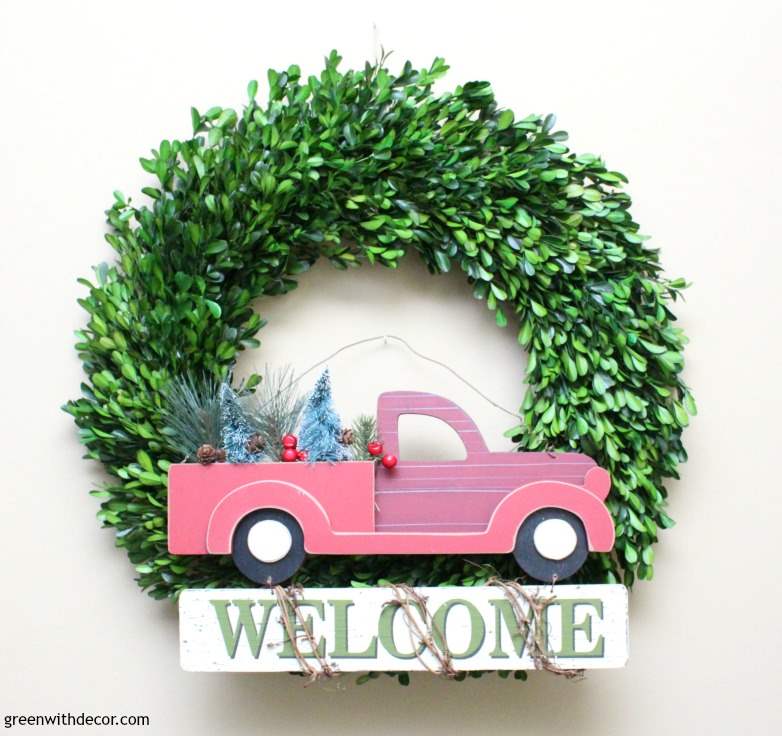 Where do you like the wreath better?
This post contains affiliate links. This means if you click the link and buy something, I may receive a small percentage of sales at no extra cost to you.
GET THE LOOK:
Since a popular question I get is "Where'd you get that?!," here are links to the same or similar sources:
Remember to keep hopping around and see all of the other bloggers' pretty Christmas homes! Design Asylum is next up.
Wife In Progress | Chic On A Shoestring Decorating | Positively Southern | Life and Style at 60 | My Life Well Loved | The Home I Create | Refresh ReStyle | ConfettiStyle | Love Your Abode | M Jones Style | Green With Decor (you're here!) | Design Asylum
If you like Christmas decorating, tour the rest of our house here:
Remember to bookmark or pin this post if you want to save it for later!


Pin it!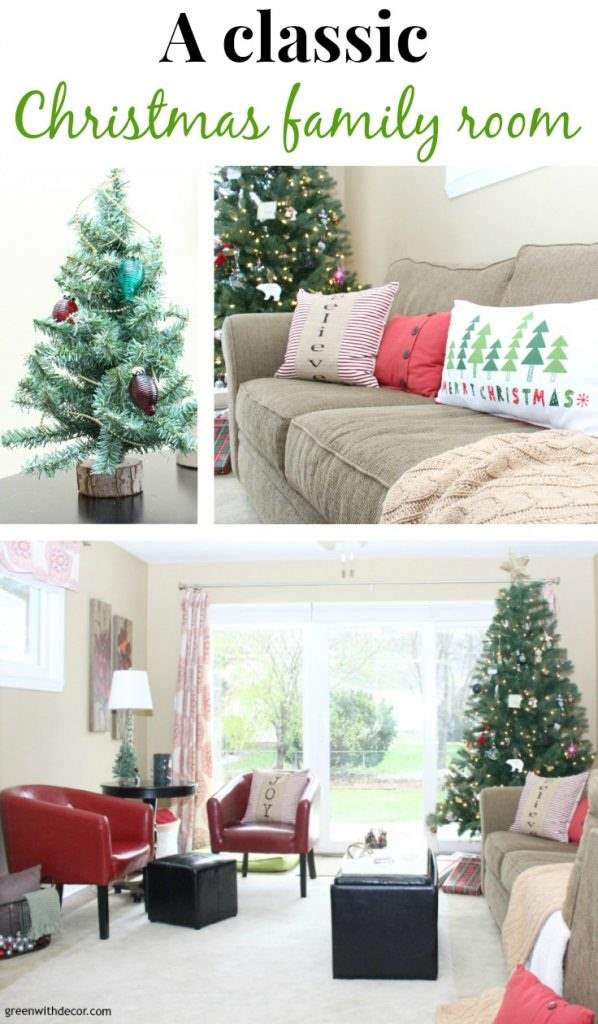 Want to read more posts like this?
Follow along: Get my emails | Facebook | Pinterest | Twitter | Instagram