A great list of beautiful, cheap white and green fabric options for curtains, valances, table runners and other sewing DIYs.
When I shared our aqua and green coastal tablescape a few weeks ago, I got questions on the white and green fabric I used as the table runner.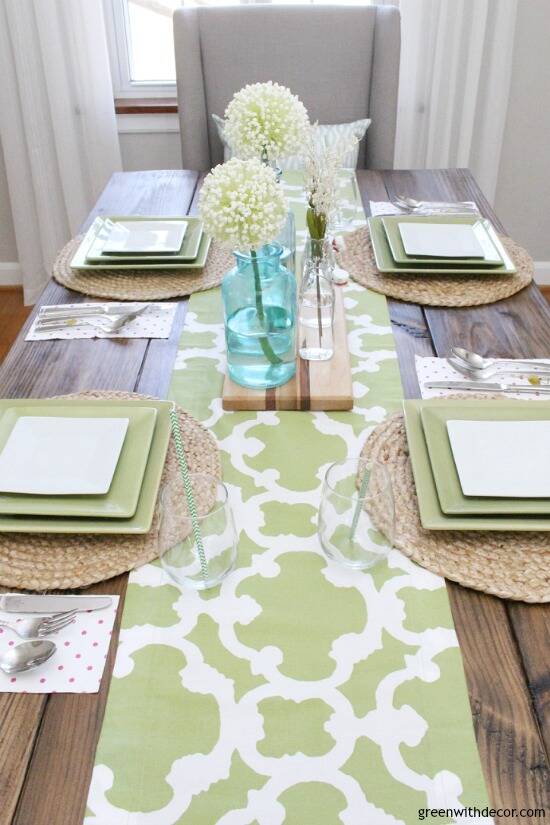 Ironically, it's a shower curtain from Target that I turned into a window valance in our white kitchen in our Milwaukee house.
At the rental, we used one of the valances in the mudroom/back foyer (picture below), but we had a couple leftover so using it as a table runner seemed like a great idea. Talk about repurposing fabric, ha!
This post contains affiliate links. This means if you click the link and buy something, I may receive a small percentage of sales at no extra cost to you.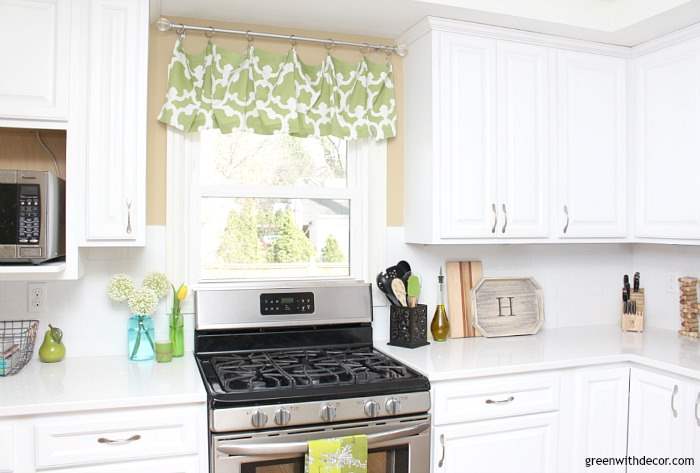 GET THE LOOK: Basket | Cabinet handles | Curtain rod | Curtain clips | Green spatula | Olive oil dispenser | Tray
But bad news, as Target does, the shower curtain is no longer available. Their home decor selection is always funny to me, some things last FOREVER, and some things sell out never to return.
I bought our family room curtains around the same time I bought that shower curtain for the kitchen, and they're still going strong so who knows.
Basically, if you see something you love at Target, buy it because you just never know. I actually have an extra shower curtain (still in its packaging!) sitting in the craft closet just because I loved the fabric and figured they'd stop restocking it at some point.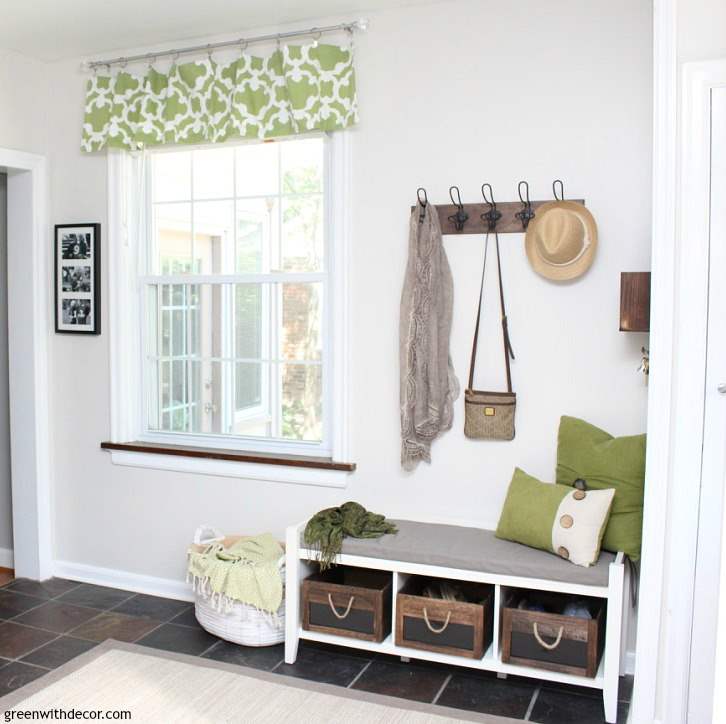 GET THE LOOK: Curtain rod | Wood + metal hooks | Brown scarf | Green scarf | Wood message center | Bench | Crates | Rug | Small pillow
But that obviously doesn't help those of you that said you loved the white and green fabric and are wondering where to get it!
Even before that spring tablescape post, it's a question I get from time to time – usually whenever that shower curtain turned window valance pin starts circulating on Pinterest again.
And I hate that my answer has to be, "Oh, sorry, it's no longer available …"
So I thought I'd scour the internet and look for similar white and green fabric options that aren't crazy expensive. Just twist my arm to do some online shopping. 🙂
I'm sharing the fabric finds below. This might have been a dangerous idea for myself, because I want them all now … These would be fun patterns for valances, curtains, table runners, pillows, you name it!
White and green fabric options under $15/yard
Click any of the links below for more info.
Waverly In the Frame Kelly Fabric
Waverly Parterre Sun N Shade Grass Fabric
We have this fabric on pillows (see them in our living room), and I love it!
P/Kaufmann Lightweight Decor Fabric-Cross Section/Honeydew
White and green fabric options under $30/yard
Suburban Home Rico Jungle Green Fabric
Robert Allen @ Home Strie Ikat Leaf Fabric
White and green fabric options under $45/yard
Pindler & Pindler Laramie Jade Fabric
Eaton Square Upholstery Fabric
Hopefully this list is helpful if you've been on the lookout for pretty white and green fabric! I think these patterns are all so perfect for spring or summer, I might have to do a few DIYs with some of them! Which one is your fave?
For more sewing fun, check out these posts:
Remember to bookmark or pin this post if you want to save it for later!

Pin it!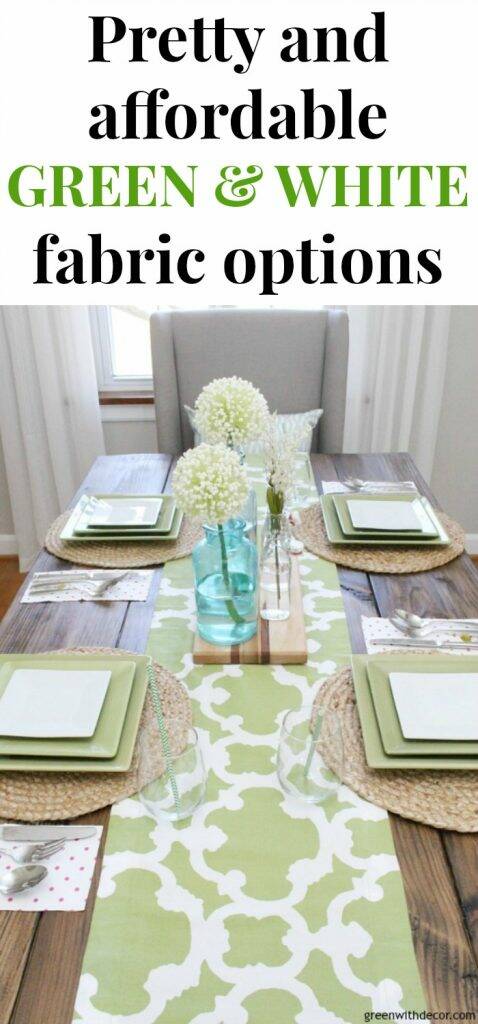 Want to read more posts like this?
Follow along: Get my emails | Facebook | Pinterest | Twitter | Instagram