Want to give your bathroom a makeover but can't renovate, whether you're renting or just don't have the budget? Here are 8 easy, affordable ways to update your bathroom when you can't renovate.
When you're scrolling through gorgeous bathrooms on Pinterest or shut off the latest episode of Fixer Upper featuring another beautiful bathroom … getting up and walking around the corner to your outdated bathroom can be frustrating.
Especially if you don't have the budget for a renovation right now or you're renting so renovating isn't an option.
Ooooh do I get it. Gutting and starting over with this bathroom wasn't an option, but we did find some ways to update the bathroom to make it more our style. If you're in the same boat, I figured I'd share some of our easy, affordable tips.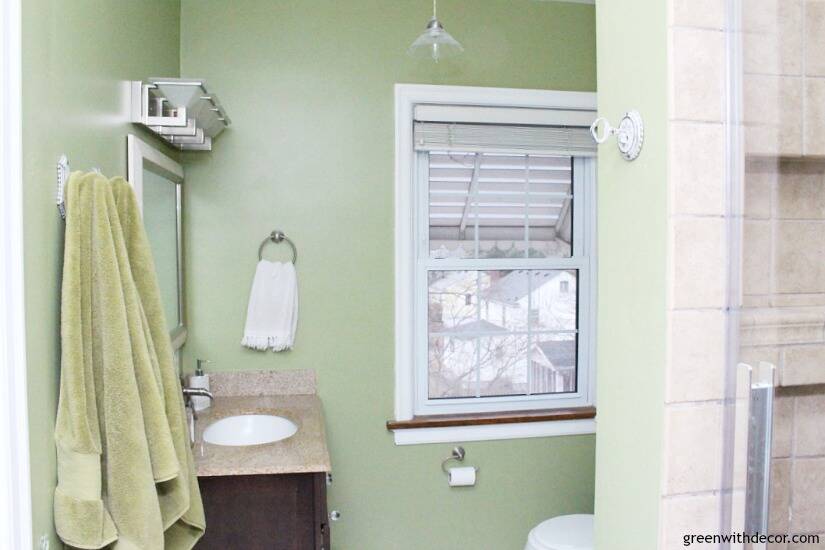 If you're in the market for a bathroom renovation, check out my favorite bathroom renovation design tips (and the before and after of the last bathroom we fully renovated). You can also grab a copy of my bathroom renovation checklist in that blog post.
8 WAYS TO UPDATE YOUR BATHROOM WHEN YOU CAN'T RENOVATE:
1. Paint
I say it all the time but guys, the power of paint! Seriously! It makes such a difference.
We used Ryegrass by Sherwin Williams.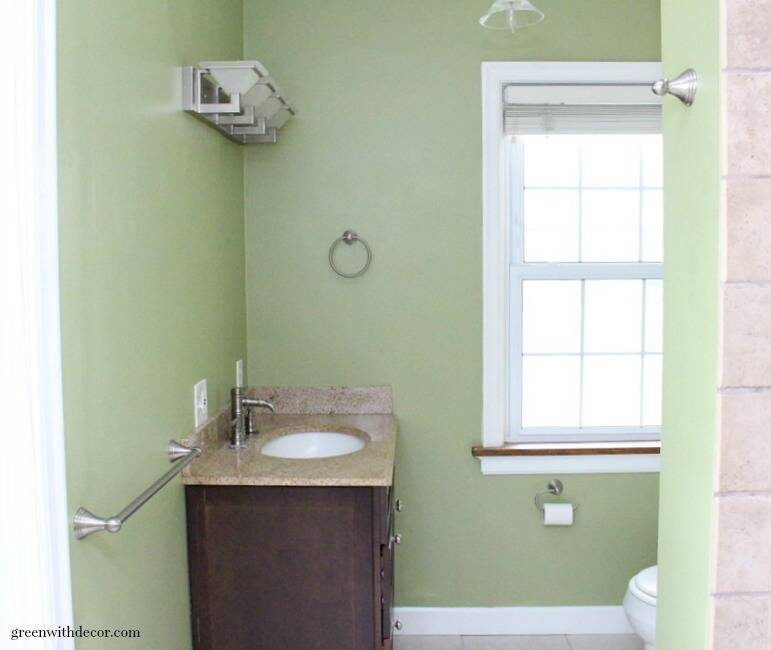 Remember the before?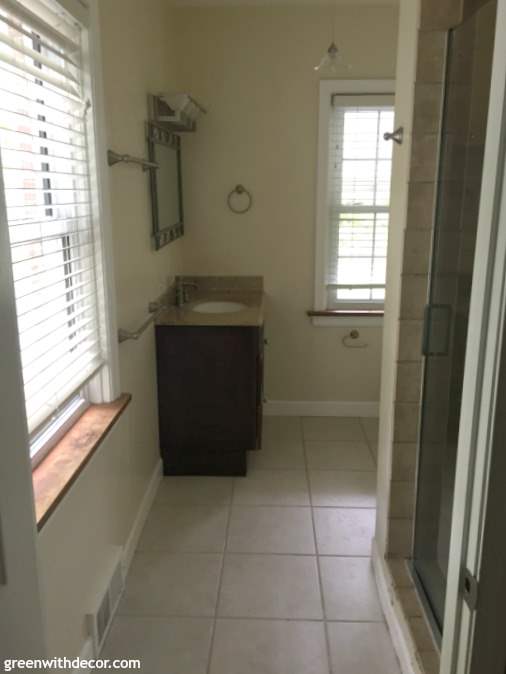 This post contains affiliate links. This means if you click the link and buy something, I may receive a small percentage of sales at no extra cost to you.
2. New vanity hardware
I talk about this a lot when I share furniture makeovers, but new hardware can really make such a difference.
It may not be a new vanity, but it feels like an upgrade.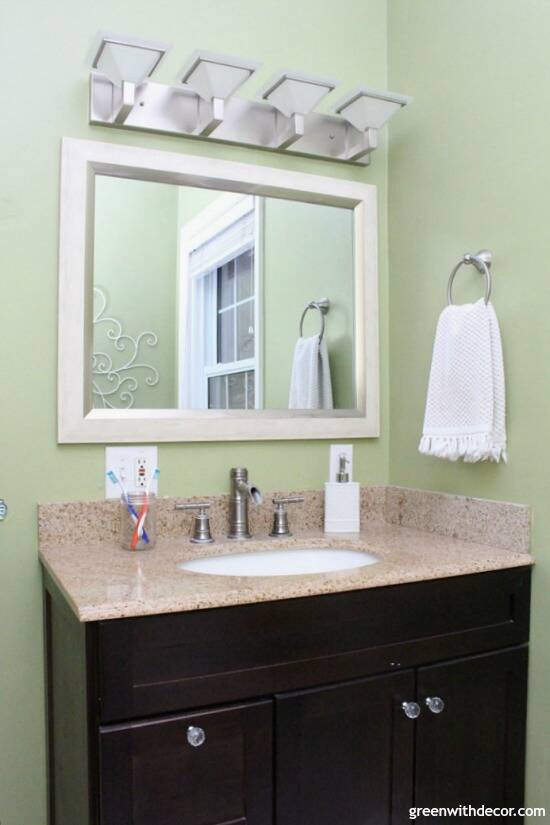 Plus if you're renting. it can just feel cleaner to just start over with fresh new hardware that you know is clean. (Just remember to switch them back when you move out.)
I love crystal knobs – these or these are my faves.
3. New mirror
This is one of THE easiest ways to update the look of a bathroom without much time or money.
Here's what was originally in the bathroom: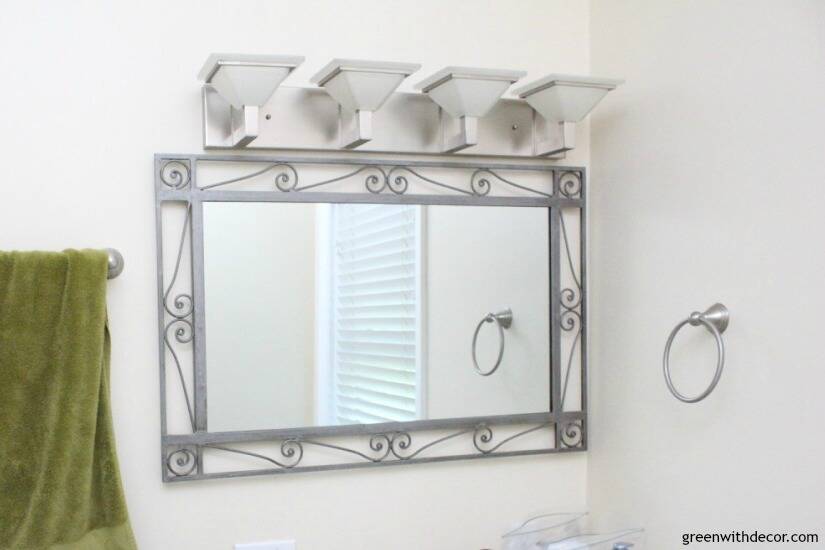 We found this new one at a local home decor store's big sale over the summer.
The mirror inside was a little crooked, but Kalen took the back off and fixed it in about five minutes. Win-win.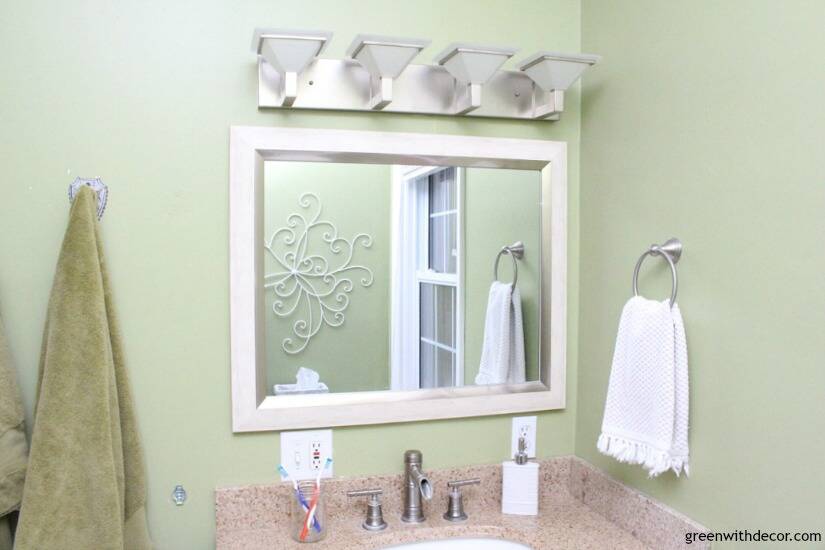 I love how you can see the wood grain of the frame.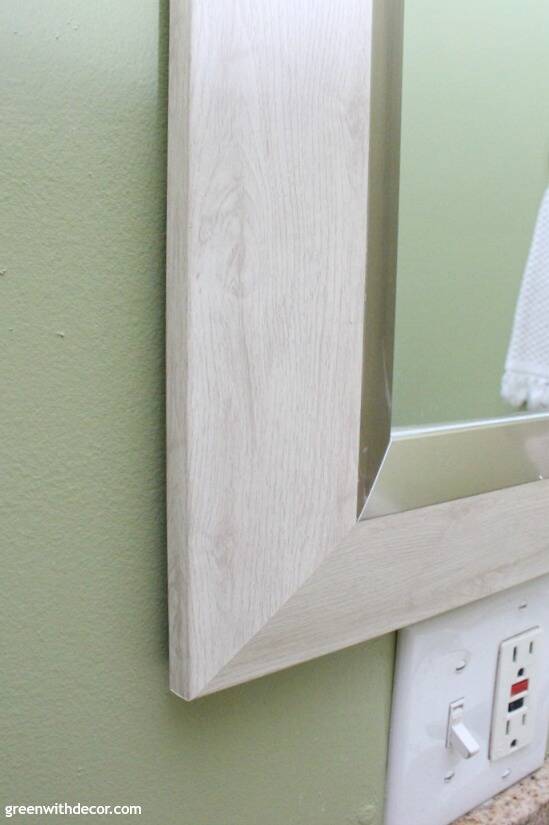 4. New towel hooks/bars
These little hooks were a flea market find, and I loooove them.
These are similar if you're looking for some.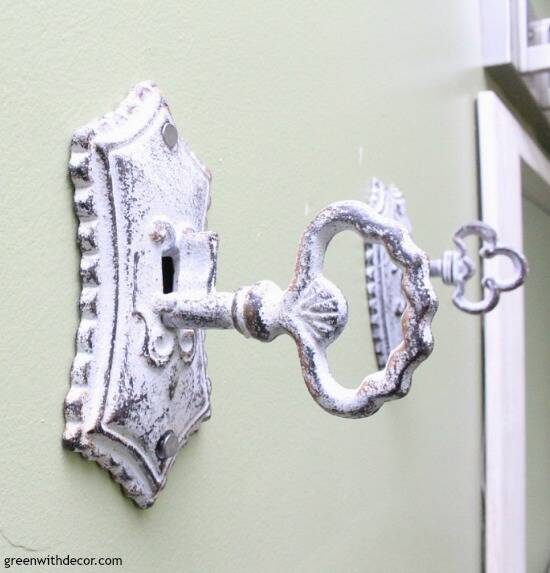 Somehow these little hooks just freshen up the bathroom and make it feel more personal rather than towel bars someone else picked out.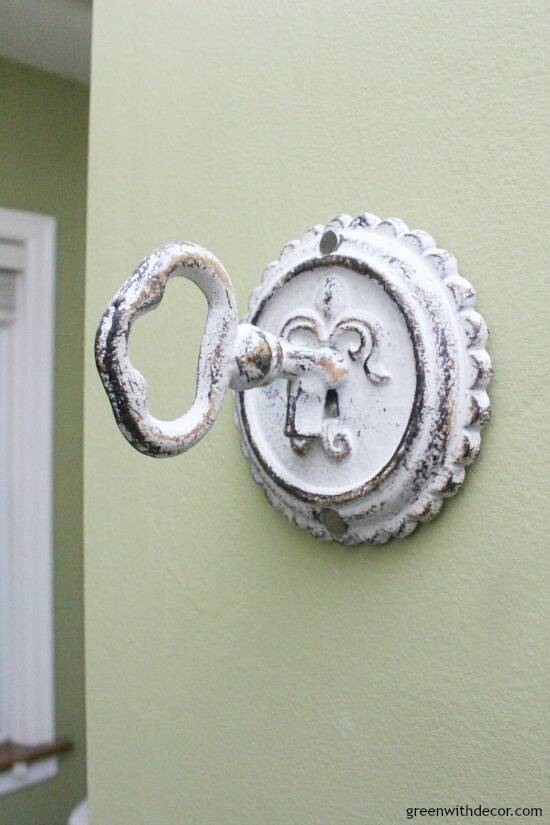 5. New rugs
Especially important if you're dealing with a freezing cold tile floor (will winter ever end?!) or just a floor you don't love that you'd rather cover up.
I bought this white one and this gray one, and they're perfect for the space. The white one is so fluffy especially after you wash it.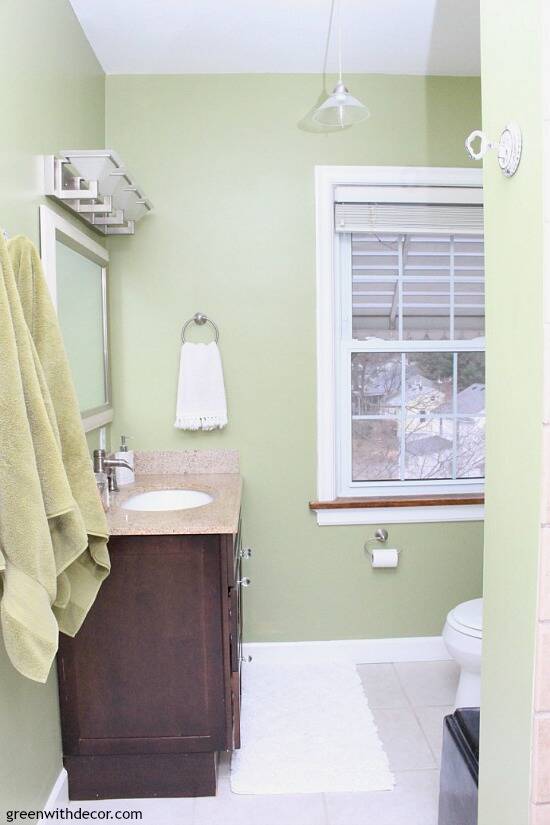 6. Wall art
I shared how we updated this metal wall art last week. It was black and too dark for the space so it'd just been sitting in the sunroom collecting dust.
With a little white paint, it looks like a whole new piece (and cost us nothing!).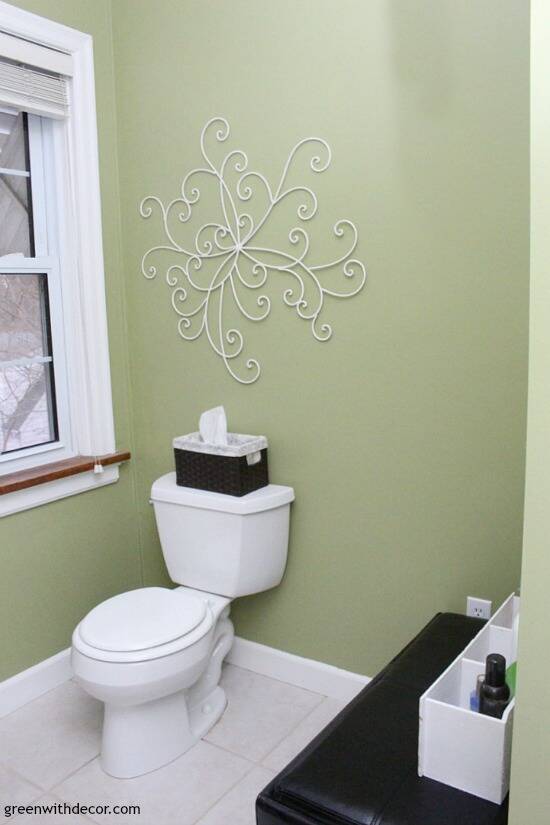 7. New faucet
We're not replacing the faucet, but it's an easy switch that you can either replace back/take with you when you move or an update you can make prior to renovating that you can then use after renovating.
8. New light fixtures
We decided to just leave the light fixtures in here, but again, this is an easy switch you can make to then take with you or to jumpstart a bathroom remodel.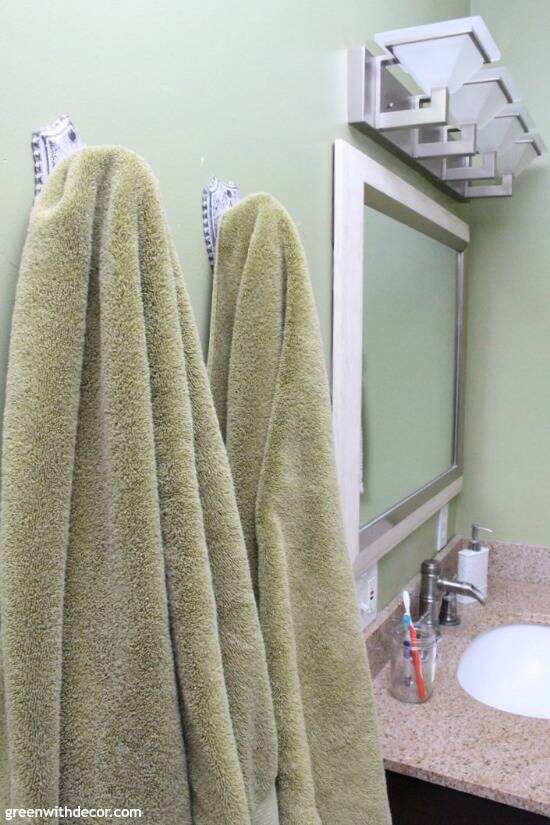 If you're looking for new bathroom lights, check out these posts for my favorite bathroom vanity lights on a budget and sconces on a budget.
Are you enjoying your dream bathroom or not quite yet? Do you have any other fun easy tips for updating a bathroom when you can't renovate?
GET THE LOOK:
Since a popular question I get is "Where'd you get that?!," here are links to the same or similar sources:
You can catch up on this bathroom's makeover progress in these posts:
Or if you're planning a full bathroom renovation, remember to check out the details of our other bathroom renovation here (that post also includes a free printable renovation checklist so you don't forget anything in the crazy process.)
This bathroom makeover is part of the $100 Room Challenge hosted by my friend Erin from Lemons, Lavender & Laundry, where bloggers update a room for just $100 (it's possible!).
All of the other bloggers' projects are linked below if you want to see.
Remember to bookmark or pin this post if you want to save it for later!


Pin it!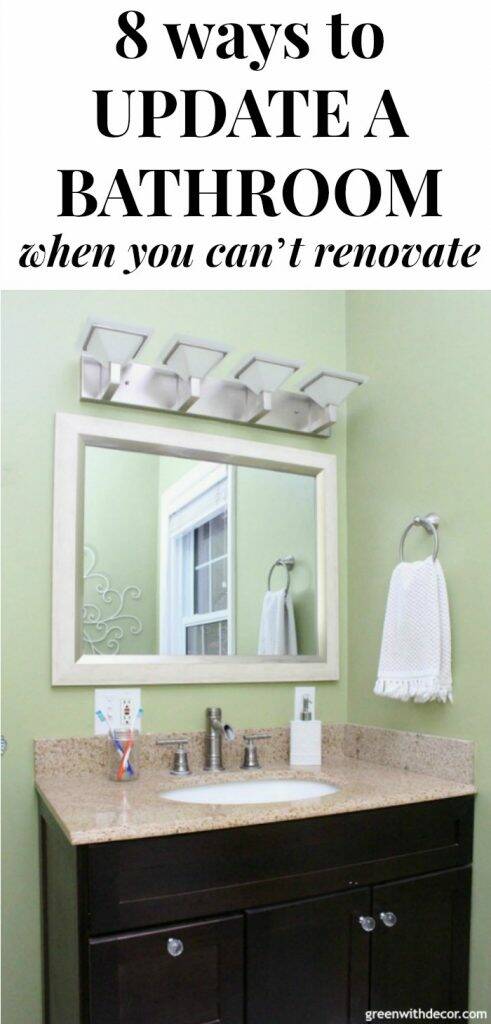 Want to read more posts like this?
Follow along: Get my emails | Facebook | Pinterest | Twitter | Instagram