Picking paint colors can be a challenge, but I pretty much decided the rental house was going to be a chance to try out some new colors, live with them for a couple years and see if I love 'em.
Nothing crazy, we're sticking with neutrals and some pops of blue and green (I can't let go of Ryegrass, my favorite green paint color … more to come on that). But a rental house is a good excuse to try out a new color or two.
Like Sherwin Williams' Krypton blue. I loooooove it. Is it weird to just walk into a bathroom and look around and smile at the walls? I didn't think so.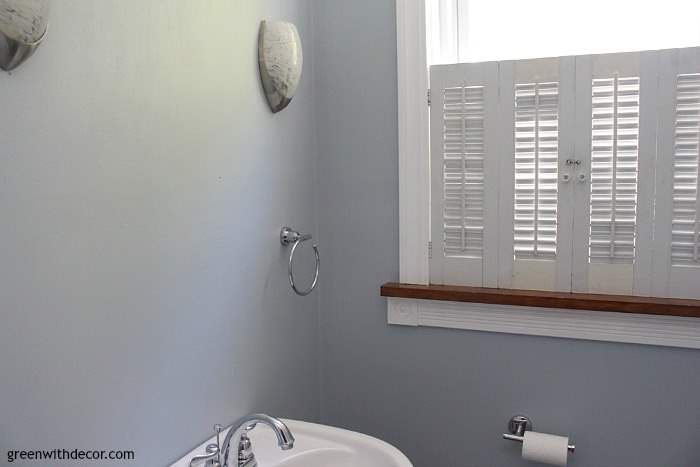 Kyrpton really is the perfect blue paint color. It leans a little gray, but in the best way. I'm so glad I decided to start introducing blue into our decor scheme because this paint color is just beautiful.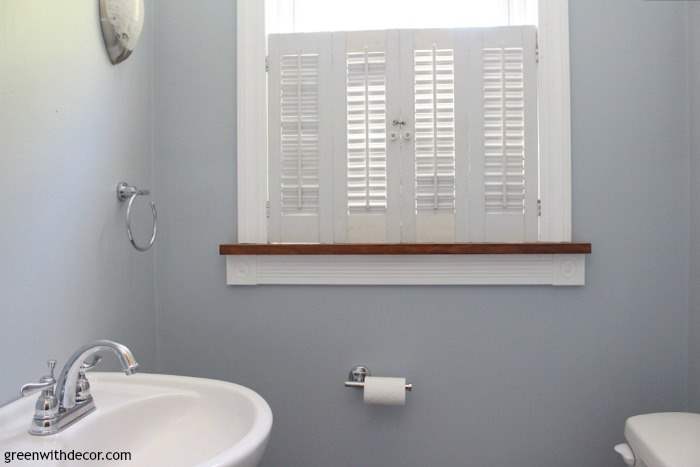 Doesn't the window trim just pop now?! I'm even coming around to the wood window sill among all the white. And those shutters are too cute. They still need a coat of white paint to freshen them up, but we'll get to that.
In case you missed the before tour of the whole rental house last week, here's how the room started: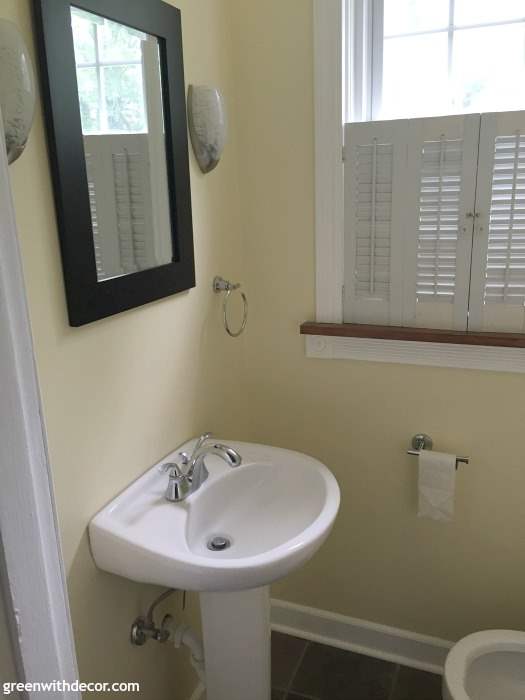 Pale yellow just doesn't do this room justice.
We'll ignore the light fixtures. Since this is a rental, we're just leaving them. At least they're silver and white. They'll blend in with the overall decor in here if you squint. 🙂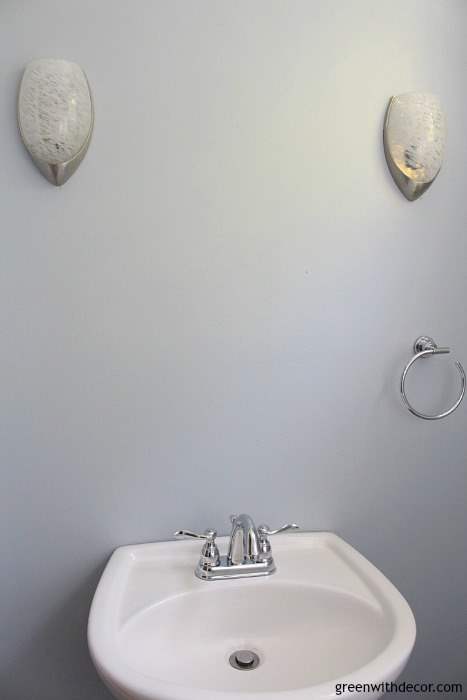 The slate floor was diiiiiirty but after about ten scrubbings, it's feeling clean. I still may find a little rug for in here to brighten up the floor.
More to come on this room — a new mirror and some kind of storage solution since there's none in here. I'll also put together a blog post of all of our paint colors once we're done. I'm loving how the whole house color scheme is coming together.
Are you a fan of Krypton now, too? Or do you have another blue paint color you love enough that you walk into a room just to stare and smile?
This post contains affiliate links. This means if you click the link and buy something, I may receive a small percentage of sales at no extra cost to you.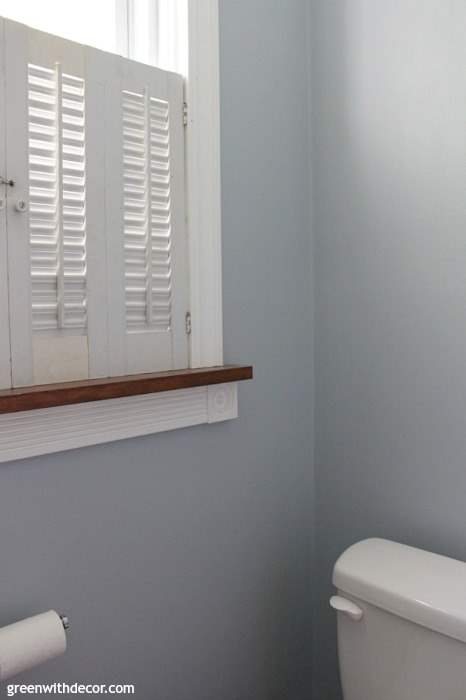 And a big thanks to you all for all of the comments and well wishes on last week's before tour!
Oh and one other thing. My cousin and her husband just moved, too, so we've been chatting about furniture placement and how it changes when you move into new houses. World Market has a huuuuuge furniture sale going on right now, so check it out if you're on the hunt for new furniture pieces, too.

Want to read more posts like this?
Follow along: Get my emails | Facebook | Pinterest| Twitter | Instagram | Google+
If you want to save this post for later, remember to bookmark it or you can pin it here: