If you have an outlet right in the middle of a wall, get one of these paintable outlets so it blends right in!
This post contains affiliate links. This means if you click the link and buy something, I may receive a small percentage of sales at no extra cost to you.
Okay, this is the easiest DIY ever.
Like maybe not even worth a blog post, except when I discovered these paintable outlets, I was excited and felt like of course I needed to share them with you.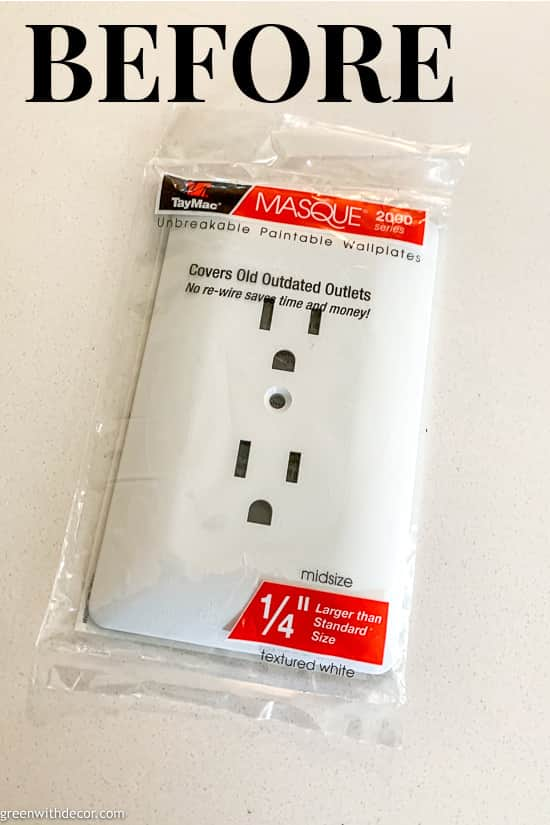 Because I wish I'd known about them sooner.
Plus any project that's quick, cheap and makes a difference should definitely be talked about, right?! Sometimes the big projects are too overwhelming when you're busy, but this is one you can knock out during kids' nap time or between dinner and bedtime.
When we renovated our kitchen, we ended up with SO many outlets. I realize it's building code, but wow, we have so many. They're just everywhere.
Including above our big peninsula, even though we also have outlets on either end so there's really no reason to ever use this center one.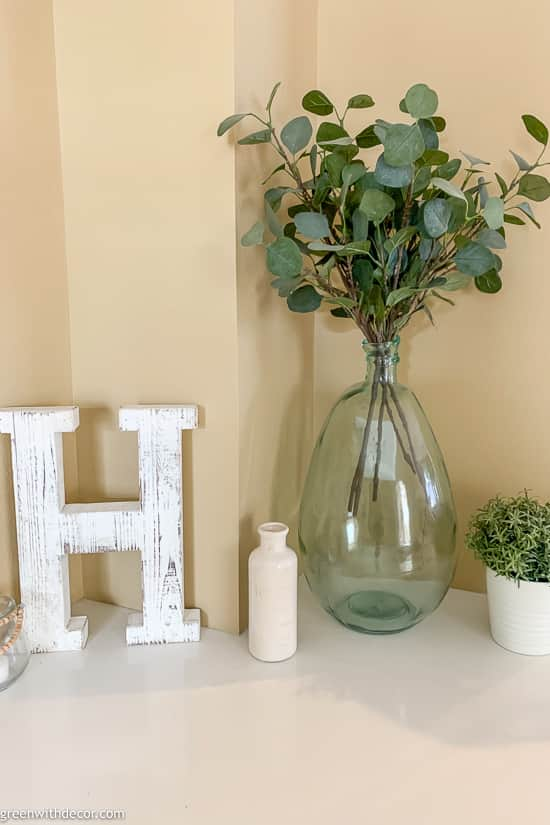 I've always covered it up with some sort of decor, but this aqua glass vase, despite being one of my favorite decor pieces, is obviously see-through being glass and all.
I hated that you could always see this white rectangle in the middle of our Camelback tan wall!
Then I swapped out the white outlet for this paintable one, and it looks so good! You can't even tell there's an outlet back there!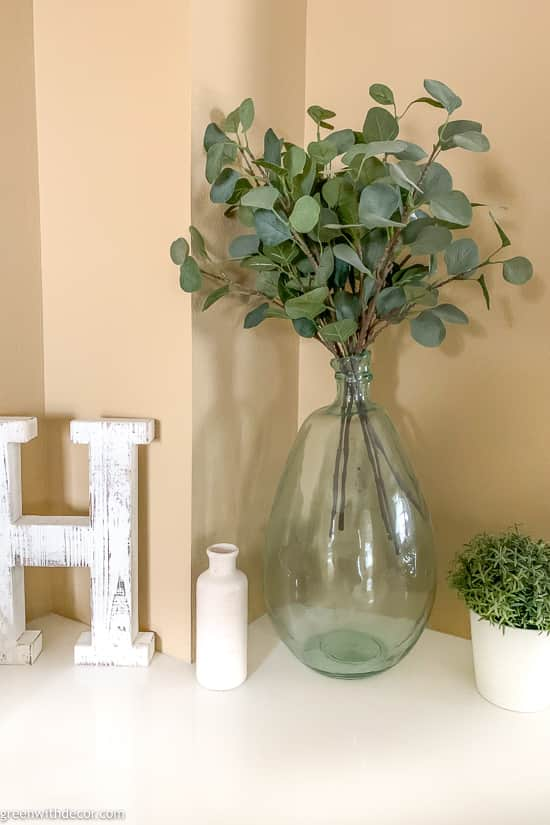 I've seen paintable outlets in the past, but the plug parts were still white, so it seemed kind of pointless to me to paint the edges just to still have two big white circles staring at you.
This paintable outlet is perfect!
Supply list:
Paint stir stick
Paint – I used Sherwin Williams' Camelback to match our walls. (Be sure you're using paint in the right color and sheen to match your walls! My free printable paint can labels can help keep your paint collection organized!)
Screwdriver
How to paint an outlet:
This is so easy it barely requires a tutorial!
Basically just apply your brushstrokes in the same direction and remember to paint the screw so you don't have a white screw in the middle of your beautifully painted outlet!
I forgot to paint the screw at first and had to get my brush back out.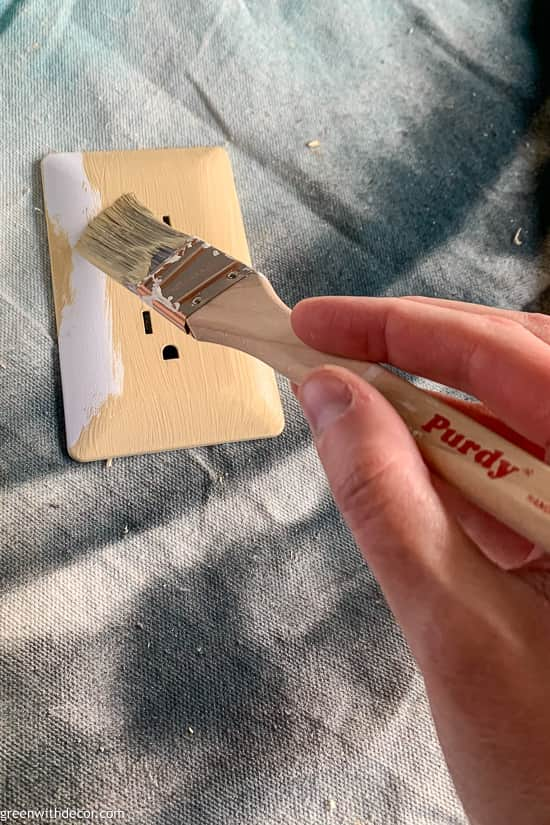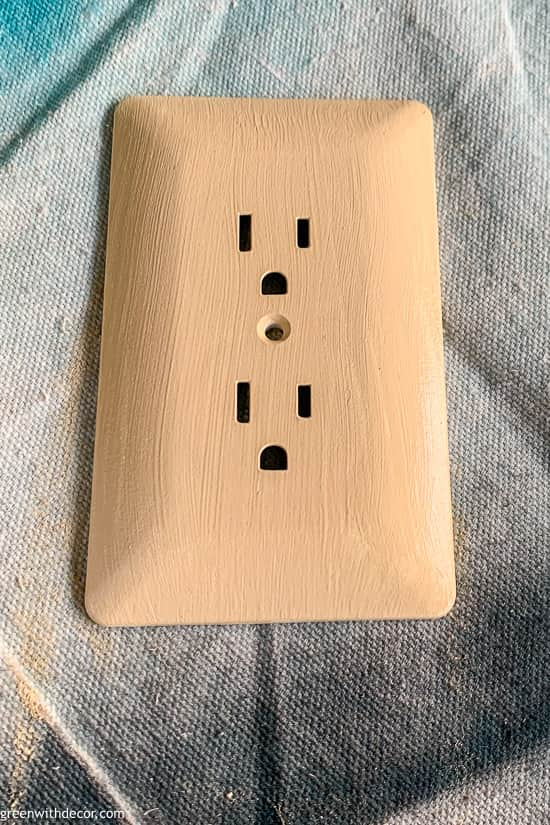 Then screw your new outlet into the wall.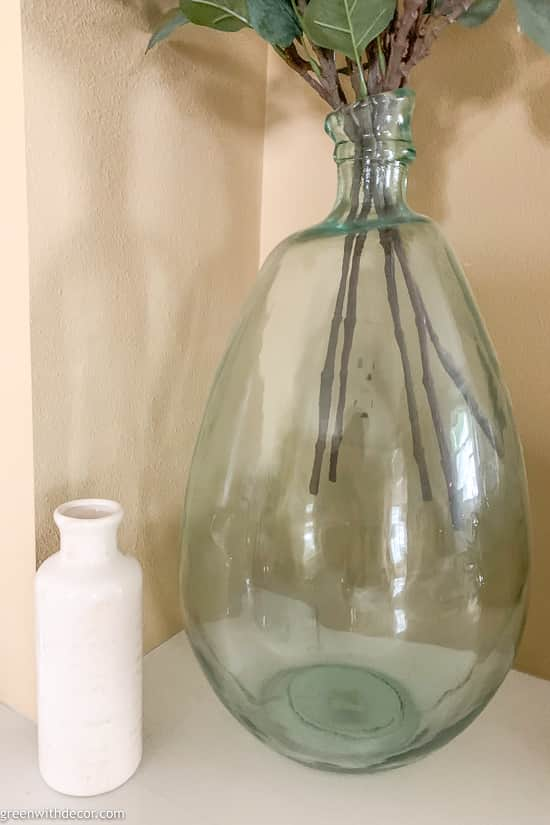 At some point, I'd love to replace all of our outlets in the middle of painted walls with paintable outlets so they blend in.
But the outlets lower on the walls (in the living room, bedrooms, etc.) don't bother me as much since they're out of your regular line of sight.
That's on the someday project list. For now, I'm super hapy to have this little eyesore taken care of! Sometimes the smallest projects are the best.
GET THE LOOK:
Since a popular question I get is "Where'd you get that?!," here are links to the same or similar sources:
If you want more simple DIY home projects, check these out:
Remember to bookmark or pin this post if you want to save it for later!


Pin it!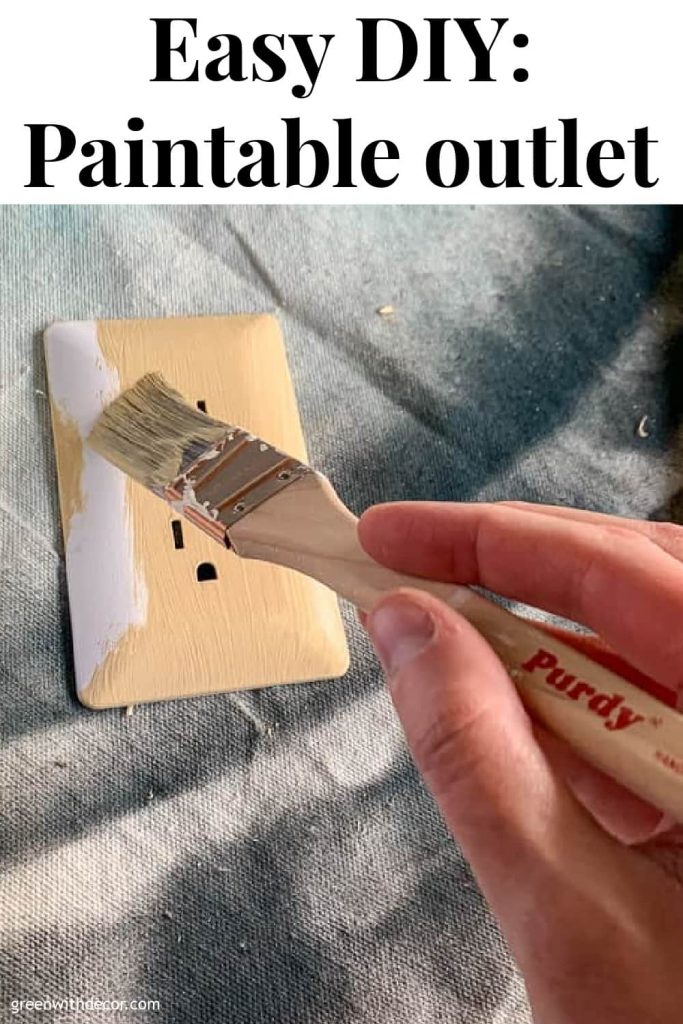 Want to read more posts like this?
Follow along: Get my emails | Facebook | Pinterest | Twitter | Instagram