A great post on how to choose paint colors like a pro. If you're overwhelmed, read through this guide on how to pick paint colors and enjoy the free printable paint can labels to stay organized!
One of the things I get the most questions on is paint colors: What paint color is that? How to choose paint colors? How to pick paint colors that will look good in my house? How to know which paint colors go well together?
I get it. Paint colors can be hard. It's great there are so many options out there, but again, there are SO MANY OPTIONS.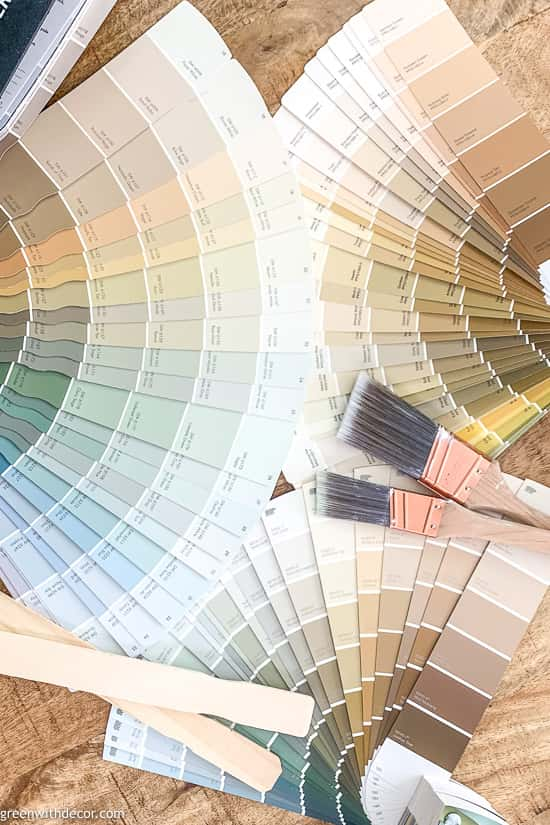 It would be great if someone could just tell you the secret formula for how to choose paint colors so you can move on and stop worrying about them, right?!
We've painted countless rooms in various houses over the years, so I've come up with a method for how to pick paint colors without going crazy. There have been times I've tried to skip the research / sampling, and believe me, I've regretted it and ended up repainting. It's worth the work!
And be sure to scroll down to the end of this post because I have printable Paint Can Labels and a printable Whole Home Paint Colors List to make keeping track of your paint colors easy!
How to choose paint colors
1. Look online for paint color inspiration
I always start my paint color search by checking out my favorite home decor blogs, magazines and Pinterest. Search the colors you like and see how they look in real spaces.
Keep in mind, how a paint color looks in someone else's house is NOT necessarily how it will look in your house.
But this is a great place to start and gives you a general idea of what paint colors look like.
If you want a starting point, here are blog posts I've written on specific paint colors we've used over the years:
2. Look at undertones on the paint swatches: warm vs. cool
Undertones: Look at the darkest, most saturated color (the bottom color) on the paint swatch you're looking at to see what the undertone is. Is it warmer or cooler?
Whites can look yellow, blue or green. (see how the top two colors on the swatches above look similar, but then you realize one has gold undertones and one has blue.)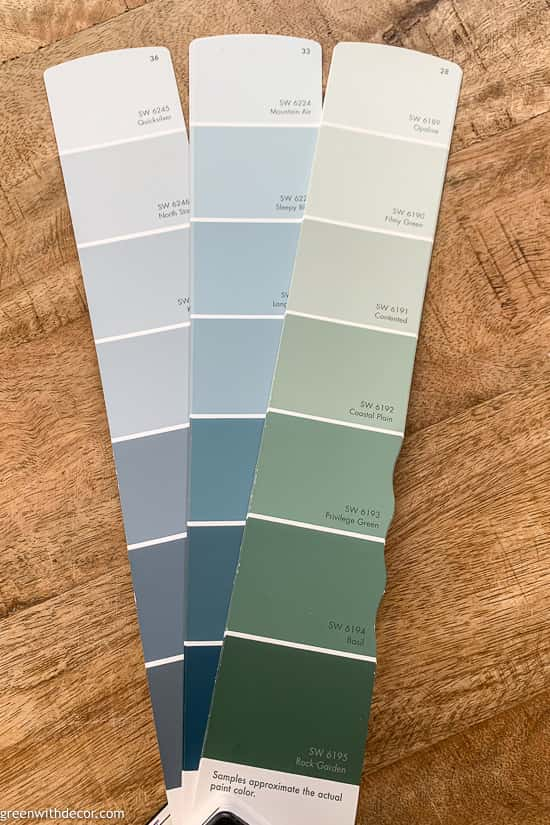 Blues can look purple, green or gray. Grays can look black, brown or blue. Undertones definitely matter!
Tans vs grays: Most people tend to decorate with more tans or more grays. If you're a tan person (raising my hand), you'll probably want to go with colors with a warmer undertone. For example, a white with more of a yellow than a blue undertone (This does NOT mean your white has to look yellow! Just that it will lean more yellow than blue.)
If you're more of a gray person, you'll probably want to go with colors with a cooler undertone. For example, a white with more of a blue than a yellow undertone.
North vs. south-facing: Keep in mind which way your rooms face. South-facing rooms will have sunny, warm light all day, so you may want a color with cooler undertone to keep it from feeling too warm.
North-facing rooms won't have much natural light, will appear cooler and have more shadows, so you may want a color with warmer undertone to cozy the space up.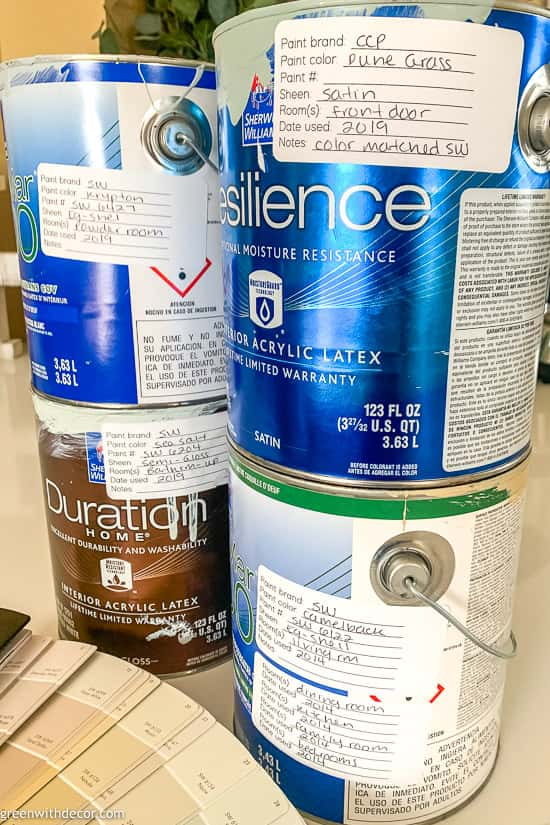 This post contains affiliate links. This means if you click the link and buy something, I may receive a small percentage of sales at no extra cost to you.
3. A few more things to consider when choosing paint colors
Because these things tend to come up whenever I'm chatting about how to pick paint colors with someone …
Trends: Let's talk about trends for a quick second. Trends are awesome and all, but go with what you love.
There's been a time (and will be again I'm sure) that tan paint colors have been in, then gray paint colors, and now a lot of things are trending towards white colors and dark, moody colors. Those are all great in their own ways, but don't pick a paint color you don't love just because it's popular. It's your house!
Picking paint colors for rooms that open up to each other: You definitely don't have to choose a paint color and stick with it throughout your entire home, but in rooms that open up to each other, be sure they don't clash.
Neutrals almost all go together, or you can pick paint colors up or down on the same color paint swatch to ensure they'll have the same undertones and coordinate well together.
Sherwin Williams also lists 3 coordinating paint colors on its website for each paint color, which is helpful to look at.
A lot of paint companies also put out various paint color collections each year. Take a look at those, since those colors are designed to work together.
4. Buy the paint samples
Those little sample cans can add up, I know.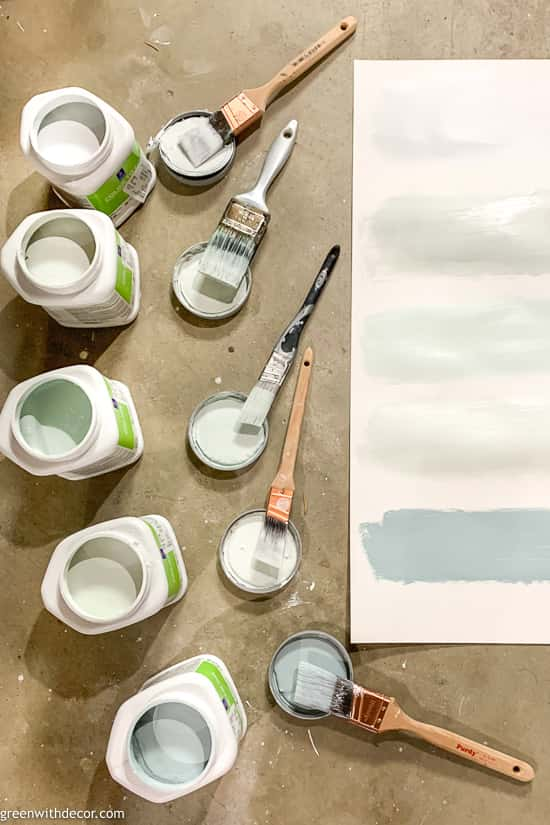 But spending some money on paint samples is way cheaper than buying gallons in the wrong color, painting the room said wrong color, hating it, agonizing over it, then buying more gallons in the right color and painting all over again.
(Been there, done that. Not fun.)
So after you've poured over inspiration picks and paint swatches, just buy the samples. Really. It saves your sanity and stops you from worrying.
I usually go anywhere from about 3-8 paint samples depending on what colors I've been looking at, but this part is really up to you.
5. How to sample paints so you choose the right paint color
Stir each sample pot, then take a paint brush and brush the paint onto white poster board or right onto the wall itself in a few places throughout the room. (For example, near a bright window and in a dark corner.)
Painting on a poster board allows you to then easily move it around the room (once the paint is dry!) to see the paint color in various lighting throughout the day.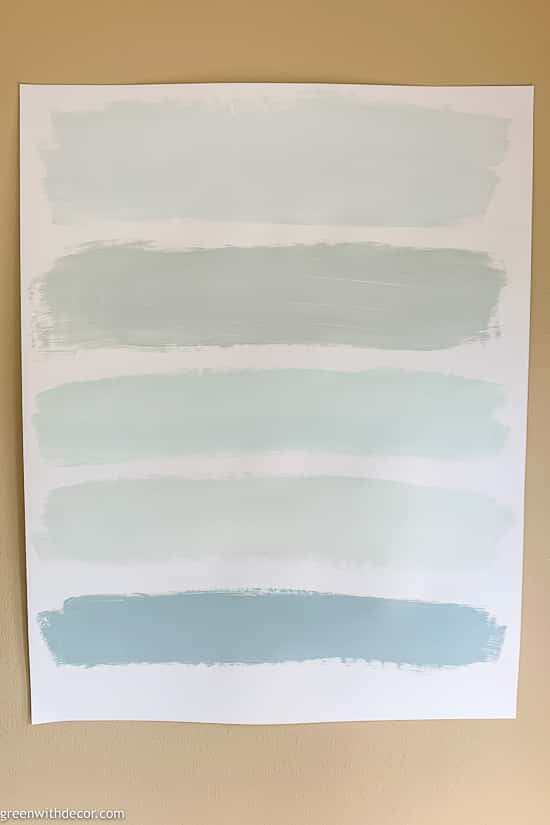 Painting right on the wall lets you see exactly how the paint color will look with any texture of your walls, but keep in mind, the current paint color of the wall may affect your view of the new paint colors.
You can always tape white computer paper next to your painted samples if the original wall paint color is really throwing you off!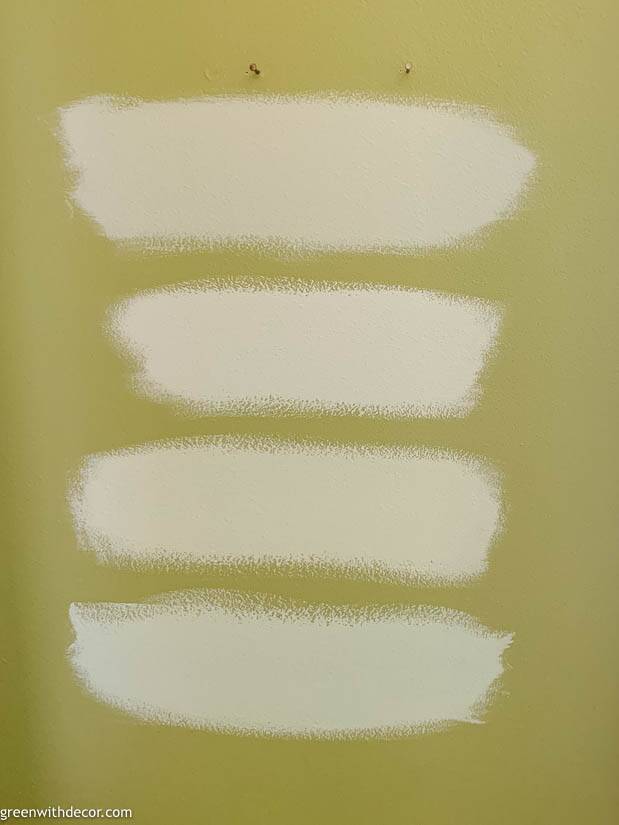 Let the paint dry, then do a second coat so you can really see what the paint color will look like. (Because you'll most likely do two coats of paint on your walls for good coverage.)
Look at your paint samples throughout the day so you can see them with different lighting. This is key to picking paint colors you'll love!
Walls look different in the morning than in the evening as the sun moves around your house. Overhead lights, floor lamps and table lamps (and various light bulbs) all effect lighting, and therefore, paint colors, too. Turn lights on and off, and look at your paint colors.
Look at your paint samples close up and from across the room.
Look at the paint colors against trim, flooring, furniture, artwork and fabrics (pillows, etc.), too. All of this factors into choosing a paint color that works in your room.
6. How to keep track of the paint colors in your home (free printables)
We've painted a LOT over the years, so I had to develop a system aside from just relying on my memory for this.
It's amazing how you think you'll remember which colors you used where, but if you suddenly need to know a paint color (and sheen) for touchups or when a friend asks, the pile of paint cans can suddenly be overwhelming if they're not labeled!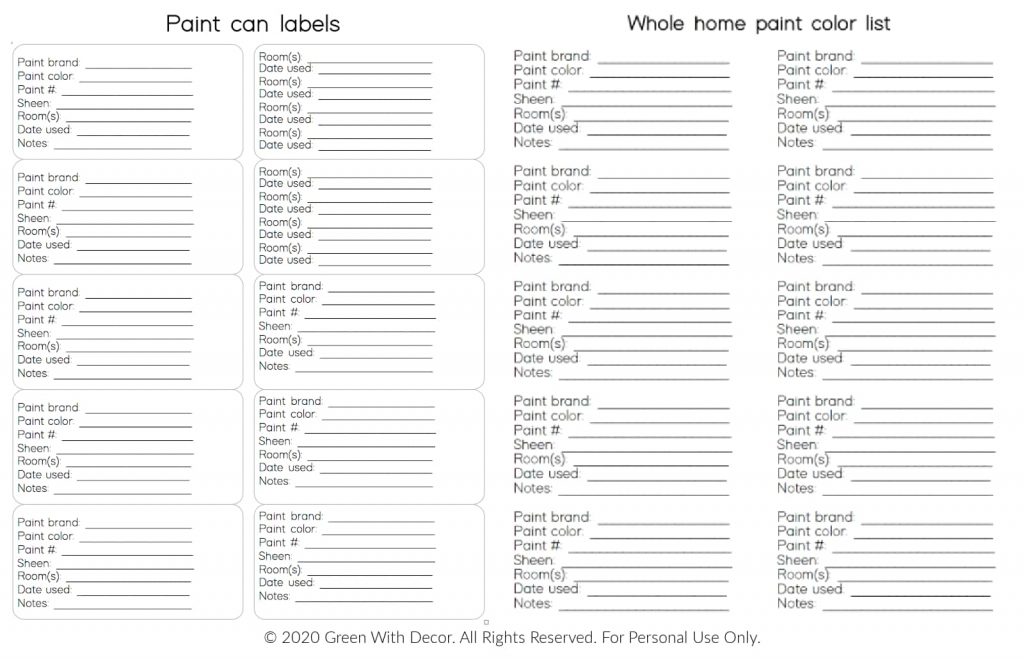 1. Printable Paint Can Labels
I developed printable Paint Can Labels that you can print off, fill out and stick right to your paint cans. I know paint cans come with some labels, but they're not always the same and some have more info than others. I like using my own labels so I have all of the info I need in one convenient spot.
You can include the room name, paint brand, paint color, sheen (this is really important if you ever need to touch up!), paint color formula or number and any other notes.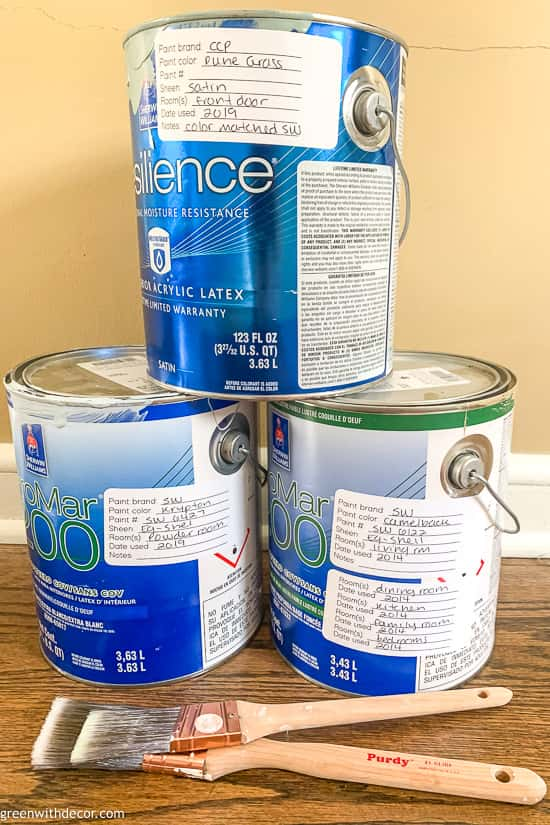 I also left some blank space where you can paint a little bit of the color on if you want. I tend to end up with paint spillage over the side of paint cans anyway, so I skipped adding paint to the labels.
For those of us that paint multiple rooms the same color, I also have secondary Paint Can Labels that just have the 'room' and 'date' listed so you can quickly fill in additional rooms without having to print the full labels again.
2. Printable Whole Home Paint Color List
I also developed a printable Whole Home Paint Color List, which you can print off, fill out and hang in your paint closet, workshop, basement, kitchen cabinet, wherever makes sense for you! Or take a picture and keep it on your phone so you always have it with you!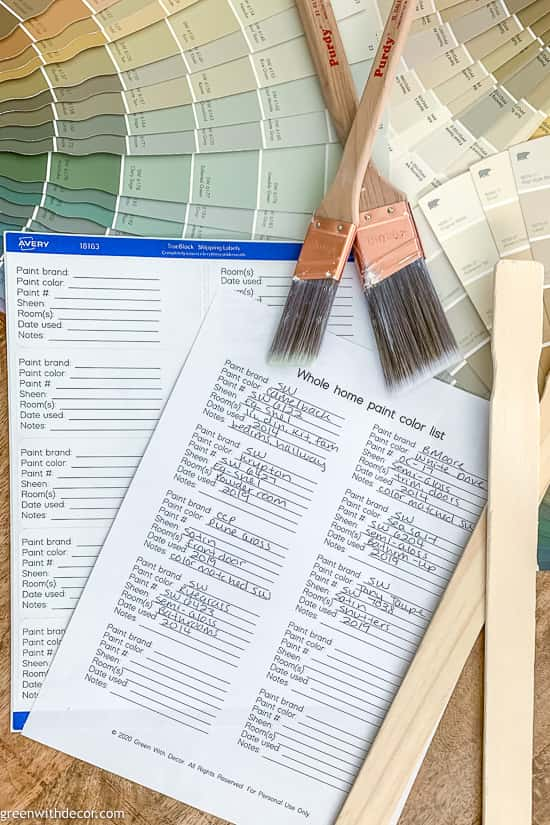 How to download the free printables:
Sign up in the box below, and the link for the free printable will arrive in your inbox shortly. You'll also be signed up to get blog posts and alerts about new printables moving forward. (If you're already an email subscriber, you won't get added to the email list twice.)
*Please note: All printables and downloads designed by Green with Decor are for personal use only. Please do not alter the files or claim them as your own. These files are not intended for resale, nor are the printed versions of these files.
What labels to use for printing:
I printed the Paint Can Labels on these labels, and the Whole Home Paint Color List can just be printed on regular computer paper.
You could also print the Paint Can Labels on regular paper, cut them up and tape them onto your paint cans, but the labels definitely keep it simple!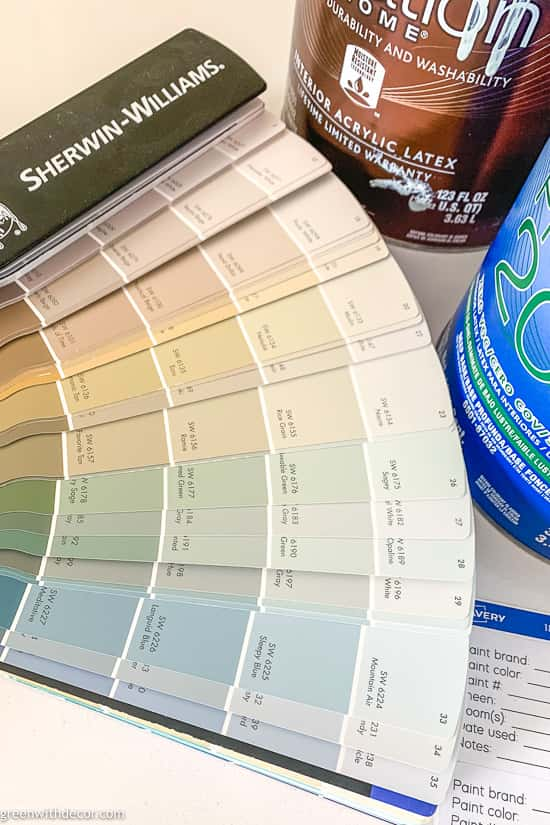 Hopefully this all helps if you've been stumped on how to choose paint colors. Picking paint colors should be a fun part of decorating. It's amazing what fresh paint on the walls can do for a room!
Be sure to check out all of my other paint color blog posts here if you're looking for paint color inspiration.
Happy painting!
Remember to bookmark or pin this post if you want to save it for later!


Pin it!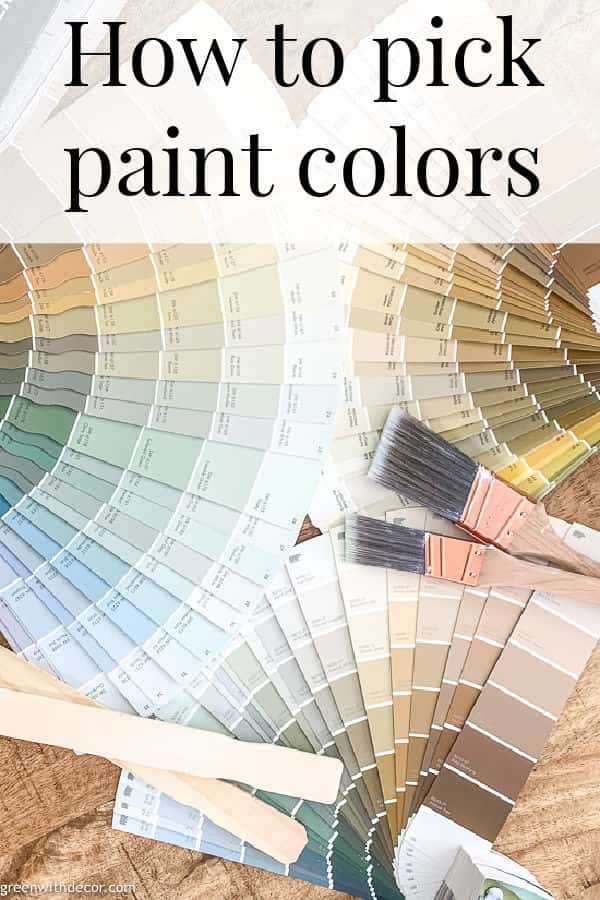 Want to read more posts like this?
Follow along: Get my emails | Facebook | Pinterest | Twitter | Instagram