When a kitchen renovation ends (you can see the kitchen reveal here), it's awesome!
Then comes unpacking and organizing.
We soon realized we'd love extra storage in our kitchen cabinets.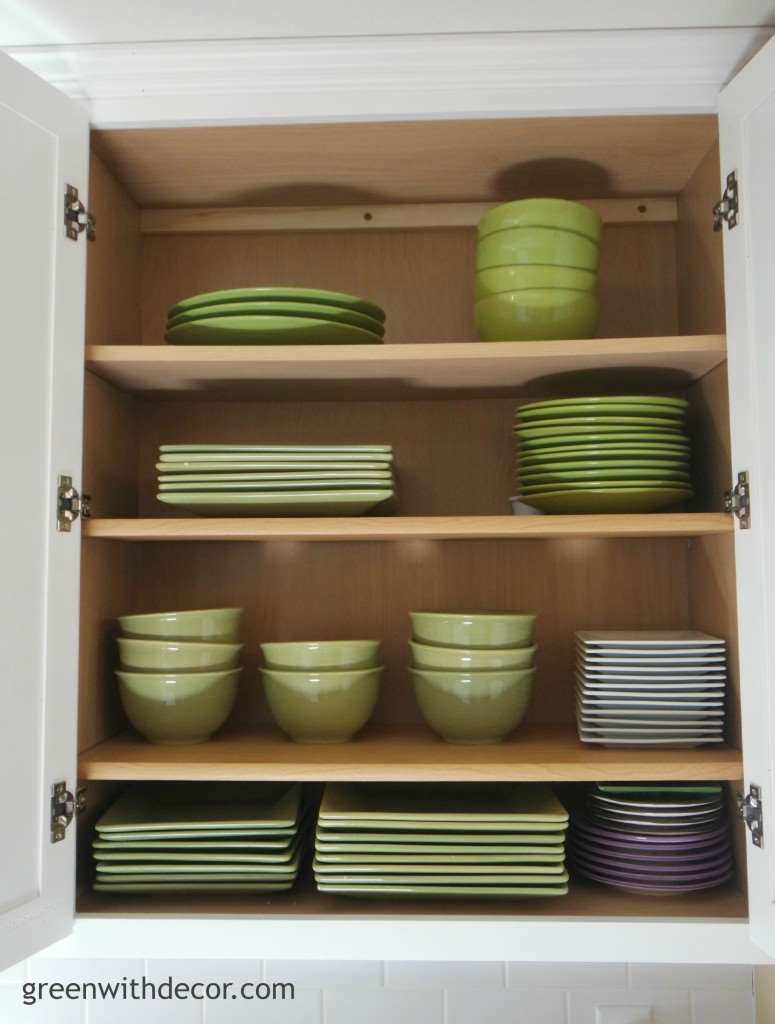 We LOVE our white Haas kitchen cabinets. But they came with two shelves each.
Our cabinets were 36 inches tall, and as we started unloading our dishes and figuring out what should go where, we realized we were wasting a lot of cabinet space.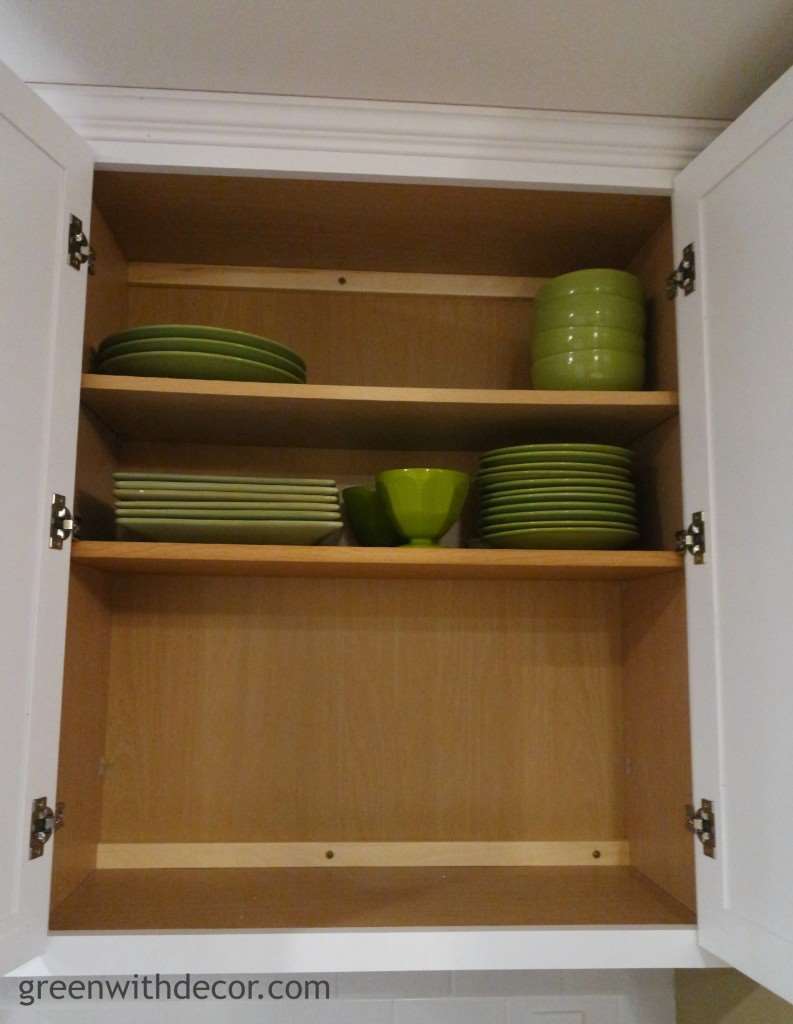 And I'm all about getting the most storage you can out of cabinets!
A stack of eight plates only takes up about 5-6 inches, so you don't need a ton of extra space above that.
Meaning the cabinets could probably fit three shelves each, giving us more room for storage!
Our cabinets came with holes drilled at 3-inch intervals the entire height of the cabinet for the brackets to hold shelving, so we could put the shelves wherever we wanted.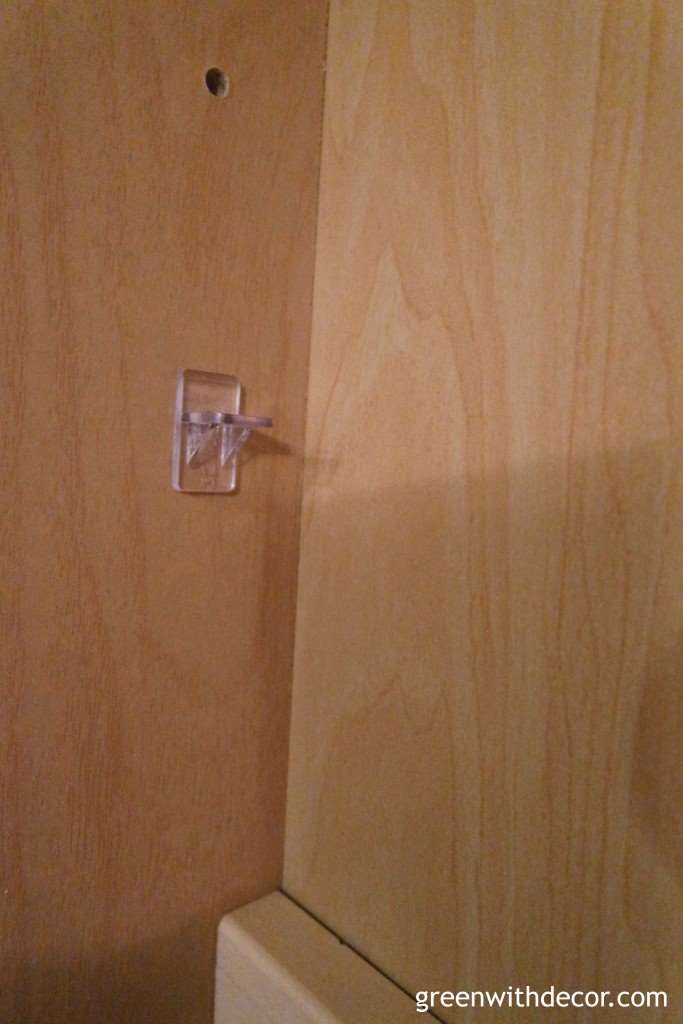 So obviously we headed to find some more shelving!
Tip: We brought along one of the original shelves so we could match the color and overall look of the shelf. We knew it wouldn't match exactly – and really it didn't matter since most people don't see the inside of your cabinet (unless you take pictures and post it on your blog!) – but we wanted the shelves to look similar.
Remember to measure the width of every cabinet before heading to the hardware store, too.
Our cabinets came with extra brackets, but you can always buy more if you need them.
This post contains affiliate links. This means if you click the link and buy something, I may receive a small percentage of sales at no extra cost to you.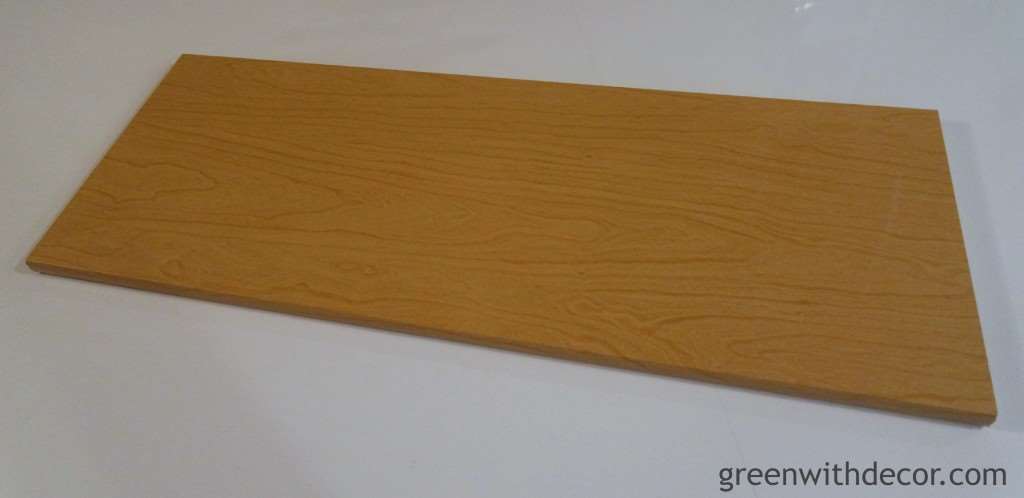 We picked out Rubbermaid Beechwood shelves and had them cut to size.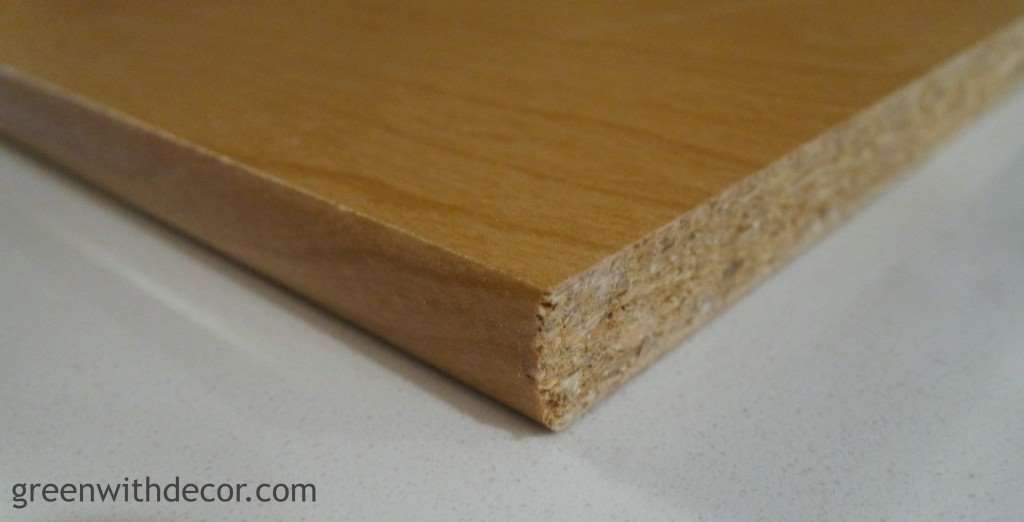 I was so excited to get the shelves home and start organizing all of our dishes!
Here's a peak at the inside of a cabinet with one original shelf and one new shelf.
You can see there's a difference between the shelves, but it's not completely obvious.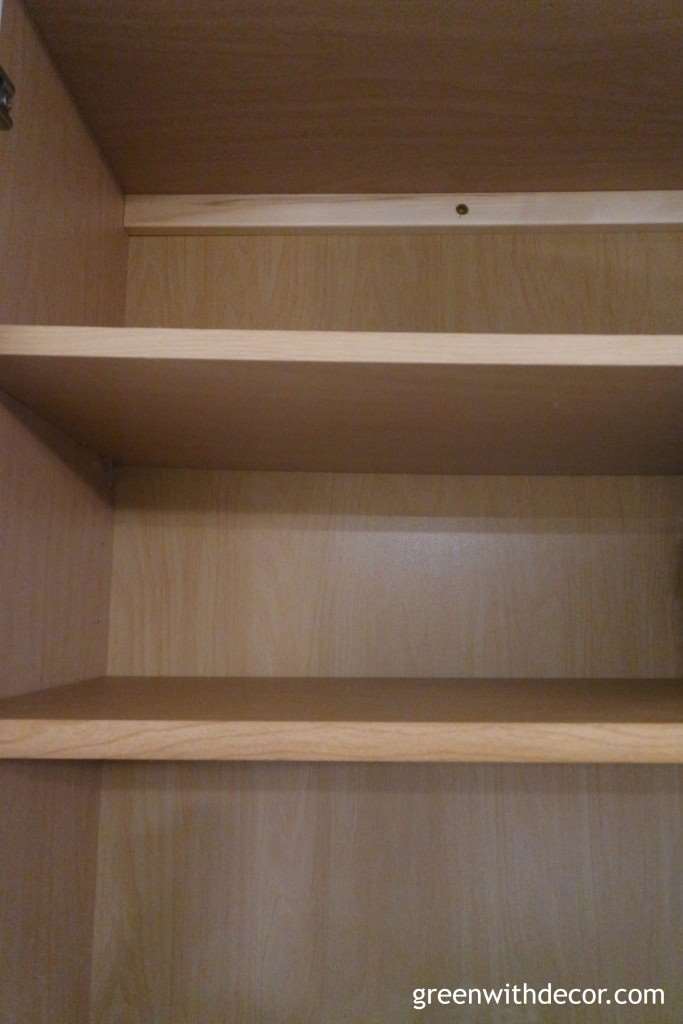 The extra shelving gave us so many more options when figuring out where to put dishes.
The extra shelf was wonderful in the cabinet with plates!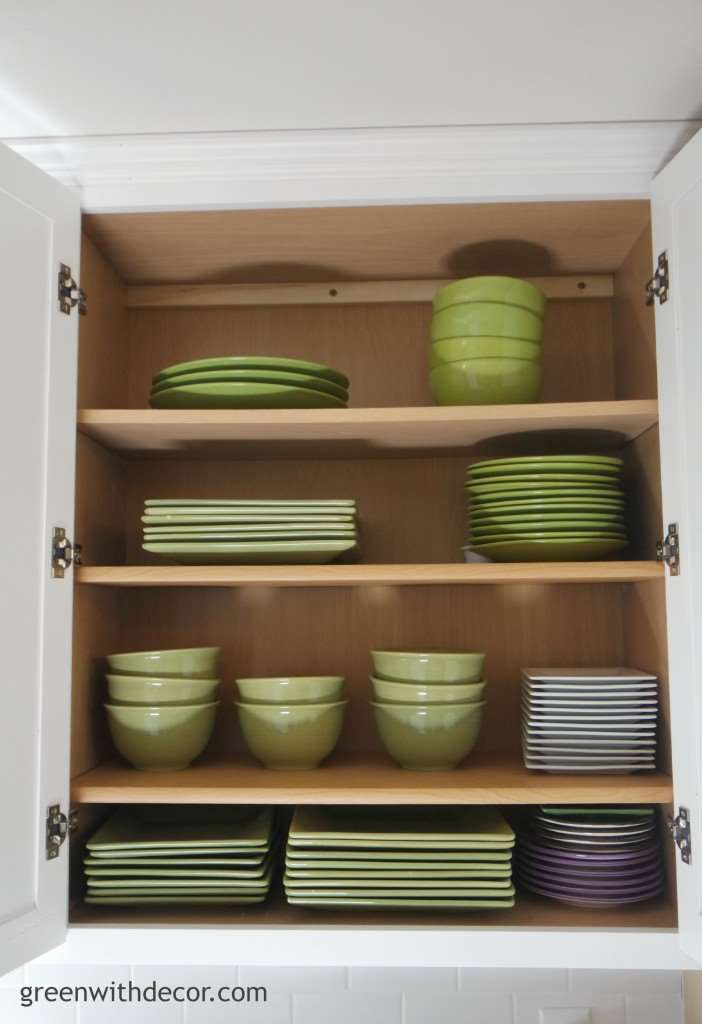 Even in the coffee cup cabinet (can you tell I love green yet!?), this was the perfect solution so we could have extra storage in here.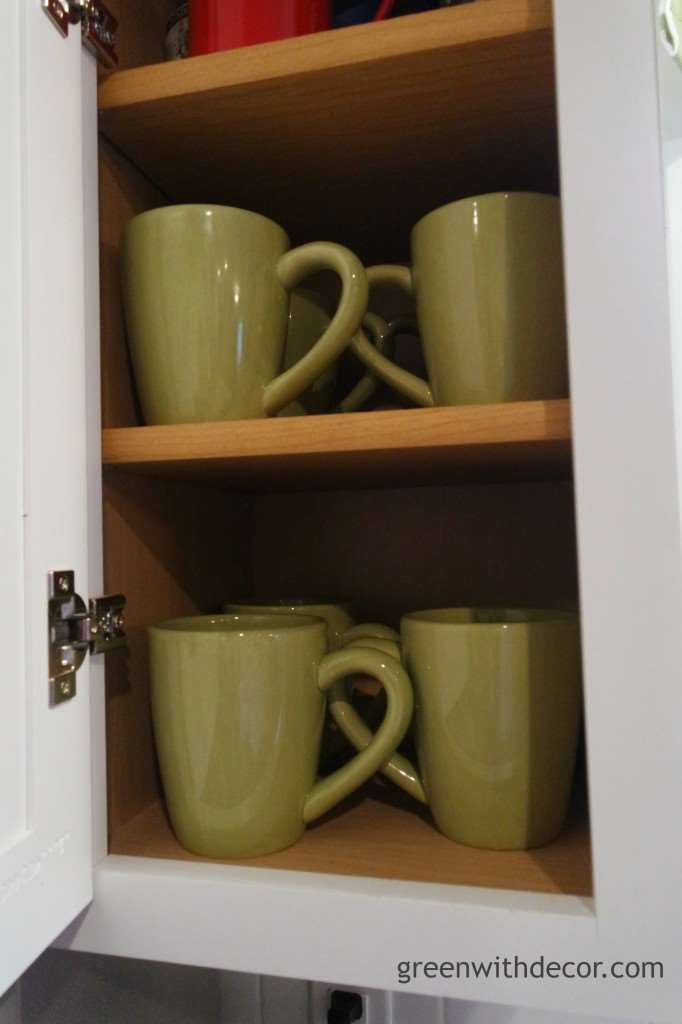 And in the cabinet with glass baking dishes.
They're so shallow, there's no reason for them to take up a huge shelf when you could use that space to hold the millions of CorningWare dishes you just got off your wedding registry!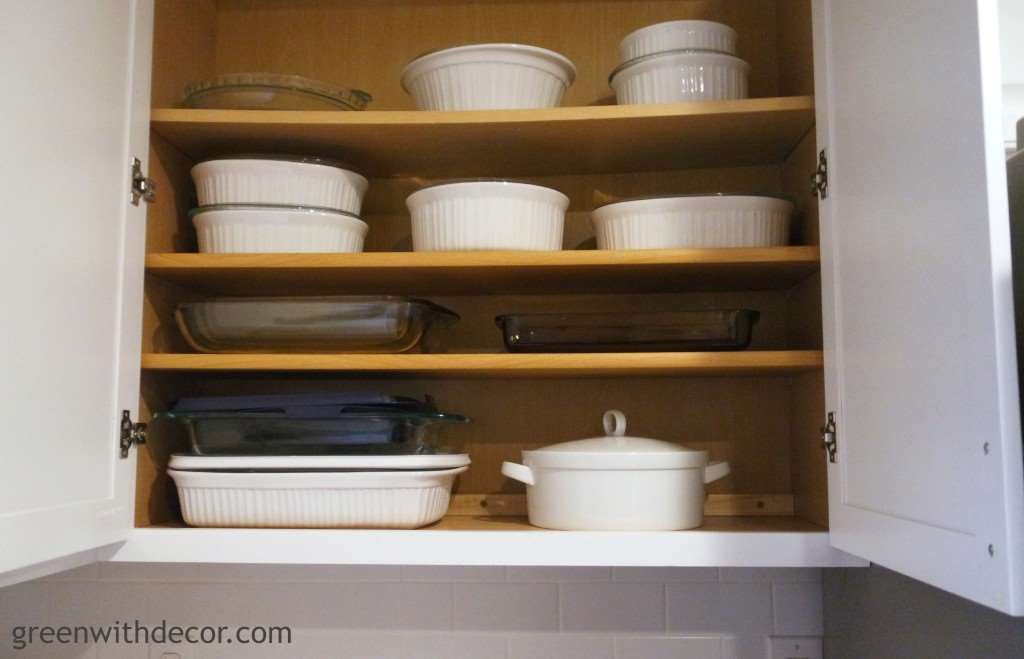 Remember you don't have to just stick to the shelving that comes standard with the cabinet. Be creative in how you use the space.
This was an easy way to add more storage and stay organized in our kitchen – we got an extra shelf per cabinet!
GET THE LOOK:
Since a popular question I get is "Where'd you get that?!," here are links to the same or similar sources:
How have you found ways to get more storage out of your kitchen? Let's hear 'em!
Planning your own renovation?
Download my printable Kitchen Renovation Checklist so you can easily keep track of each step.
*Please note: All printables and downloads designed by Green with Decor are for personal use only. Please do not alter the files or claim them as your own. These files are not intended for resale, nor are the printed versions of these files.
Check out these posts for more organizing ideas:
Remember to bookmark or pin this post if you want to save it for later!

Pin it!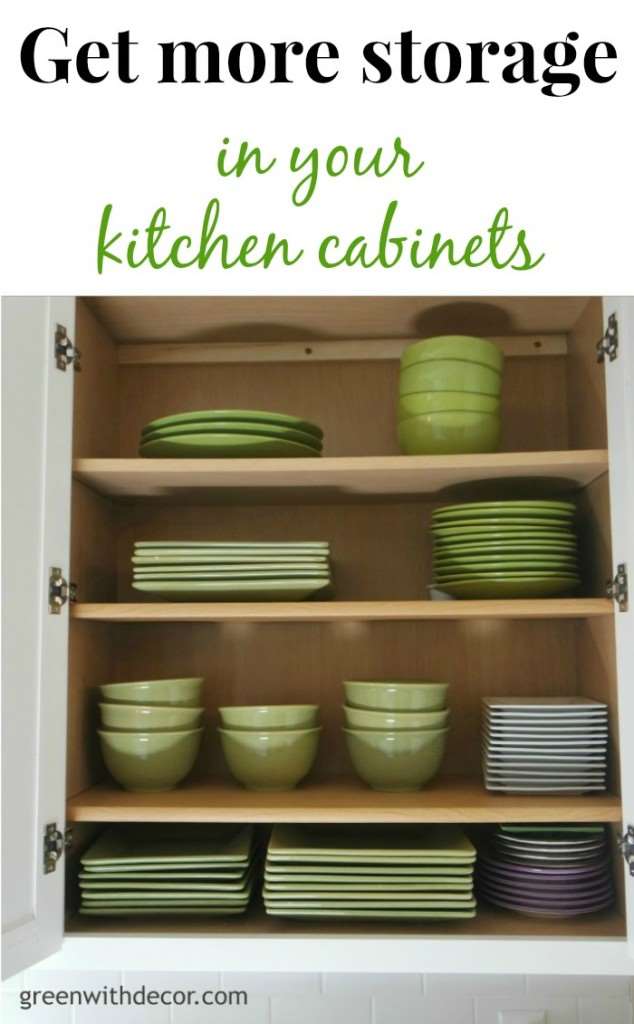 Want to read more posts like this?
Follow along: Get my emails | Facebook | Pinterest | Twitter | Instagram