I'm totally eating my words in today's post. A few years ago, I really couldn't get on the 'gray paint' train. I loved my tan walls and always thought they felt warmer than gray tones which always seemed damp and cold to me.
Tan does still seem warmer to me, but guess what?! We're painting most of the rental house gray. I KNOW! If you had told me a few years ago I'd be painting so many rooms gray, I NEVER would have believed you.
I found the perfect shade of gray paint though: Agreeable Gray by Sherwin Williams. It's light enough that it doesn't overpower the room.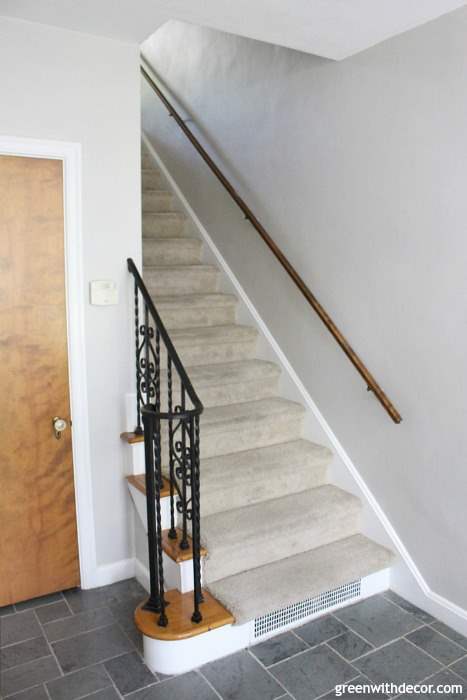 I've heard others rave about this paint color for awhile, and I was all ehhh that's nice but you know, it's still GRAY. Well, yes, it is, but it's gorgeous, and I love it. It's a great neutral and is playing well with our white/black/wood furniture. It's definitely 'agreeable'.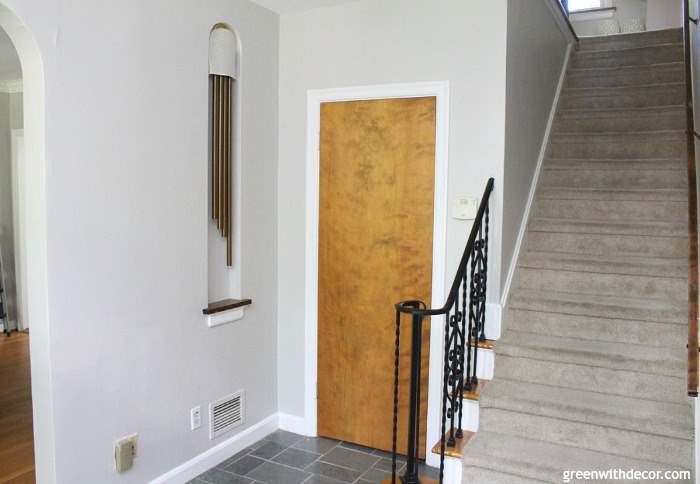 Doesn't it just look perfect with the black iron railing?!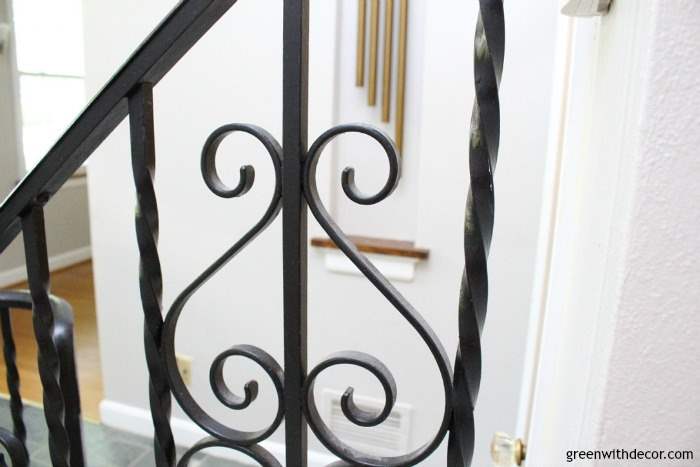 I really like the old doorbell chimes. I commented on Instagram over the weekend that I may even be coming around to the wood windowsills (or in this case, wood shelf) everywhere, too. I'm totally a white woodwork kind of girl, but the wood does bring a certain old charm to the house. What do you think?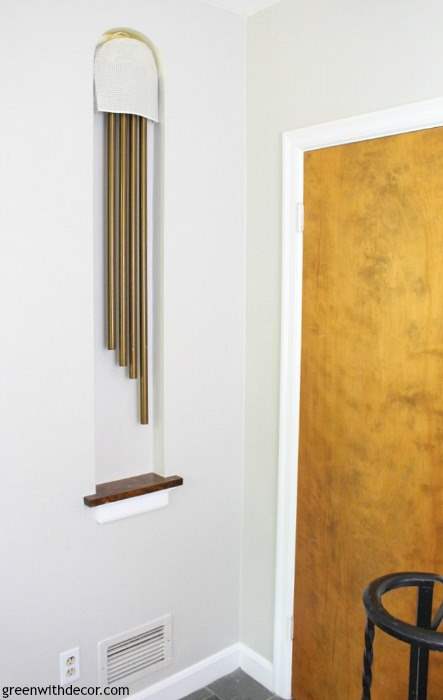 Although I do still prefer white doors. We'll just ignore this wood one because there's nothing to be done about that (again, renting…).
As a reminder, here's the (oily, seriously WHAT is that on the wall above the banister?!) pale yellow before. You can even catch a peek of that cute old phone booth at the top of the stairs.
This post contains affiliate links. This means if you click the link and buy something, I may receive a small percentage of sales at no extra cost to you. Thanks for supporting Green With Decor!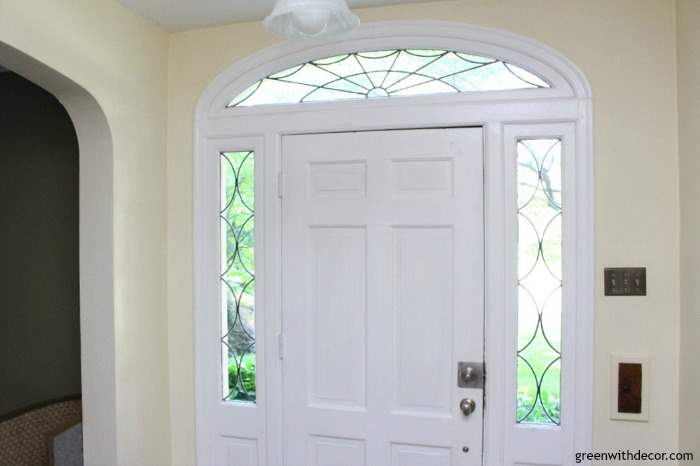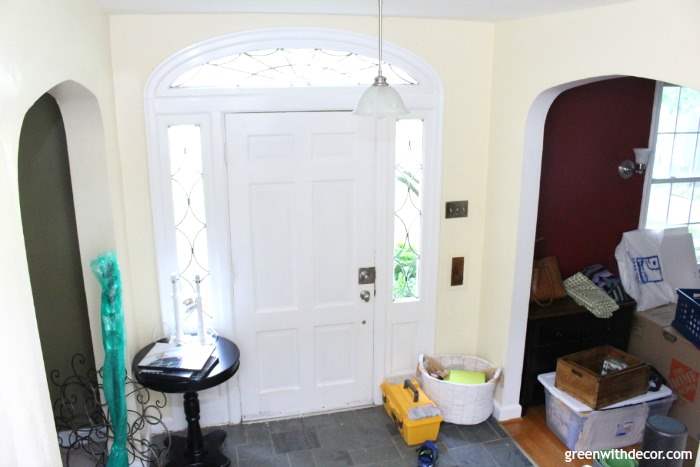 If you're painting around curves like we were with this window around the top of the door, this tape is THE BEST thing ever for taping around curves. It actually tapes with the curve. I loooove it.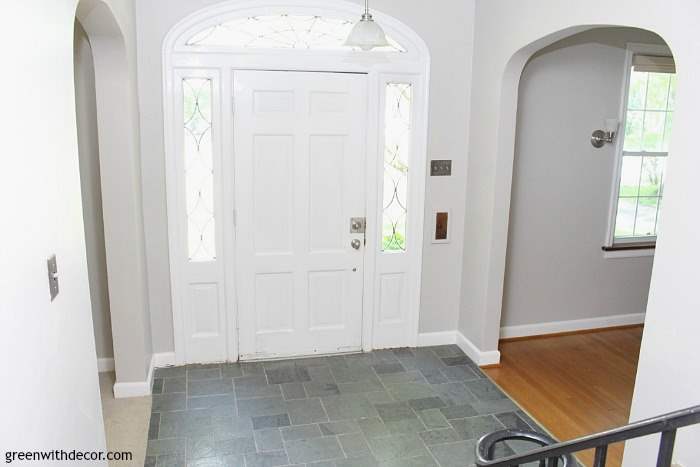 You may notice the red is gone in the dining room, too. Yahoo! More to come on that.
Decorating is a funny thing, but changing it up is all part of the fun. Trends can come and go, but our own styles tend to change a bit over time, too. This will be a fun test to see if we love the gray after we live with it for a while or if we're ready to get back to the Camelback walls in our house.
What do you think? Are you all in on gray paint or a tan fan forever? Did you ever vow to never paint your walls a trendy color only to eat your words a few years later?
You can catch up on other posts about the rental house here:

If you want to save this post for later, remember to bookmark it or you can pin it here: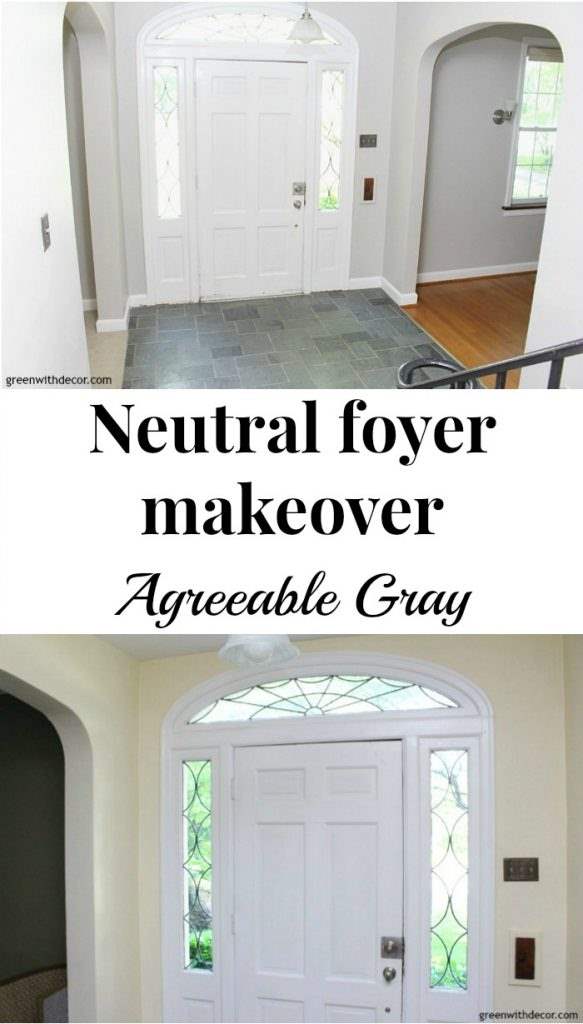 Want to read more posts like this?
Follow along: Get my emails | Facebook | Pinterest | Twitter | Instagram | Google+