Want to give your kitchen a facelift but can't renovate, whether you're renting or just don't have the budget right now? Read on for 7 ways to update your kitchen when you can't renovate.
Disclosure: D. Lawless Hardware provided the kitchen cabinet hardware for this project. All opinions, images and love of room updates are 100% mine.
After a marathon of Fixer Upper or Property Brothers, it can be frustrating to turn around and see an old outdated kitchen at home instead of one of those beautiful ones on TV.
(Side note, totally had to mention the Property Brothers because I MET THEM last week – see the pic here. It was awesome. They are just as funny as they seem on TV.)
We've renovated two kitchens (see the first kitchen here and the second kitchen here) so dealing with a kitchen that's not necessarily our style in the rental house isn't my favorite thing.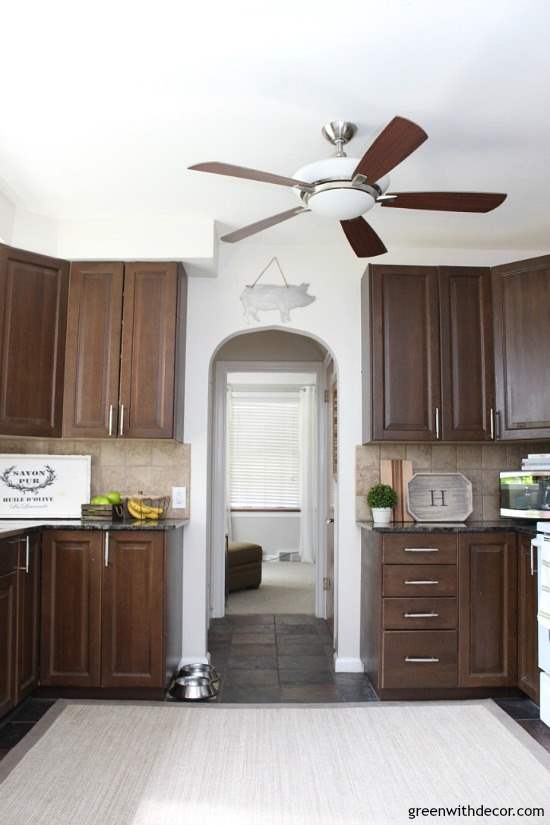 I'm a big fan of white kitchens, and our rental house kitchen is dark, dark, dark.
We've made a few updates to make it seem more 'us' and I figured I'd shared them for all the fellow renters and/or homeowners who just don't have a big kitchen renovation in their budget right now.
If you're in the market for a kitchen renovation, head here to see all sorts of kitchen renovation tips and tricks we've learned over the years. You can also grab a copy of my kitchen renovation checklist in that blog post.
7 ways to update your kitchen when you can't renovate
1. Paint
Of course. Paint is the easiest way to update anything from a dark room to an old piece of furniture.
The kitchen was a pale yellow, and a couple coats of white (Aesthetic White by Sherwin Williams) have made the room seem like a completely different space.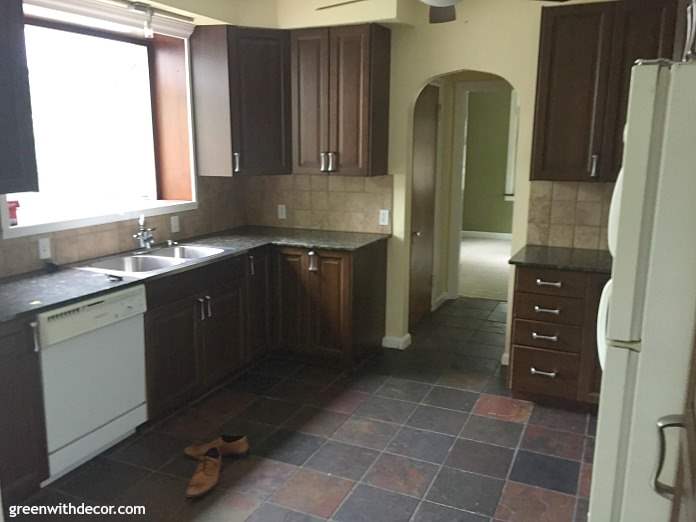 You gotta love a good before and after, right?!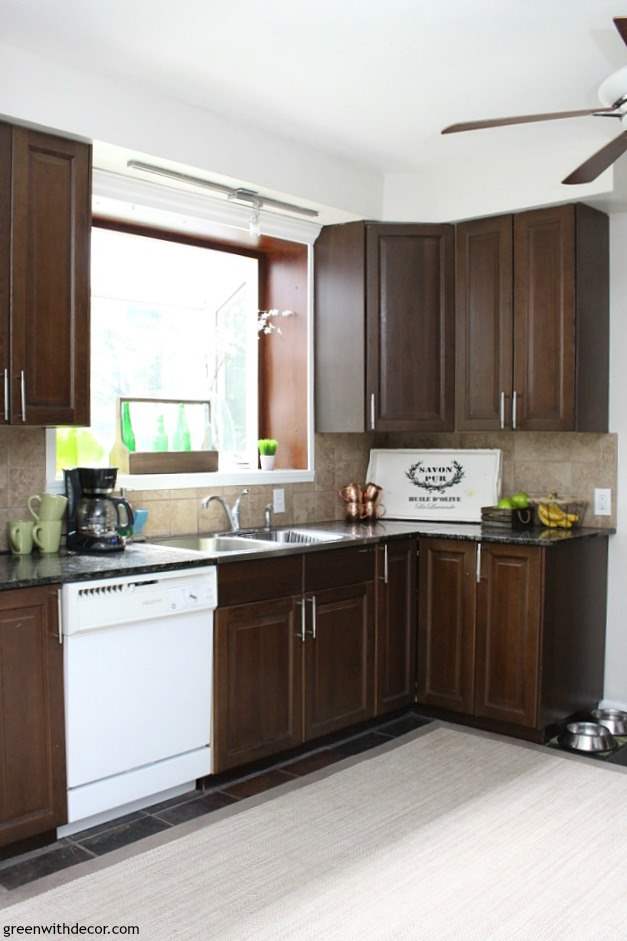 With dark cabinets and counters, I wanted the walls to be really light.
Even though pale yellow is light, the white color makes the whole room seem even brighter.
I have to say that Aesthetic White goes on pretty gray – I was nervous I wouldn't like it when I first started painting – but I love the color when it dries.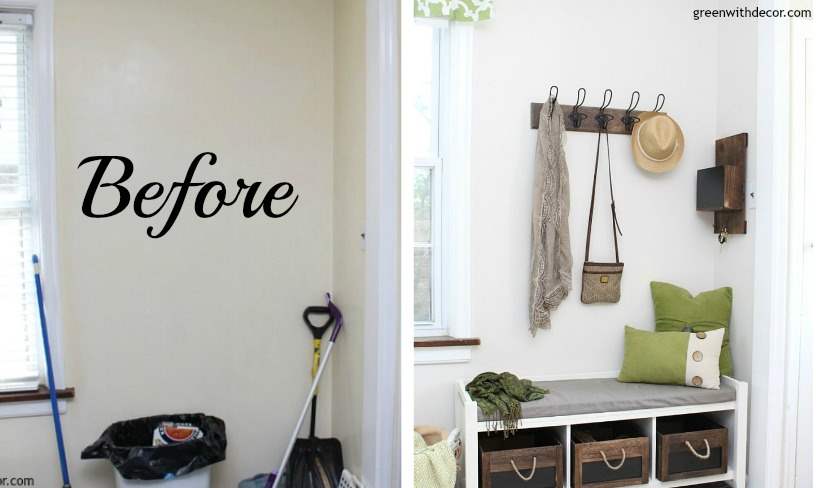 This back foyer was a blank wall in our kitchen. I'm so glad we found a way to use the space. You can see more of our small mudroom here.
2. New hardware
It's amazing what some cabinet handles can do for a kitchen.
The ones that were in there were just not our style and honestly so grimy I couldn't scrub them clean.
We needed handles that were 5″ long, which aren't the easiest to find. I came across these handles from D. Lawless Hardware and loved them. They're perfect in this kitchen.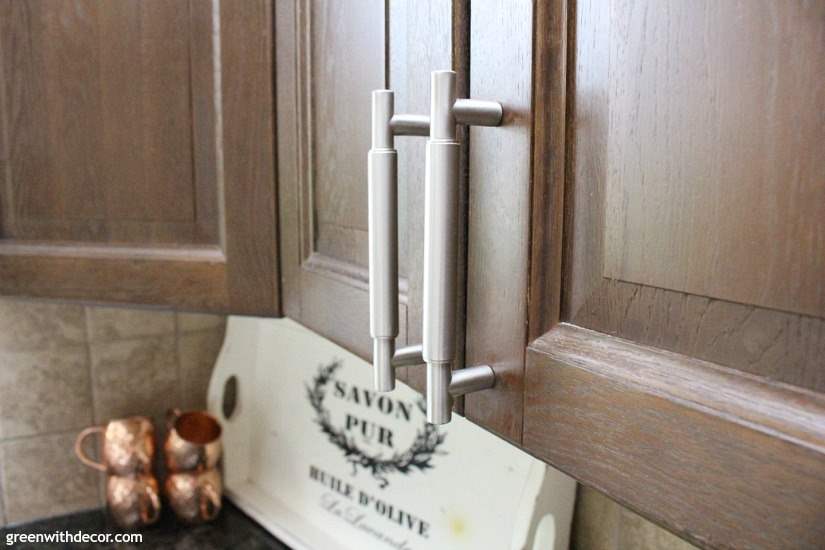 Switching out cabinet handles in the kitchen took us about an hour. It's one of those projects that feels tedious at the time, but then every time I walked in the kitchen afterwards, I felt so much better.
I loved it even more every time I'd go to open a cabinet, and the handles felt clean. (So much to ask for, right?!)
Here it is mid-way through, and I knew it'd be worth it.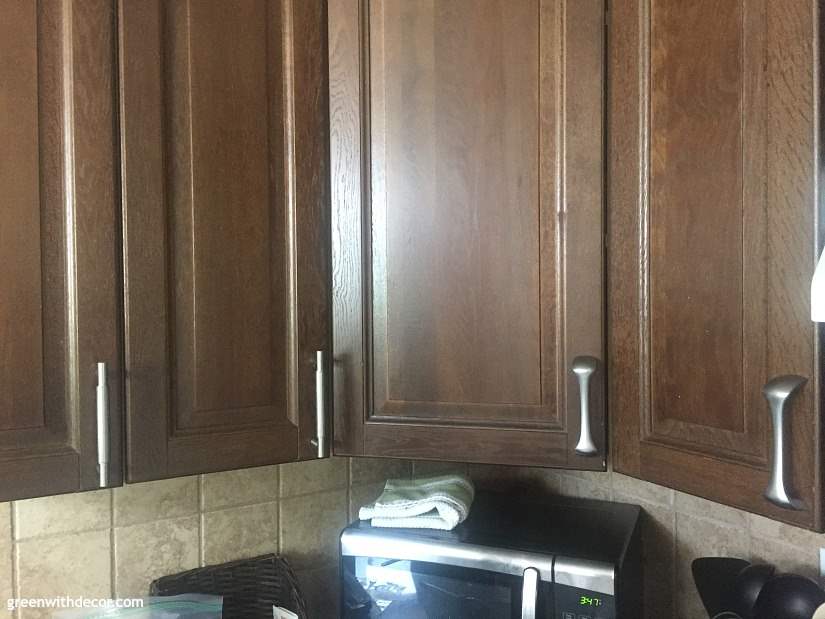 Even if you're planning a kitchen renovation in the future, you can buy new cabinet handles now and start using them even before you pick out new kitchen cabinets.
Or if you're renting, pop the old cabinet handles back on before you leave and take your new ones with you to your next home.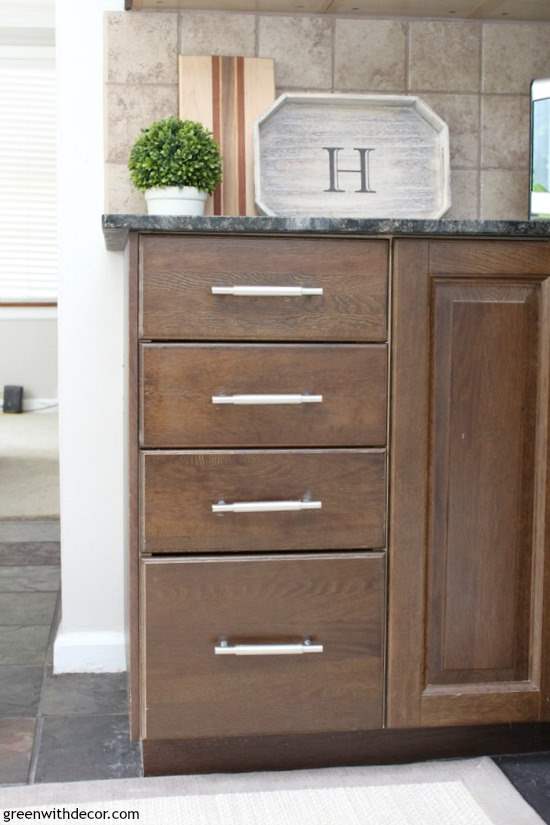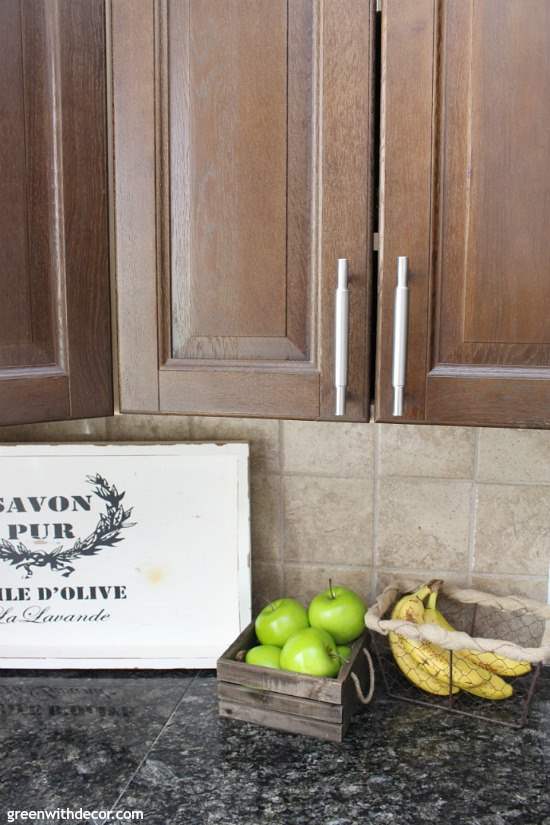 You may remember we used crystal knobs from D. Lawless Hardware when we gave our home office a makeover last year. I love their hardware selection!
This post contains affiliate links. This means if you click the link and buy something, I may receive a small percentage of sales at no extra cost to you.
3. A new rug
We bought this rug to cover the dark floor in here, and it does a lot to brighten up the kitchen.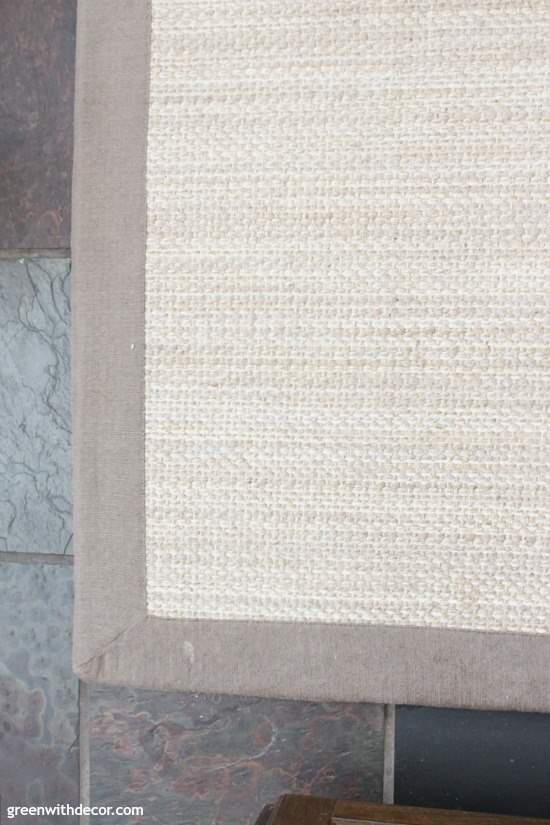 4. Window treatments and wall decor
This window box isn't exactly made for window treatments …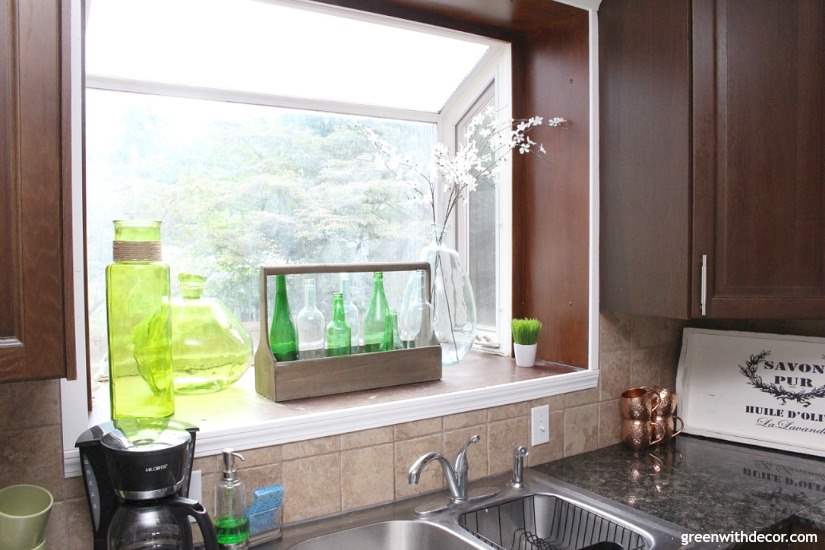 But this side window was begging for something.
We used one of our DIY window valances (made from a shower curtain!), on the other window in here. It's a fun pop of color in such a neutral space.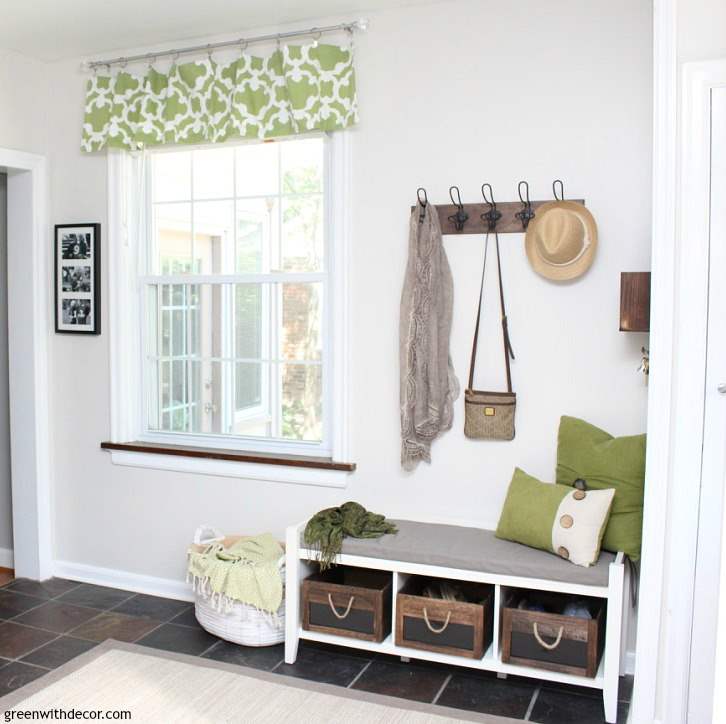 GET THE LOOK: Window valance | Curtain rod here or here | Wood + metal hooks | Brown scarf | Green scarf | Message center | Bench | Crates | Rug | Big pillow | Small pillow
The hooks are functional, but I still count them as wall decor because I just can't get enough of the wood and metal together.
This metal pig is perfect for some decor over the arch.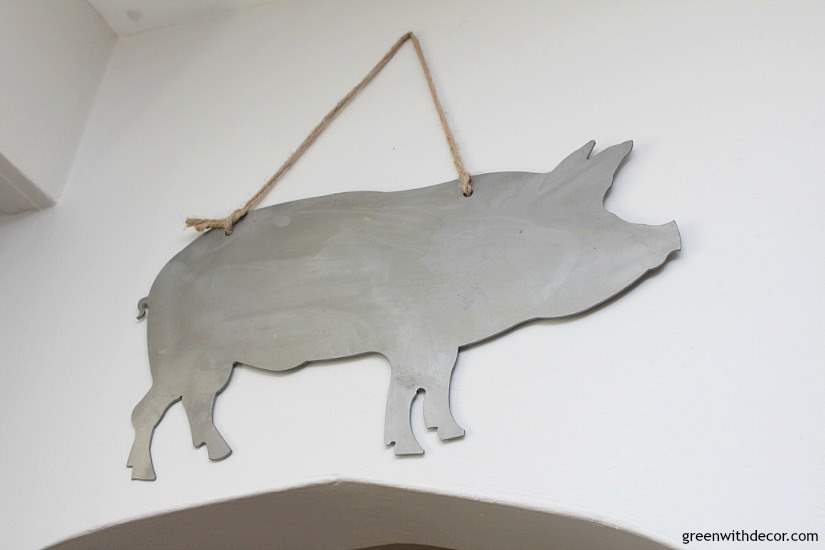 5. Counter accessories
Because of course I see counters as just another spot to decorate.
I picked up this fun cake stand, bright white utensil holder and a few other pieces to help brighten up the space.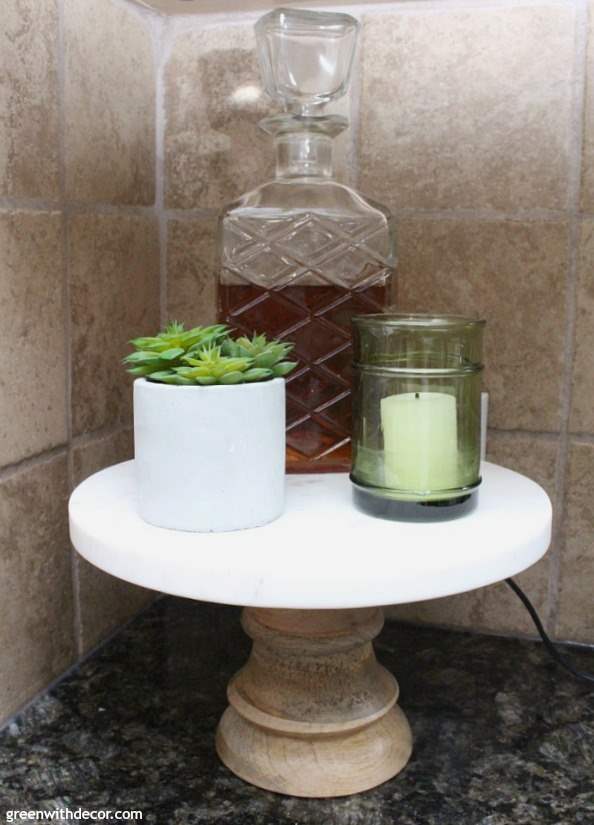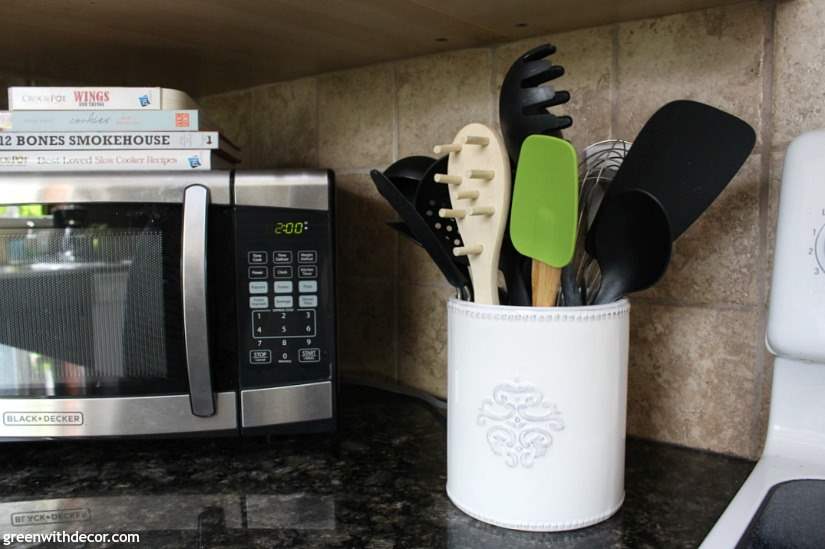 These are pretty much all pieces that can be used in any room of the house so I'm sure you'll see them in other rooms at some point – best kind of decorating!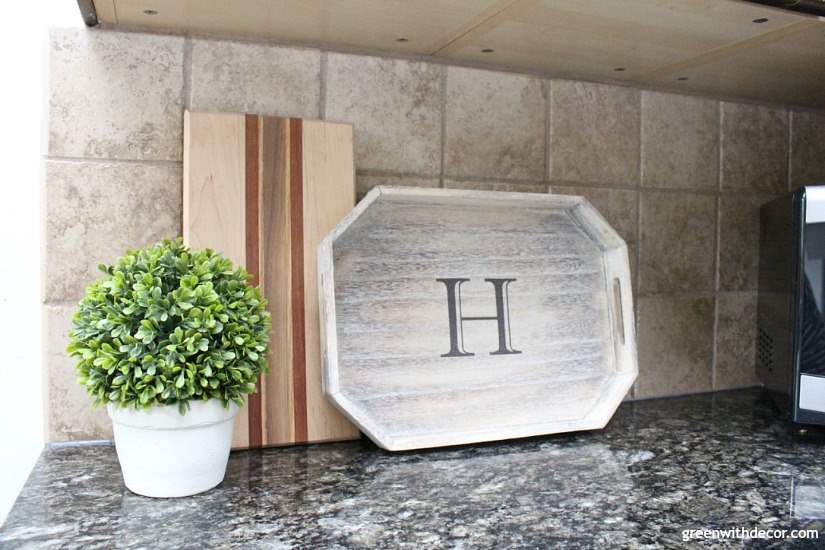 GET THE LOOK: Boxwood | Initial tray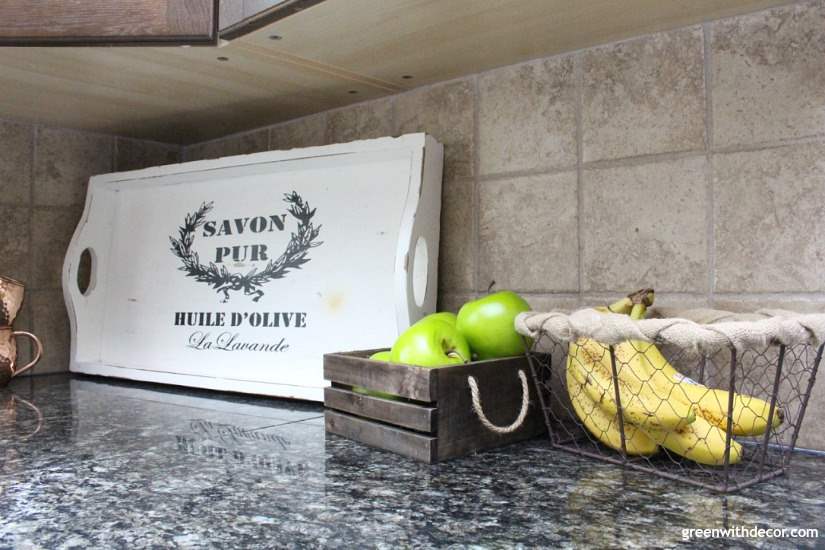 These next two kitchen update ideas take a bit more DIY skill, but they're still relatively cheap updates to make without going into full-on kitchen renovation mode.
6. A new faucet
We're not doing anything about the faucet in here, but we are definitely missing our other beautiful faucet with the pull down and spray features built right in. (You can see our tips for picking a kitchen faucet here.)
Just like cabinet handles, you can sneak a new faucet into an old kitchen and then use it after renovating.
7. A new light fixture
We're not touching the fan in here, but a new light fixture is an easy way to update the look of a whole room.
It's a fun way to get a jump start on a room makeover, or, fellow renters, it's an easy thing to take with you when you move.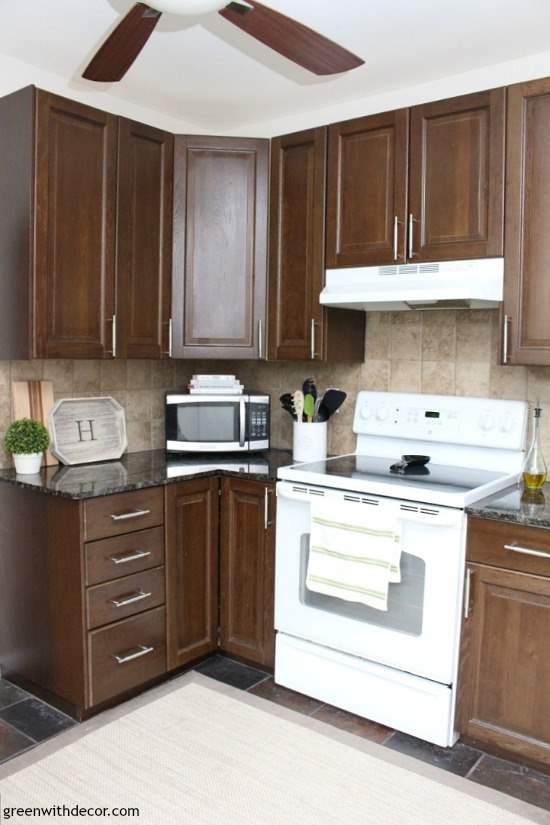 If you're in the market for new light fixtures, this is my most popular post about affordable farmhouse light fixtures and this post has pretty options for silver close-to-the-ceiling lights.
Are you living with your dream kitchen or still waiting? How do you update your kitchen when you can't renovate?
GET THE LOOK:
Since a popular question I get is "Where'd you get that?!," here are links to the same or similar sources:
Remember to bookmark or pin this post if you want to save it for later!

Pin it!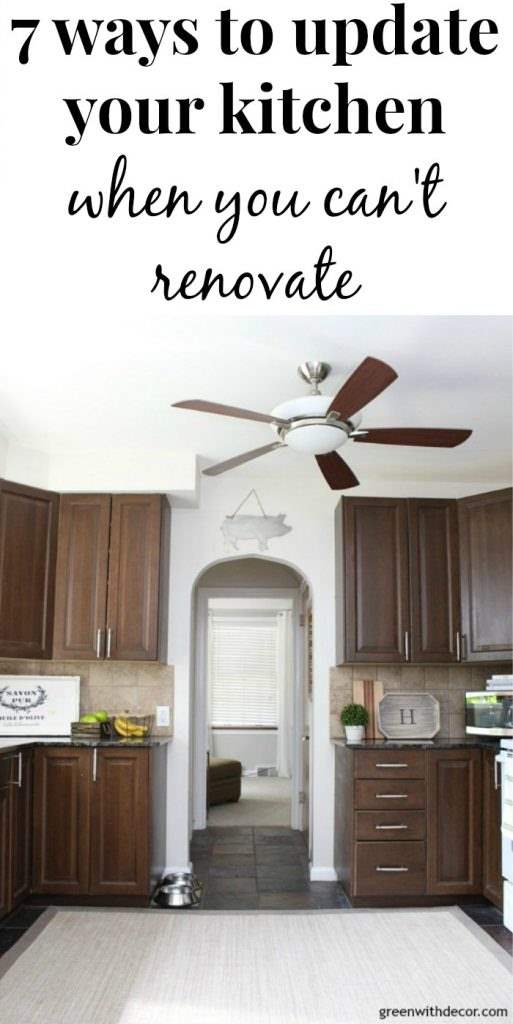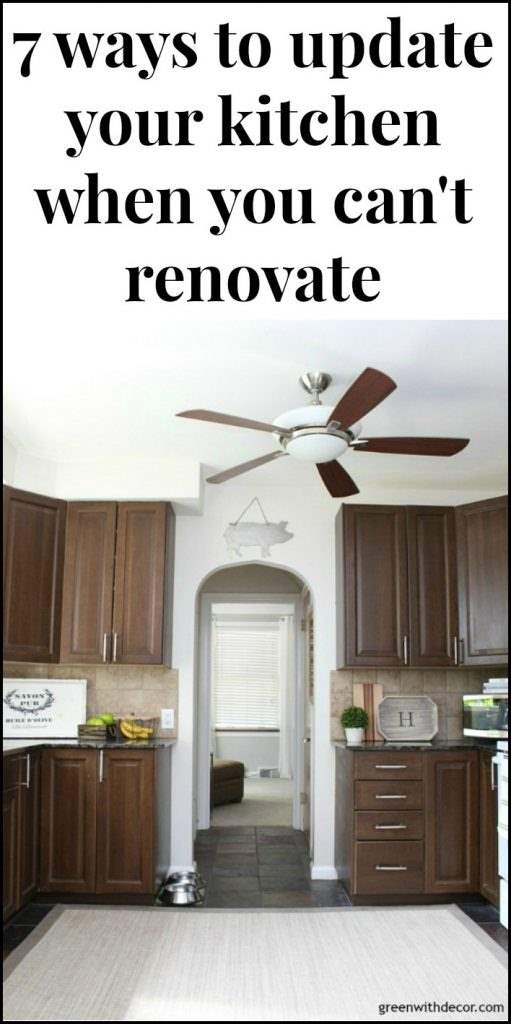 Want to read more posts like this?
Follow along: Get my emails | Facebook | Pinterest | Twitter | Instagram