I'm glad you all are loving the painted room reveal posts, because they just keep coming. The dining room is up today, and you guessed it, Agreeable Gray strikes again.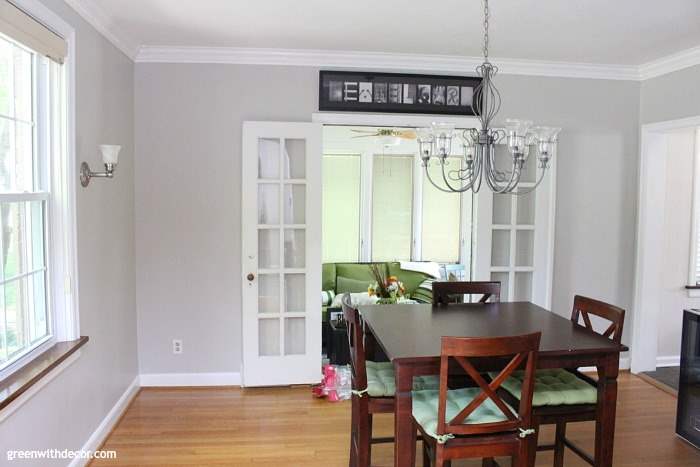 Isn't it pretty?!
As you may recall, the room started out dark, dark red.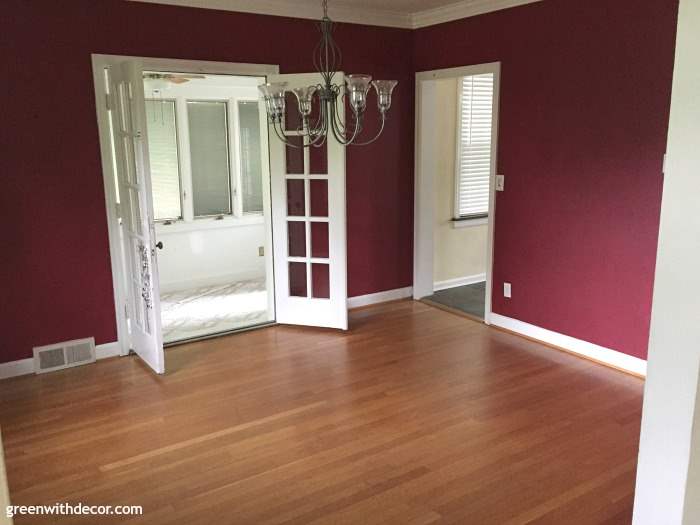 It's really amazing what some paint can do for a space, isn't it?! The white trim just pops now.
This post contains affiliate links. This means if you click the link and buy something, I may receive a small percentage of sales at no extra cost to you.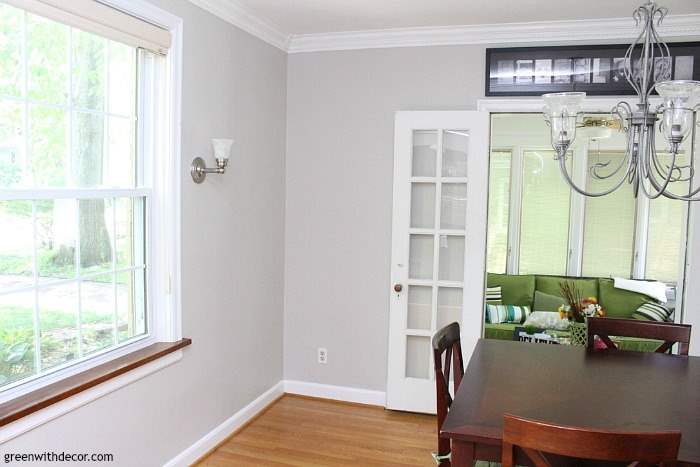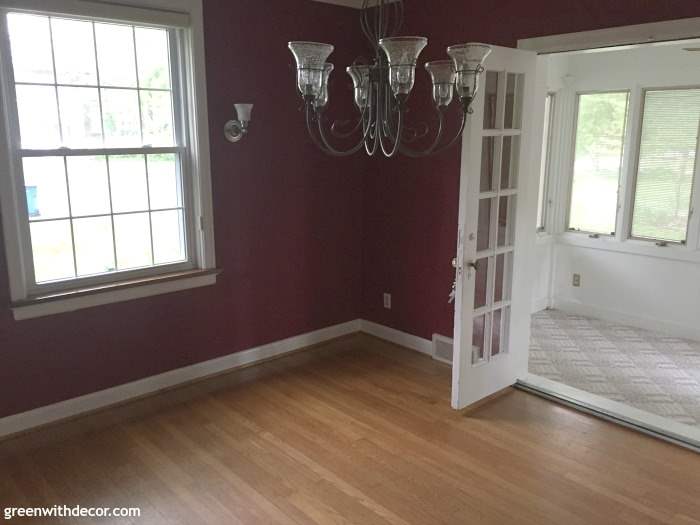 Eek, ignore that pile of stuff in the sunroom. It's basically like an unorganized home decor store in there until we really dive into decorating.
But aren't the French doors just perfect?
I ordered the same curtains and curtain rod for this window as we ordered for the living room windows and can't wait to get them hung.
I'm not loving the light fixtures in here, and our old table might have to go, too.
We're thinking a farmhouse table would look just perfect in here. (Update, we built one! Who are we?! Ha!)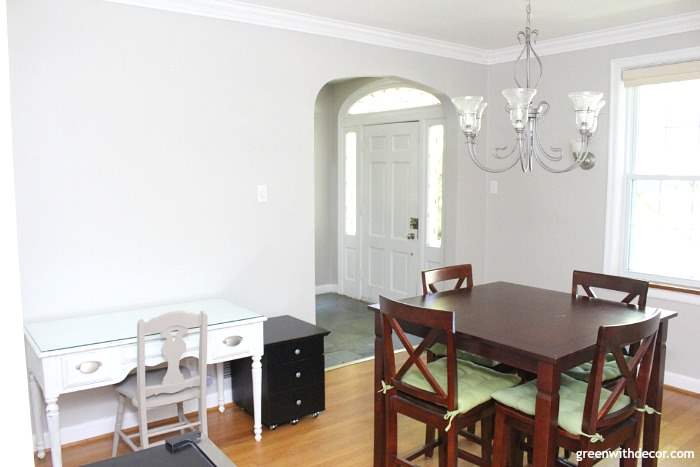 I have my painted desk area set up in here, too, although with all the craziness around here, I haven't had much of a chance to actually use it.
I've mostly been hanging on the couch with Oakley trying to get some work done in between traveling, painting and organizing.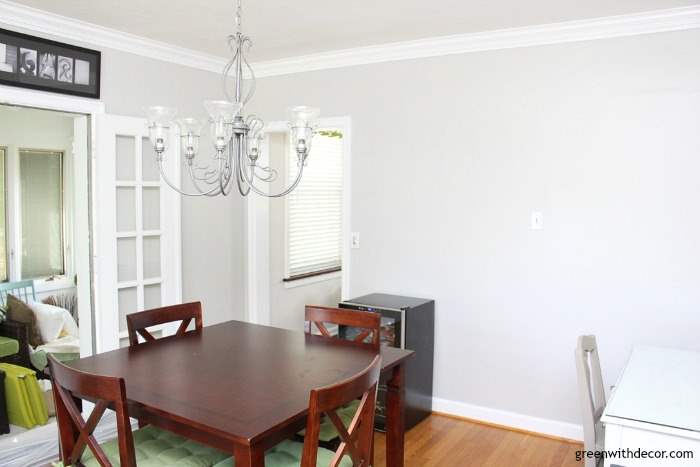 And yes, that is a light switch smack in the middle of the wall!
There are five light switches in this room (??) so we're thinking we'll cover this one up with some artwork.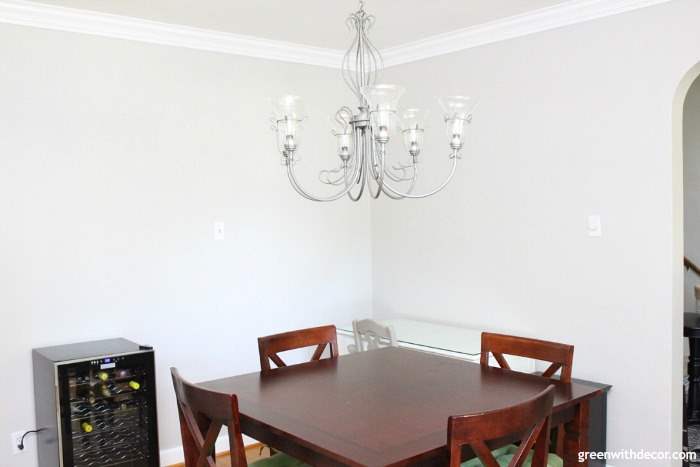 The wine fridge got put in here since there's not really room in the kitchen. I don't love it standing all by itself over there, but it may be one of those things I chalk up to renting and just deal with.
This room definitely needs some work, but for now, we're just happy it's not red anymore.
What do you think? Loving the Agreeable Gray?
You can see a TON of pictures of Agreeable Gray in just about every room in the house here or our list of favorite whole house neutral paint colors here.
On another note, have any tips for arranging a dining room / wine fridge / home office combo? Let's hear 'em!
You can see all progress on our dining room makeover here:
Remember to bookmark or pin this post if you want to save it for later!


Pin it!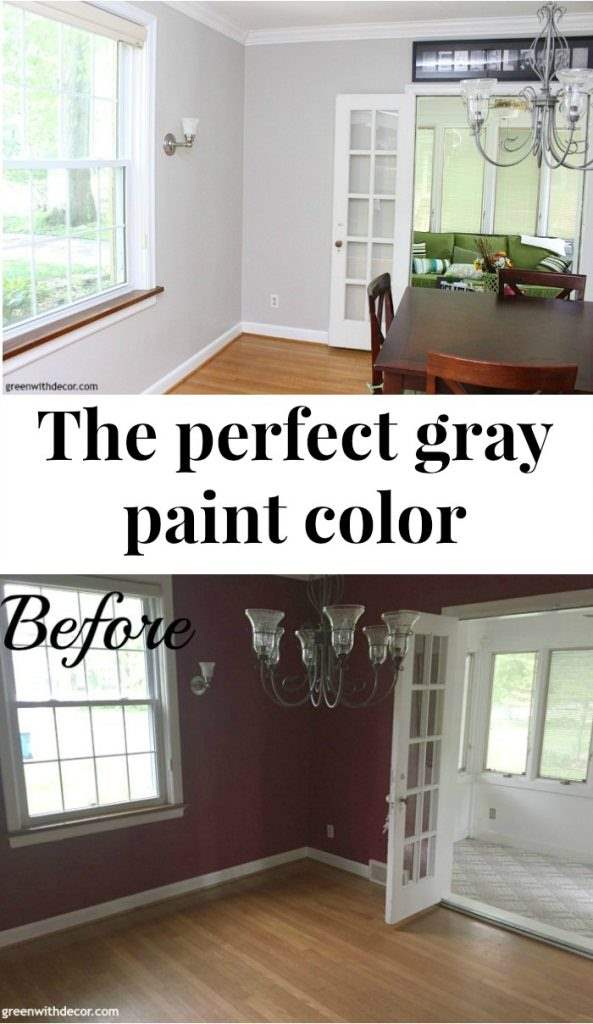 Want to read more posts like this?
Follow along: Get my emails | Facebook | Pinterest | Twitter | Instagram