I recently mentioned that our basement is starting to look like a thrift store. That trend continues!
In my spring home tour, I shared this cake platter.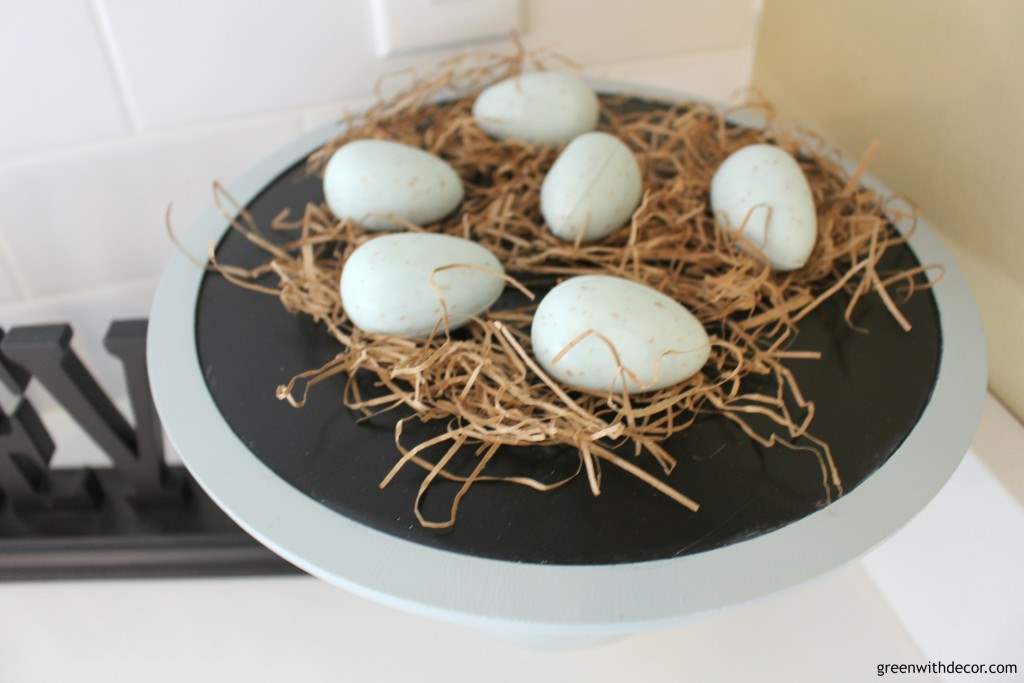 I found it in rough shape at Goodwill and I knew with a little paint, it would be perfect for adding a spring look to the counters.
Now I'm not really much of a cake-baker, but I loved the shape of it.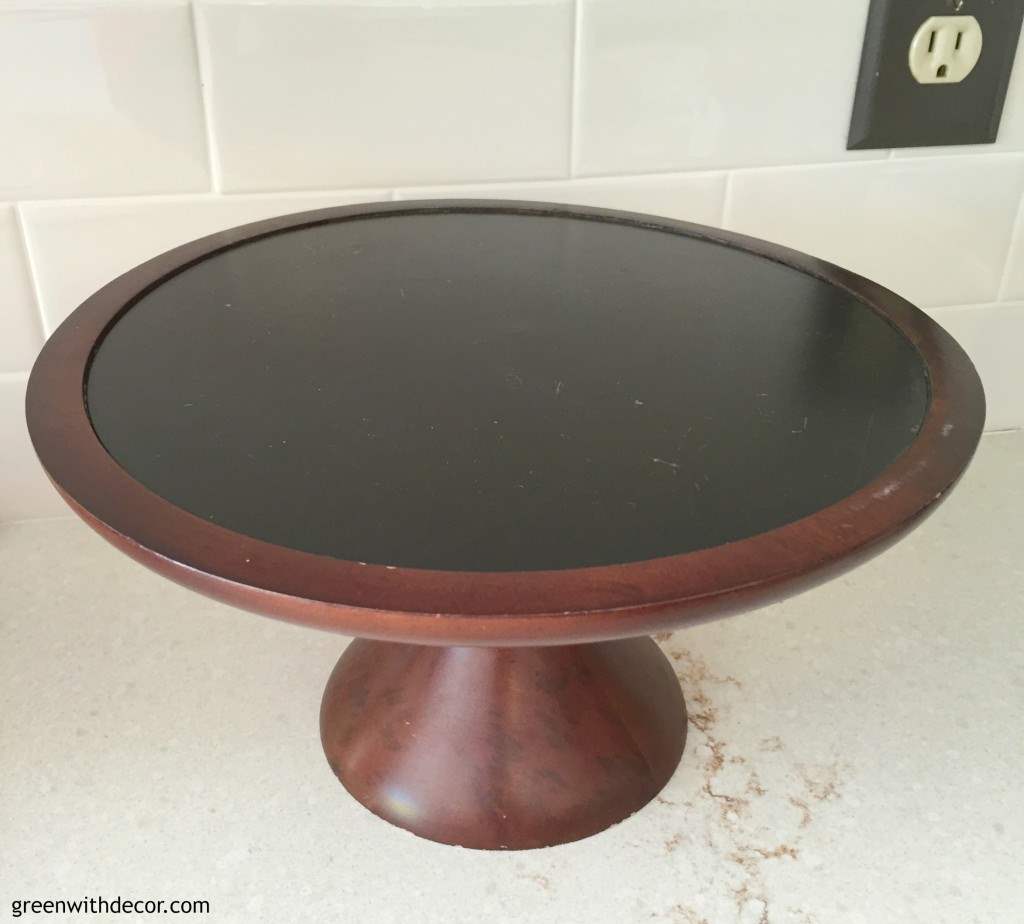 This post contains affiliate links. This means if you click the link and buy something, I may receive a small percentage of sales at no extra cost to you.
Supply list for a cake platter makeover:
Paint: I used Restoration Hardware's Light Silver Sage, Low Gloss. I bet you guys are surprised I didn't use a shade of green!? So am I! My mom is currently planning a bathroom renovation (more to come on that!) and had a sample of this laying around. Never one to let extra paint go to waste, I used some for a few recent projects. It's the perfect color for spring!
Old rag
This was an easy makeover and a fun way to add some spring color to our white kitchen.
How to paint a cake platter:
1. Run a damp rag over the piece to get rid of any dust and dirt.
Get your drop cloth set up, too, so you don't accidentally get paint on whatever surface you're doing your project on.
2. Get your paint ready.
Shake it up, then open and stir the paint with a stir stick.
3. Paint your piece.
Given the shape, I flipped it upside down to paint.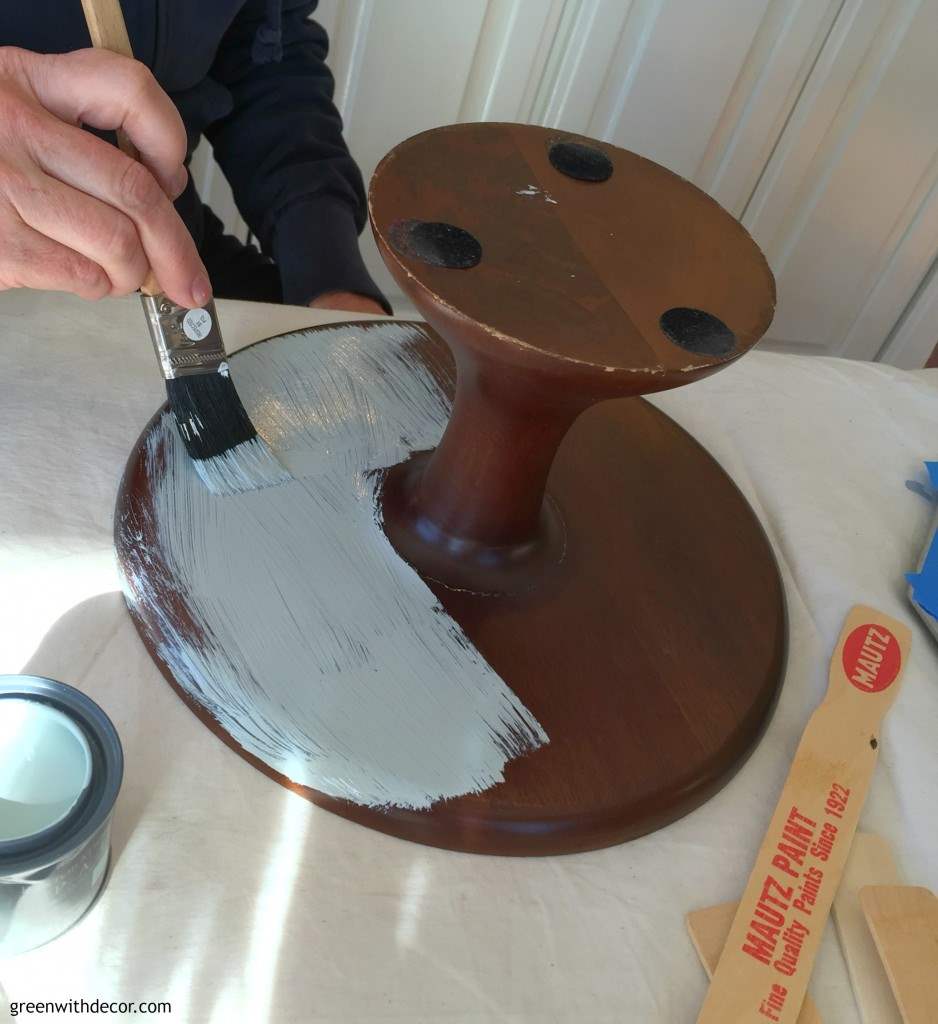 Make sure you're brushing on the paint in the same direction so you don't end up with any brush strokes going in different directions.
Let it dry.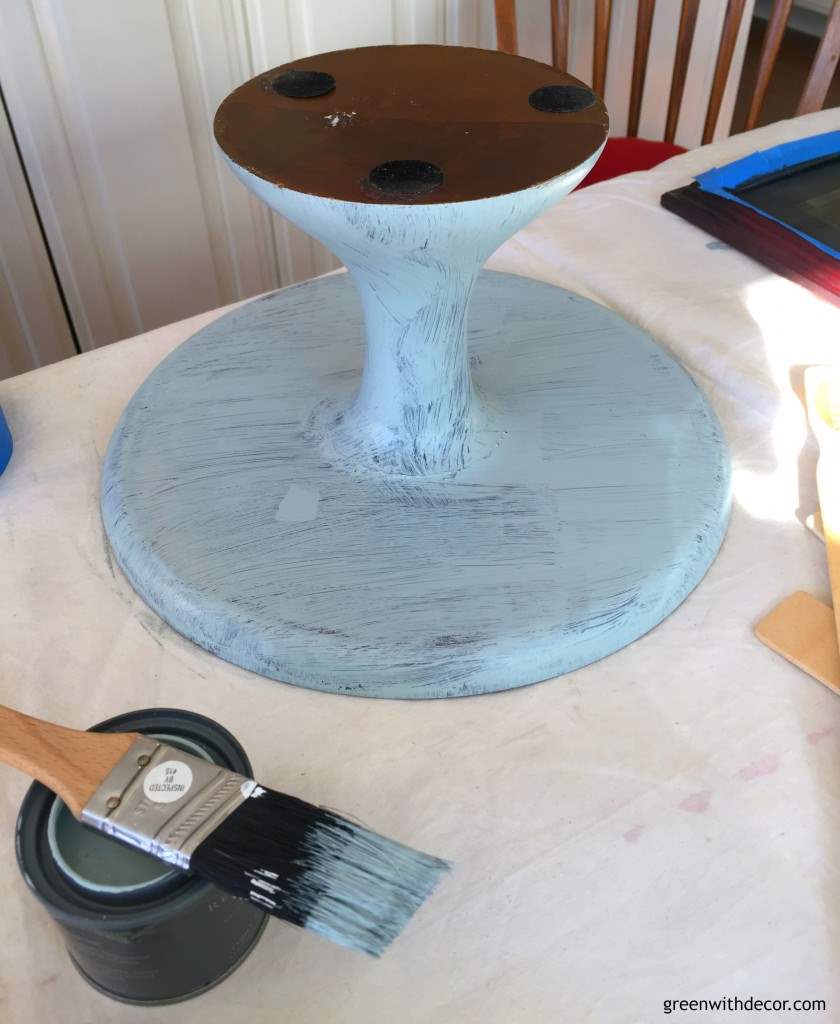 You can see this piece definitely needed a second coat.
I had to flip the piece back over (right side up) to paint the trim on the top, too, which also required two coats.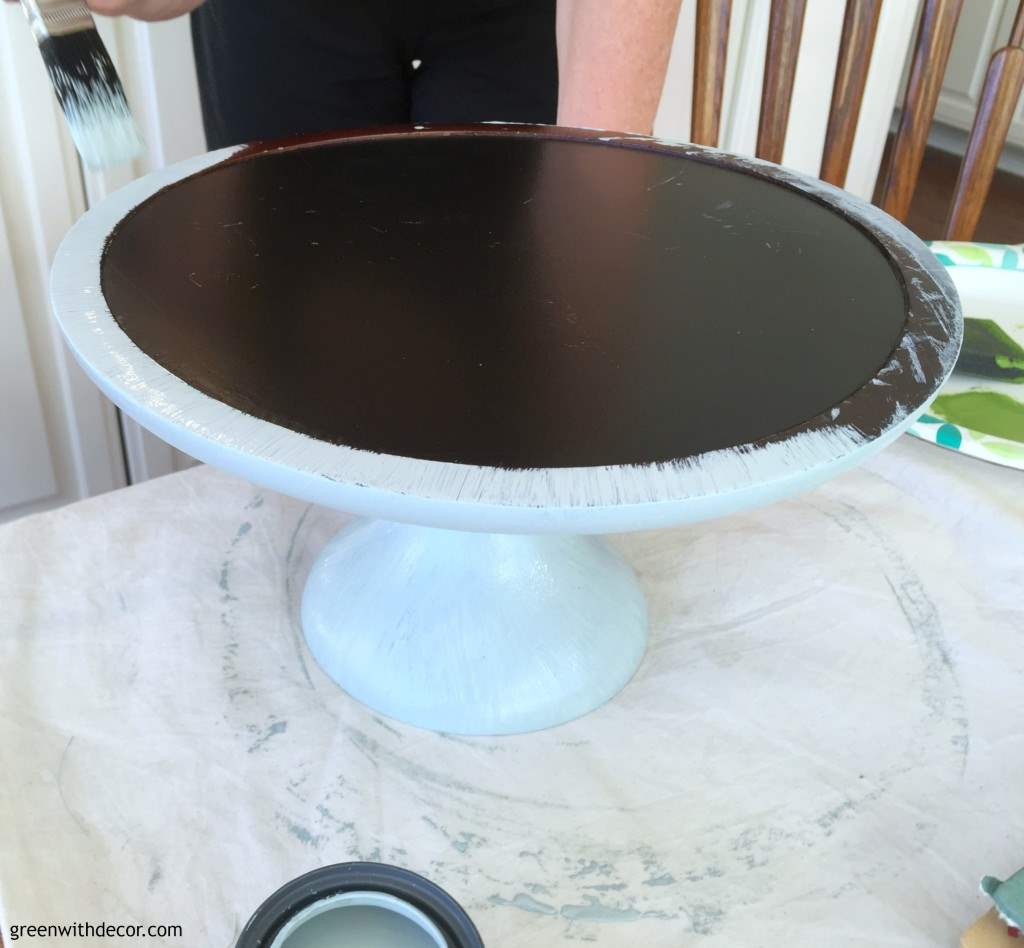 Let it dry again.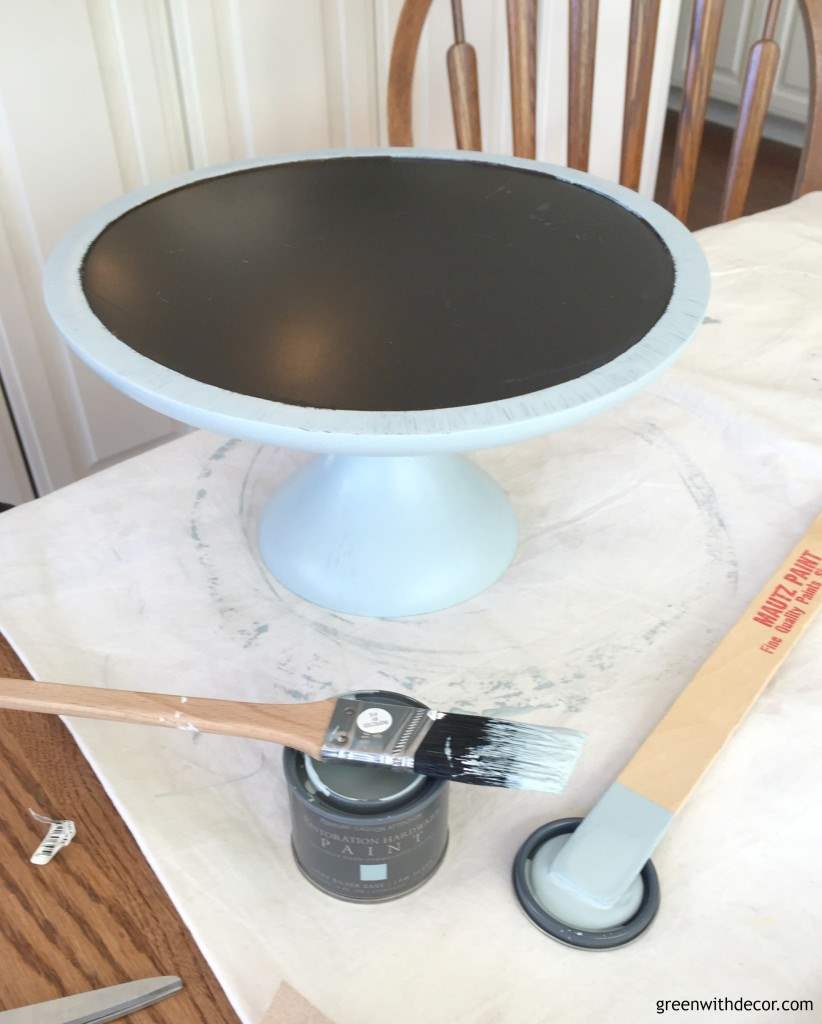 3. Display!
I added some blue egg-shaped soaps to top off the piece. I never thought I'd be decorating with soap, but, hey, whatever works!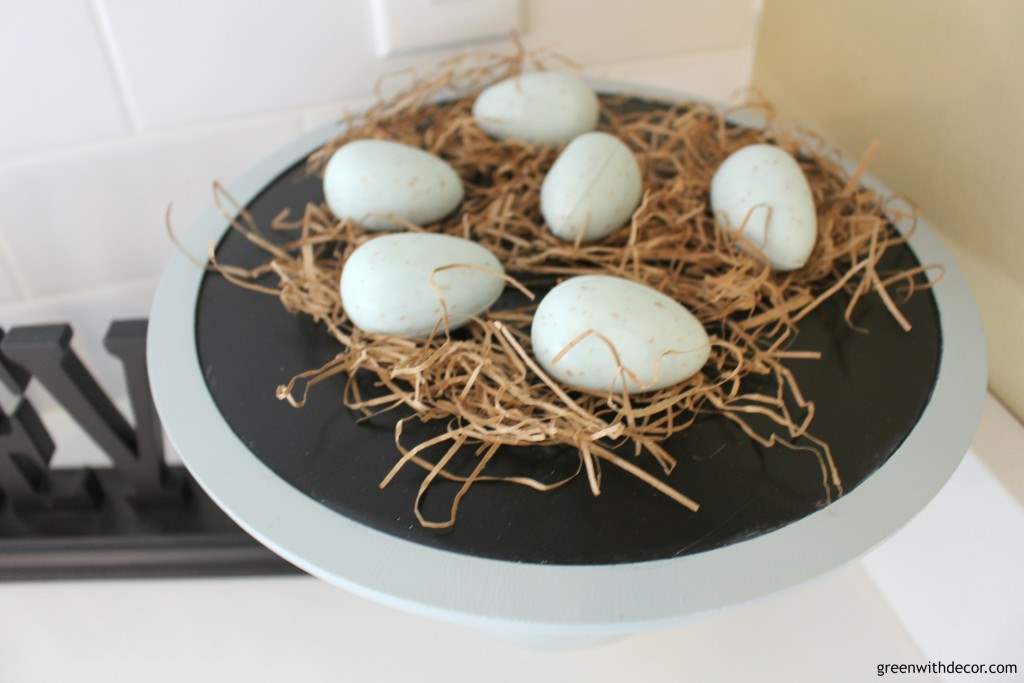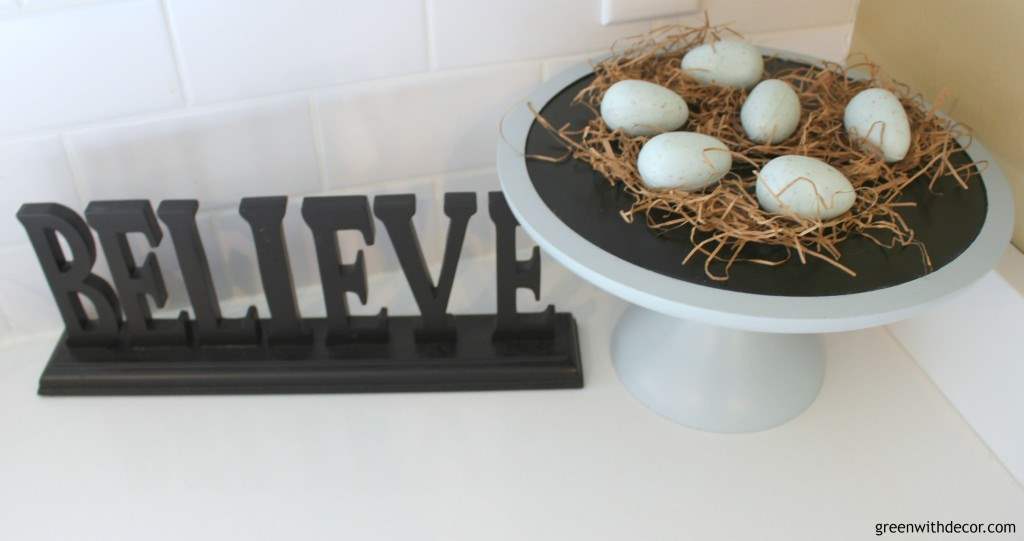 Note if you were using this for actual cake/other food, I'd put the food on top of a plate on top of the cake platter so you don't have any food touching any paint.
Have you done any fun spring projects lately?
See more spring decorating ideas here:
Remember to bookmark or pin this post if you want to save it for later!

Pin it!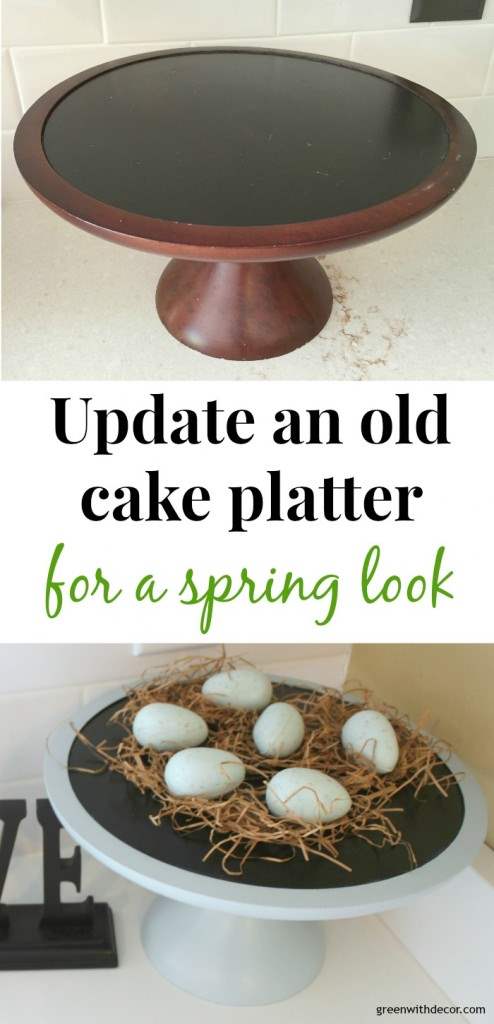 Want to read more posts like this?
Follow along: Get my emails | Facebook | Pinterest | Twitter | Instagram