Guess what day it is!? Bathroom makeover reveal day!
If your bathroom is in need of a makeover but you can't afford a renovation or you're a fellow renter so renovating is out of the question, this blog post was made for you! I'm amazed what we did to this bathroom for just $100. You can see all the other bloggers' $100 Room Challenge room makeovers linked below.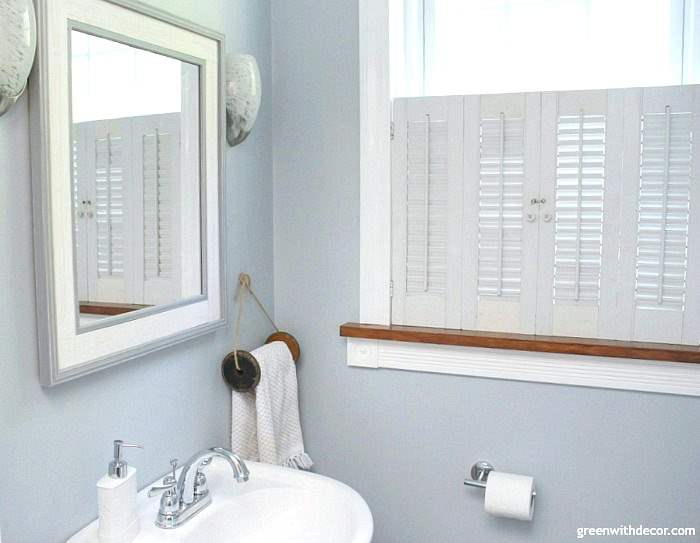 A reminder this is how the bathroom started: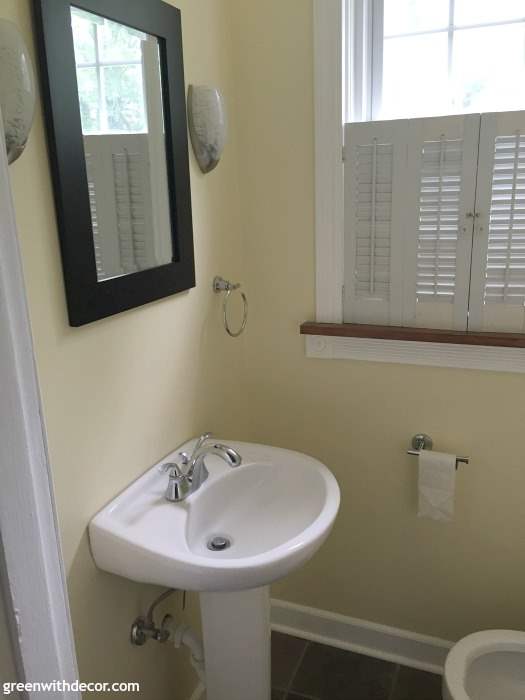 This post contains affiliate links. This means if you click the link and buy something, I may receive a percentage of sales at no extra cost to you. 
You may recall this was my design plan for the bathroom: (the images are clickable if you're interested in anything pictured. You may have to double click on mobile.)

We stuck pretty close to it with a few changes. The wooden spool turned towel rack definitely wasn't in the plans, but when I found the wooden spool, I knew I had to use it.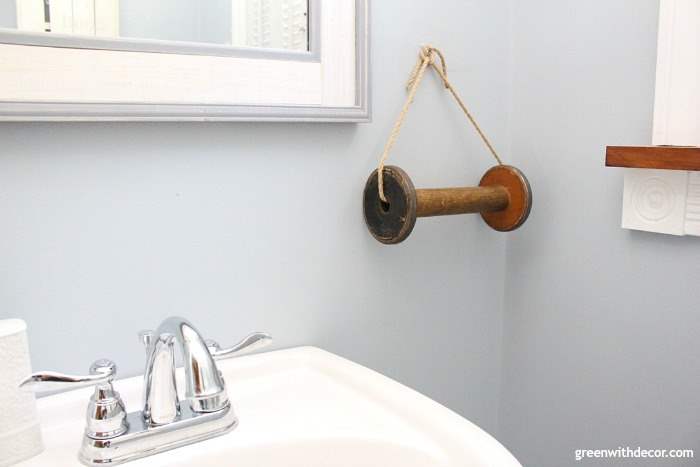 It's probably one of my favorite DIYs to date and it took literally five minutes to hang up. You can see the quick project tutorial here. I just love it!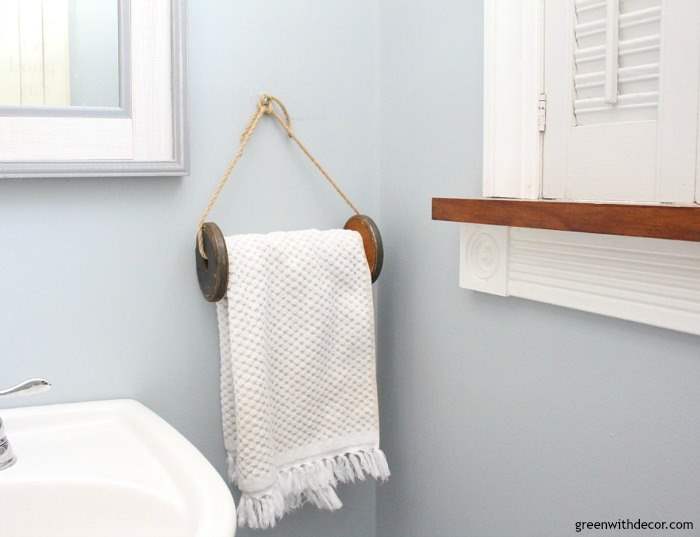 I had visions of a white-framed beachy distressed mirror in here, but when I found this white and blue one, I had to buy it. I knew the blue would either look absolutely perfect or absolutely terrible against the wall color, and it totally works!
If you're renting, too, keep in mind, you can totally swap out bathroom mirrors to spruce up a bathroom while you live there!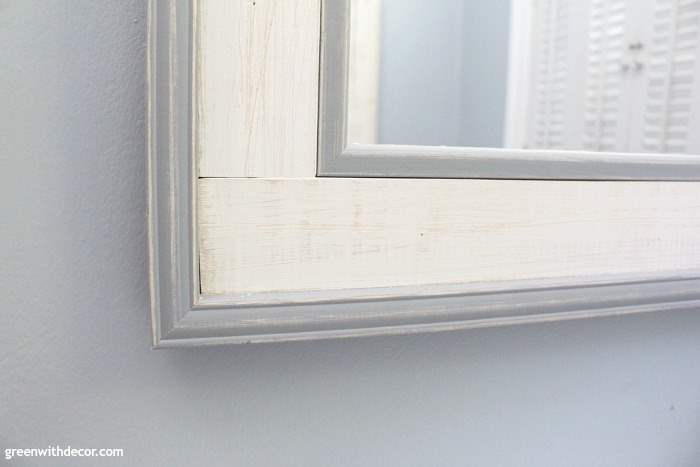 My mom found this awesome storage tower at TJ Maxx, and I love it! Again with the blue wood, who knew?!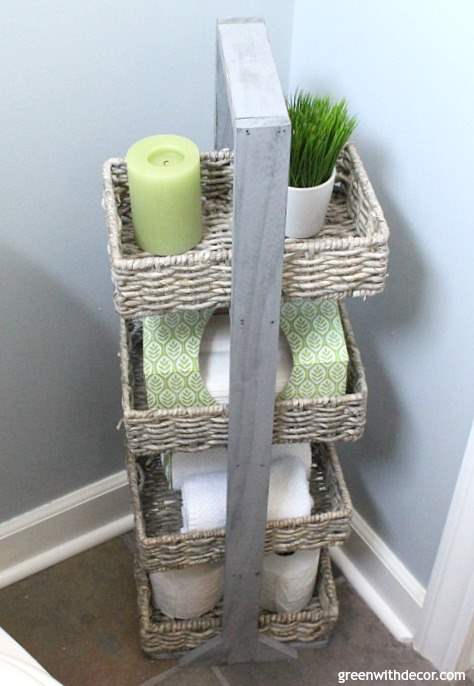 It's the perfect little piece for storage in here, and we can definitely reuse it in a different room in the future if we need to. It doesn't look too 'bathroom-y'. (Is that a a word? Sure.)
If you're looking for affordable storage, I shared my favorite cheap storage towers here.
By the way, it's basically impossible to take pictures in a really small bathroom so excuse the weird angles on some of these pictures. I did my best!
This 'Today is a good day for a good day' sign is one of my favorite DIYs. It started as a plain wood tray. The letters are darker in real life than they look in photos. You can see the tutorial here or you can buy a similar sign here.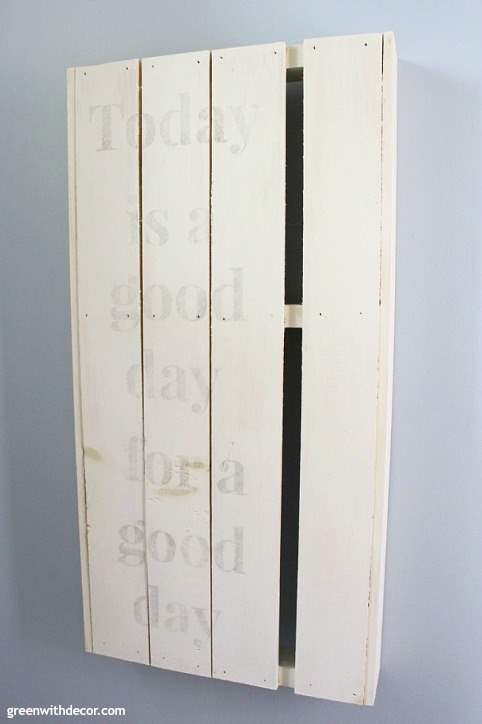 I love the little details in room makeovers. Like this beachy garbage can. The rope handles tie in perfectly with the rope holding our towel rack.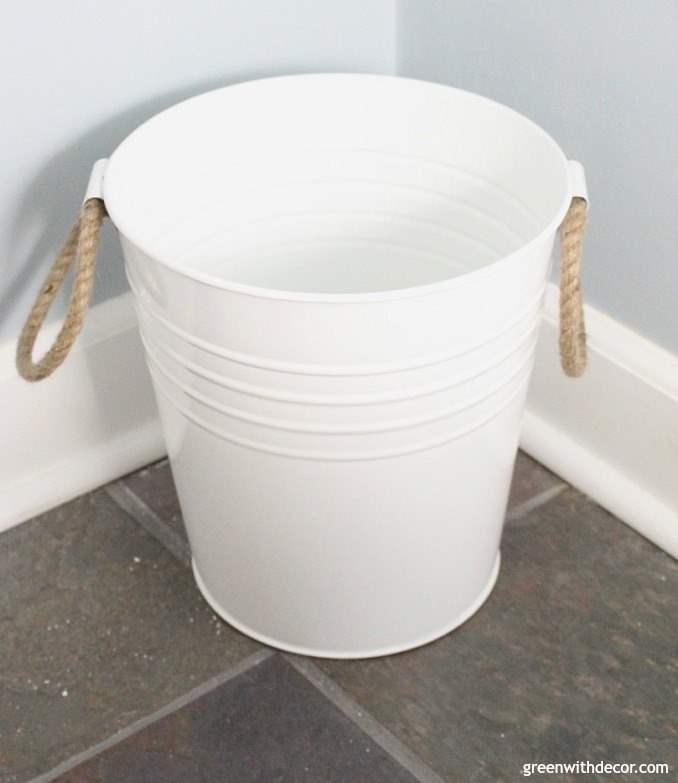 We found this beautiful soap dispenser for $2 (yes, $2!!!) at a local decor store.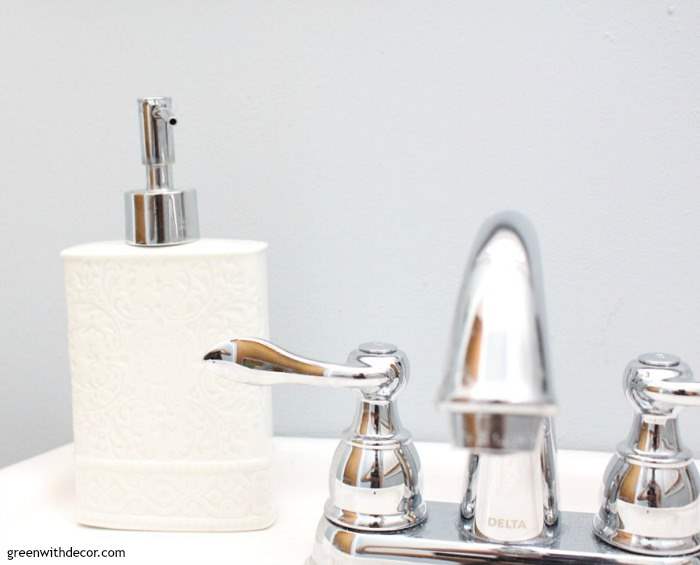 We're still debating swapping out the light fixtures in here, but we didn't have time to do anything about that just quiet yet. (Here are the ones I'm looking at – all under $100!) Stay tuned!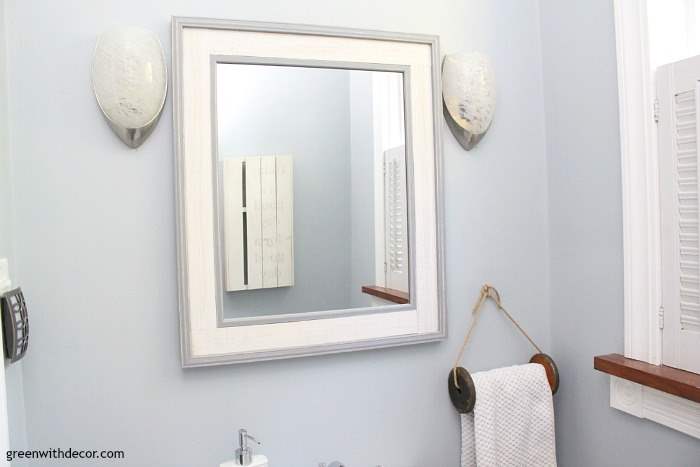 GET THE LOOK / BUDGET BREAKDOWN: 
Here's a rough budget breakdown of our $100 room makeover. Since a popular question I get is "Where'd you get that?!," I also included links to the same or similar sources:
$25-ish wall paint, we're also planning to use this color (Krypton by Sherwin Williams) for another room in the house
$24 mirror from Kirkland's (I can't find it online or I would share a link!)
$6 wooden spool (from a flea market)
$10 garbage can from Marshall's
$2 soap dispenser – yes only $2! What a find, right!? It was from a local decor store. (similar one here)
$12 hand towel 
$25 storage tower from TJ Maxx (I have a whole list of affordable storage towers here.)
Total = $104 (slightly over, hope I don't get kicked out of the $100 challenge 🙂 )
We used a few things we already had: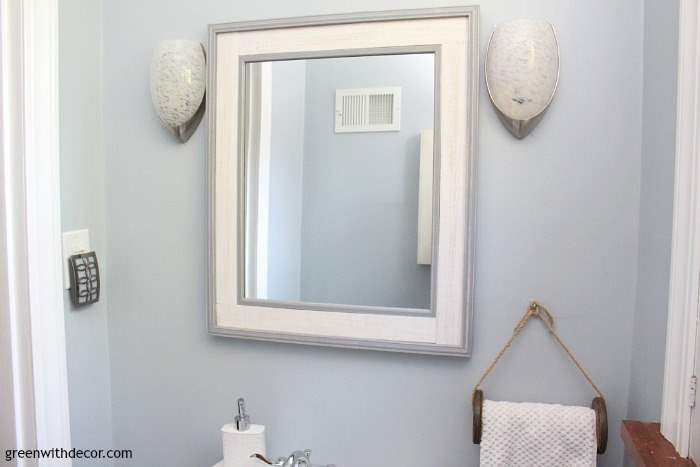 You can see all of the bathroom makeover progress here:
Are you planning a bathroom makeover? We have two more bathrooms to update in this house that we're still planning and dreaming about. (Update: We gave our master bathroom a makeover for just $100, too!)
If you want to save this post for later, remember to bookmark it or you can pin it here: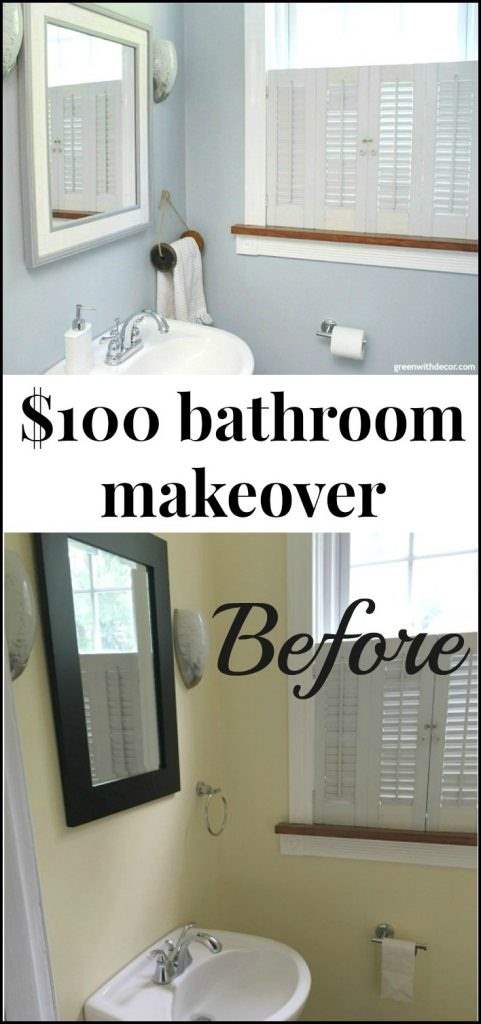 All of the other bloggers' room makeover reveals are linked below.

Want to read more posts like this?
Follow along: Get my emails | Facebook | Pinterest | Twitter | Instagram | Google+