You know what adds a ton of warmth and coziness to a space in one move? A rug!
But I'm not interested in spending a whole ton of money on a new rug for our dining room, which, of course, led to online window shopping of sorts to find something pretty.
The last time I shared the dining room, it was looking like this (a little Christmas-y, yes but really, take those mini trees off the table, and this set up would work anytime).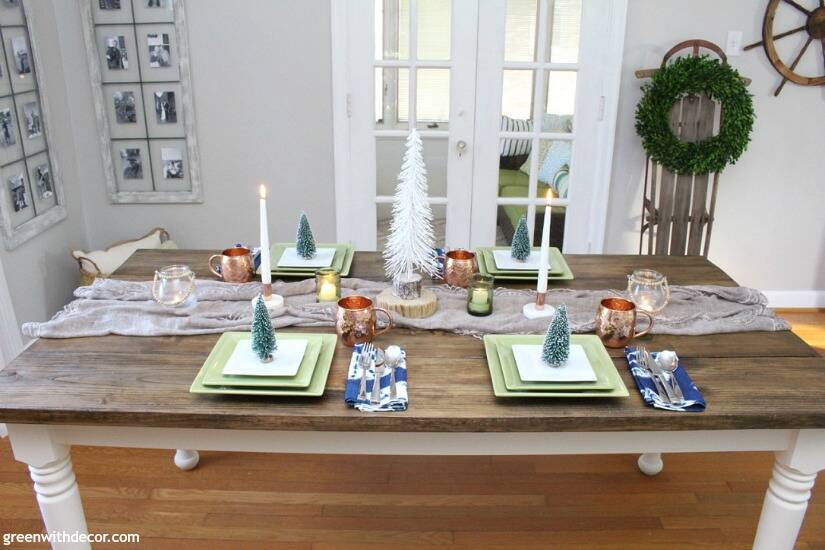 Definitely in need of a rug, yes? Which also begs the question, which camp are you in? Pro-dining-room-rug or tooootally against it because they just end up with food all over them?! I've learned people have STRONG opinions on this.
I typically play it safe and go a bit more neutral with rugs (ahem, see the kitchen, family room or entryway rugs).
While those are gorgeous and we still love them, I'm challenging myself to add some color this time around. Nothing too crazy but maybe a good mix of neutral and blue.
I'm sharing what I found below if you're in neutral or blue rug shopping-mode, too. Bonus: they're all under $250! Since not all rug styles are created equal, the size of these varies slightly between 7'x10′ and 8'x10′.
This post contains affiliate links. This means if you click the link and buy something, I may receive a small percentage of sales at no extra cost to you.
neutral and blue area rugs under $250
Click any of the images below for more info. (You might have to double click on mobile.)

So which is your fave?
Where do you shop for rugs? Or do you already have the perfect affordable neutral or blue area rug? Share your secret!
You can see all progress on our dining room makeover here:
We're still building benches (the folding chairs are getting a lot of use, ha!) and wrapping up a few things, but we're making progress in here.
Remember to bookmark or pin this post if you want to save it for later!

Pin it!

Want to read more posts like this?
Follow along: Get my emails | Facebook | Pinterest | Twitter | Instagram