This neutral rustic bedroom makeover features easy decor ideas, including DIY wall art, reusing old pieces and a little shopping to finish the room.
Room reveals are always some of my favorite posts!
There's just something about seeing all of the pieces of a room come together. And in this case, something about seeing the bed made – that doesn't happen too often around here. 🙂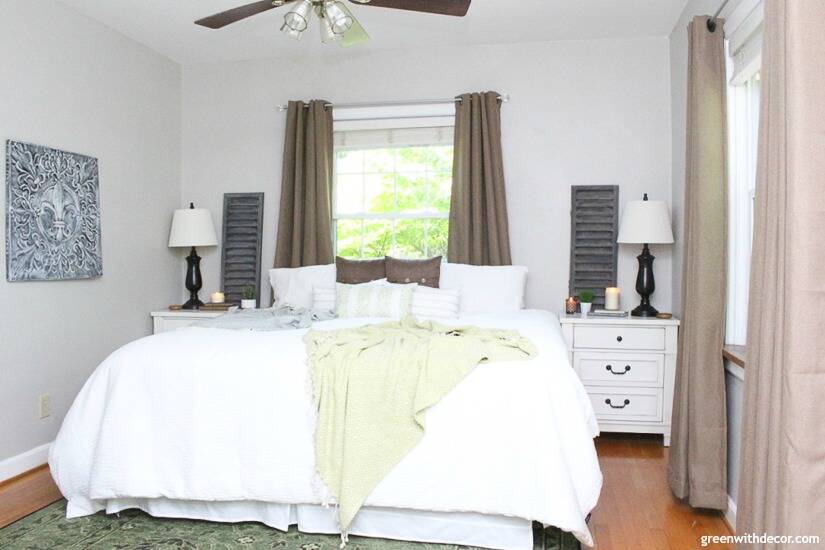 Here's a before shot for fun: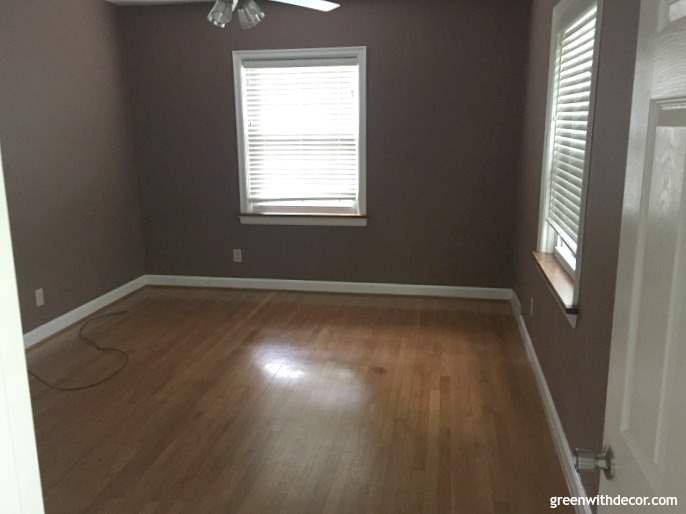 I mean, it's really hard to see past that brown paint, right?!
And one more before/after: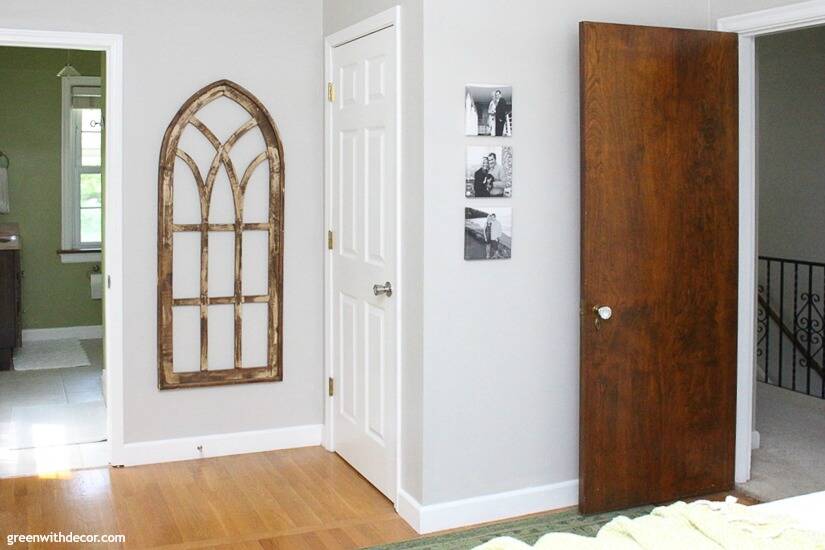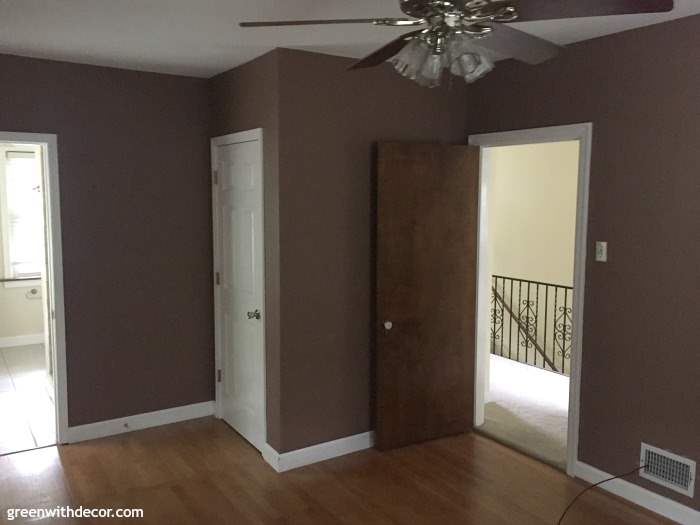 Just a reminder, this is a bedroom in our rental house so we can't do anything about the different colored doors … not our first choice!
You may recall the neutral rustic design plans for this bedroom. We were planning on keeping things relatively easy in here, and we did manage to stick to that plan.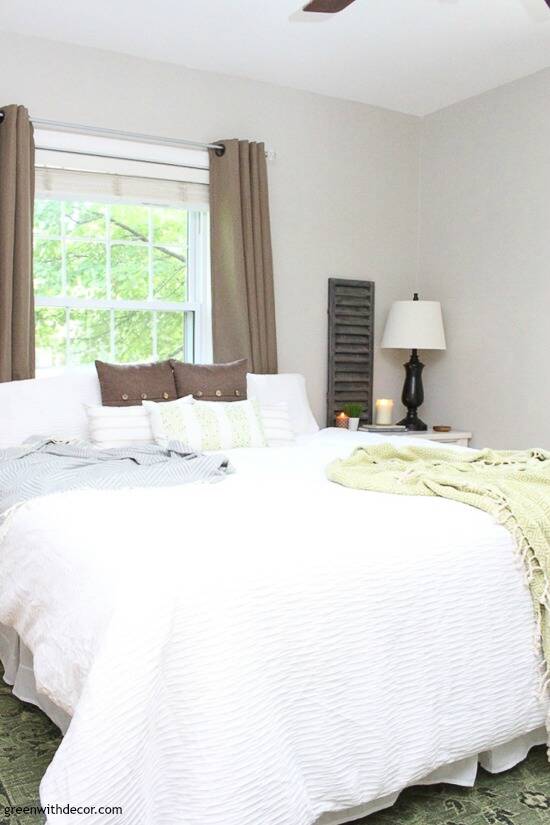 It really all started with painting the walls Agreeable Gray. It looks soooooo much better in here than when the walls were dark brown. Never underestimate the power of paint.
I picked up some white bedding at TJ Maxx, and I LOVE it. I was thinking about going all white for a while, and I love it even more than I thought I would.
It just feels so crisp and clean. And I've mentioned this before, but for fellow non-daily-bed-makers out there, when everything is the same color, the bed still looks semi decent even if you skip making it. That's a win!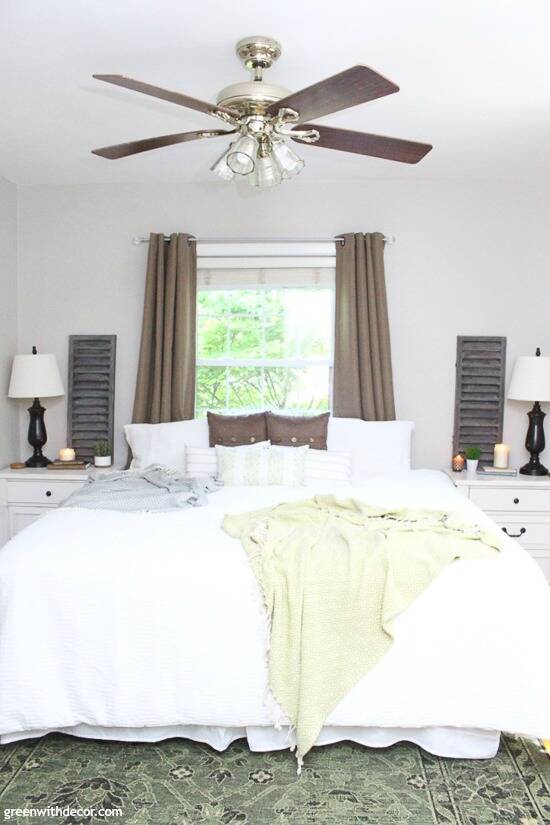 For some color, I added a few throw pillows, and we always keep cozy blankets nearby since I'm always freezing.
This post contains affiliate links. This means if you click the link and buy something, I may receive a small percentage of sales at no extra cost to you.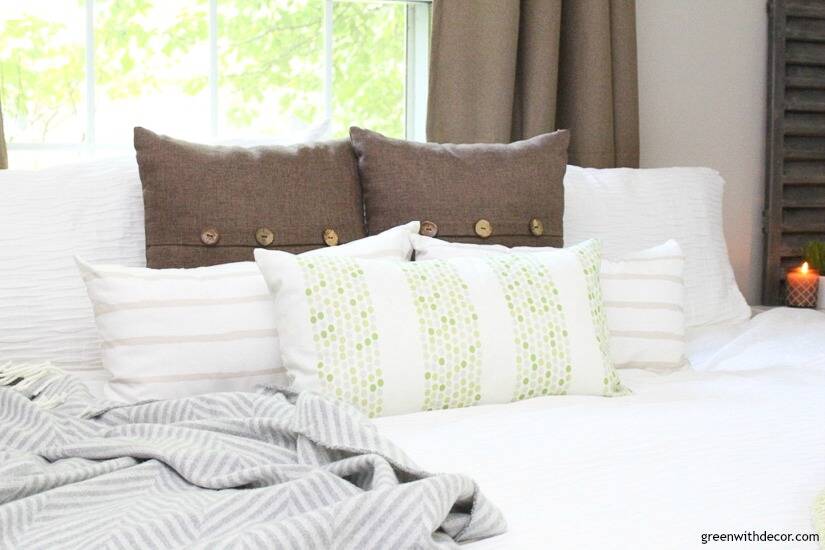 This green and white dot pillow is new. The brown pillows and striped pillows were swiped from downstairs.
I tend to just move pillows around the house – it makes rooms feel 'new' and bonus, obviously doesn't cost you anything.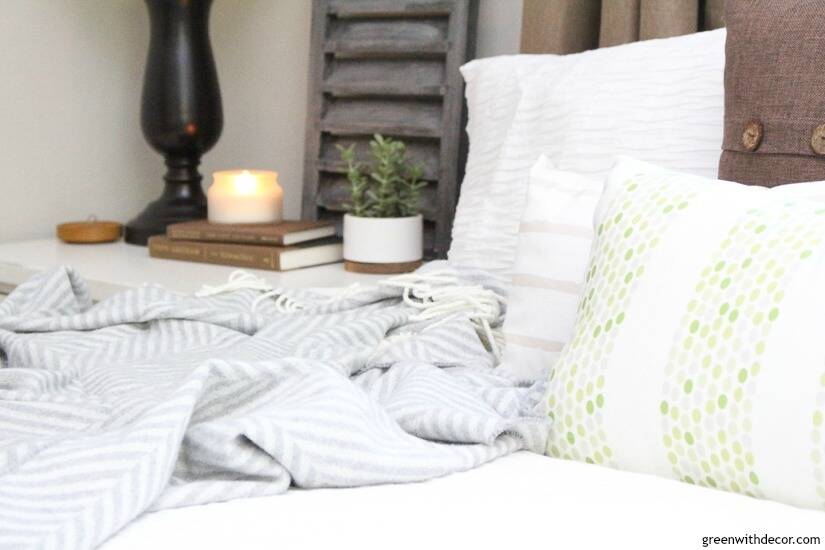 We used our nightstands we love from our master bedroom. They're so pretty and have TONS of great storage.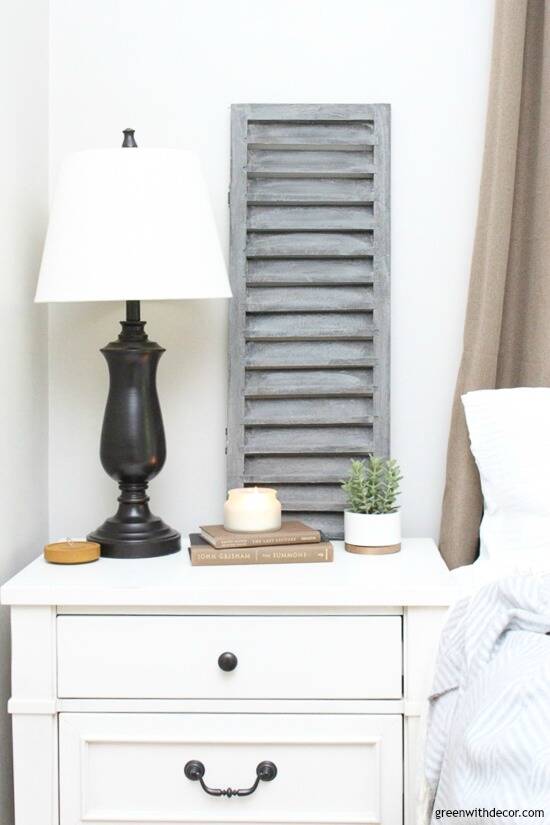 I found these cute rustic shutters and knew they'd be perfect for adding some height and color to all of the white and gray we have going on.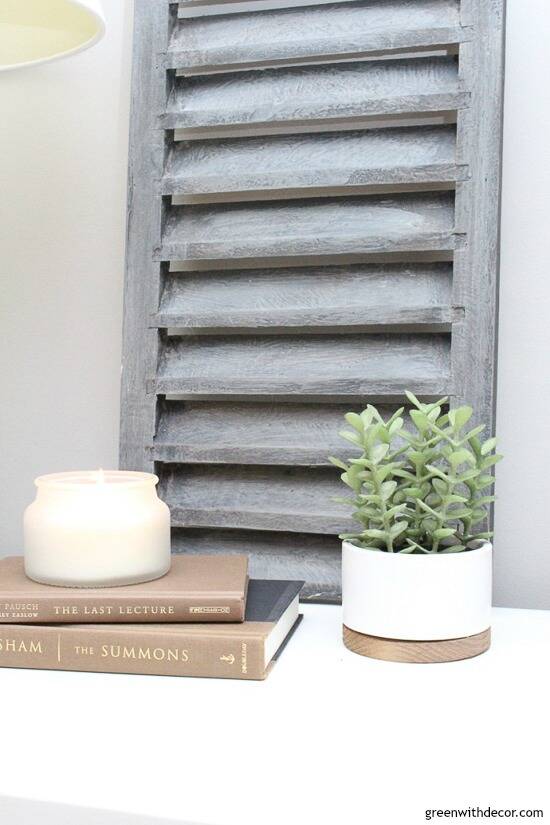 Books, faux plants (this is one of my faves) and neutral candles are perfect little touches on a nightstand.
We reused lamps we've had. I'm still thinking I want something more updated in here but haven't had a chance to really look around. And sometimes being 'done for now' feels good, right?!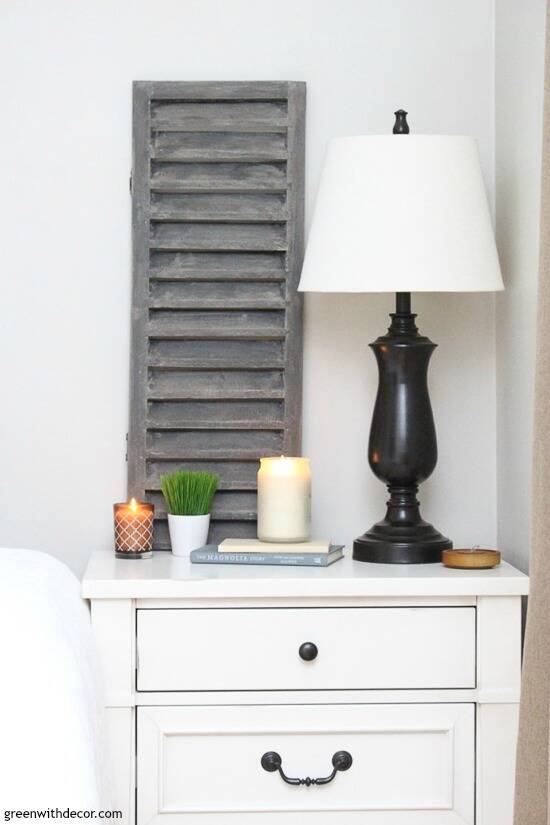 We also reused this big green/neutral area rug from our living room, and I really love it in a bedroom! Especially with the white bedding and gray walls – it adds great color and warmth to the floor!
It's so fun using pieces from other rooms. It *feels* brand new without costing a cent!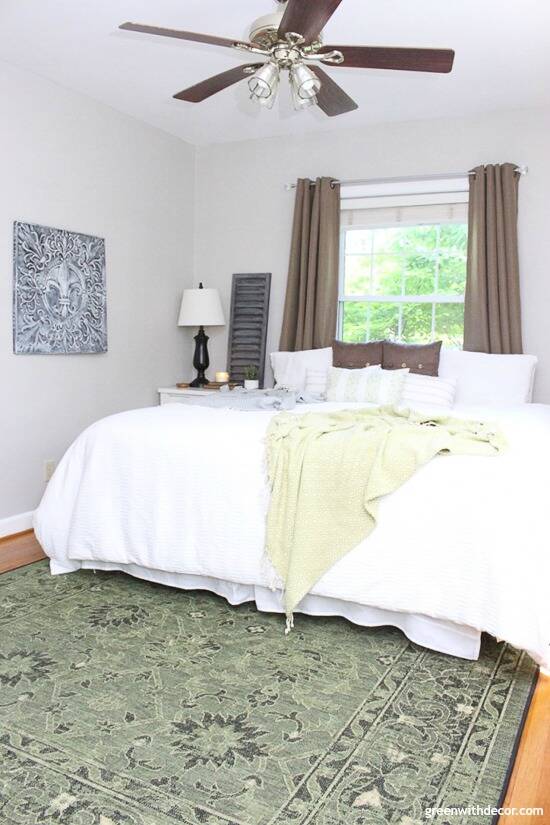 I love how the wall decor came together in here. This old rustic window was a find at a local vintage store, and I just love it. (I found similar options online here, here and here if you want one, too!)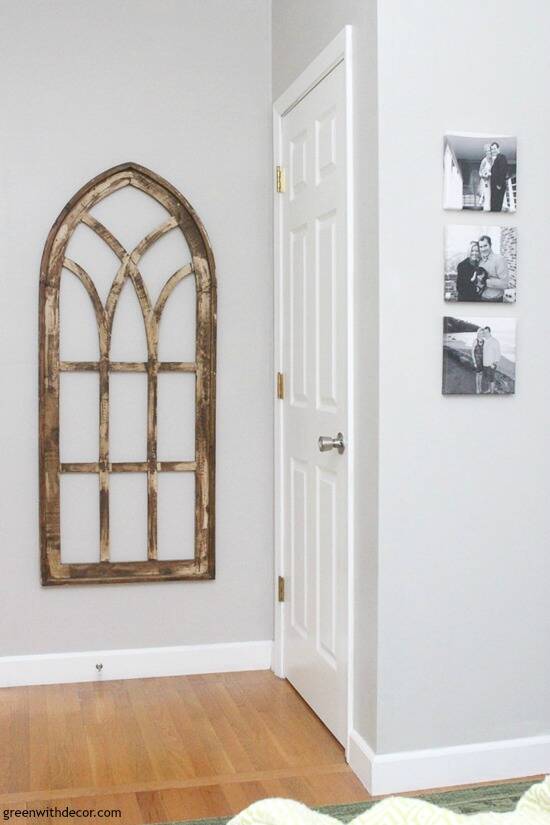 I really bought it for the landing in our Milwaukee house but figured I shouldn't wait to use it until we're back in that house because where's the fun in that?!
We've had these photo canvases for a while. They're some of our favorite pics of the two of us, and the black and white just makes them feel classy.
And then this painted metal! It was SUCH a fun DIY. It was just a different type of project. You can see the tutorial on how to paint metal for a distressed look here.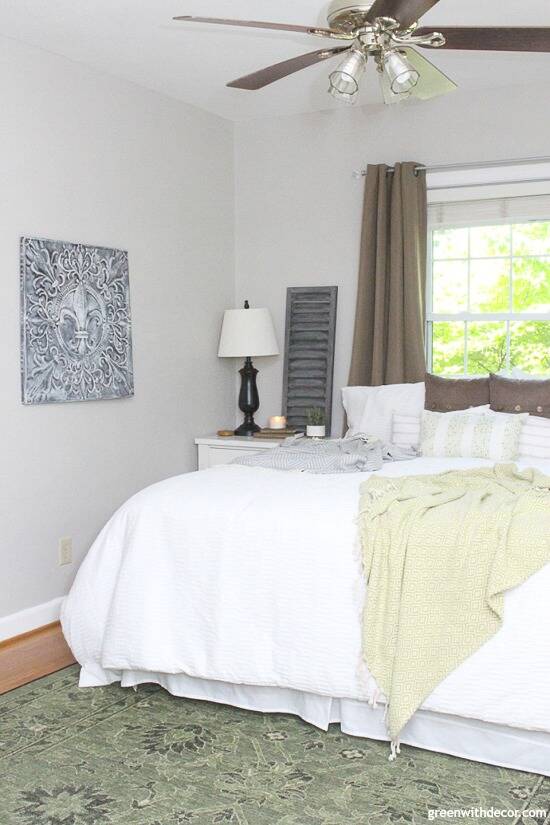 I really love how it turned out!
We kept the blackout curtains from our master bedroom, too, but I did spring for new curtain rods, because I love the crystal look of these. We have them in basically every room, but they're so cheap and look great!
I mentioned this when I was talking about the design plans for the room, but the curtains actually aren't long enough for the pretty tall ceilings in here.
We're just pretending since this is a rental, especially since the one set is on the window behind the bed, no one would ever know.
We also talked about replacing the ceiling fan in here but didn't quite get that project on our to-do list yet. More to come!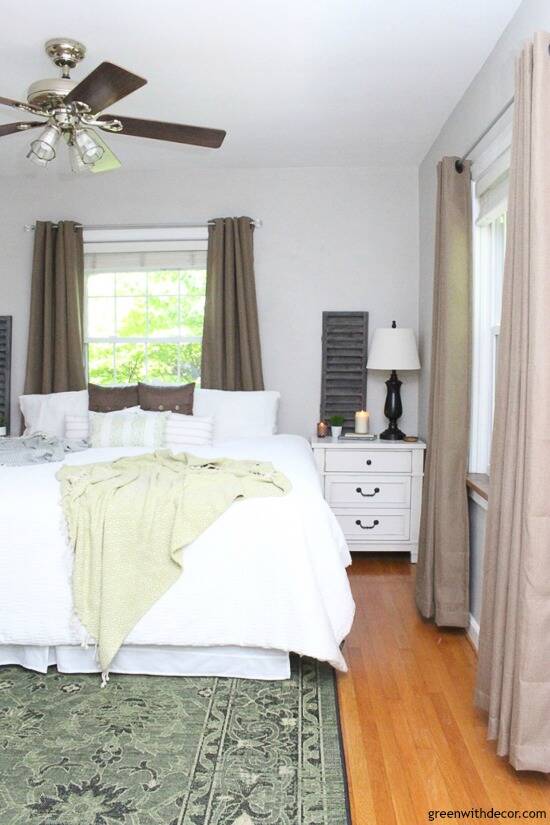 And that's the relaxing neutral rustic bedroom!
I know we all put off decorating bedrooms forever because there are more important rooms (looking at you, kitchens and living rooms), but it feels so good to have this room done and checked off!
Just maybe it'll inspire me to tackle a bedroom earlier next time we move. Based on our track record, somehow I doubt it though, ha!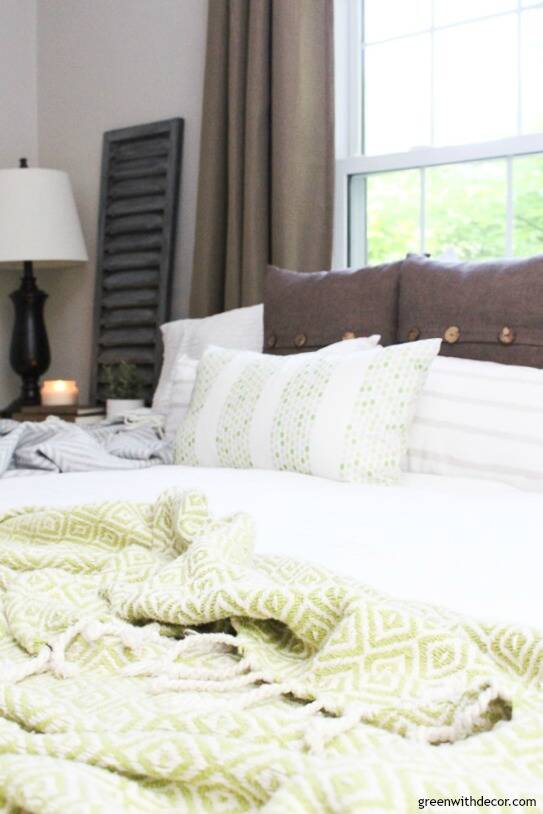 GET THE LOOK:
Since a popular question I get is "Where'd you get that?!," here are links to the same or similar sources:
You can see all progress on this bedroom makeover here:
Have you tackled any bedroom projects lately? Or are you planning any neutral rustic room makeovers?
Remember to bookmark or pin this post if you want to save it for later!


Pin it!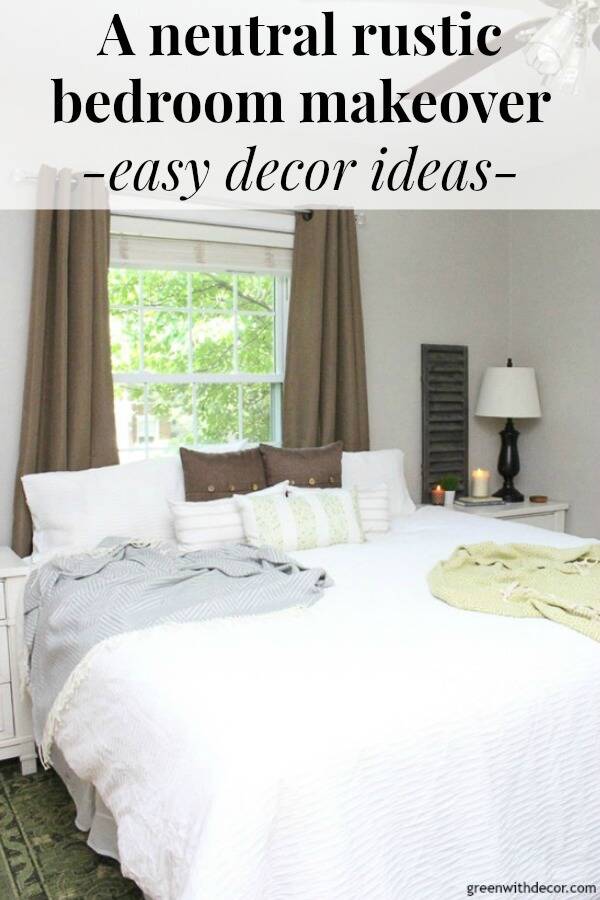 Want to read more posts like this?
Follow along: Get my emails | Facebook | Pinterest | Twitter | Instagram