Confession time: Who still has their Christmas decorations up? Then this post is for you.
We took ours down earlier this week and unlike in past years where everything just gets thrown in the bins and boxes for us to deal with in 11 months, I was a bit more organized with it this year.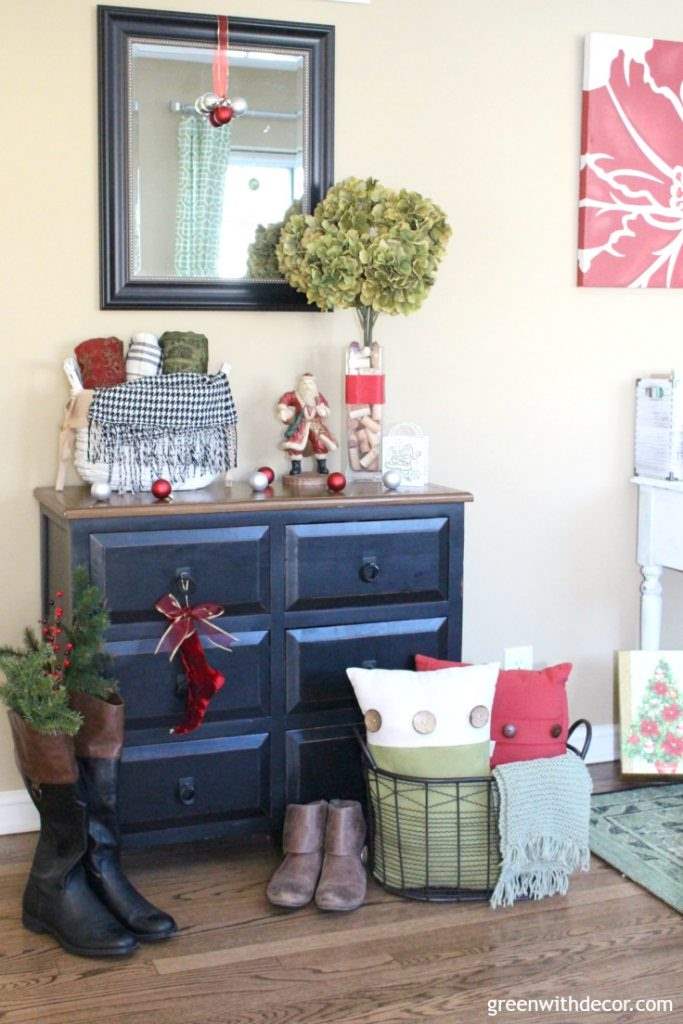 Somehow, taking down the Christmas decorations this year turned into organizing the whole basement. Which meant organizing the Christmas decor.
I'm excited for November when we unpack all these bins and find everything a bit more organized than in years past.
Be sure to grab my free printable Christmas organization labels at further down in this post, too!
This post contains affiliate links. This means if you click the link and buy something, I may receive a small percentage of sales at no extra cost to you.
Easy ways to store and organize Christmas decor:
1. Store ornaments in plastic storage bags
It's no secret I went a little ornament crazy this year. They just look so good on the tree, in vases, in baskets, wherever. (See our Christmas kitchen / bathroom here, living room / foyer here and family room here for peeks into my ornament obsession.)
A lot of times, these colorful ornaments come in flimsy plastic containers that just don't hold up well. Plus storing a bunch of ornament boxes fills up a storage bin pretty quickly.
I tossed all the flimsy plastic containers. (Gotta love decluttering.) Instead, I used plastic resealable bags.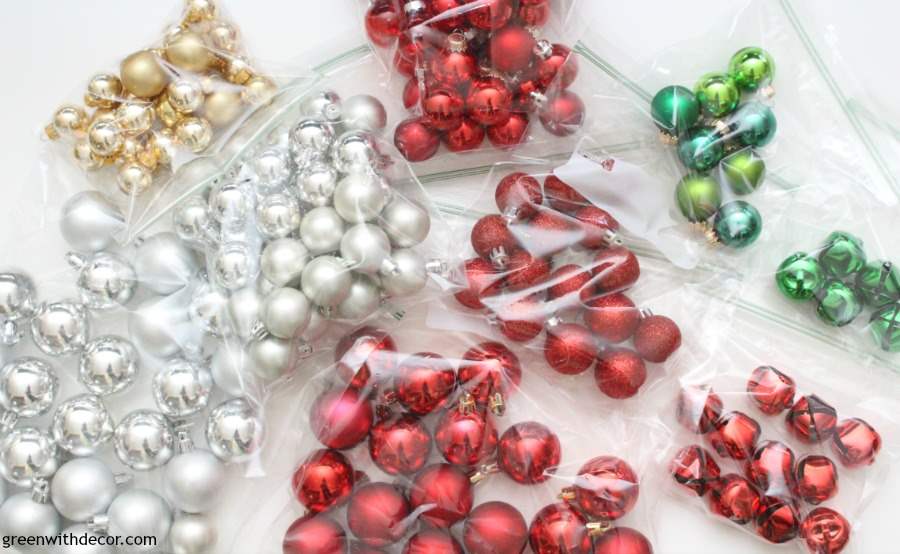 I grouped the ornaments by size and color so I have some semblance of order when I decide where to put all of these ornaments next year.
2. Label specific little pieces.
I also went a little ribbon crazy this year. (Again, see the Christmas living room and foyer here.) But come on, how cute is that red ribbon 'scarf' on the metal pig?
Sometimes I keep seasonal decorations the same from year to year, and other times I just totally mix it up. Since I'm not sure what type of mood I'll be in come November, I kept a few of my favorite little pieces – like the pig's scarf – labeled them (you can downoload these cute labels below!) and used an easy storage method, plastic resealable bags.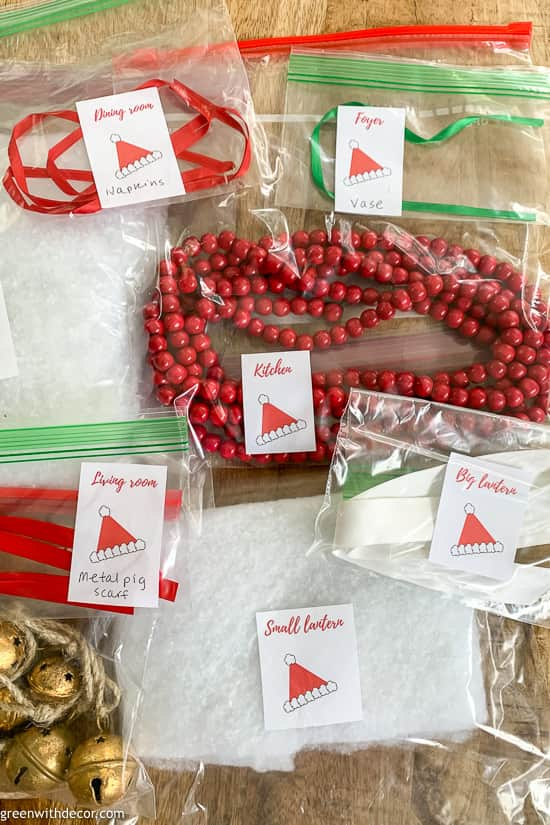 I loved the ornaments and ribbon on the mirror, and the ribbons around a few vases and lantern handles were already the perfectly length for those specific pieces.
So I labeled them and put them away. No need to waste ribbon or get annoyed trying to figure out which ribbon goes on which vase next year.
I made these cute labels to keep everything organized and pretty. You can grab a copy below!


I made multiple labels for ornaments, Christmas village and lanterns since so many of us have lots of those! Plus I made a label for each room.
I left blank space below the Santa hats on purpose, so you can (1) cut the labels to whatever size work best for you and (2) write in anything specific. For example, if you want to keep track of ribbons for a foyer mirror and a foyer vase. Or if you just want a general Christmas foyer bin, this works for that, too!
I also included a couple blank labels so you can write in whatever is most useful to you. Use the labels in plastic resealable bags or tape them right onto your storage bins. Hope these are helpful and make Christmas organizing easier!
How to get the free Christmas printable organization labels:
Sign up in the box below, and the link for the free printable will arrive in your inbox shortly. You'll also be signed up to get blog posts and alerts about new printables moving forward. (If you're already an email subscriber, you won't get added to the email list twice.)
*Please note: All printables and downloads designed by Green with Decor are for personal use only. Please do not alter the files or claim them as your own. These files are not intended for resale, nor are the printed versions of these files.
3. Use clear bins.
I bought some of these clear bins the other day (they're still on sale if you're looking for some), and guys, they're life changing. Okay, maybe a little dramatic, but I love them.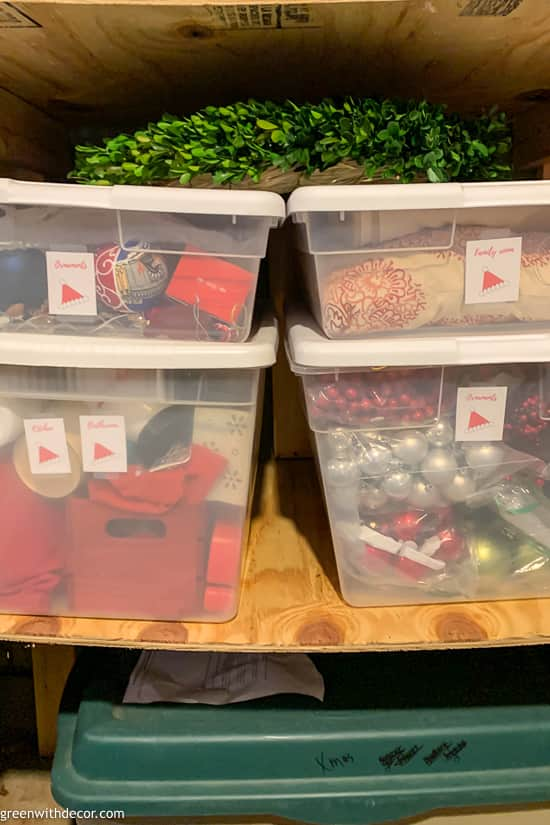 They fit perfectly on our shelves in our basement but more importantly, I love that they're clear. It's so much better to know what you're getting into rather than just randomly opening boxes or colored bins and digging through for the cord for the Christmas village or wondering where the Christmas pillows are.
Of course, the labels definitely help, too!
We had a lot of boxes from when we moved into our house, and we had been using them for storage in our basement. We're slowly but surely transitioning over to clear bins, and they just make so much more sense.
4. Keep hanging ornaments on their ribbons.
I loved our hanging ornaments on our front window this year, but standing up there cutting the ribbons and hanging them all up wasn't necessarily my favorite Christmas activity.
I kept the ribbons on the ornaments to save time for next year and then put the ornaments in – you guessed it – a plastic storage bag.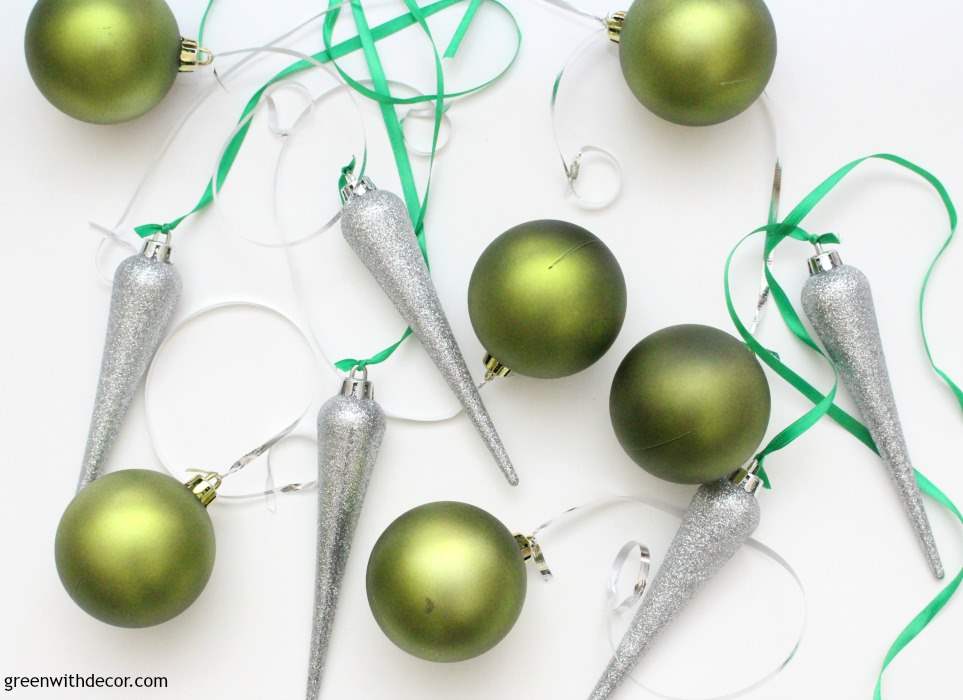 5. Purge old items.
We've somehow ended up with a LOT of Christmas decorations. Not that I have a home decor shopping problem or anything! Some of it is old and not our style anymore, and guess what? I got rid of some of it this year!
I know you can feel a little weird or even guilty about donating or throwing away something that you used to decorate with a lot for the holidays and now don't like, but it's just taking up space.
If it has special meaning, hold on to it. If not, toss it or donate it. It's freeing, I promise.
6. Keep a list of your village pieces on your phone.
This isn't necessarily a storage tip but it does stop you from ending up with duplicate pieces so in a way, it is. I used the 'notes' app on my iPhone for a lot of random lists, and our Christmas village is one of them.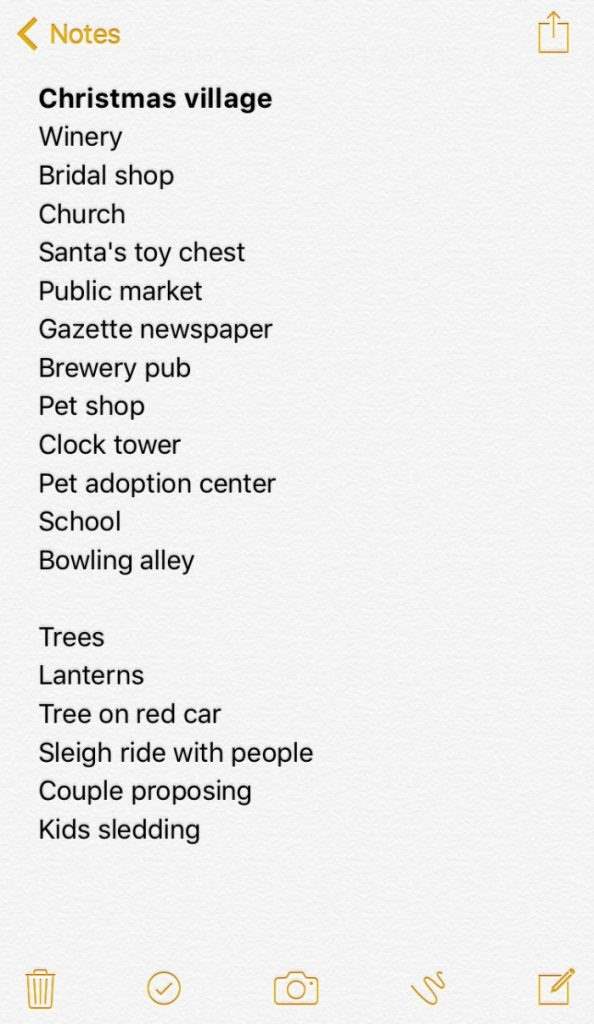 This way, when we're out shopping and see a village piece we like, we don't have to think about if we have that piece already or not. It's one less thing to have to remember, and I'm all for making things easier.
Do you have other tips for storing and organizing Christmas decorations to make next year a little easier? Let's hear 'em!
If you love organizing, you'll want to see these, too:
Remember to bookmark or pin this post if you want to save it for later!


Pin it!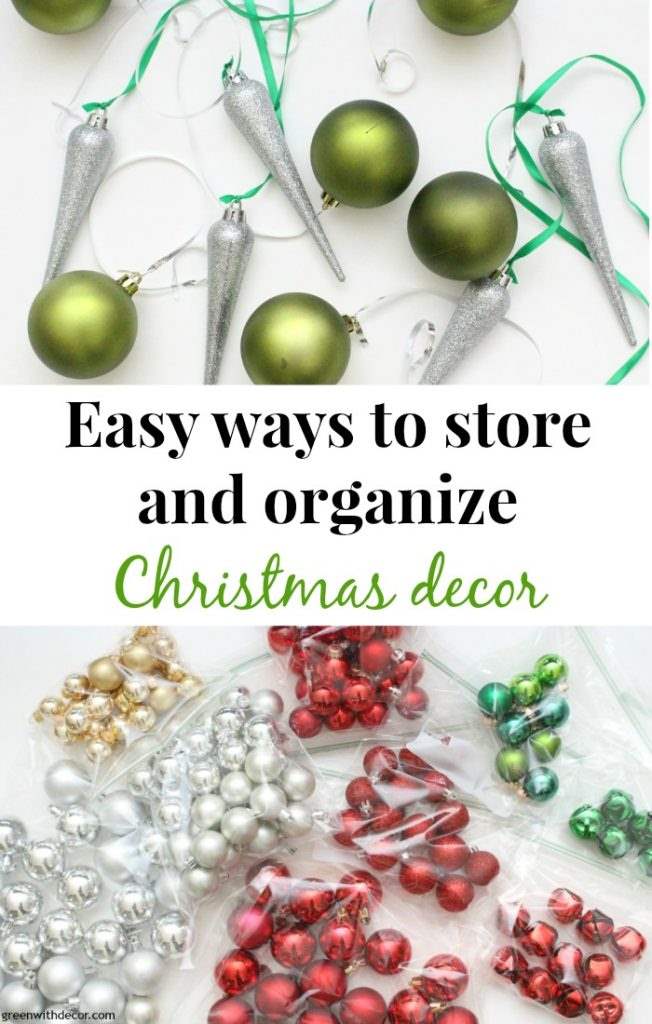 Want to read more posts like this?
Follow along: Get my emails | Facebook | Pinterest | Twitter | Instagram