I've shared a lot of house all decked out for Christmas so far (see the foyer/living room here, family room here and kitchen/bathroom here). But I skipped one special part of the living room that I'm sharing today: the Christmas village.

Today is the third and final week of the Merry & Bright Holiday Home Tour hosted by Kellie of Design Asylum and Shelly of ConfettiStyle.
Remember to hop over to see all of the other bloggers' houses all decked out for Christmas by clicking the links at the end of this blog post.
This post contains affiliate links. This means if you click the link and buy something, I may receive a small percentage of sales at no extra cost to you.
My parents had a Christmas village when I was growing up, and it used to be one of my favorite parts of Christmas decorating. All of the pieces had special meaning, and I loved seeing the village grow each year.
When Kalen and I got engaged, we started our own Christmas village. We've collected quite a few pieces over the years.
We got the church and the bridal shop when we got engaged.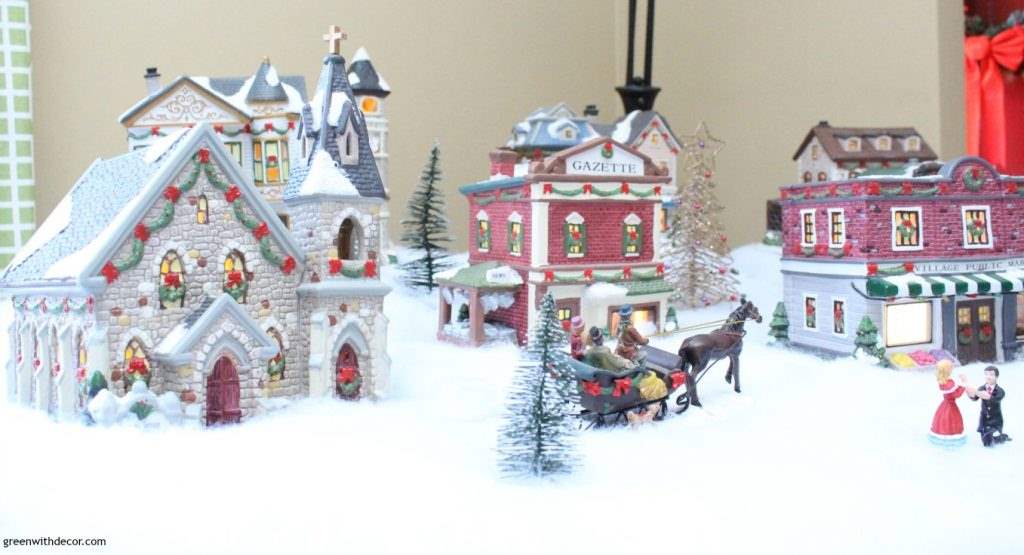 Milwaukee has a fun public market, so we picked this piece up the year we moved back here.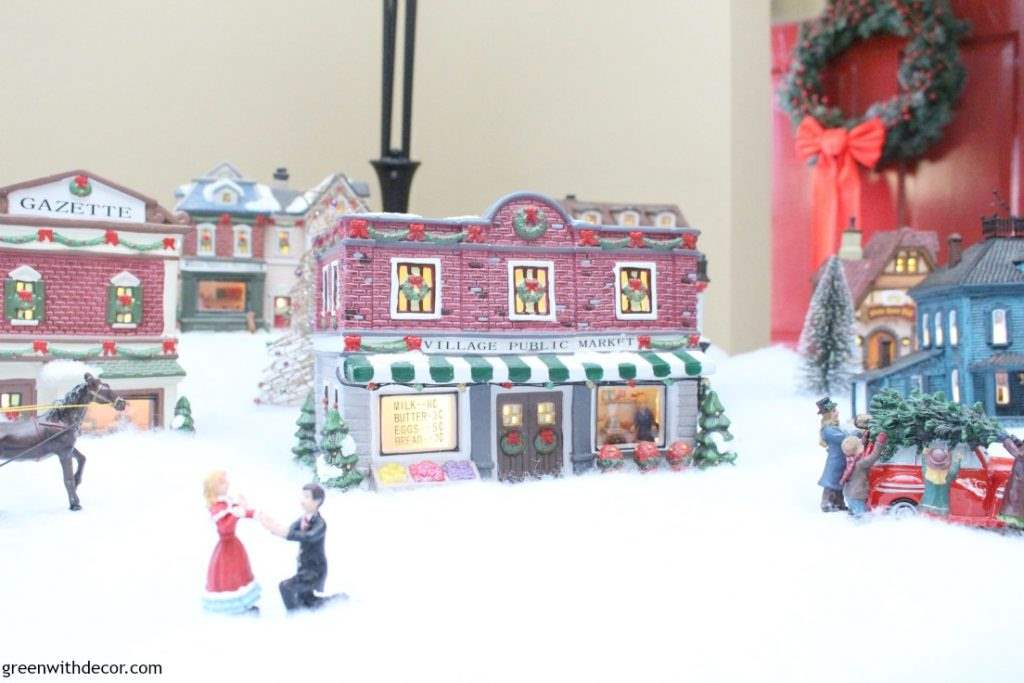 My job has always involved writing – from advertising agencies to this blog – and the Gazette was the closest thing we could find so we bought that at some point. Honestly I can't remember what year we bought each piece anymore.
Santa's Village is the only piece that doesn't really have any sentimental meaning, but hello, Christmas, we had to buy it!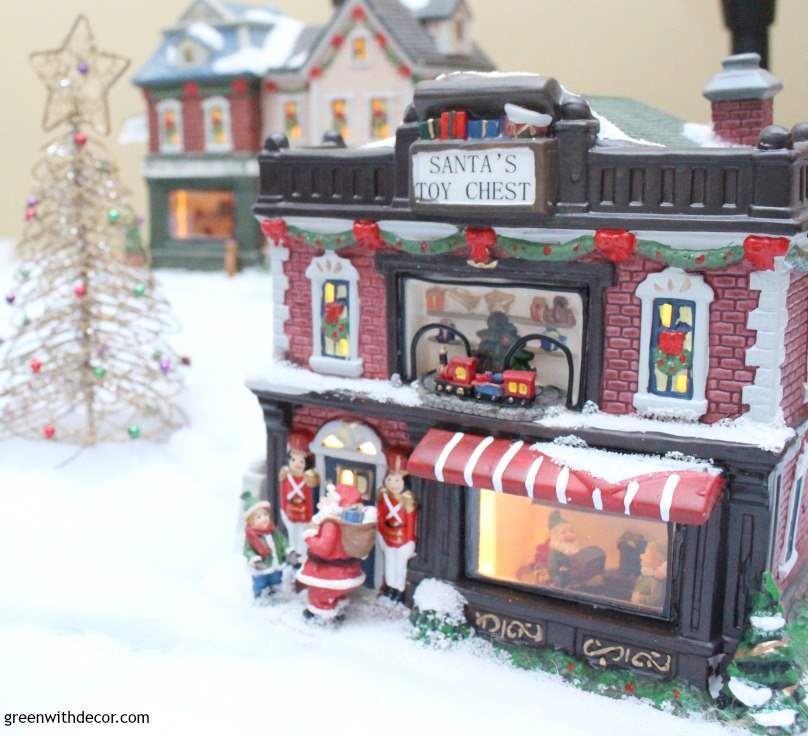 This gold tree was my grandparents'. I hadn't used it as part of the Christmas village before, but this year it just dawned on me that it was the perfect size.
I love mixing in my grandparents' Christmas decorations with ours.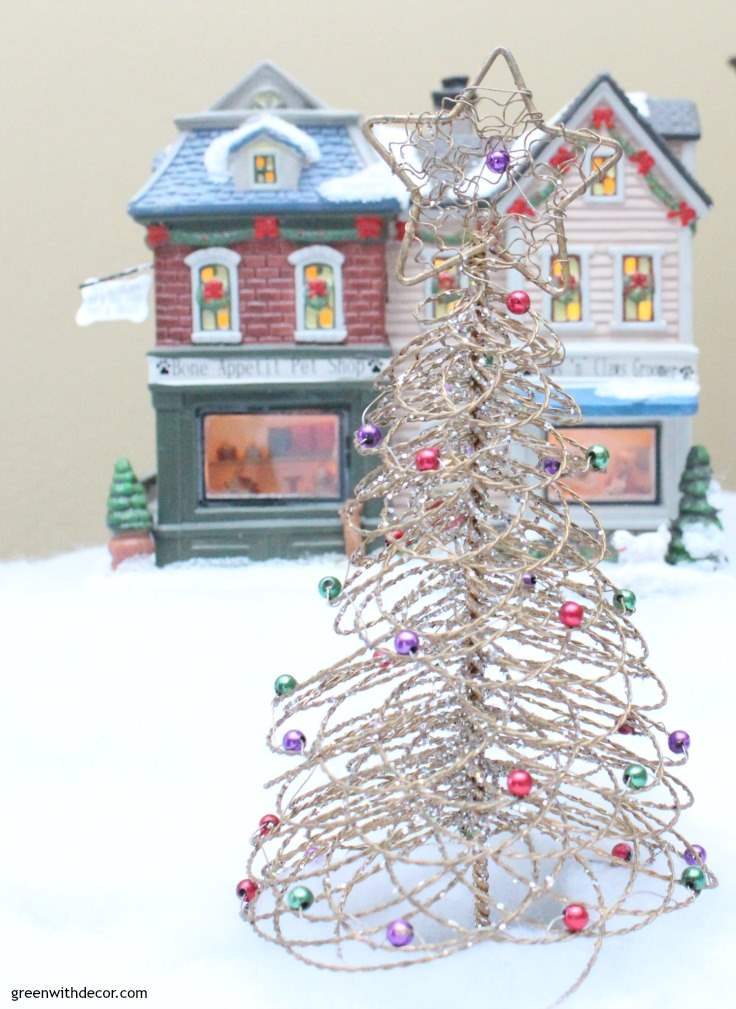 Of course we had to pick up the pet shop when we got Oakley.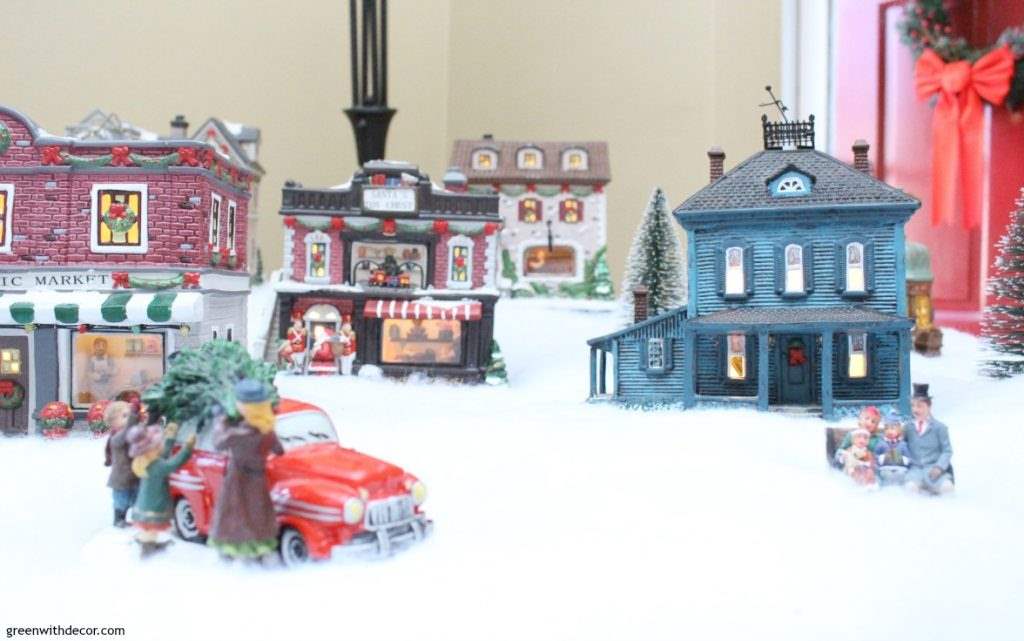 Most of our village pieces are from Kohl's, but we found the beer pub at Menard's, and the blue house was a random Goodwill find last year. (Update: see it painted here: A painted Christmas village house.)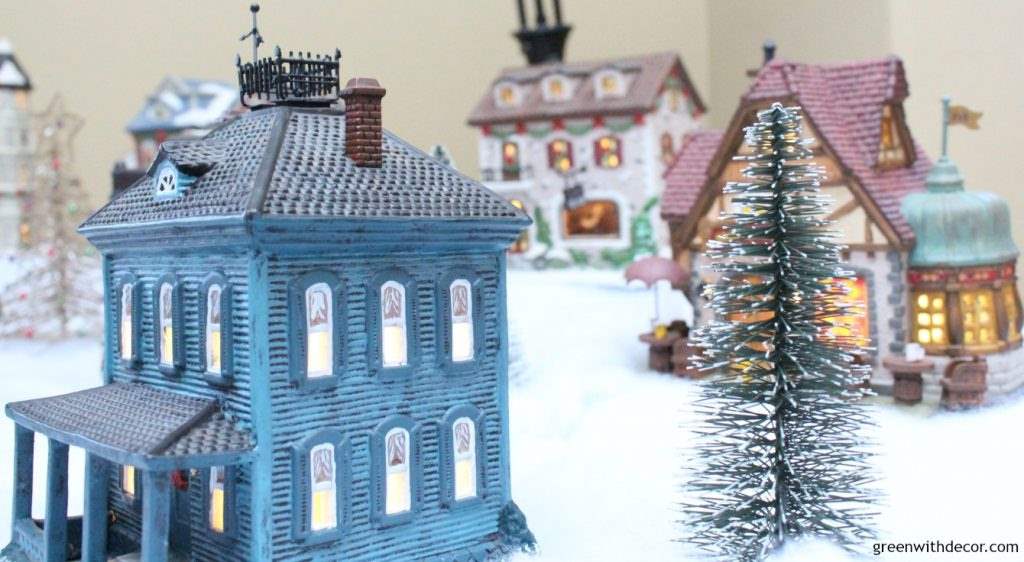 I definitely have my eye on their crafty cottage given all the crafts and DIYs that go on around here.
It's been Christmas crazy over here lately. If you've missed any of my recent Christmas blog posts, check them out here:
Christmas decorating ideas:
Do you sense a theme? Christmas decorating on a budget, ha! 🙂
Christmas DIY projects:
And if you still have some people left on your Christmas shopping list (don't we all?!) …
Christmas gift ideas:
Remember to keep hopping around and see all of the other bloggers' pretty Christmas homes for the final week of the Merry & Bright Holiday Home Tour!
Design Asylum | Love Your Abode | ReFresh ReStyle | Life And Style at 60 | Positively Southern |  M Jones Style | Chic On A Shoestring | My Life Well Loved | Green With Decor (you're here!) | ConfettiStyle | The Home I Create | Wife In Progress
Remember to bookmark or pin this post if you want to save it for later!

Want to read more posts like this?
Follow along: Get my emails | Facebook | Pinterest | Twitter | Instagram