We're not too big into Valentine's Day around here. Something about it just seems like an excuse to spend a bunch of money on gifts and flowers.
Don't get me wrong, I love fresh flowers, but they're usually a whoooole lot cheaper the day after Valentine's Day than the day of. Just sayin'.
But I've always been a fan of pink. I know, weird, since I never decorate with pink.
It just seems too girly to me to decorate with on a regular basis. But I've always thought it pairs well with green. Because doesn't everything pair well with green? Yes!
So I'm using Valentine's Day as an excuse to bust out some pink decor in our living room without feeling like the mantel is too girly or overly festive. And I even got to pair pink and green together.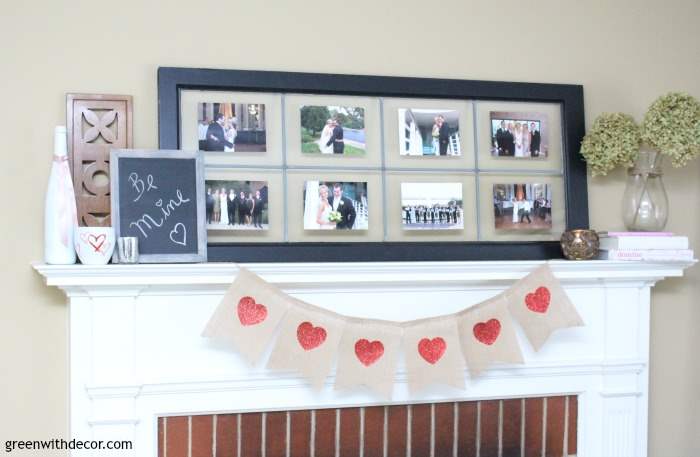 I pretty much shopped our house for pieces of pink and neutral decor that would work for a fun seasonal mantel without being overly Valentine-y. (Is that a word? Sure.)
Think books, thrift store finds and candles. Oh and a little green, of course.
I did sneak in this Valentine's Day mug and heart banner, both picked up on clearance at Michael's after the holiday last year – the BEST time to buy any seasonal decor.
I guess that technically makes the title of this blog post a lie, since I did pick up a few holiday pieces … but I bought them almost a year ago so then again, maybe not.
Our windows turned picture frames full of our wedding pictures actually make the perfect centerpiece for a Valentine's Day mantel without even trying. What says 'love' more than a few wedding pictures?
This post contains affiliate links. This means if you click the link and buy something, I may receive a small percentage of sales at no extra cost to you.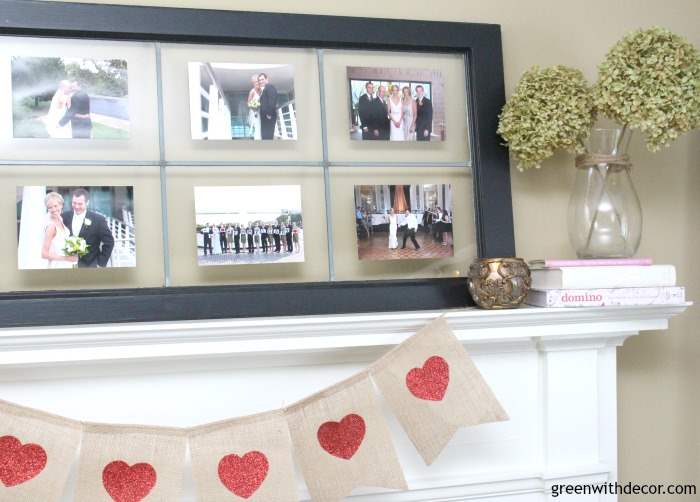 I raided our office bookshelf to find a few pink books. Well it turns out we own exactly two of them.
Design lovers, you've gotta see this Domino book, and the And More Thing Before You Go … was a fun present from my mom when I graduated high school.
This white one is perfect between the two pink ones. My best friend / maid of honor gave me The Wedding Night when Kalen and I got engaged.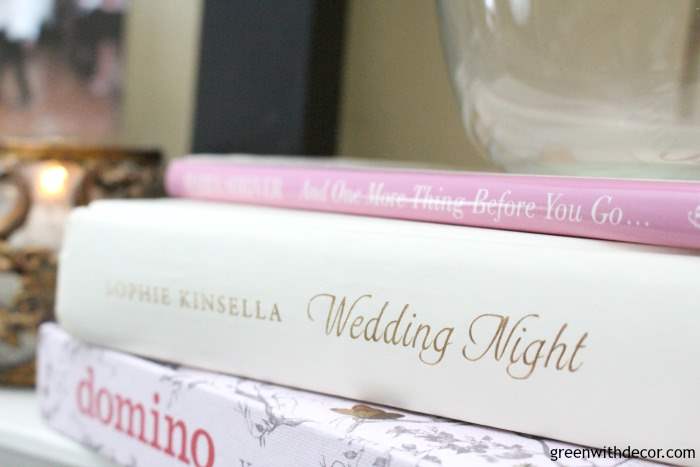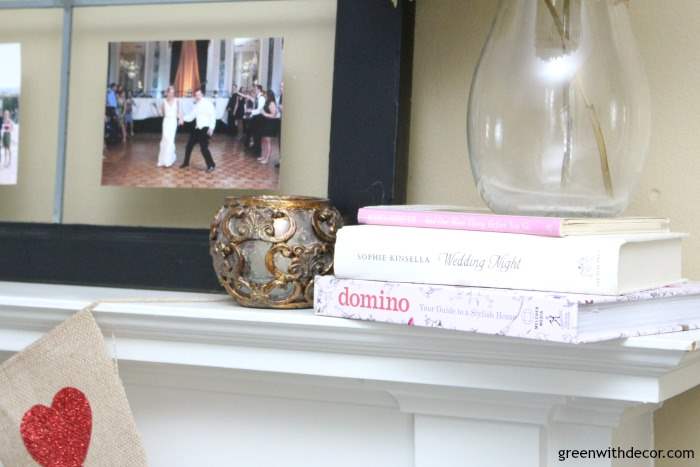 That candle holder was my grandparents'. I love reusing some of their old decor.
By the way, that picture of me and Kalen dancing at our reception just might be my favorite picture of us from our wedding day. The posed ones are gorgeous and all, but this picture just captures the fun of that day and makes me want to go back to the reception.
I think every vignette should have some 'life' to it, fake or real, which usually means a touch of green! These dried hydrangeas are from my Grandmom's yard. I never realized how easy it was to dry hydrangeas until last year.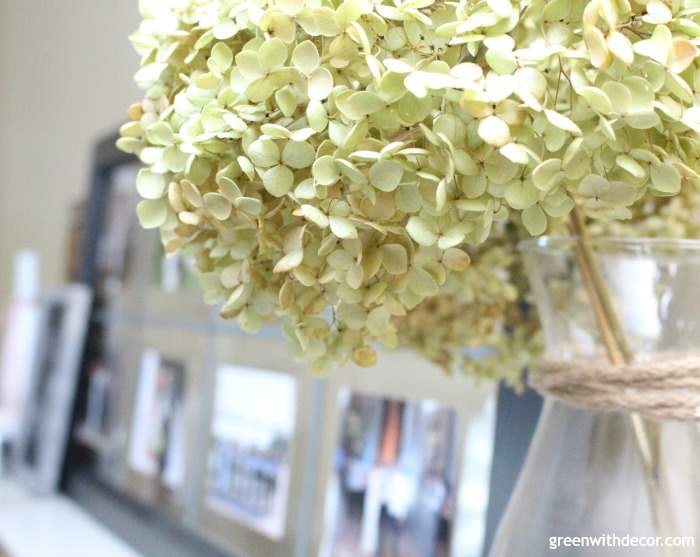 The other side of my Valentine's Day mantel is basically full of thrift store finds, like this old frame turned chalkboard and this wood piece that looked like X's and O's to me.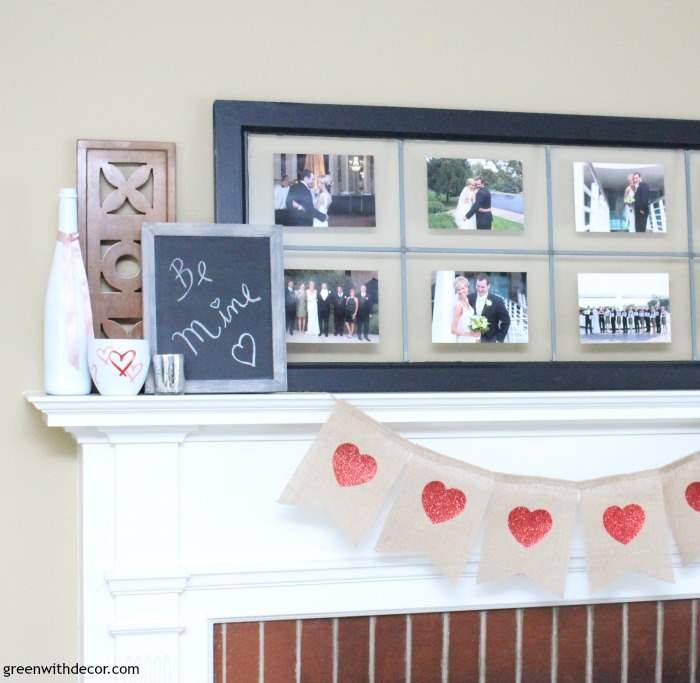 Plus this wine bottle spray painted white.
You guys, I really do have a serious glass jar / bottle hoarding problem. But they just always look so good mixed in with other decor!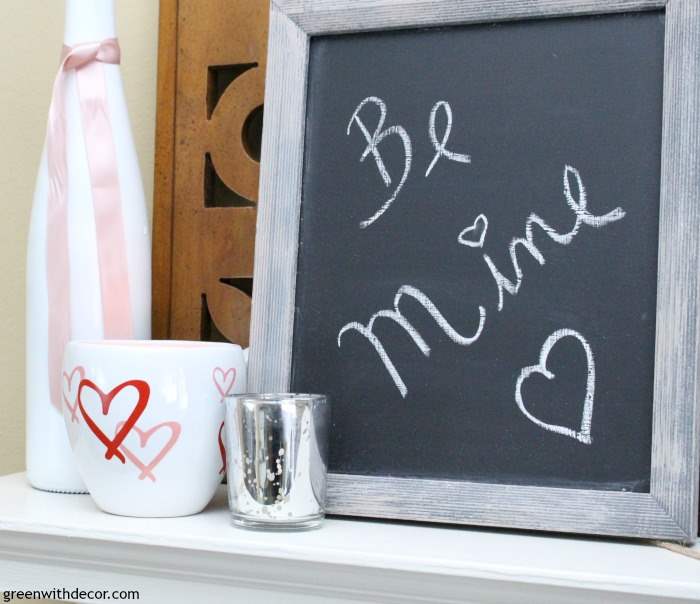 I lit one of my favorite mercury glass candle holders, and turned this Valentine's Day mug into a candle holder instead of adding a random seasonal coffee mug to our kitchen cabinet.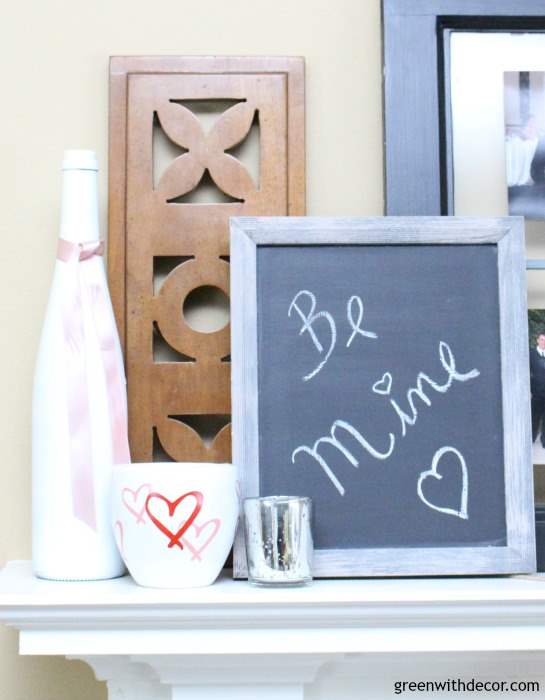 What do you think of Valentine's Day decorating? Do you go all out with hearts or are you more in the pink / neutral camp, too?
You might want to see these posts, too:
Remember to bookmark or pin this post if you want to save it for later!

Pin it!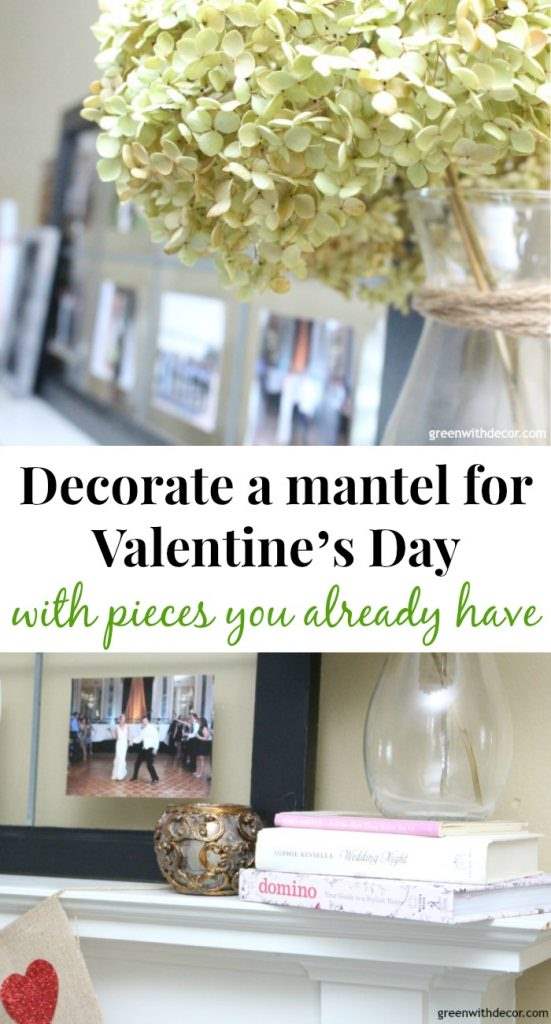 Want to read more posts like this?
Follow along: Get my emails | Facebook | Pinterest | Twitter | Instagram