Time to pick kitchen appliances!
We headed to Lowe's (for approximately the 500th time during the renovation) to check out the options.
We needed a fridge, stove and dishwasher.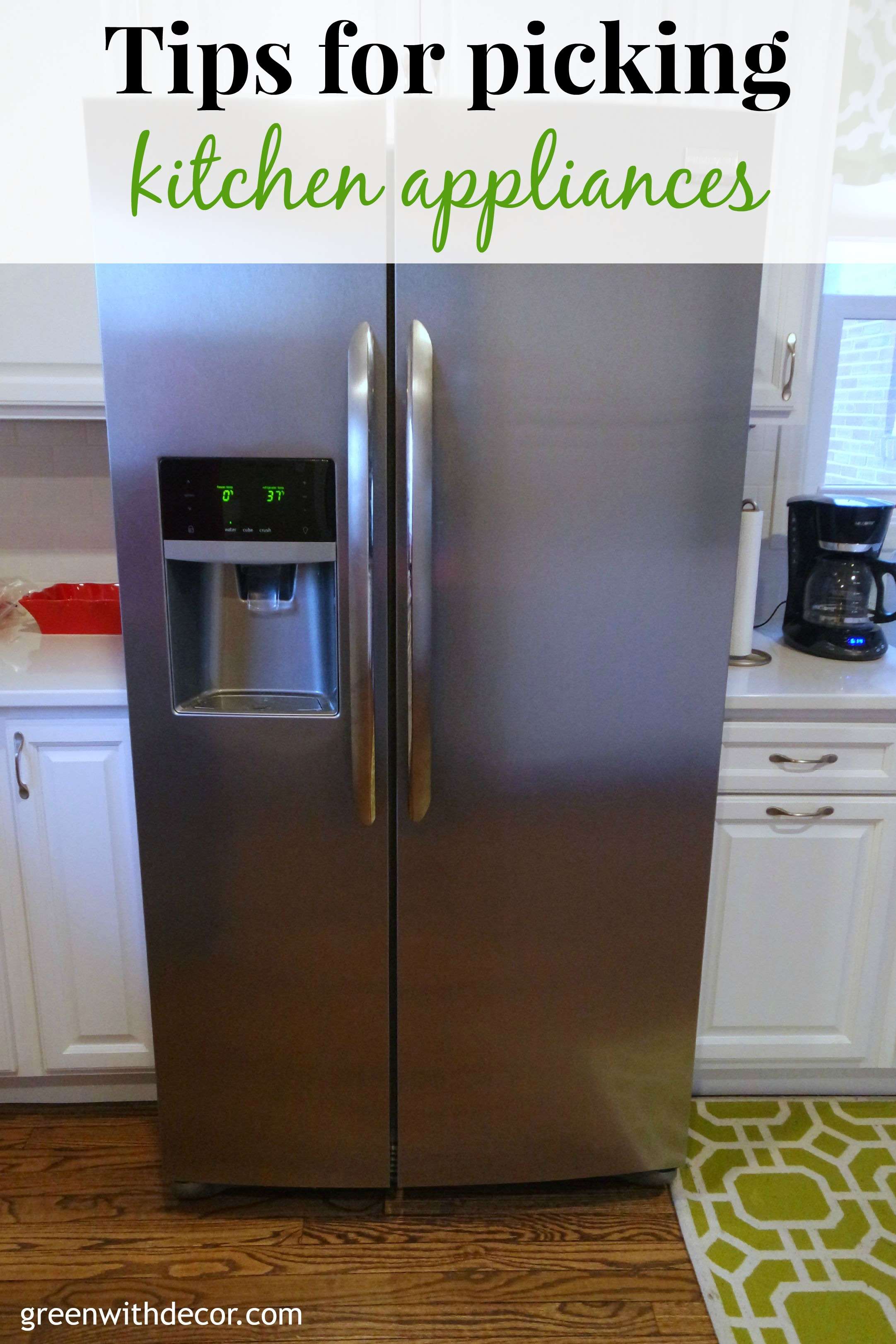 We had kept the original fridge to use in the basement for a beer fridge. We did this after our Cincinnati kitchen renovation, too, and I highly recommend it!
The original stove was thrown out months ago (remember the kitchen demo?), and the previous owners hadn't had a dishwasher.
Reminder when buying any appliances: measure, measure, measure! You'd hate to have the perfect appliance delivered only to realize it doesn't fit in the space.
A few things we kept in mind when looking at different appliances:
FINISH:
We wanted stainless steel – we were going with silver hardware throughout the house – but we liked the dulled look versus the really shinny stainless steel.
SMUDGE PROOF:
I am soooo glad we went with the smudge proof option from Frigidaire. Think of how many times a day you touch your fridge – it's wonderful that all of those fingerprints aren't smudging up our fridge!
We went with smudge proof options for our stove and dishwasher, too so everything would match. It's an awesome feature on all three but especially on the fridge.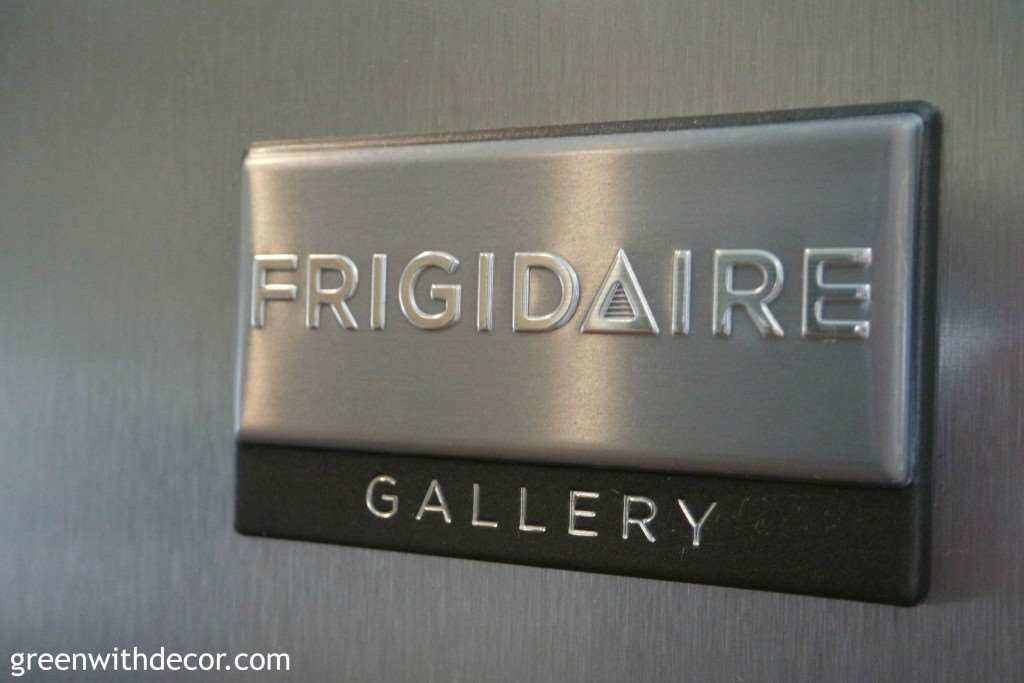 This post contains affiliate links. This means if you click the link and buy something, I may receive a small percentage of sales at no extra cost to you.
Refrigerator:
We picked the Frigidaire Gallery side-by-side model.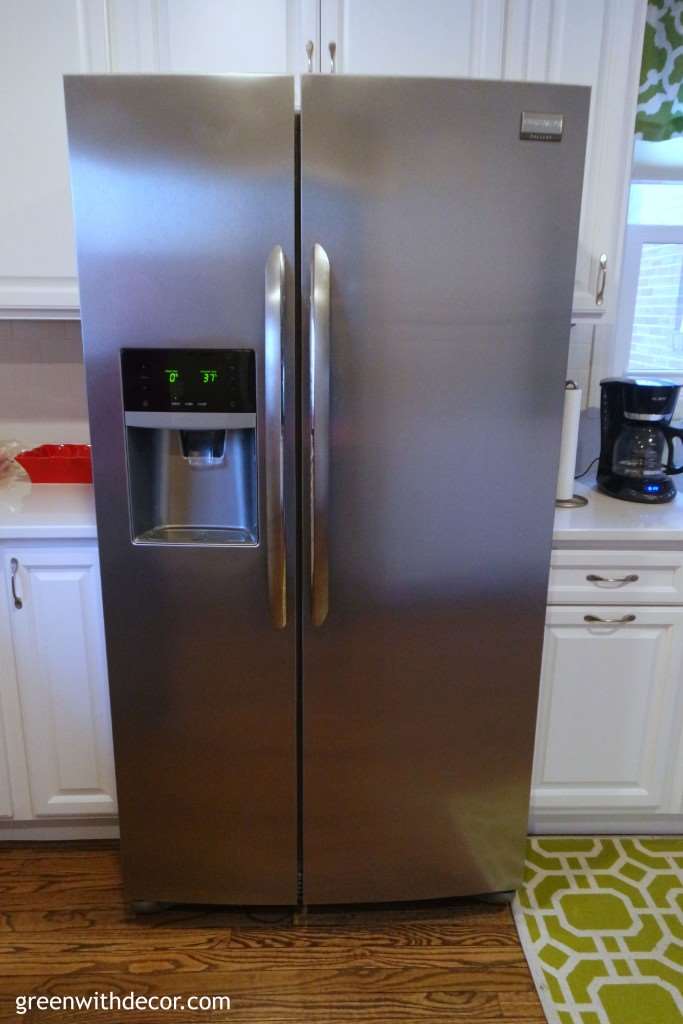 Door setup:
A lot of new fridges have side-by-side doors for the fridge and the freezer on the bottom as a big pullout drawer.
That may be trendy, but we prefer a good old-fashioned side-by-side fridge and freezer. I don't like the thought of leaning over every time I wanted something out of the freezer.
Counter depth:
Think about how far out you want the fridge to come from your counters – or if you want it flush.
Our fridge comes out slightly farther than our counters but nothing dramatic.
In-door water dispenser:
On the side-by-side models, the water and ice dispenser is still right in the freezer door, which I am a huge fan of!
Drawers:
I'm a big fan of having at three drawers in the fridge: for fruit, vegetables and cheese/deli meat.
Adjustable shelving:
This is also key. It's nice to be able to set up your fridge in exactly the way that works for you.
The shelves in our fridge have a small lip around each edge, meaning if you knock something over, it won't spill all over the fridge – just the shelf!
What are your must-haves when fridge shopping?
Stove:
We picked the Frigidaire Gallery 5-Burner gas stove.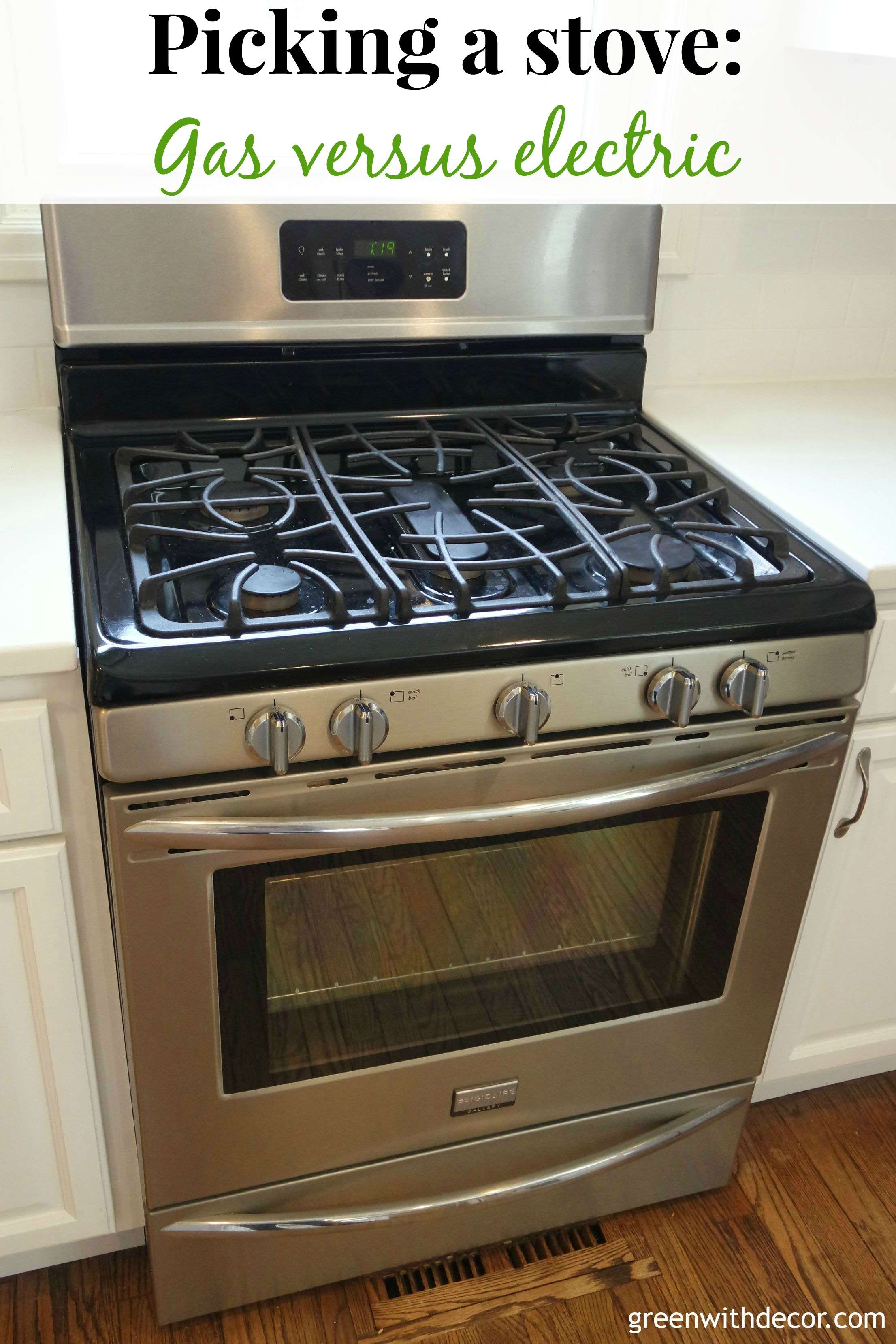 Gas versus electric:
We went with electric in our Cincinnati kitchen renovation, and we regretted it. Yes, electric stoves are usually cheaper, but food really does taste better when cooked on a gas range.
Having had both, we really like cooking on the gas stovetop. It's easier to adjust the temperature, and the stovetop cools down faster than an electric one.
Cleaning a gas stovetop is a bit of a pain though. Our old electric stovetop was definitely easier to clean, since you can just wipe across the flat stovetop.
What's your preference – gas or electric?
Number of burners:
We went into this decision thinking we would buy a standard four-burner stove. But one of the smudge proof options – to match the finish on our fridge – had five-burners, and we liked it!
The stove we picked also had 'quick boil' options, which is awesome when you get home from work late and are STARVING!
Self-cleaning:
Our Frigidaire stove offers a one-touch self-cleaning feature. Sign me up!
Delay start:
Honestly, I hadn't realized this feature was an option till we started shopping, but it sure is handy. The delay start is programmable for anywhere from 1-24 hours in advance.
Dishwasher:
A dishwasher is a must in my book! We went with a Frigidaire Gallery dishwasher.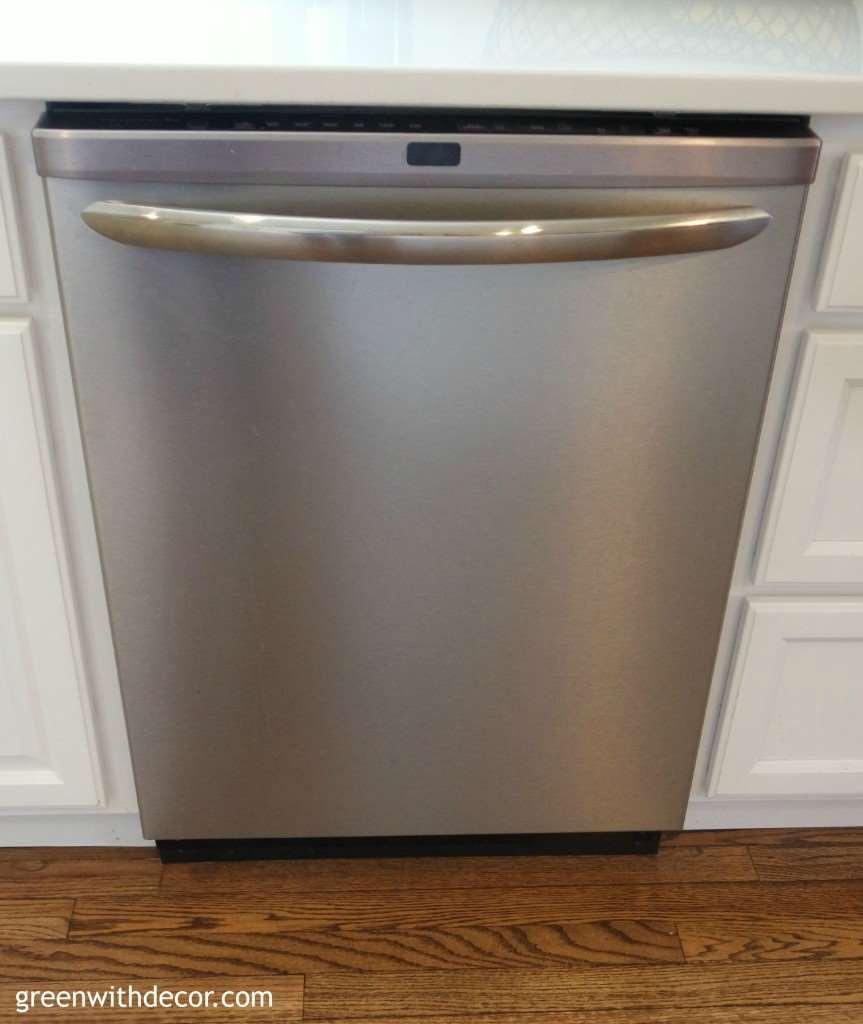 Noise level:
We wanted something that wasn't crazy loud so we could still hang in the kitchen when it was running.
That being said, we've had some friends buy dishwashers that are pretty much silent, and their number one complaint is that the dishes don't get as clean. So somewhere in the middle noise level is probably your best bet.
Button placement:
I loved that the buttons were on the top, just under the lip of the counter instead of on display on the front of the dishwasher.
Energy Saver:
The model we chose uses less energy, which is great.
Adjustable racks:
This is so nice. There's room for anything in this dishwasher!
Silverware basket placement:
I love having the silverware basket on the bottom shelf of the dishwasher.
I'm not a fan of the dishwashers with the silverware basket built right on the drawer – I don't think the silverware gets as clean when the water can't hit it from both sides.
The kitchen renovation is definitely winding down! The room was coming together!
Planning your own renovation?
Download my printable Kitchen Renovation Checklist so you can easily keep track of each step. 
*Please note: All printables and downloads designed by Green with Decor are for personal use only. Please do not alter the files or claim them as your own. These files are not intended for resale, nor are the printed versions of these files.
Like kitchen renovations? You'll want to see these, too:
Remember to bookmark or pin this post if you want to save it for later!

Pin it!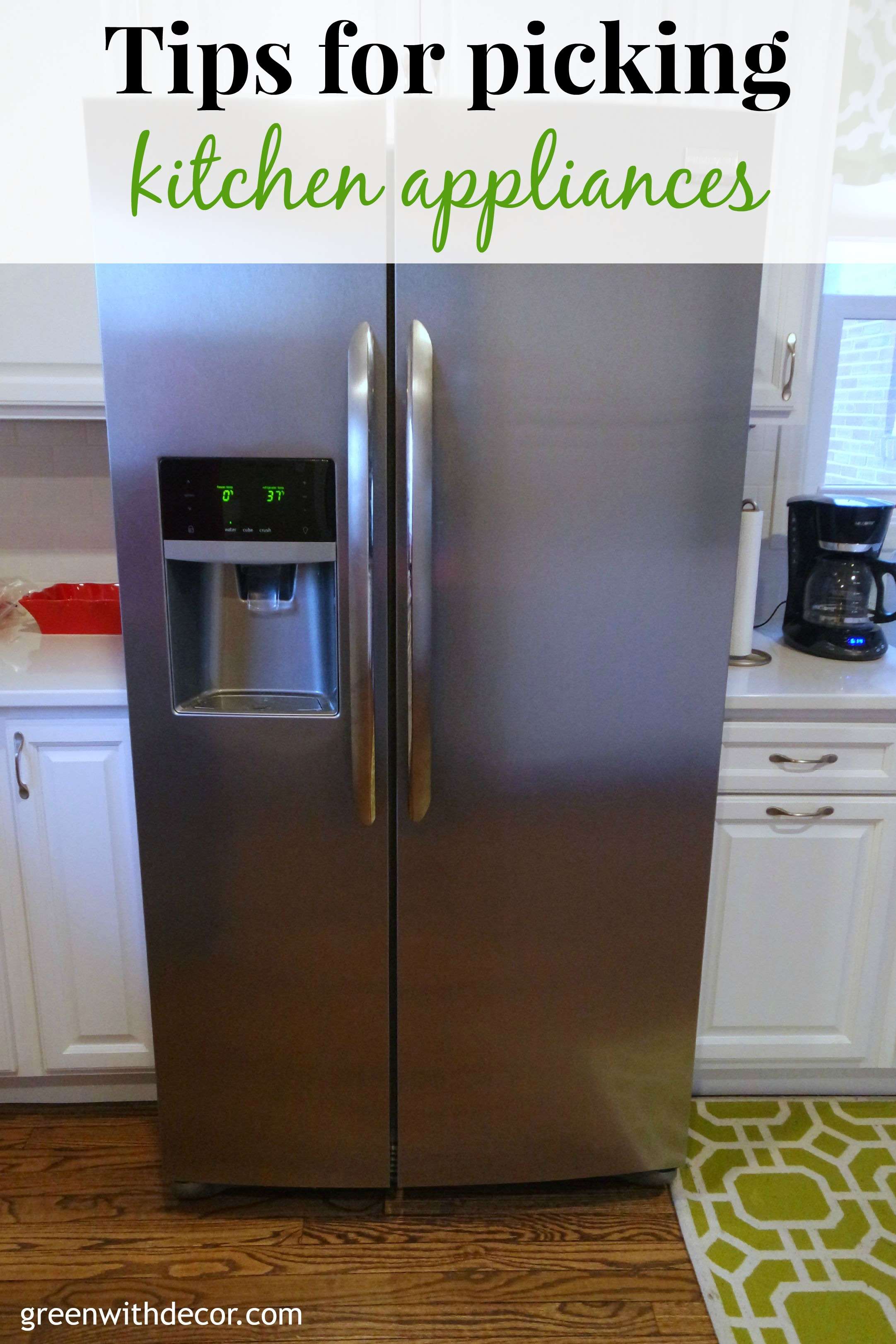 Want to read more posts like this?
Follow along: Get my emails | Facebook | Pinterest | Twitter | Instagram