I love a good kitchen renovation.
I click through to check out pictures of just about any kitchen renovation I see posted on Pinterest, Facebook, Houzz, etc.
And I DVR pretty much renovation show on HGTV.
We've gone through two kitchen renovations now – in this house and in our Cincinnati house – and I've come up with five must haves for a kitchen renovation.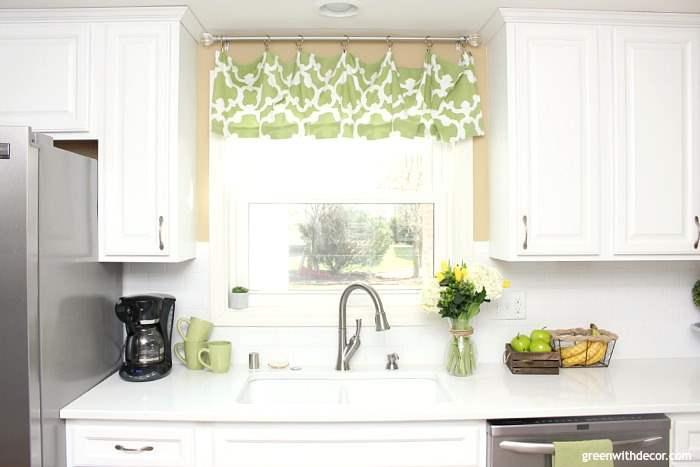 1. A breakfast bar or an island
This is important for two reasons: One, kitchens need plenty of counter space!
And two, there should be plenty of seating in a kitchen.
Our original kitchen in Cincinnati was just a workspace without anywhere to sit down. When Kalen or I were in there preparing food, the other person couldn't sit to hang out in the kitchen if we wanted to chat and catch up on each other's days.
Seating in a kitchen is a must.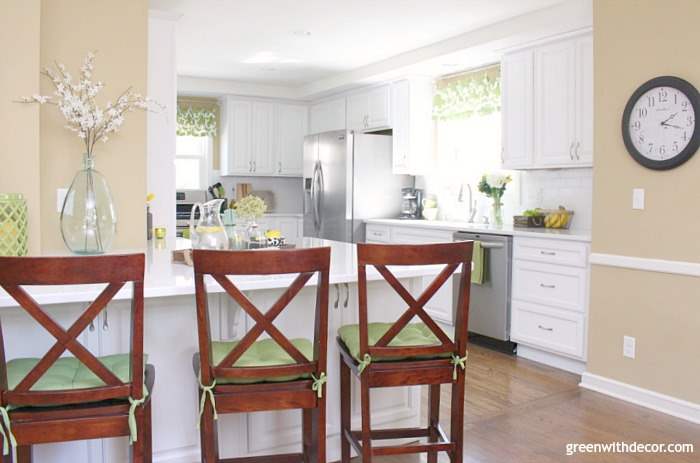 2. Cabinet space wherever possible
Be creative in where you can put cabinet space.
We have a small bit of space next to our pantry. It was too narrow for any standard lower cabinet, but it was the perfect – albeit unusual – spot for an upper cabinet.
So we put an upper cabinet there and use it to store our blender. It looks great and keeps the blender off the counter.
We also had a small sliver of space next to our microwave. We picked a really skinny upper cabinet to fill the space. It's perfect for Advil, Band-Aids and other meds.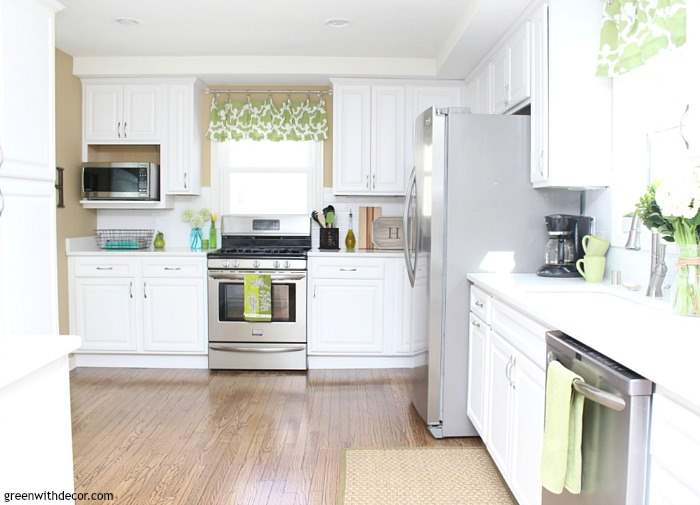 Our breakfast bar is deep enough that we were able to place back to back cabinets underneath, meaning we have a set of cabinets that open up to our bar stools.
It's great storage for kitchen items we don't use often: fancy dishes, a triple slow cooker and a roasting pan.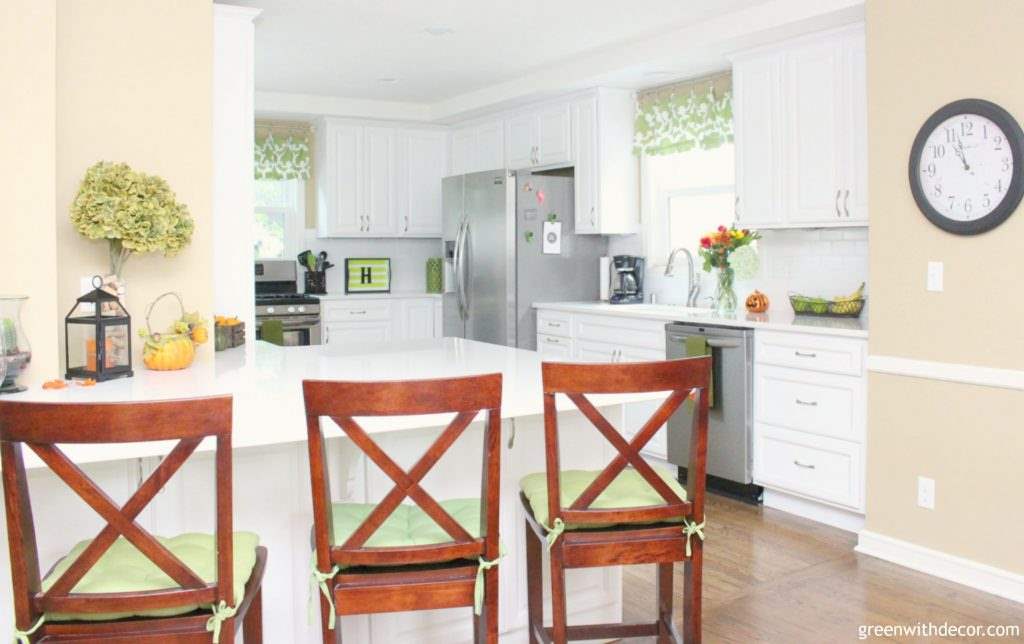 3. Cabinets in a color your love
I love the clean and bright look of an all white kitchen, so white cabinets were a must.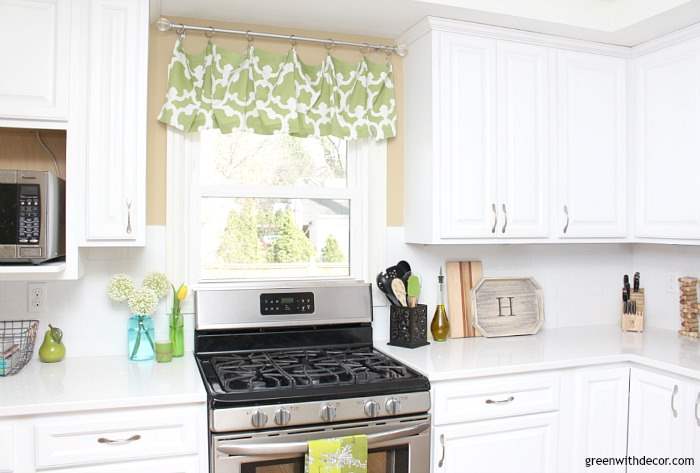 Everyone undergoing a kitchen renovation should pick cabinets in the color they want.
Cabinets take up so much space in a kitchen. You're going to be looking at them a lot, so they should be the perfect color for you.
4. Quartz counters
I'm a huge, huge fan of quartz. I love the look and feel of it.
Since quartz is manufactured from crushed stone, it offers a consistent look.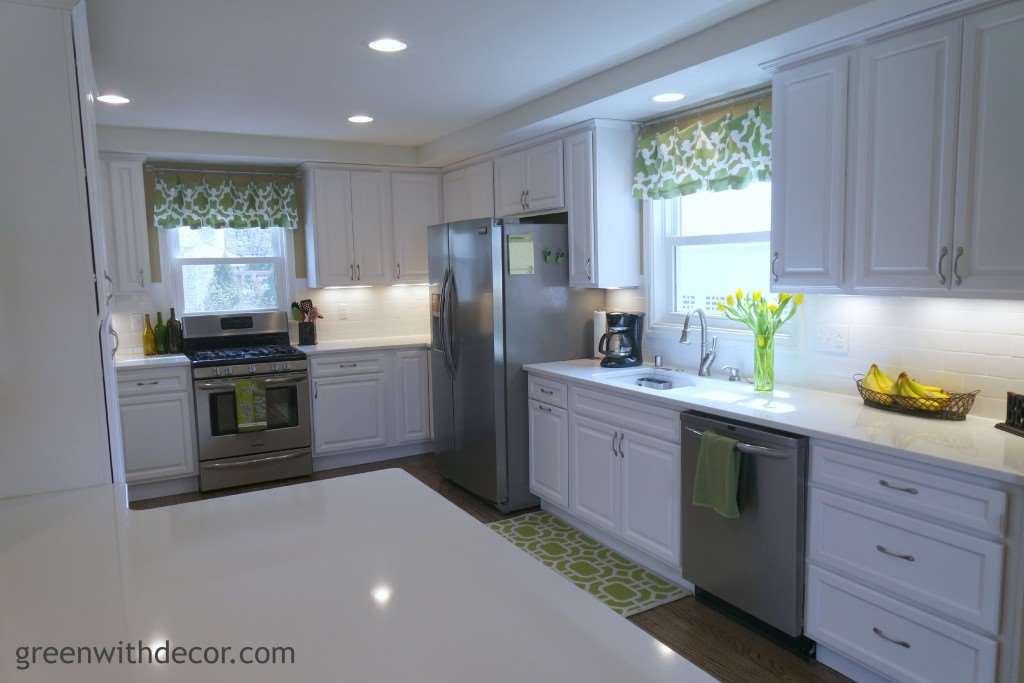 And it's nonporous, so it doesn't collect bacteria and is easier to keep clean.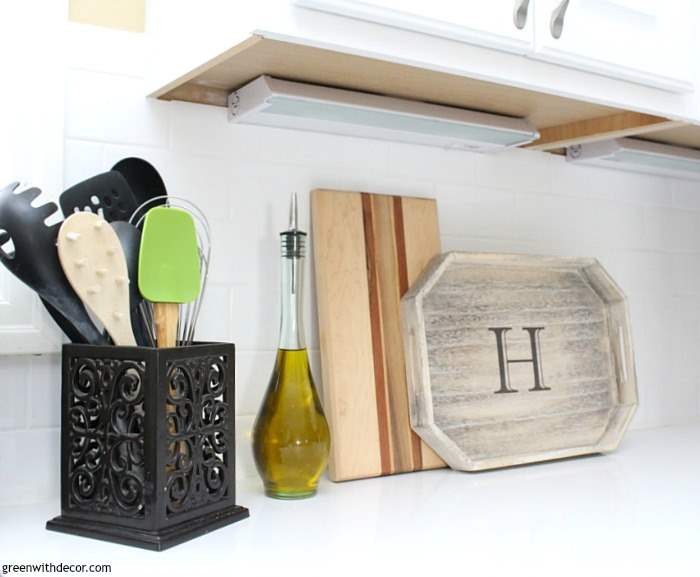 5. If you're going with stainless steel, go with smudge proof.
Stainless steel appliances look great, but the smudges are enough to drive anyone crazy.
Smudge proof appliances are the perfect option for a great look that's easy to keep clean.
This post contains affiliate links. This means if you click the link and buy something, I may receive a small percentage of sales at no extra cost to you.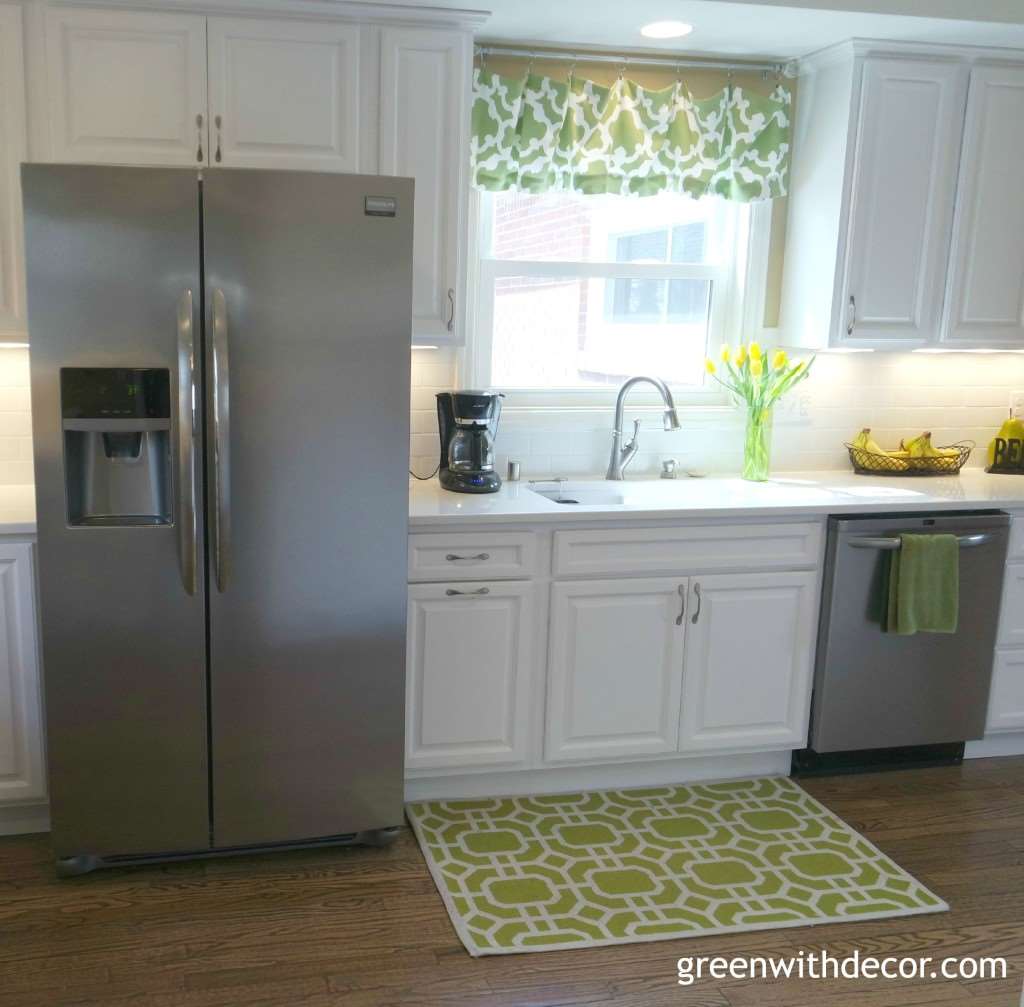 What's on your must-have list for a kitchen renovation?
Planning your own renovation?
Download my printable Kitchen Renovation Checklist so you can easily keep track of each step.
*Please note: All printables and downloads designed by Green with Decor are for personal use only. Please do not alter the files or claim them as your own. These files are not intended for resale, nor are the printed versions of these files.
GET THE LOOK:
Since a popular question I get is "Where'd you get that?!," here are links to the same or similar sources:
Remember to bookmark or pin this post if you want to save it for later!


Pin it!

Want to read more posts like this?
Follow along: Get my emails | Facebook | Pinterest | Twitter | Instagram