This post contains affiliate links. This means if you click the link and buy something, I may receive a small percentage of sales at no extra cost to you.
The kitchen renovation was coming to an end! We needed a kitchen sink.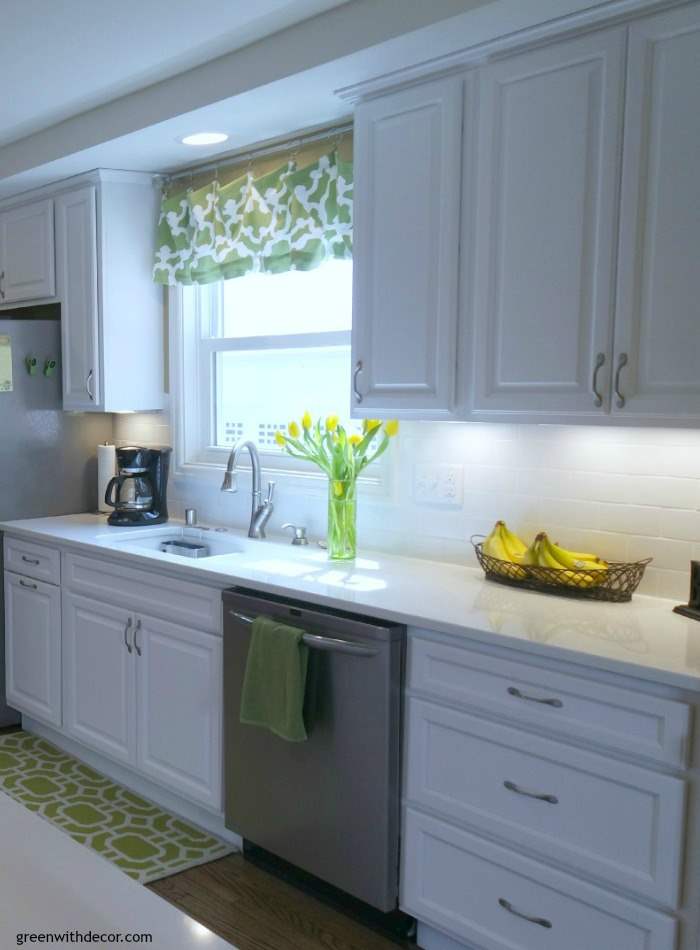 We bought this beautiful silver Delta faucet.

Some things to think about when picking a kitchen faucet:
COLOR
Think about the hardware color in the rest of your kitchen – and even the rest of your house.
After seriously debating between silver and bronze, we went with silver throughout the house.
We had picked stainless steel appliances and kitchen cabinet handles that were muted silver versus shiny. So, we went with a brushed nickel finish on our faucet versus chrome.
I couldn't wait to see the whole white and silver kitchen come together!
SLEEK VS. SPIRAL
The spiral look is growing in popularity. While I like it in certain kitchens, I have more of a traditional decorating style. I liked the sleek look of the Delta faucet we picked out.
Remember it's your house so if you're not into a current trend, don't feel like you have to follow it!
SPRAY OPTIONS
The spray option built right into the main faucet spout is wonderful. The Delta faucet we chose had a button on the back of the faucet head, making it easy to flip on when washing dishes.
The spray option is especially helpful on dishes with gunk stuck on them – we use it to wash out our smoothie glasses each morning, too .
Otherwise all those little strawberry seeds stick to the side of the glass.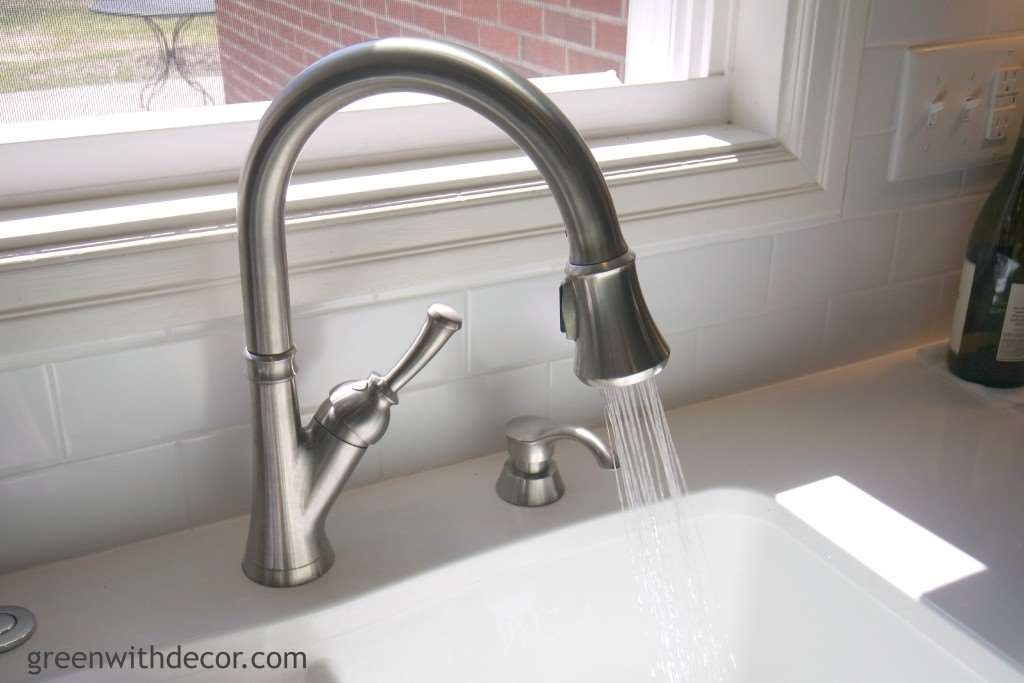 HEIGHT
I love a faucet with a nice tall arc to ensure there's enough room to wash any big pots or cutting boards without splashing water all over. A deep sink helps with that, too!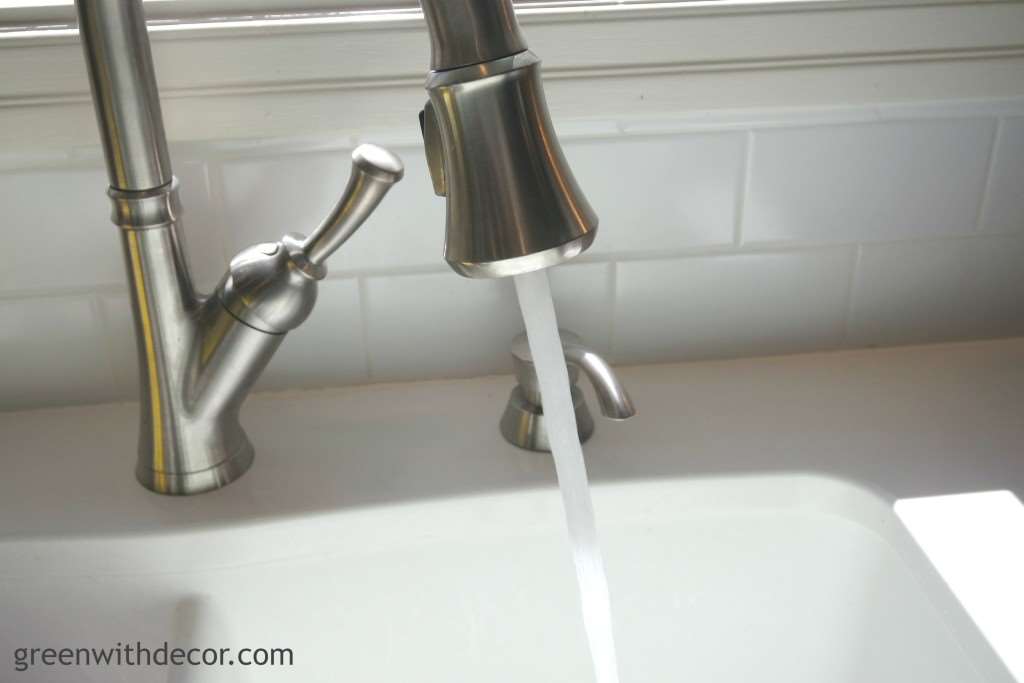 PULL DOWN SPOUT
We had a pull down spout in our Cincinnati kitchen, and I loved it. It's key when washing dishes or rinsing out the sink.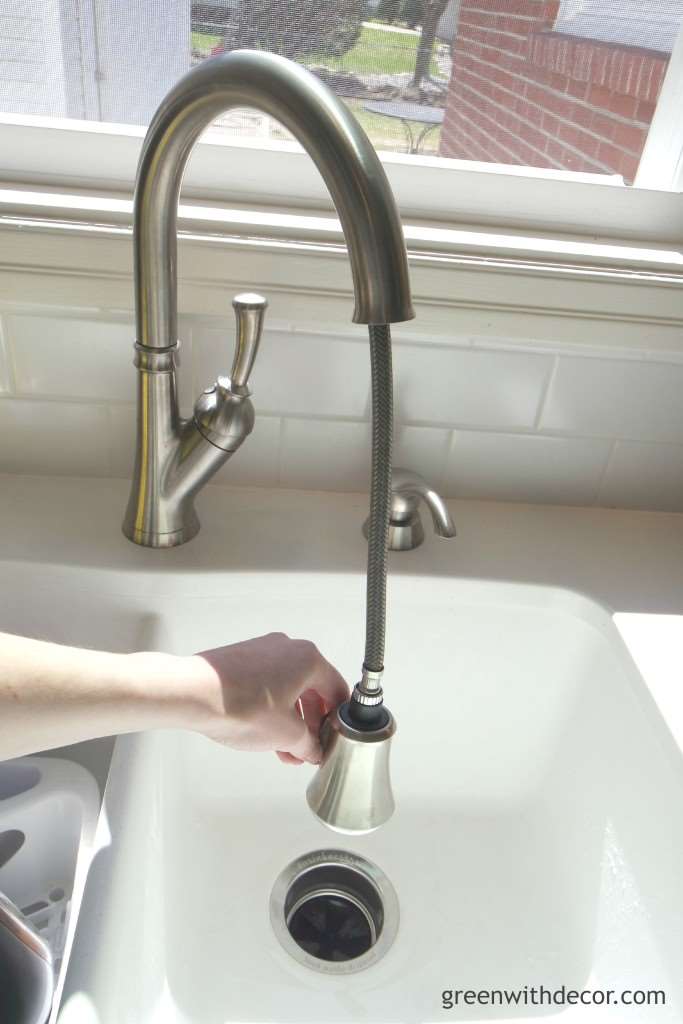 NUMBER OF HANDLES
In our bathrooms, we went with two handle-faucets.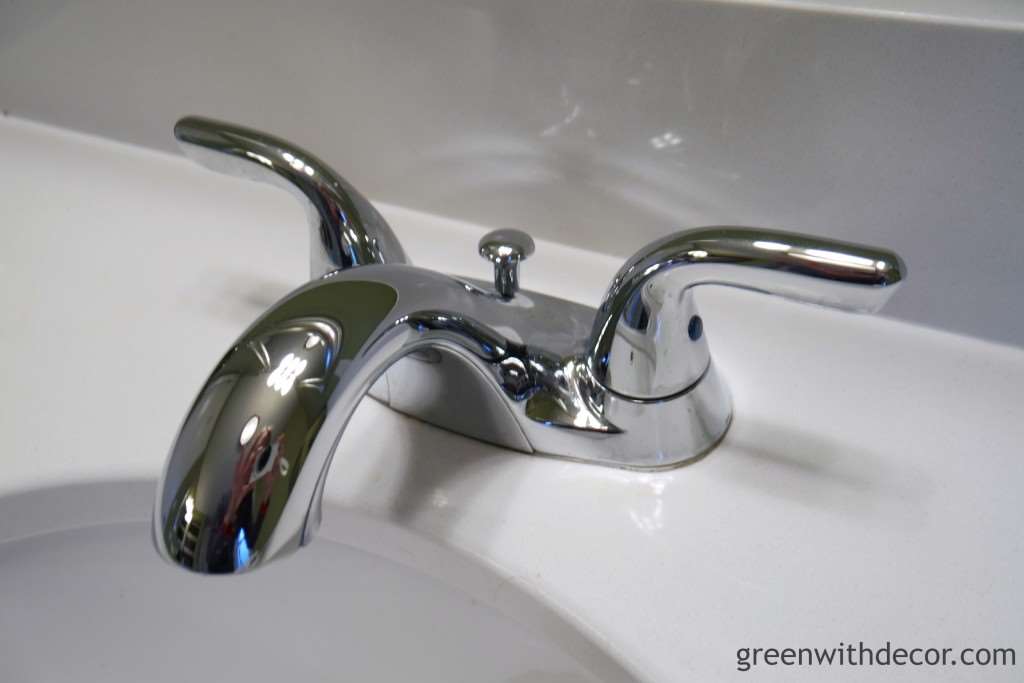 In the kitchen, I prefer the look of a one-handle faucet. I like the sleek look, and it's easier to adjust the temperature of the water when washing vegetables or dishes.
How many handles do you like on your faucets?
SOAP DISPENSER
I'm not one for unnecessary clutter on kitchen counters. I loved the idea of a built-in soap dispenser versus having a soap bottle sitting out on the counter.
Our soap dispenser came with our faucet.
If I had thought about this more in advance, I would have put two soap dispensers in – one for dish soap and one for hand soap. Something to think about if you're considering a kitchen renovation!
All we had left to pick out for the kitchen was the appliances!
Planning your own renovation?
Download my printable Kitchen Renovation Checklist so you can easily keep track of each step.
*Please note: All printables and downloads designed by Green with Decor are for personal use only. Please do not alter the files or claim them as your own. These files are not intended for resale, nor are the printed versions of these files.
Like kitchen renovations? You'll want to see these, too:
Remember to bookmark or pin this post if you want to save it for later!

Pin it!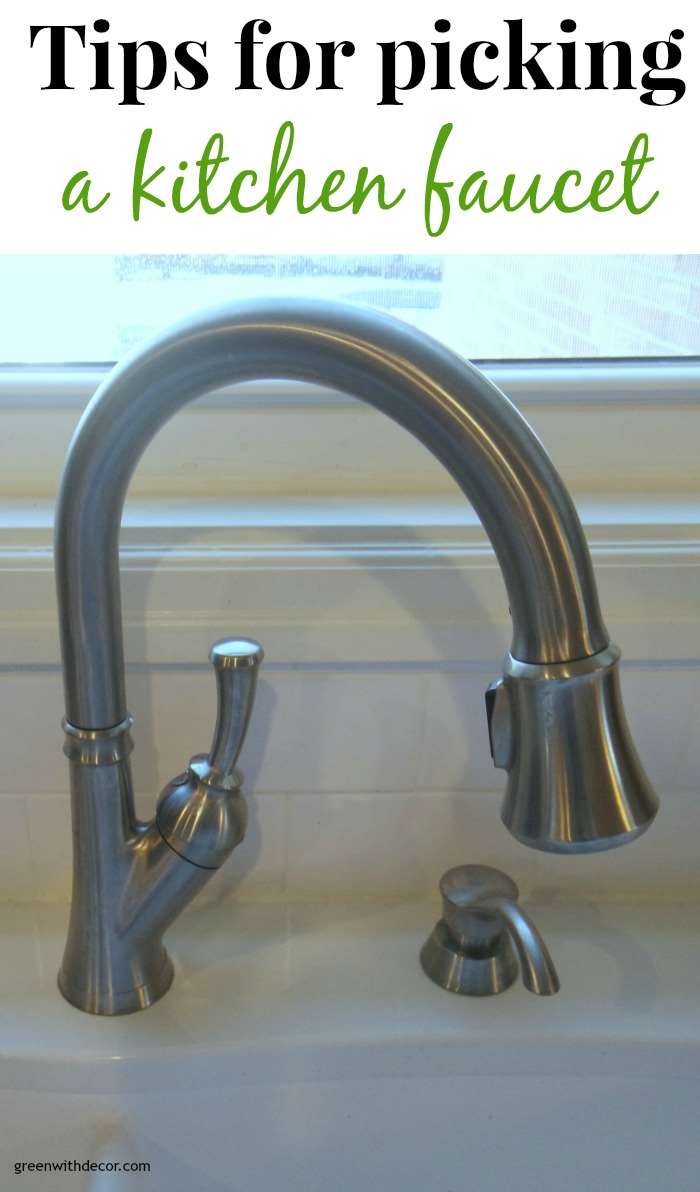 Want to read more posts like this?
Follow along: Get my emails | Facebook | Pinterest | Twitter | Instagram