I'm excited for today's post! I've been planning this for months.
Clearly, I love green decor. And St. Patrick's Day.
I was planning to share all of our St. Patrick's Day decor anyway, but to make it more fun and give you all sorts of green decorating ideas, I invited some of my favorite home decor bloggers to share theirs, too! You'll love looking through these ladies' blog posts! All of their links are below.
And if you're stopping over from one of the other girls' blog posts, welcome! I'm glad you're here! This is the perfect first post for you to read; I'm obsessed with green. My husband Kalen and I live in Milwaukee and renovated pretty much our whole house, you can read all about our renovations here.
Onto St. Patrick's Day!
We're having a St. Patrick's Day party to celebrate, so our decor is a bit over the top for everyday living. I wouldn't be taping paper shamrocks to the windows and dragging every last piece of green decor out of the basement if we weren't having a party.
But I probably would have gotten a lot of the green decor pieces out of the basement regardless, because (hopefully) spring is coming!
So come on in! If only you could all join us for the party! Wouldn't that be fun?!
FOYER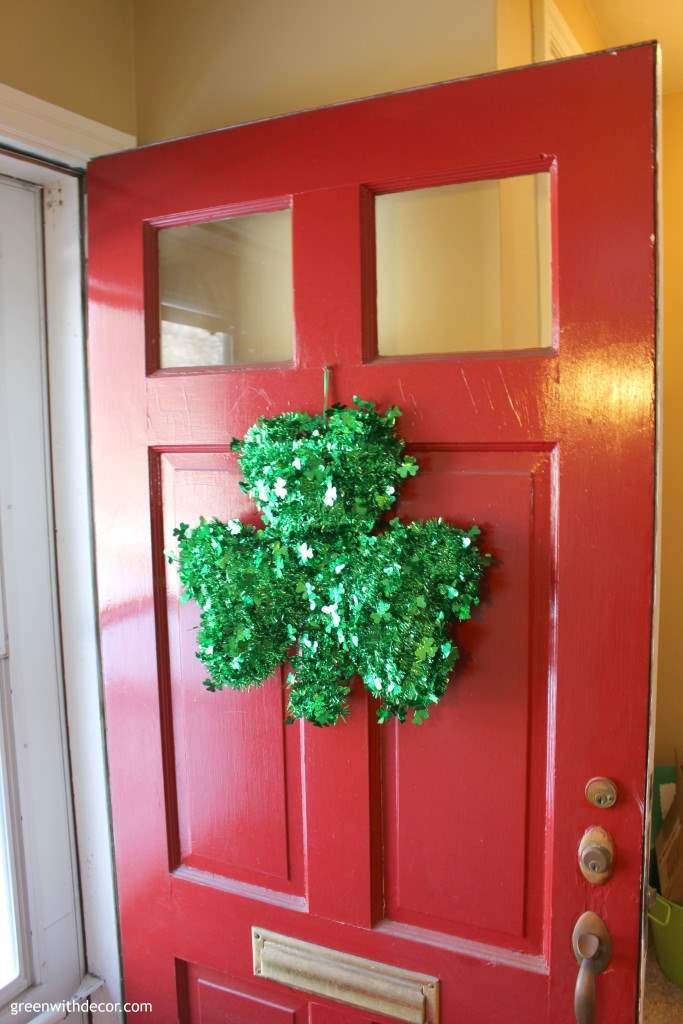 To preface a lot of this, my parents had a St. Patrick's Day party for years. Needless to say, they had A LOT of St. Patrick's Day decor they don't use anymore. So obviously I took it all.
My mom had a few shamrocks all set on these white ribbons.
I threw this one up on the banister.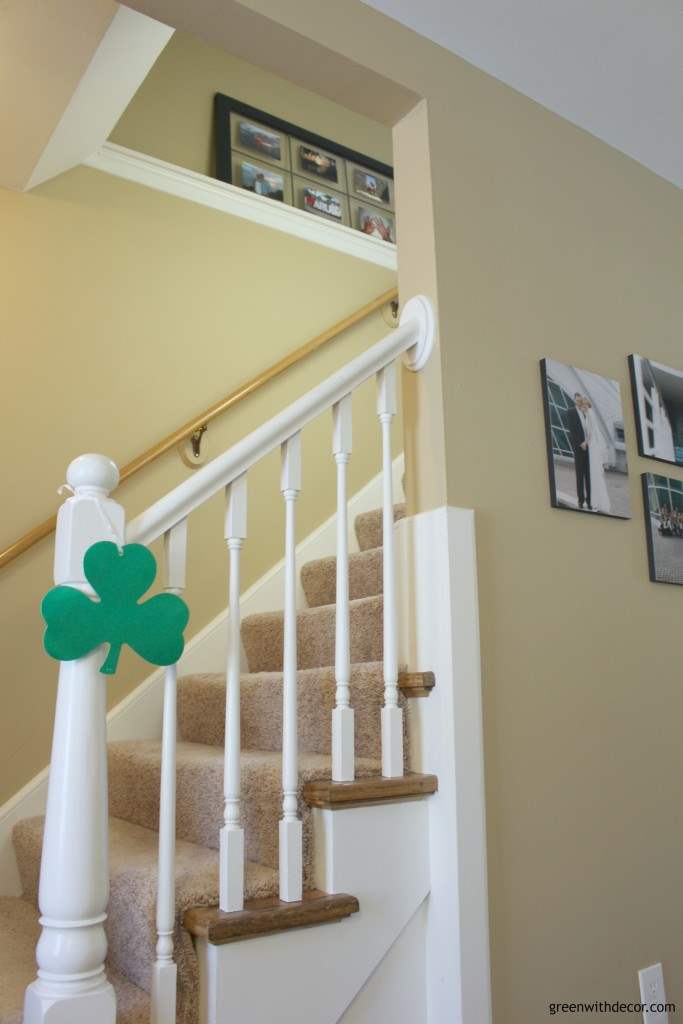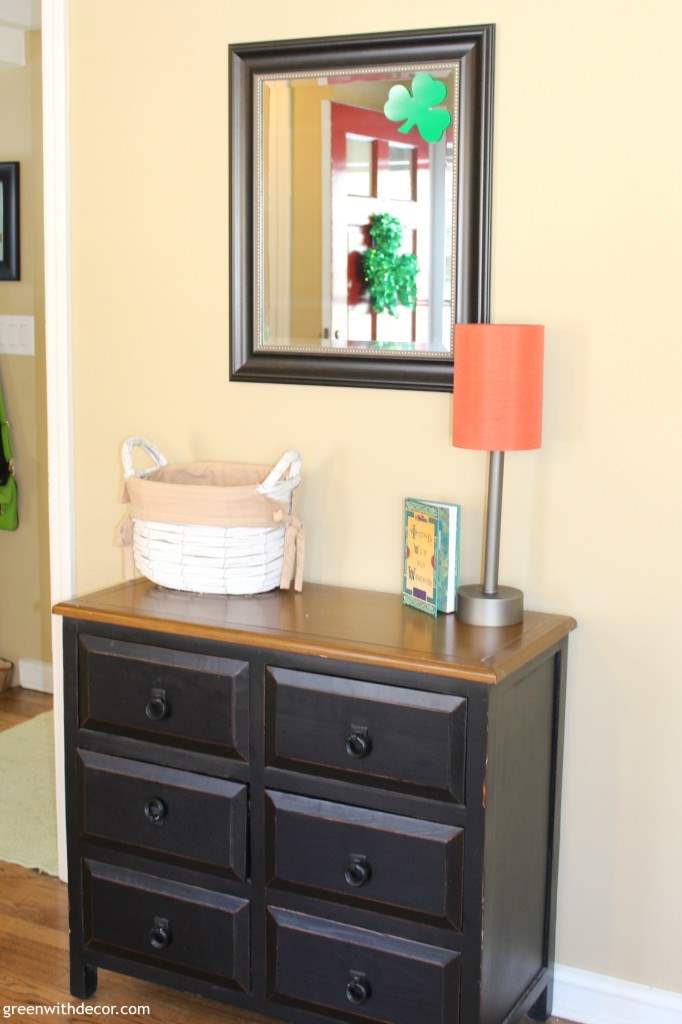 LIVING ROOM
It's funny, we don't actually spend much time in the living room, but it's quickly become one of my favorite rooms to decorate for each holiday. Something about a mantel is fun to keep redecorating.
And since we don't spend much time in here, all the seasonal decor I decorate with in here actually stays exactly where I put it!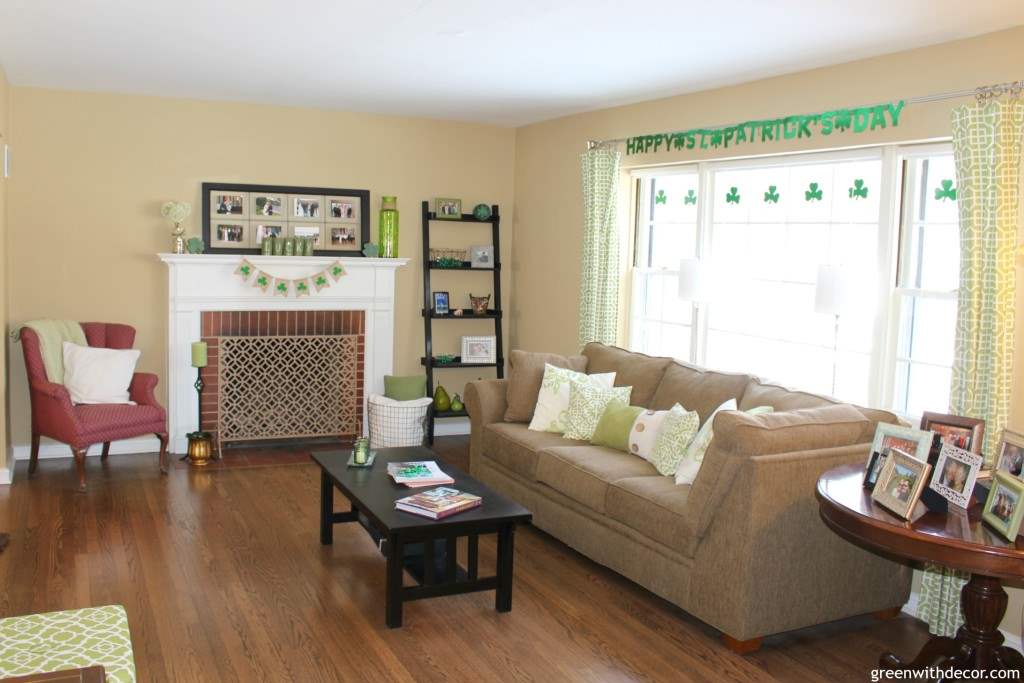 My brother David got me a craft store gift card for Christmas, and I went a bit crazy in the green and St. Patrick's Day aisles.
I got this fun banner (which I know I could have made, but it was $4 so I took the easy route on this one) and these cute little wooden shamrocks.
This LUCKY sign is easy to make. Just collect a few old soup cans.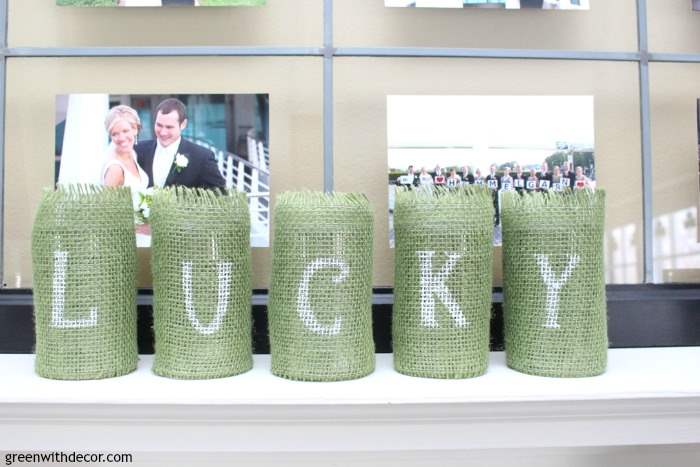 The old window turned picture frame stays up there most of the year. I love the pictures!
I recently bought this basket (and another which you'll see in the kitchen). I know mixing metals is all the rage these days, and I finally jumped on the trend.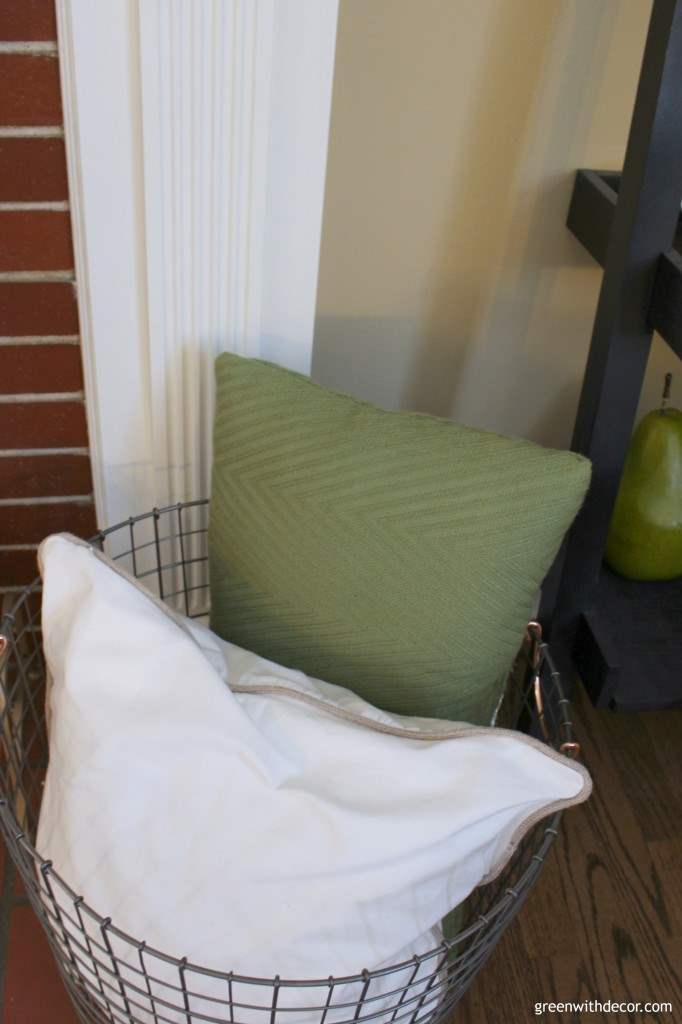 Side note, local folks, head to Design Xchange is awesome for finds like this basket. The store is great!
The ladder shelf is fun to decorate for each season, too! I put some of our everyday pieces back up there after Christmas and updated the look with green beads for St. Pat's.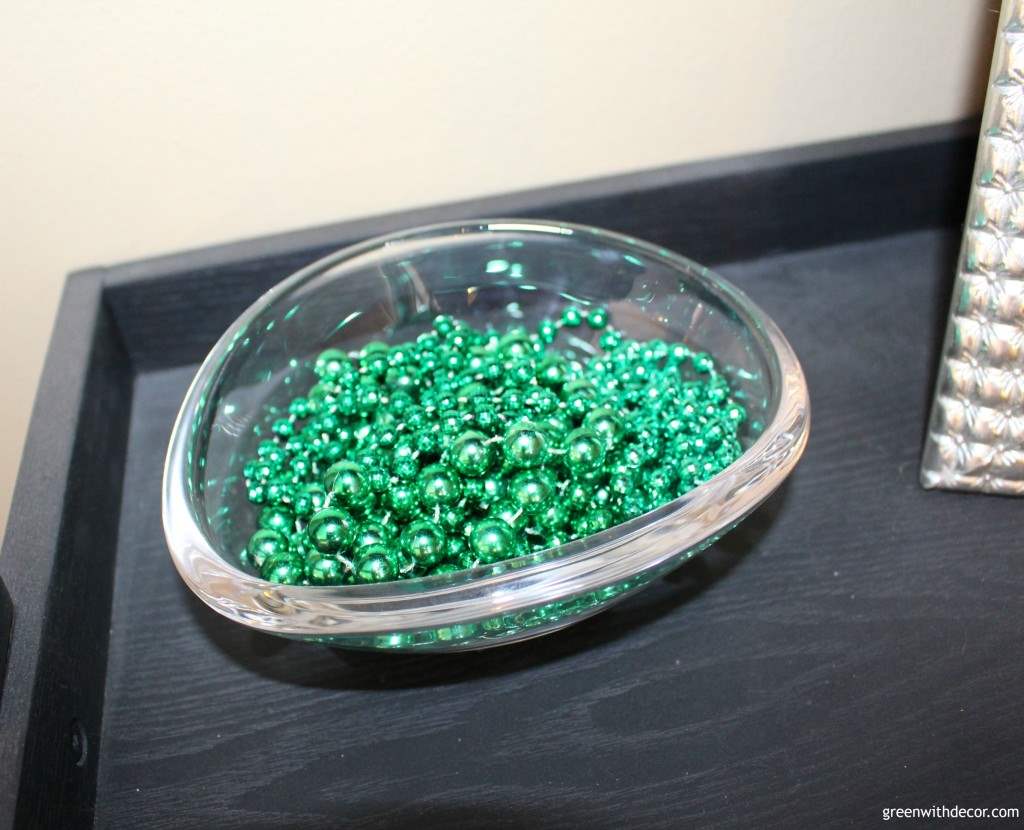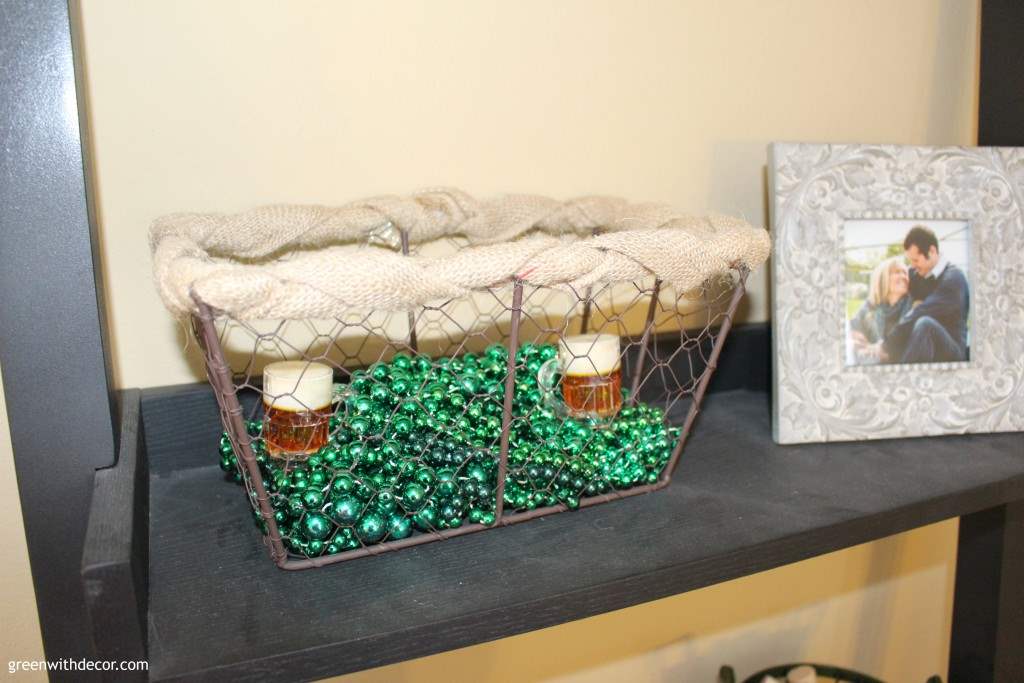 I have a throw pillow addiction. I fully admit it.
Luckily, we have a lot of green and white throw pillows we use for everyday decor in this room anyway, so they fit the St. Patrick's Day decor theme quite well. Same with the curtains (which are actually tablecloths).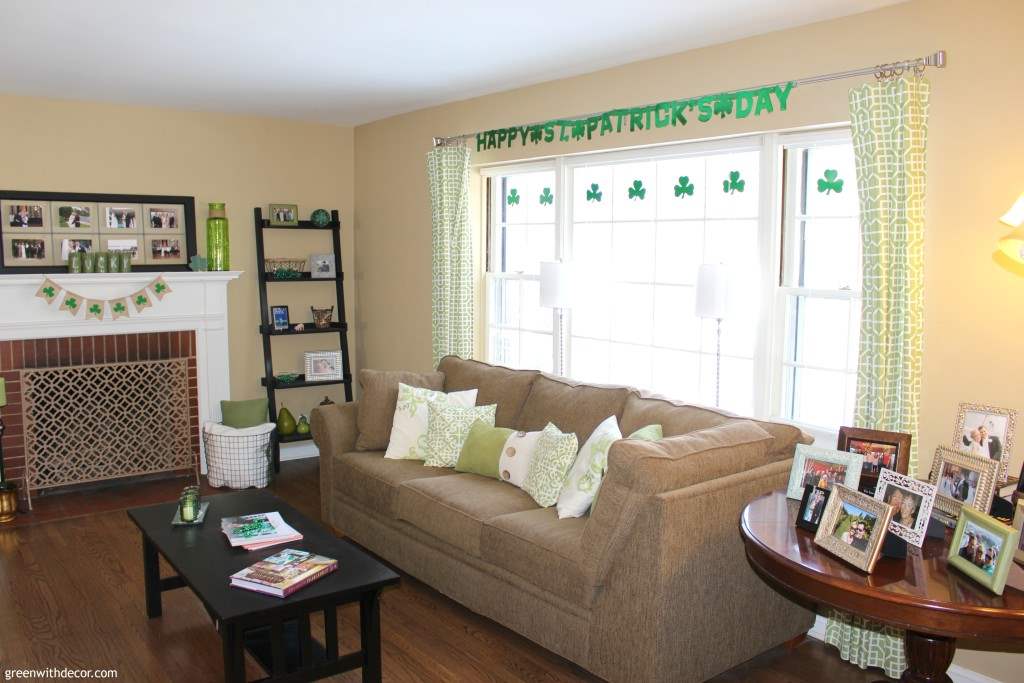 This post contains affiliate links. This means if you click the link and buy something, I may receive a small percentage of sales at no extra cost to you.
Yes, I spent twenty minutes of my life taping shamrocks to the front window and making sure they all looked even. I know. All in the name of St. Patrick's Day.
KITCHEN
Our kitchen is green and white (mostly) year round, so this was a fun room to decorate, too.
The valances (a DIY) and rug are always green. I added the St. Patrick's Day towel for a holiday touch.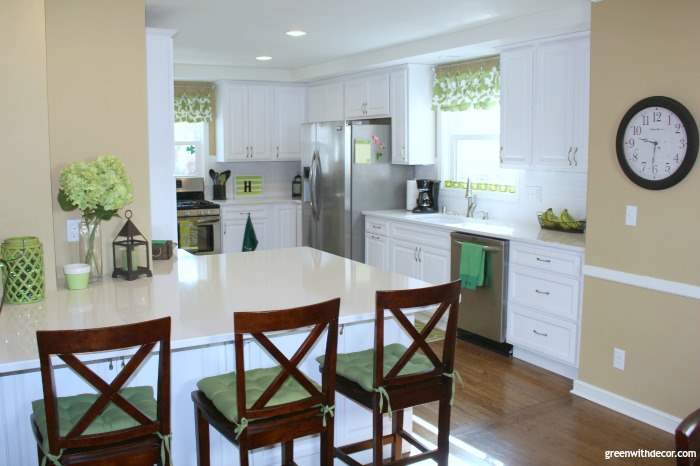 GET THE LOOK: Cushions | Curtain rod | Window valances (DIY) | Faucet | Cabinet hardware
I switch out the decor pieces on our peninsula throughout the year, and I found all green pieces to display for our party.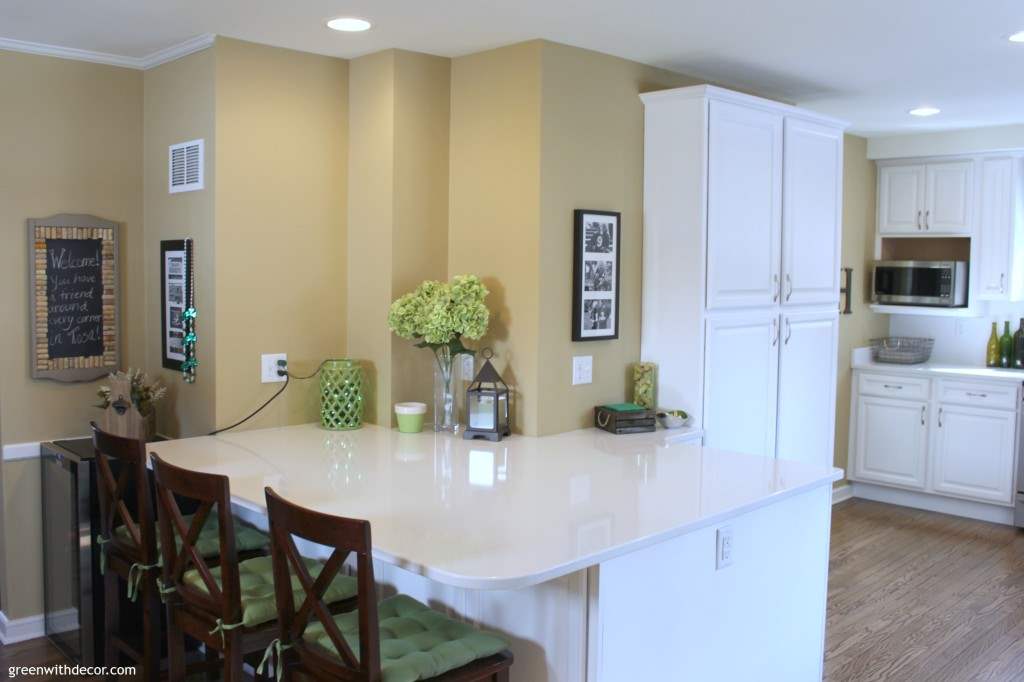 This little wooden drink caddy is one of my favorite things. It's easy (and cheap) to switch out the flowers throughout the year for a seasonal look.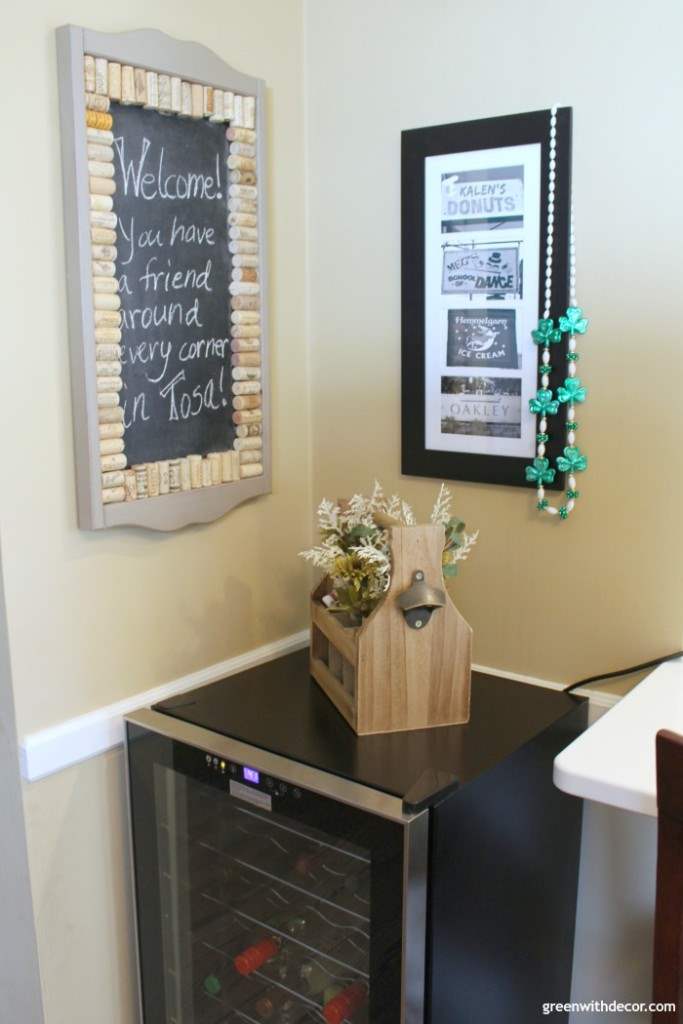 I threw this necklace up on the frame ever so carefully knowing full well someone enjoying themselves at our party will probably be wearing it by the end of the night. But it looks nice for now!
This cork chalkboard was a fun housewarming gift from a neighbor. I actually just made one to give to someone else. I love using corks for projects.
I also use wine bottles as decor … I find myself saving all bottles and jars lately, because you just never know!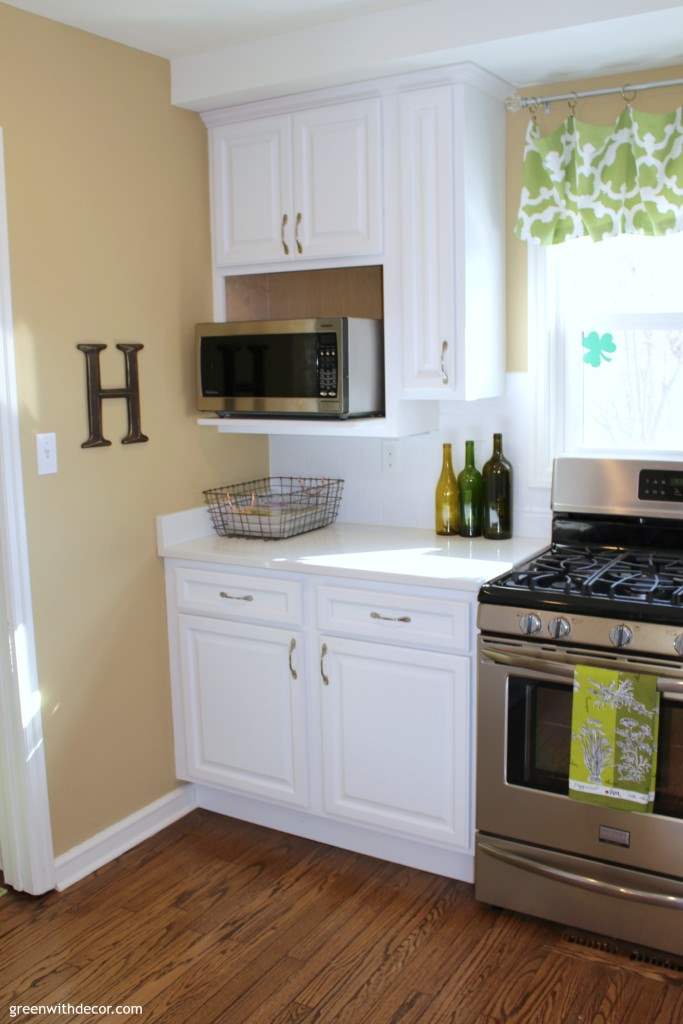 GET THE LOOK: 'H' initial | Cabinet hardware | Curtain rod | Window valances (DIY)
I also can't bring myself to throw away any copies of HGTV Magazine. I have way too many, I know, but I love looking back through them for decor ideas.
And this basket is perfect for my magazine hoarding collecting!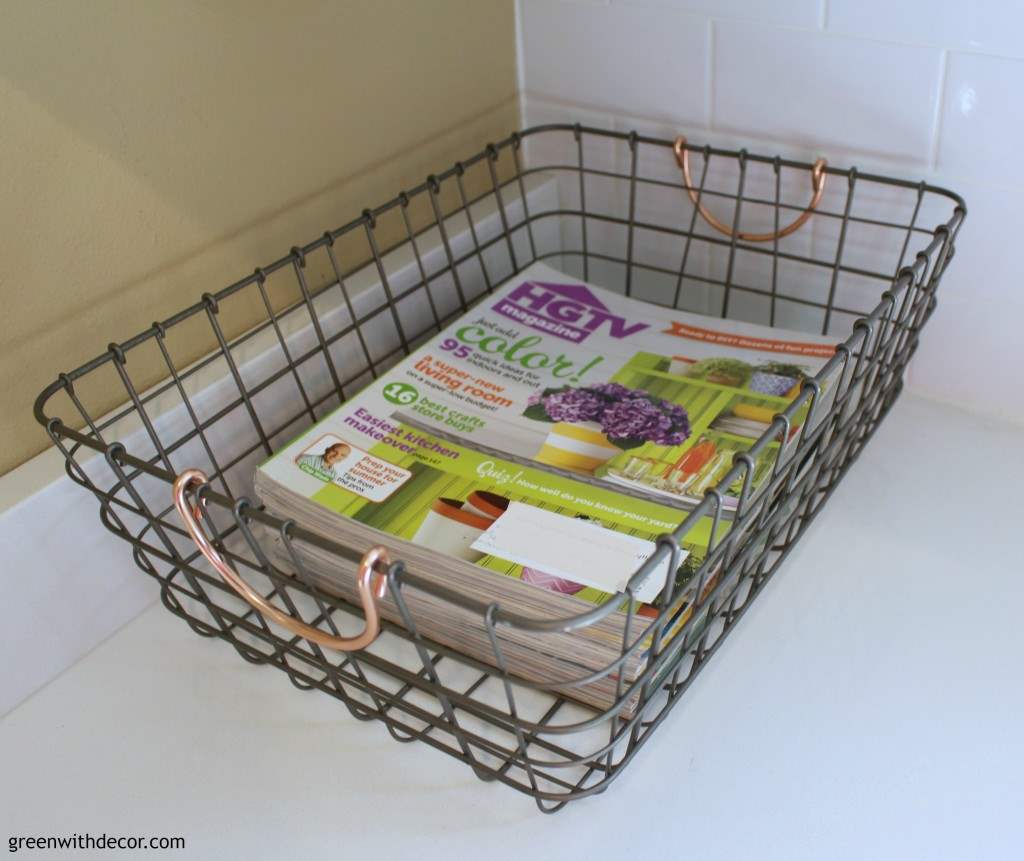 I have two trays with an 'H' on them, which is probably one too many. But I'm keeping 'em. I painted this tray last summer …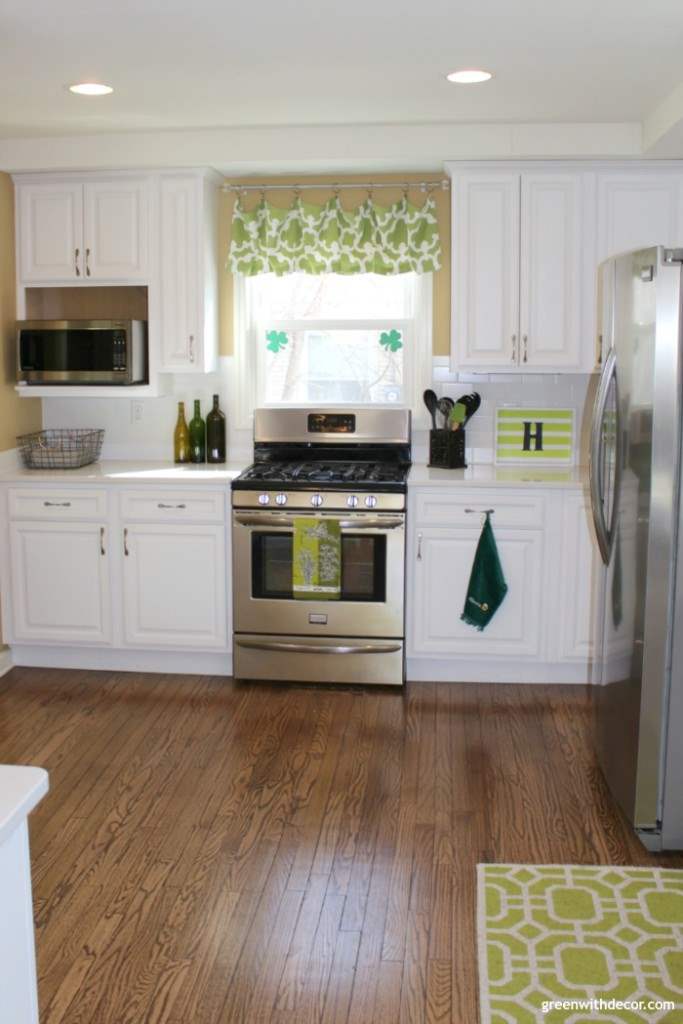 And this one. These jars were fun to make! I used old spaghetti sauce jars.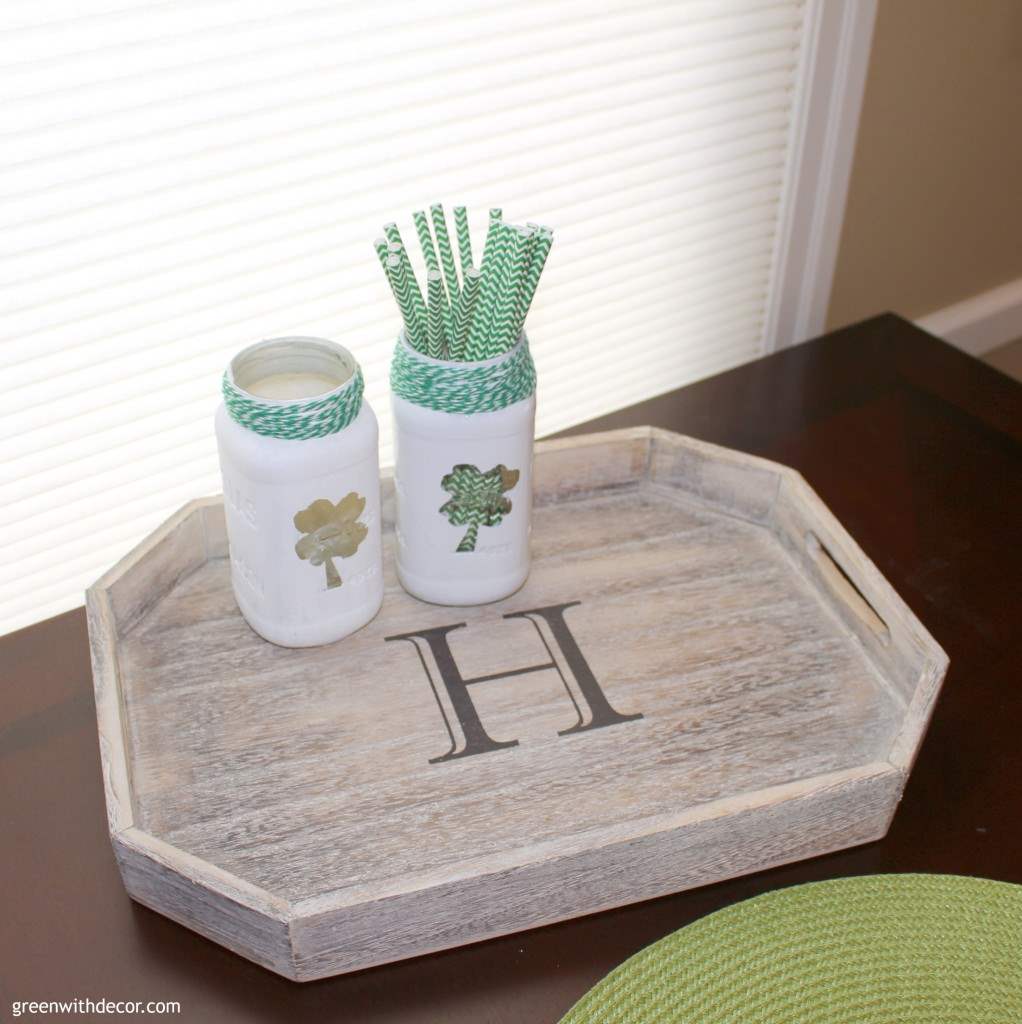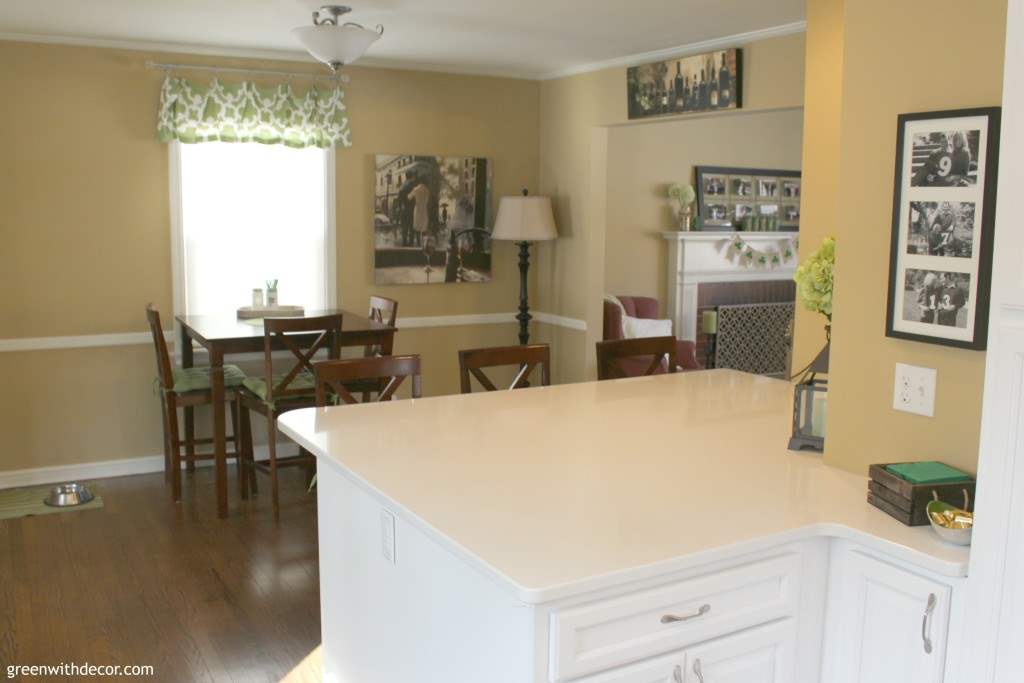 FAMILY ROOM
We spend a lot of time in our family room. It's pretty much red and tan, but I added in touches of green to be festive.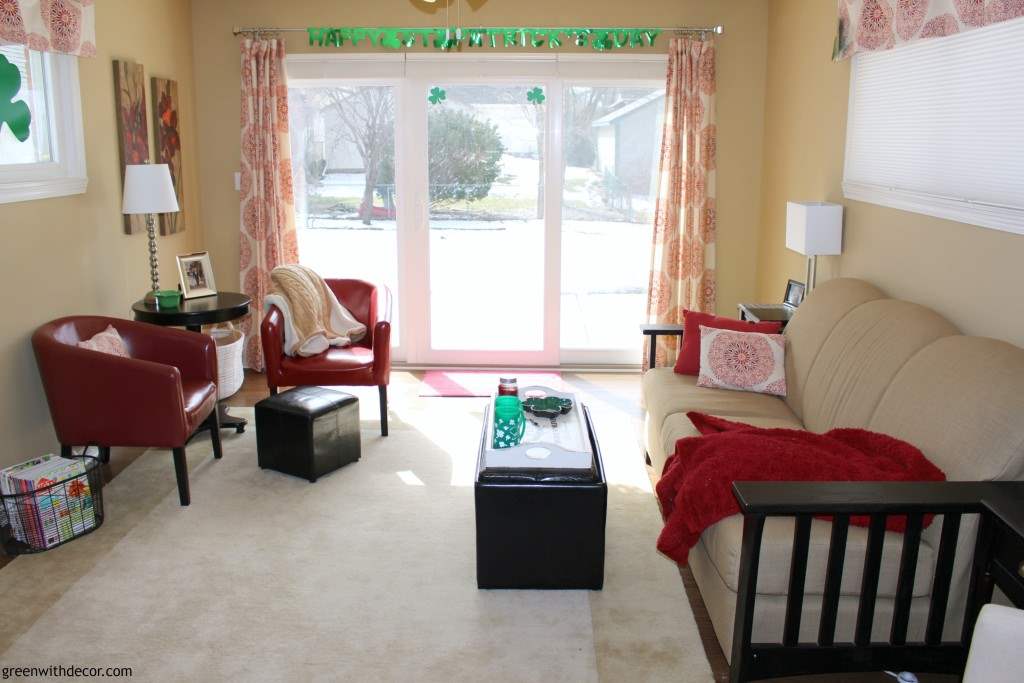 GET THE LOOK: Curtains | Red chairs | Rug |End tables | Silver lamps | Red pillow | Tan blanket
There's nothing too crazy in here ….
More shamrocks on the windows …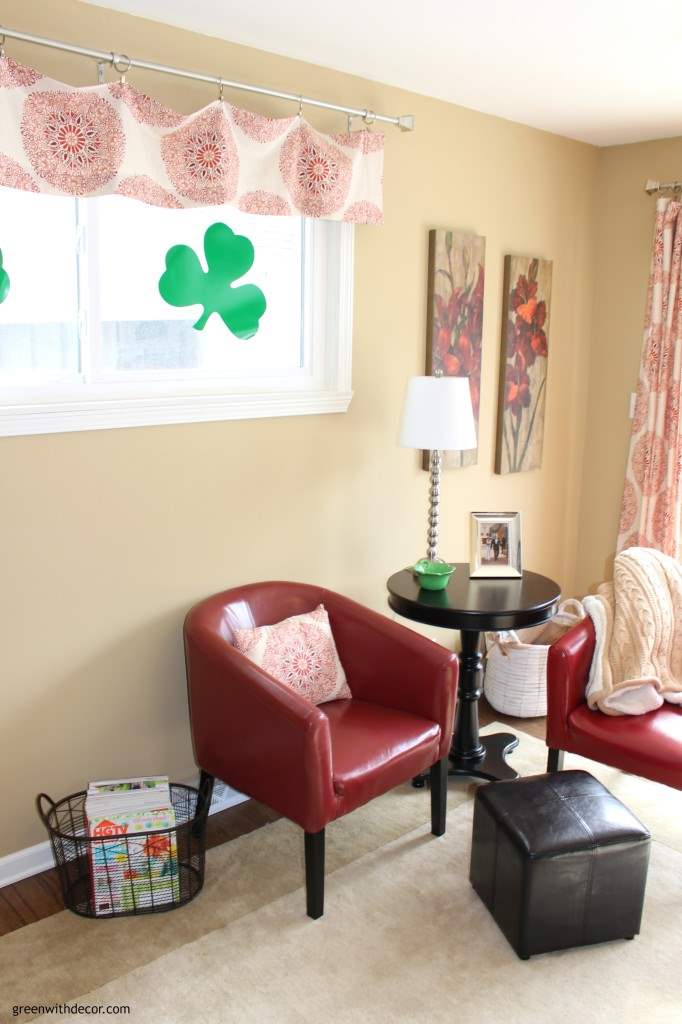 More copies of HGTV Magazine …
More throw pillows ….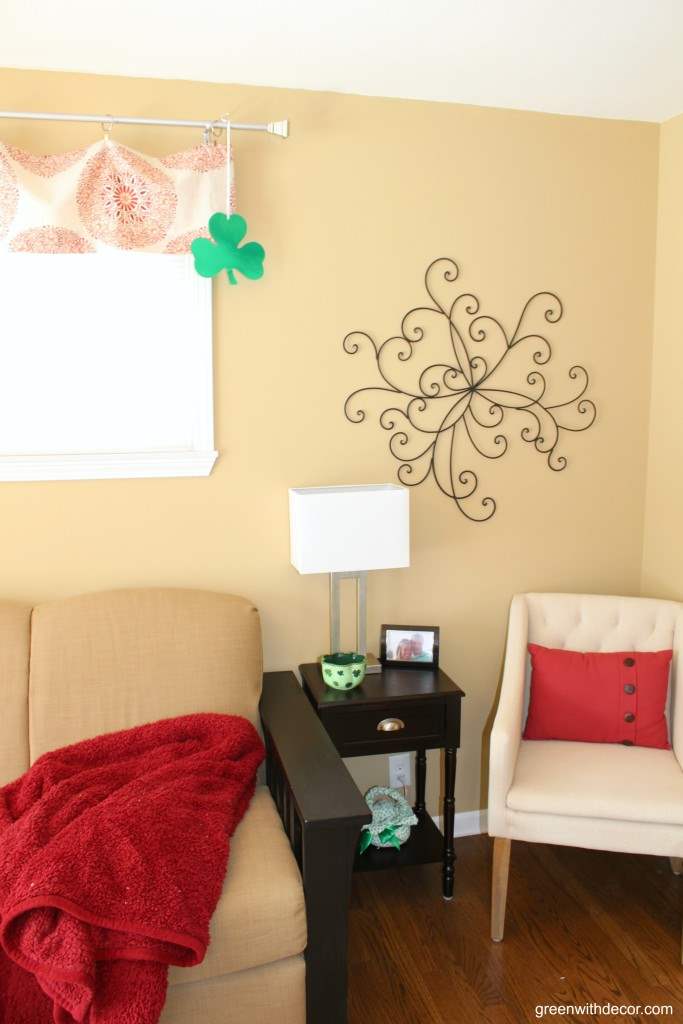 Another tray …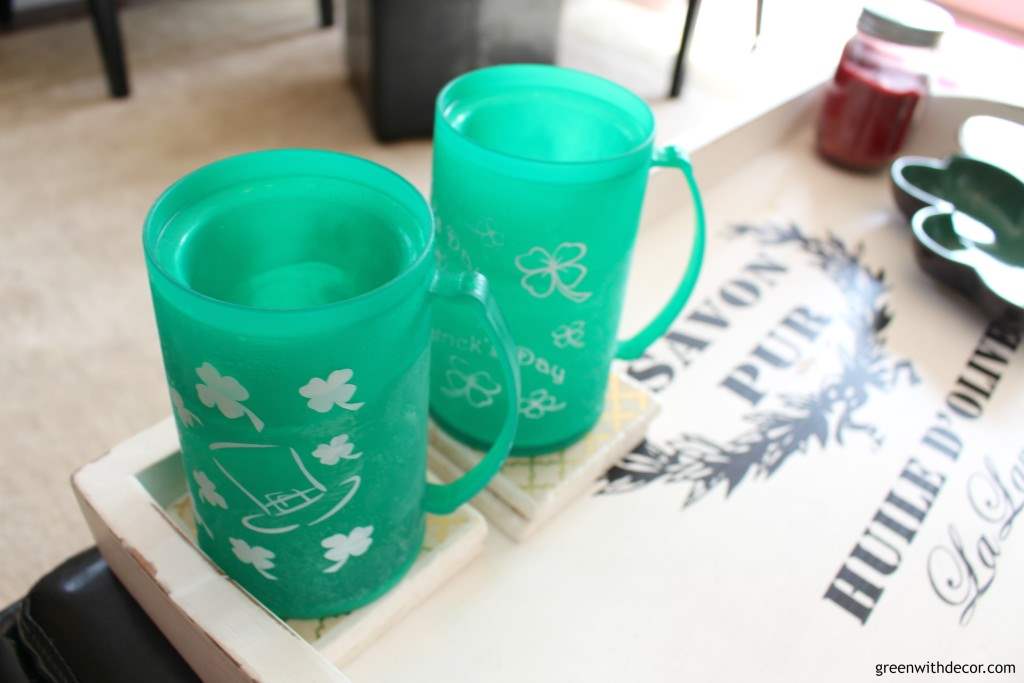 And Oakley's green dog bed.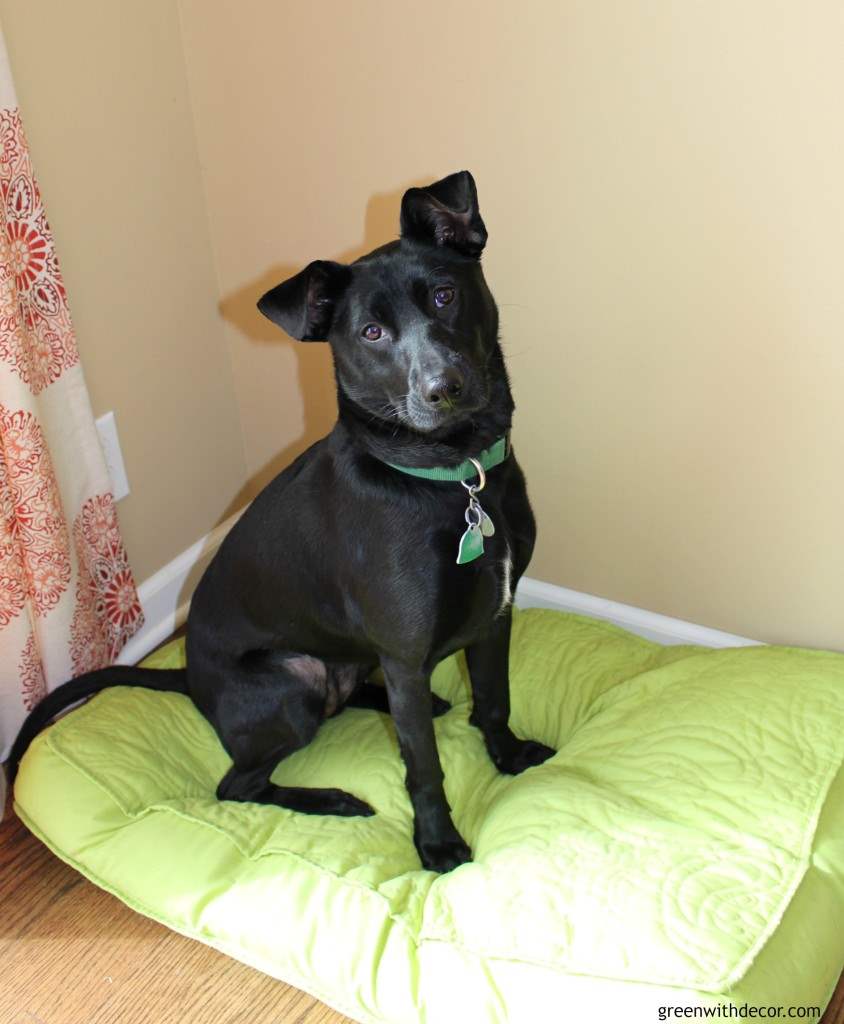 BATHROOM
I went a little green overboard in here, although the room is green and white year round anyway.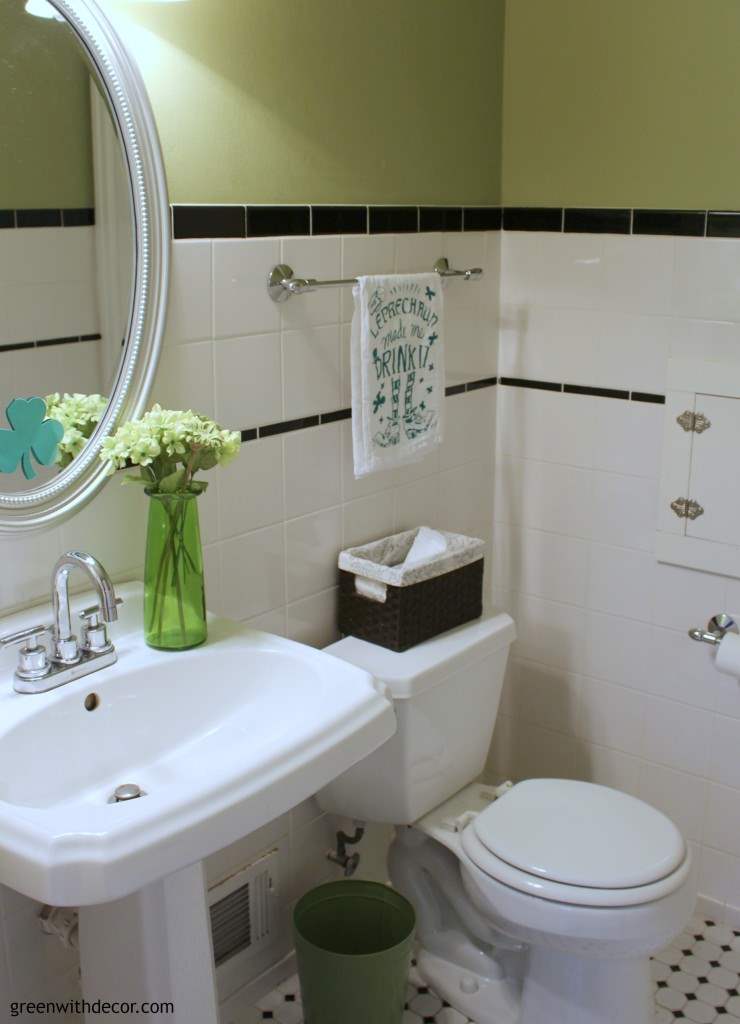 My brother Stephen got me this towel, and I LOVE it! I went back and forth with it between the kitchen and bathroom, because I couldn't decide where it looked best.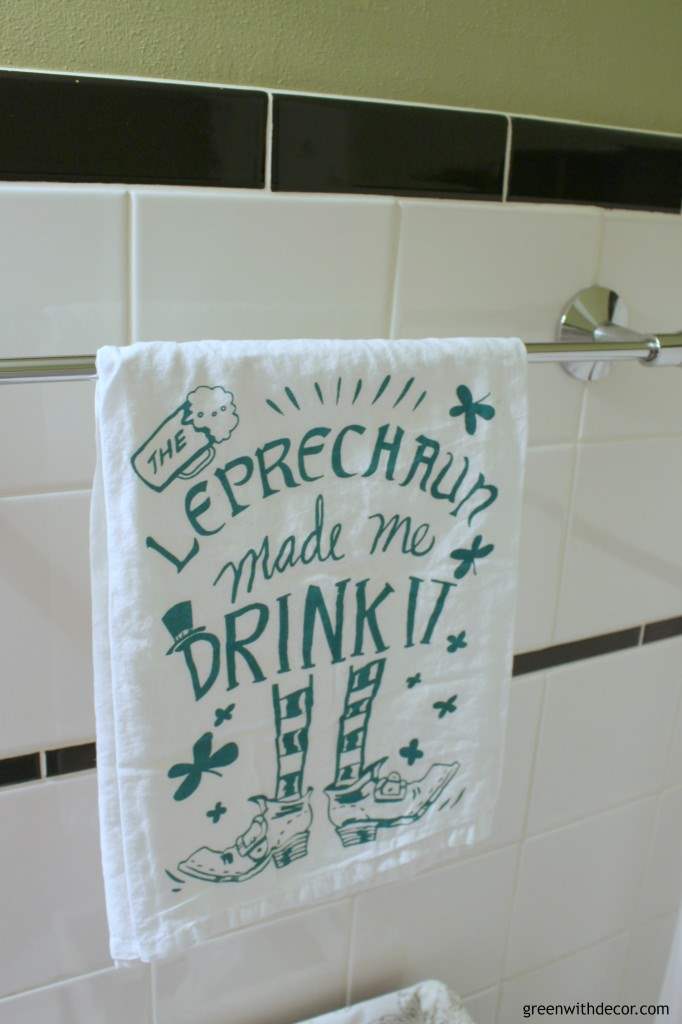 If you're new around here, you can take a peek at our upstairs by clicking the links below. I didn't do any holiday decorating up there, but there's plenty of green because, well you know, I love it.
BATHROOM: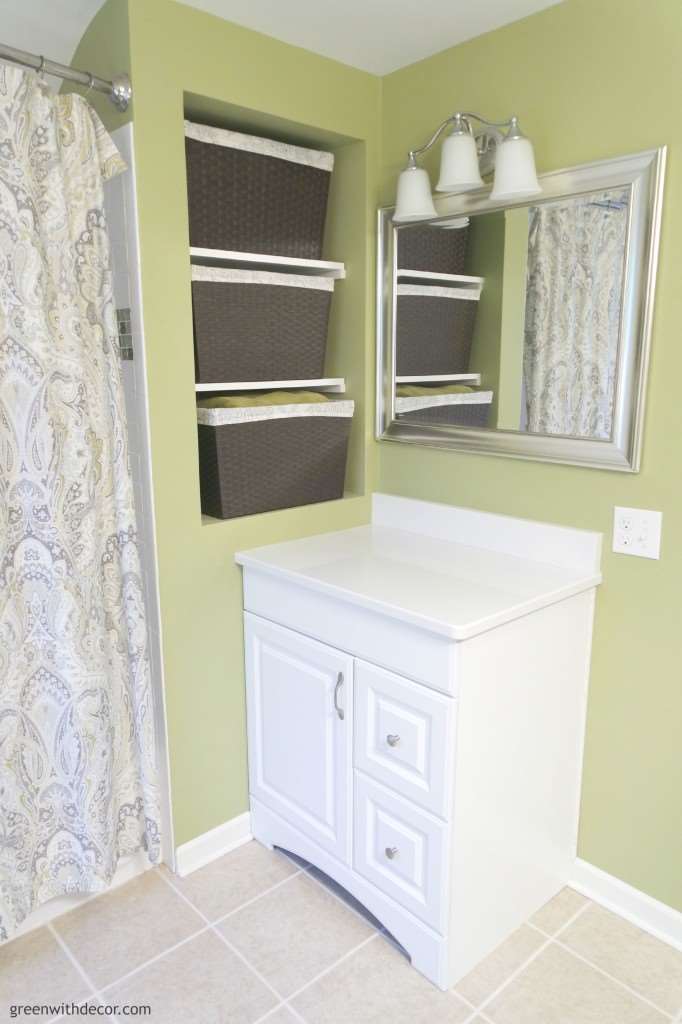 GET THE LOOK: Baskets | Vanity | Cabinet handles | Cabinet knobs | Mirror
You can see more of our bathroom here.
MAIN BEDROOM: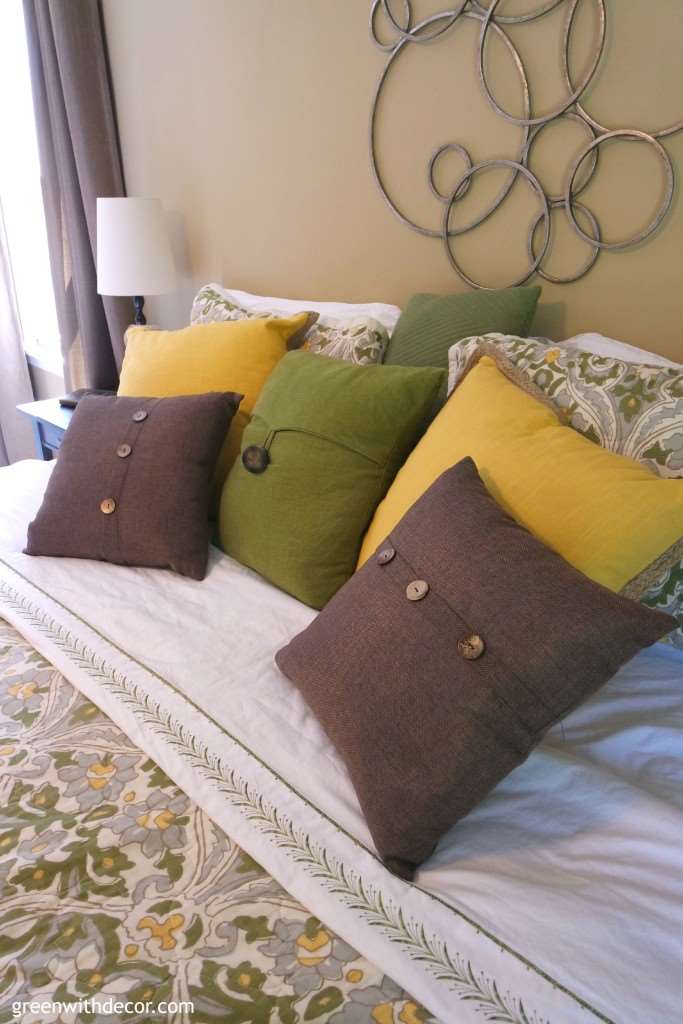 You can see more of our bedroom here.
GUEST BEDROOM: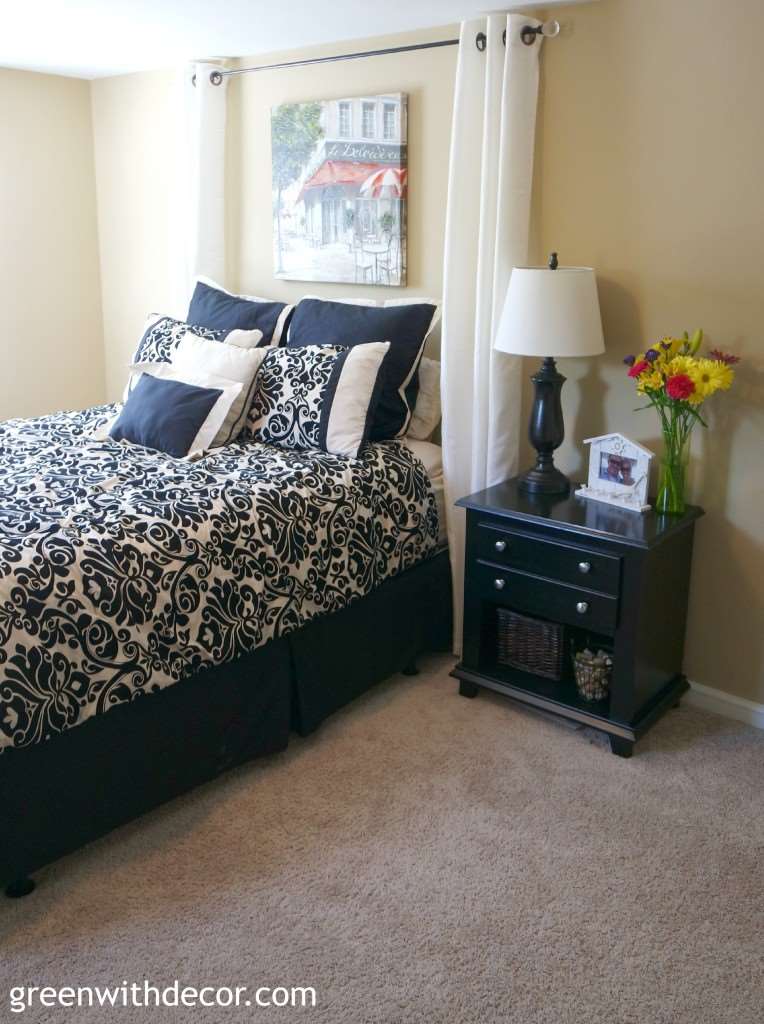 GET THE LOOK: Curtain rod | Comforter set (similar)
You can see more of our guest bedroom here.
And because it's HOPEFULLY going to warm up sometime soon, here's a look at our patio from last year (plenty of green out there!). I can't wait to get the outdoor couch out again and start enjoying nights on the patio.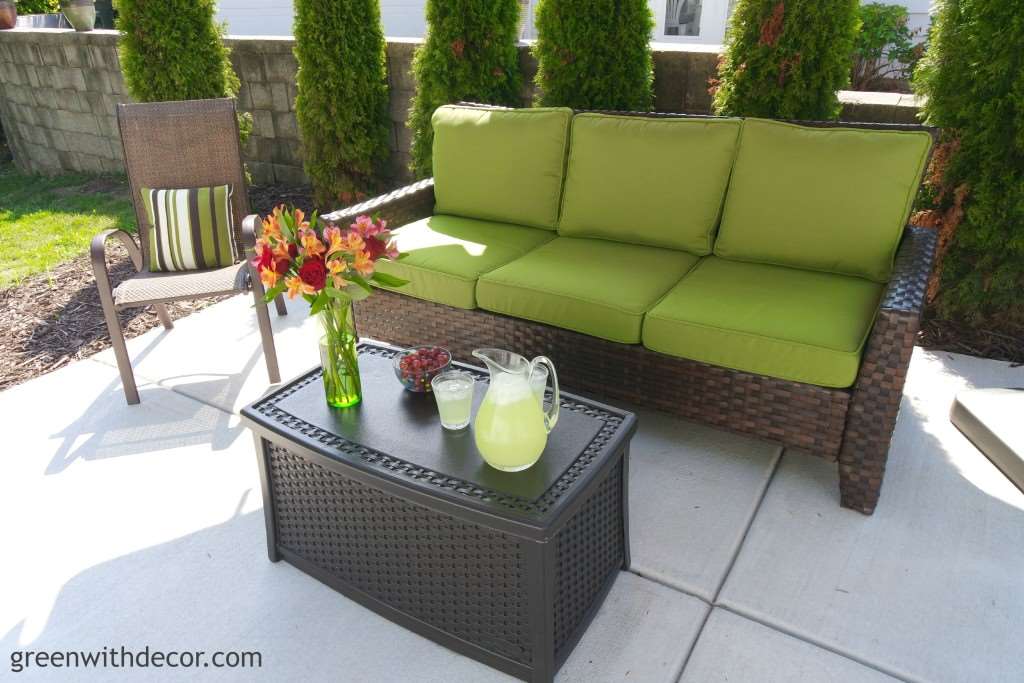 Head on over to the other ladies' green/St. Patrick's Day tours! We have a few going live each day this week so check back each day!
Have fun hopping around!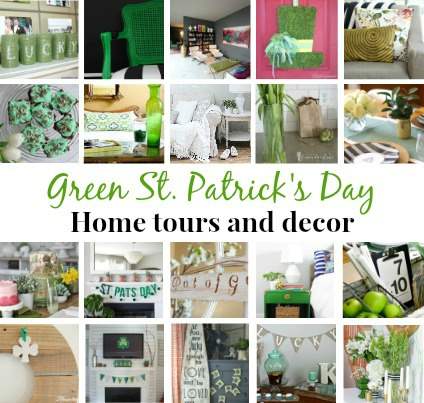 Green With Decor (you're here!) | Rain on a Tin Roof | Design Asylum | 3 Little Greenwoods | Up to Date Interiors | Migonis Home | 2 Bees in a Pod | Elizabeth Joan Designs | Seeking Lavender Lane | Craft + Tell | Live the Fancy Life | Iris Nacole | Go Haus Go | Lehman Lane | The Honeycomb Home | My Creative Days | The Twin Cedars | Casa Watkins
Remember to bookmark or pin this post if you want to save it for later!

Pin it!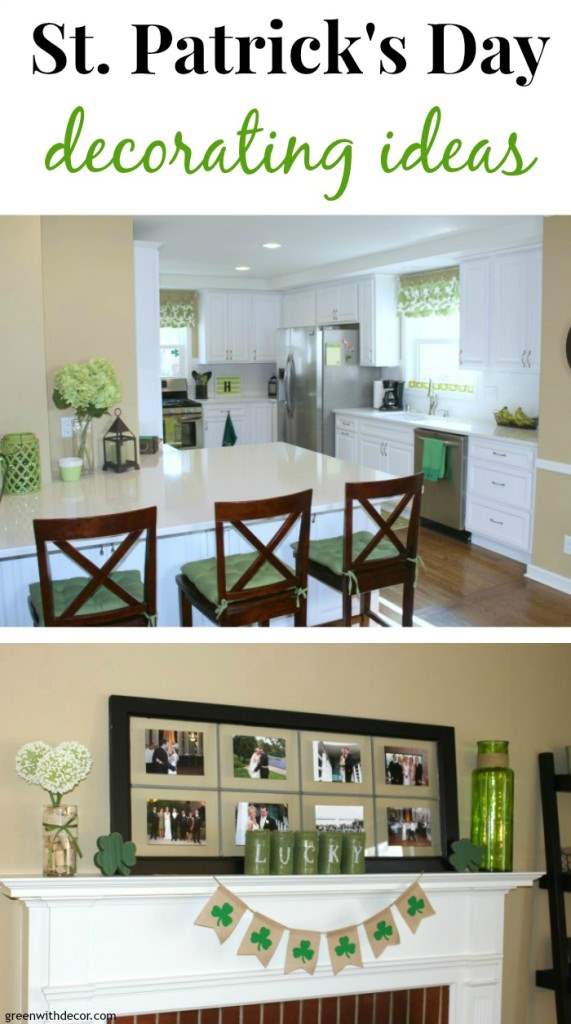 Want to read more posts like this?
Follow along: Get my emails | Facebook | Pinterest | Twitter | Instagram