Happy New Year!
Hope everyone had a great, relaxing holiday. I've been struck with some nasty flu/cold thing that just will not leave so hopefully that goes away soon.
Not that a cold would stop me from diving into a room refresh. 🙂 Just slow me down a bit.
I mean this bathroom is in need of some New Year's cheer, yes?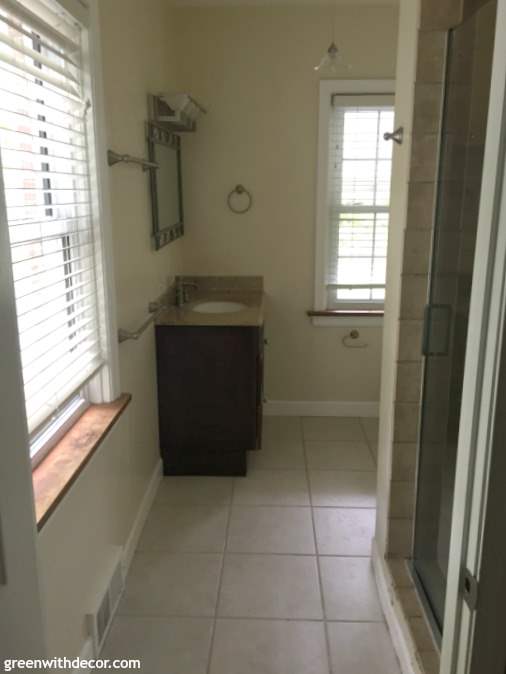 And another glam before shot for fun: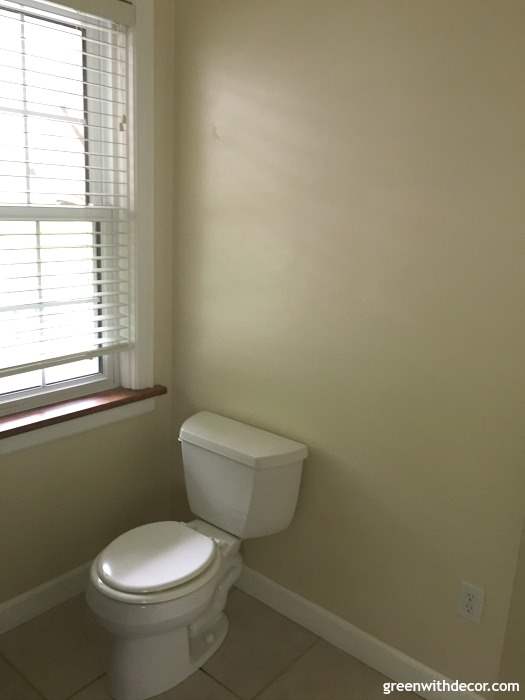 My friend Erin from Lemons, Lavender & Laundry hosts the $100 Room Challenge twice a year, and I knew this was the perfect chance to finish our bathroom 'refresh' .(I won't even call it a 'makeover' since the changes are relatively minimal – not our usual renovation style!)
I took part in the challenge for the first time last summer, when we turned our plain rental powder room into a cute coastal bathroom.
Each week in January, bloggers will share their progress on a room makeover in their homes for just $100 total! It's fun to see what everyone does on a budget. All of the other bloggers' rooms are linked below if you want to see.
This bathroom is off the main bedroom in our rental house. you can see the full rental house tour here. We've made over about half the rooms so far, and we're going to try to wrap up the rest this year so we can enjoy them.
We're also in the middle of a dining room makeover. You can see the coastal dining room plans here.
Bathroom refresh plans:
I'd love to gut this bathroom and start over with a different layout, white vanity and new light fixtures, but since renovating isn't always an option (whether you're renting or not), these ideas are easy and cheap enough to take on in your house if you're looking for some small bathroom updates, too.
Click any of the images below for more info. (You might have to double click on mobile.)
This post contains affiliate links. This means if you click the link and buy something, I may receive a small percentage of sales at no extra cost to you.









Mirror:
Swapping out the mirror is one of the easiest ways to give your bathroom a quick upgrade, even if you're renting! We switched out the mirror in our downstairs coastal bathroom and have the same plan for this bathroom. We found a white framed beachy-looking mirror at a local shop that's similar to this one.
Rugs:
I picked up this white rug and gray bath mat to cover the tile floor (it's freezing in the winter!) and add some warmth to the room while keeping the colors light.
Soap dispenser:
More white to brighten it up in here! Something like this one.
Mason jars:
Perfect as a toothbrush holder!
Vanity hardware:
Switching out hardware is one of my favorite ways to update bathrooms and kitchens without renovating. My go-to tends to be crystal knobs. They're just light and airy with a beachy glam vibe.
Towel hooks:
I found these little white hooks at a flea market over the summer (similar ones here), and they've been sitting on top of my dresser since. Whoops. Just in case you thought we had it all together over here. I want to swap them out for the towel bars in here now.
Towel ring: 
Since we're renting, we'll just leave this silver towel ring up so we don't have to put it back up later. Yes, even though we'll have to hang the old mirror and towel racks back up. I realize that doesn't make a lot of sense, ha, just go with it.
Nightlight:
We always use these in our bathrooms. They're pretty and provide a good amount of light without being too bright.
Garbage can:
These might be an after thought most of the time, but fun little garbage cans can add so much to a little bathroom.
Storage bin: 
We love these bins. They're perfect for tissue boxes, we use these in every bathroom, too.
Artwork:
We have a black metal piece (similar one here) that would work well on the wall over the toilet. I'm thinking I'm going to paint it white to keep things bright in here.
Storage:
There's not much counter space in here, so we need some sort of storage. There's a lot of room between the toilet and the shower so I'll figure something out. Any of these affordable storage towers I looked at for the downstairs bathroom might work in here, too!
Wall color: 
Paint always makes such a difference in a space! We're going with Ryegrass by Sherwin Williams. Big shock, right!?
If you've been around the blog for a while, you know this is my absolute favorite green paint color. In our Milwaukee house, the office and both bathrooms are painted in Ryegrass.
Here's a peek at one of those bathrooms so you can get an idea of the paint color: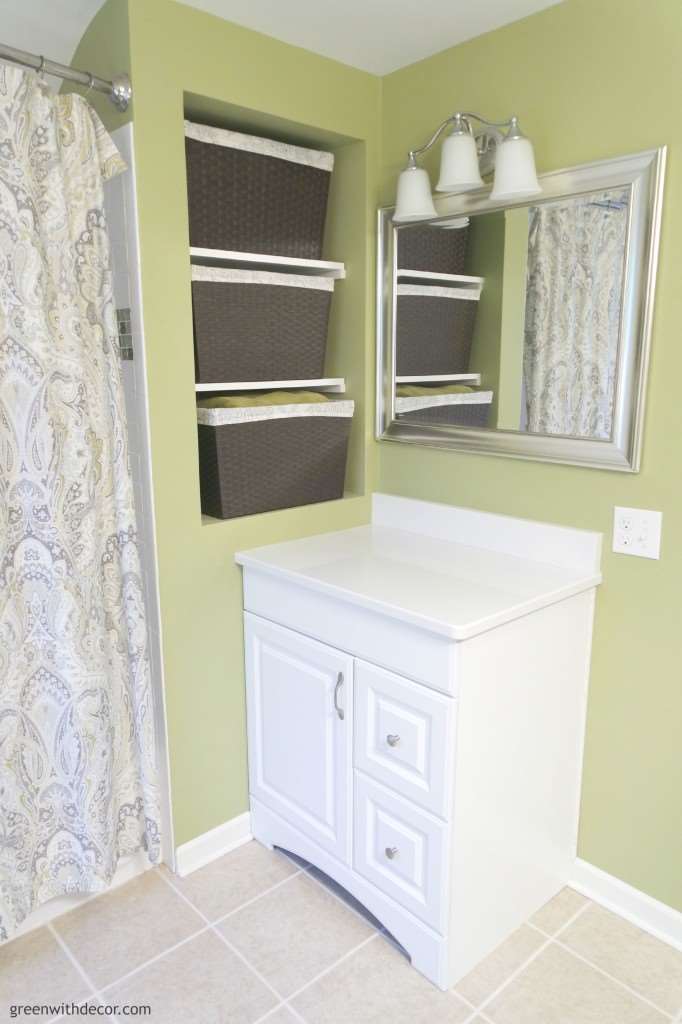 We actually painted this bathroom months ago, but I still haven't taken any pictures of it, mostly because the rest of the room hasn't really been updated, and we've had some workers in there fixing the shower so stay tuned on that.
We're just going to leave the light fixtures in here (at least for now), but if you're on the lookout for bathroom lights, check out these posts on my favorite farmhouse vanity lights on a budget and favorite sconces on a budget.
So there's our list to small updates that should make the bathroom feel a bit more 'us'. We tend to move into our houses and completely renovate bathrooms, so renting is a new challenge for us.
You can see all of the progress on this little bathroom makeover in these posts:
If you are planning a bathroom renovation though (yay!), check out our full bathroom renovation at our Milwaukee house. You can grab my bathroom renovation checklist in that blog post. It's helpful so you don't forget anything in the sometimes crazy process!
You can see all of the other bloggers' $100 room makeover plans below. If you want to join in the fun, too, do it! Just share your pics on Instagram with #100roomchallenge – bloggers and non-bloggers alike!
Remember to bookmark or pin this post if you want to save it for later!


Pin it!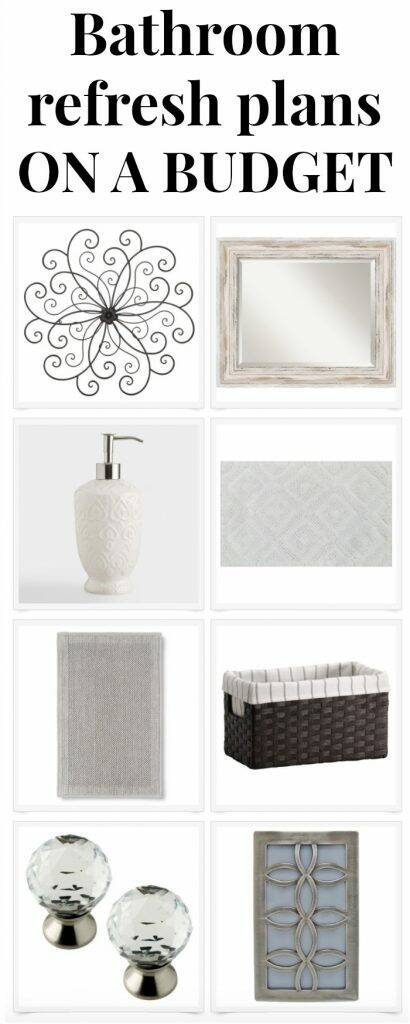 Want to read more posts like this?
Follow along: Get my emails | Facebook | Pinterest | Twitter | Instagram