Wondering where to put light switches in the kitchen? Read these tips for more info!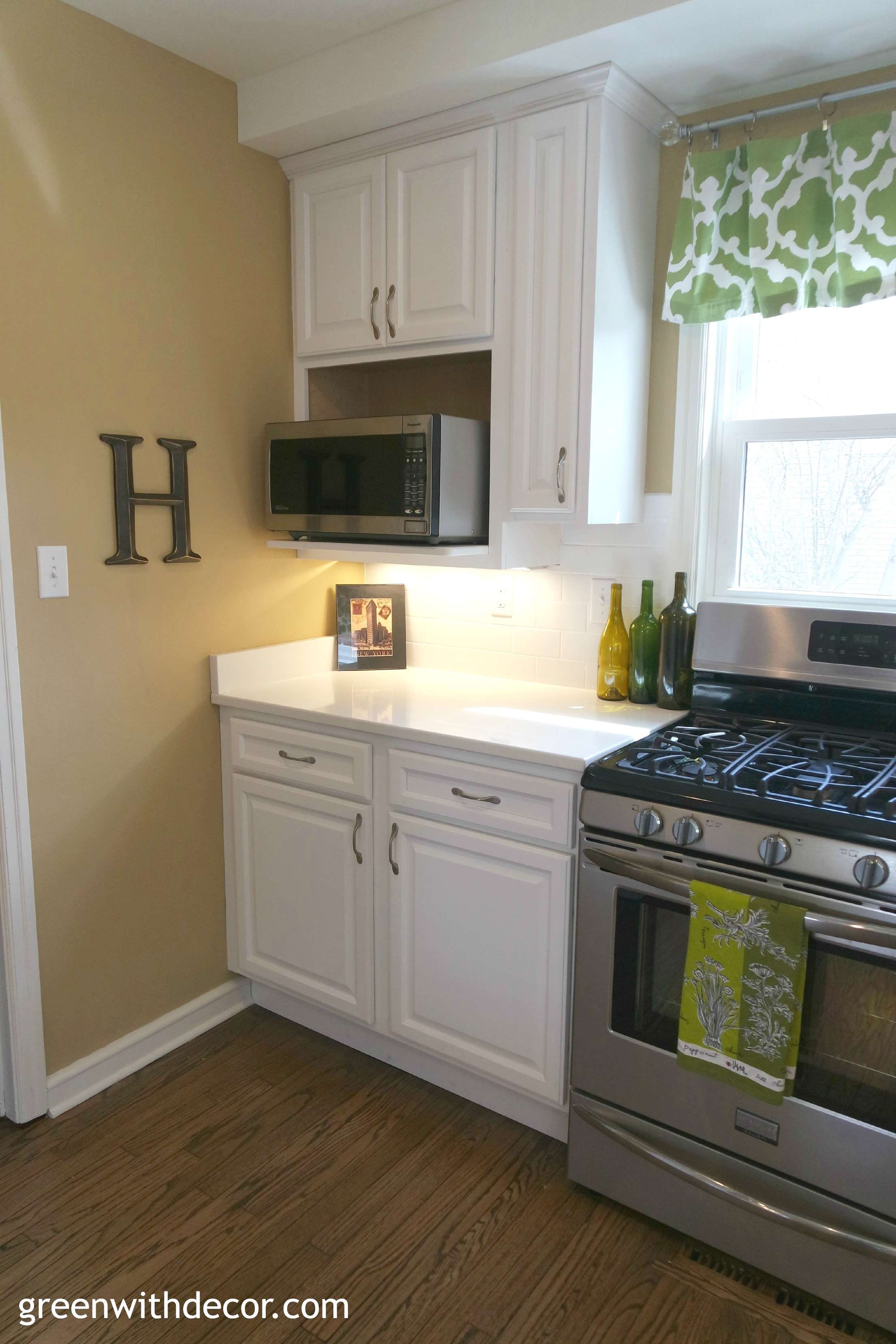 With all of the lights picked out for the kitchen (whew!), next step was to figure out where to put the light switches.
It's not nearly as glamorous as picking out the countertops or the pretty backsplash but, you know, pretty important for everyday living after the kitchen renovation is done.
Since our budget wasn't endless (ugh, they never are!), we planned to keep most of the light switches where they were already set up in the original kitchen.
But we still wanted to look at all of our options so that the light switch placement made the most sense for how we'd be using the kitchen on an everyday basis.
As with anything in a kitchen renovation, turns out there's quite a bit to think about.
And obviously, electrical code and regulations vary, so always discuss light switch placement with your contractor and/or electrician.
Things to consider: Where to put light switches in the kitchen
Existing light switch placement
Kitchen layout / traffic flow in and out of the room
How you'll use different parts of the kitchen
Duplicate light switches
Light switches all together or separate?
Light switches and backsplash
Right or left of room entrances?
Doors and hinges
Dimmers
1. Existing light switch placement
If you're renovating, this is always a consideration. Moving anything costs money so if you can live with the original placement of the light switches, consider keeping it where it is.
But if you're totally revamping a room or the light switches just plain doesn't make sense, it's worth at least getting an estimate for moving them. Then you at least know what cost you're up against and can decide how much it's worth to you.
And if they're in really random places (old houses are the best but also weird), it's probably worth it!
2. Kitchen layout / traffic flow in and out of the room
Think about how you'll most often enter (and leave) the kitchen and make sure it's easy to flip on (and off) the most-used lights in the room.
Because lighting up a room before/as you walk into it is pretty important!
Main kitchen workspace lights
For us, these were the lights above the kitchen workspace/middle of the kitchen.
We wanted duplicate switches for the main kitchen lights near both of the main entrances to the kitchen (from the back hall and the family room) so we could flip the lights on or off no matter which way we were coming into/leaving the kitchen.
We love that we did this and highly recommend it.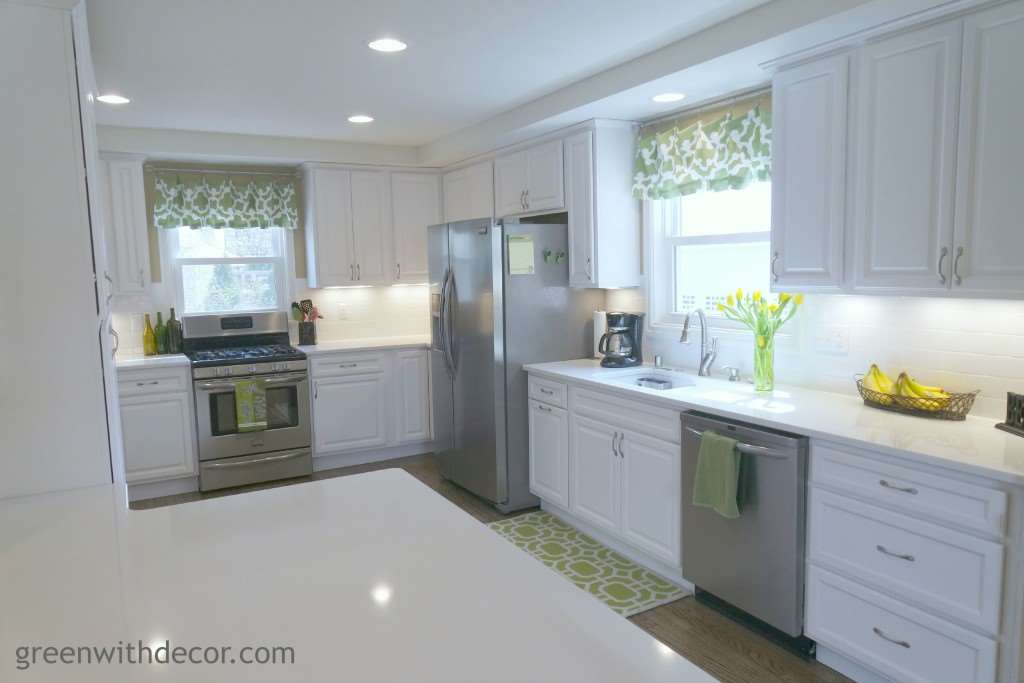 It might seem kind of funny to want a light switch near the back of the house (near our family room entrance), but on those perfect lazy weekends when we're lounging on the couch till the sun sets, we'll be coming into the almost-dark kitchen from that way and flipping the lights on.
Or when we're heading into the family room for a Netflix session after dinner, we tend to flip most of the kitchen lights off since we won't be hanging in there the rest of the night.
Let's be honest, I really doubt we'd always walk back over to the light switch near the back hall to flip the kitchen lights off, then walk through a (dark) kitchen to the family room. The lights would just end up being left on way more than they needed to, which isn't good for anyone.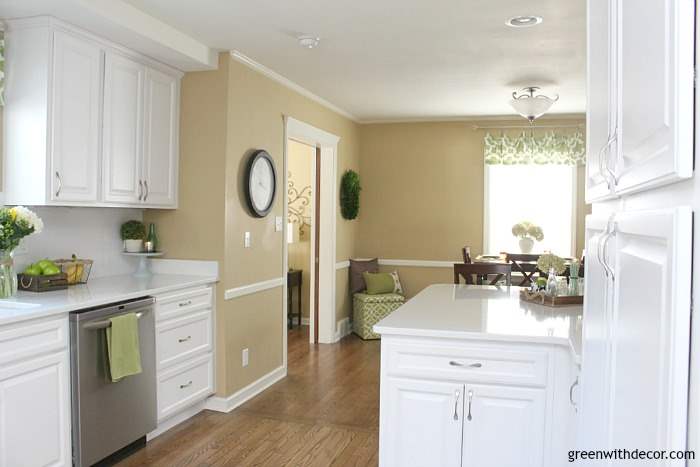 3. How you'll use different parts of the kitchen
For some of those parts of the kitchen you won't have on all of the time, light switches right near them might make the most sense. It does for us.
Light above the sink
We put the can light over the sink on its own light switch. It's easy to flip that one on or off when we're working at the sink (washing dishes and all that fun stuff!), and we really don't have it on unless we're standing right there since it's just one light.
This works perfectly, and we'd definitely do it this way again.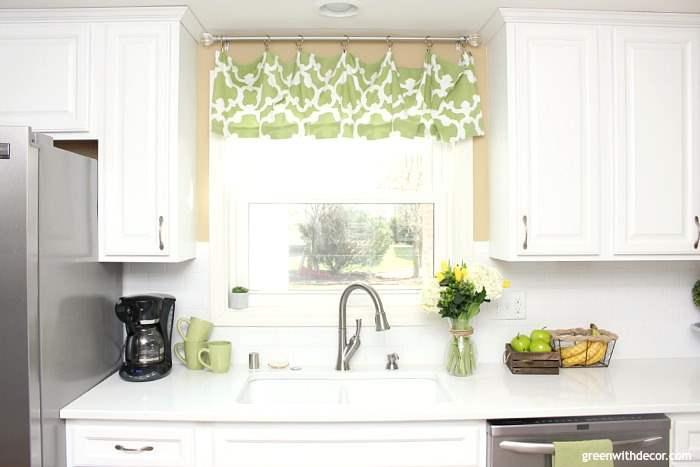 4. Duplicate light switches
I know I just talked about this above, but I wanted to call it out separately, too so it didn't get lost. Don't feel like you have to only have a light switch for certain lights in ONE spot.
If you're going to regularly enter the room from two different directions (like we do), put duplicate light switches near both entrances.
Plus this makes the whole "where to put light switches in the kitchen?" question a bit easier – if you have two of the same switches, you're bound to walk by one regularly.
5. Light switches all together or separate?
Totally mentioned this one above, too, but it's something to think about. It's nice to have some areas separate so you don't have to have all kitchen lights on at once.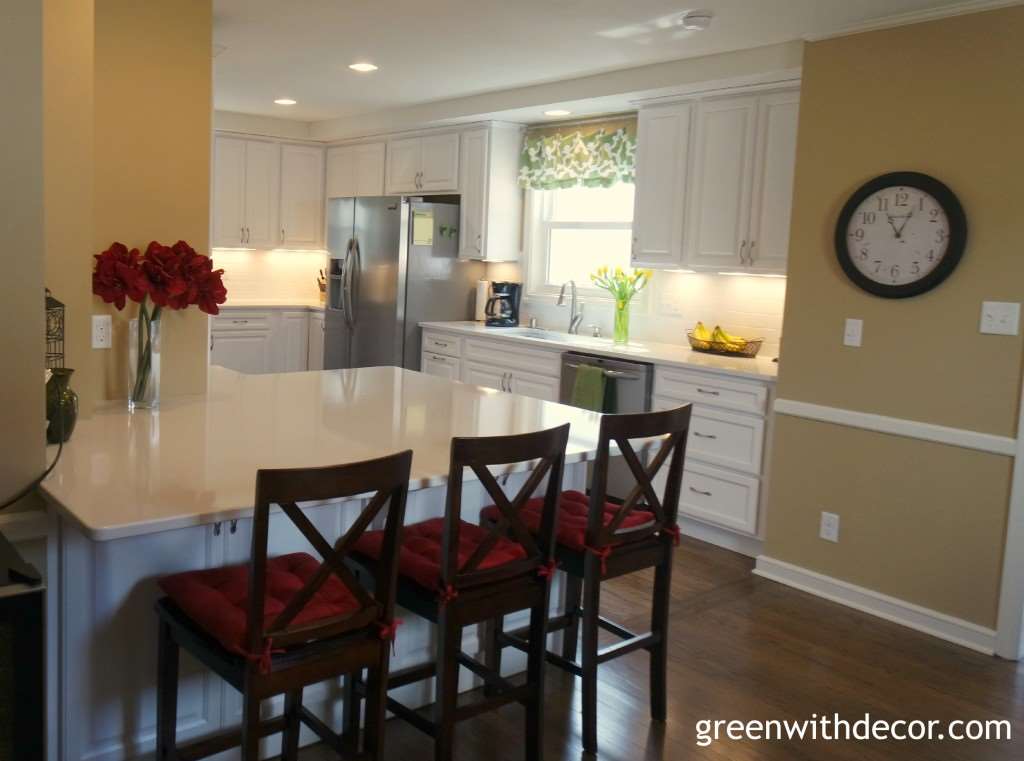 6. Light switches and backsplash
This actually didn't come up for us since we were using existing light switches that weren't anywhere near where we were installing our gorgeous backsplash, but it can come up in kitchen renovations.
Just another fun thing to consider! Think about if you want light switches integrated into the backsplash or if you want a seamless backsplash that really steals the show.
And you probably know this, but my detail-obsessive personality just has to say it: If you have light switches right in your backsplash, match the backsplash color and light switch plate color as closely as possible.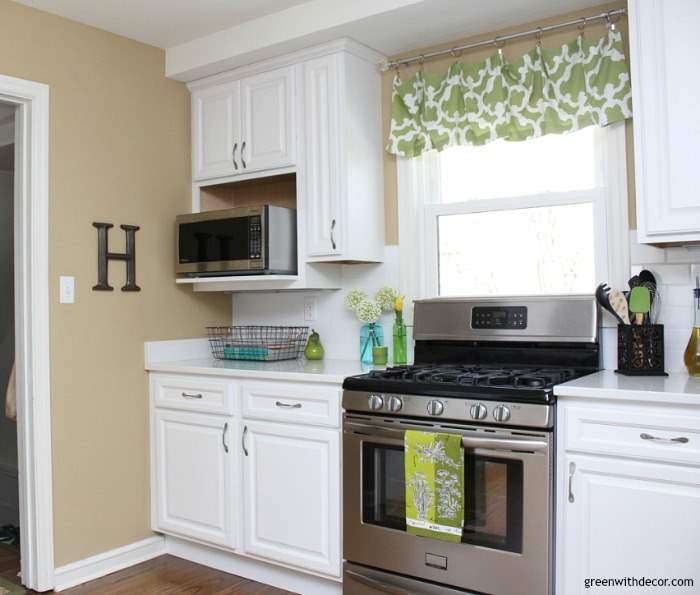 7. Right or left of room entrances?
Think about if you want light switches on the right or left side of the doorway when you walk into the room. Keep in mind that you'll be walking the opposite way (and using your opposite hand) when you leave the room, so this may not be as big of a deal after all.
Just something to think about!
8. Doors and hinges
If you have doors leading into your kitchen, the right / left thing really doesn't matter, since the light switches will end up on the side opposite the door hinges. (You don't want to have to reach across a door to flip on a light.)
9. Dimmers
Alright this one really doesn't have anything to do with light switch placement, but if you're thinking about light switches, don't forget about dimmers! Because they're awesome.
We love having the option to turn down the lights, especially on nights when we're just hanging in the kitchen chatting.
This post contains affiliate links. This means if you click the link and buy something, I may receive a small percentage of sales at no extra cost to you.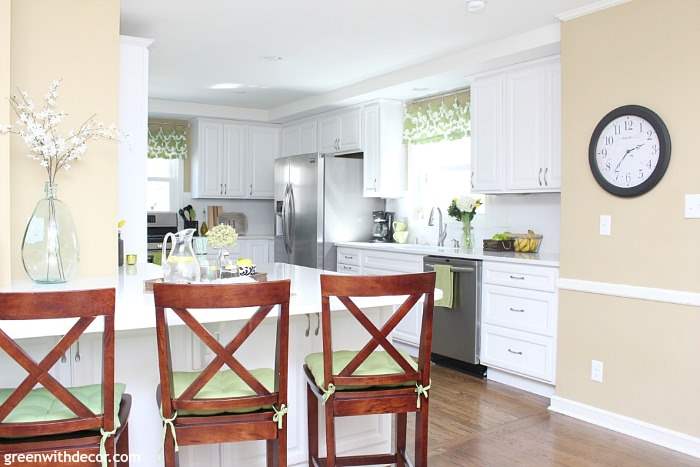 Whew, this post got LONG! Hopefully this list helps if you're stumped trying to decide where to put light switches in the kitchen!
It's a tiny detail in the grand scheme of a big kitchen renovation, but it does impact your daily life going forward so it's worth thinking about. (Speaking of keeping track of all of those crazy renovation details, be sure to grab my renovation checklist below so you don't miss anything!)
Have any other thoughts on light switch placement during a kitchen renovation? I'd love to hear them!
You can see our finished white kitchen renovation here.
GET THE LOOK:
Since a popular question I get is "Where'd you get that?!," here are links to the same or similar sources:
Planning your own renovation?
Download my printable Kitchen Renovation Checklist so you can easily keep track of each step.
*Please note: All printables and downloads designed by Green with Decor are for personal use only. Please do not alter the files or claim them as your own. These files are not intended for resale, nor are the printed versions of these files.
Remember to bookmark or pin this post if you want to save it for later!


Pin it!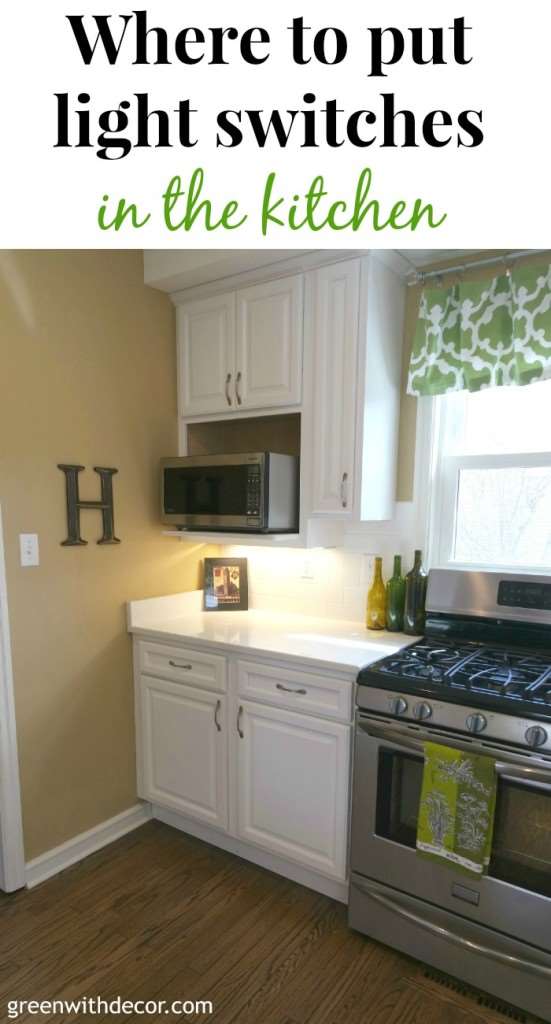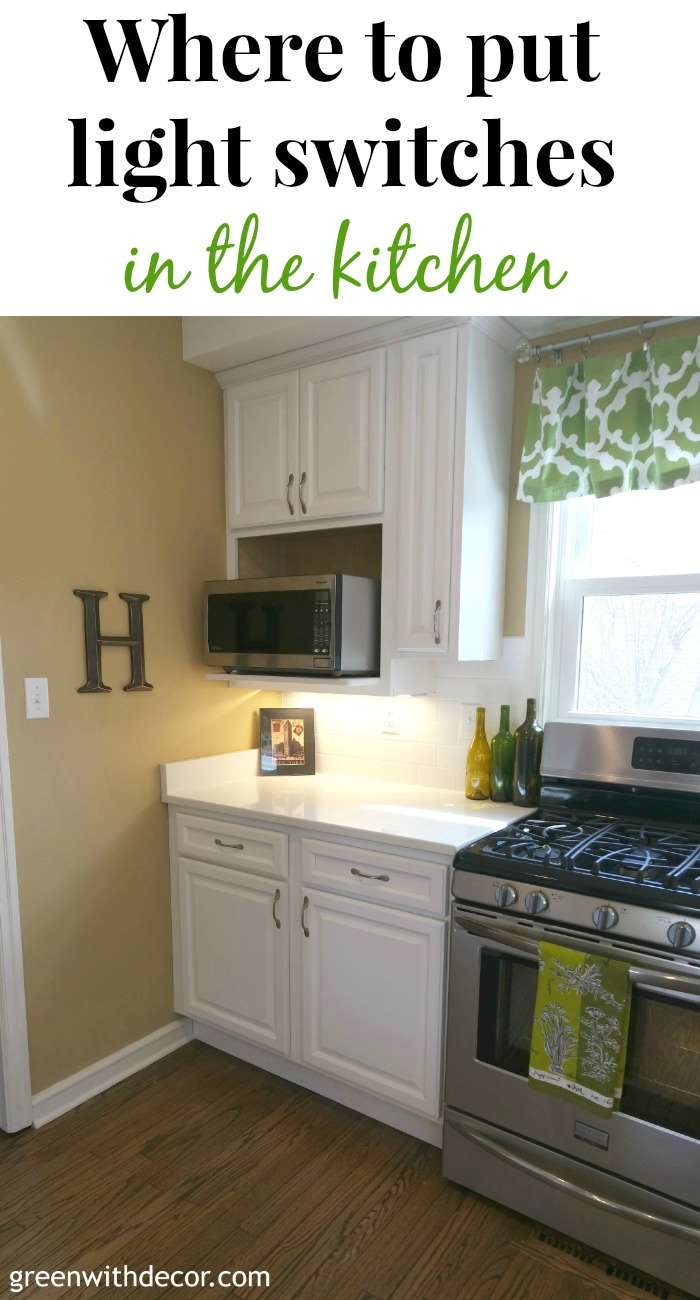 Want to read more posts like this?
Follow along: Get my emails | Facebook | Pinterest | Twitter | Instagram