I shared our guest bathroom reveal at the rental house earlier this week, so today I thought I'd share the bathroom renovation (and quick update) ideas we'd have for the room if we did own the the house.
Just in case you're also facing a faux-marble swirl counter with a seashell sink you'd like to change up. 🙂
You may remember the bathroom looked like this: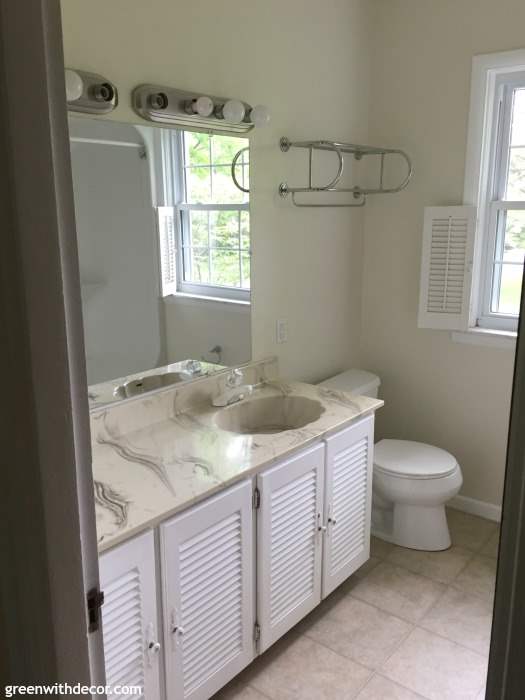 And we updated (painted) it to look like this: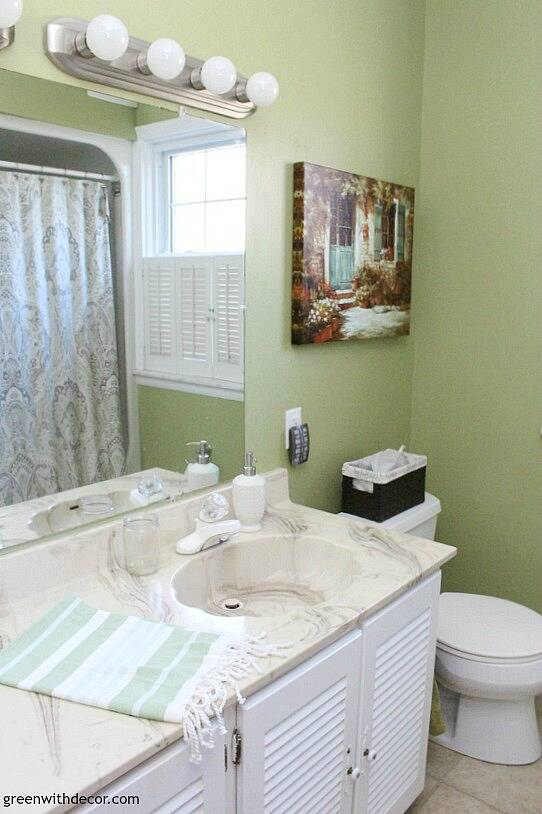 This post contains affiliate links. This means if you click the link and buy something, I may receive a small percentage of sales at no extra cost to you.
Renting has its challenges sometimes, but homeowners have a few (waaay) more options when it comes to bathroom updates. Here's what we'd do if we could:
Ideas for a mini bathroom makeover:
Sometimes mini room makeovers are more fun than full-blown renovations (not that I don't love those!) since it forces you to get creative, use some of what you have and look for easy ways to get a higher-end look.
Paint
Of course. We have this one handled, but it's always worth mentioning. It's such an easy way to update the look of a room.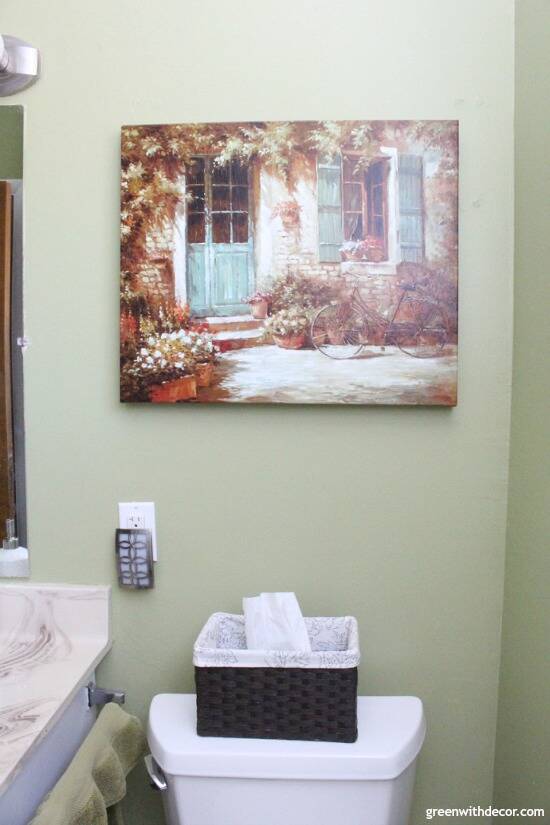 I love Ryegrass green, of course, but if you love blues, I share my favorite blue paint colors here.
Along with the walls, paint doors, window trim and the vanity for a fresh look, too. Basically, just paint everything! (New hardware goes a long way in a bathroom, too.)
New towel hooks
Again, super easy! The towel bars in here are attached to the doors so we just left them instead of replacing them like in our bathrooms.
The white hooks in the en suite bathroom (pictured below) and the DIY wooden spool towel rack in the powder room are my faaaaves. Who knew you could like towel hooks so much!?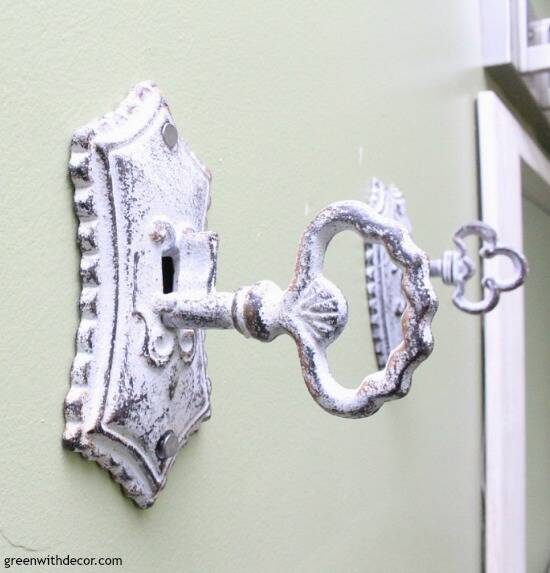 Refinish the counter/tub
I've seen this tub and tile refinishing kit that can give your swirly counters (or any outdated counters!) a makeover if you're not fully committed to ripping everything out and replacing it just quite yet.
It would take some work, but it's a good in-between option if you want an update without renovating.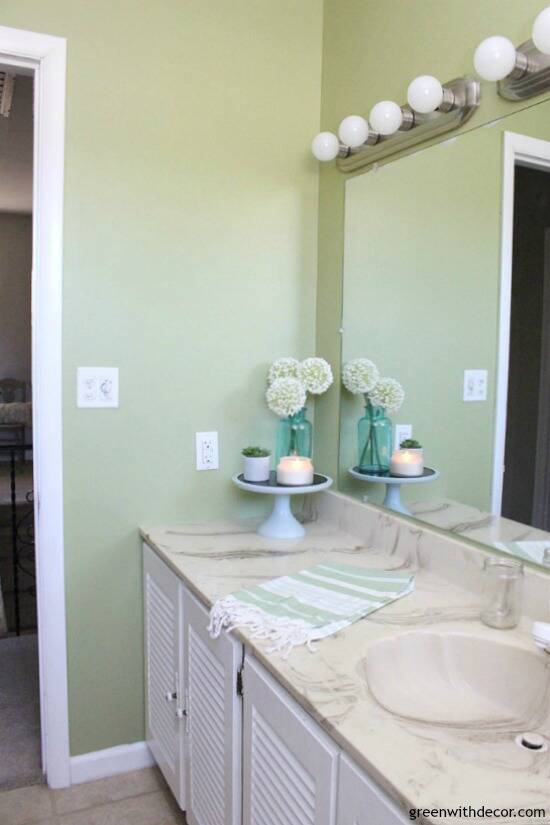 Frame the mirror
I'm usually one for switching an outdated mirror out for a new one (so easy and usually cheap), but if you have a huge mirror like we do in here, that's not really an easy option.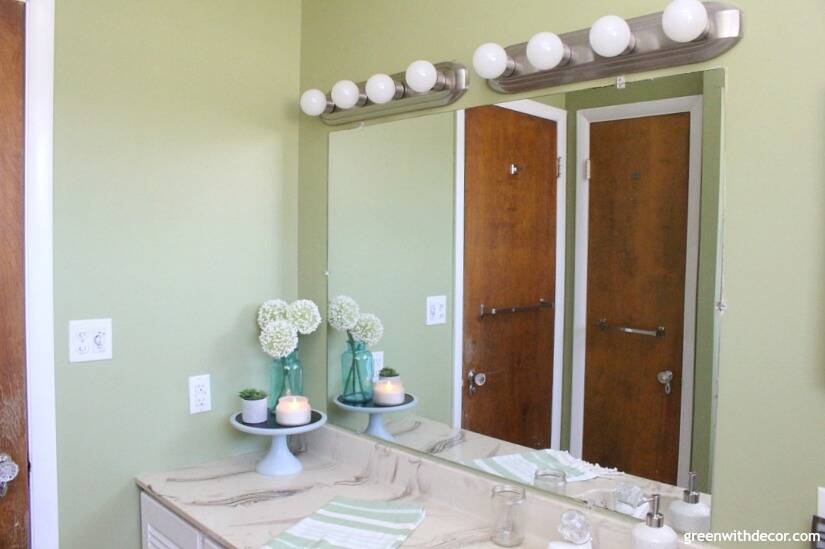 If you can't replace a big old mirror like this one quite yet, framing it is a good option.
We haven't actually tackled this project before, but I've seen it on Pinterest a lot. It makes the mirror looks SO much better! I have a few pins on my DIY projects board with tutorials if you're interested.
Paint the vanity/new vanity doors
I'm usually all for painting, but with the louvered doors we have on the vanity, paint isn't really the issue here. 🙂 New (solid) cabinet doors would make such a difference.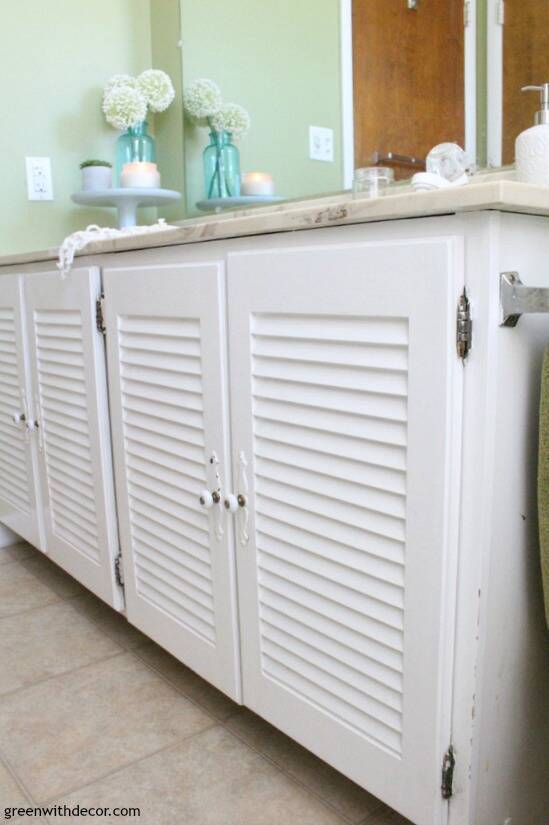 Ideas for a full bathroom renovation:
New vanity/counters
They make vanities taller than they used to so a taller vanity would sure be nice. Plus some quartz counters …
New faucet
…and a new faucet.
A lot of people would put a second sink in here, but we actually wouldn't. When we did our other bathroom renovation, we added extra counter space without a second sink, and I loooove it. Do whatever works for you, but it's something to think about!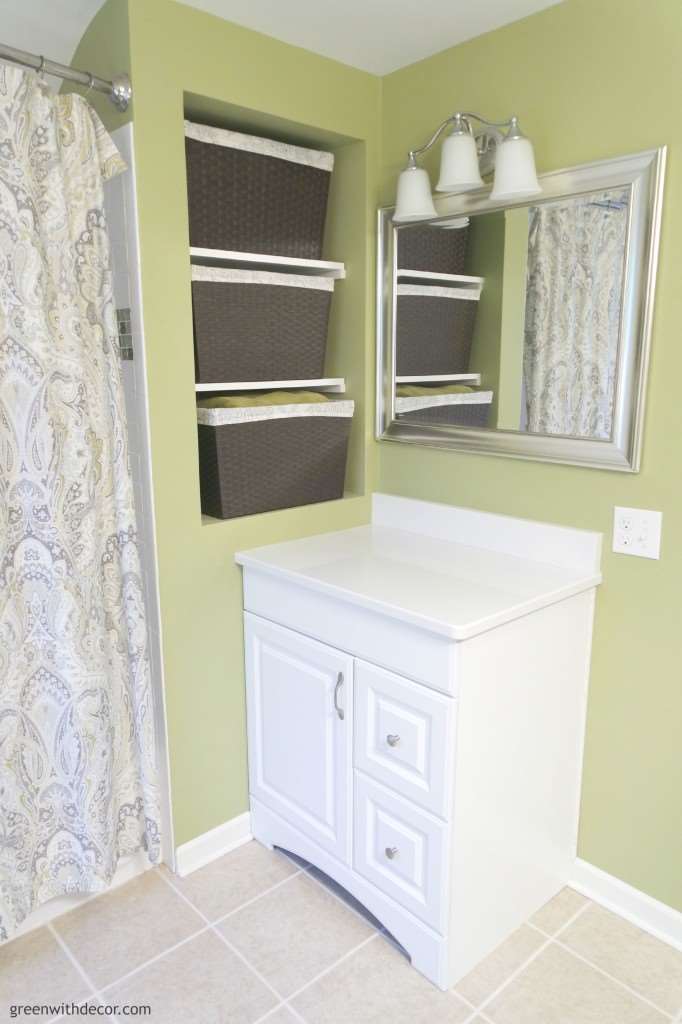 GET THE LOOK: Vanity | Cabinet handle | Cabinet knobs | Mirror | Baskets
New mirrors
Wouldn't it be pretty to get two vertical mirrors and hang them side by side – one over the sink and one over the extra counter space (or second sink if you go that route)? Plus this room is so tall, why not take advantage of that height?!

Mirrors hung vertically would make the room look even taller.
New light fixtures
I'd hang them higher, too (above the new mirrors) to really play up the height of the room.
If you're hunting for bathroom light fixtures, I share my favorite vanity lights on a budget here and my favorite sconces on a budget here.
New tub/tile
I'd obviously go with white subway tile (my fave) but replacing the tub would go a loooong way.
Something like we have in our other bathroom: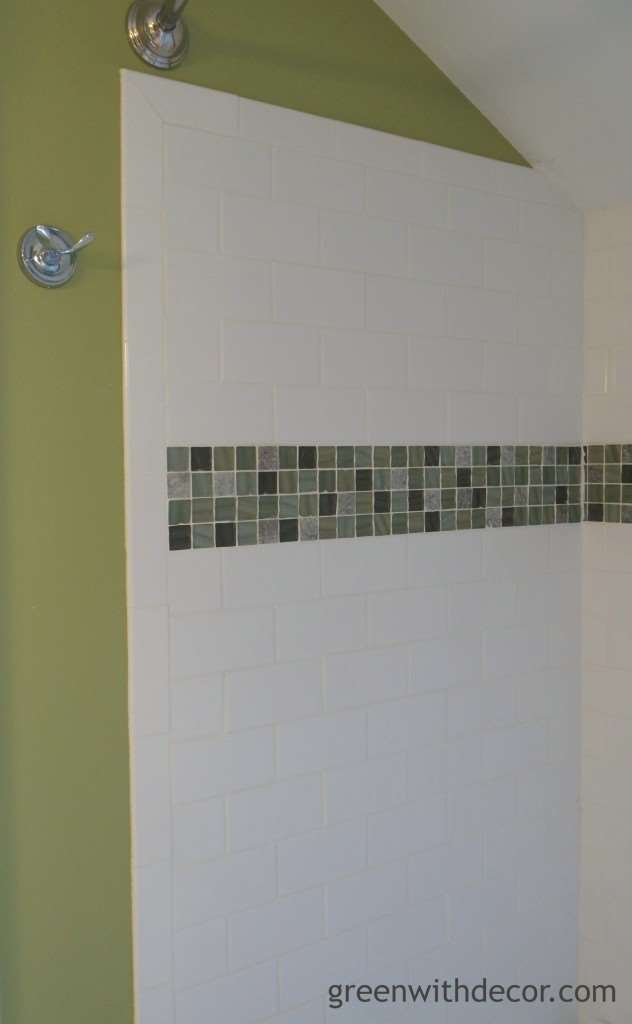 New floor
Pretty tile is always a good idea.
Do you have a bathroom in need of an update? Are you tackling smaller DIYs or jumping full on into a renovation?
You can see all of my bathroom renovation ideas and tips here.
Remember to bookmark or pin this post if you want to save it for later!


Pin it!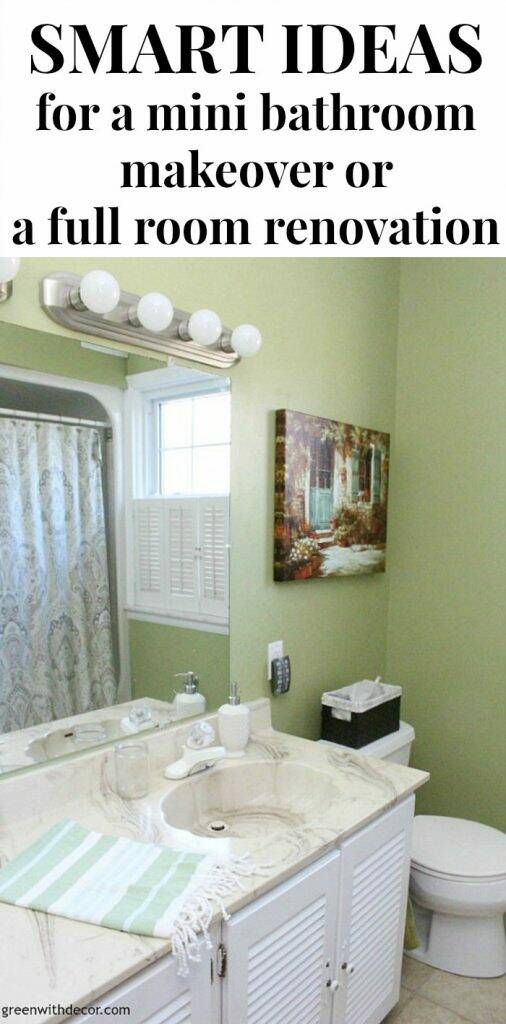 Want to read more posts like this?
Follow along: Get my emails | Facebook | Pinterest | Twitter | Instagram