If you saw the coastal mantel back in January, you might be thinking hmmmm, this mantel looks a whole lot like that one… you'd be correct!
(Or if you're new around here, yay and welcome!)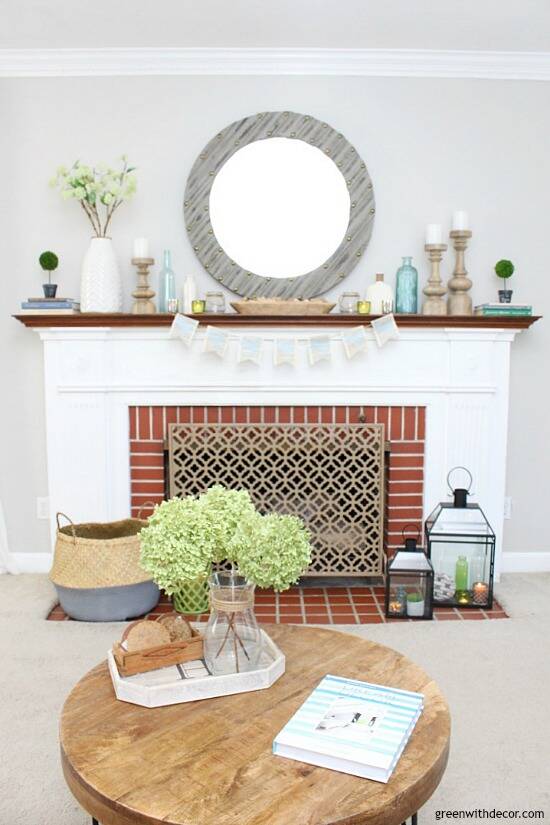 Basically I just swapped everything from one side to the other (more on that in a second), switched out the dark sticks in the white vase for some springy hydrangeas and moved the books around a little.
Oh, and added that springy bird/book page banner (such an easy DIY).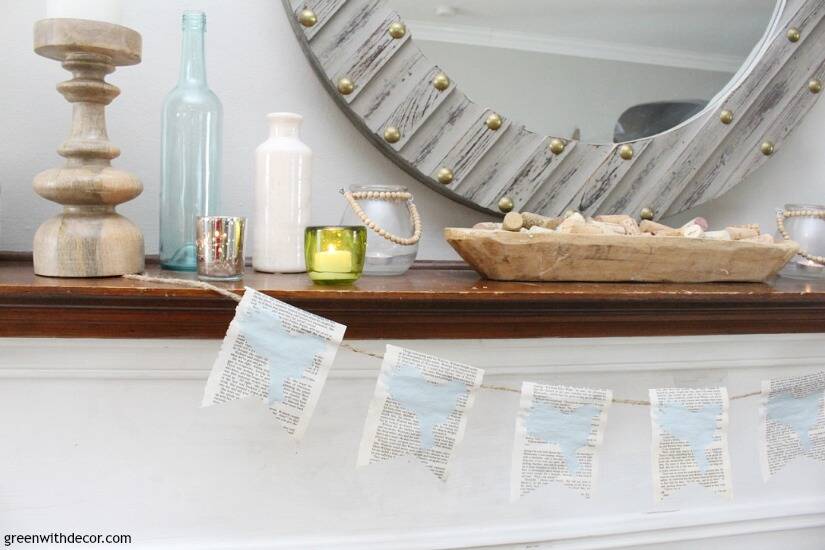 This post contains affiliate links. This means if you click the link and buy something, I may receive a small percentage of sales at no extra cost to you.
Looks look spring, yes?! If only the weather would get the message!
When I decorated the mantel after Christmas, I purposely did something that would work year-round so I wouldn't have to mess with it for a while – unless I wanted to! (If you saw last week's post with the big news, I've been a bit tired lately, ha!)
Sometimes all it takes is a few tweaks to make a mantel look ready for a new season.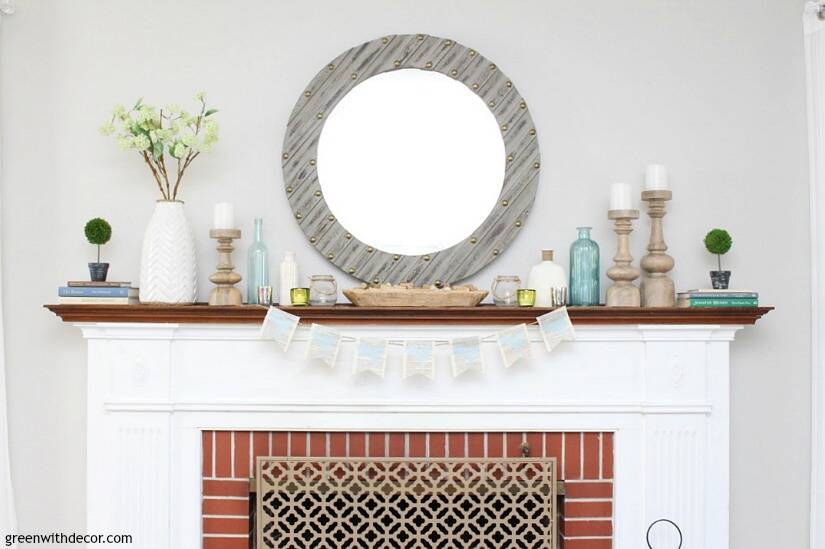 I wasn't even planning on swapping the pieces from side to side until I put that big aqua vase over on the table in the corner.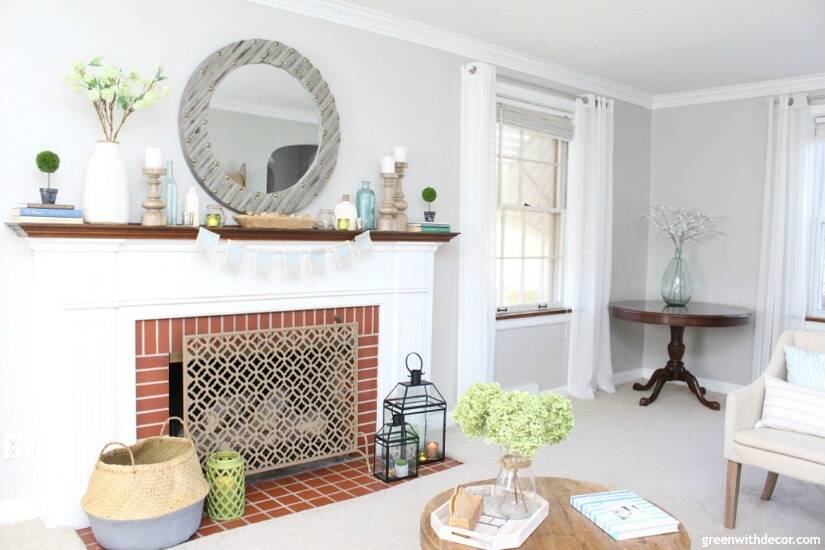 When I was sitting on the couch (across from the mantel), it just bothered me that I could see the aqua vase AND the white vase on the same side of the room without a vase on the left side.
Maybe I'm crazy. But balance is a good thing.
I swapped the vases, and with the white vase over on the left, the room looks a bit more 'even' so I can sit on the couch and relax in peace. 🙂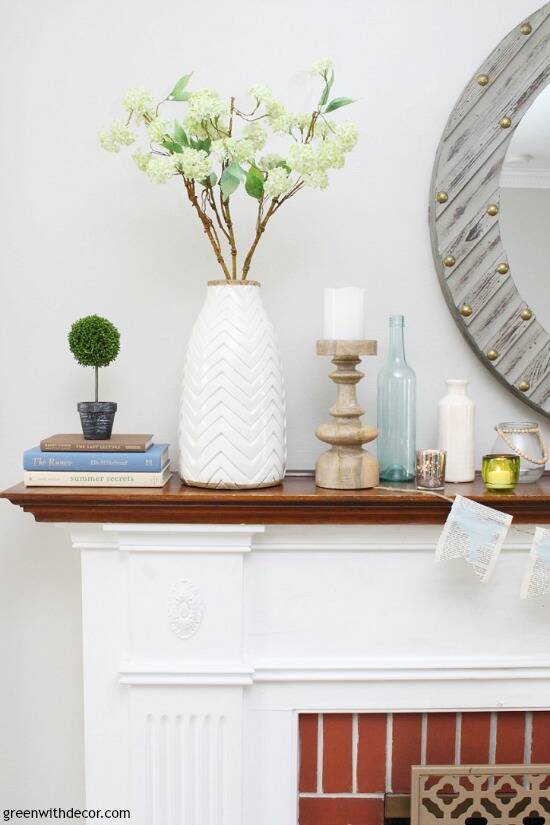 Today's post is part of the Decorate Your Mantel series hosted by my friend Amy from My Life From Home. Which means you get all sorts of pretty mantel ideas linked at the bottom of this post! (Or you can see all of my other mantel decorating ideas here.)
I also have links listed below if there are any specific decor pieces from our mantel you're wondering about.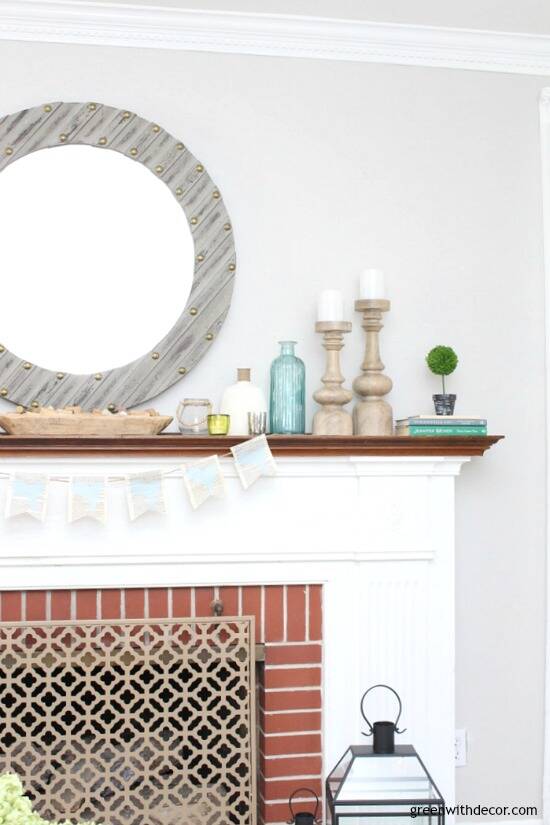 Aren't glass bottles just the best?! They always make such good decor. The aqua bottles are a wine bottle and from a shopping trip to Marshall's, and the white bottles are from our trip to Magnolia Market and an old liquor bottle I painted.
I really can't pass up cheap glass bottles when I see them, and I have a hard time tossing perfectly good wine bottles in the recycling bin, haha! (See this centerpiece for more proof!)
Corks work just great as filler in a bread bowl. I mean if you're stashing wine bottles, might as well keep the corks, too, right?!
And little votives in various sizes and colors are always good to keep in your decor stash, too. They work whenever you need to add a little something to the mantel, table, wherever!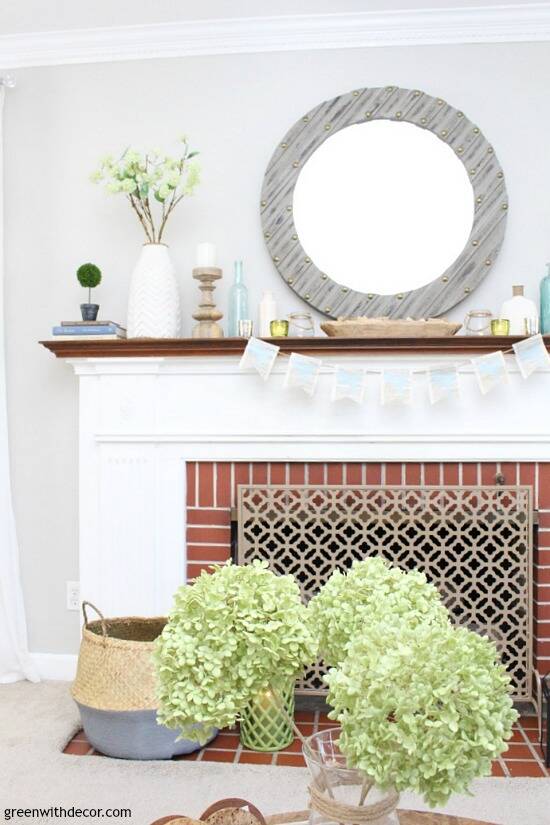 Here's to hoping if we keep decorating for spring ,it will show up soon!
GET THE LOOK:
Since a popular question I get is "Where'd you get that?!," here are links to the same or similar sources:
You can see more of our spring living room here if you're interested.
Remember to hop around to see the other bloggers' pretty spring mantels!
Remember to bookmark or pin this post if you want to save it for later!


Pin it!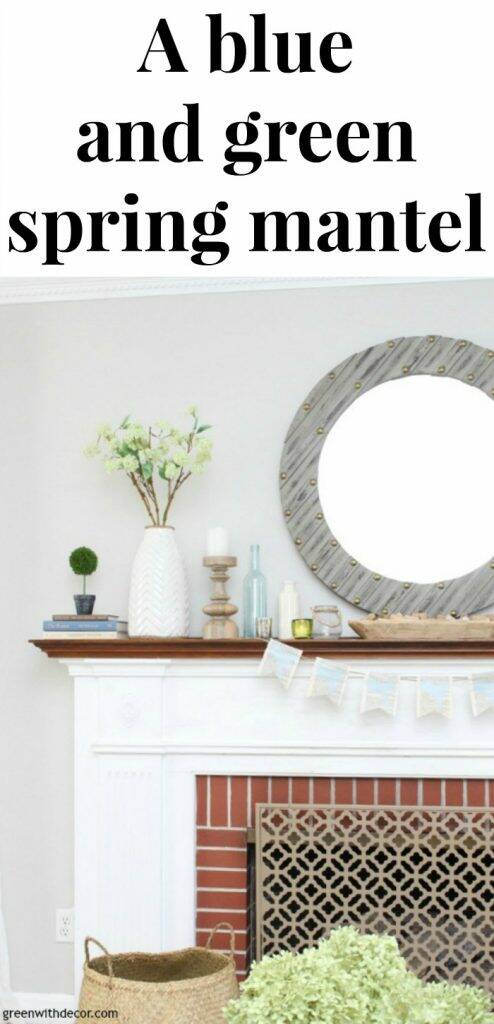 Want to read more posts like this?
Follow along: Get my emails | Facebook | Pinterest | Twitter | Instagram