Well it's mid-January and we finally have all of the Christmas decor organized and put away.
Maybe it's all the moving of Christmas/everyday pieces around and putting Christmas gifts away lately, but I was really craving a simple mantel that could work year-round so we could live with it for a while before I mix it up again. (Because we know I'll mess with it sooner or later.)
I just didn't want to do anything too winter-y that I'd have to switch up again soon while we work on getting other rooms decorated. So here's our simple coastal mantel: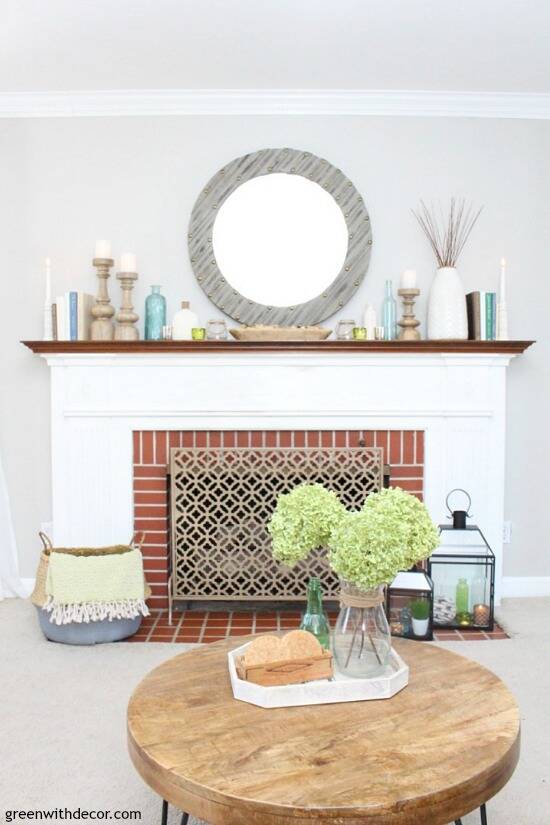 I'd say it works for winter or really any time of the year.
And along with keeping things simple, I have one other confession, this long mantel is throwing me a bit. It needs more decor than the standard mantel, which means I was putting stuff up and taking it down a bit before I landed on this little configuration.
Does anyone else have a long mantel? It's hard, yes?! So if you're stumped, too, hopefully this mantel provides some easy inspiration.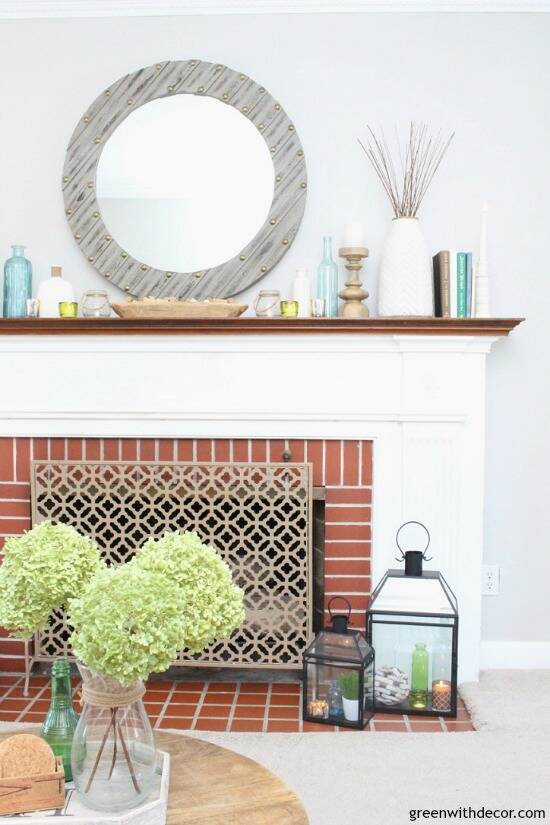 This post contains affiliate links. This means if you click the link and buy something, I may receive a small percentage of sales at no extra cost to you. 
Today's post is part of the ongoing Decorate Your Mantel series hosted by my friend Amy from My Life At Home. If you want more mantel decorating ideas – both winter ideas and more neutral everyday ideas like this one – scroll down to the end of the post for links to all of the other bloggers' mantels.
Per usual, our mantel is a mix of DIY projects and decor pieces from vintage and home decor stores/sites. I was going for similar but not symmetrical sides.
For height, I started with the big wood candlesticks and the big white vase. The candlesticks were a Christmas present, and I love them. That natural beachy wood tone is catching my eye all over the place lately. I got faux candles for on top of them to keep it simple. They're so tall you really can't tell.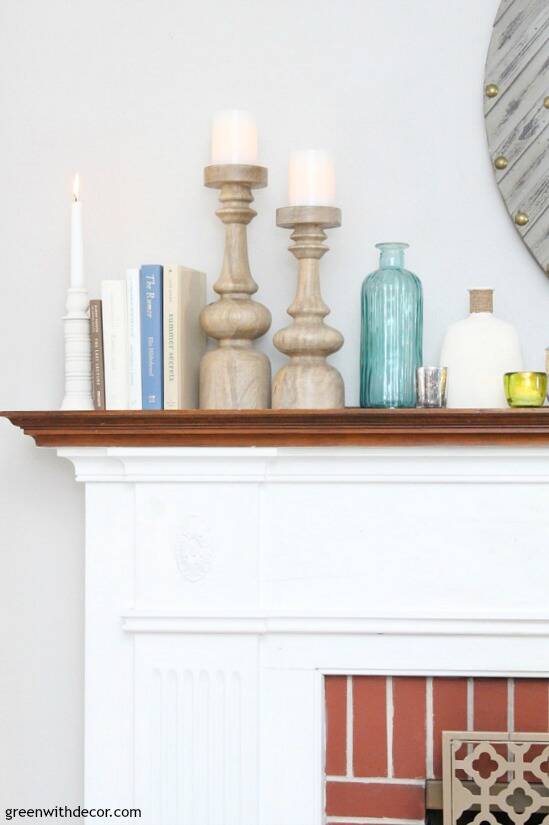 I bought that white vase recently. I mentioned it in a Friday Favorites post a couple weeks ago, I just love the white and wood combo.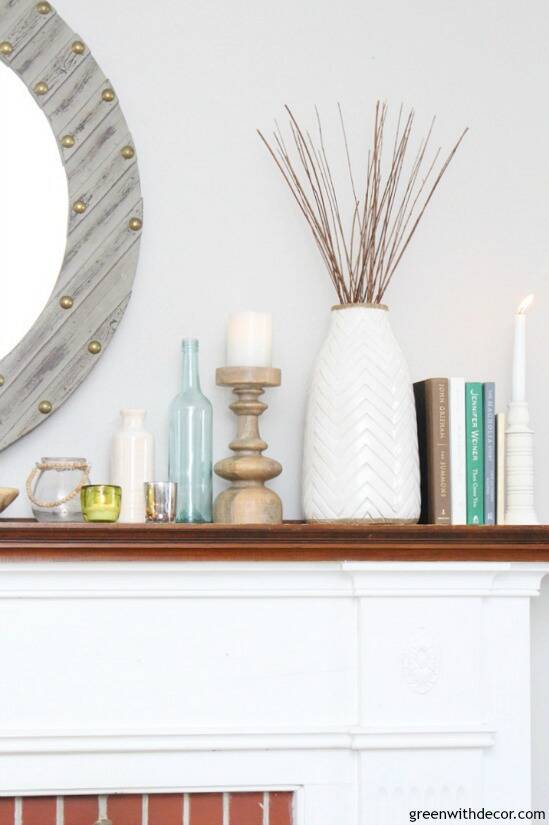 I kept the real candles for the little votives since you can actually see the flames in those. Those little glass beaded lanterns have become a fave, too. They just work for every season! Yay for neutral decor that works year round.

Of course I used wine corks (in the bread bowl) and an old wine bottle … that aqua color is too pretty  to toss in the recycling bin. The little white bottle is from our trip to Magnolia Market, and the other white bottle was a DIY – turning an old liquor bottle into a faux concrete bottle.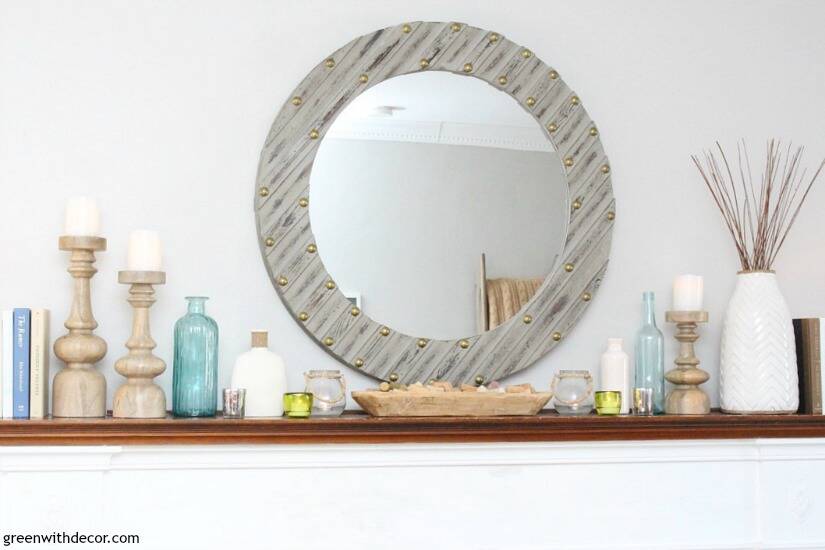 Whenever I add colors to rooms or little vignette setups like this, I try to add the color at least three times so it doesn't look random. The blue books don't exactly match the aqua bottles but close enough to tie it all together. And then with the green votives, I added the green book, too.
I basically raided our book collection until I found enough neutral, green and blue books to balance out this long mantel.  (If you have a standard-size mantel, this setup could totally work, too, just skip the books/white candles on the ends.)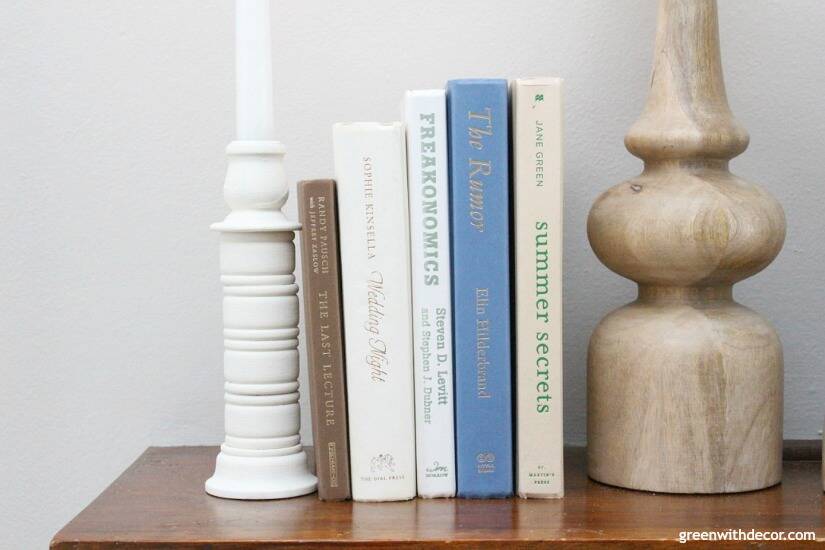 Those white candlesticks were actually beat up dark wood ones I found at Goodwill before Christmas. I never quite got around to using them for any Christmas decor, but with some white paint, they're perfect for year-round use.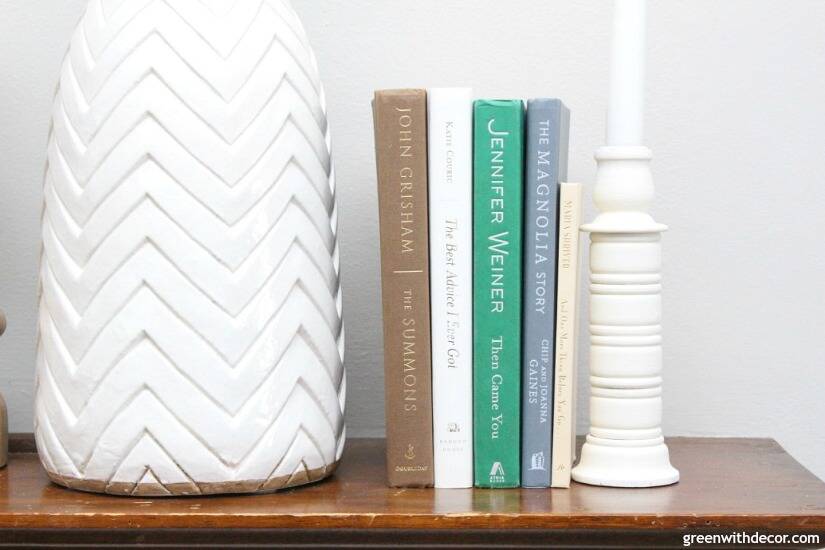 I've gotten questions about decorating the lanterns when I've shown the mantel before, so here's a close up.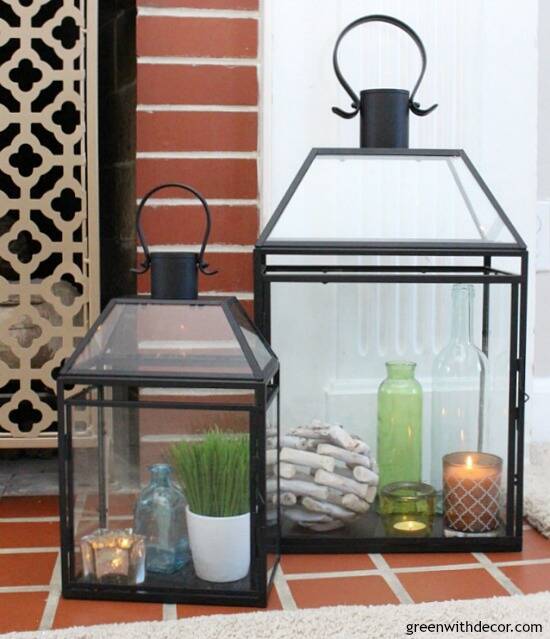 I'm obsessed with that seagrass basket. It's pretty and perfect for hiding Oakley's toys that she tends to leave all over the living room floor. 🙂  Win-win.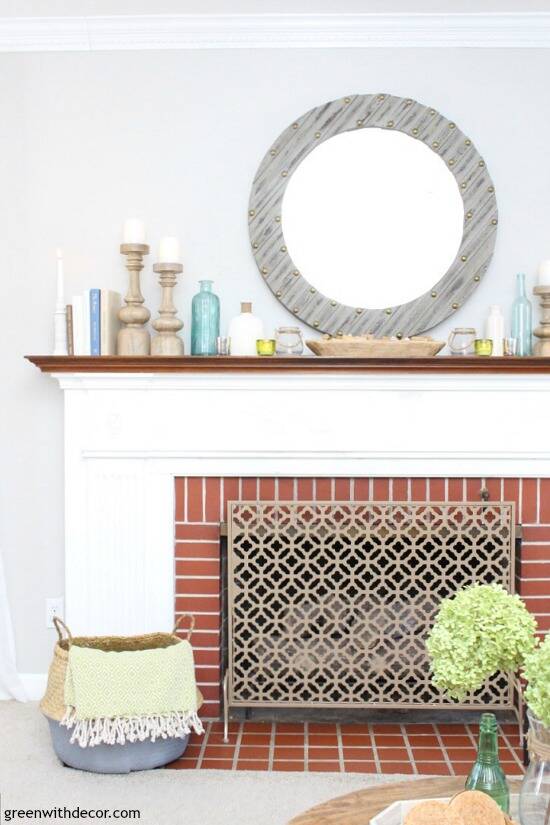 GET THE LOOK:
Since a popular question I get is "Where'd you get that?!," here are links to the same or similar sources:
Aqua bottles – Marshall's and an old wine bottle, this one is similar if you want one to order online
White bottles – DIY faux concrete vase here, other one here
Votive candles (I like these because they have the tin bottoms so the candles don't melt and harden into your votives.)
Glass/bead lanterns from Kirkland's, don't see them online
Gold fireplace screen from At Home don't see it online – this one is similar 
Check out these posts for more mantel inspiration:
Hop around to the other bloggers' winter mantels linked below!


Remember to bookmark or pin this post if you want to save it for later!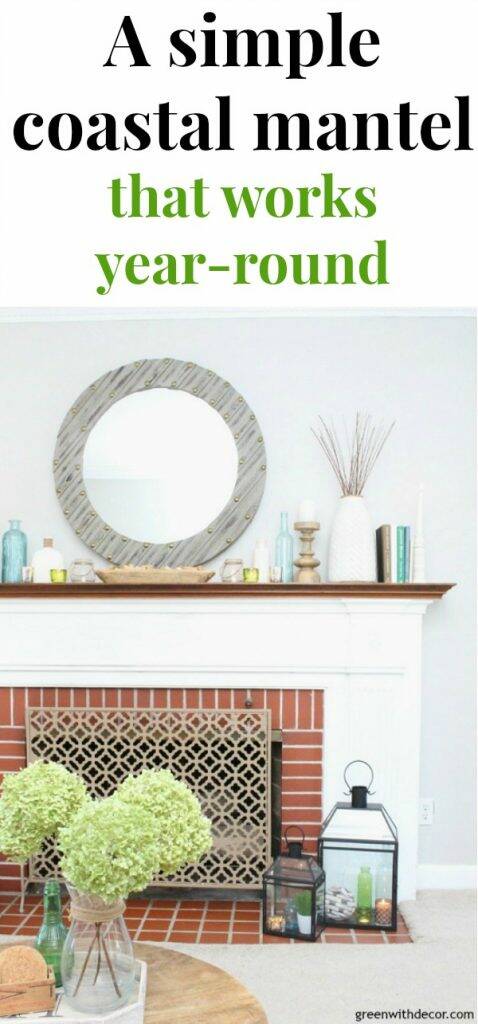 Want to read more posts like this?
Follow along: Get my emails | Facebook | Pinterest | Twitter | Instagram | Google+