It doesn't take much to freshen your house for spring! Here are easy blue and green spring decorating ideas for the foyer, living room and dining room.
It's been all about spring around here lately, and I'm loving it.
Even if it's not totally spring weather outside yet (come on already!!), freshening up inside makes it feel like spring is coming, doesn't it!?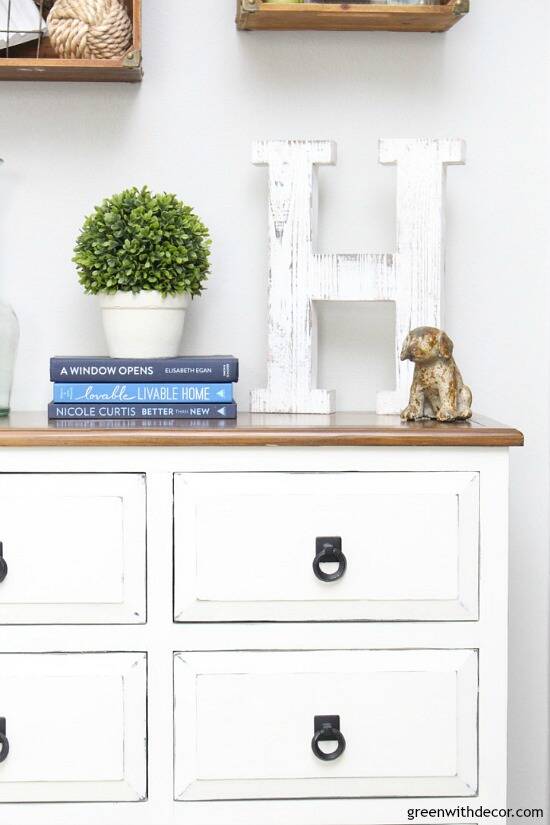 My friend Jenna from Wife in Progress is hosting an awesome group of bloggers for this week's Styled For Spring Home Tours so be sure to hop around to the other bloggers' linked at the end of this post.
If you're hopping over from My Thrift Store Addiction or are new around here, welcome!
I'm so glad you found me – you can learn more about me here or tour our house here.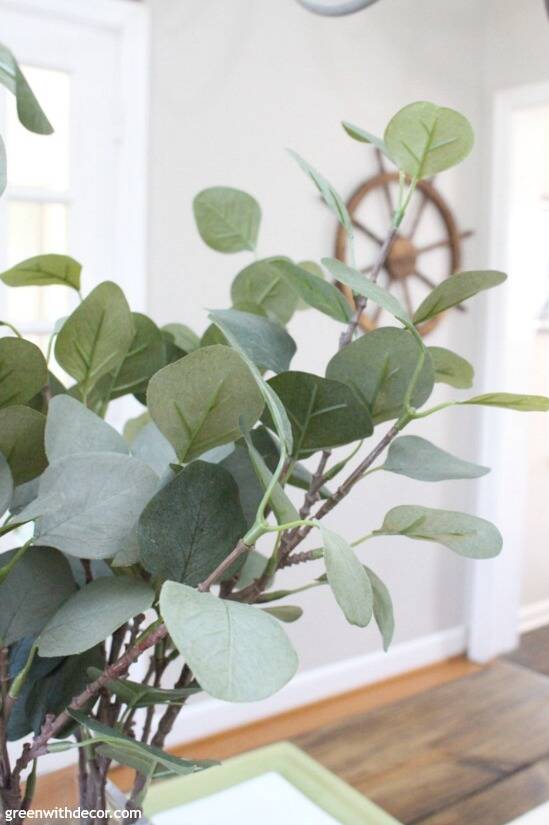 We're still in the process of decorating, um, more than a few rooms around this rental house, but the back foyer, living room, and dining room are done (or almost done in the case of the dining room), so I added a few blue and green spring touches in those rooms.
This post contains affiliate links. This means if you click the link and buy something, I may receive a small percentage of sales at no extra cost to you.
Spring foyer decorating ideas:
Is it weird that this little back foyer is one of my favorite spots in the house?
It's actually just a blank wall in our kitchen we made work for us, and I loooove it.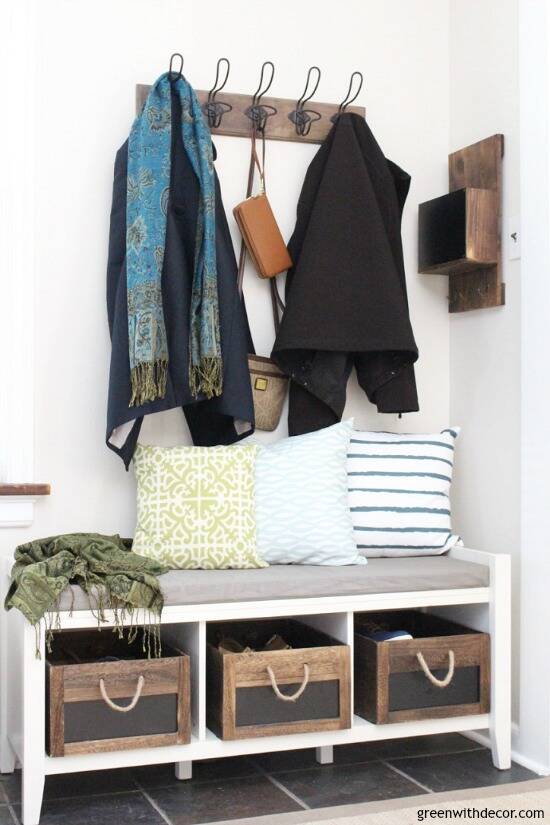 It's the perfect drop zone for coats, scarves, boots/sandals (spring weather is weird), Oakley's leash, keys, you name it!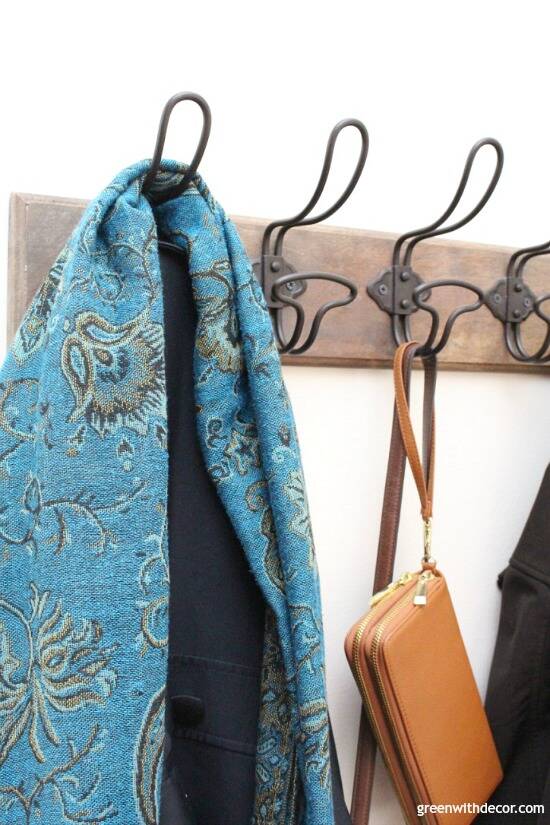 And not only does the bench have those cute crates for hiding our shoes, but it also has room for throw pillows!
My fave.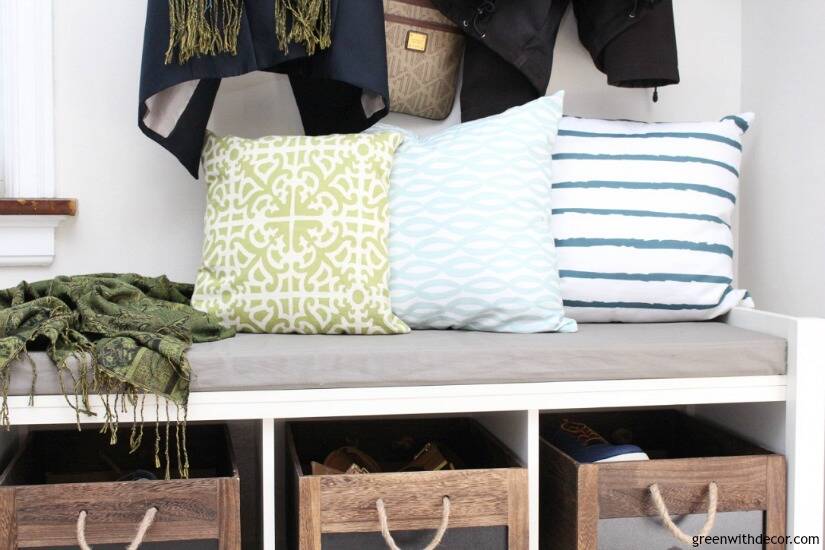 My favorite ways to add a little spring decor to a foyer are:
Pillows – you can never have enough
Scarves – might as well double cute clothes as decor, right? Leave a few scarves out in your favorite spring colors, and it's instant decor!
Put away the winter stuff – Depending where you live! Hopefully, you're lucky enough to stash away at least the heaviest coats and boots till next year!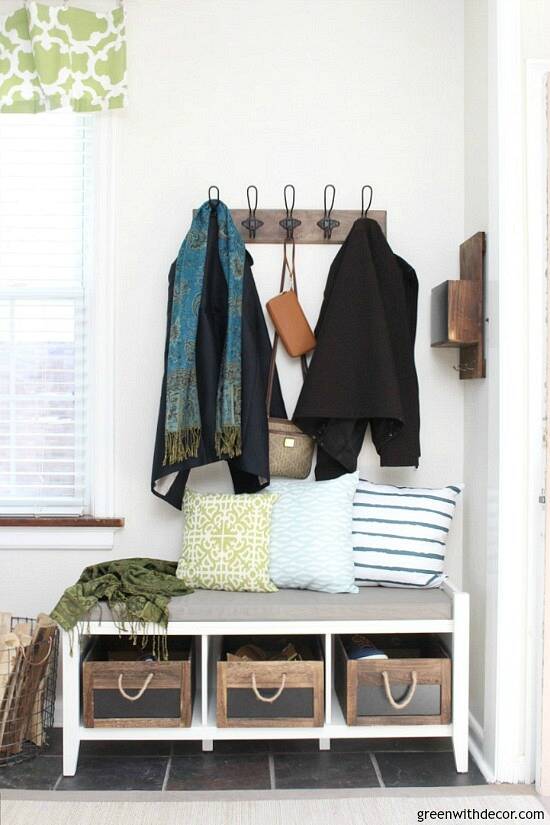 GET THE LOOK / BACK FOYER:
Since a popular question I get is "Where'd you get that?!," here are links to the same or similar sources:
Spring living room decorating ideas:
I shared a whole spring tour of our living room last week (and the spring mantel yesterday), so I won't share alllll the photos again, but here are a few of my faves.
You can see even more of our blue and green living room here.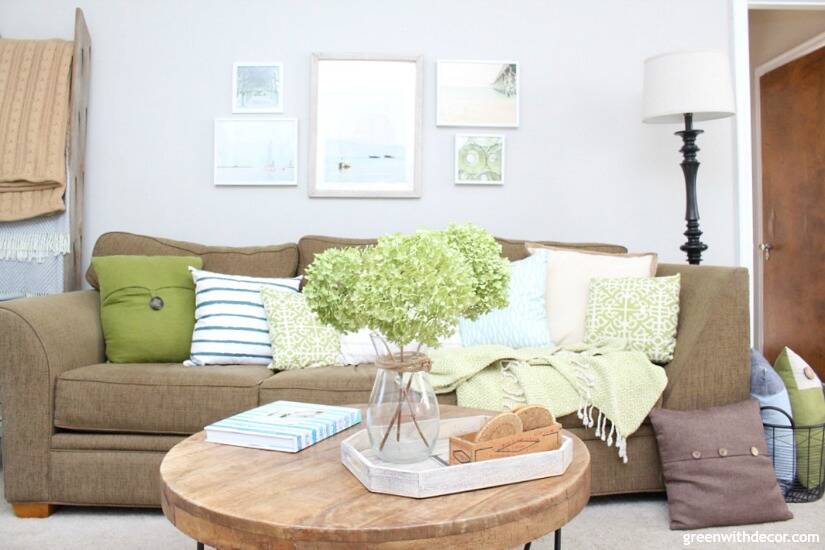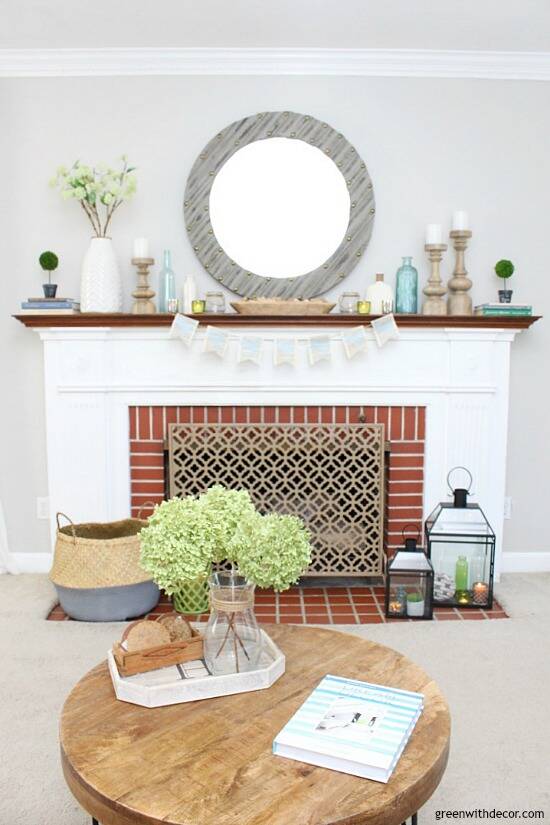 My favorite ways to add a little spring decor to a living room are:
Pillows – of course!
Flowers – faux or real. Those green hydrangeas on the mantel were from our trip to Magnolia Market, and the dried hydrangeas on the coffee table are from my Grandmom's garden last year. (It's so easy to dry hydrangeas!)
Plants – again, faux or real. I use the little topiaries on the mantel throughout the year, but faux plants always seem especially perfect in the spring and summer.
Switch things up – even if you don't go crazy, just rearrange the mantel or wall shelves a little, or swap the pillows on the couch with pillows from your bedroom. The room will instantly feel fresh and new!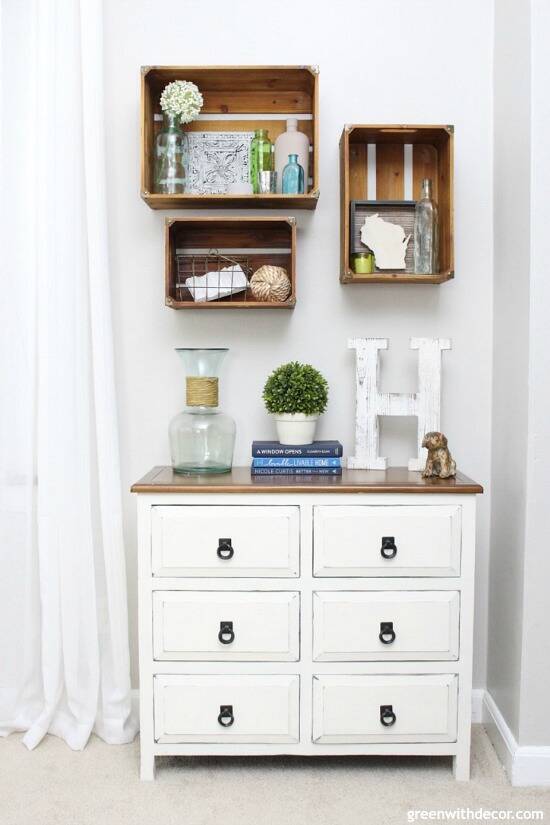 GET THE LOOK / LIVING ROOM:
Since a popular question I get is "Where'd you get that?!," here are links to the same or similar sources:
Spring dining room decorating ideas:
I shared our simple spring dining room last week, too.
I kept it pretty easy with some awesome faux eucalyptus for a centerpiece and a new table runner my mom grabbed me (love having a personal shopper – ha!).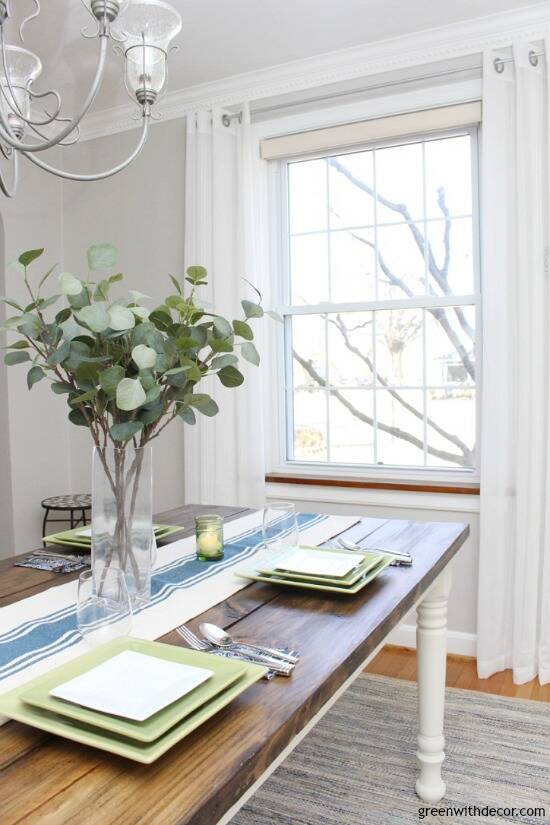 My favorite ways to add a little spring decor to a dining room are:
Plants – faux or real! Notice a spring theme? Plants and flowers, ha! This faux eucalyptus is my new obsession.
Napkins or placemats – Even just new paper napkins can add a little 'newness' to the table. New placemats or chargers (I just bought these!) can give the table a new feel, too.
Switch things up – I might just repeat the same tips from room to room, but hey, they work! A new centerpiece or table runner makes a table feel fresh and springy.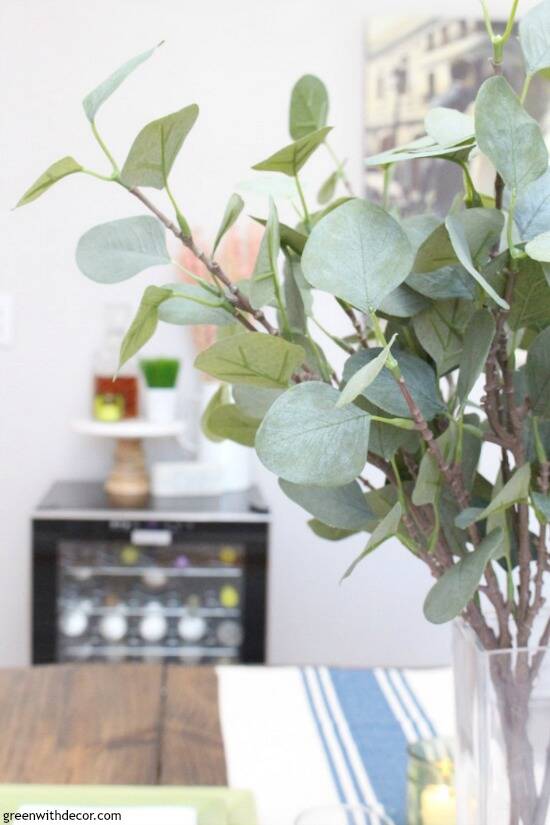 GET THE LOOK / DINING ROOM:
Since a popular question I get is "Where'd you get that?!," here are links to the same or similar sources:
STYLED FOR SPRING HOME TOUR BLOGGERS
Remember to hop around to see all of the gorgeous spring decorating ideas from the bloggers below.
Wife in Progress | Postcards From The Ridge | Sand Dollar Lane | Lovely Etc. | Noting Grace | Farmhouse For Five
Green With Decor (you're here!) | My Life From Home | Bisozozo | One Mile Home & Style | Create & Babble | My Thrift Store Addiction | Paint Yourself a Smile
Saw Nail and Paint | The Tattered Pew | Brown Dog Vintage | Red Cottage Chronicles | Savvy Apron
Aratari At Home | Home Made Lovely | Atta Girl Says | Inspiration for Moms | The Happy Housie
A Blue Nest | Hashtag Blessed Blog | Bluesky at Home | The Frugal Homemaker | A Purdy Little House | Twelve on Main | Our Crafty Mom
Remember to bookmark or pin this post if you want to save it for later!

Pin it!

Want to read more posts like this?
Follow along: Get my emails | Facebook | Pinterest | Twitter | Instagram