Fall is absolutely my favorite season, but I hadn't really decorated for fall until the past couple of years.
I wanted to, but it seemed like a waste of money to buy a bunch of fall decorations that I couldn't use year round. Even though I've always decorated for Christmas, somehow I couldn't justify decorating for other seasons.
I've since changed my mind. I've found ways to quickly update our house to look ready for fall without spending a lot and then feeling guilty for it.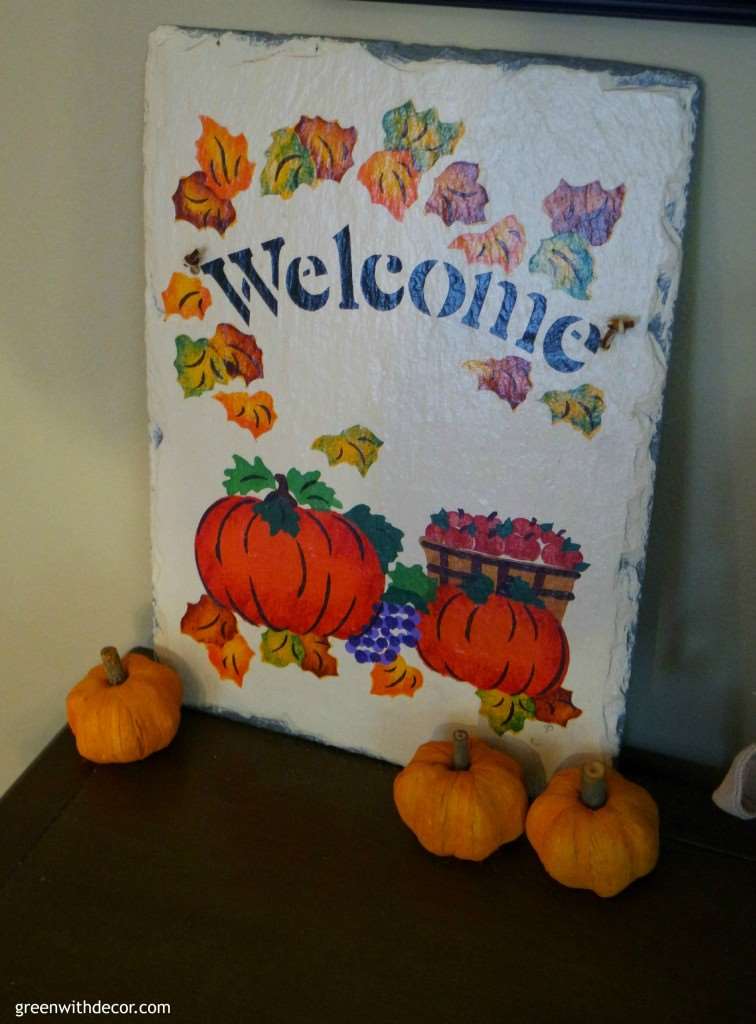 Here are my five affordable tips for decorating for fall:
1. Pick a color scheme to stay focused.
It seems like every color is a fall color these days – red, orange, yellow, green, white, cream, brown, black, gray, silver, gold … the list goes on forever!
Without a color scheme in mind, decorating for fall can be overwhelming. At first I felt like I didn't know where to begin – and some of those colors aren't even colors I like decorating with.
I didn't want to decorate with a bunch of fall items that didn't match the overall look of our house.
This post contains affiliate links. This means if you click the link and buy something, I may receive a percentage of sales at no extra cost to you.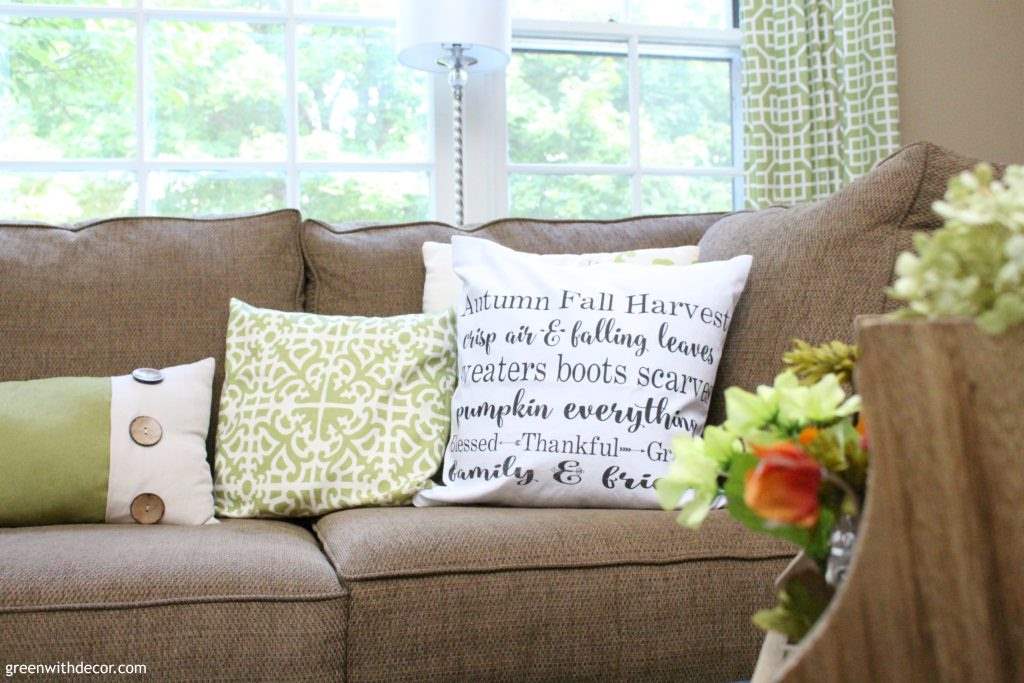 GET THE LOOK: Green pillow | Green + white pillow | Fall pillow cover | Couch
I wanted our house to have a cohesive look, so I stuck with green, white and orange for fall.
I used some darker greens than I typically use in decorating, but it flows well with the everyday items we leave out year round.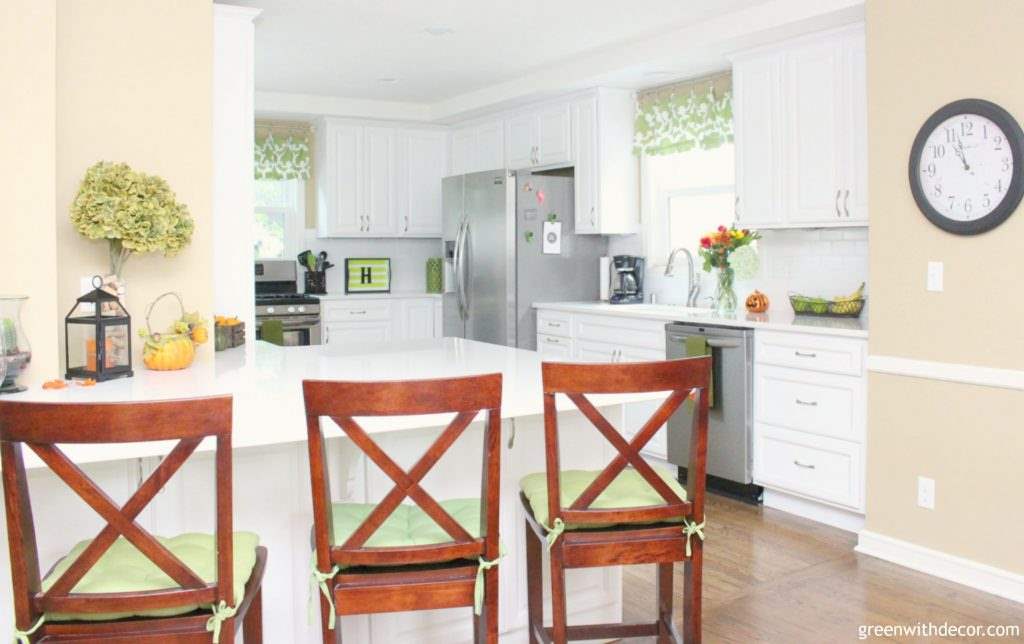 GET THE LOOK: Bar stools | Cushions | Hydrangeas | Lantern | Curtain rod | Window valance (DIY) | Faucet | Cabinet hardware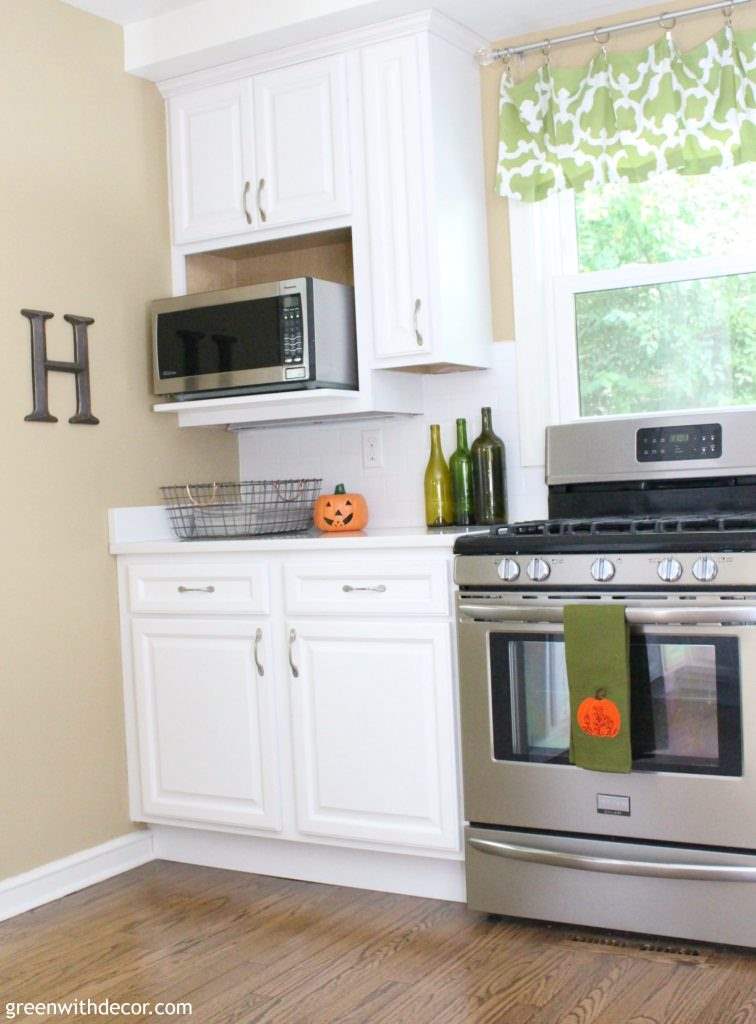 Orange is a color I only use for fall, but when it's used here and there, it doesn't stand out in a bad way.
(You can see the tutorial for the window turned picture frame here.)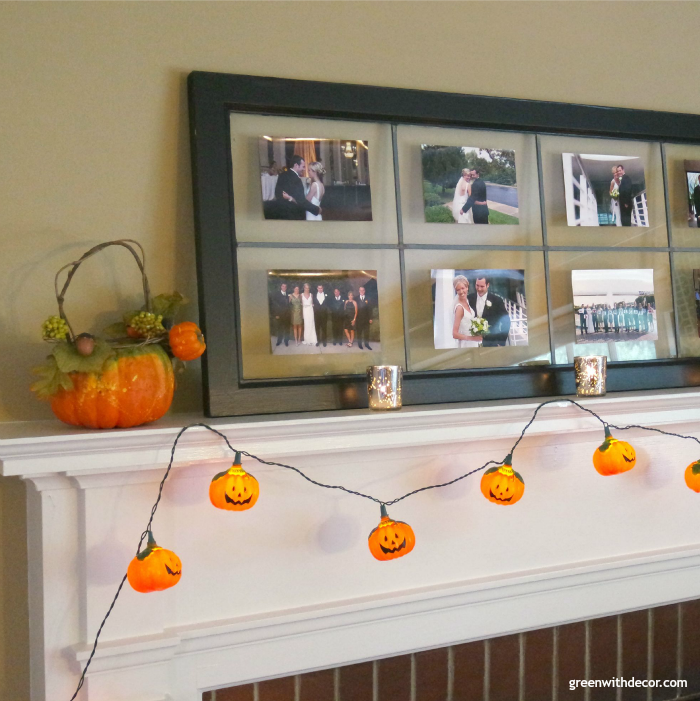 2. Use what you have in a new way.
I wanted to keep this vase with the corks on the counter, so I swapped out the brighter green summery flowers for these dark green hydrangeas.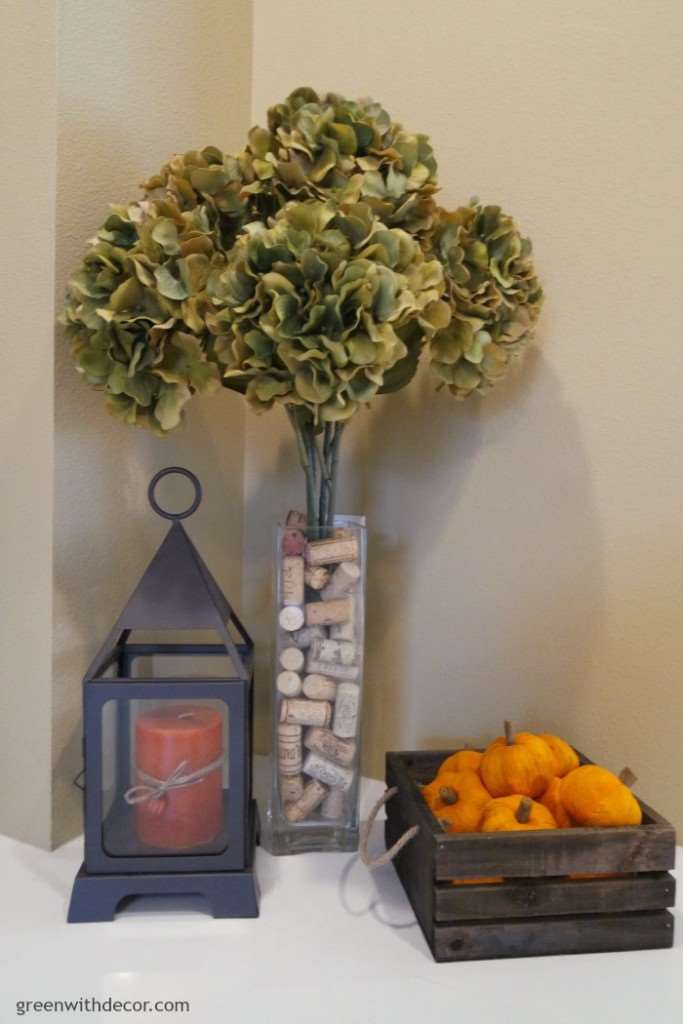 To give the lantern a fall look, I traded the white candle I had in there all spring and summer for this orange candle from TJ Maxx. For just $3, this lantern instantly looks updated for fall.
Scarves are an easy way to get a festive look in different seasons throughout the year.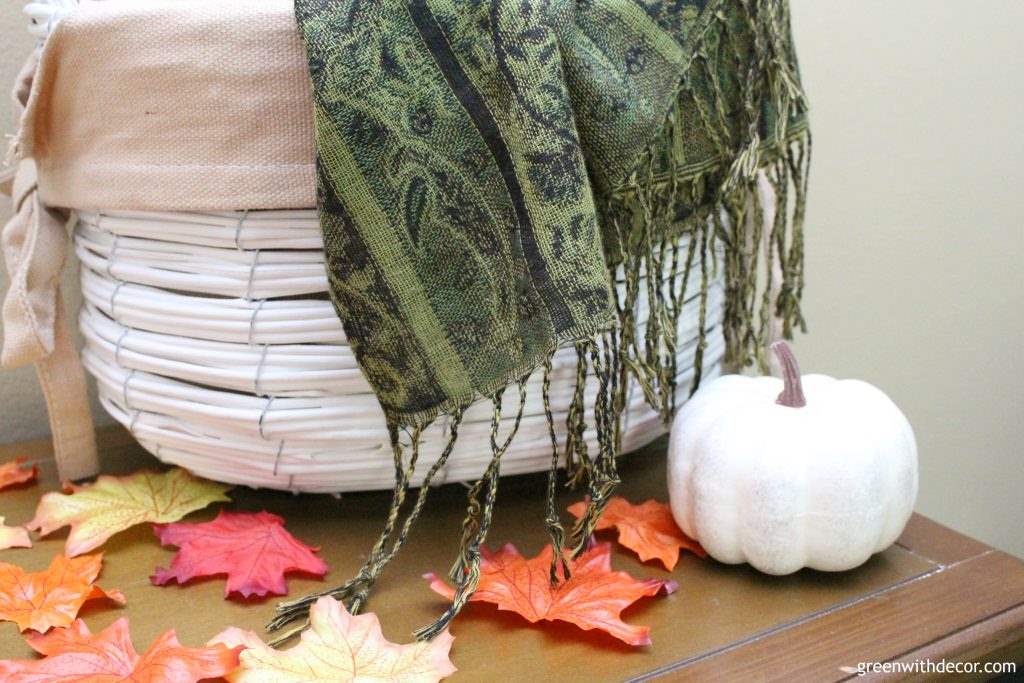 3. When you're shopping, buy items you can use in multiple seasons.
This wooden drink caddy is fun to use year-round. You can see how I used it for a summer centerpiece here.
The summer flowers seemed too, well, summery, so I updated the caddy for fall with some flowers I got from Michael's and one of the small hydrangeas I dried. I love the mix of green and orange!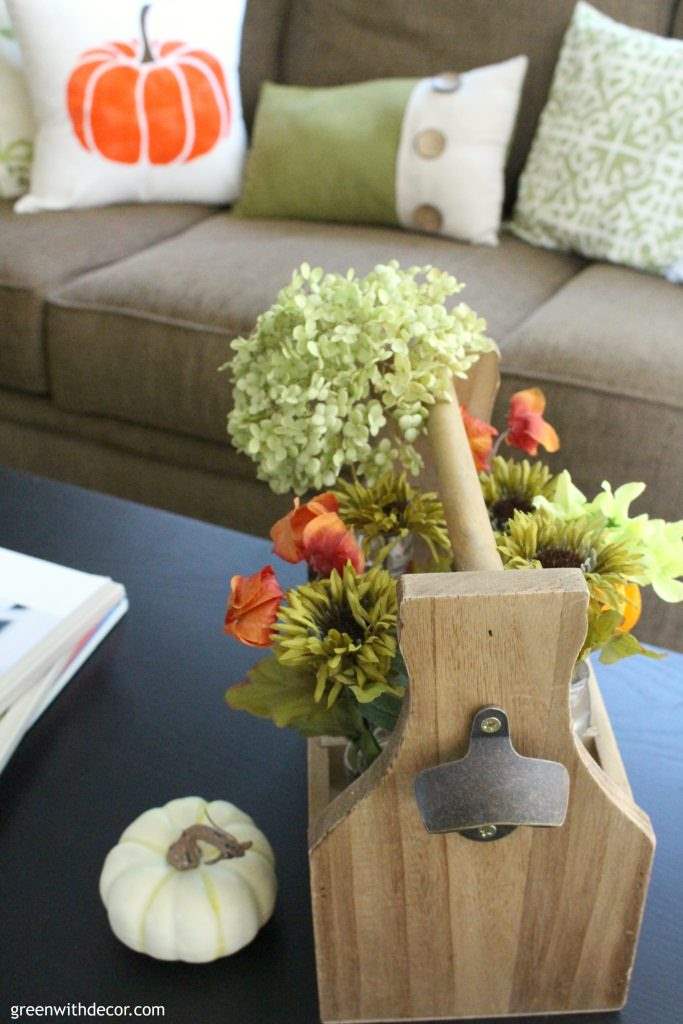 The white and dark green will work for a Christmas-themed decor piece. I just have to swap out the orange flowers for some red. I'll probably add some white in there, too.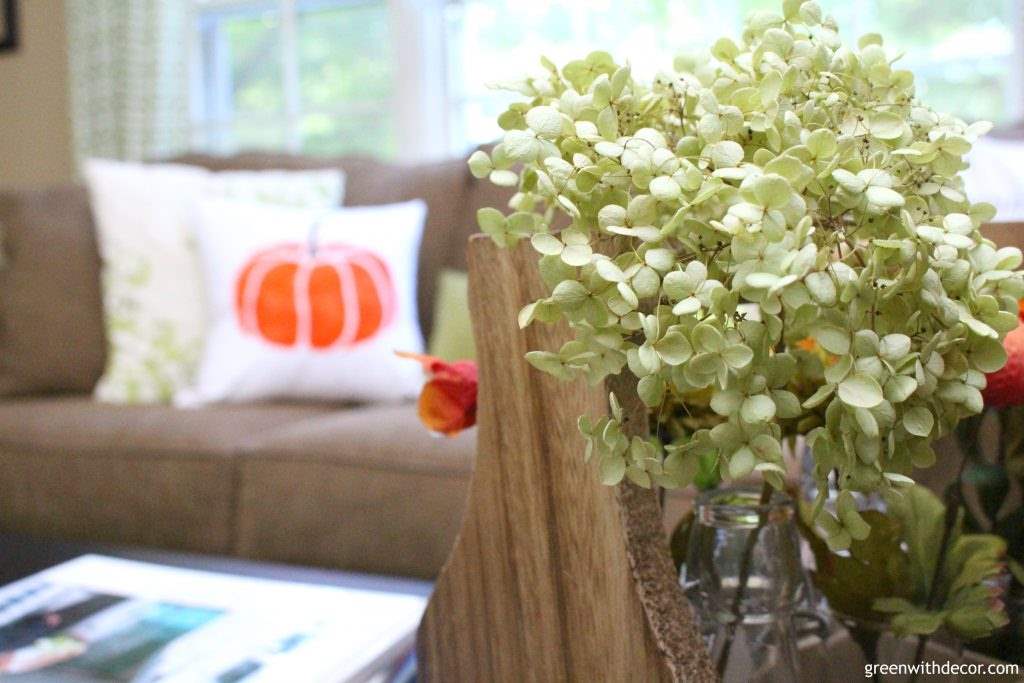 Moscow Mule mugs are easy to use throughout the year, too.
Put some wheat grass by them for fall, add some berries for Christmas, add some flowers for spring and summer.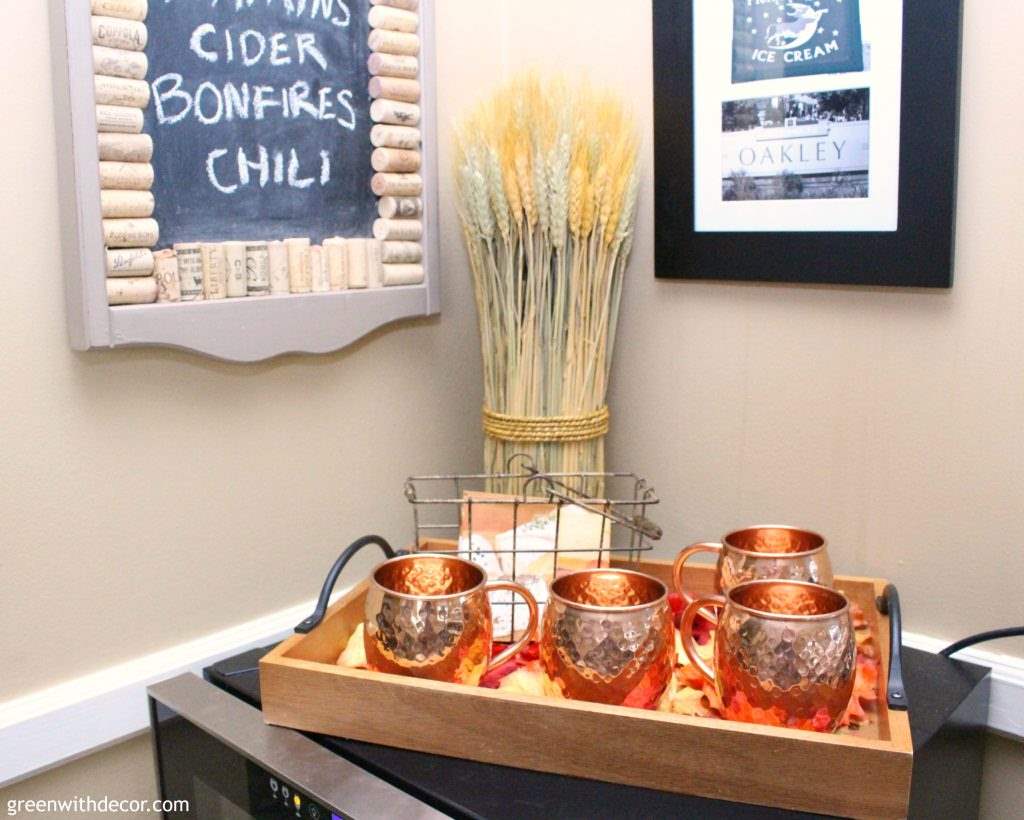 4. Shop post-holiday sales and buy cheap items.
I'm huge on this one. I often stalk Target and TJ Maxx (and their websites) as holidays get closer (items start to go on sale) and especially in the few days after a holiday when items are on mega-clearance, before stores take them off the shelf to make room for the next holiday.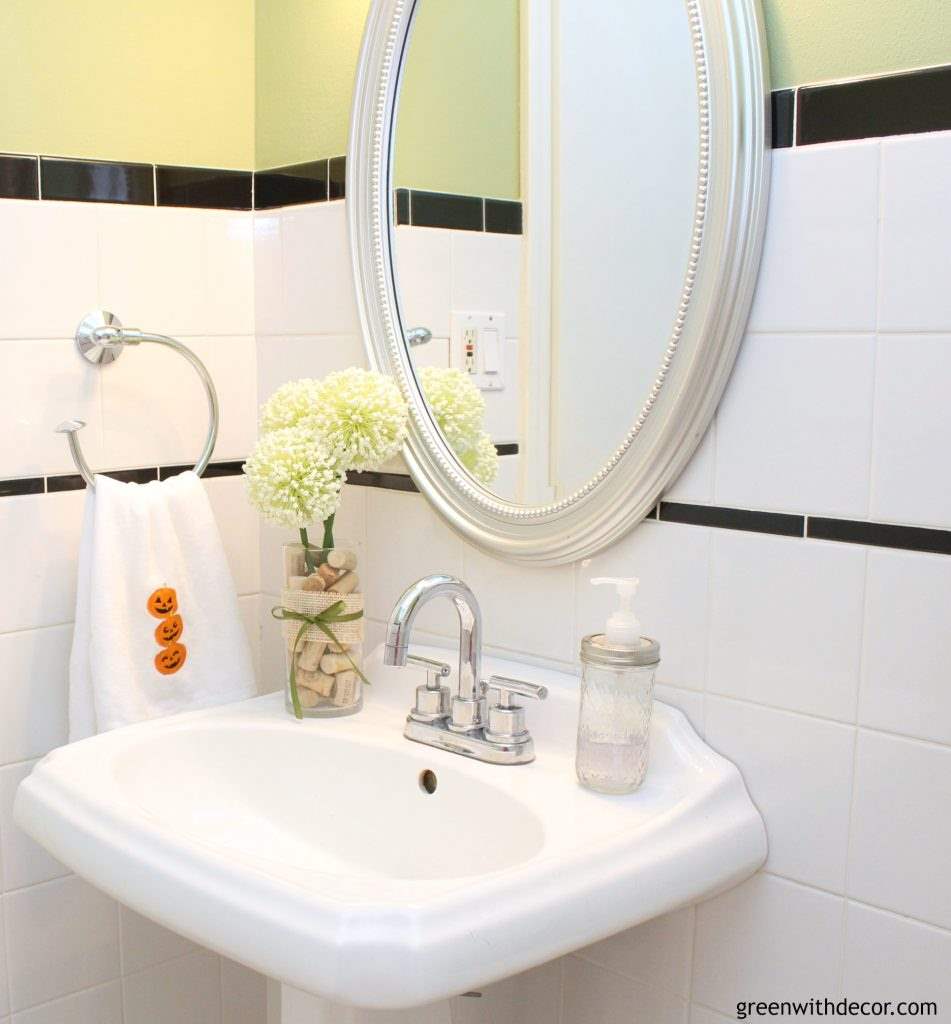 The only bummer with shopping this way is sometimes you buy items you have to wait almost a year to use, but when you're saving money, it's worth it!
I have some Christmas stuff I bought after Christmas last year that I can't wait to display this year!
5. Use free items.
Apples aren't technically free, but we buy them to eat every week anyway. So they're not coming out of the decorating budget!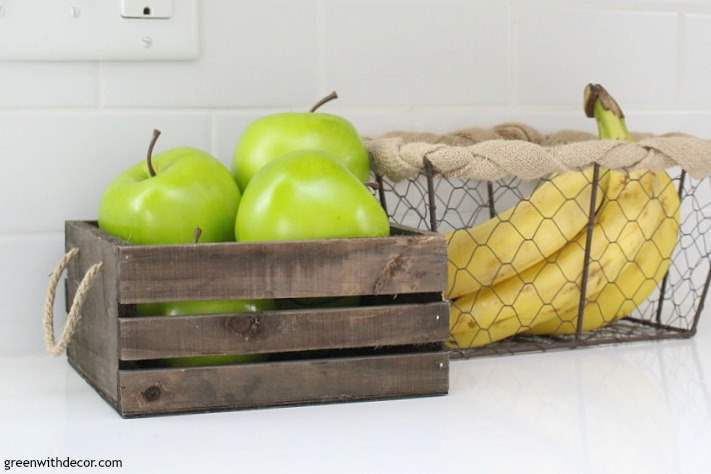 You guys may have noticed I have a thing for decorating with wine corks.
Again, not technically free, but we drink wine anyway, so we just keep the corks to use for future projects like this cork initial. (And our neighbors keep them for me, too!)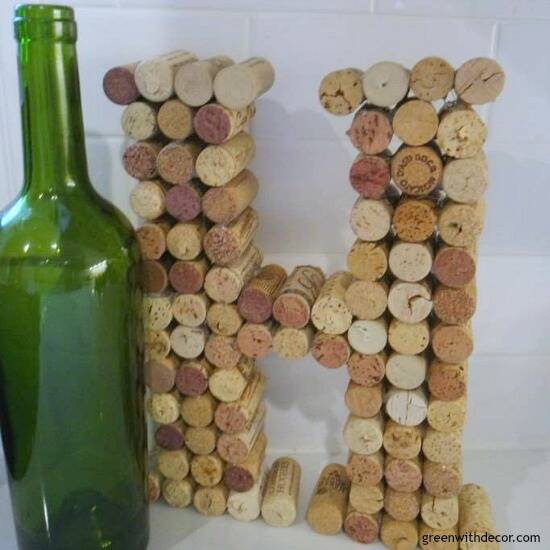 I'm excited I found ways to decorate for fall without breaking the bank. You can see our full fall home tour here.
What are your affordable tips for decorating for fall?
You can see more fall decorating ideas here:
Remember to bookmark or pin this post if you want to save it for later!

Pin it!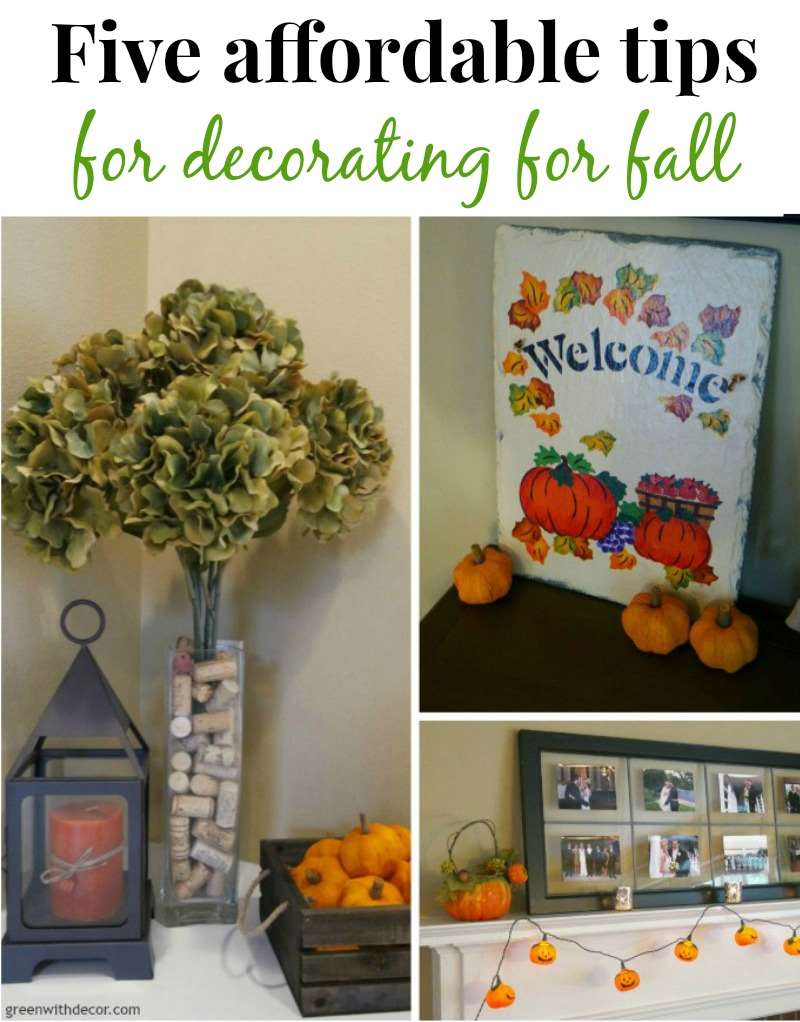 Want to read more posts like this?
Follow along: Get my emails | Facebook | Pinterest | Twitter | Instagram