Fall is one of my favorite times of year!
I love the cooler temps and getting to cozy up a bit with scarves and boots. Fall is great in Wisconsin. The weather is perfect.
To celebrate the beginning of fall, I put together a group of talented bloggers to share their fall home tours this week! I got a sneak peek of the pictures, and they're gorgeous. For some great fall decorating ideas, be sure to check out the other home tours at the bottom of this post.
If you're hopping over from one of the other bloggers, welcome! I'm so glad you're here. My husband Kalen and I live outside of Milwaukee and did major renovations on our house. It was a total fixer upper when we bought it. You can learn more about me on my About page.
Come on in!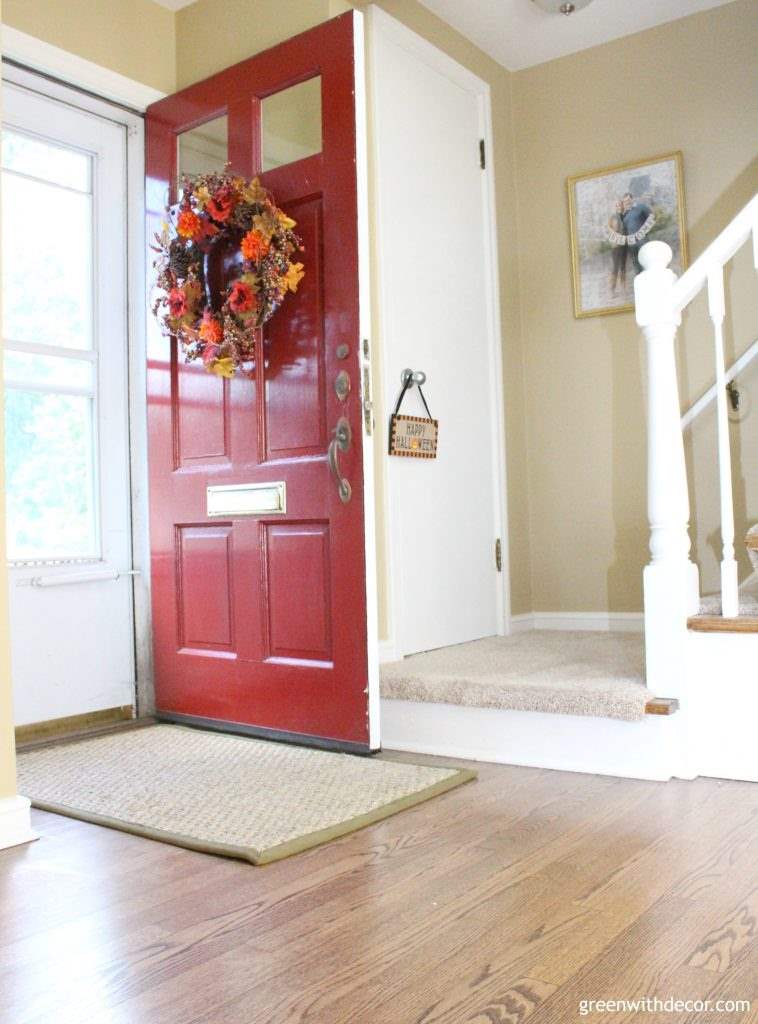 I tried to list sources for almost everything in our house since that's the question I get most from readers, but if there's something you like that I didn't link to, just let me know!
I usually try to decorate without spending a lot of money, so some finds are from TJ Maxx, HomeGoods, etc. I can't link to those, unfortunately, but I try to link to similar products if you want to get a similar look.
Speaking of, I found this wreath on clearance at TJ Maxx at the end of the season last year.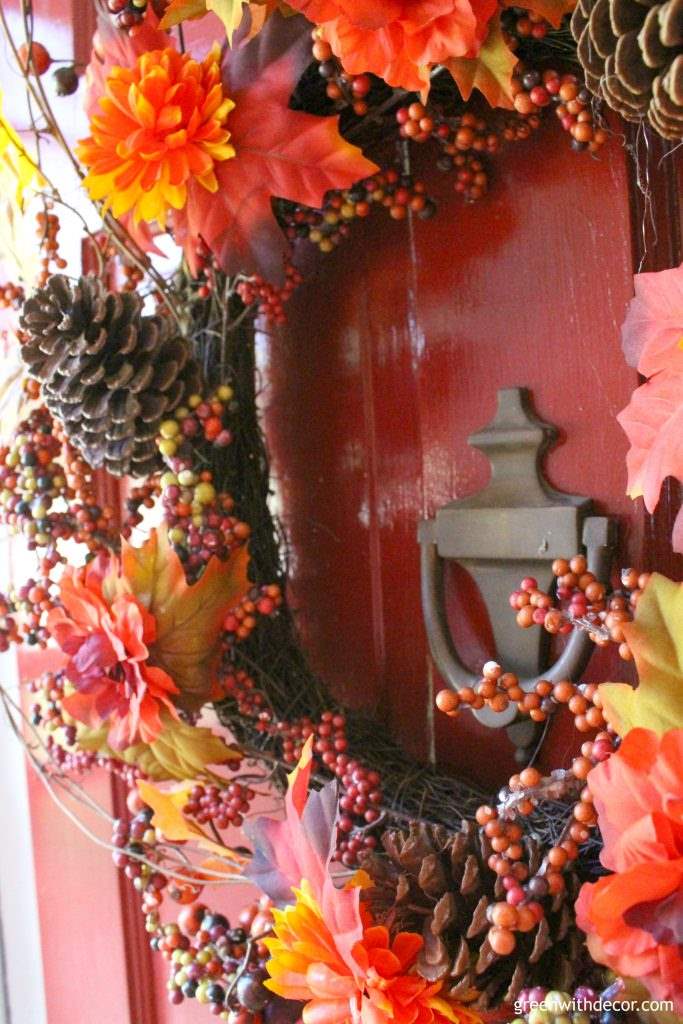 One of my absolute favorite ways to decorate for different seasons without spending a lot is shopping the clearance aisles at the end of every season.
You can save a lot of money! The only bummer is then you have to wait a year to decorate with them. I've had this wreath sitting in the basement since last November, and I'm excited to finally break it out.
I finally painted our banister white a few months ago, and I love it. That little Halloween sign on the closet door knob is pretty much as spooky as it gets around here. I love fall but Halloween? Not so much.
Here's our little foyer.
Boots and scarves are two of my favorite things! I'm so excited to break them out, even if the weather isn't quite cool enough yet.
This post contains affiliate links. This means if you click the link and buy something, I may receive a small percentage of sales at no extra cost to you.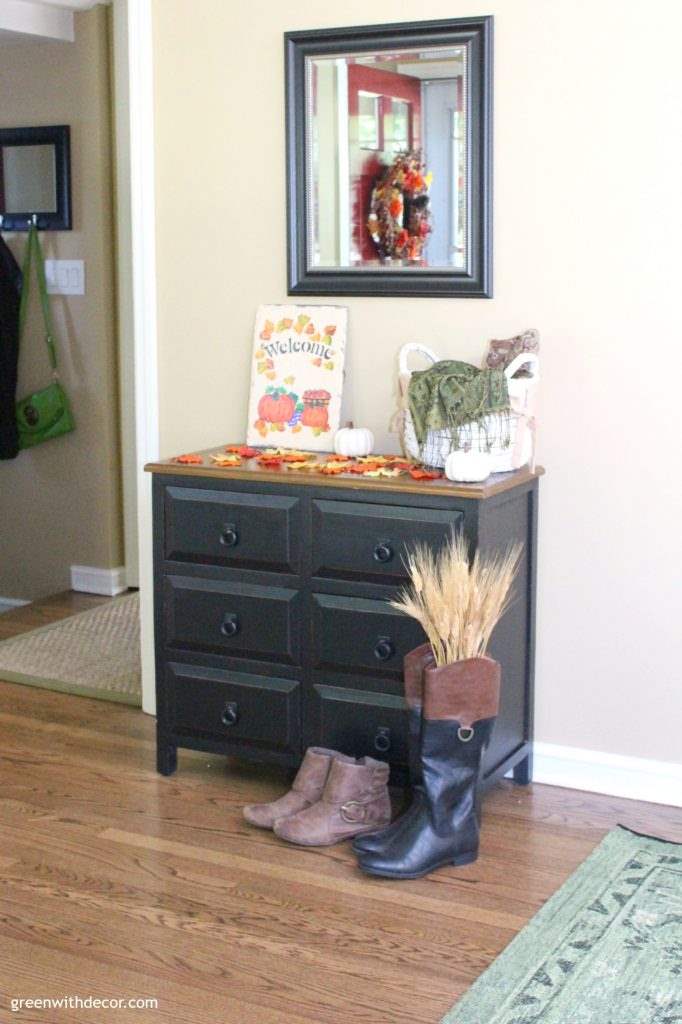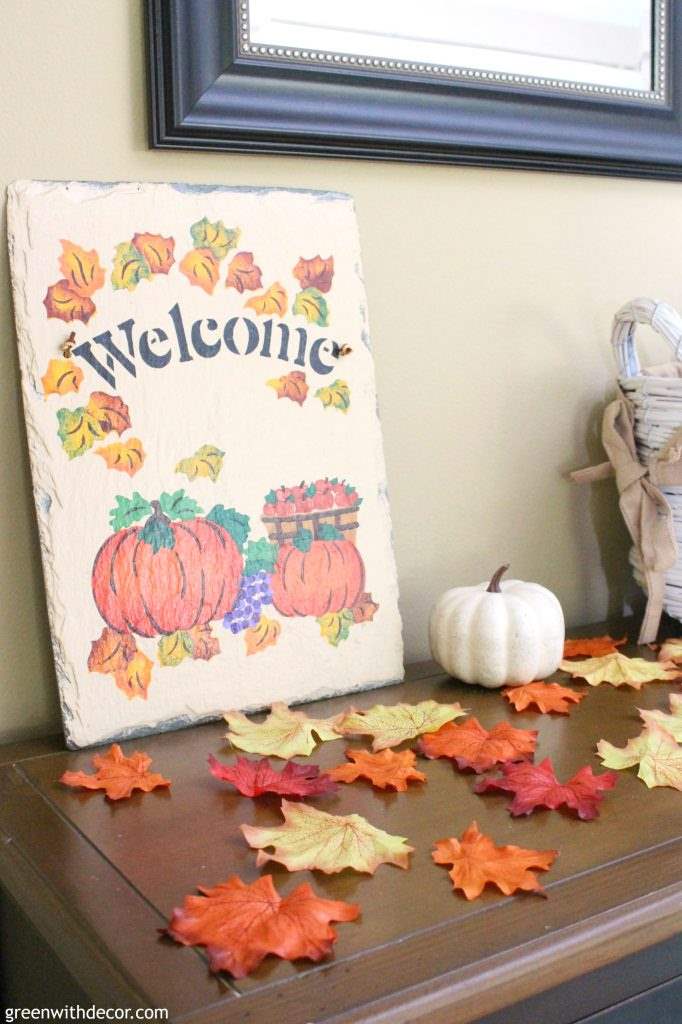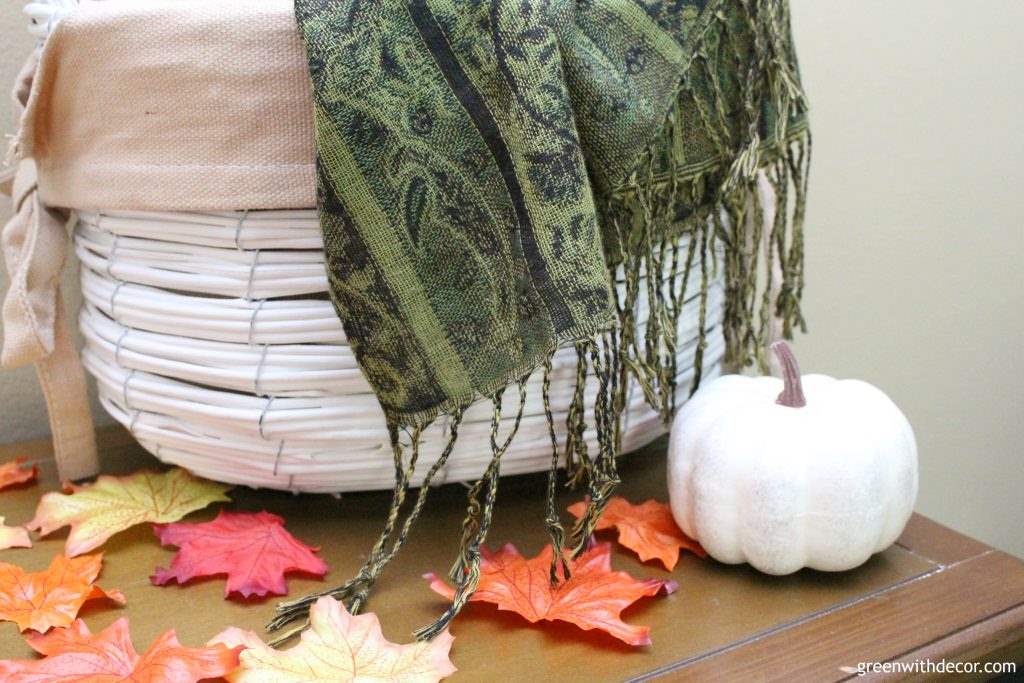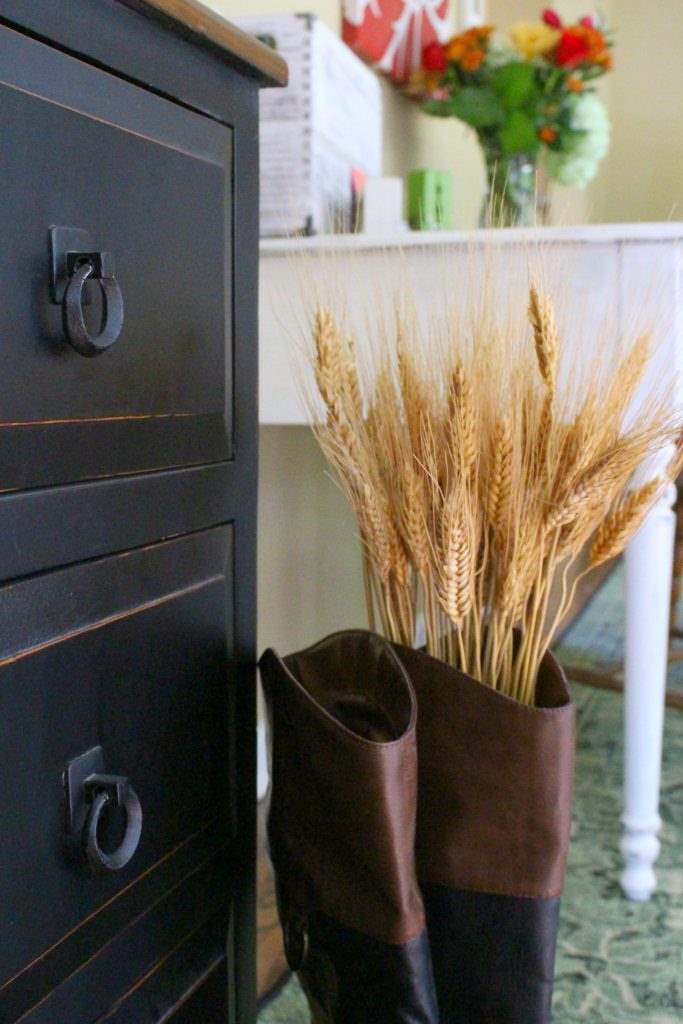 Our foyer opens right into our living room, and I have a surprise! We just got this new green area rug, and I'm in love. I have a blog post coming up about it, so I won't talk about it too much today. But it's safe to say I'm obsessed.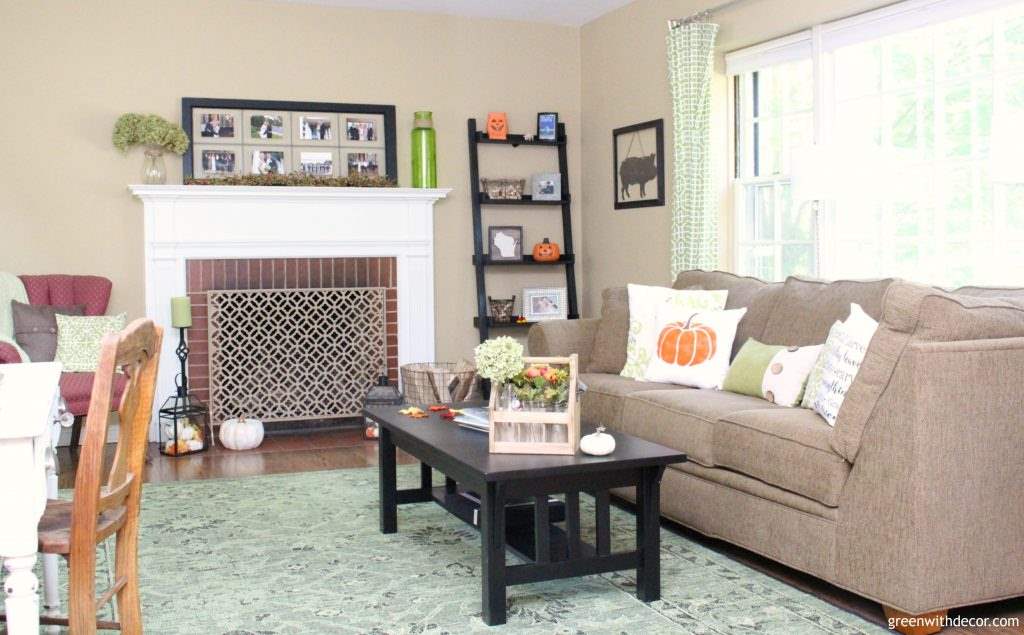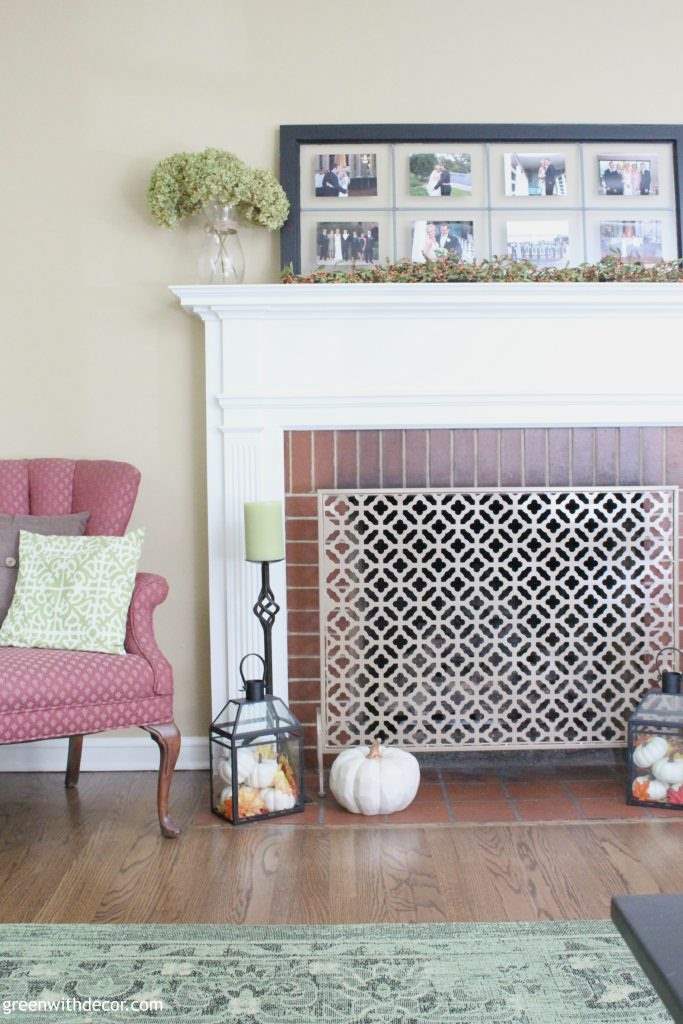 GET THE LOOK: Window turned picture frame (DIY) | Ladder shelf | Fall pillow (DIY) | Green pillow | Wooden drink caddy
Our living room is always one of my favorite rooms to decorate for different seasons. The mantel and ladder shelf are perfect for easily switching things out.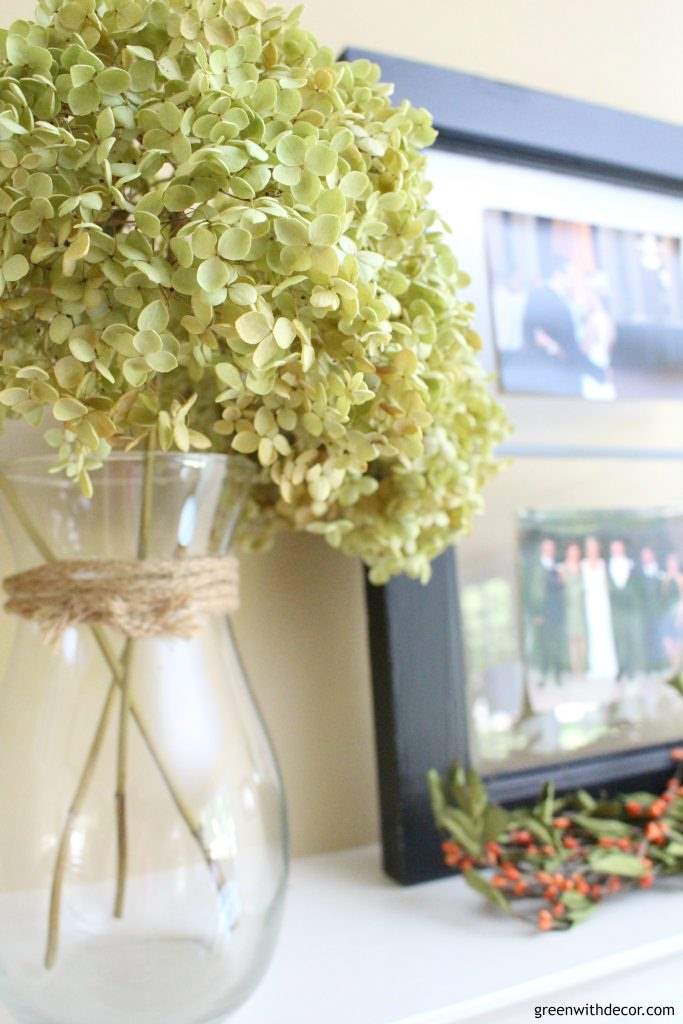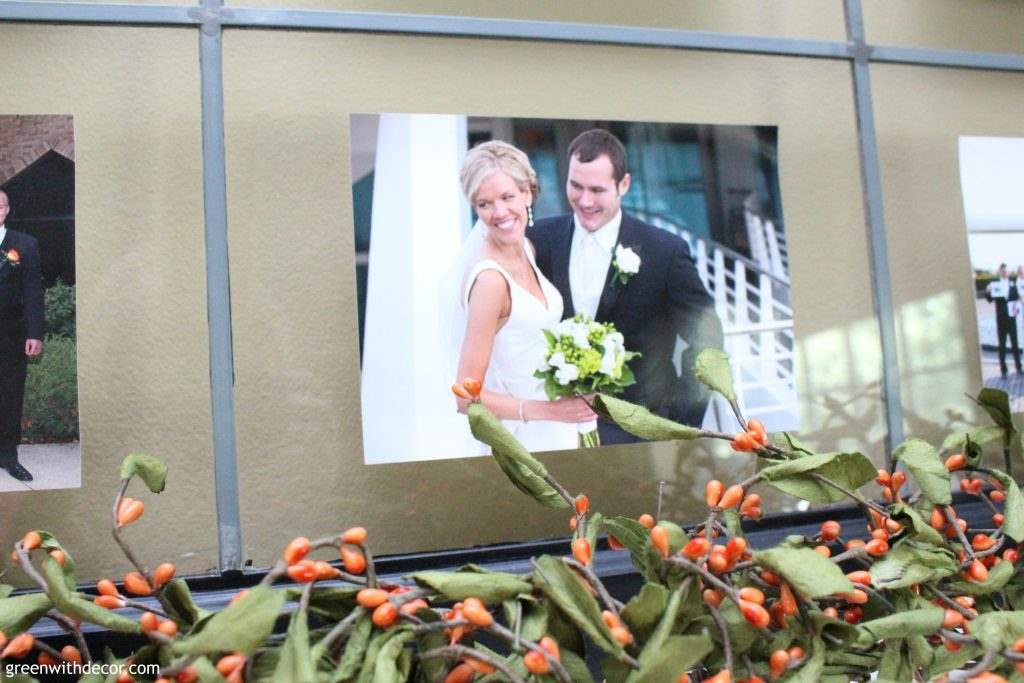 I can't get enough white pumpkins this time of year!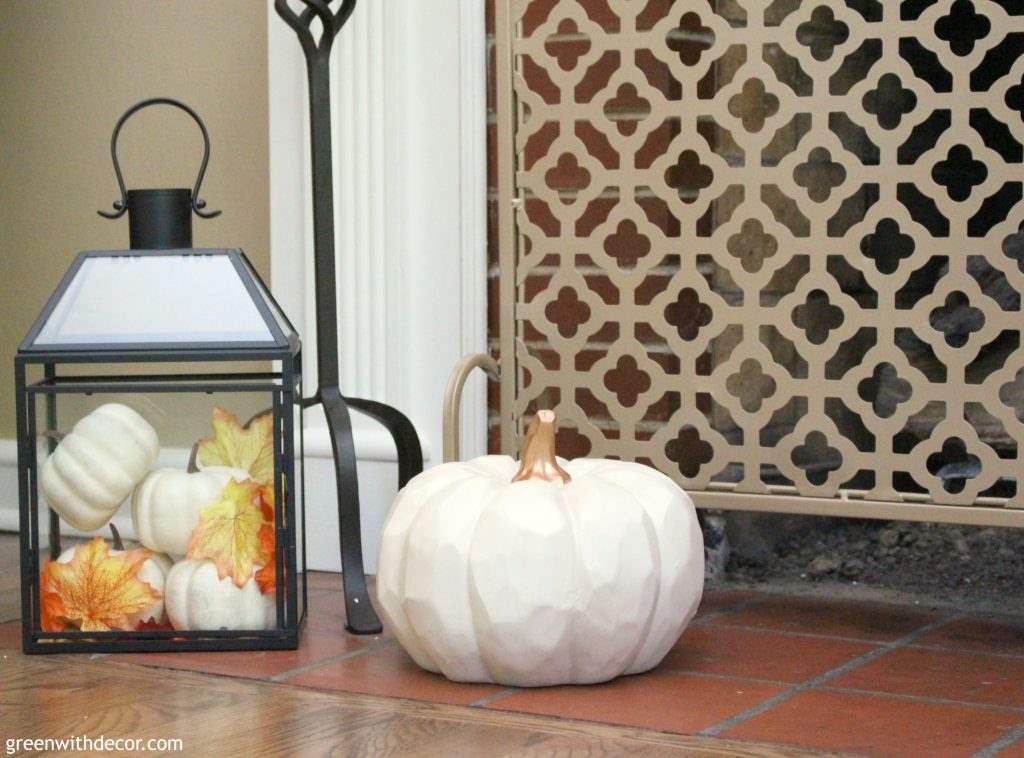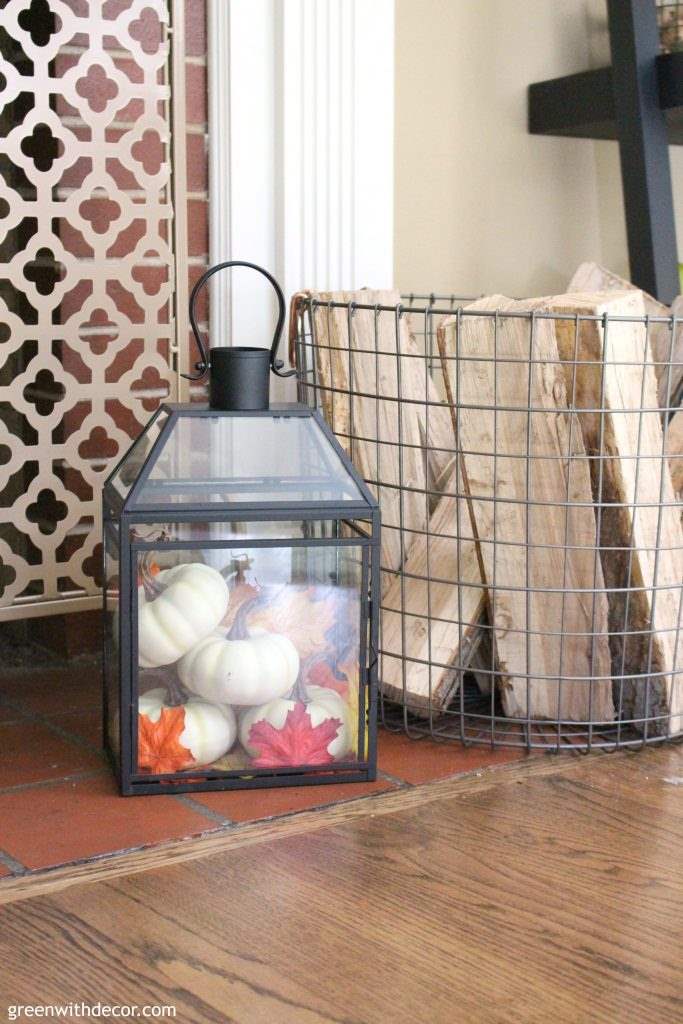 That little Wisconsin sign is new. I love it!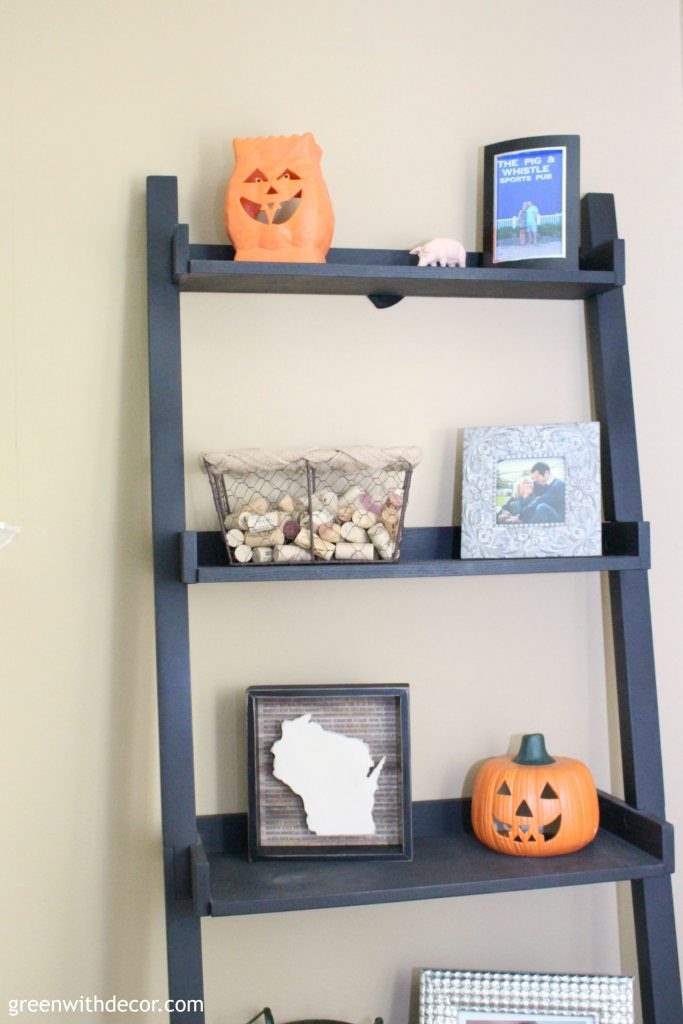 I just framed that metal pig to make it stand out on the wall a little more. I love what a difference it makes!
If you follow me on Instagram, you know I love this DIY fall pillow I made last year.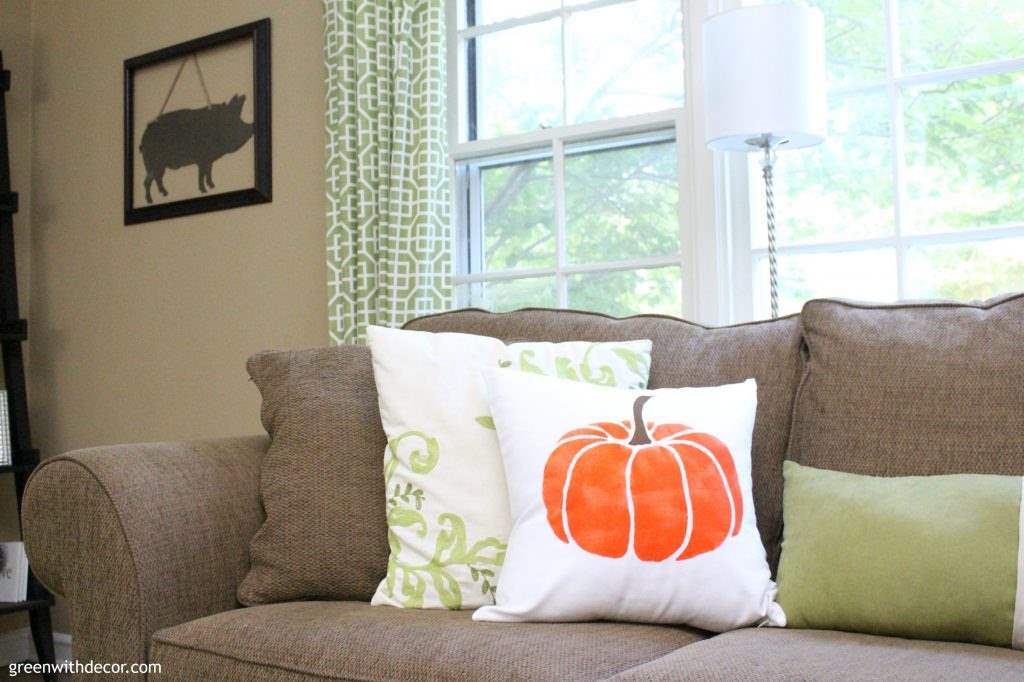 I just dried some hydrangeas from my Grandmom's yard, too, which was so easy! I love how they look.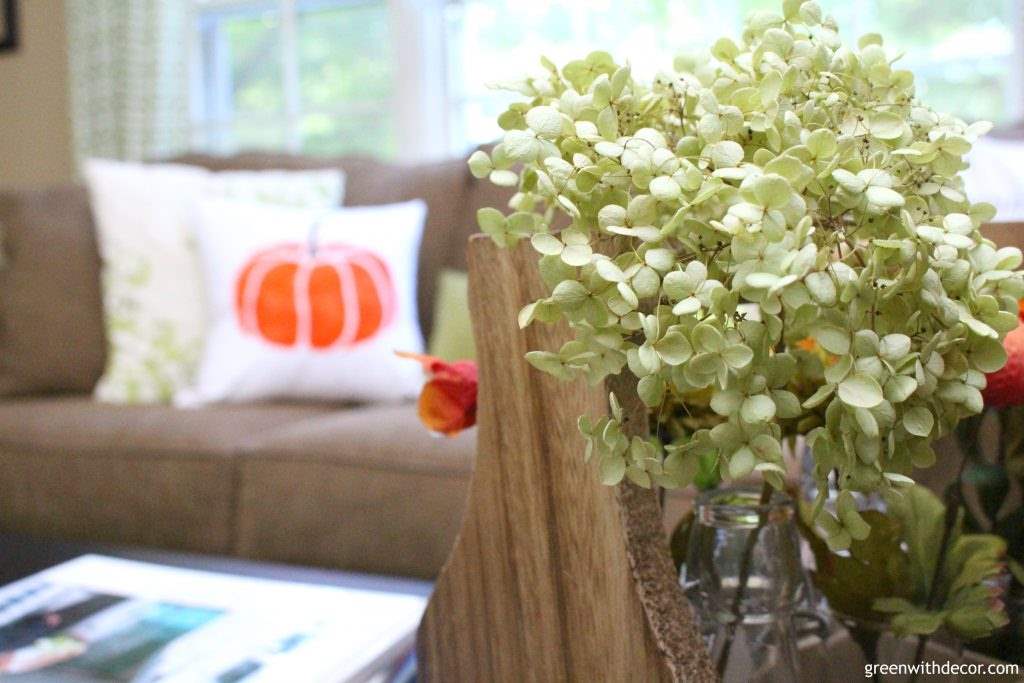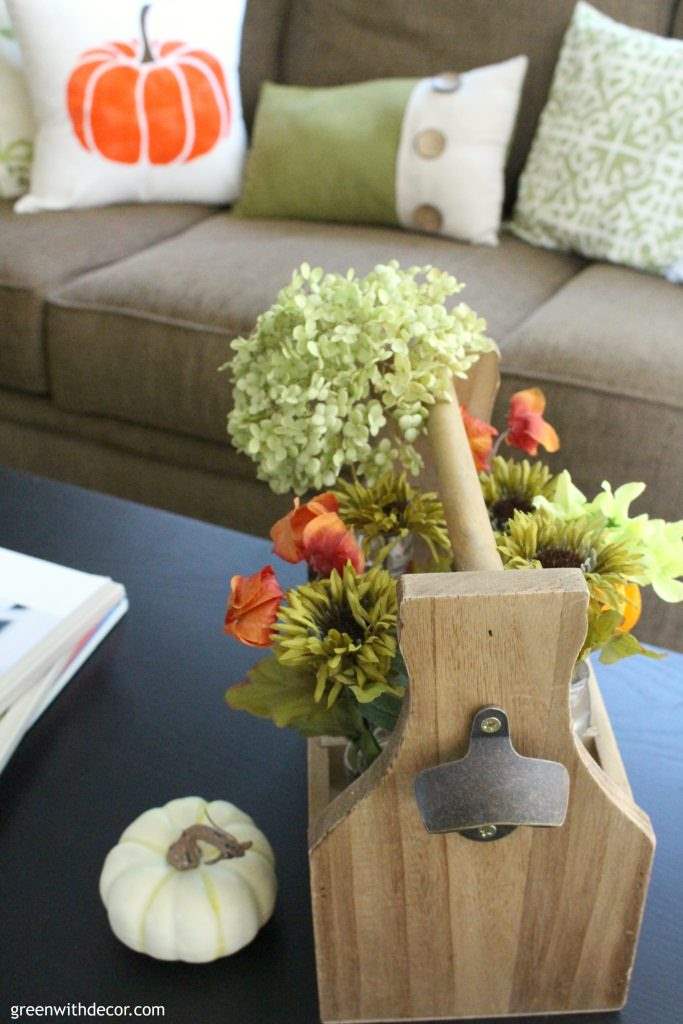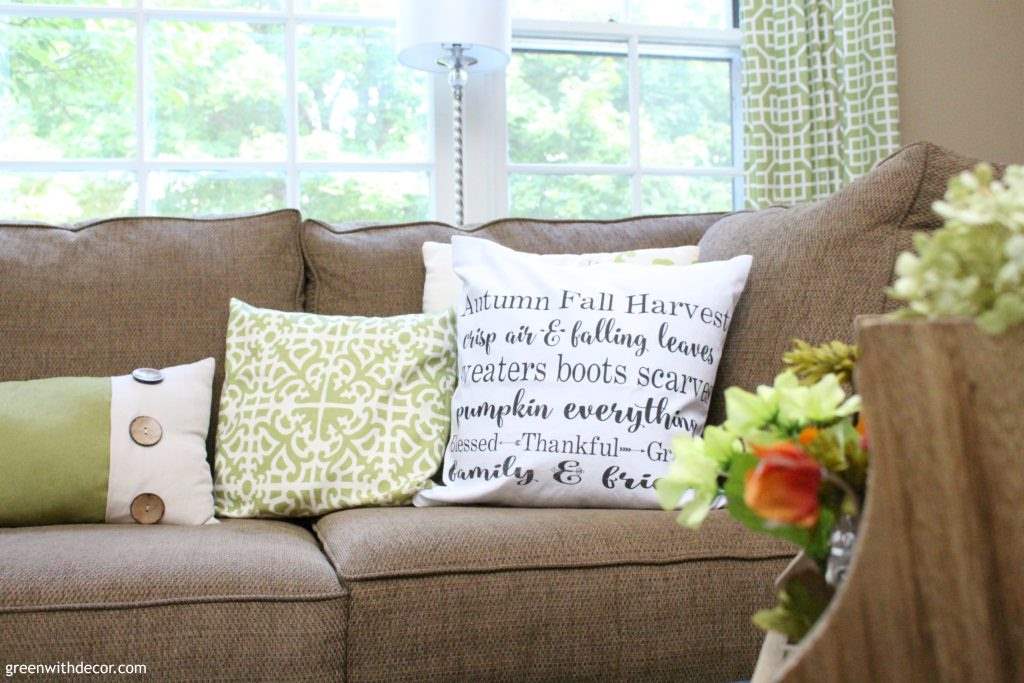 I put some fake leaves on the coffee table. I went upstairs to shower the other day and came back down, Oakley had spread them all over the floor.
She usually leaves our stuff alone, but apparently she's not into fake leaves.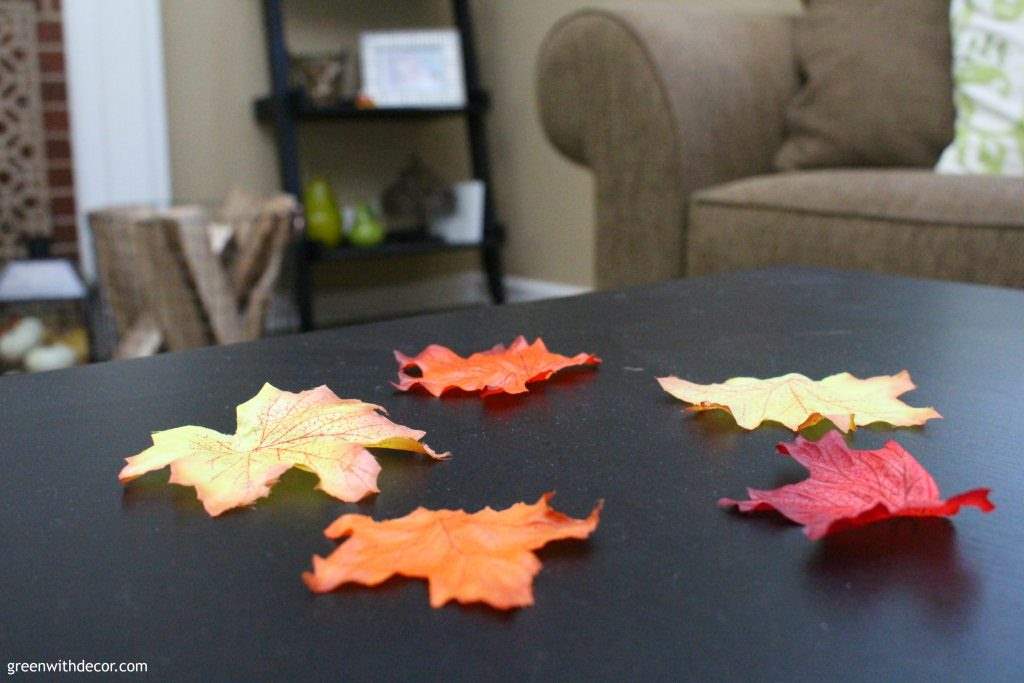 I have my painted desk in the living room, too. It used to be my grandparents'.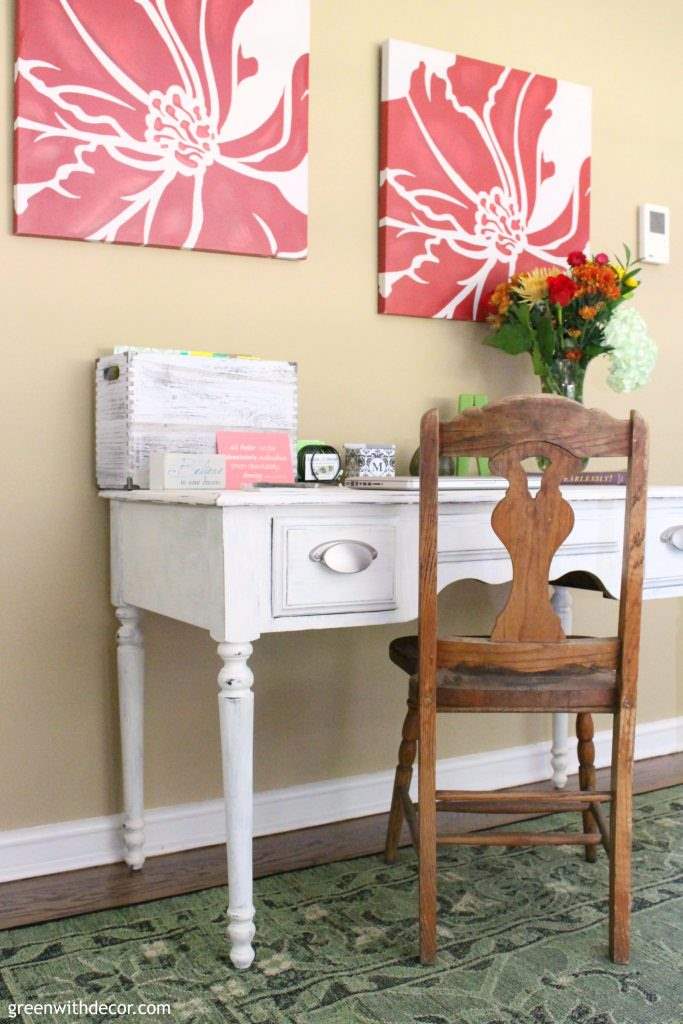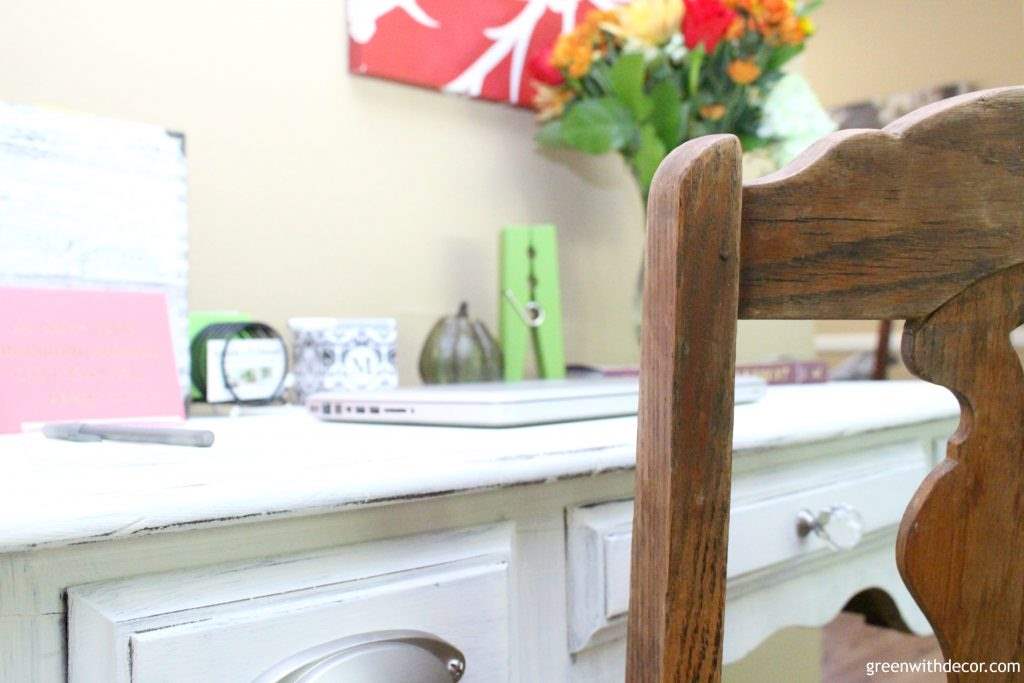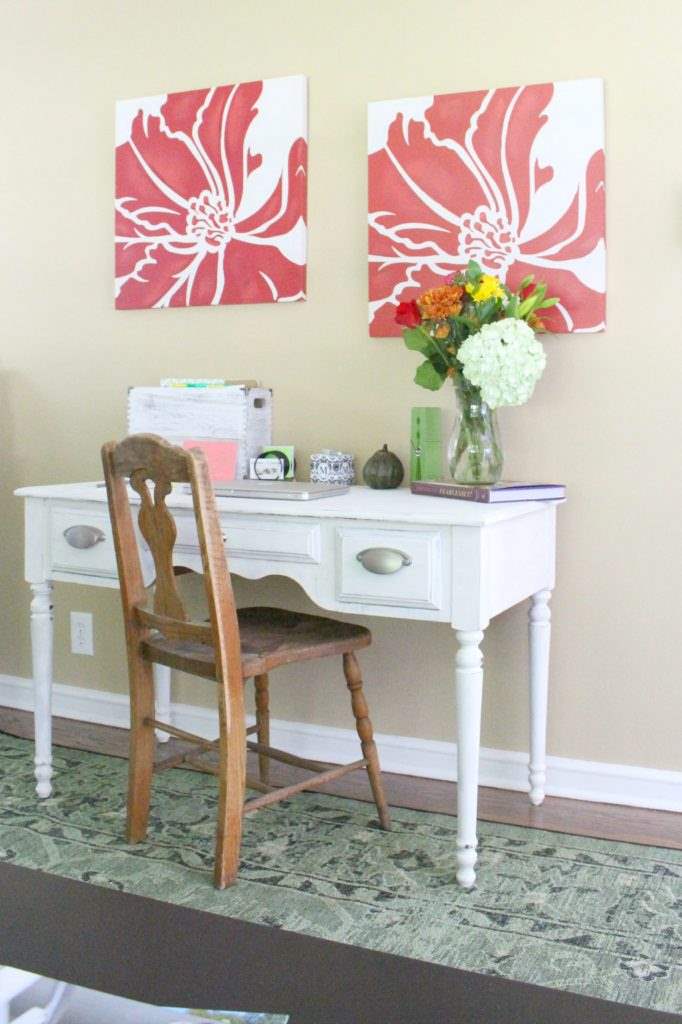 Get the look: Painting the desk (DIY) | Drawer pulls | Drawer knob | Decorating Fearlessly book
I found this old chair for $4 at an estate sale earlier this year. It needs a coat of paint. (Update: see the painted chair here!) The project list is never-ending around here!
Moving into the kitchen … I LOVE white kitchens. We did a kitchen renovation before we even moved in. We knocked down a wall, rearranged the layout, painted and got new cabinets, counters, backsplash, appliances and faucet.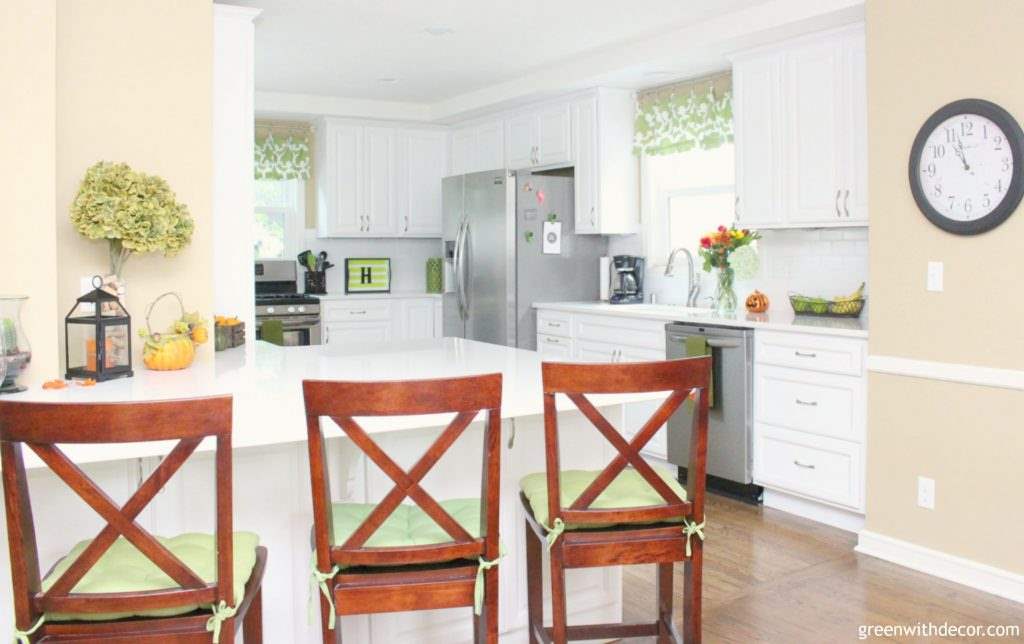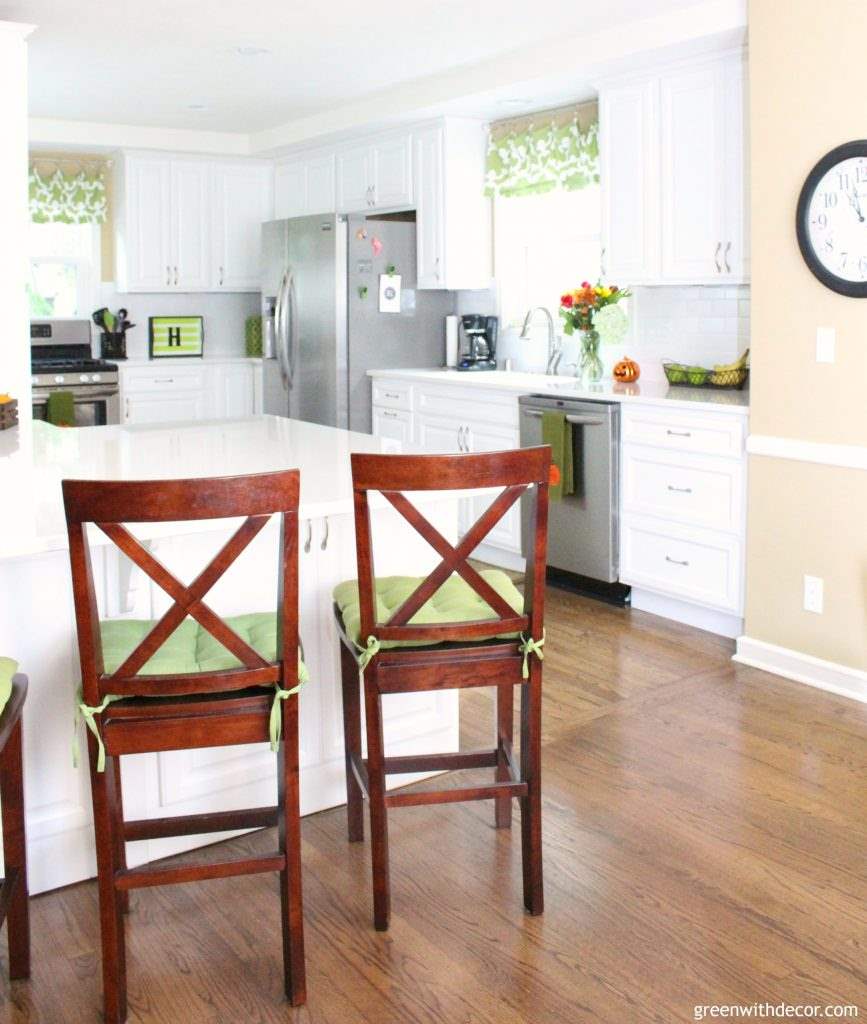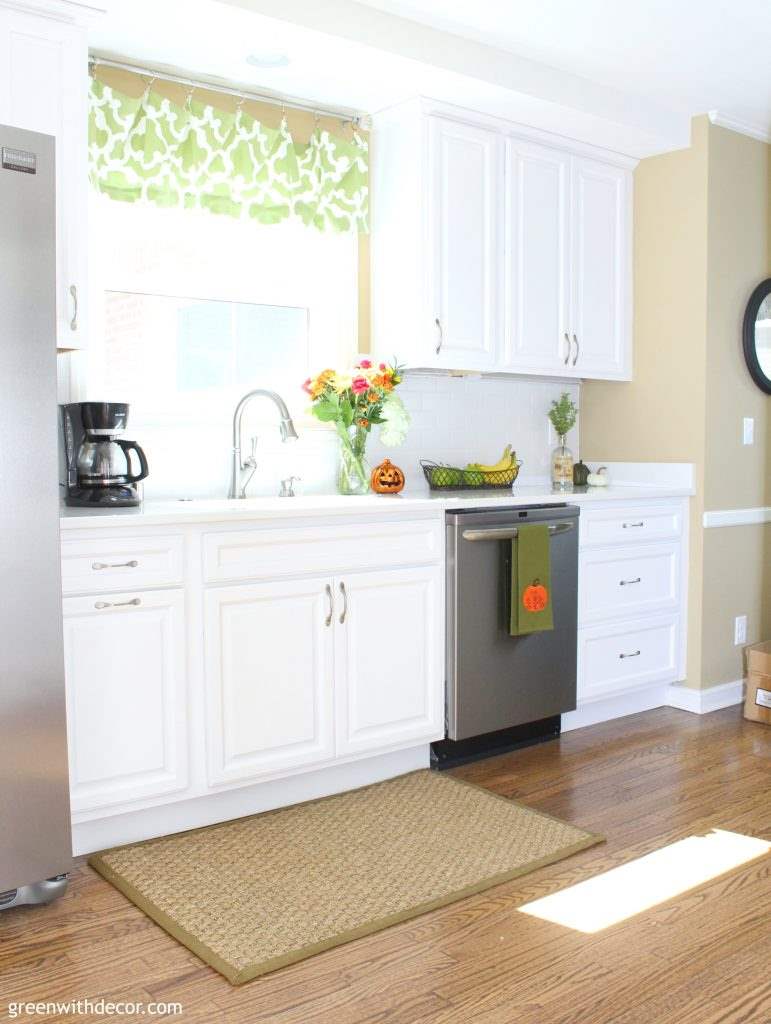 GET THE LOOK: Bar stools | Cushions | Lantern | Curtain rod | Window valance (DIY) | Cabinet handles | Clock
I'm a huge fan of our new seagrass rugs! I just ordered another one for our family room. (I may have a problem.)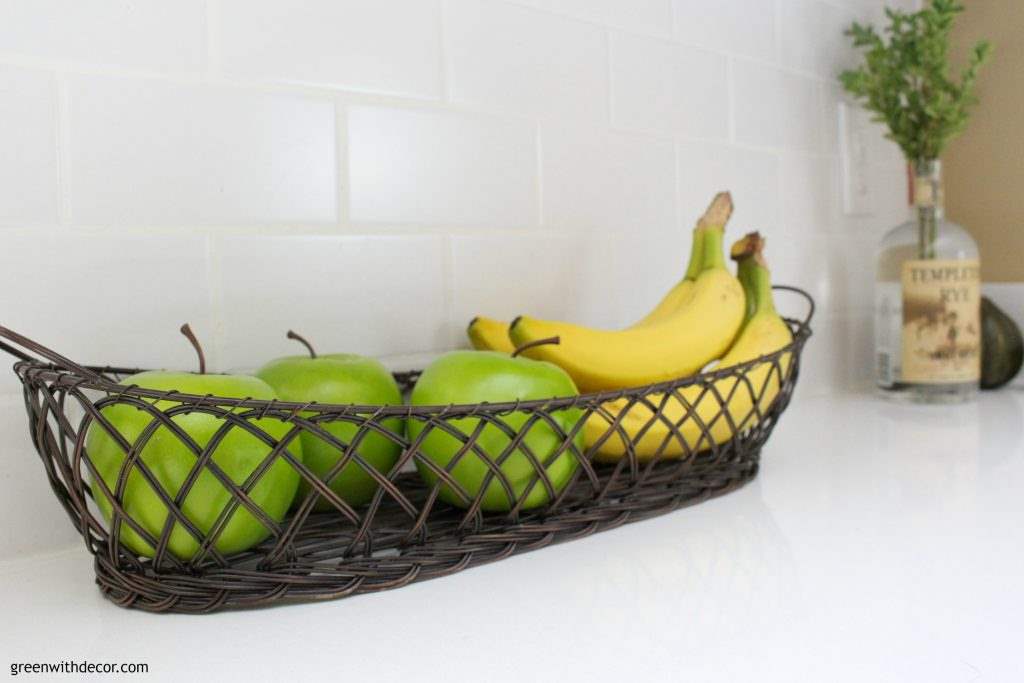 Fruit is one of my favorite free ways to 'decorate' for seasons. What's more fall than apples?!
I like to use old bottles as vases, too. That bottle in the corner is a fun shape.
This is my favorite room renovation we've done. I love the bright white cabinets and all the counter space we have.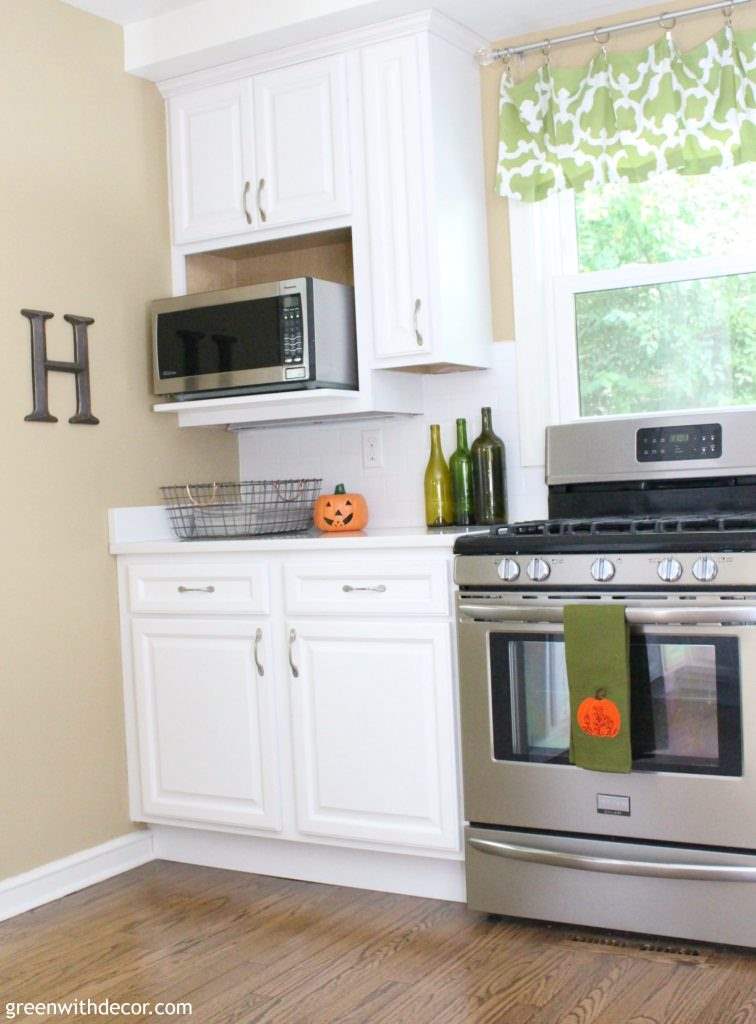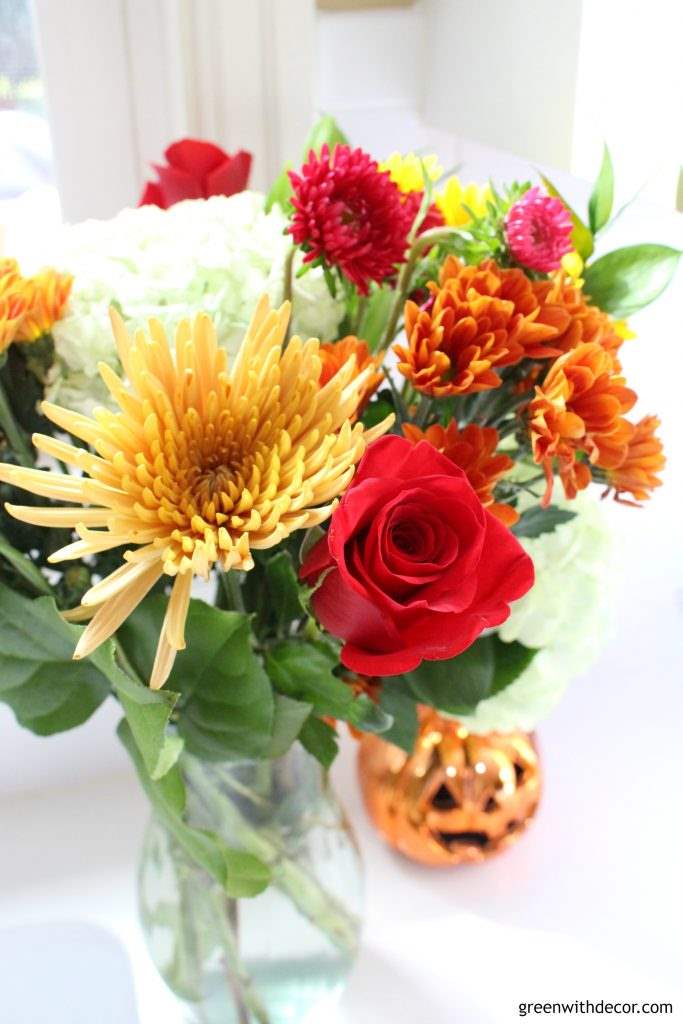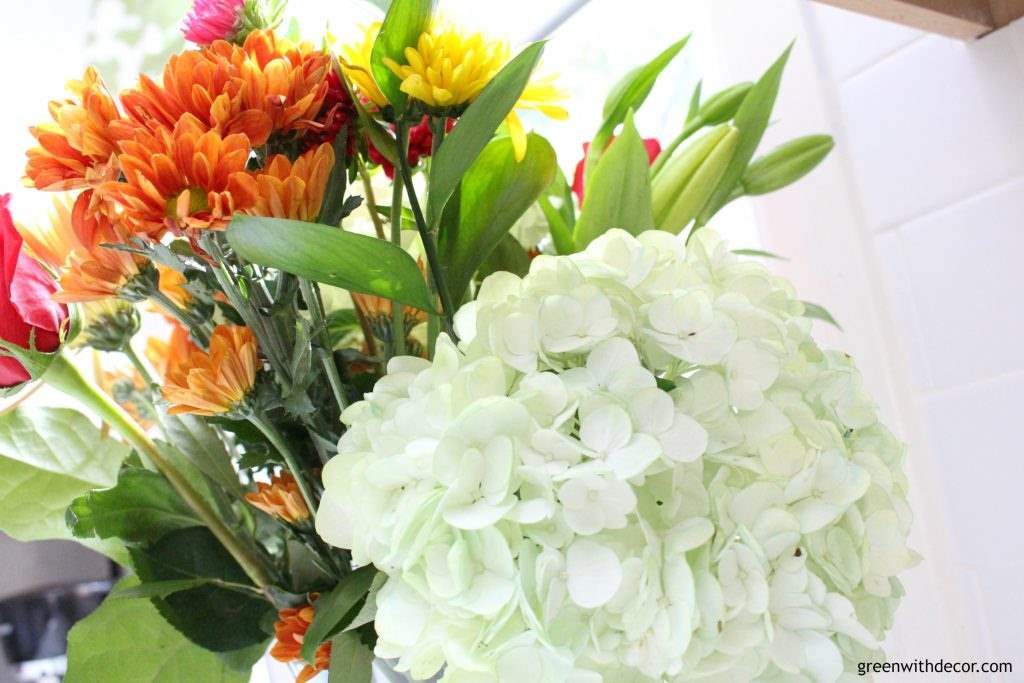 I love hydrangeas!
This little wooden crate was from the dollar section at Target last year. Who else is addicted to that section?! It's the perfect spot to stroll through for some fall decorating touches!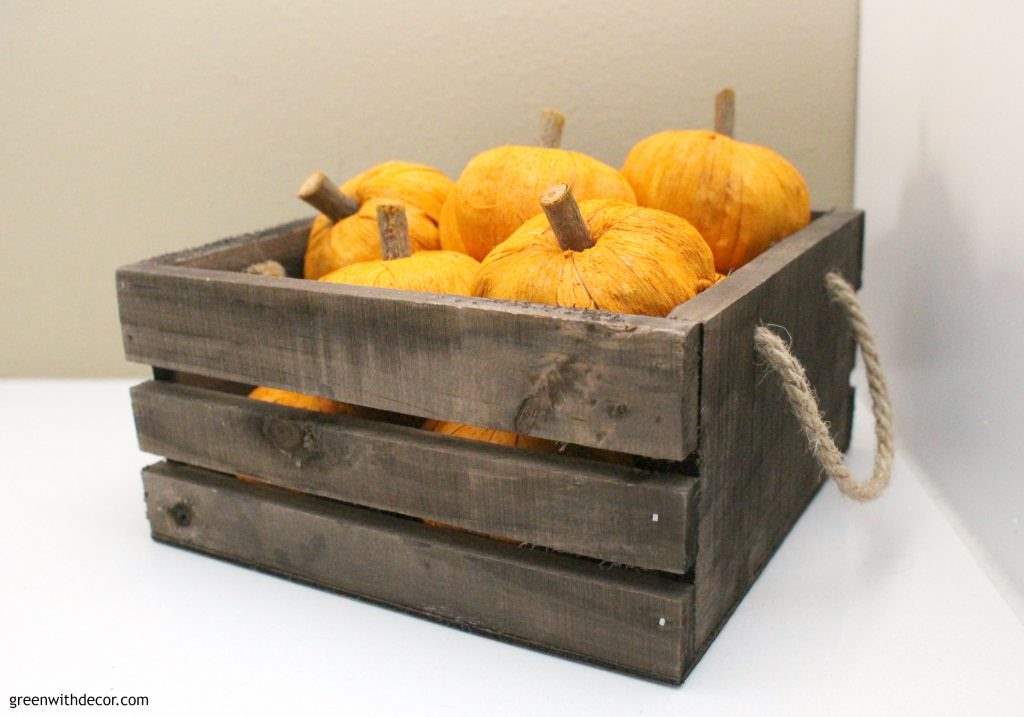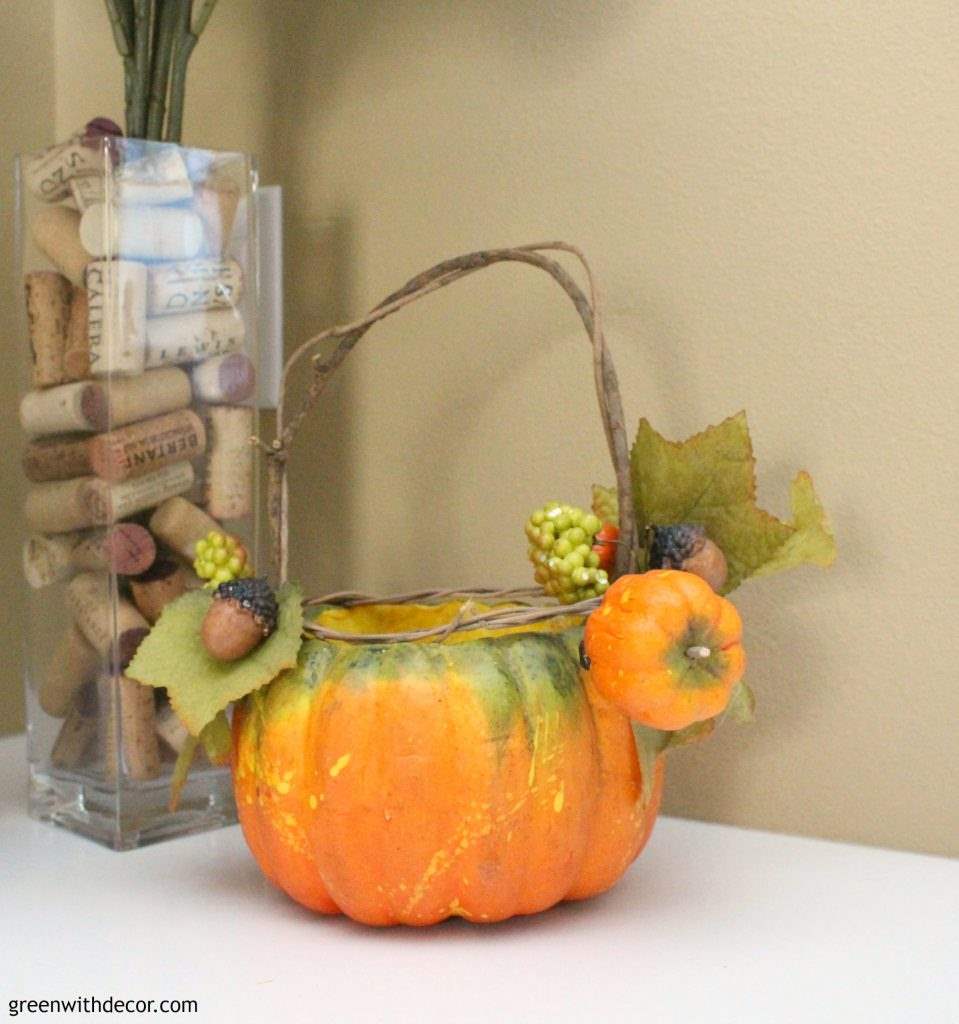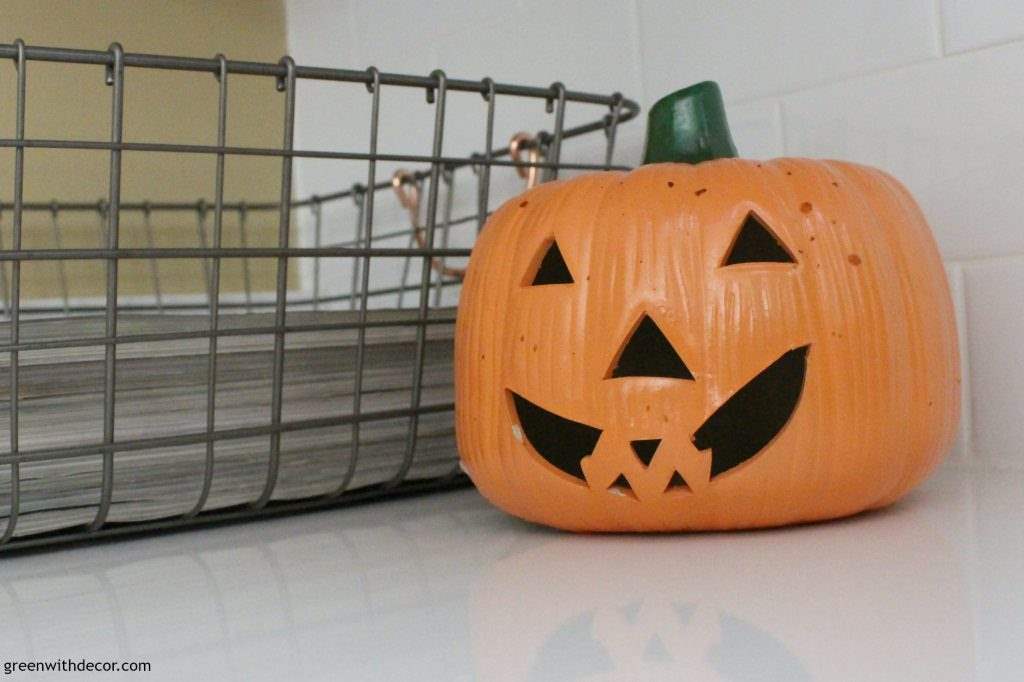 I love this little corner of the kitchen. I updated the message on the cork chalkboard (finally!) for fall.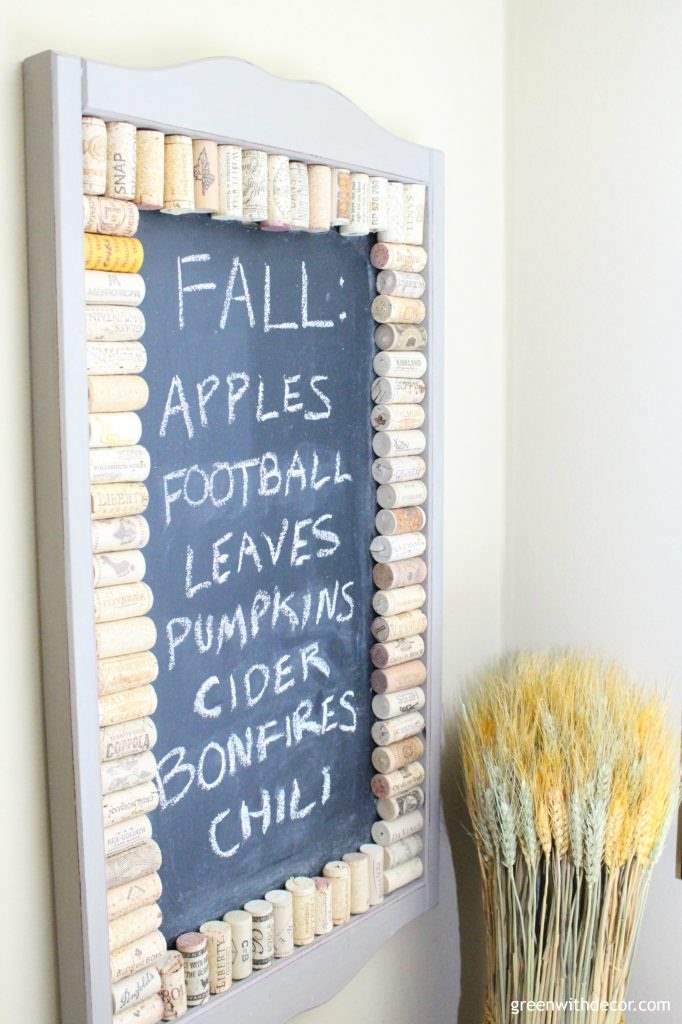 These little Moscow mule mugs are perfect to decorate with when we're not drinking out of them. I love how cold they keep drinks!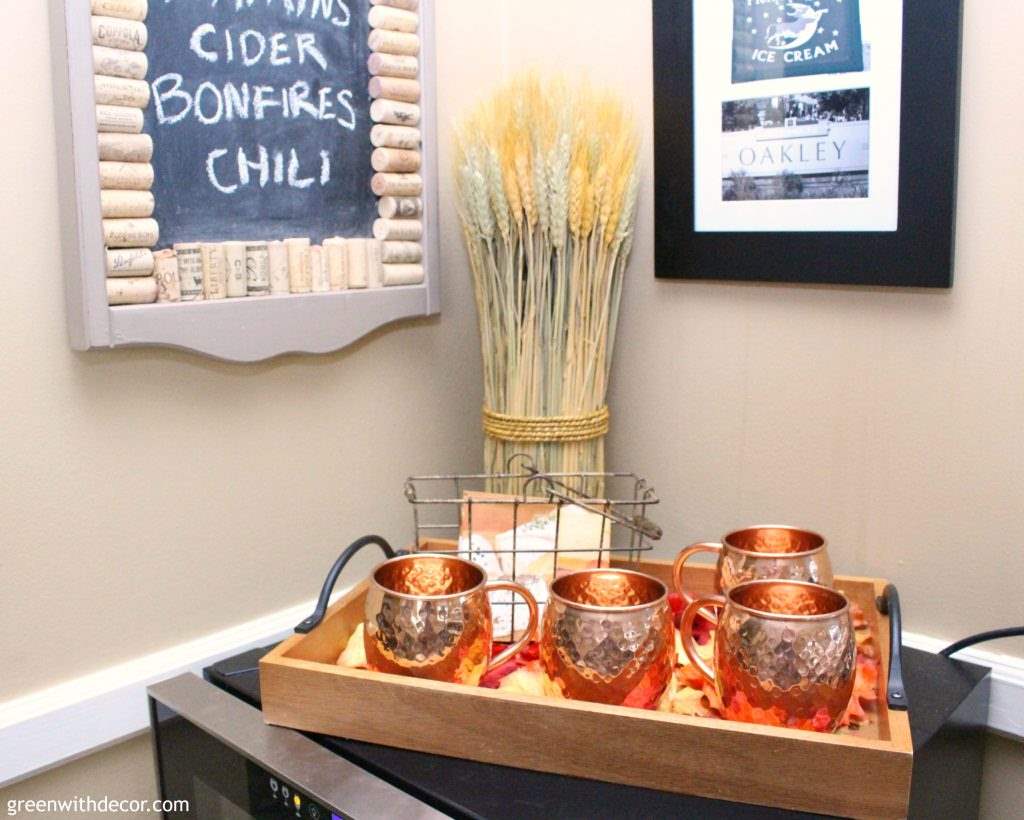 Confession: that tray was a rummage sale find last year. I love the wood and the black handles, but the face of the tray has a weird painted design on it that I need to do something about. For now, I took the easy way out and covered it in leaves.
I love this wheat grass with the green in it! I found it at TJ Maxx the other day.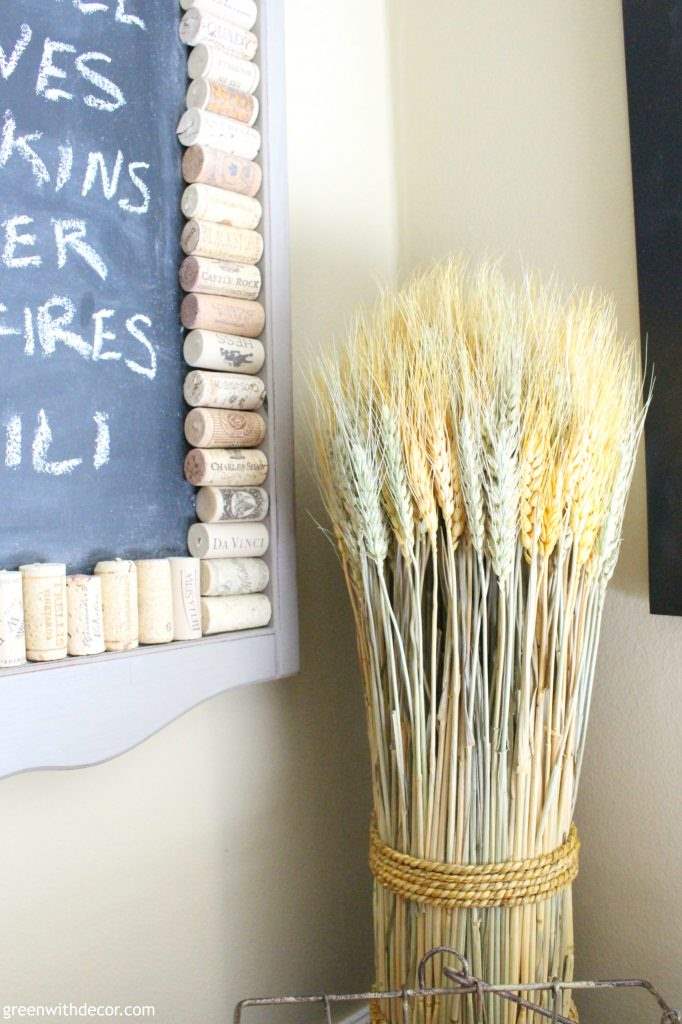 We spend the most time in our family room, which we also did renovations to. This room seems the most fall-ish to me with the reds and tans, but I could never give up the green in the rest of the rooms of the house.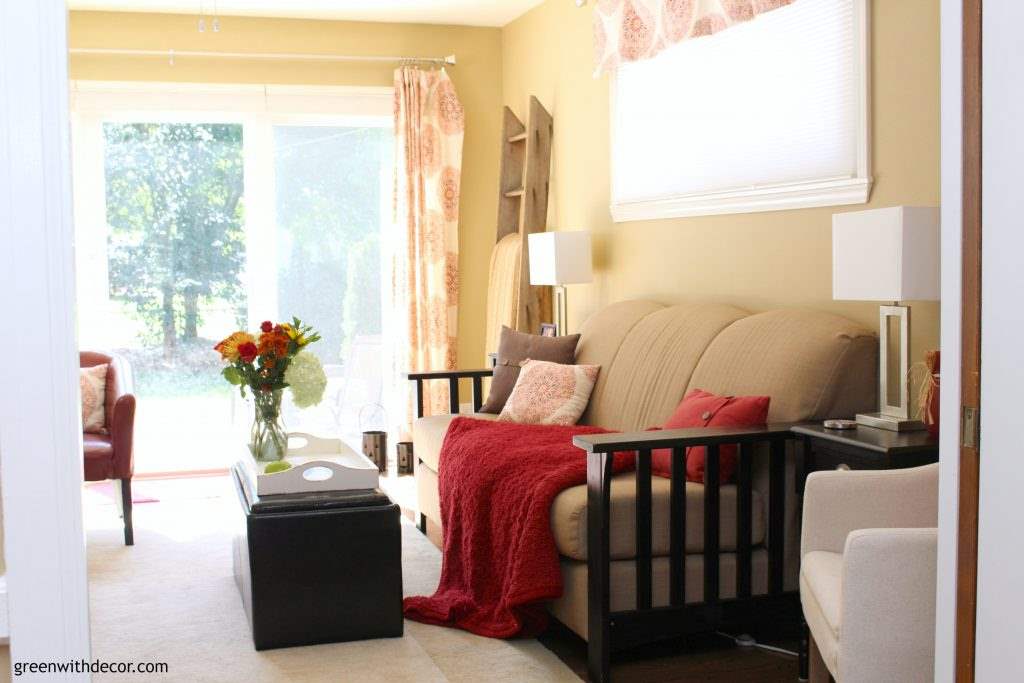 GET THE LOOK: End table | Table lamp | Brown pillow | Red pillow
I love the rustic ladder! It was in the garage when we bought the house, and it was in ROUGH shape. I sanded and sealed it.
See the little jack-o-lantern lanterns by the window? I'll be using those outside! (See our fall patio here.)
I love having cozy blankets around, and now that fall is here, it's finally seasonally acceptable to have blankets out all the time!
We watch a lot of football in here every fall. I'm surprised a football hasn't made an appearance in this room yet. Every fall, Kalen's football gets treated like a throw pillow and finds its way onto the couch or a chair.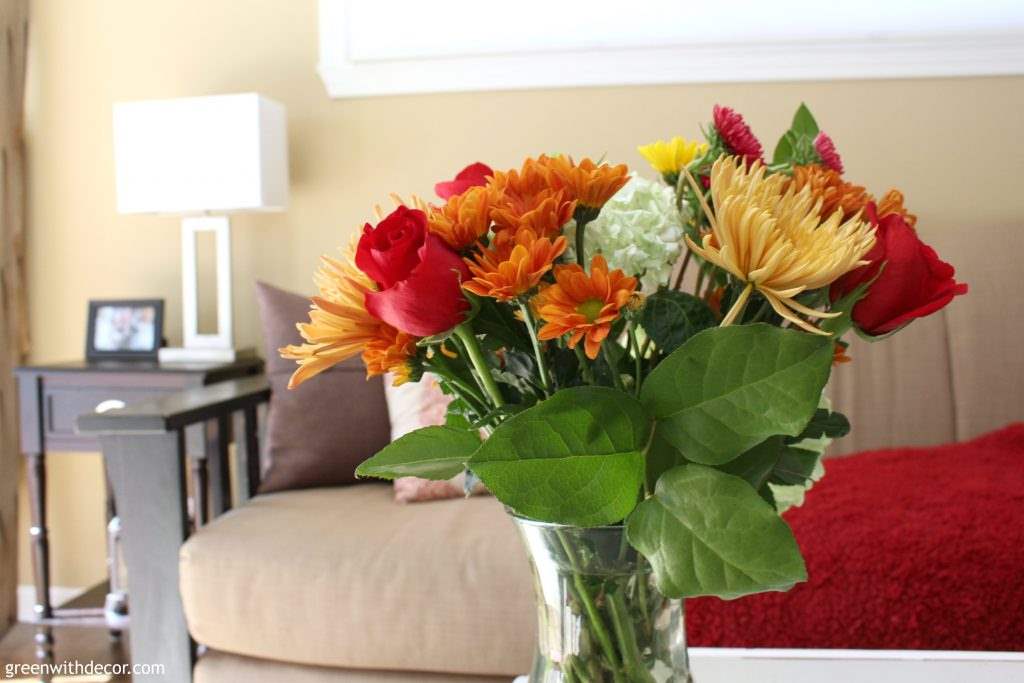 I added a little fall to our bathroom, too. My brother Stephen knows I'm not the biggest Halloween fan and got me this towel as a joke years ago. So of course I have to put it on display every year as part of my fall decorating!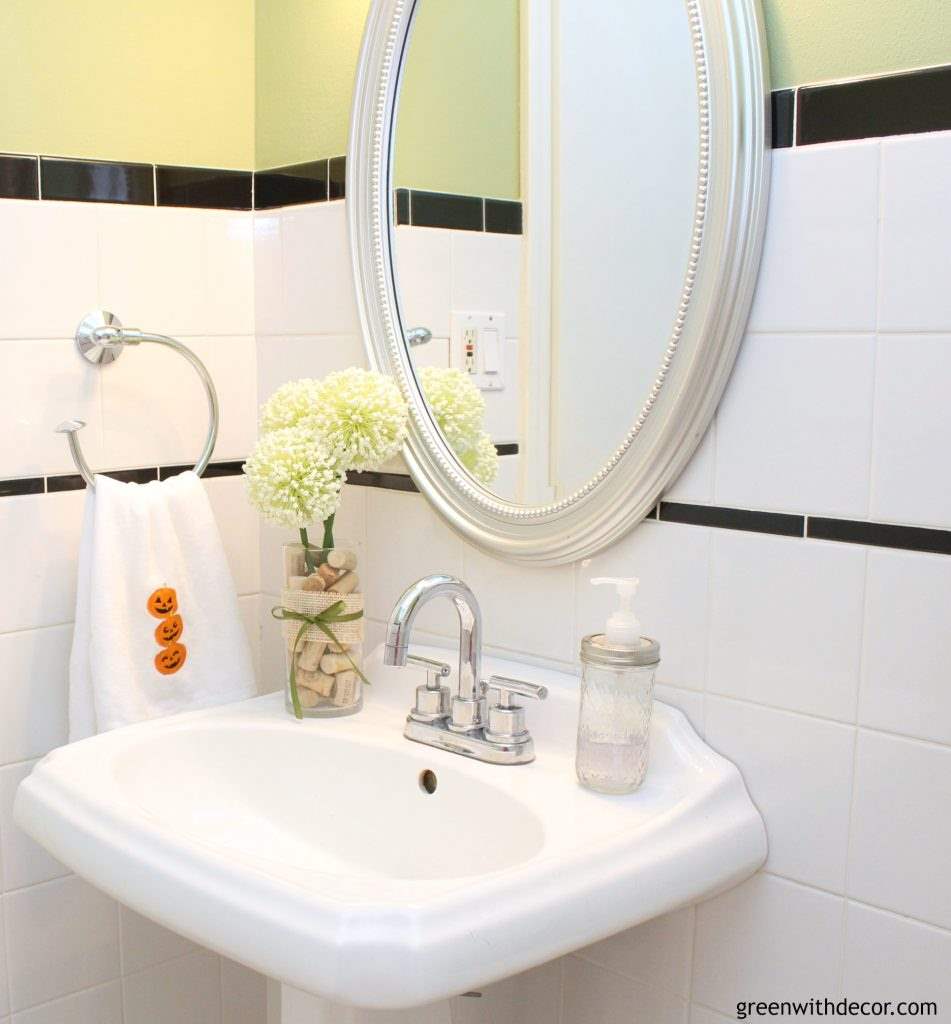 The vase ended up there on accident. I was carrying too much heading down to the basement, so I put the vase on the sink for a second. When I came back upstairs, I liked it there so I left it. Love when that happens!
We'd made a handful of those vases for centerpieces as our rehearsal dinner years ago, and I kept a few of them. Love to reuse pieces!
Here's a peak at our fall patio.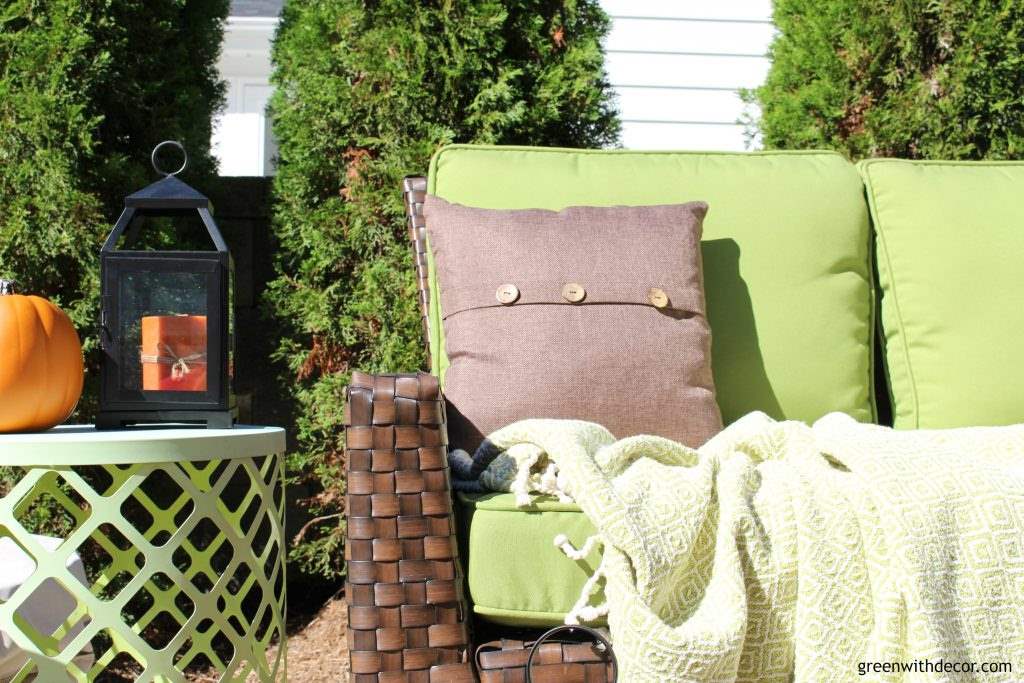 GET THE LOOK: Outdoor couch | Brown pillow | Green + white blanket
We use our patio well into the fall. With the fire going and a blanket, it's perfect even when it starts to get a little cooler. You can see more of the patio all decorated for fall here.
I don't usually add much seasonal decor upstairs, but here are the most recent photos of the rooms up there if you want to look around.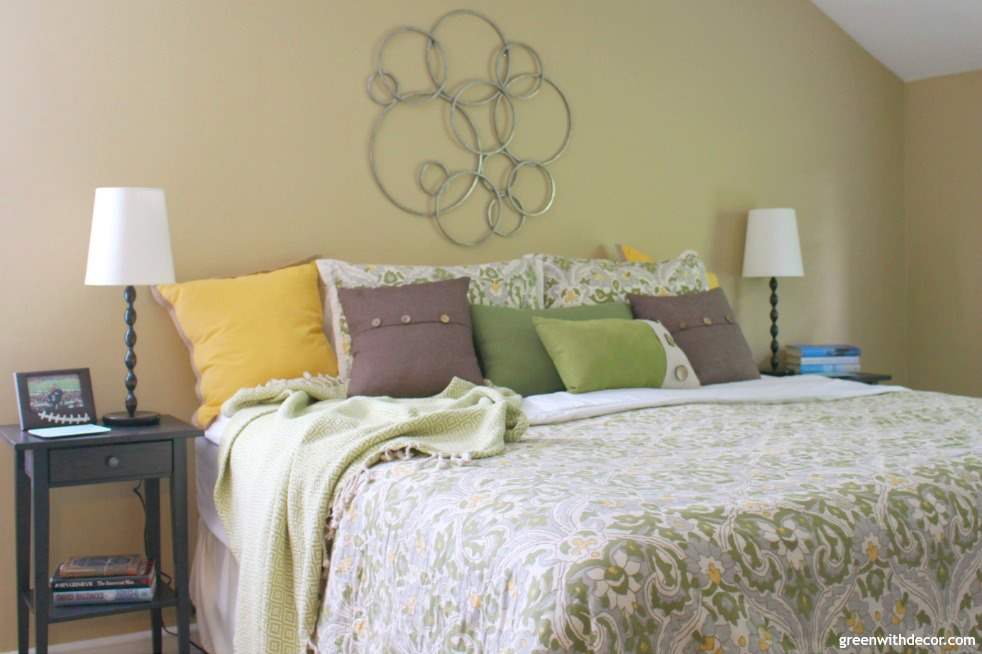 GET THE LOOK: Nightstands | Lamps | Sheets | Blanket | Green pillow | Brown pillows | Yellow pillows | Wall decor
Guest room:
This is one of my favorite headboard ideas.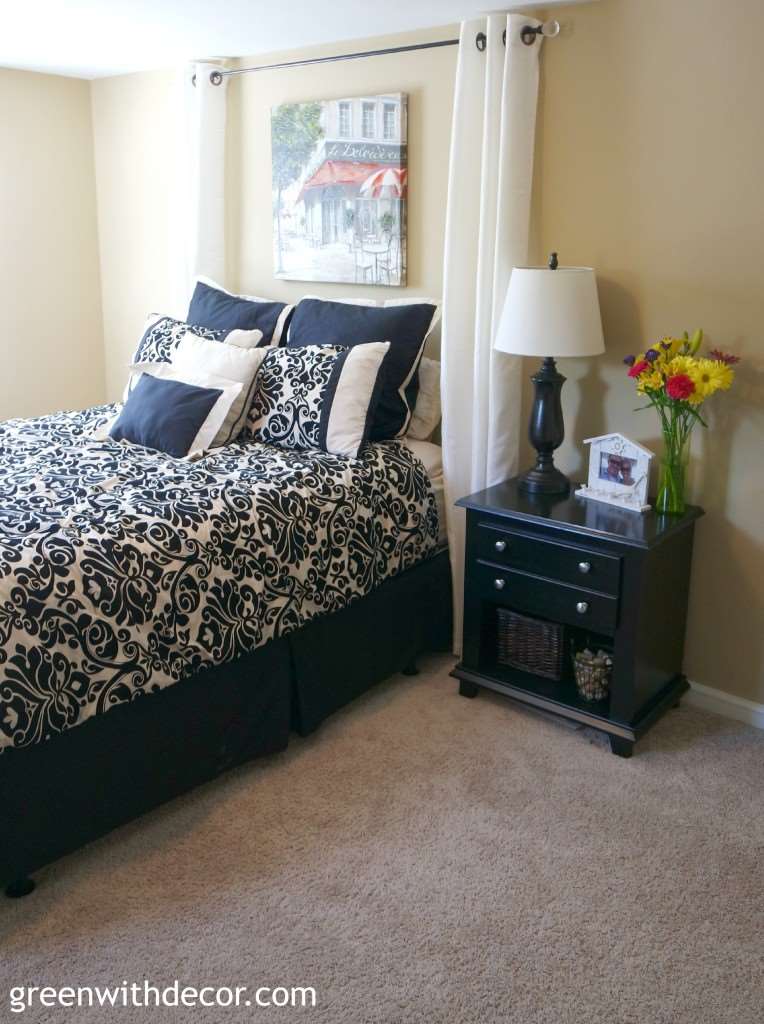 GET THE LOOK: Curtain rod here or here | Canvas | Curtains | Comforter set
Bathroom:
We did a big renovation in here, too, including adding a second vanity. The room was full of old coral tile when we bought the house!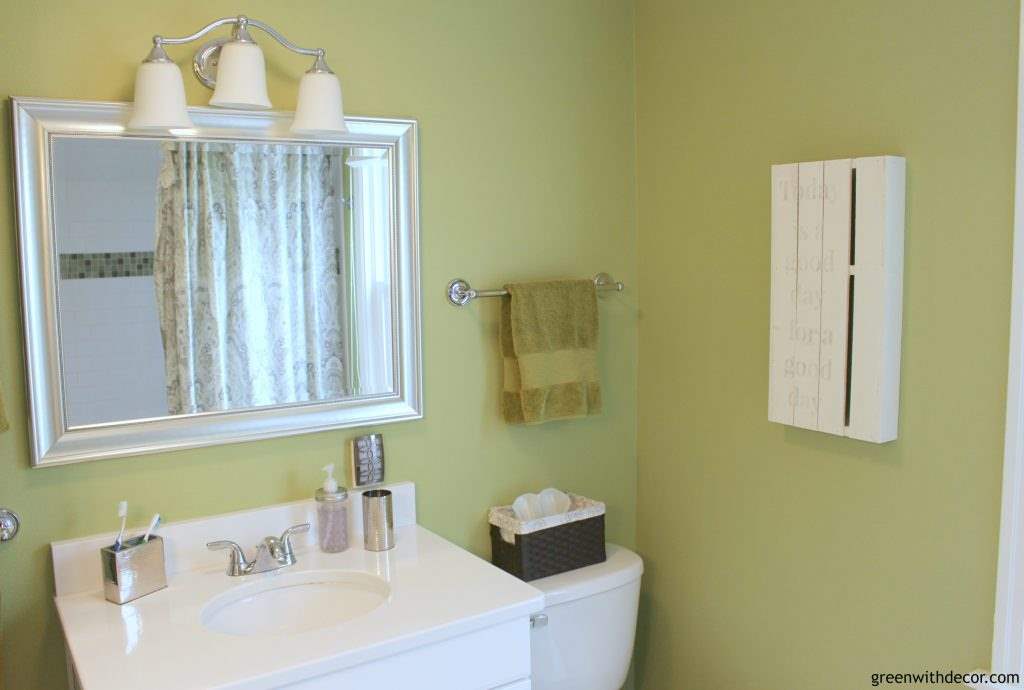 GET THE LOOK: Soap dispenser | Nightlight | Basket | Wall decor (DIY) or similar here
The office is up here, too. And guess what?!
We're FINALLY getting around to finishing that room. I know I've been saying that forever, but it's true this time. I'll start sharing more about the home office in early October.
Remember to head on over to the other bloggers' beautiful fall home tours for more fall decorating ideas! You can also fall along on Instagram by searching #hometourgwd.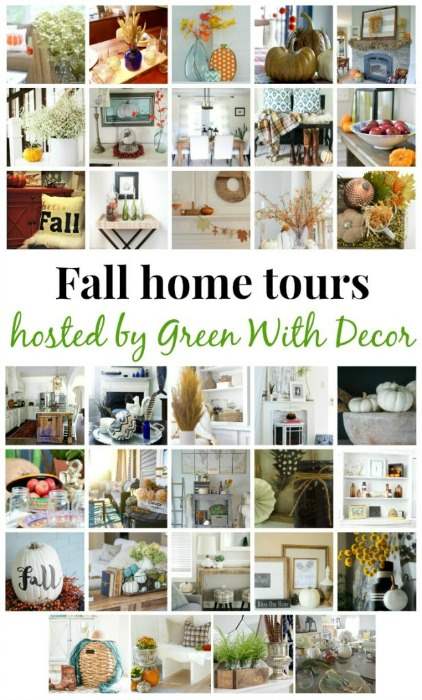 Green With Decor (you're here!) | Craft and Tell | Little Bits of Home | Love & Renovations | Newly Woodwards | Simple Nature Decor | Our Crafty Mom
My Life From Home | House by Hoff | Wife in Progress | Knock it off Kim | Average But Inspired | Lehman Lane | Pocketful of Posies
My Creative Days | 2 Bees in a Pod #1 | Iris Nacole | Up to Date Interiors | Seeking Lavender Lane | Casa Watkins Living
The DIY Mommy | The Honeycomb Home | Two Purple Couches | 2 Bees in a Pod #2 | Go Haus Go | Love Your Abode | Live the Fancy Life
Pretty Real Blog | This is Our Bliss | Designing Vibes | Shabby Grace Blog | Southern State of Mind | Our House now a Home
If you like fall decorating, you'll want to see these, too:
Remember to bookmark or pin this post if you want to save it for later!

Pin it!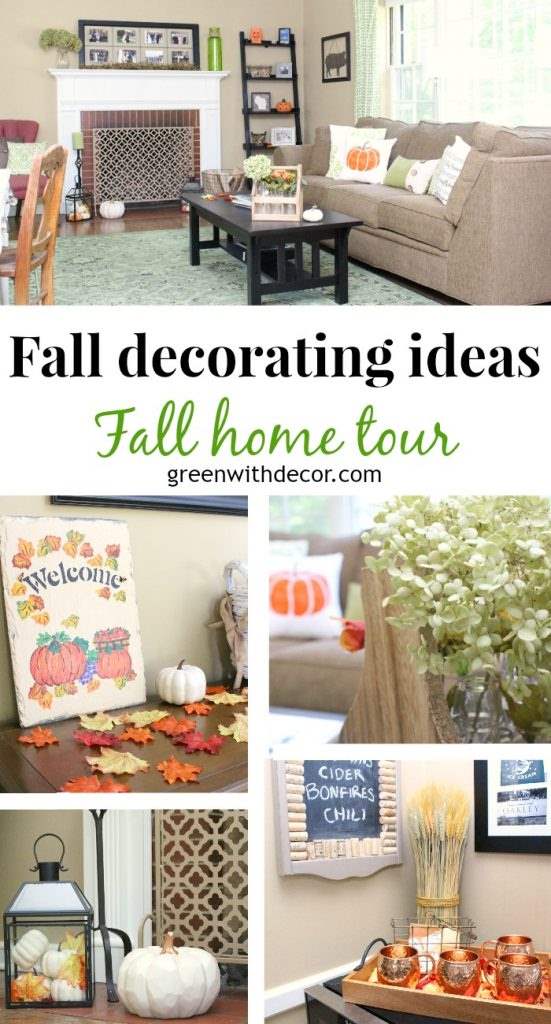 Want to read more posts like this?
Follow along: Get my emails | Facebook | Pinterest | Twitter | Instagram