It's fall! It's fall!
Fall is my favorite season, if you couldn't tell.
I've already broken out boots and scarves.
I love that the air is getting crisper and the leaves are starting to change colors.
I'm excited to share my fall-oween home tour with you guys today. Home tour days are some of my favorite in blogland. I love seeing how everyone decorates for different seasons.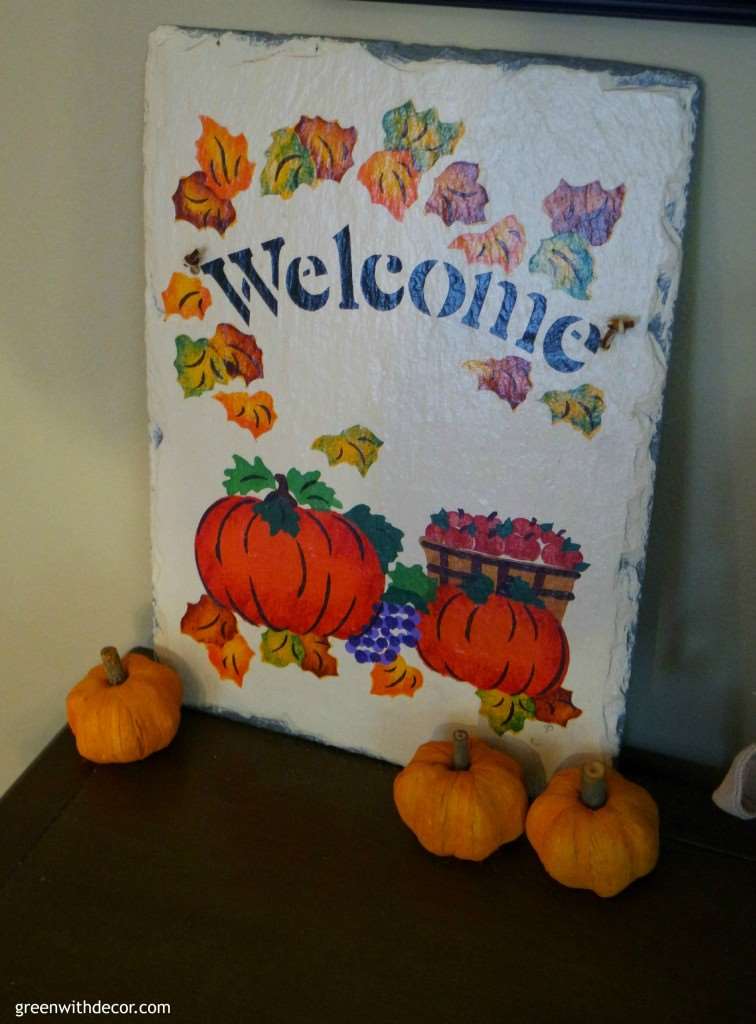 Today, I've teamed up with some fabulous bloggers who are also sharing their fall-oween home tours. Links to their fall-oween home tours are below.
If you're stopping by from one of the other blogs, welcome! I'm so glad you're here. My husband Kalen and I have renovated pretty much our entire house in Milwaukee. It was a total fixer upper when we bought it, and we love how everything has turned out so far!
For fall, I'm decorating with dark greens, oranges and whites. Green and white are my go-to colors for decorating. I'm usually not big on orange, but I let it slide in the fall, since, you know, it's FALL!
Come on in! We don't have much of an entryway, but it works for us. This little chest is perfect for storage.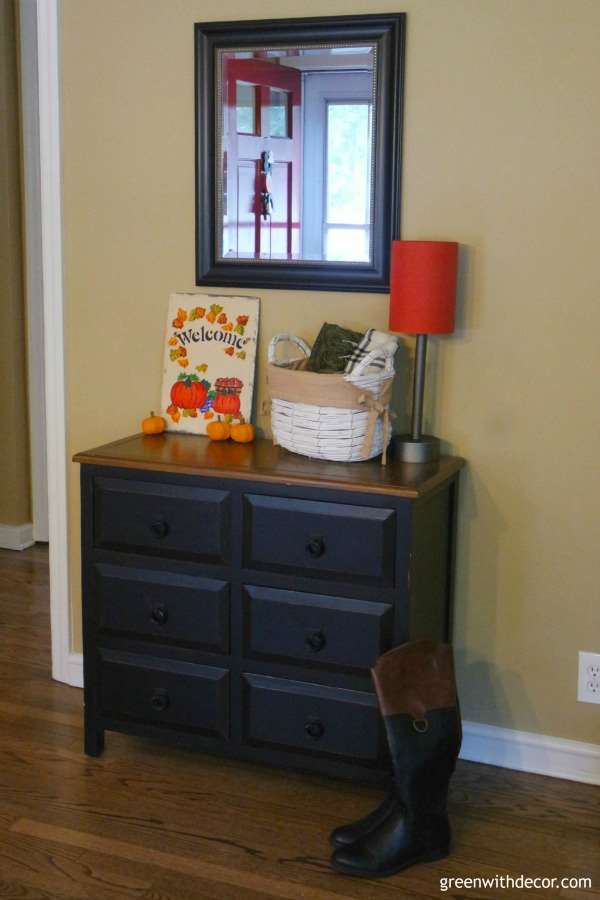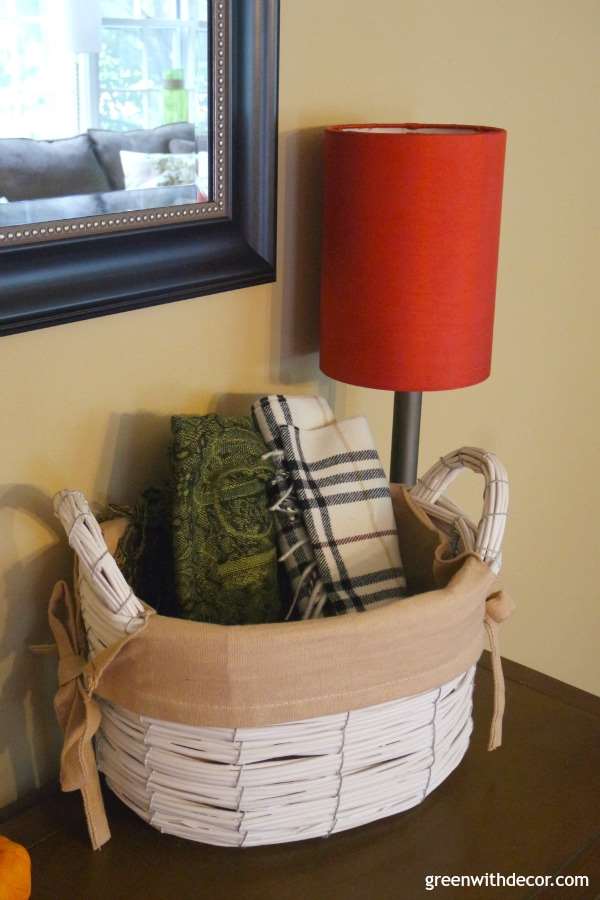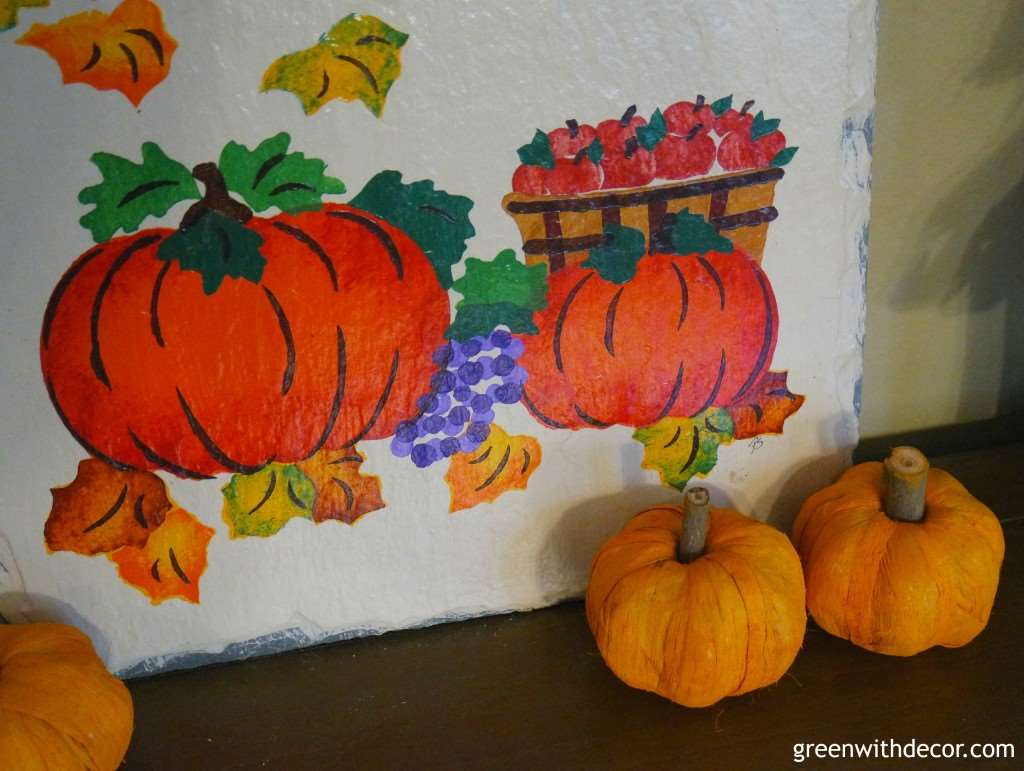 As much as I love fall, I actually don't like Halloween. (I know, I know. I'm sure some of you are cringing right now!)
This sign is cute though, so it's my one piece of Halloween decor.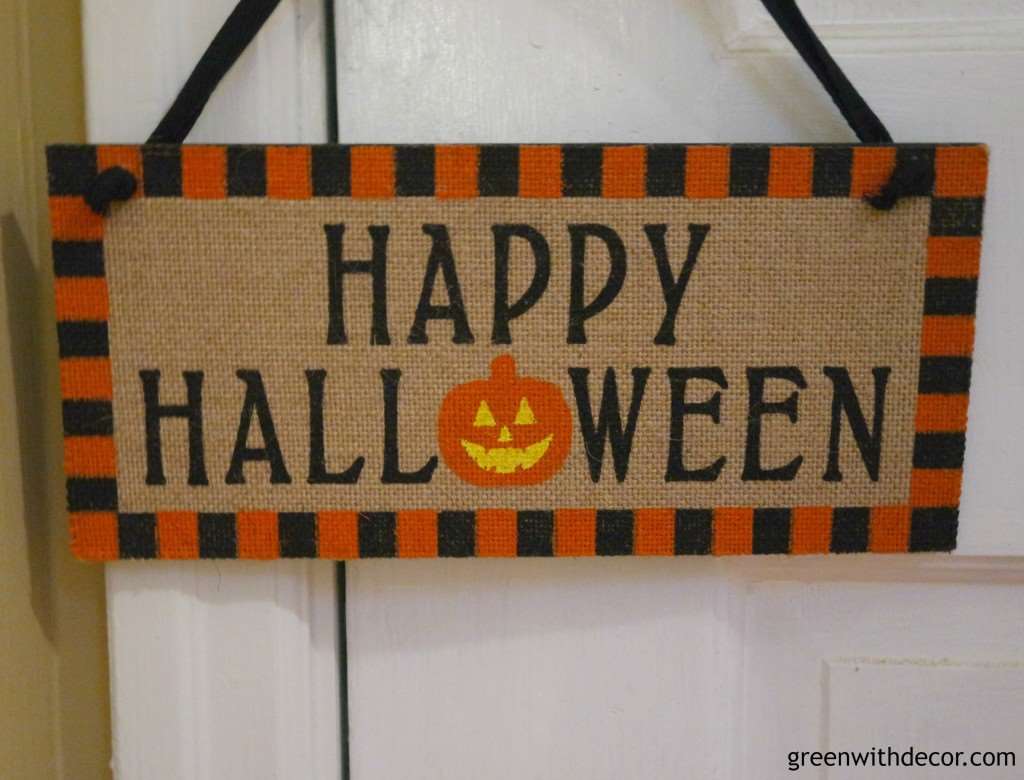 A fall mantel wouldn't be complete without pumpkin lights, now would it? Some of you may have seen the mantel on Instagram a few weeks ago.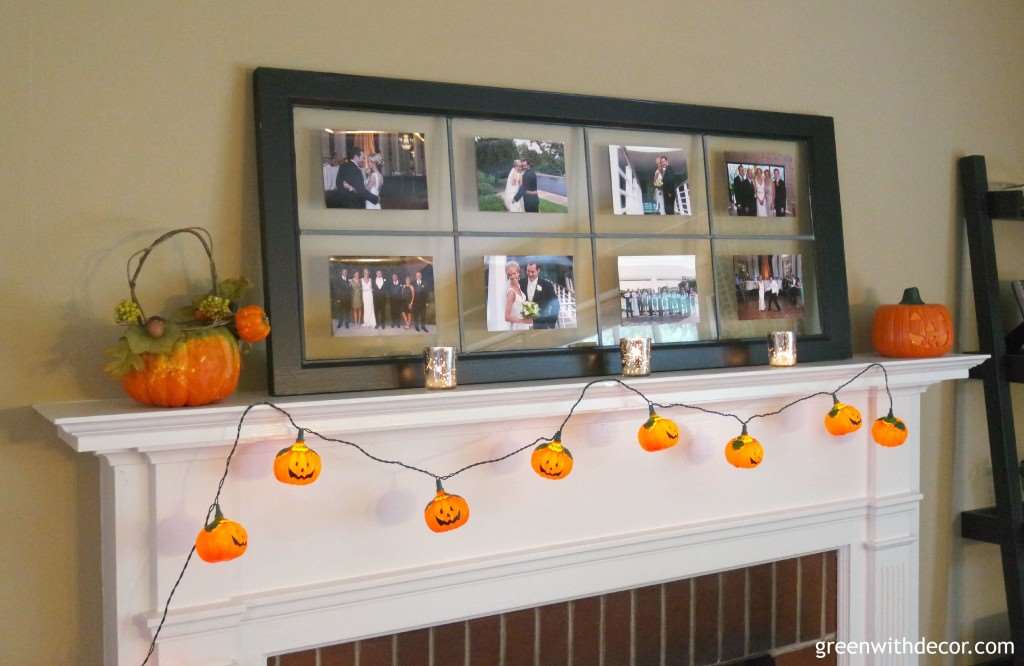 You can learn more about that old window turned picture frame here. It's one of my favorite DIY projects to date.
I added a little fall decor in our bathroom, too.
This post contains affiliate links. This means if you click the link and buy something, I may receive a small percentage of sales at no extra cost to you.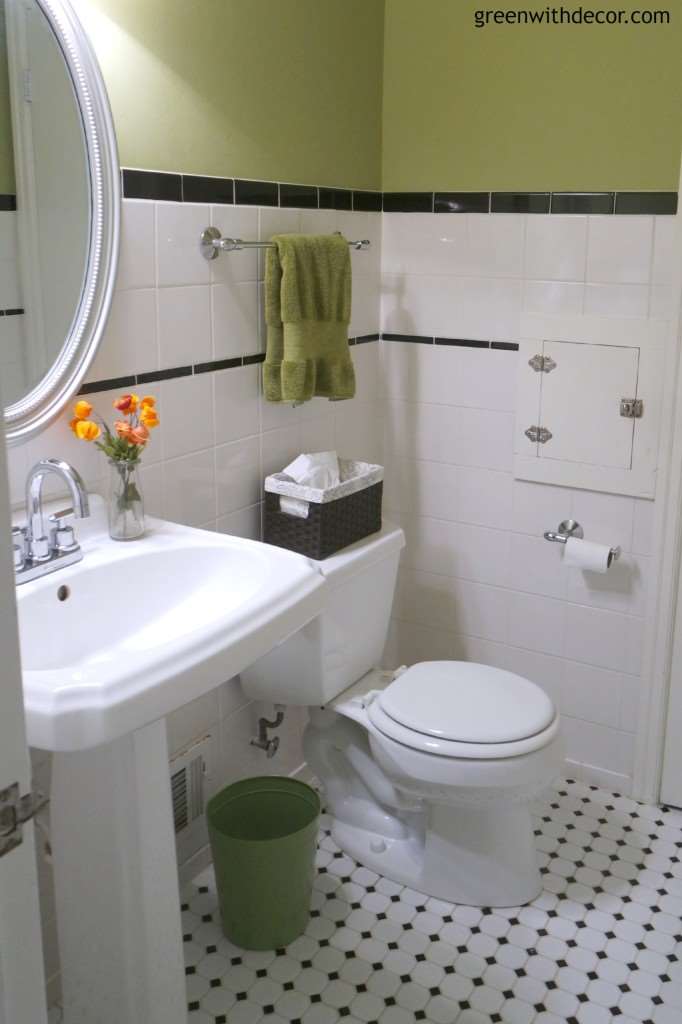 My brother Stephen bought me this towel as a joke a few years ago since I don't like Halloween.
I like pumpkins though, so the towel goes up every fall!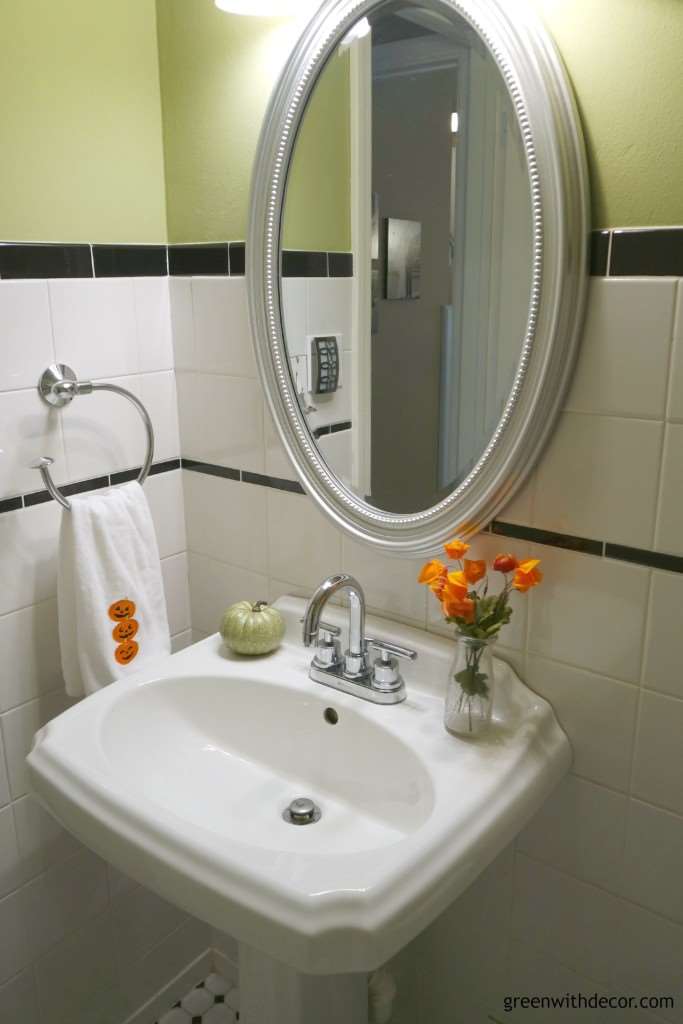 GET THE LOOK: Mirror | Faucet | Basket
We spend so much time in the kitchen; of course I had to add touches of fall in here. (You can read about our major kitchen renovation here.)

GET THE LOOK: Bar stools | Cushions | Hydrangeas | Lantern | Curtain rod | Window valance (DIY) | Cabinet handles
Do you spy Oakley heading into the kitchen? I try my best to keep her out of blog pics, but she just follows me around sometimes!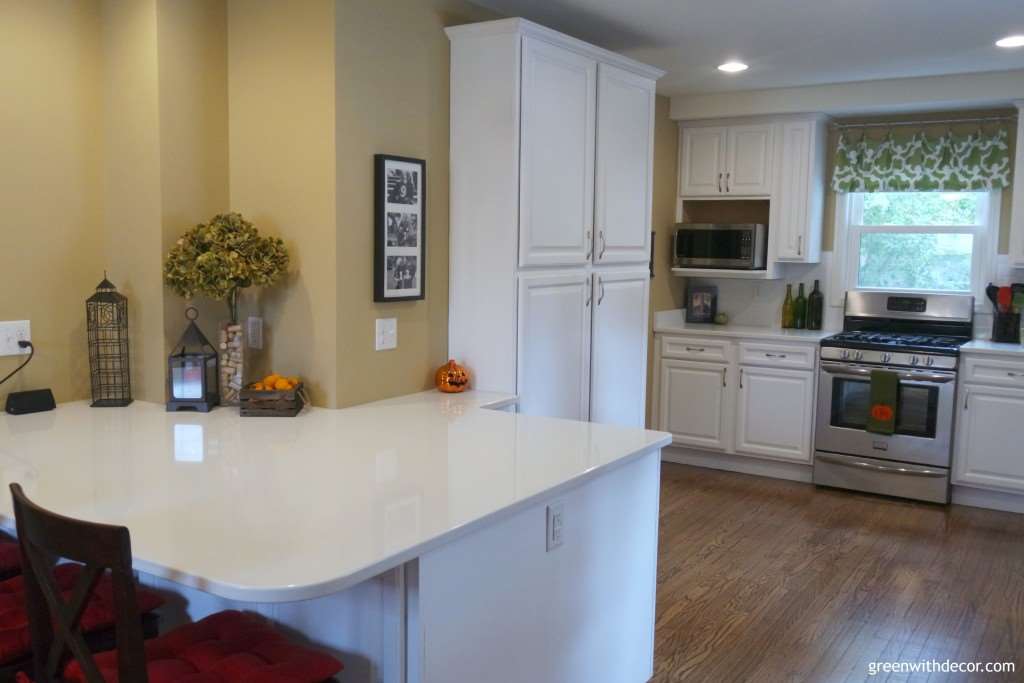 I'm pretty obsessed with these little pumpkins I found at TJ Maxx. And they fit perfectly in this wooden box from Target's dollar section. Isn't that dollar section addicting?!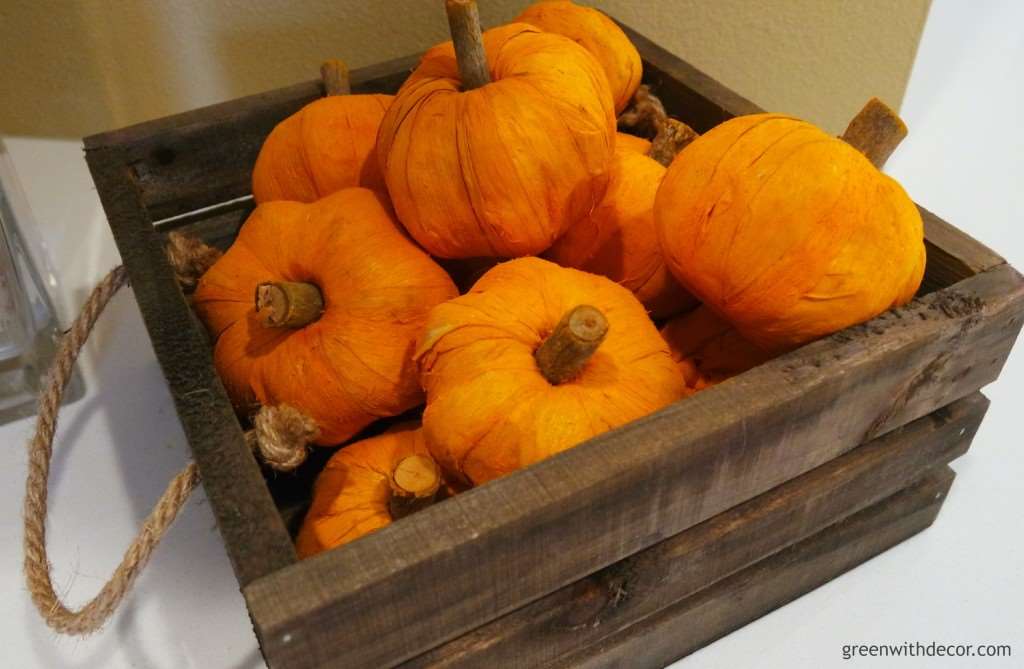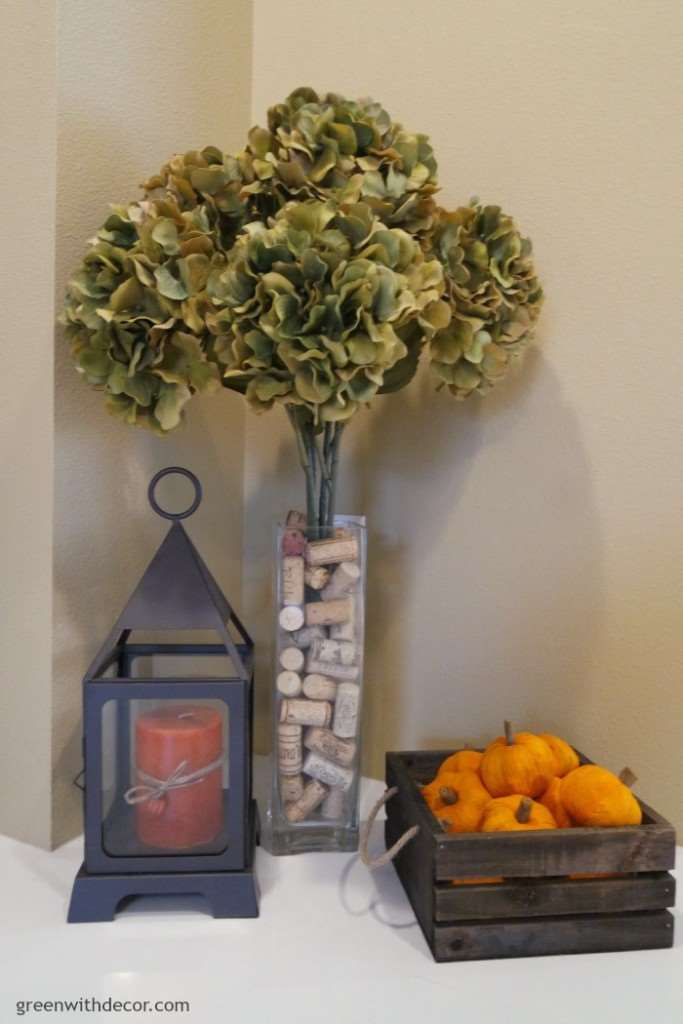 I love using this wooden drink caddy for decorating!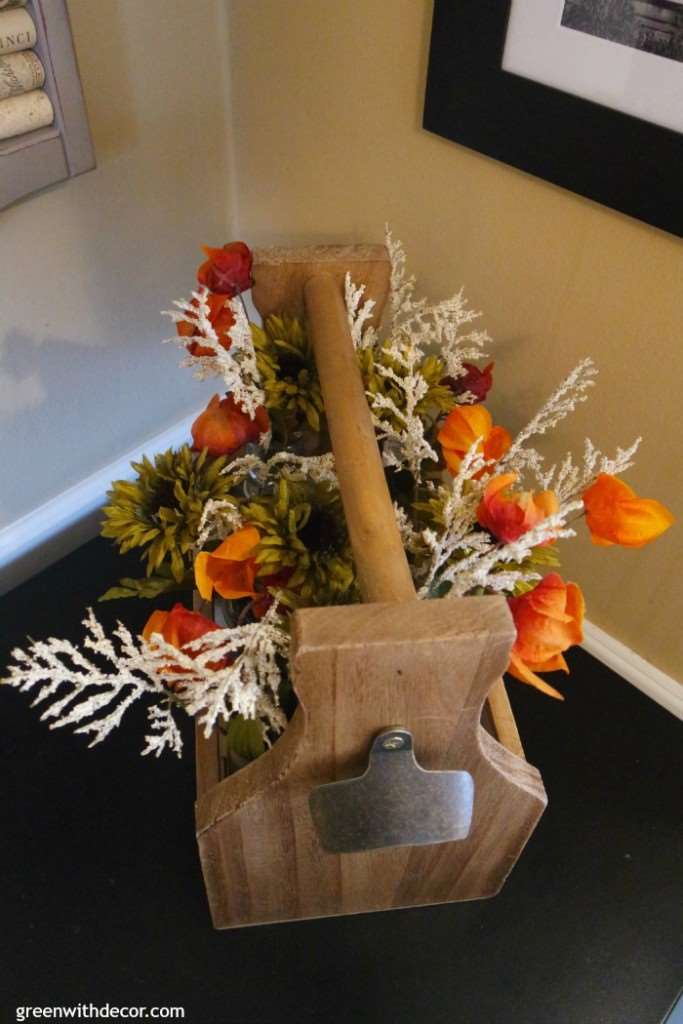 The picture frame above the drink caddy is new.
And by new, I mean we've had it for months and finally hung it up this weekend, just in time for the fall home tour pictures. (Funny how that works, right?!)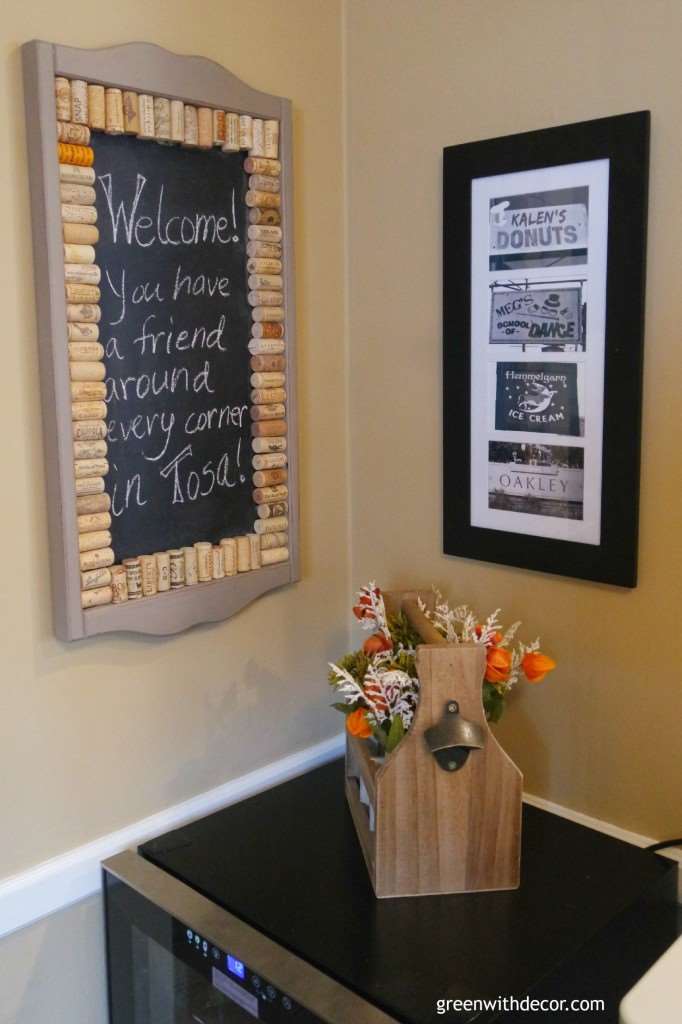 You can learn more about the cork chalkboard here. It's one of my favorite housewarming gifts!
I also swapped out our kitchen towels for a fall look.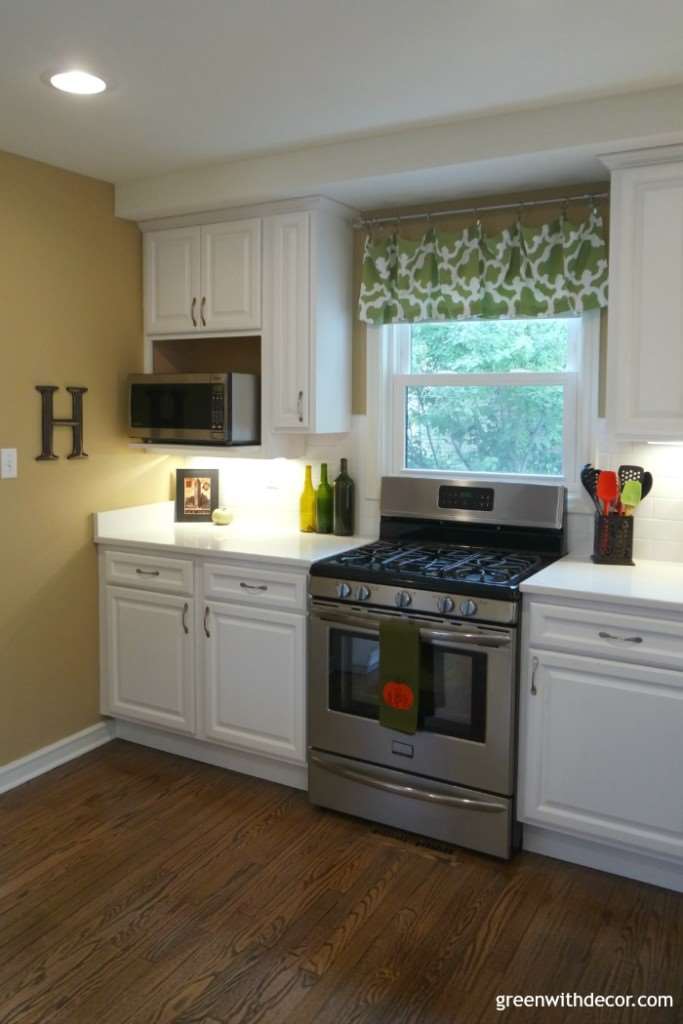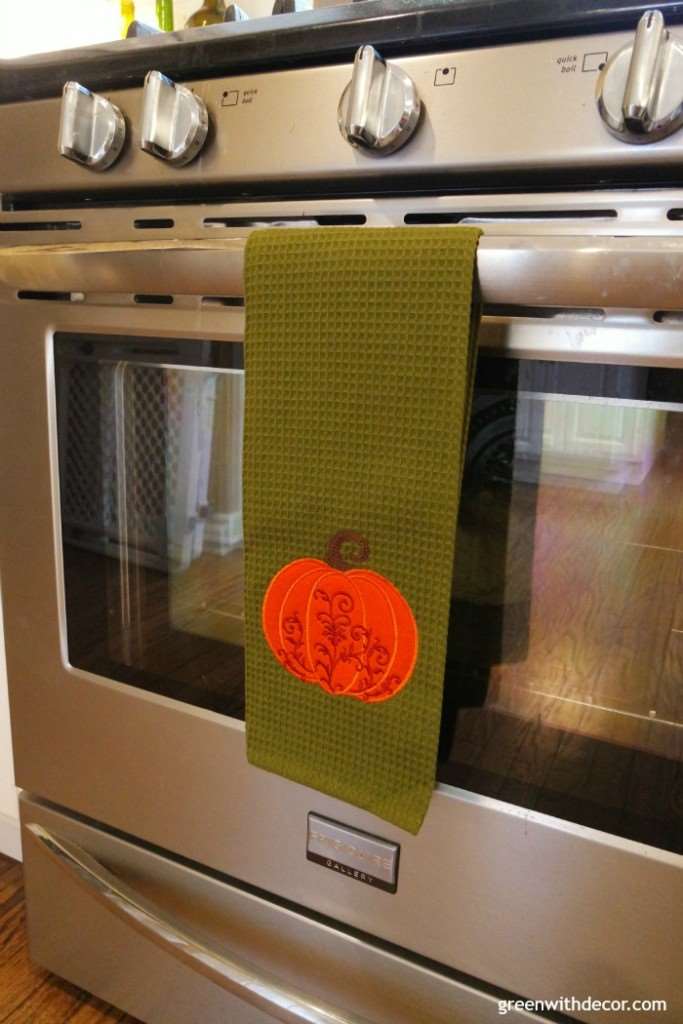 And what screams fall more than football and candy corn? You can learn how to make this easy cork letter here.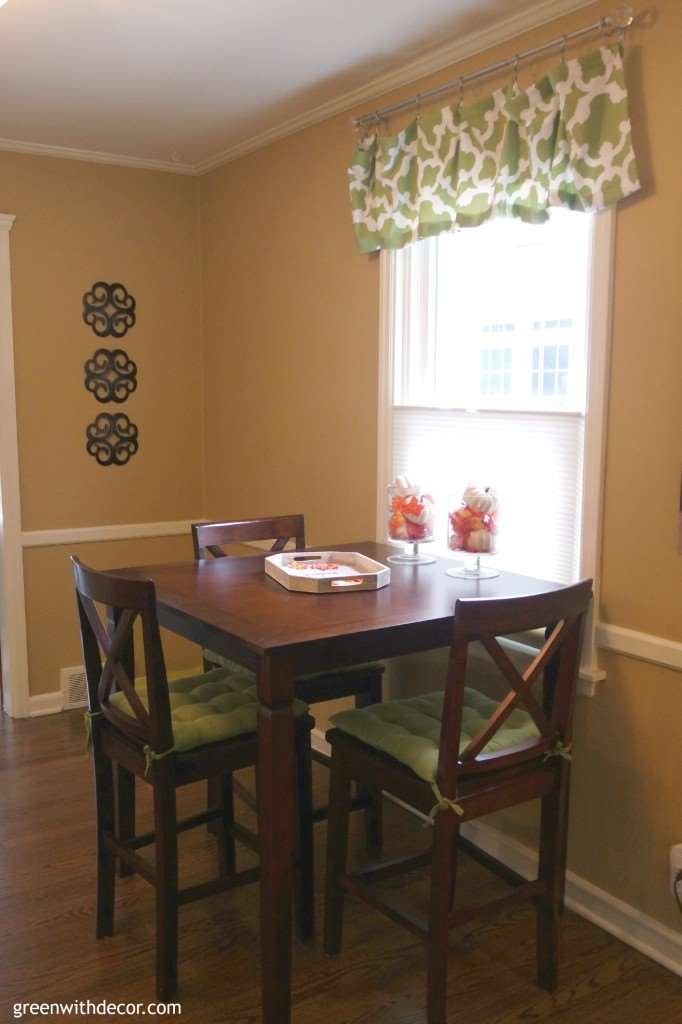 If you've been reading the blog for a while, you may have noticed I have a slight tray obsession. I just did a tray DIY project last week, and I also just picked up this tray.

What can I say, I want trays in every room of the house.
Including our family room! I love this big white tray.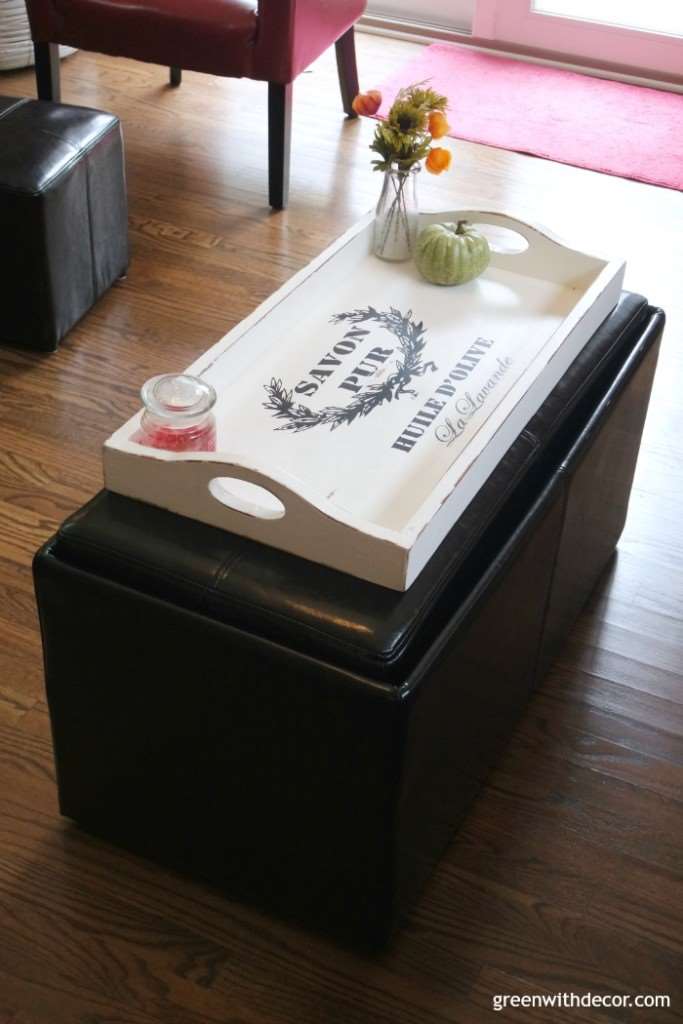 Football season is a big deal in our house. Kalen LOOOOOVES football.
This football often ends up sitting on the furniture in our family room right alongside the throw pillows. I've given up fighting it.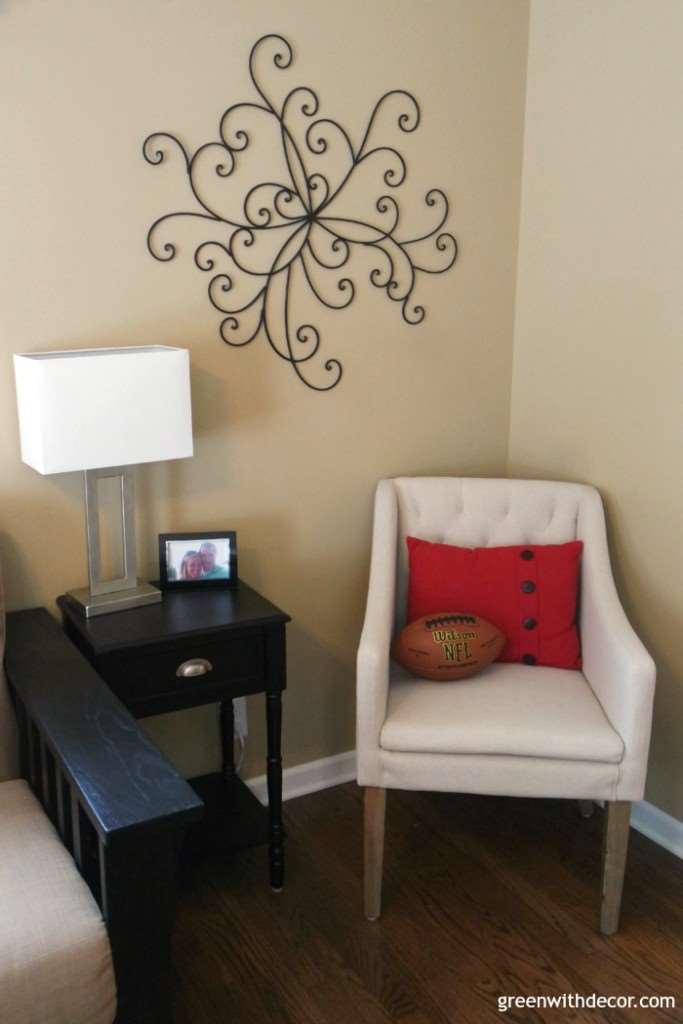 GET THE LOOK: End table | Table lamp | Red pillow | Metal wall decor
Even Oakley is in the football spirit with her football blanket.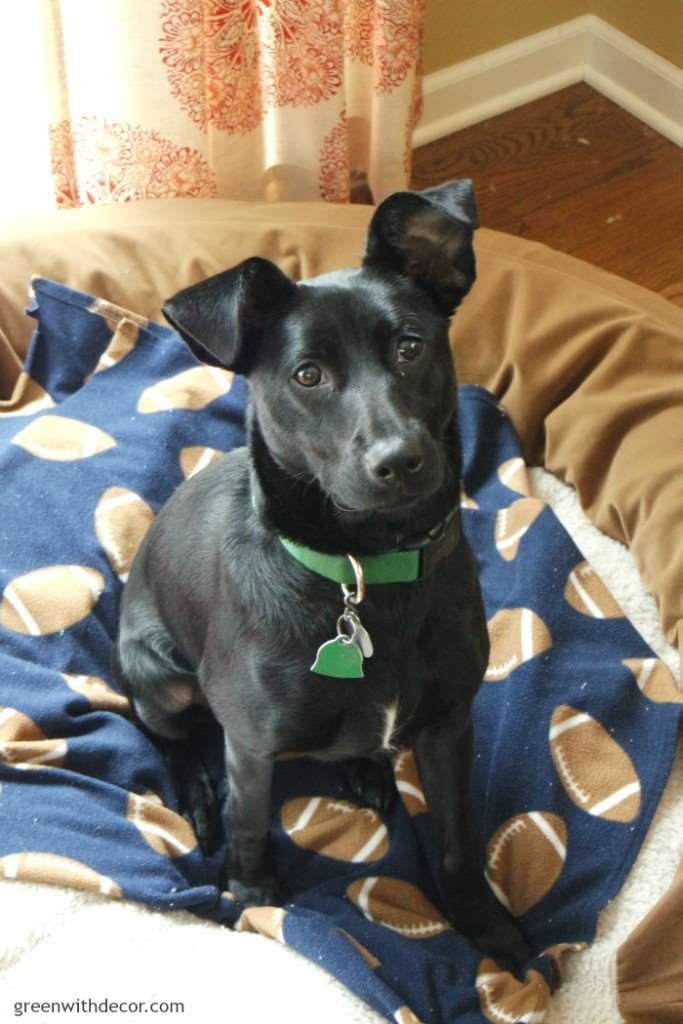 You can see the whole family room renovation here.
We recently added the patio to our backyard. I shared the patio reveal a few weeks ago, so not much has changed out there.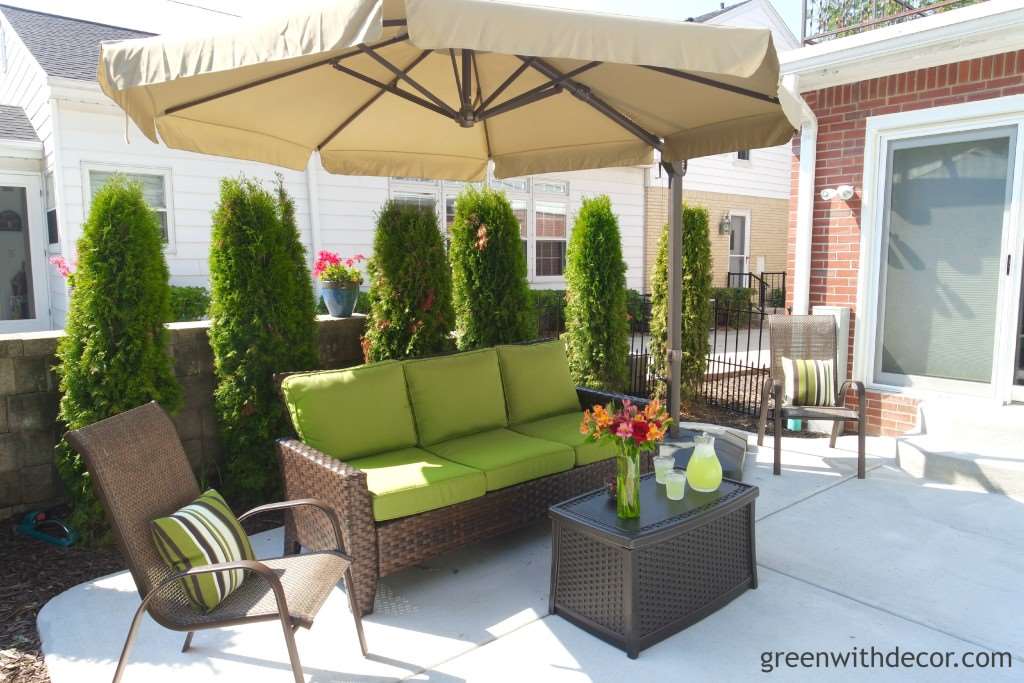 Even though it's getting colder in Wisconsin, we still use our patio in the fall – usually while wrapped in a blanket! I love sitting out there with apple cider and catching the smell of burning leaves.
How do you decorate for fall?
Be sure to stop by all the other houses on today's fall-oween home tour – they are gorgeous!
Farmhouse 40 | Domicile 37 | Our House Now a Home | Pocketful of Posies | Average But Inspired | Beauteeful Living | Casa Watkins | Shabby Grace Blog | Craft + Tell | Green With Decor (you're here!) | Elizabeth Joan Designs
You can see more fall decorating ideas here:
Remember to bookmark or pin this post if you want to save it for later!


Pin it!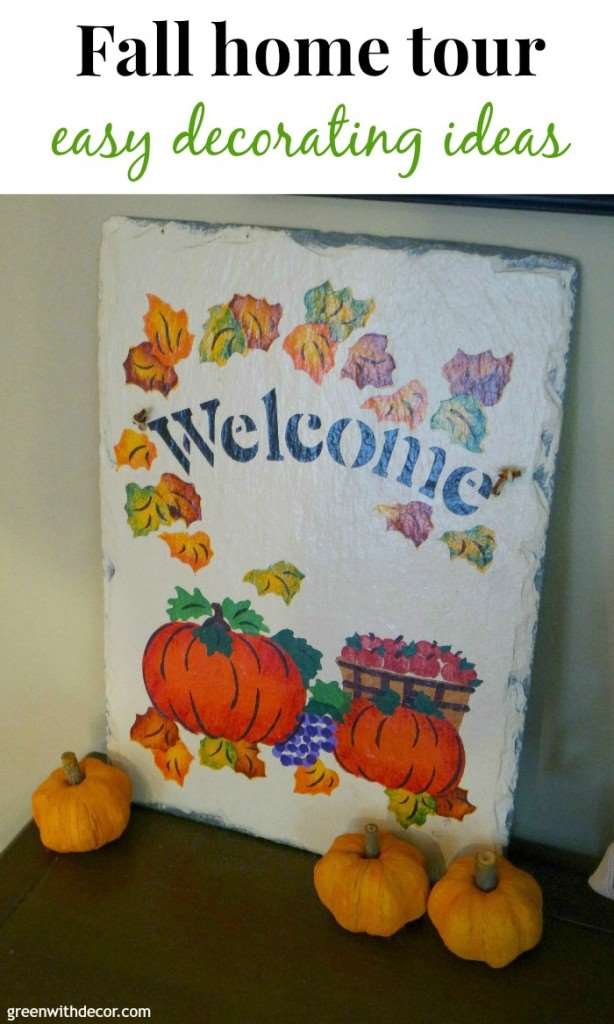 Want to read more posts like this?
Follow along: Get my emails | Facebook | Pinterest | Twitter | Instagram