Wisconsin is finally get its first IKEA, and I'm SO excited we'll have one close by!
I was lucky enough to get a sneak peek of the new Milwaukee (Oak Creek) store last week, and guys, it's GOOD!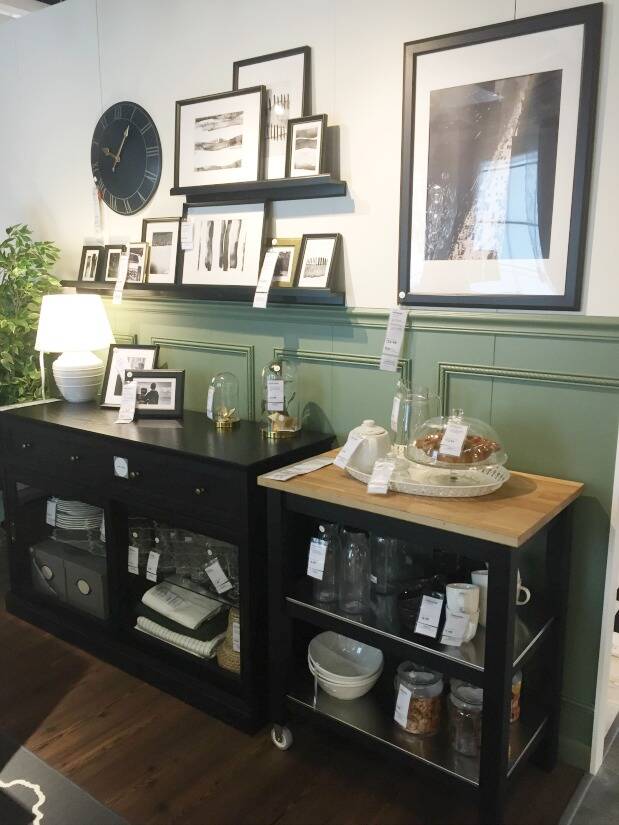 (Excuse all the cell phone pics, I didn't have my real camera!)
We toured through the whole store. There are about a million (okay, or 50!) cool rooms set up. It took a team 14 weeks to get all of that set up! What a fun job would that be?!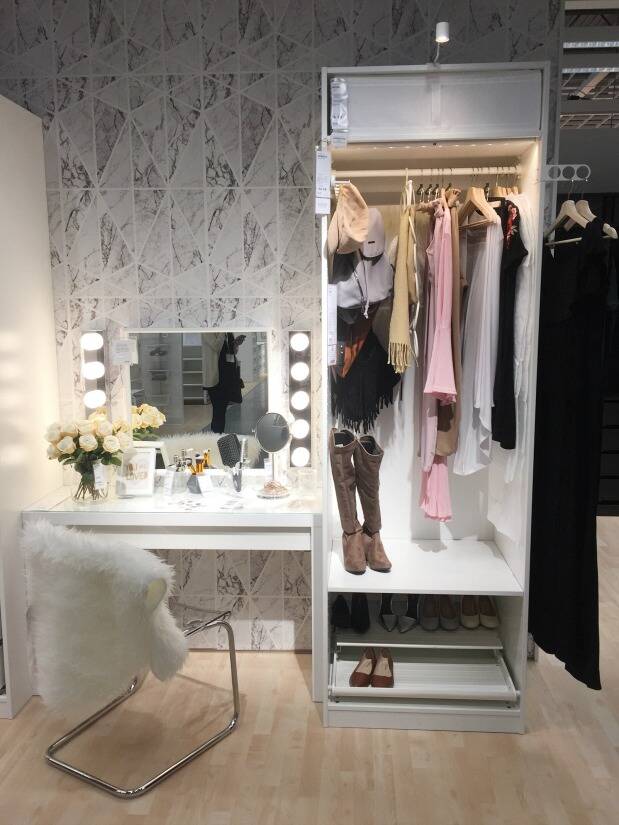 When IKEA goes into a new market, the team meets with a local historian to learn all about the area, the culture and how people there live. It was so interesting to hear how that affects the store setup!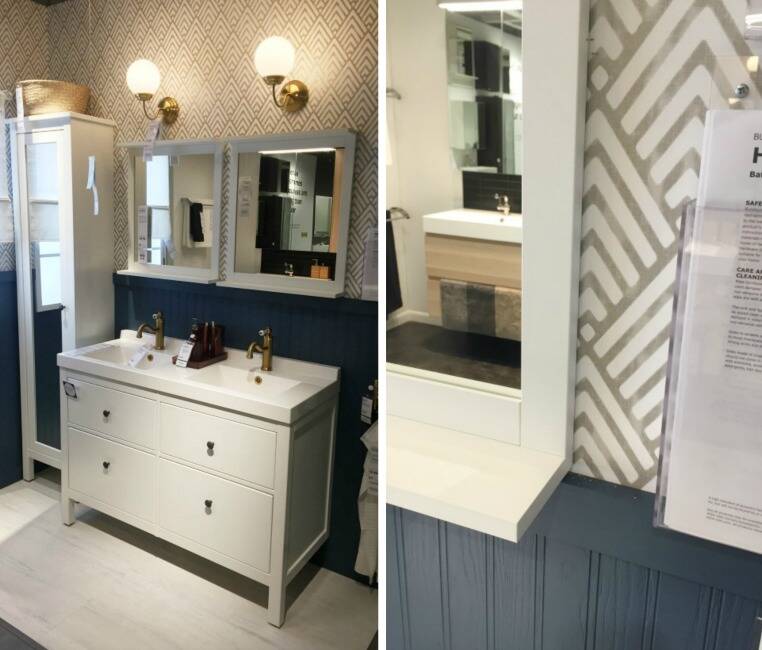 Finished basements and fireplaces are common in Milwaukee, so some of the in-store room setups had faux stairs (like they were leading upstairs) and fireplaces. I love those touches!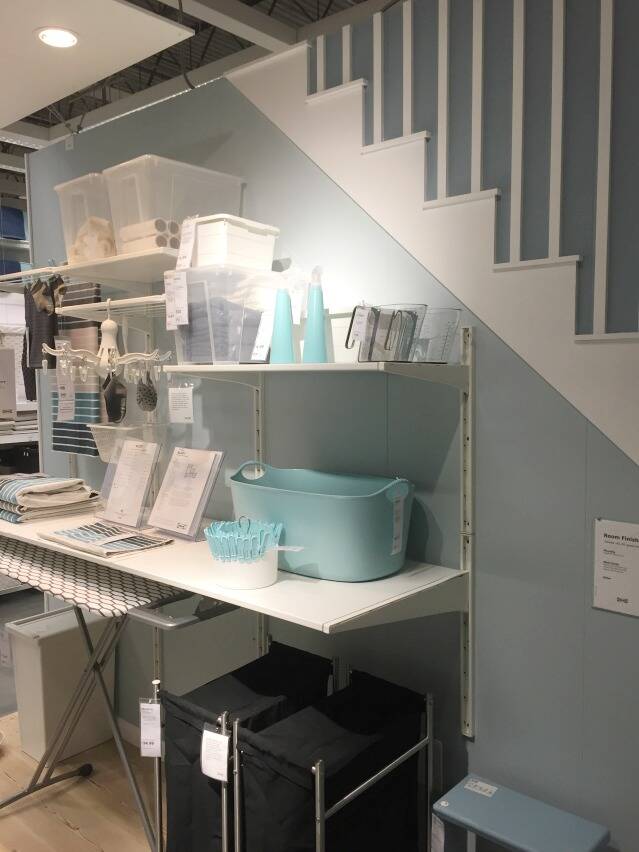 IKEA does a great job of showing you how to maximize a living space and how to decorate with their pieces in different ways throughout the store – like using this rod to hang plants or using pegboard for organization in a nursery (picture of that below).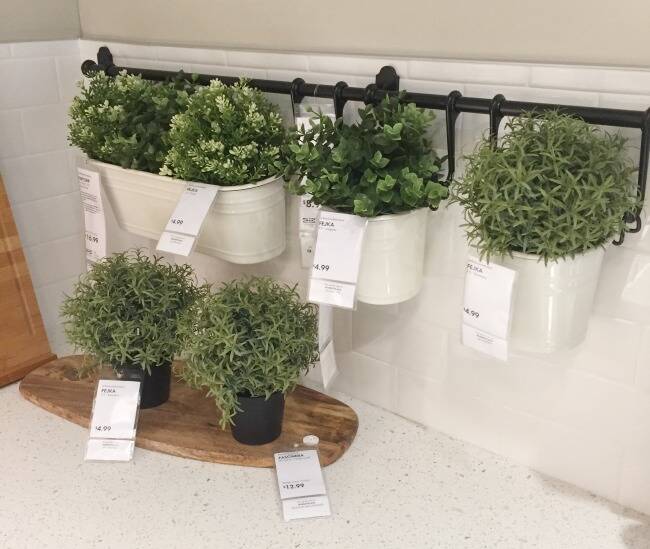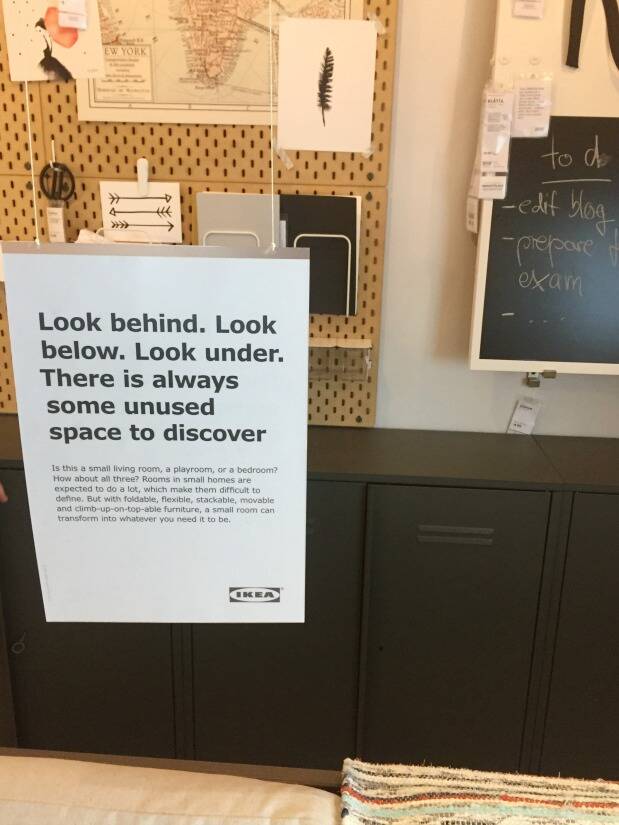 They also had a few different setups with "Create this room for $x," which was fun to see just how much you could spend to get a whole room design. I love that.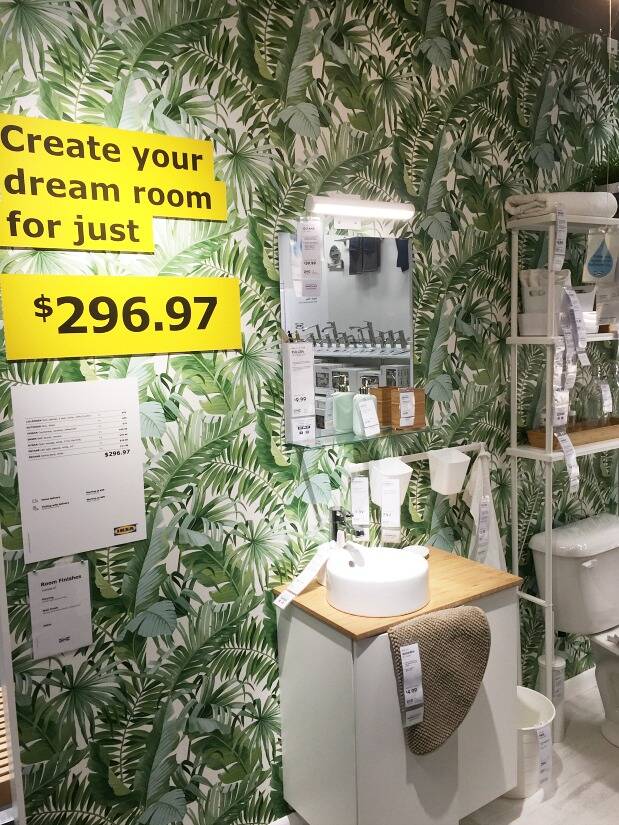 Store features
We got to hear from Samantha, the store manager, and it was cool to hear all of the services and touches IKEA has implemented in recent years to make the shopping experience even better:
Delivery (starting at $29)
Online ordering and pick up in store (Which is awesome – I do that at home improvement stores ALL the time. Although then you'd miss seeing all the cool rooms set up in store at IKEA.)
Planning stations to plan your kitchen, bathroom, closet, etc. (I'm totally interested in the closet section!)
Child care (with a ball pit and rock wall!)
Play towers near the bathroom renovation section so your kids have something to do while you're planning your dream bathroom (genius!)
Stroller carts
Bottle warming stations (funny how you start paying attention to all of that when you're pregnant!)
Kids' meals
The list goes on and on.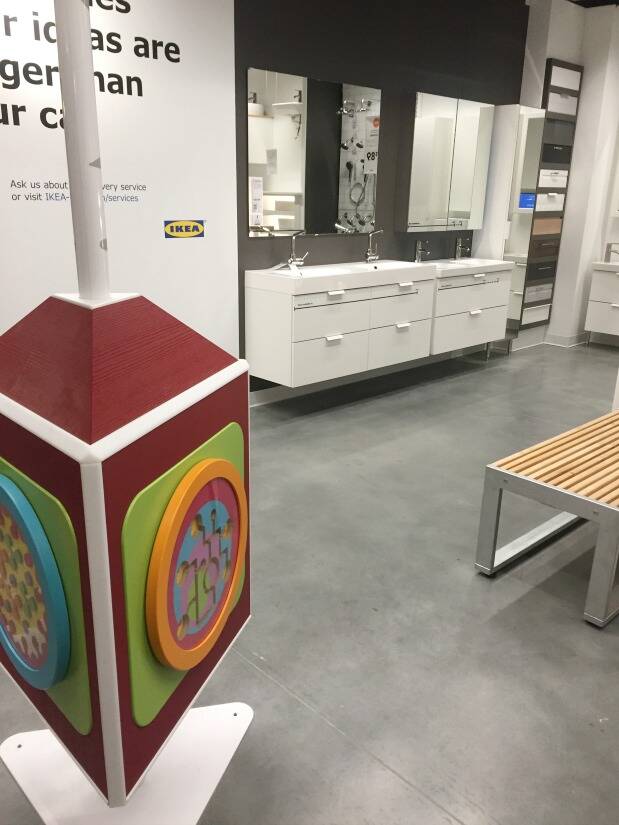 They've really thought about what makes shopping easiest on the customer and what people leading different lifestyles are looking at for their homes. It was interesting to hear all about the thought they put into store and product design.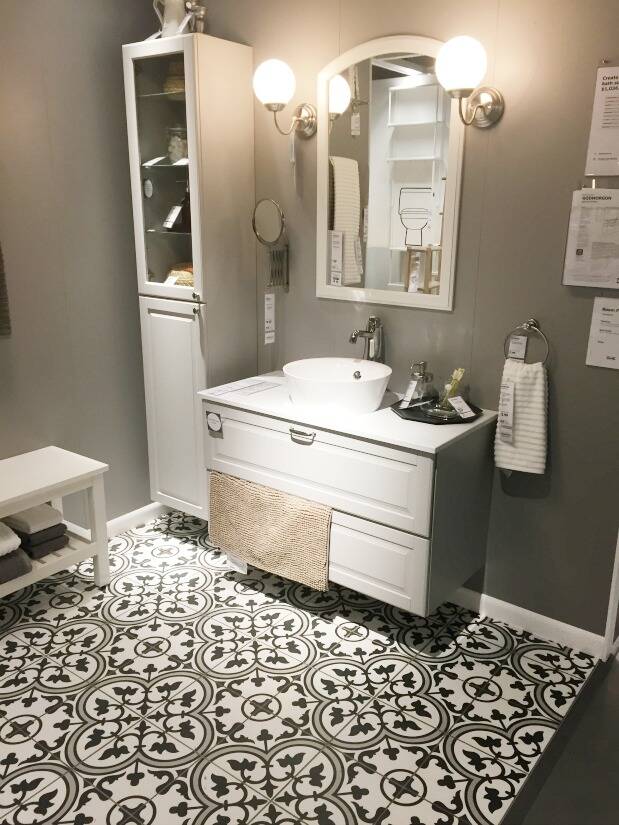 Favorite IKEA finds
Even if you're not in Milwaukee, it's always fun to hear what's new at IKEA, right?!
Kitchens
The kitchen section was also AWESOME! I had no idea since there wasn't an IKEA here when we did our kitchen renovation.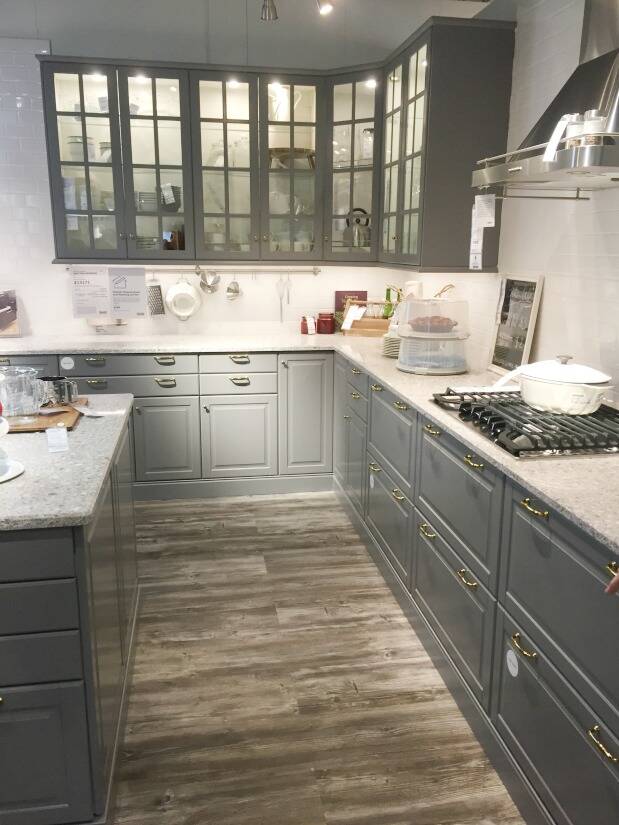 They have a ton of cabinet and counter (including quartz!) options. Definitely worth looking at if you're planning a kitchen renovation.
How easy would it be to stay organized with drawers like this?!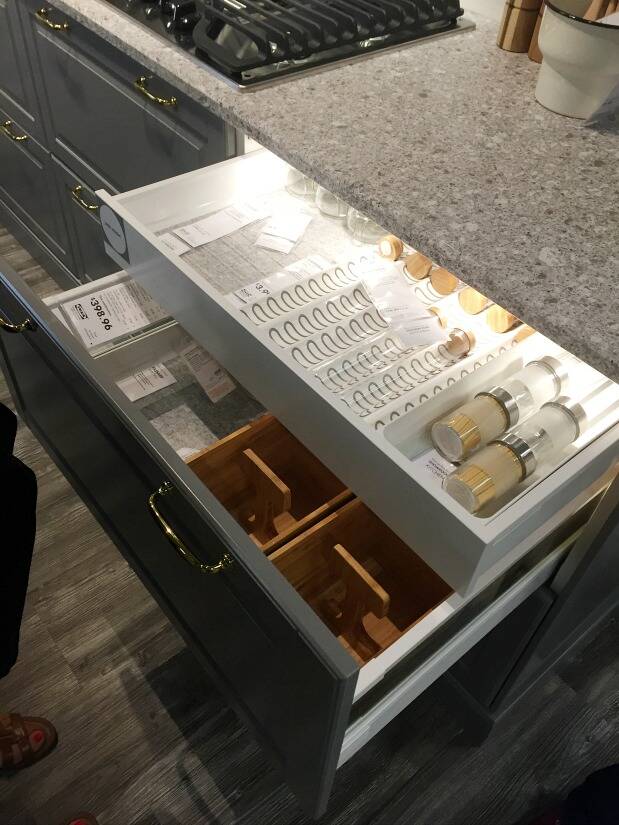 Oh and they had a wooden toolbox with green and clear glass bottles – just like our patio centerpiece last year! I love it.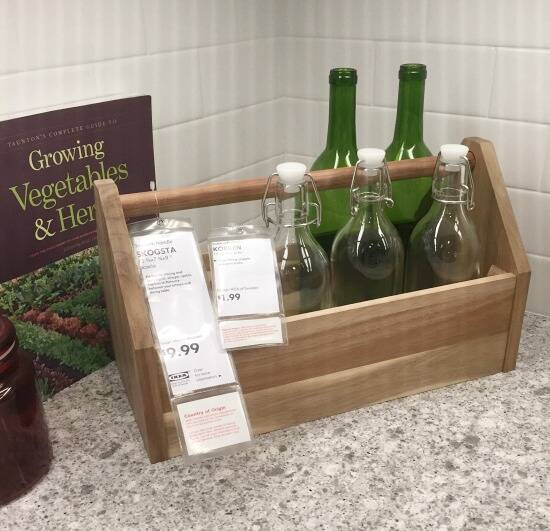 Plants
OMG, the faux plant section was unreal. I want to go back and buy them all. They actually look real, not like those fake rubbery plants you see sometimes.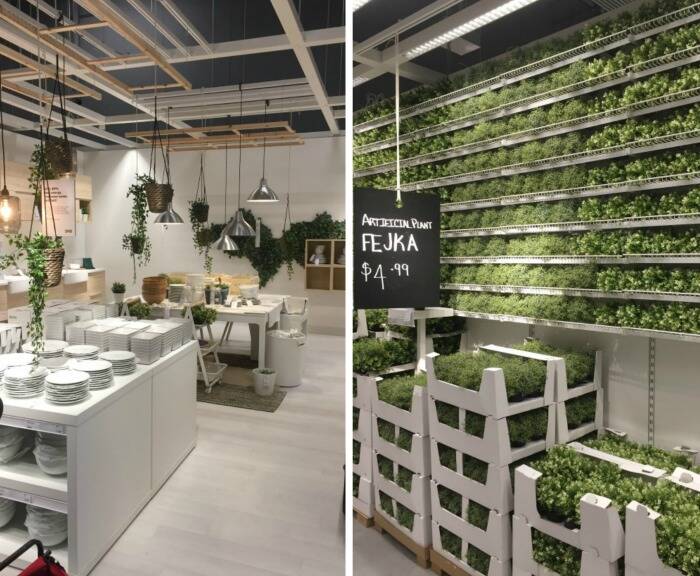 They had my favorite faux eucalyptus I bought recently. Here it is in our dining room: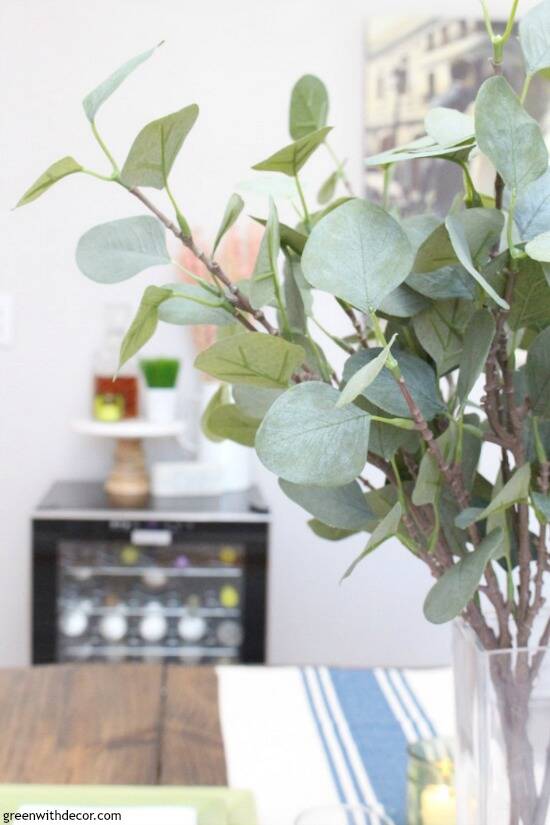 Artwork and frames
There were so many good art prints and photos perfect for wall decor.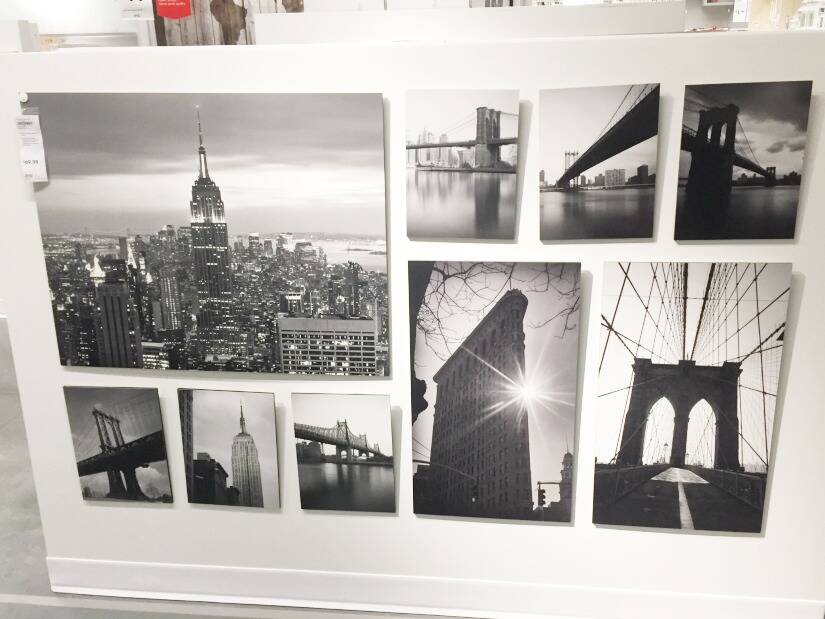 I love these frames. I want to do a gallery wall of some sort on our stairs, and I'm thinking these frames are perfect for it.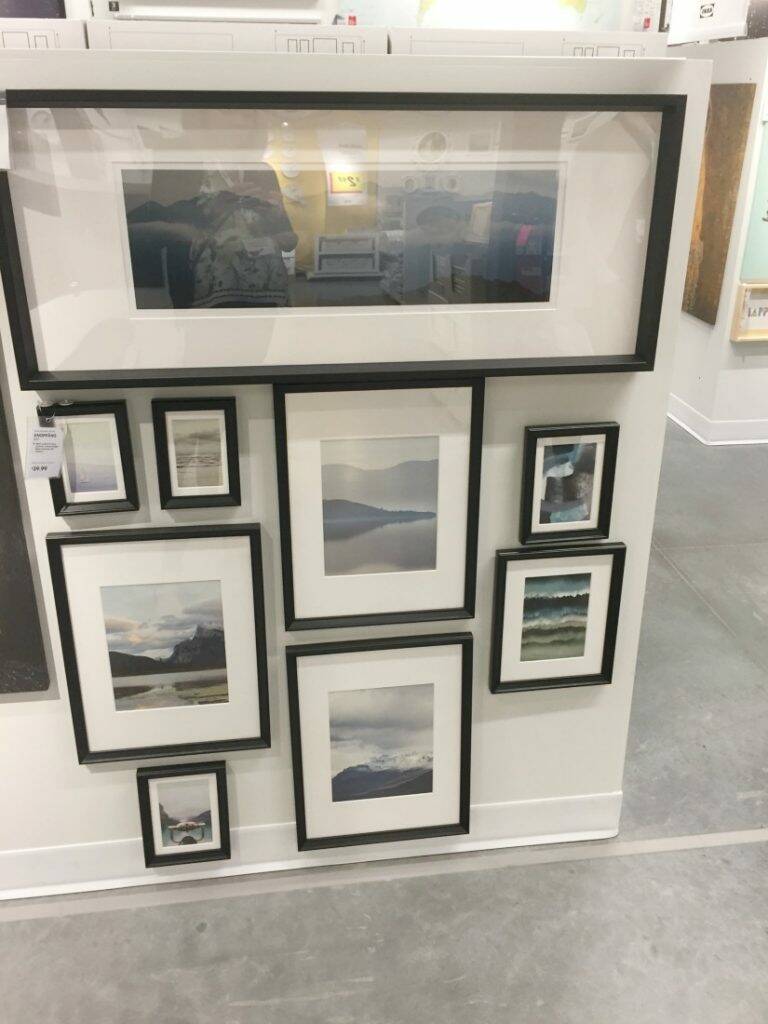 I really liked all of the maps, too.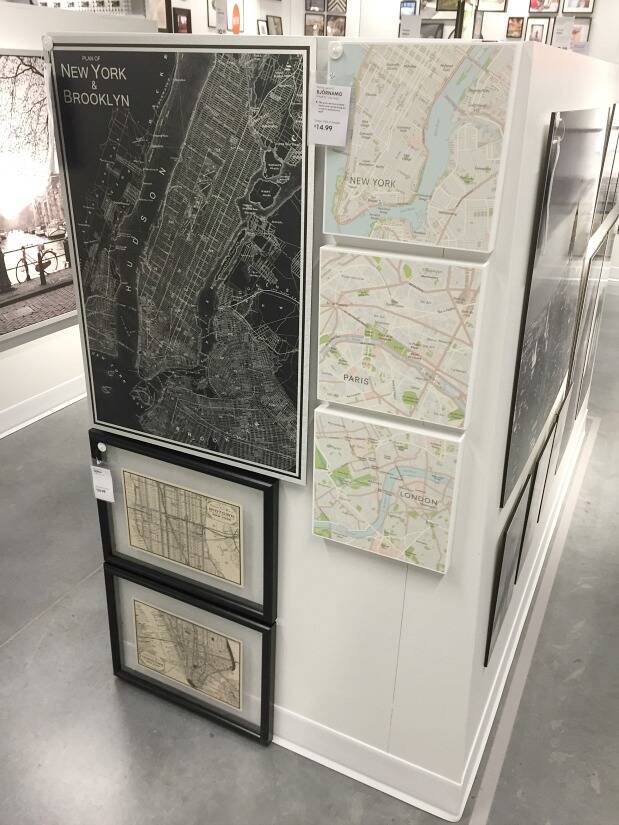 Lights
There were so many good light fixtures and lamps. I looooove this light.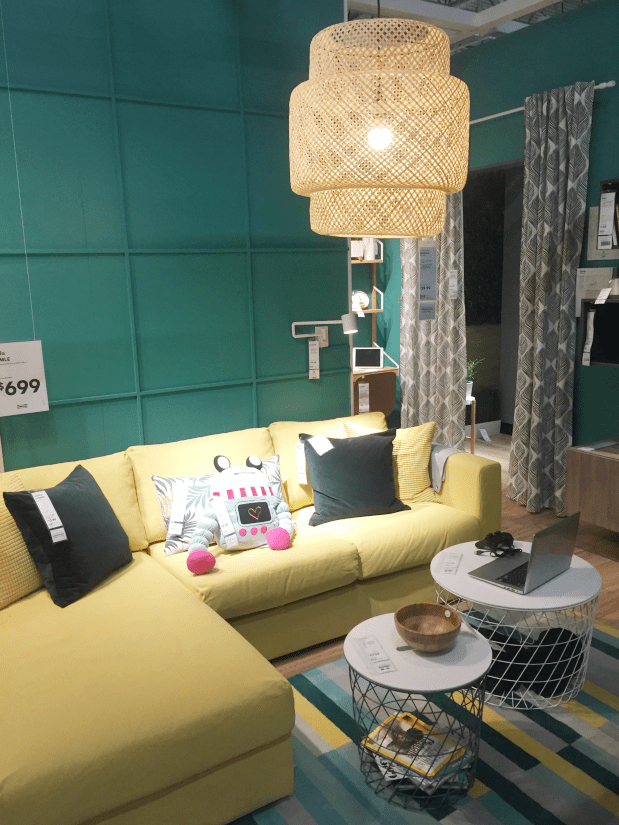 The smart lighting options were really cool. You can set lights to be dimmable without even hard wiring them!
Crates
I always get asked about the crates in our living room, and since they were a Marshall's find, I never have a link for anyone!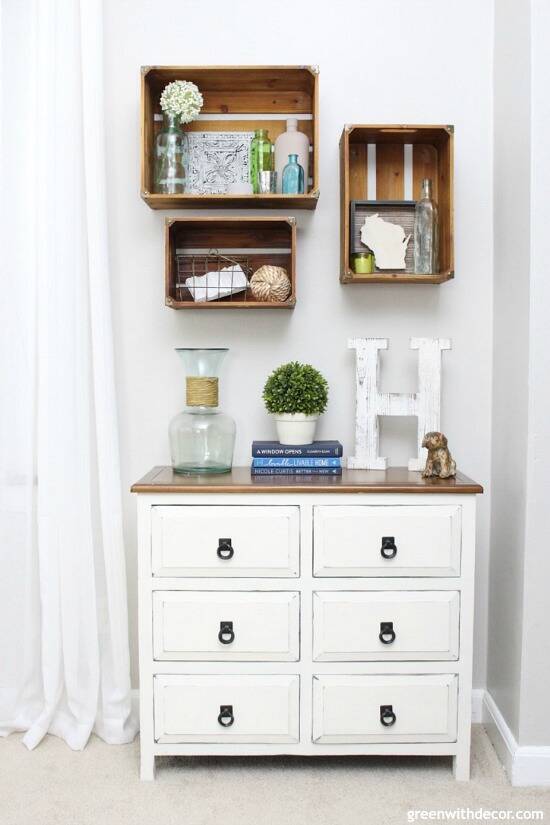 IKEA has these pretty crates you could stain or paint and then hang on the wall just like ours.
Pillows
Of course I have to mention throw pillows. I loved this gray one with the buttons.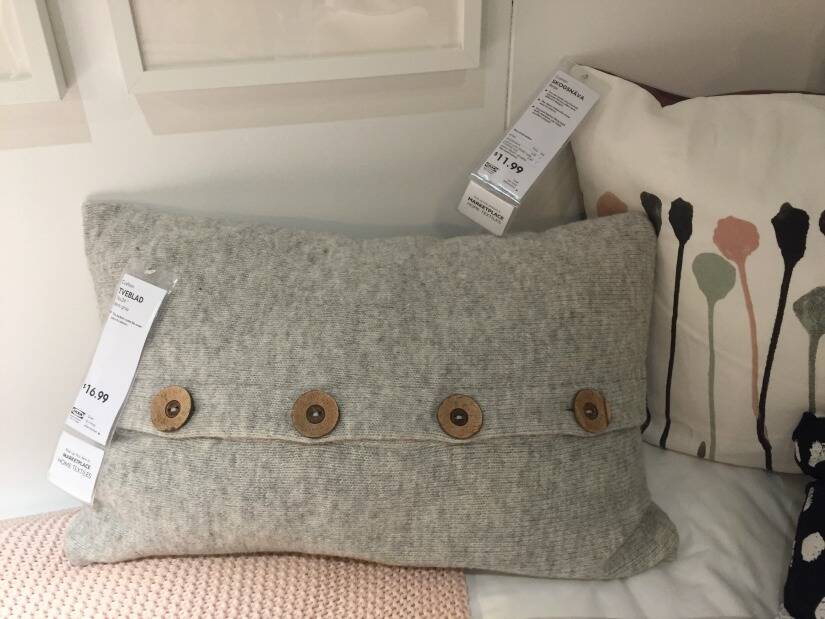 Rugs
I was amazed at all of the rugs they had. So many pretty neutral and colorful options.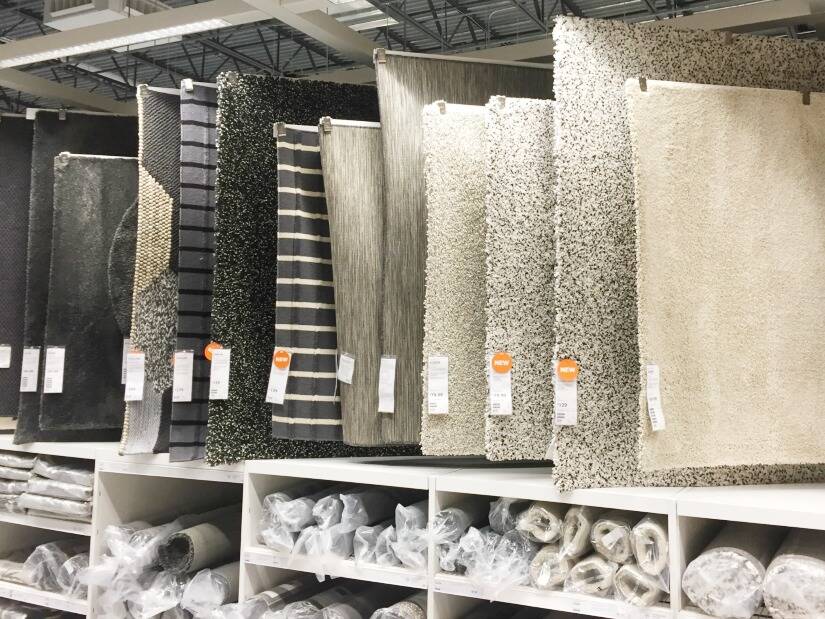 Bistro set
Isn't this cute and perfect if you have a little patio or balcony?!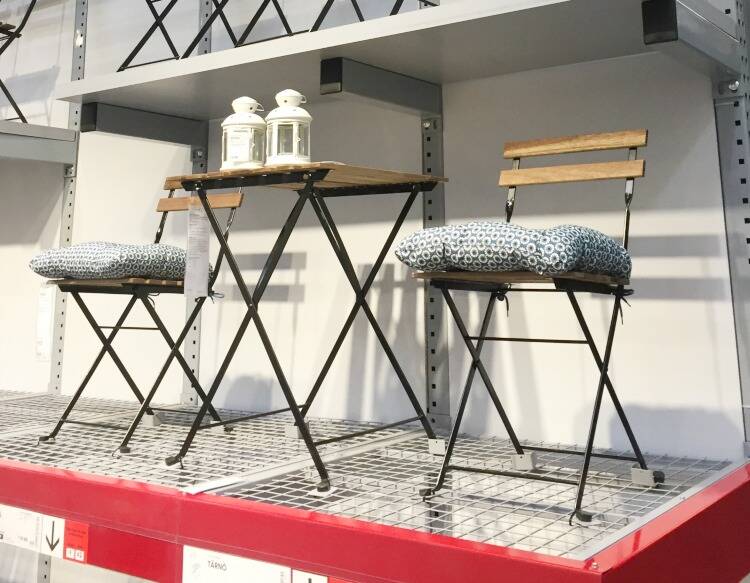 KALLAX storage unit
Doesn't everyone own one of these?! I feel like it. They have so many size and color options now!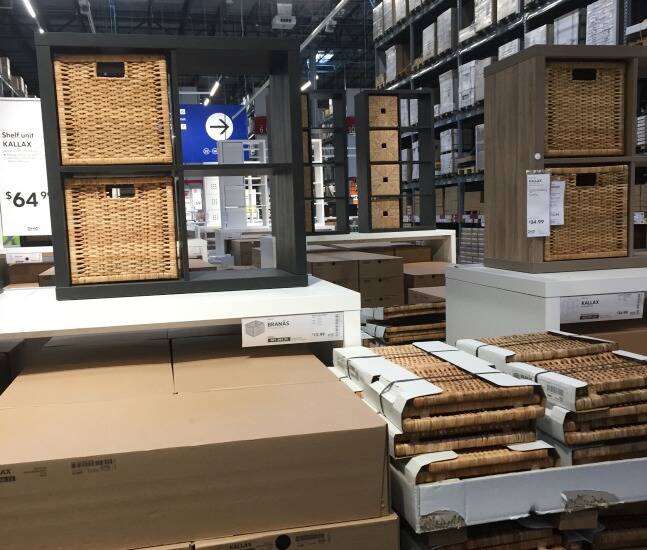 These baskets fit inside perfectly, we just may need to grab a few of these for easy storage.
Pet section
The pet section is newer, and it was so cute! I wanted to bring home all sorts of fun things for Oakley.
Kid section
Obviously I'm paying more attention to the kids section than ever before. 🙂
They had a lot of cute stuff. I love this pegboard idea for nursery organization.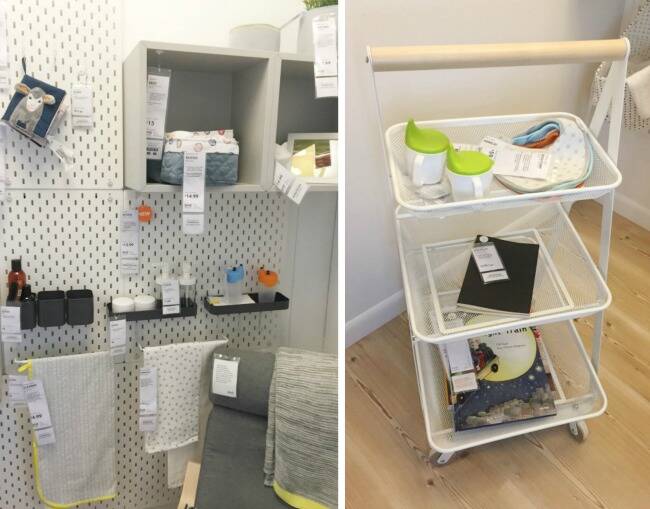 And the play kitchen is so cute! We'll definitely be back when we plan a playroom.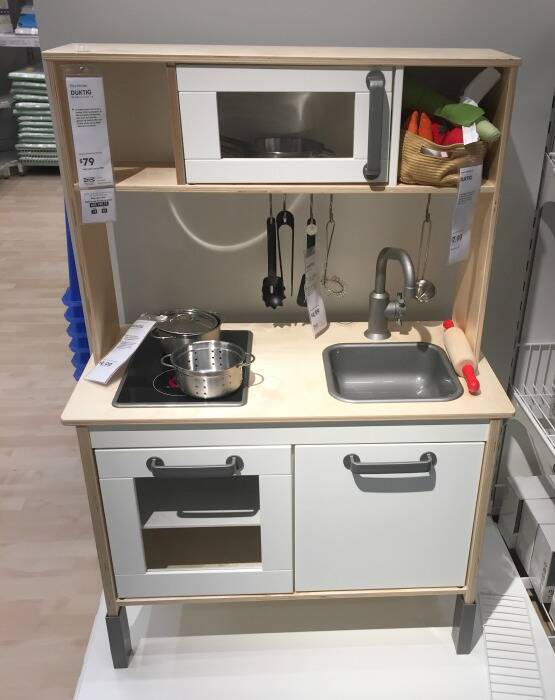 IKEA restaurant and market
We got to try out the breakfast. I'm not the biggest breakfast person so didn't have the highest expectations (I was there for the decor!), but it was DELICIOUS.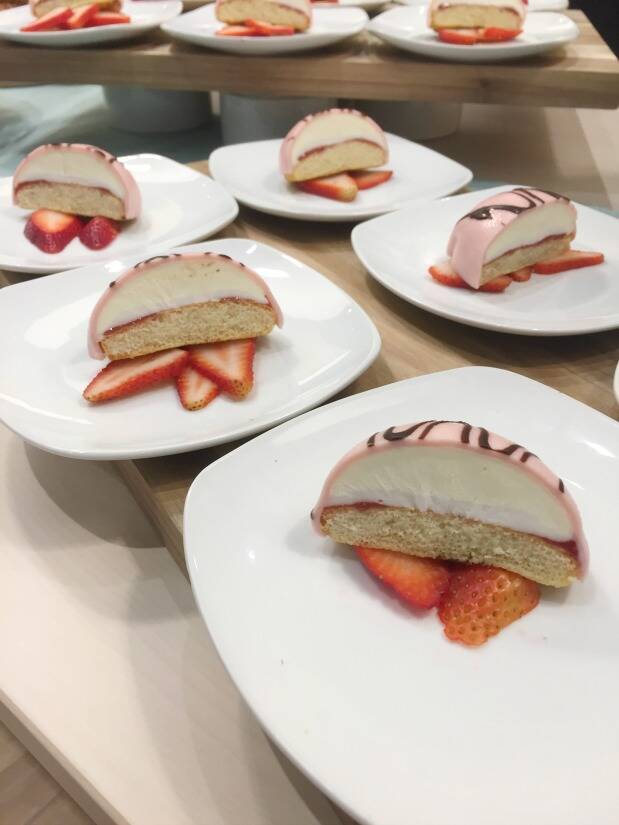 We had potato pancakes with jam, yogurt with blueberry and raspberry jam (a recipe originally made for the Sweedish queen!), sponge cake with strawberries, cheese (try the Präst!), deviled eggs, beet salad and more.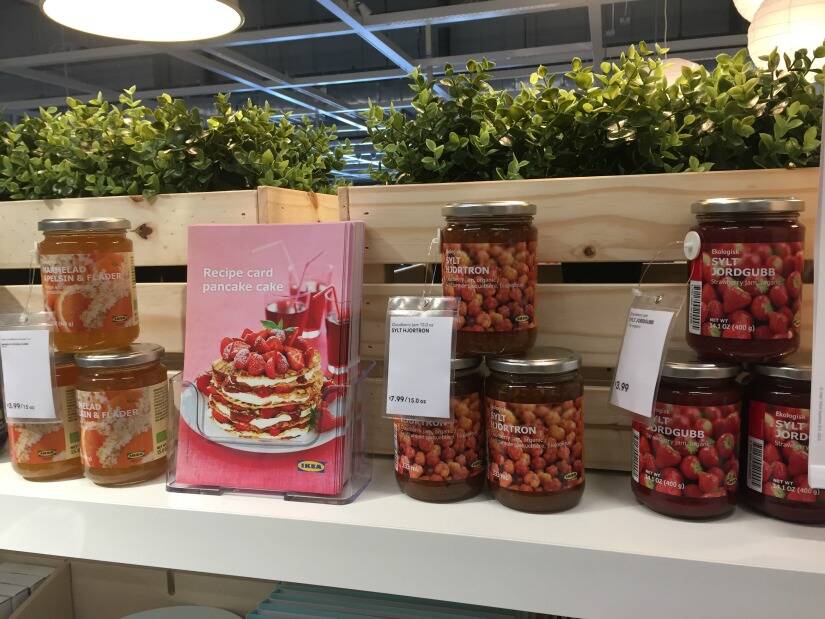 YUM, it was all so good.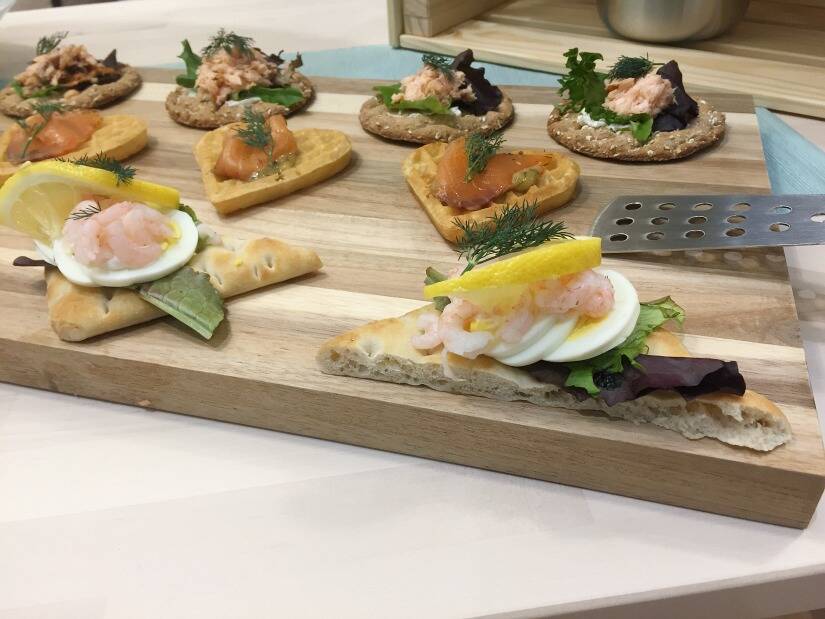 And they have a cool coffee machine where you can brew your own latte. It was delicious!
Plus the Milwaukee store has the largest Sweedish market (near the checkout) so you can buy all sorts of food to take home. If you like chocolate, you HAVE to get the Marabou chocolate. It's delicious.
Milwaukee store opening
If you're in Milwaukee, the store opens tomorrow at 9 a.m., and, if you're feeling brave, the parking lot opens at 5 a.m! The first 1,000 adults get a welcome gift, and there will be all sorts of prizes and giveaways (including gift cards) going on all day.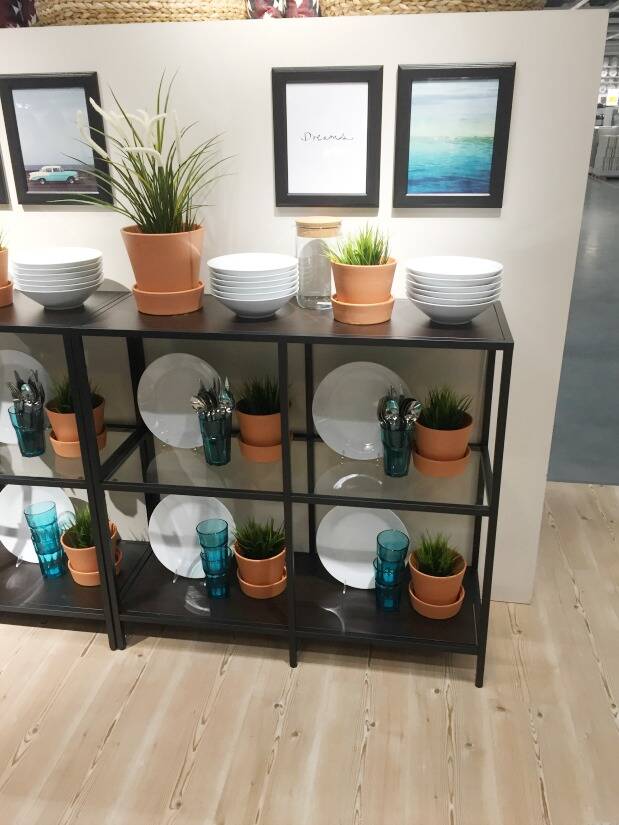 Happy shopping!
Have you scored any fun IKEA finds lately? I'd love to hear!
Remember to bookmark or pin this post if you want to save it for later!


Want to read more posts like this?
Follow along: Get my emails | Facebook | Pinterest | Twitter | Instagram