This post is full of easy rental decorating ideas – and simple decorating ideas for anyone not in their forever home.
It's been a (crazy) year since we got the keys to the rental house.
We've done a LOT of painting, cleaning, decorating and even furniture building so I thought I'd share what we've accomplished at the rental house in a year.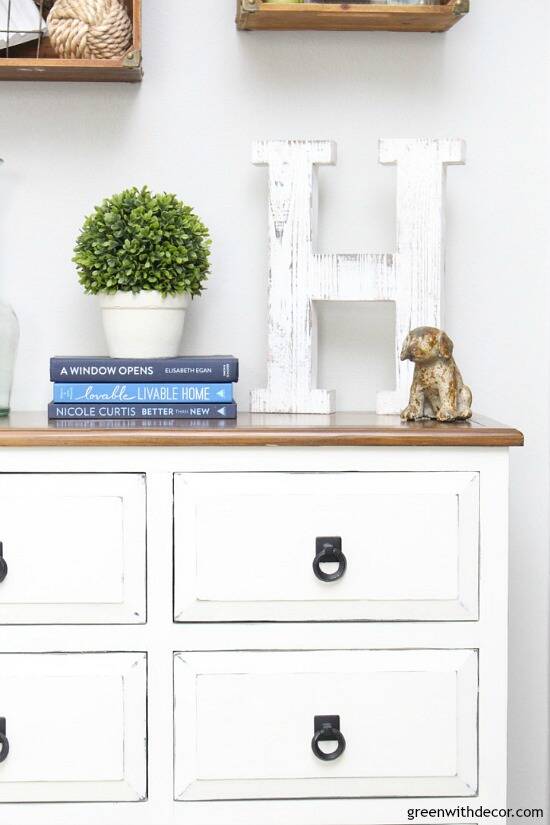 If you're renting – or own but are thinking you're not in your forever home – this post is full of rental decorating tips and DIY projects we did to this house knowing we wanted to spend time on projects that could easily come with us and that we'd benefit from long-term. Hopefully it sparks some fun house project ideas for you!
That being said, we painted all of the walls in the rental house, which obviously contradicts the thought of focusing on projects you can take with you, but wall color makes a HUGE difference in the feel of a room, and some walls are just in desperate need of it.
It's extra work you won't benefit from in the long run, but I'd say it's way worth it if the walls aren't a pretty neutral shade you can work with.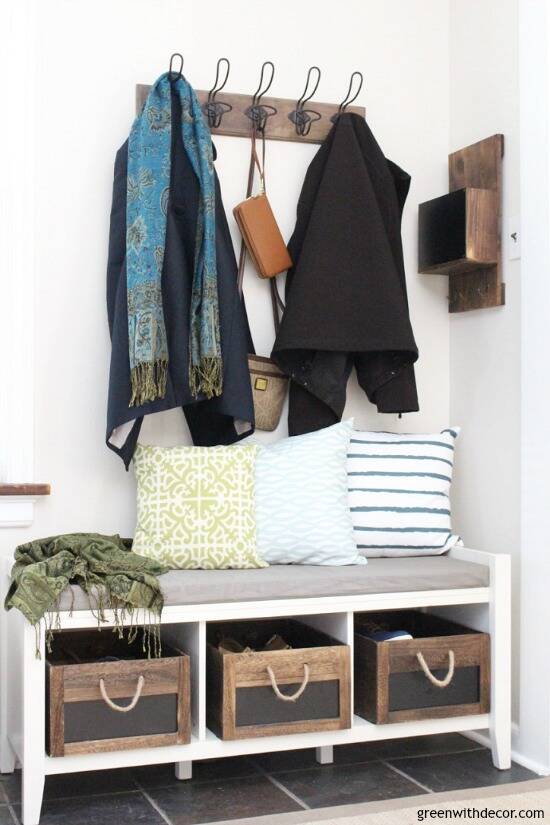 Speaking of, I'll include paint colors and links/sources for the decor pieces below, but since this post will be a bit long, I'm sure a few things will get missed.
You can see where we got everything in the rental house on the 'Get the look: rental house' page and see a list of the whole house paint colors here if you're curious about anything.
This post contains affiliate links. This means if you click the link and buy something, I may receive a small percentage of sales at no extra cost to you.
FOYER
We painted in here (Agreeable Gray) and got a rug … and haven't done too much else.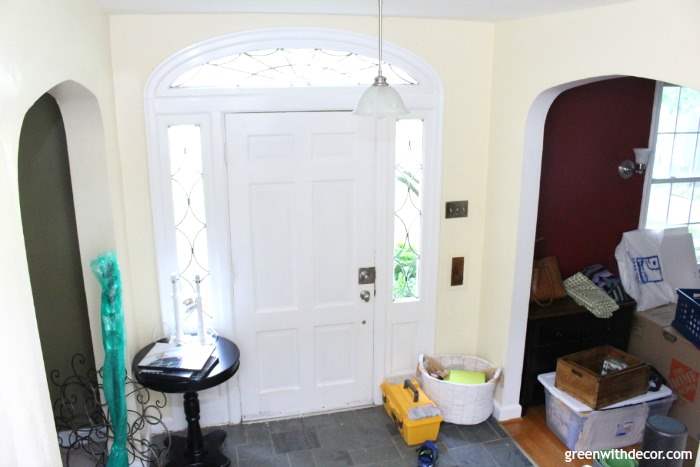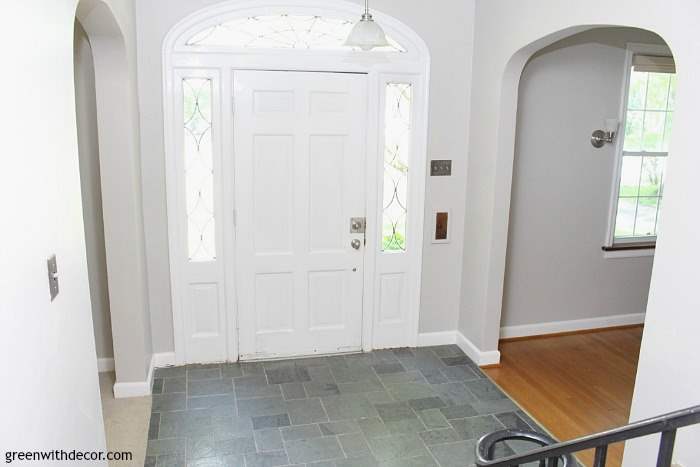 I'm just finishing painting a little round table for in here that I'll share on the blog in the next few weeks.
LIVING ROOM
I really love how this room came together for a coastal, casual space.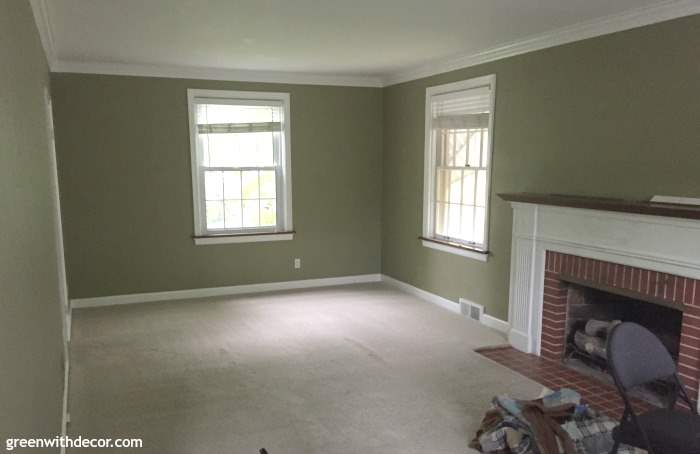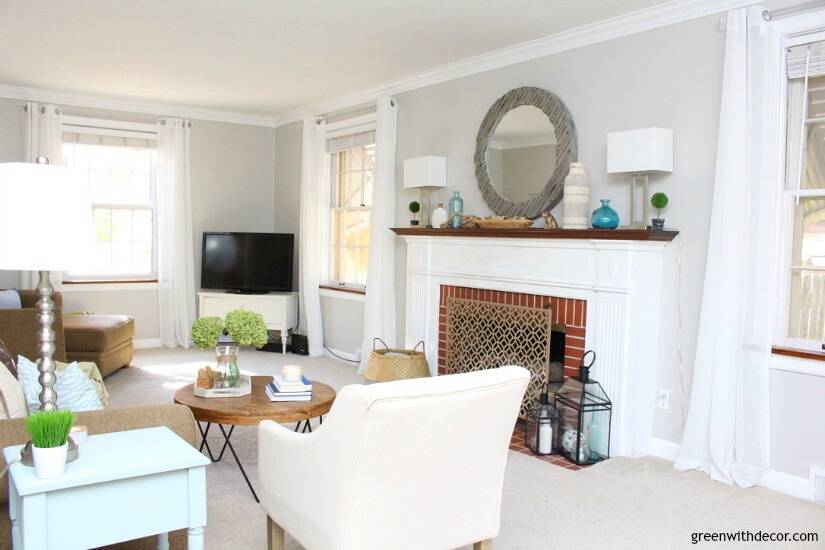 We painted the walls (Agreeable Gray), put up a beachy gallery wall, hung curtains, added some throw pillows …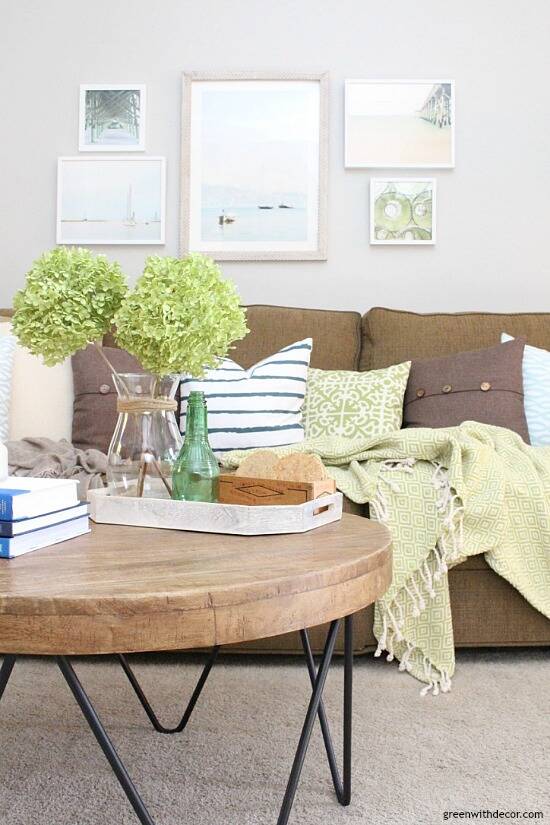 … hung crates as shelves on the wall and painted a few pieces of furniture, like this white farmhouse chest, blue end table and TV stand that is still may be my favorite ever Facebook buy/sell group find.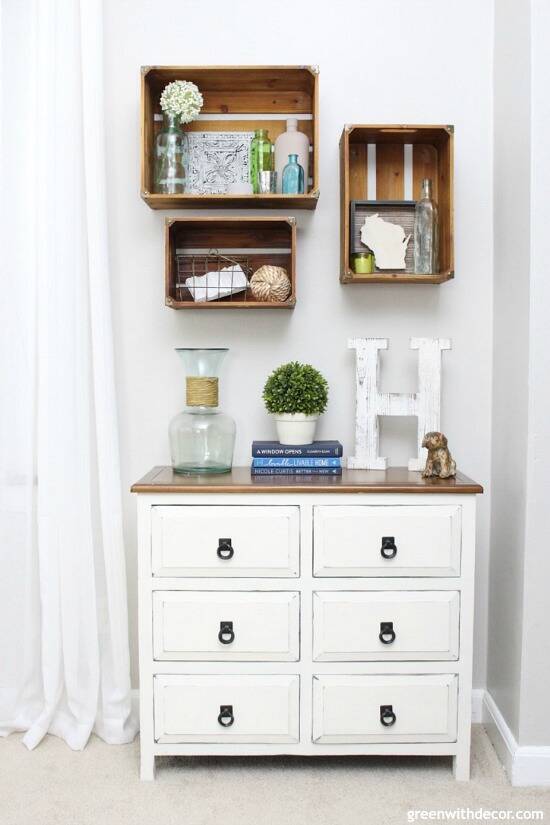 Renting is hard in that there's some things you just can't do… like that fireplace really needs a fresh coat of paint, and I'd love to paint the brick white.
But it's nice to focus on projects we can take with us that also make the room feel like 'us' – like the painted furniture and the gallery wall.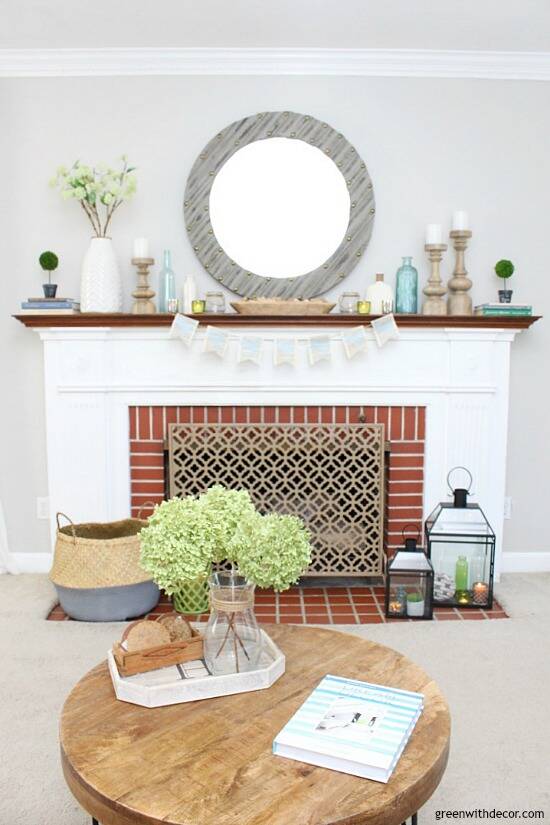 The round wood coffee table and gray round mirror are two of my absolute favorite things we've ever bought, and I just love them in here.
You can see more of the coastal rustic living room here.
GET THE LOOK / LIVING ROOM: Fireplace screen | Topiaries | Wood bread bowl | White + blue vase | Couch | Artwork: Boat 1, Boat 2, Pier, Fishing nets | Pillows: brown, green + white, blue striped | Green + white blanket | Coffee table here or here | White painted chest | Drawer handles | Crates here or here | Rope sphere | State sign | White letter | Faux boxwood plant
DINING ROOM
We've been close to calling this room done for a while and are almost there … the cold spring and pregnancy definitely slowed down the staining and painting of some furniture pieces in here!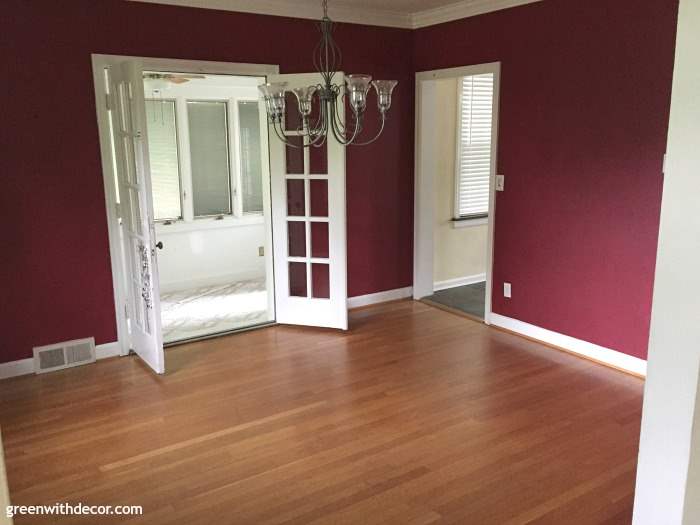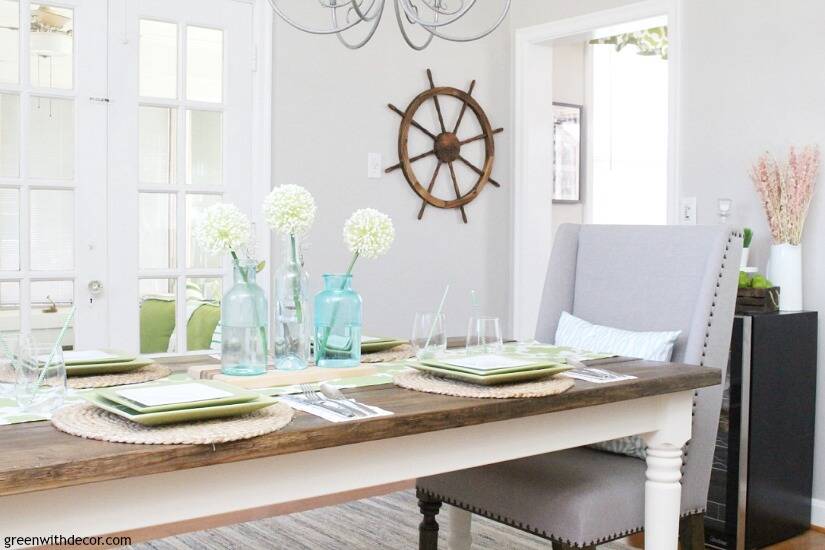 The biggest projects in here were painting the walls (Agreeable Gray) and building a farmhouse dining table (still can't believe we did that!).
We're *this* close to being done with building the benches, which will go up on the blog soon. Can't wait to put the folding chairs away for good.
In the meantime, it's been fun putting together all sorts of centerpieces and tablescapes!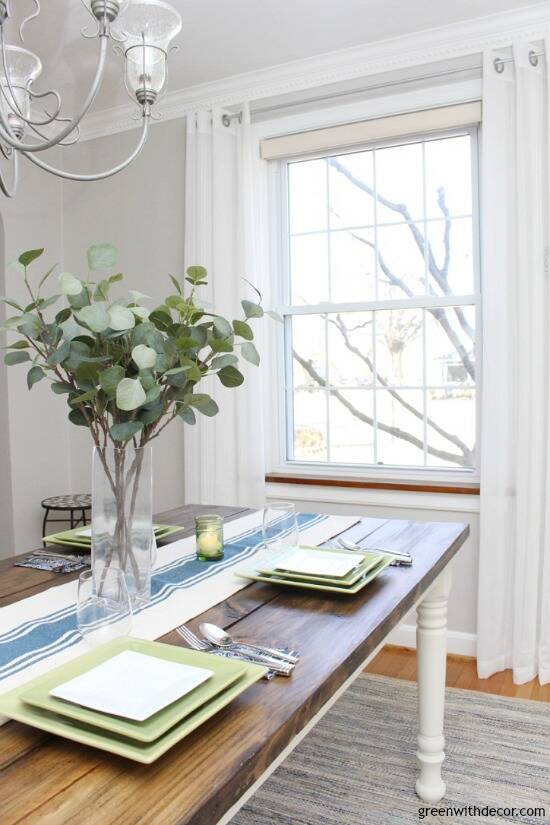 For other smaller updates in here, we bought a rug, added chairs to the heads of the table and hung these dry bushed windows turned picture frames on the walls. Again all easy rental decorating ideas if you're in the same boat – everything can come with you!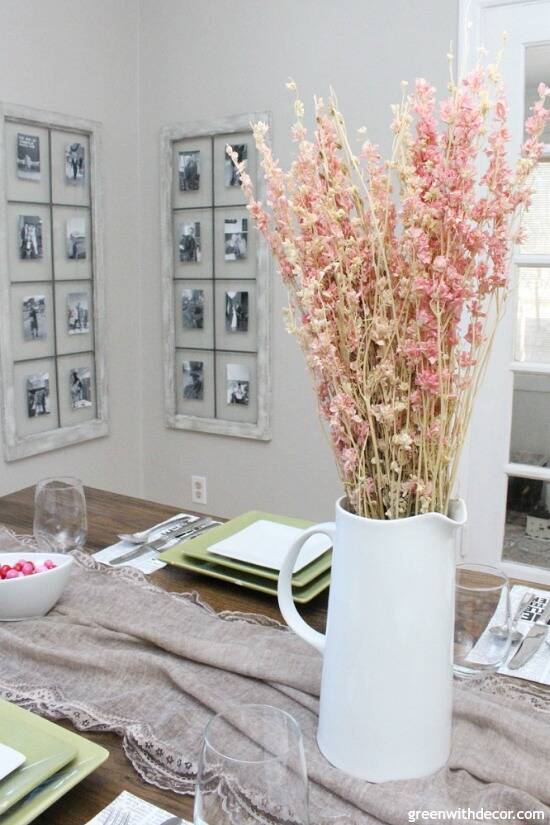 GET THE LOOK / DINING ROOM: Farmhouse table (DIY) or similar farmhouse tables here | Jute chargers | White plates | Wine glasses | White pitcher | Ship wheel | Rug | Curtains | Curtain rod
DESK NOOK
We put the painted desk in the corner for a little home office nook.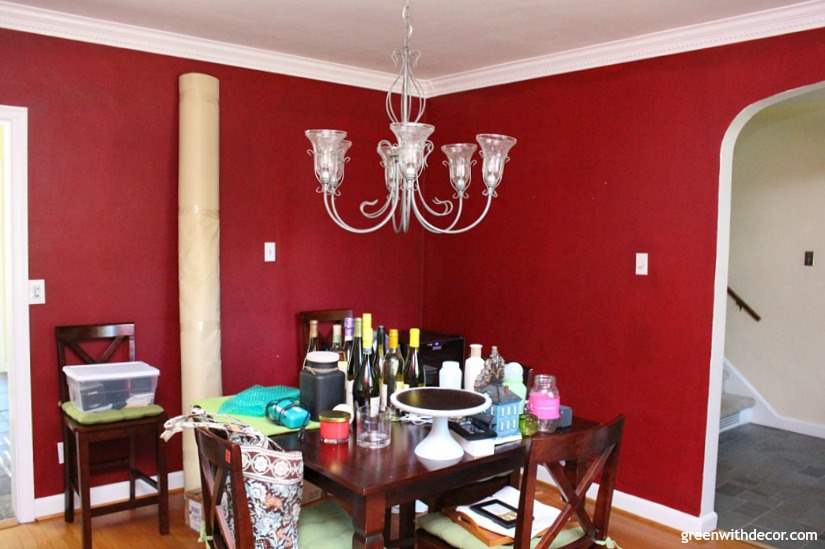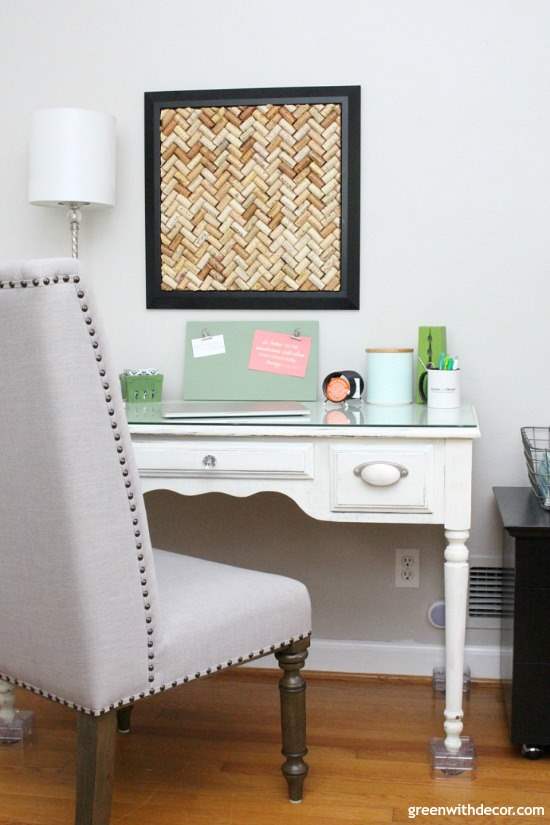 That DIY cork board is the perfect piece for above the desk. We also added a glass piece to the top of the desk, which are awesome for protecting the surface. (It used to be my grandparents' so I'd never want to ruin it!)
GET THE LOOK / DESK NOOK: Chair | Painted desk tutorial (drawer pulls and crystal knob) | Furniture raisers | Green clipboard | Cork bulletin board
KITCHEN
The kitchen is dark and not our usual style, but we brightened it up a bit by painting the walls Aesthetic White.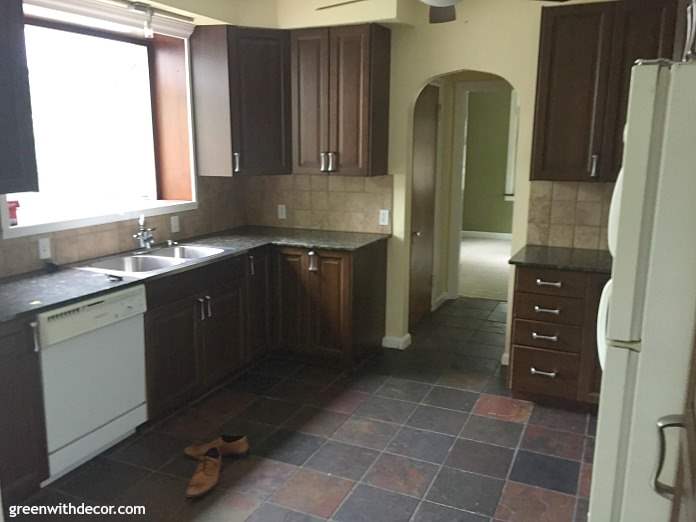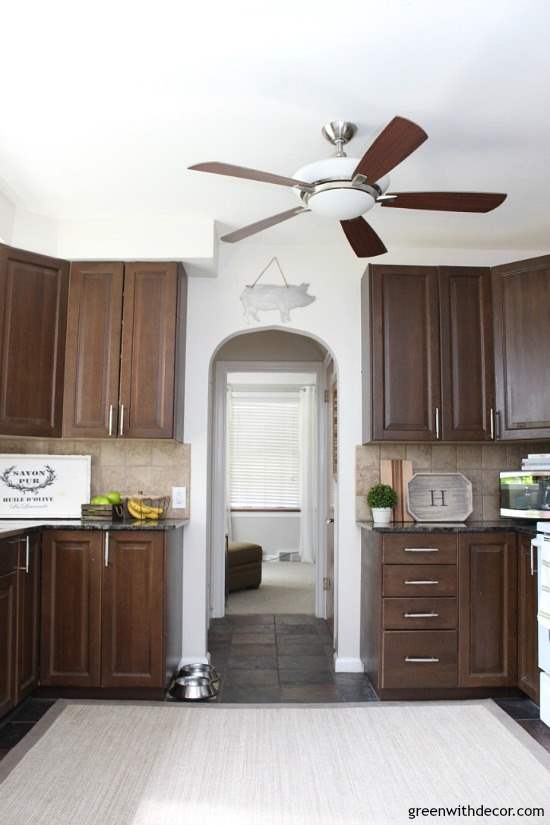 We also swapped out the cabinet handles, added a rug and made a few other small updates.
The big window box has kind of stumped us in here, but it was just perfect for our Christmas village, so I had to share a pic of it even though it's not Christmas season.
You can see more of our kitchen and read all about ways to update your kitchen when you can't renovate here.
GET THE LOOK / KITCHEN : Cabinet handles | Rug | Boxwood plant | Wood initial tray
BACK FOYER / MUDROOM
We turned a blank wall in the kitchen into the perfect drop zone that might be my favorite 'room' in this house.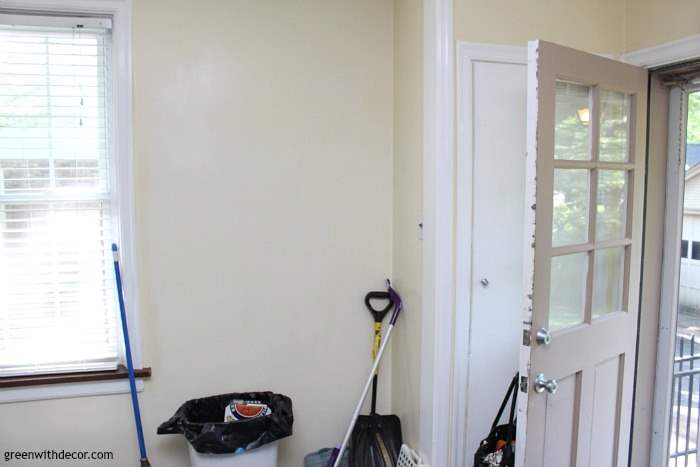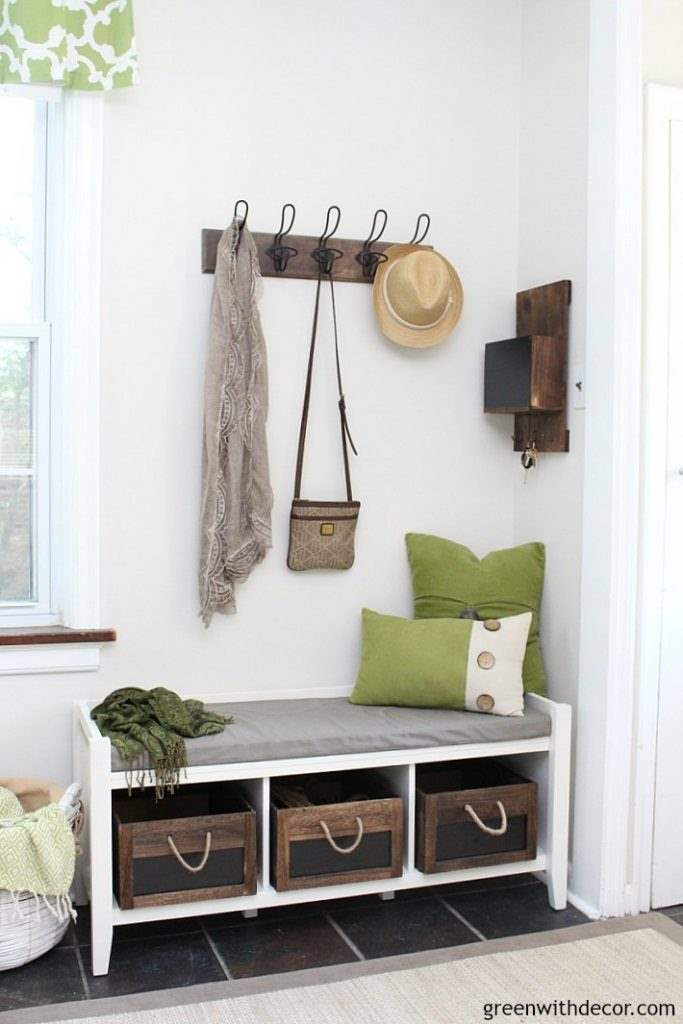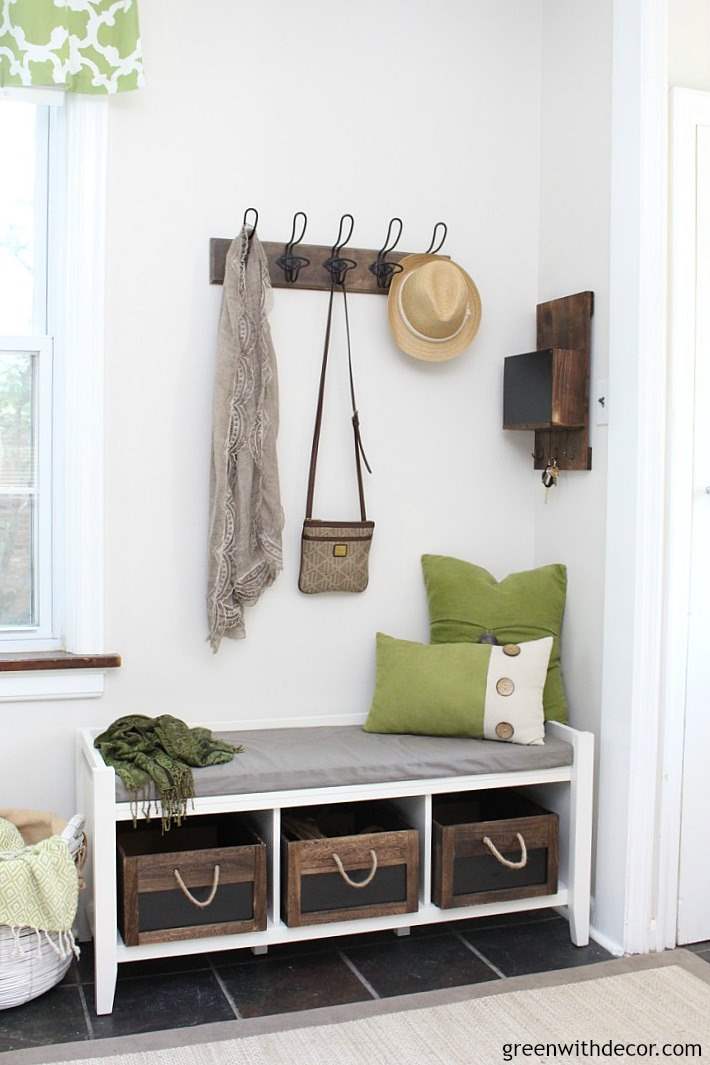 I really love those wood and metal hooks, the crates with the bench and the message center. It's a small space, but it's perfect for holding coats, boots, sunglasses, Oakley's dog leash … all that fun stuff.
Plus the bench is fun for swapping out throw pillows in different seasons.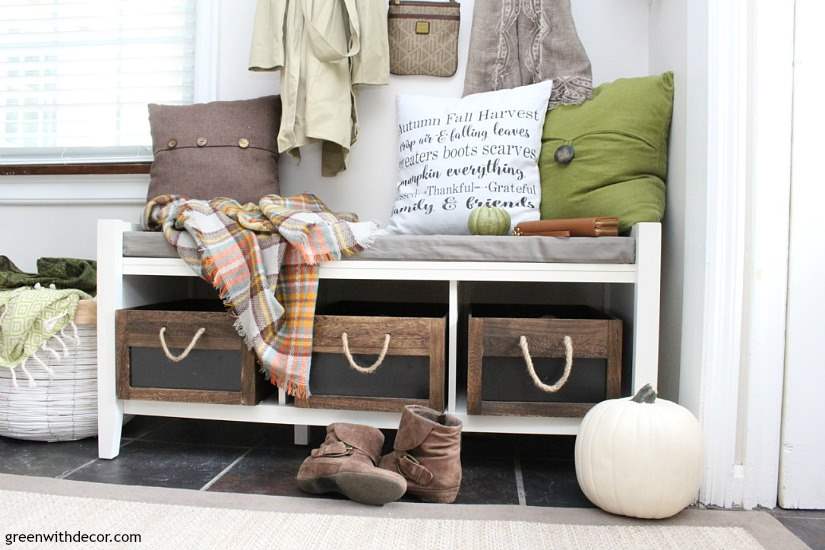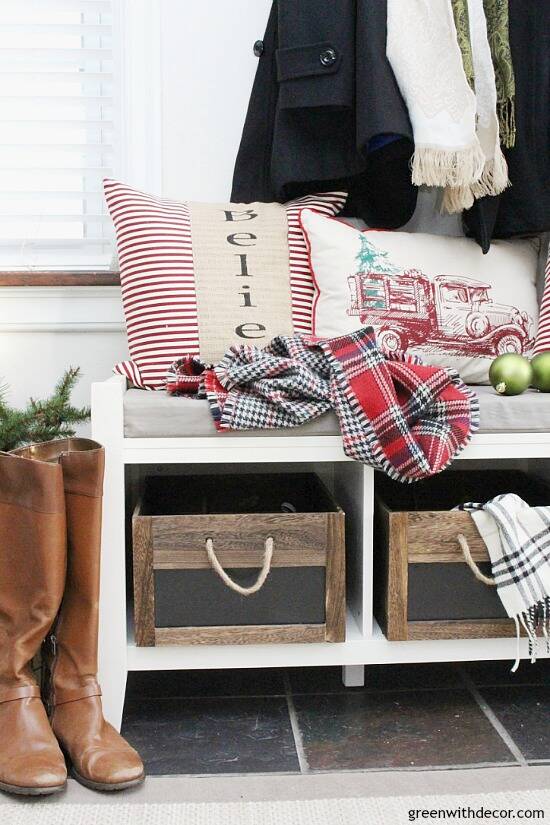 You can see more of our organized mudroom here.
GET THE LOOK / MUDROOM: Window valance | Curtain rod| Wood + metal hooks | Brown scarf | Green scarf | Wood message center | Bench | Wood crates | Rug
BATHROOM
This little bathroom turned out pretty cute, too.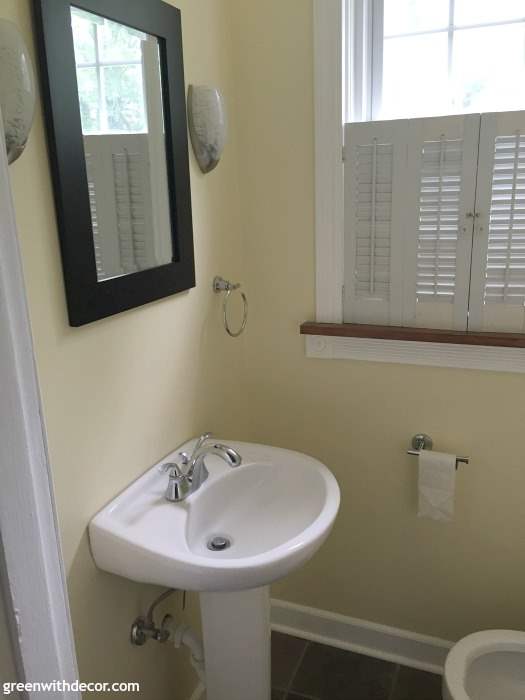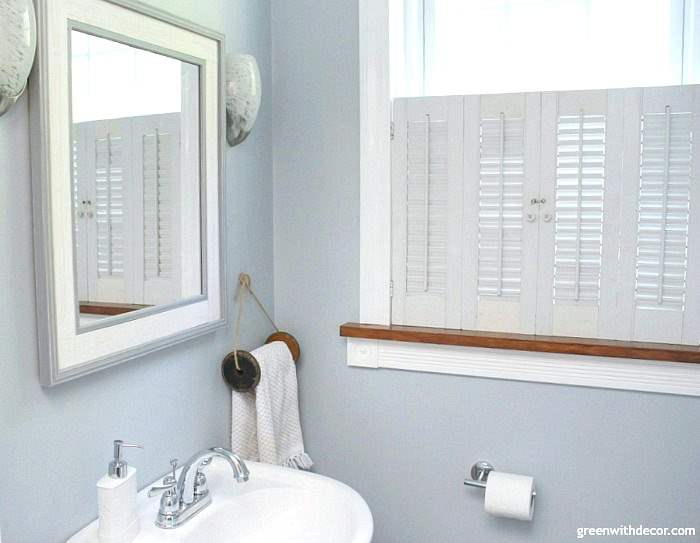 We painted the walls (Krypton), swapped out the mirror (such an easy update if you're renting!), got creative with storage (this room offers zero!), turned an old wooden spool into a towel rack and did a few other little things.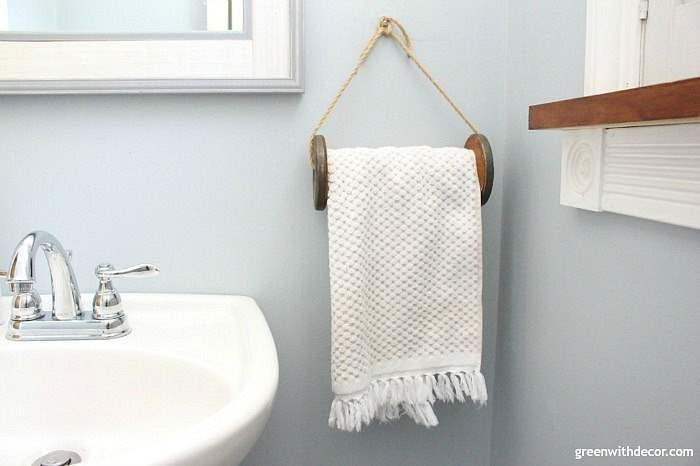 You can see how we updated this bathroom for just $100 here.
GET THE LOOK / BATHROOM: Soap dispenser | Wooden spool towel rack | Hand towel | Shutters
PATIO
This was basically just a slab of old concrete we covered with an outdoor rug, our patio set and, of course, throw pillows.
Here's a picture from last summer since we haven't set anything up yet this year.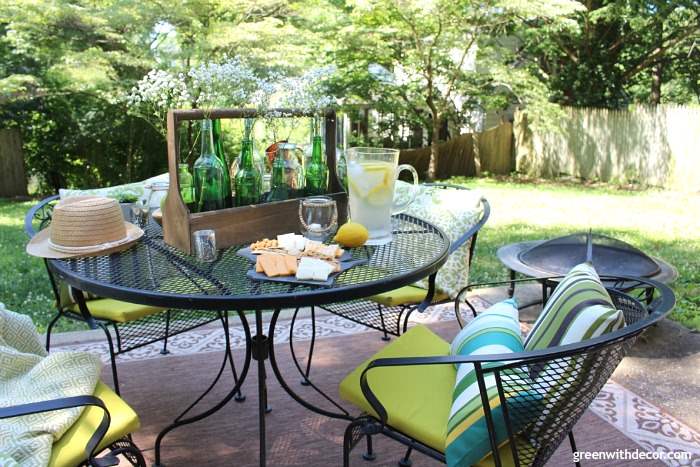 We (Kalen) just painted our patio set. That was only on the to-do list for the past couple of years, whoops! But again, painted furniture is a great project to cross of the list when renting because you can take it with you.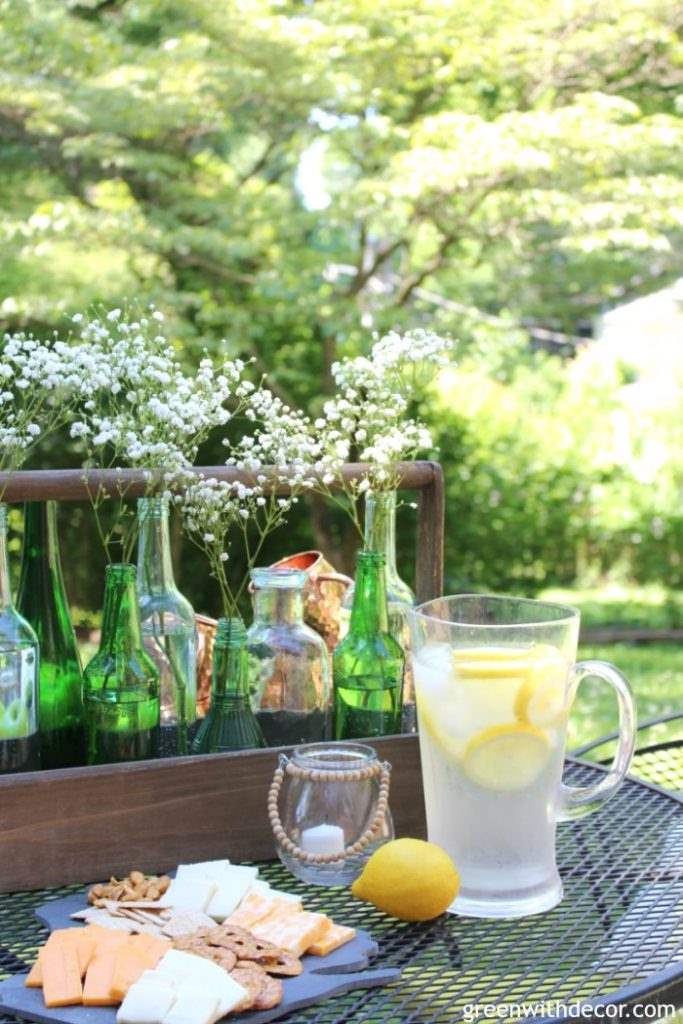 Once we get the patio all organized and set up, I'll take some pictures and get this year's patio up on the blog.
You can see more of the patio here plus a bunch of ideas for decorating a rental patio.
GET THE LOOK / PATIO: Wooden tool box | State-shaped cutting board
The upstairs in general isn't as done as downstairs, but here's where we are …
HALLWAY
The Agreeable Gray paint goes a long way up here – the yellow just wasn't cutting it!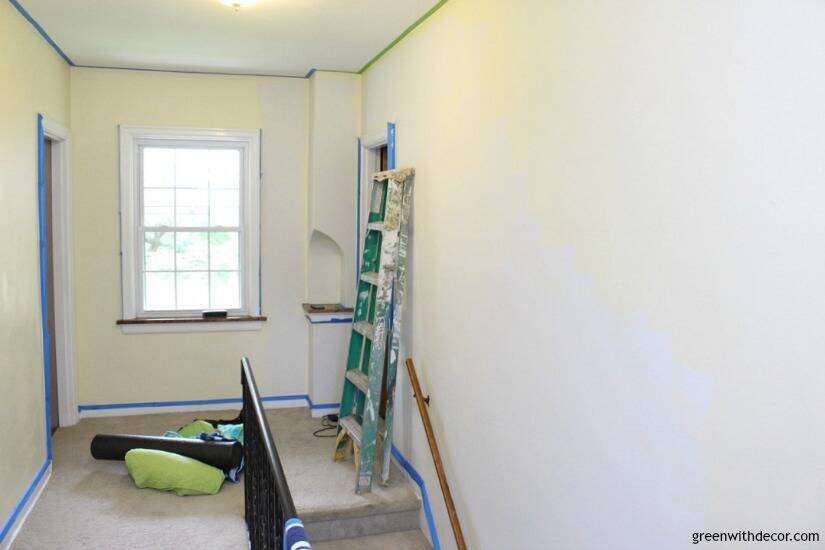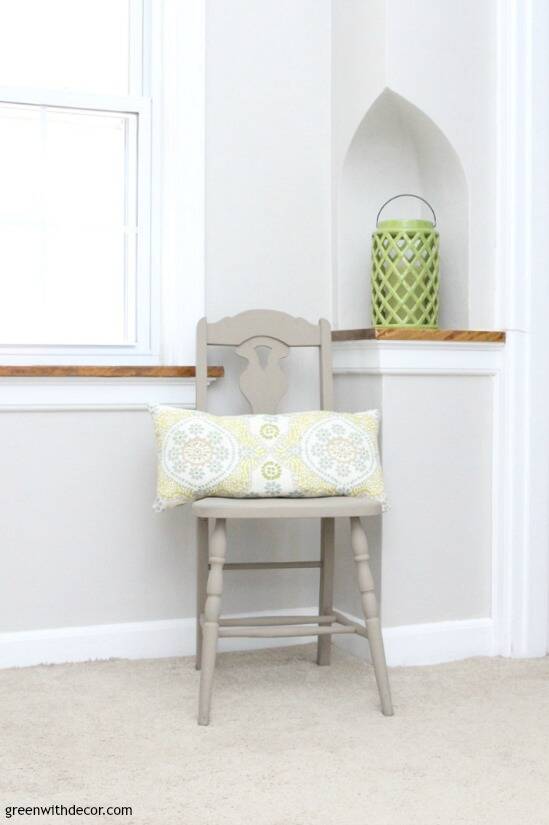 You can see more of the decorated hallway here.
GET THE LOOK / HALLWAY: Painted chair tutorial or similar here | Pillow
OFFICE
The bright orange is gone (whew). We went with Agreeable Gray in here, too.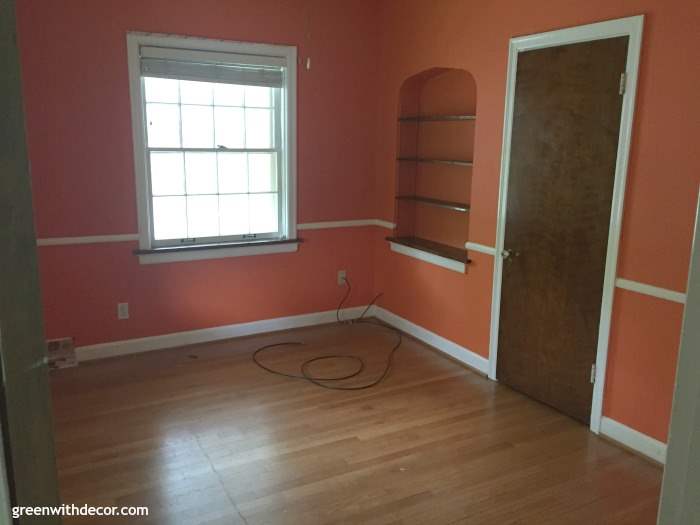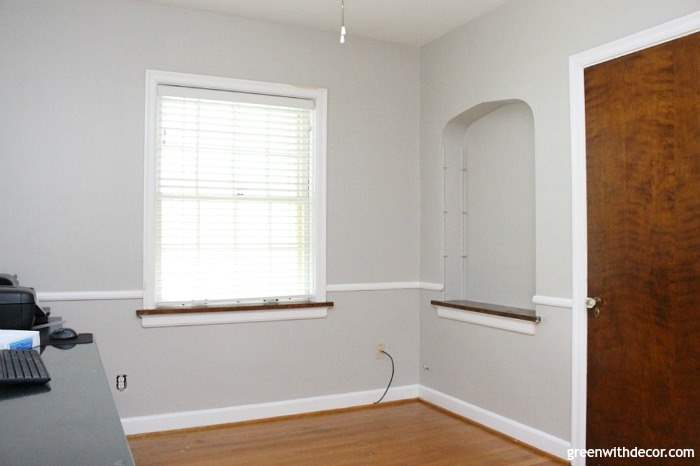 GUEST BEDROOM
We painted (Agreeable Gray) over the bright blue. You can read all about painting walls with a paint sprayer here – it made painting go soooo fast!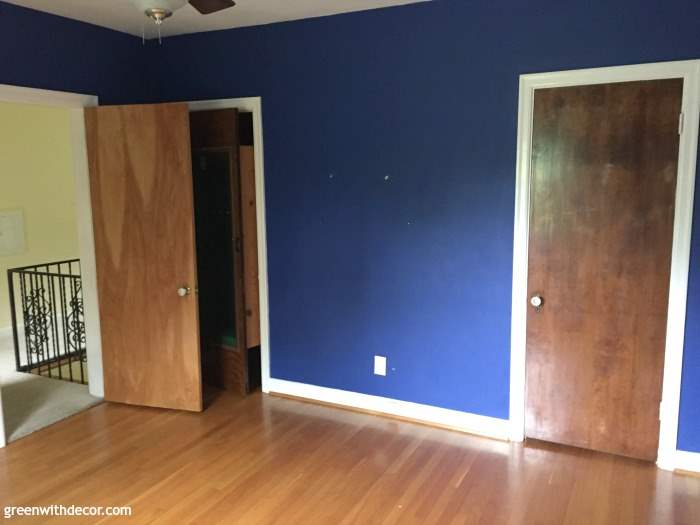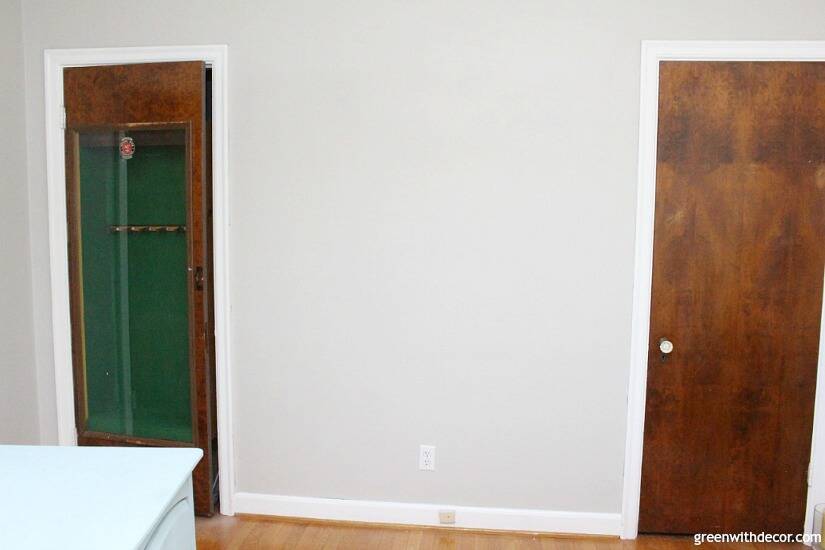 I also painted this little blue dresser that's currently hanging in the guest room just kind of waiting for a home if this room ever gets put together.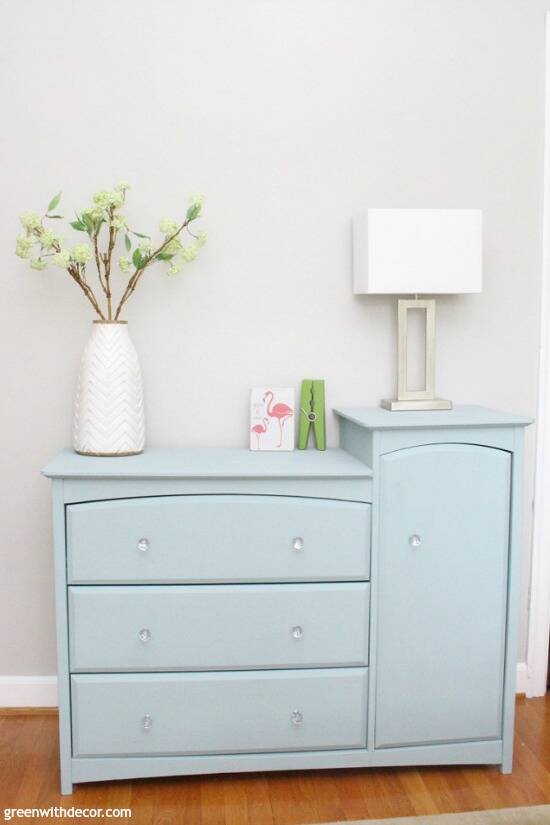 GUEST BATHROOM
Ah, this is where the fact that this is a rental house really shines. Those counters! The light fixture!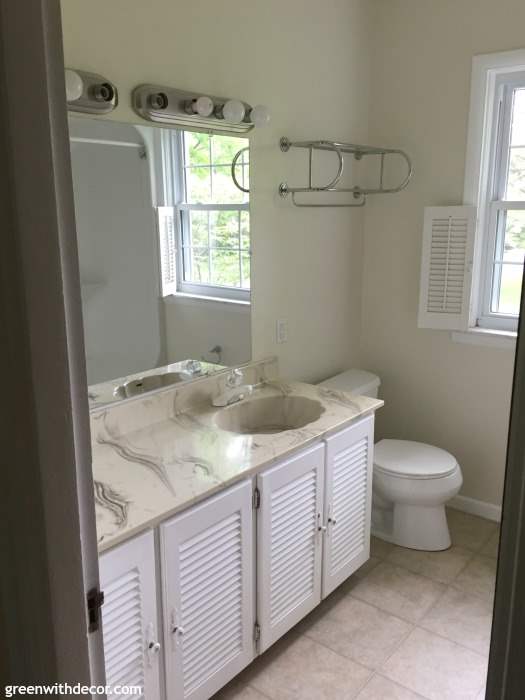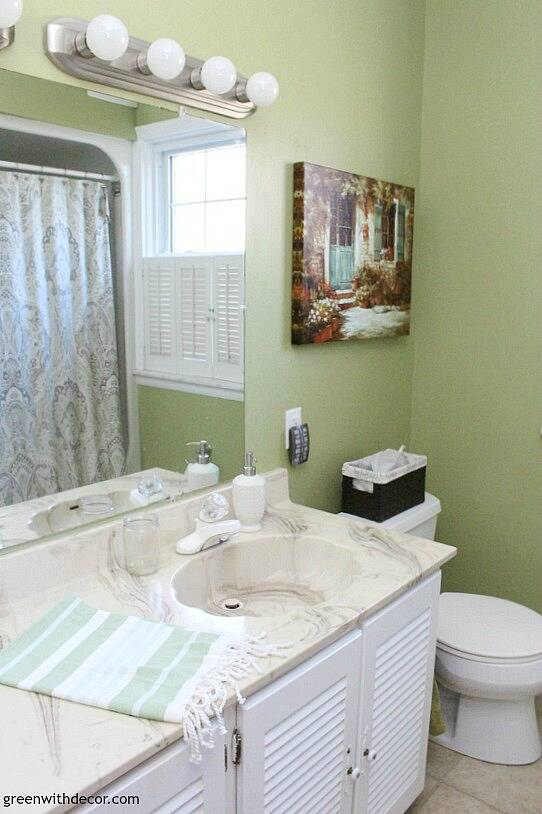 We painted in here (Ryegrass) and added a few decorative pieces to hopefully distract from those swirly countertops.
You can see more of the guest bathroom here.
GET THE LOOK / BATHROOM: Striped towel | Soap dispenser | Nightlight | Basket
MAIN BEDROOM
I had big plans of making this room a priority for once since we all tend to leave bedrooms for last … but of course we really haven't done much in here aside from buying a new comforter. Stay tuned!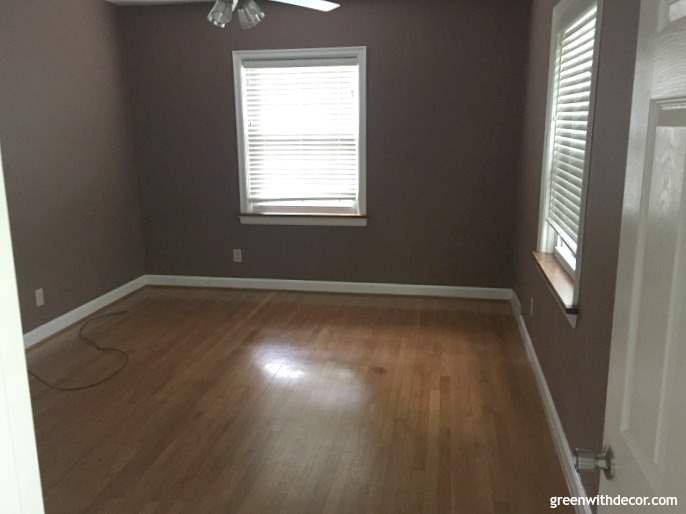 EN SUITE BATHROOM
We updated this bathroom for just $100, too.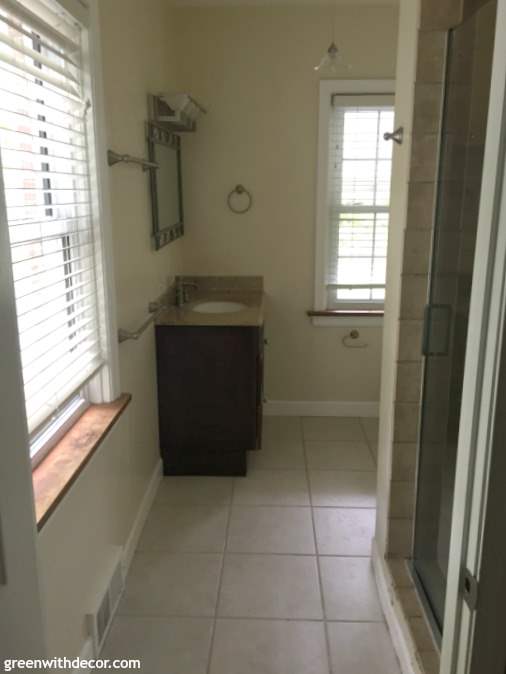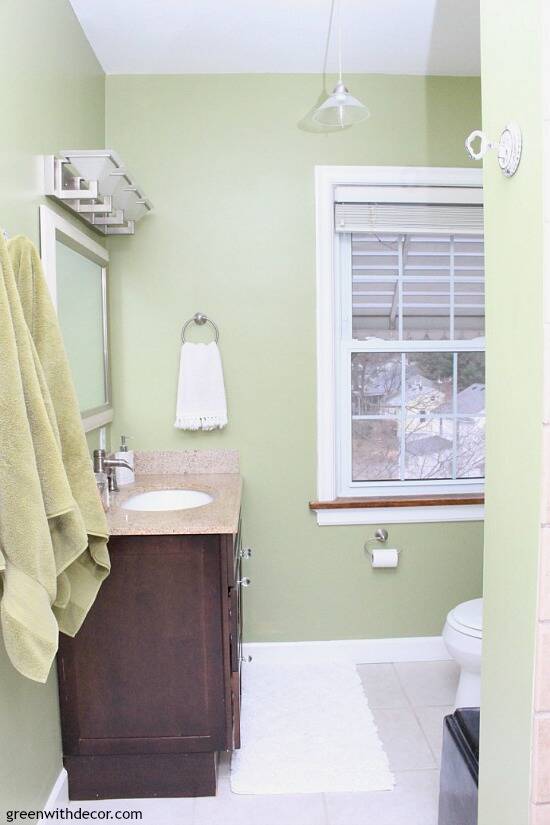 We painted (Ryegrass), added cute towel hooks I found at a flea market, swapped out the vanity hardware, added some rugs and made a few other small updates.
You can read all about updating your bathroom when you can't renovate here.
GET THE LOOK / BATHROOM: White hooks | White framed mirror | Silver towel ring | Hand towel | Soap dispenser | White rug
What you don't see in this post is that most of the closets in this house are a hot mess. And the sunroom is just a huge dumping ground for extra furniture and decor that may or may not ever turn into a room we set up and enjoy.
We definitely don't have it all together over here, but it's nice to have some rooms done so we can just enjoy them!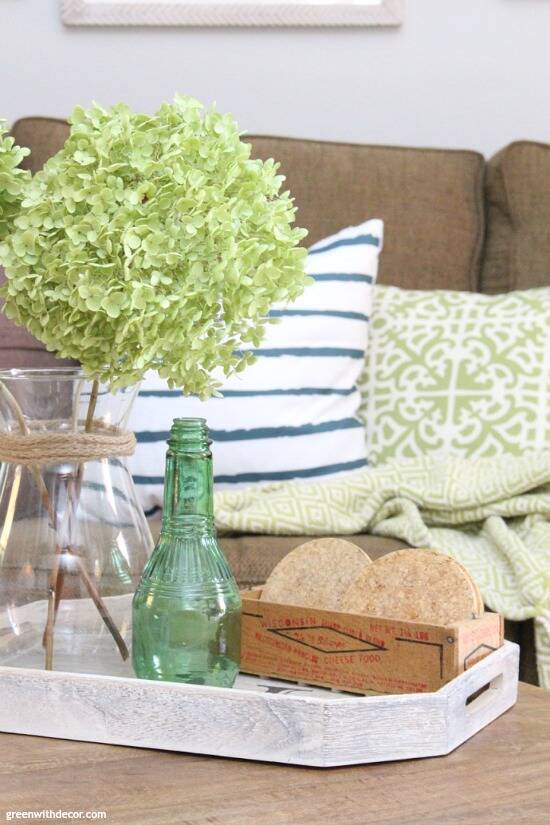 Remember to take pictures of your house as you do different projects. It's fun to look back at the before and afters, especially on days where you walk into a totally unfinished room and feel like the to-do list is never ending.
Houses take time so if you have a hot mess of a sunroom, too, look the other way and think about all of the projects you HAVE done!
Remember to bookmark or pin this post if you want to save it for later!

Pin it!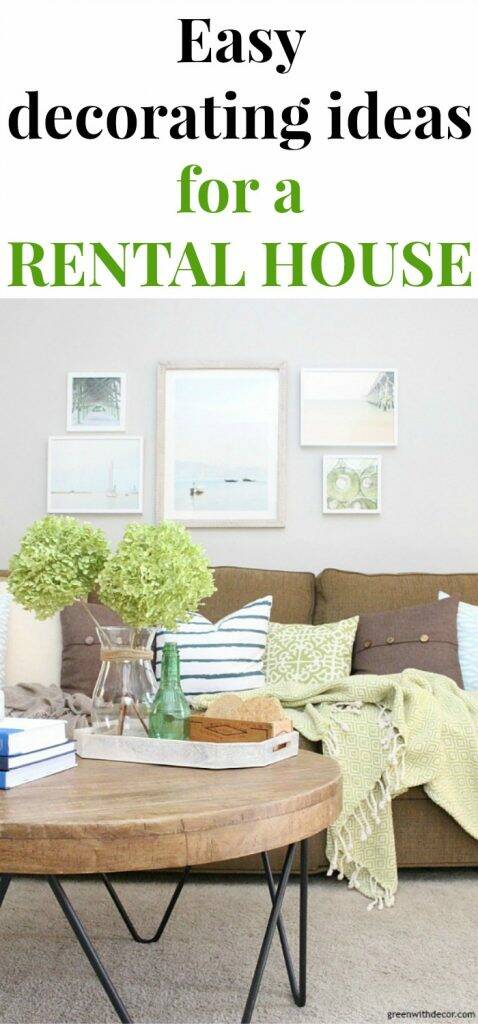 Want to read more posts like this?
Follow along: Get my emails | Facebook | Pinterest | Twitter | Instagram