You may have seen on my Instagram Stories that I got to meet Clint Harp on Sunday!
I actually was lucky enough to meet him once before at the Haven Conference a couple years ago, and he was just as friendly and relatable as he was last time. He really is just so nice!
*Scroll down to the end of this post for a 20% off code to Harp Design Co's online shop!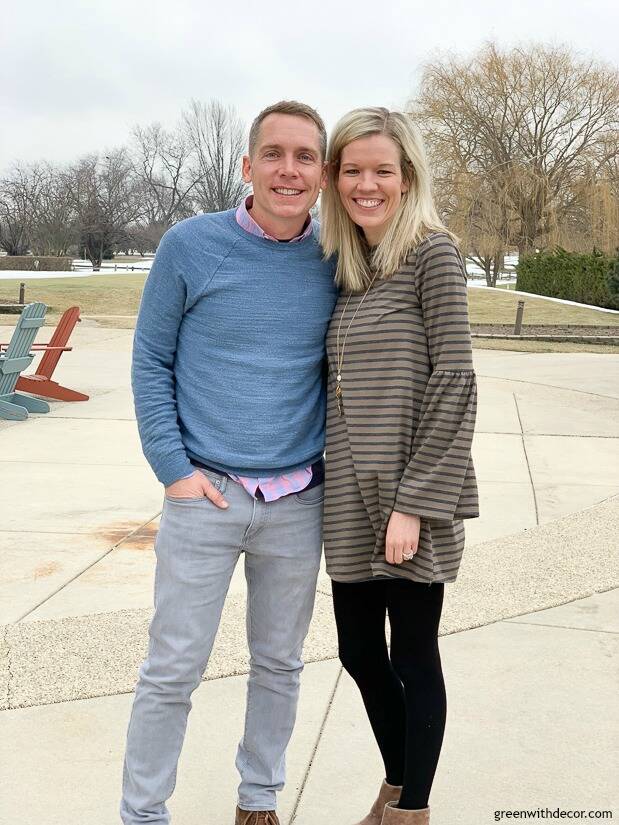 This post contains affiliate links. This means if you click the link and buy something, I may receive a small percentage of sales at no extra cost to you.
Clint was in Chicago for The Old House New Home home and garden show and invited a small group of bloggers to spend some time just hanging out and chatting. How nice is that?!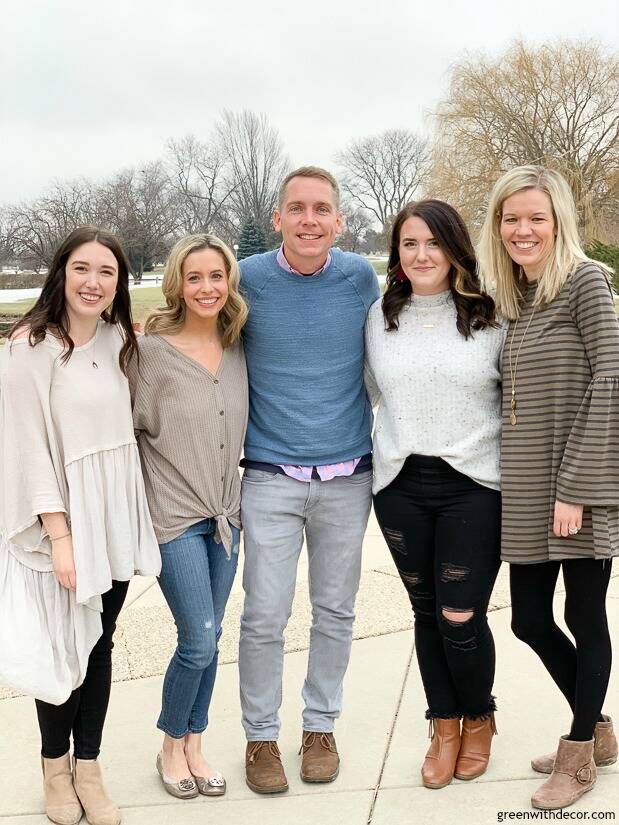 We just sat around a table with him talking about life, work, family, you name it. Clint's background is interesting.
I knew pieces of it before, but I read his book Handcrafted last week (nothing like a deadline to get you to read a book you've been meaning to read for months, ha!) and learned a lot more.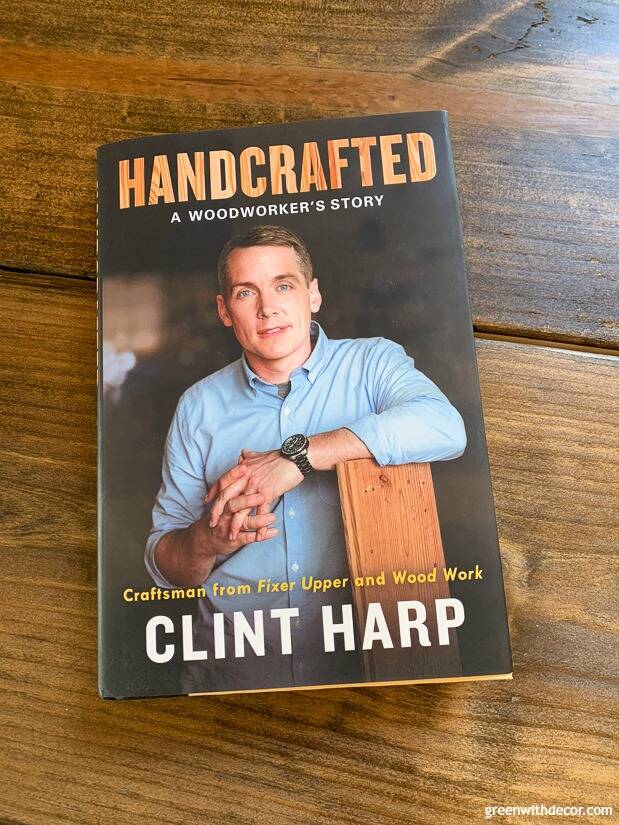 If you're a Fixer Upper fan, you know Clint and his wife Kelly bought the old rundown house next to his shop. In the book, Clint references his first shop and the crack house next door.
I'm thinking it's just some random shop he moves on from. Nope. Turns out, that crack house next door was the house they ended up buying and renovating on Fixer Upper years later. Isn't that funny?! (You can tour the house online here!)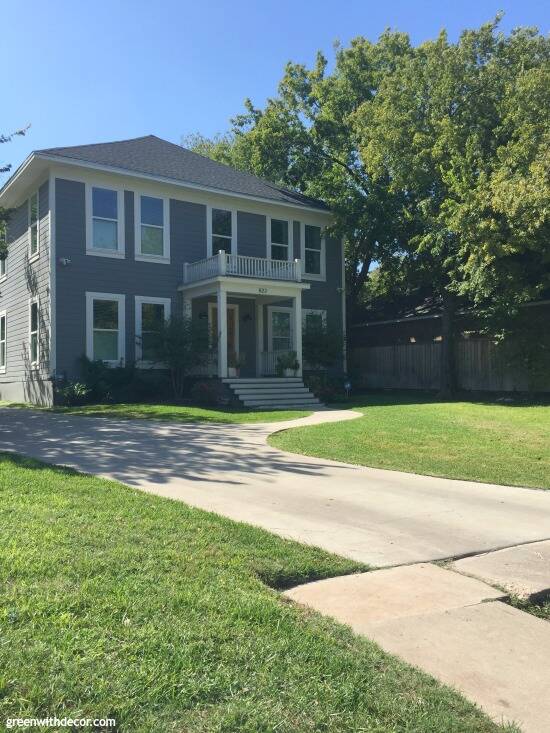 It's always interesting to me how people get to where they are, especially when what they're doing now is so vastly different than what they graduated in or what their first job was.
Clint was in medical sales, quit his job, met Chip Gaines at a gas station and the rest is history … well, actually, as the book goes into, it wasn't quite that simple. It's not like Clint was all of a sudden making money overnight then. But it's still a crazy story!
What really struck me in talking with Clint is what an emphasis he places on family – his wife Kelly and their three kids. (Random side note, I used to love watching Kelly's Instagram Stories back when Fixer Upper was on. She had such good comments about the houses on the show – and again, always seems so relatable!)
Family is priority #1 no matter what, and in a world where it seems like we're all supposed to be working 24/7, it was really refreshing to hear!
Clint talked about making sure he fits in time for his kids' school actives, even if that means stopping filming for his show Wood Work for an hour, and that he's pretty much shutting down work for the day at 5 p.m. every single day to go home and be with his family.
Even though he and Kelly work together, they focus on family during the evenings. Those work discussions can wait till tomorrow.
Such a good reminder, because blogging (and most jobs really) can definitely feel like it could take over your life if you let it.
I was actually just talking with friends about this the other day. I'm just not one of those bloggers that's on Instagram Stories 24/7. It's too much to feel like I'm always working versus just living life. And honestly I don't feel like I'm doing anything all that interesting every single day, ha! It's good to give yourself permission to have some 'off' time without feeling guilty!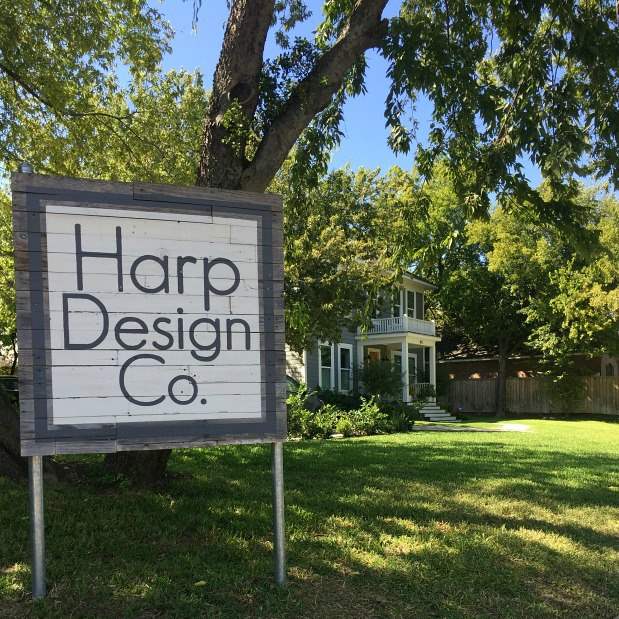 Clint's been traveling around the country speaking at various home and garden shows (actually, there are still several shows coming up so check out the schedule if you want to meet him, too!).
He and Kelly agreed it makes the most sense for him to travel and be the face of Harp Design Co, while she stays home with the kids versus traveling with him and leaving the kids with a babysitter. Because above all else, family is most important ot them.
I'm telling you, they just seem like such normal, relatable people, it's like any of us could just be friends with them! They may be on TV, but they're still raising kids and figuring it all out just like the rest of us.
It was just really fun to sit around and chat with him! If you're a Fixer Upper or HGTV fan or even someone who just wants to take on a whole new career or new dream, I'd recommend reading his book, Handcrafted. It's the next best thing to chatting with him – and Clint told us he really did lock himself in the Baylor library and write the whole thing himself.
When we were in Waco last year, we stopped by the Harp Design Co shop. Of course they have lots of gorgeous woodworking pieces.
My mom is heading to Waco later this year, and I'm so jealous!! I'd love to go back.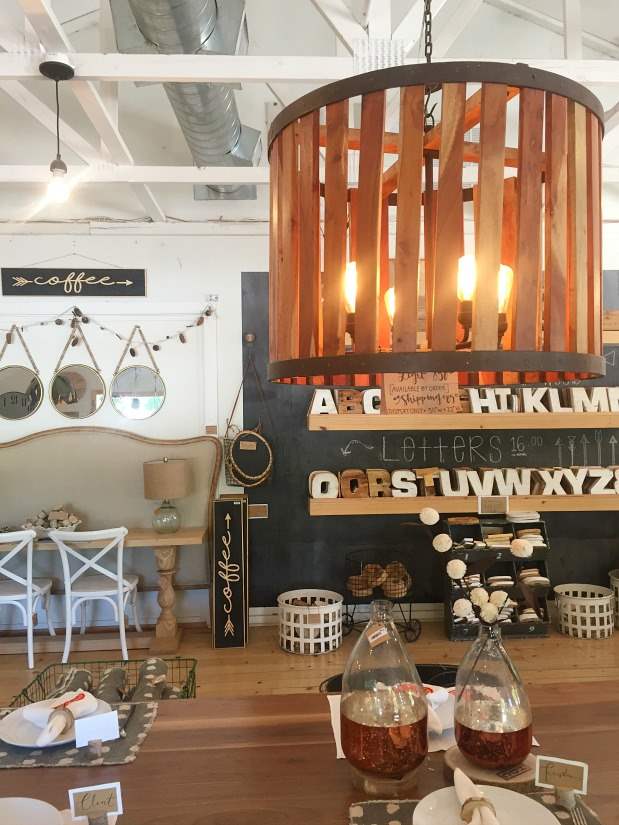 And, I didn't know this before, Clint told us that he and Kelly work with a lot of other artists / creators / woodworkers to sell their pieces, too. It's all about helping out the fellow dream chasers – one guy was raising money for an adoption by selling those wooden letters you see in the pic above (which he's now raised and then some, yay!).
I love hearing those stories about helping each other out and figuring out how everyone can 'make it.'
Truly, it was just a really inspiring day to sit and listen to him talk about chasing your dreams, raising your family and making it all work!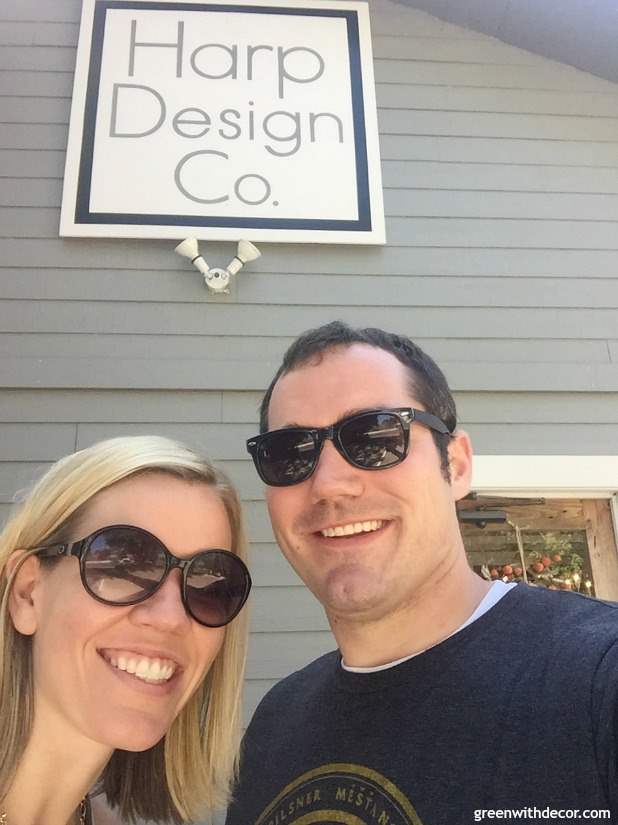 If you want to do some online shopping at Harp Design Co, use code VIP20 to save 20% off your purchase (excludes furniture and sales prices)!
I have my eye on these white candlesticks, this ornament (I love collecting ornaments from places we visit, and I don't remember seeing these when were in Waco!), these blue and white striped napkins, this woven round mirror, these flower prints for our daughter's nursery … and a few other fun things, but I'll stop listing them all, ha!
If you want to read more Clint Harp / HGTV-related posts, check these out:
Or if you're feeling inspired to take on a woodworking project now with all this Clint Harp chatter, here are some of my faves we've done around here:
Remember to bookmark or pin this post if you want to save it for later!


Want to read more posts like this?
Follow along: Get my emails | Facebook | Pinterest | Twitter | Instagram