St. Patrick's Day week is continuing over here on the blog! In case you missed it, I shared our kitchen all decked out for the holiday here.
Today's all about the foyer, living room and bathroom. The towel in the bathroom is one of my favorite holiday decorations we have. 🙂 But first the foyer, come on in!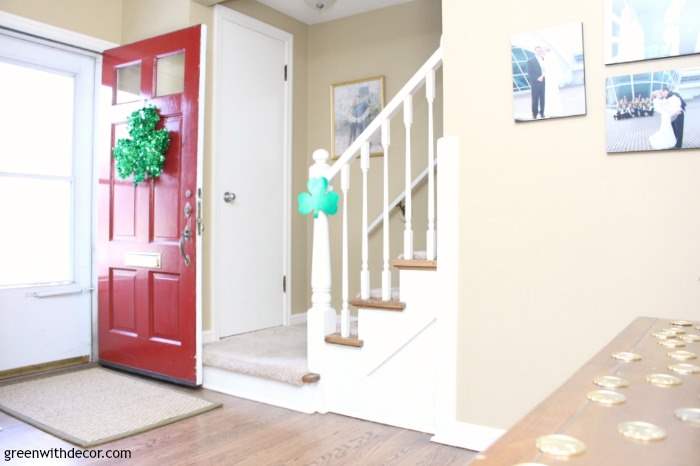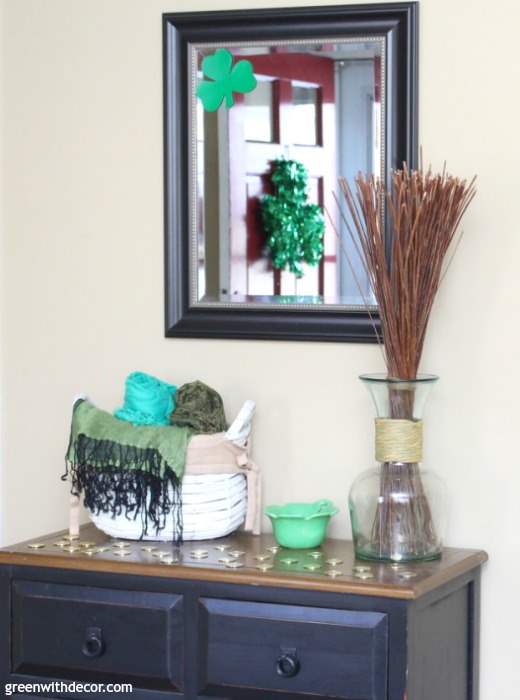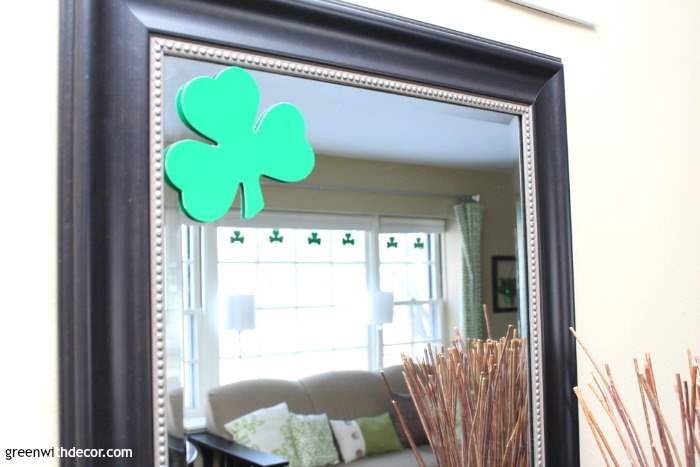 This post contains affiliate links. This means if you click the link and buy something, I may receive a small percentage of sales at no extra cost to you.
I taped shamrocks everywhere. Such an easy way to add a festive touch!
I feel like I say this every holiday/season, but the living room is my favorite room to decorate. We don't spend all that much time in here since we have the family room, plus the mantel and the ladder shelf are just so fun to switch around every so often.
On a side note, I really want to paint the fireplace brick white.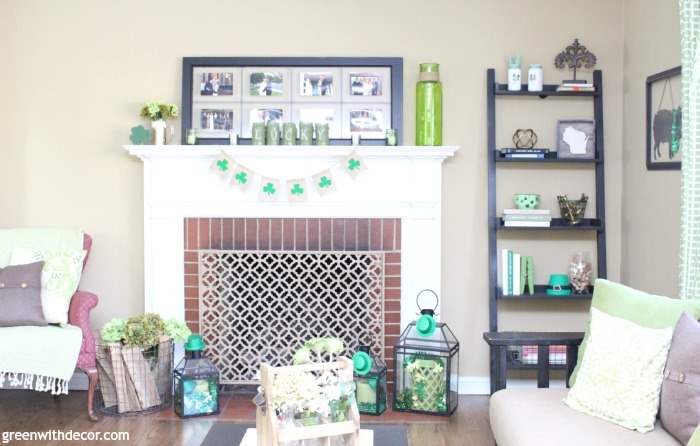 The lanterns are becoming a favorite to decorate each season, too.
My mom went to the Dollar Store the other day and brought us all these sparkly hats and St. Patrick's Day garland, how fun is that?!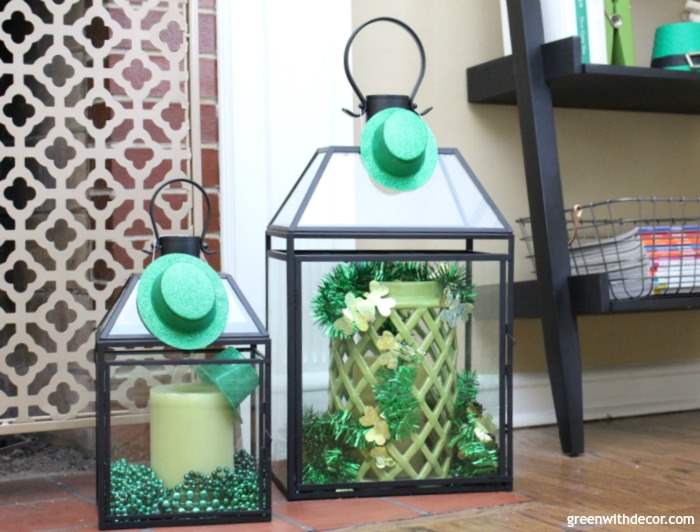 I used a bunch of our hydrangeas in the kitchen, but I had a few left over. I had them sitting in a bucket we used at our St. Patrick's Day party thinking I'd take them downstairs to store in the basement …
Then I really liked how they looked just hanging there in the bucket, so I dropped them in the metal basket with the logs to see if they'd work there, too. And they do!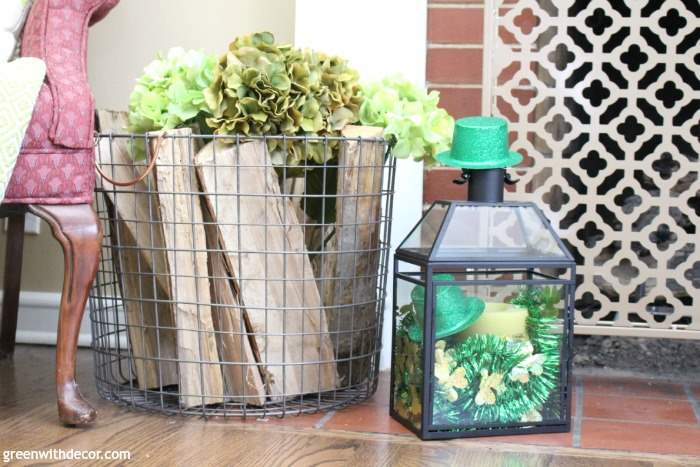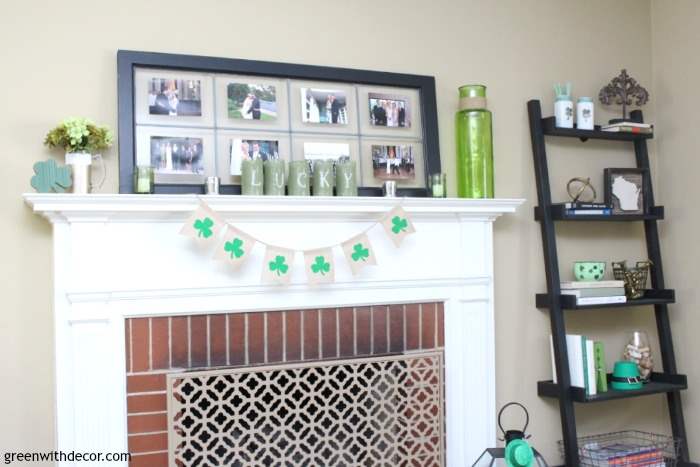 I love this little LUCKY DIY project.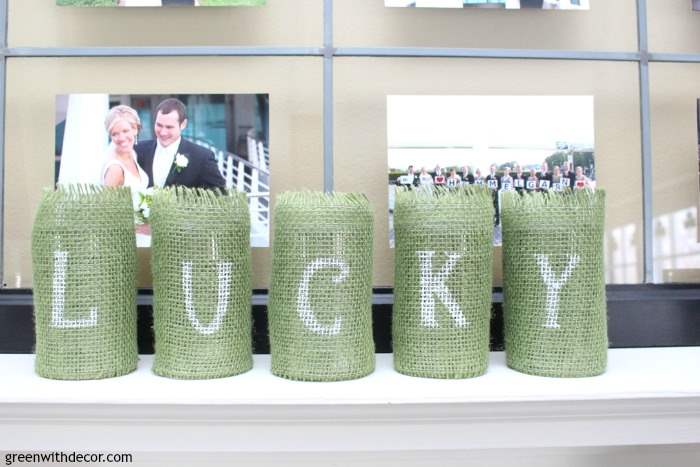 And this cute little DIY beer mug vase gets everyone in the Irish sprit.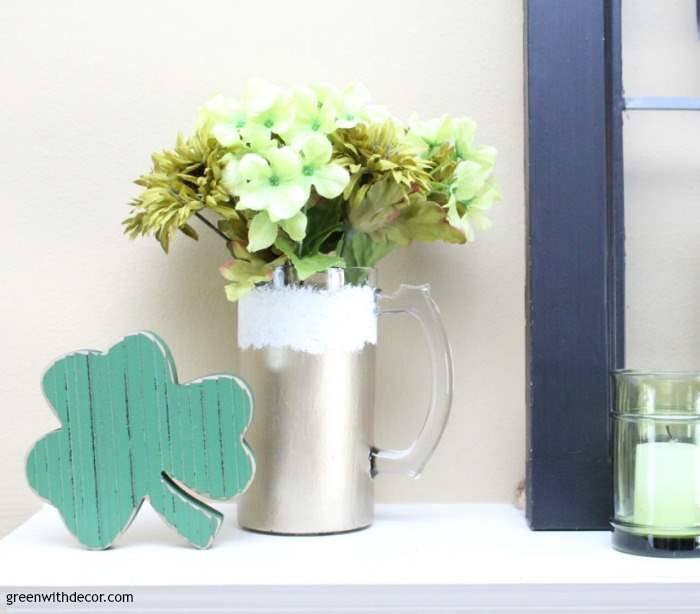 Even our little metal pig got a festive touch.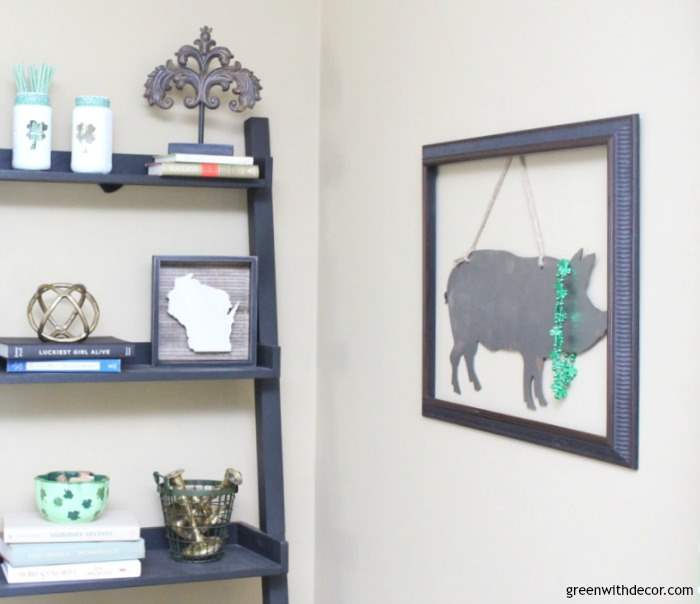 I love playing around styling the shelves on this ladder shelf. I picked green and white books, plus a couple with the word 'lucky' in them when I ran out of green books. (How do I not have more green books!? I need to find some!)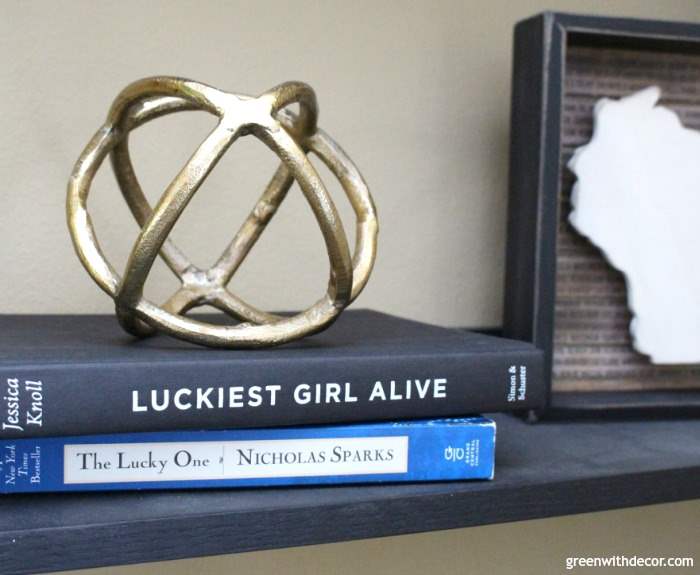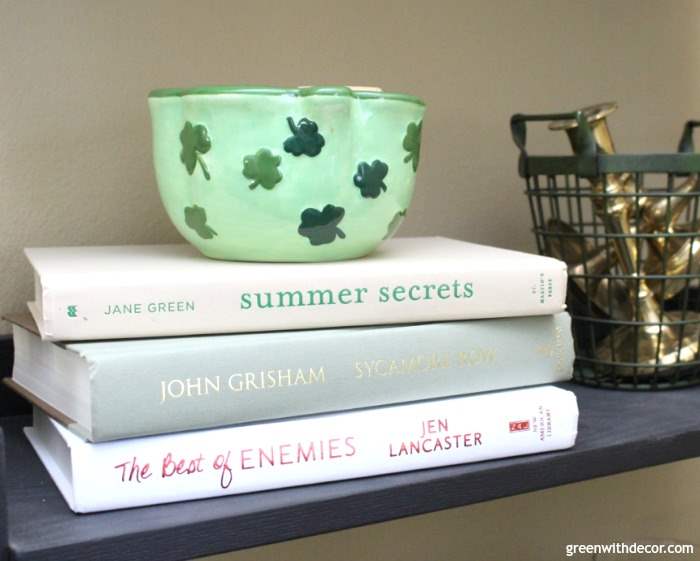 I made this little leprechaun hat last week.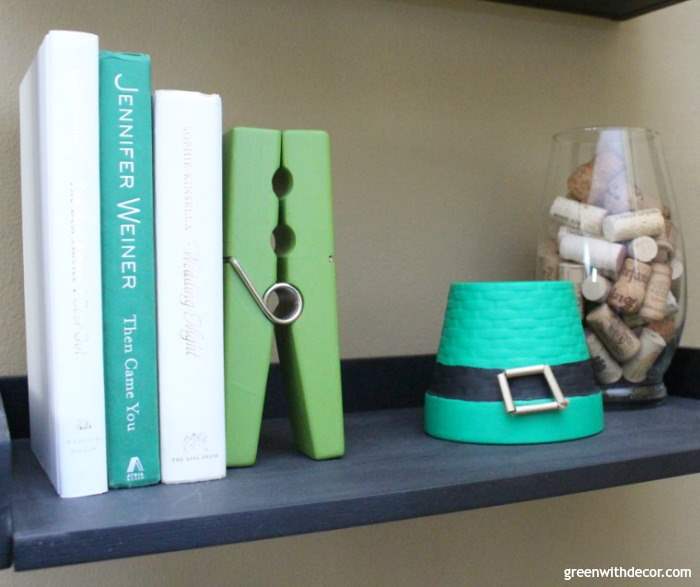 This little wooden drink caddy is the perfect flower caddy. We've actually never used it for drinks, surprisingly enough!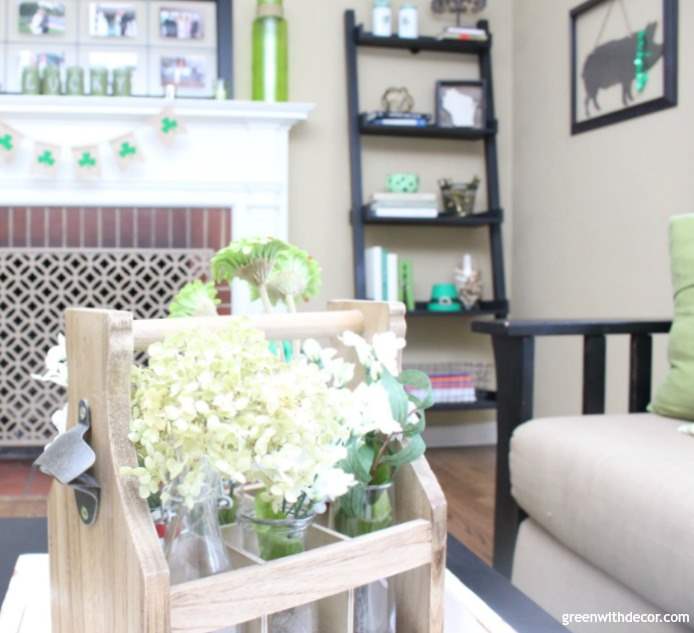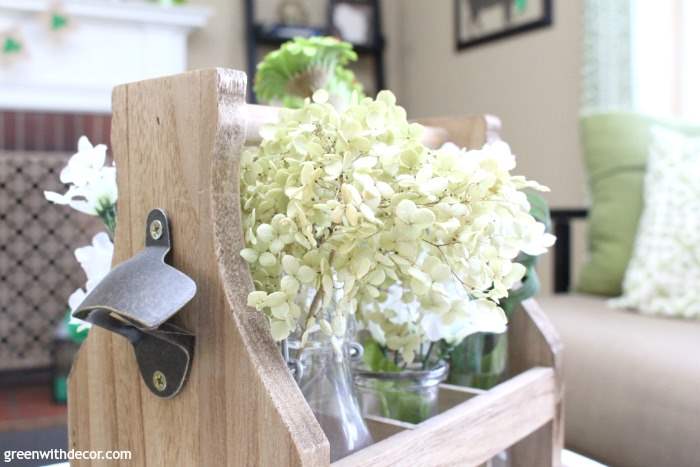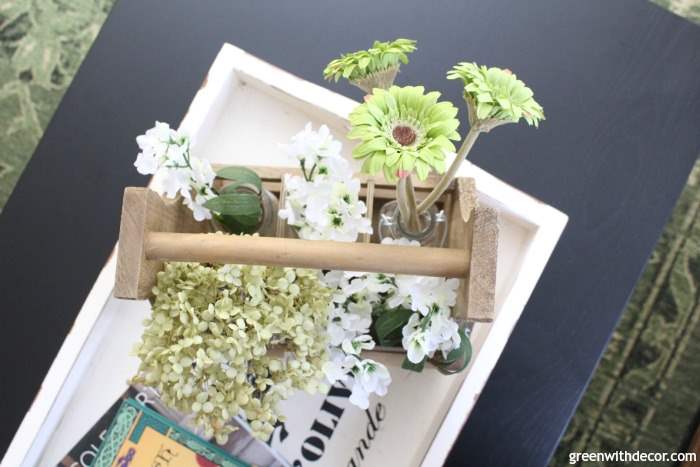 I swiped this white tray from the family room when I picked up a new metal circle tray for in there (gotta love random HomeGoods finds!), and I love this white tray in here!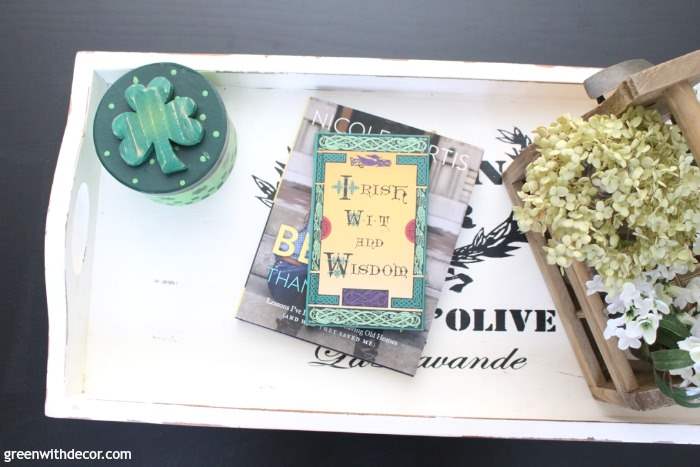 My little desk area didn't get much in terms of St. Patrick's Day decor, but the green dried hydrangeas add a green touch year round.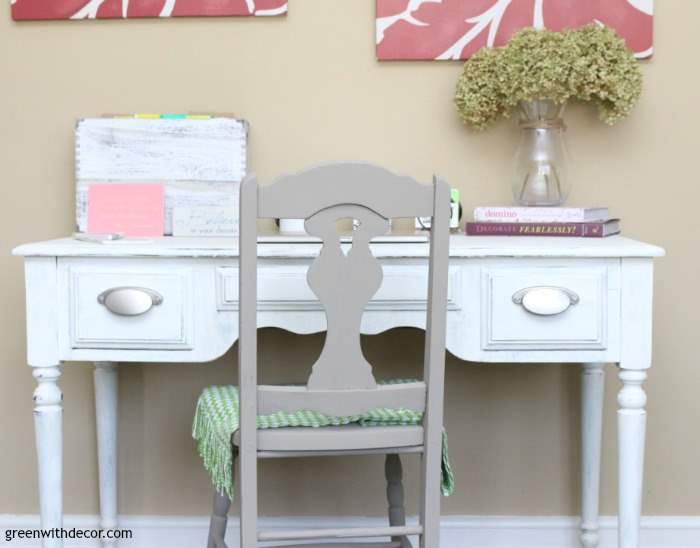 This desk used to be my grandparents', and I loooove it. It was so fun to paint (tutorial here). So was this chair (tutorial here). I might have a slight addiction to painting furniture.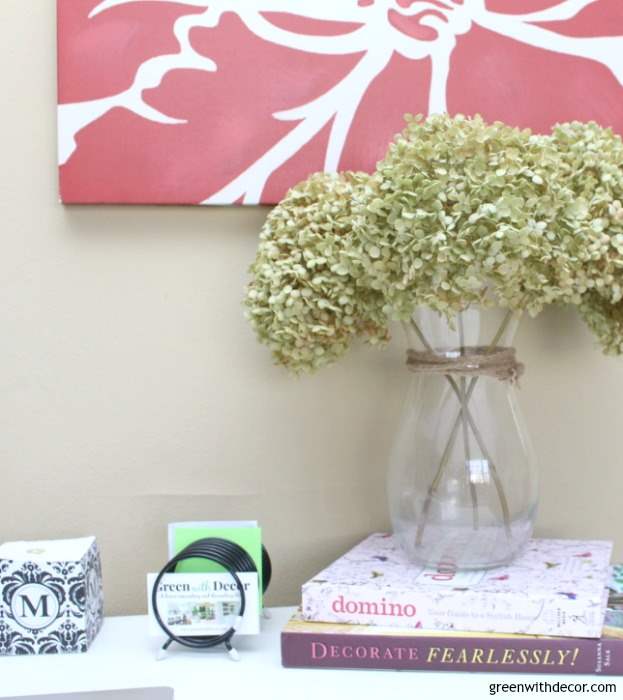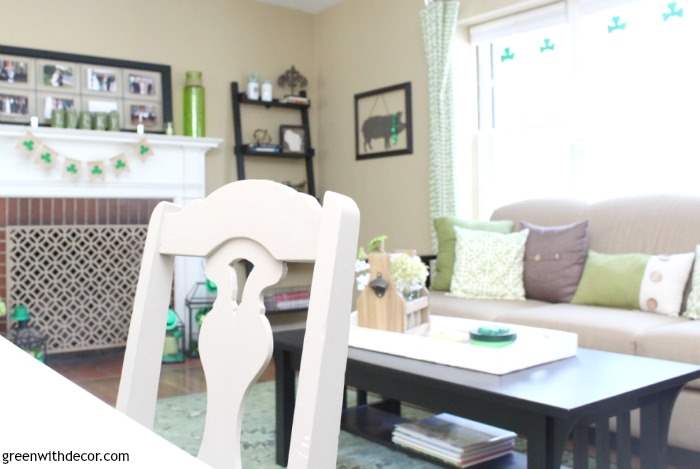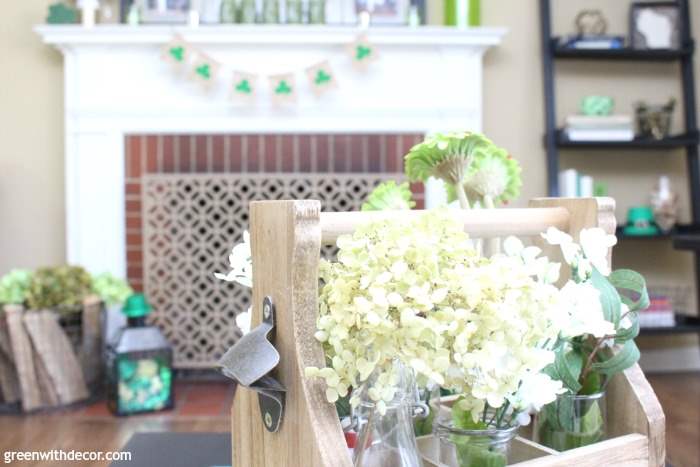 And finally our bathroom, with my favorite towel ever!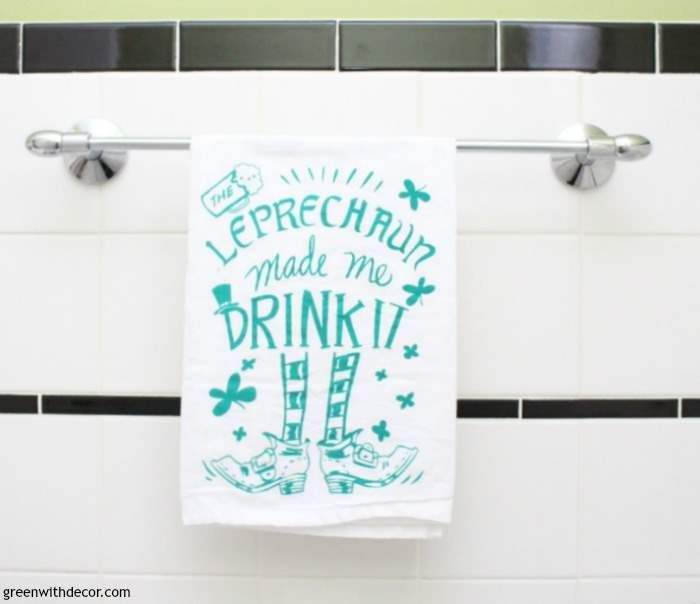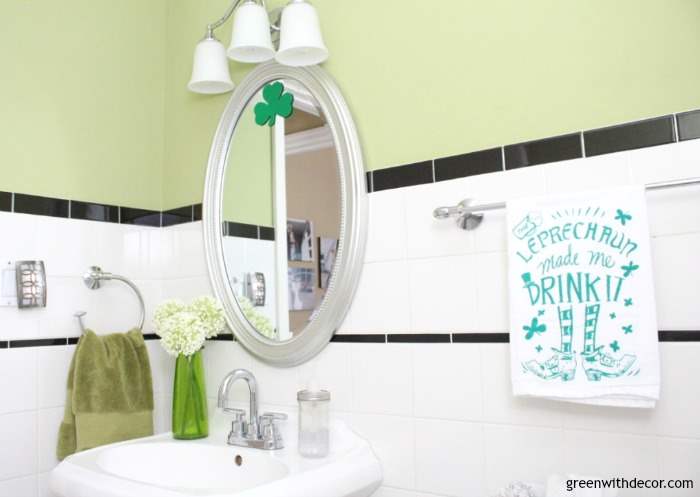 How do you decorate for St. Patrick's Day? With green everywhere like us?!
GET THE LOOK:
Since a popular question I get is "Where'd you get that?!," here are links to the same or similar sources:
If you love St. Patrick's Day, check out these posts, too:
Remember to bookmark or pin this post if you want to save it for later!

Pin it!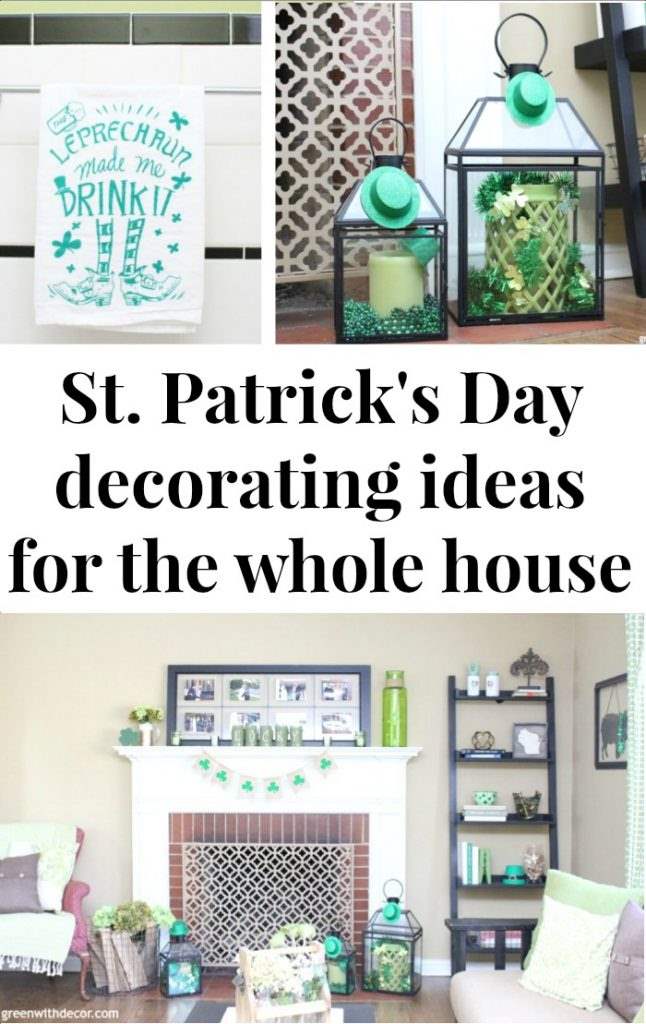 Want to read more posts like this?
Follow along: Get my emails | Facebook | Pinterest | Twitter | Instagram