'Reveal' may be a bit strong. This room is nowhere near 'done' according to our usual style.
But, since we finished the $100 Room Challenge for both the coastal powder room and the en suite bathroom makeovers, I've gotten some questions on what we're doing with the guest bathroom.
You may recall it looked like this?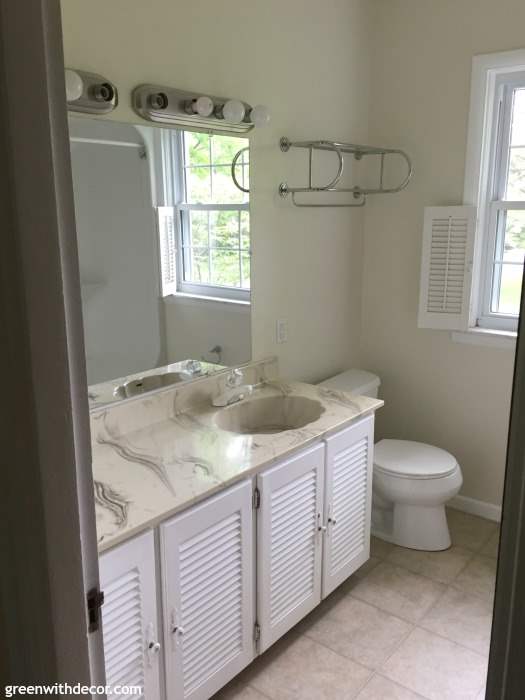 Ummmm ….
Well, we painted it (Ryegrass green by Sherwin Williams), took down that hotel-looking towel bar (??) and added a bit of decor to freshen it a bit … but honestly, that's probably about it for this bathroom.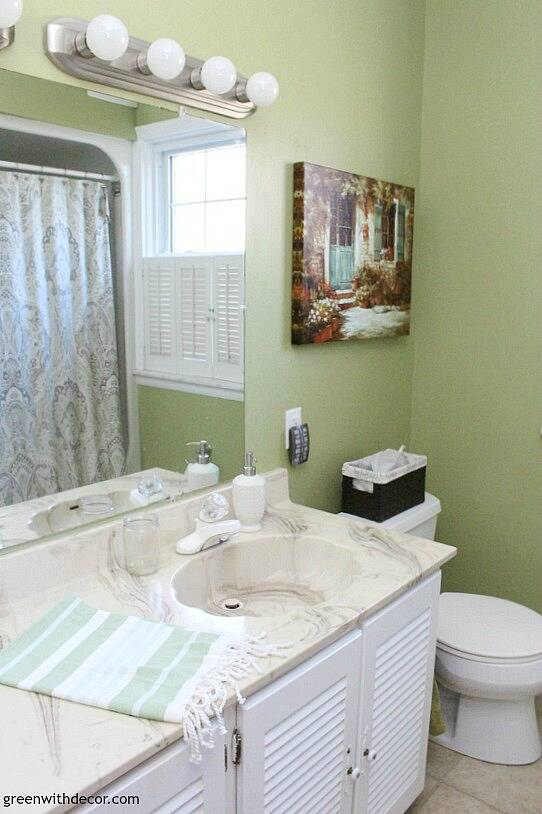 I almost didn't share this room at all, but it's a good reminder all rooms don't have to be perfect. Plus I'm nosy and love seeing other's rooms even if they're not 'done' so figured you might be, too. 🙂
Those swirly counters and louvered doors don't leave much to work with. It's definitely unfair to compare this bathroom to the other two in this house – they just had much more to work with even if full on renovations weren't possible.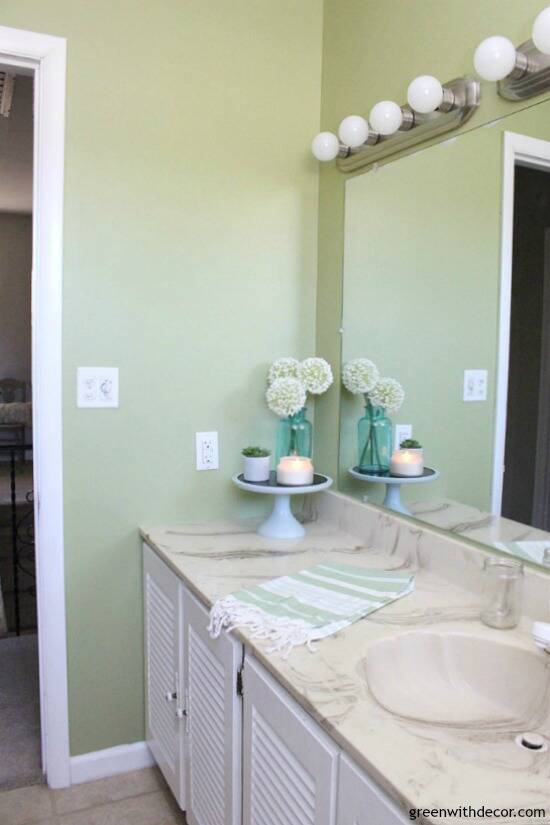 We are renovation lovers and definitely have some fun ideas as to what we'd do with this bathroom if we owned the house, but you know, since it's a rental, here's where we are.
A lot of the small changes we made in the other two bathrooms (that are usually SO easy to do in any bathroom!) didn't make sense in here.
That big mirror isn't an easy one to just swap out for something more our style. The towel bars are drilled into the bathroom and closet doors, and the vanity hardware is pretty much painted on so swapping that out wasn't an easy option either.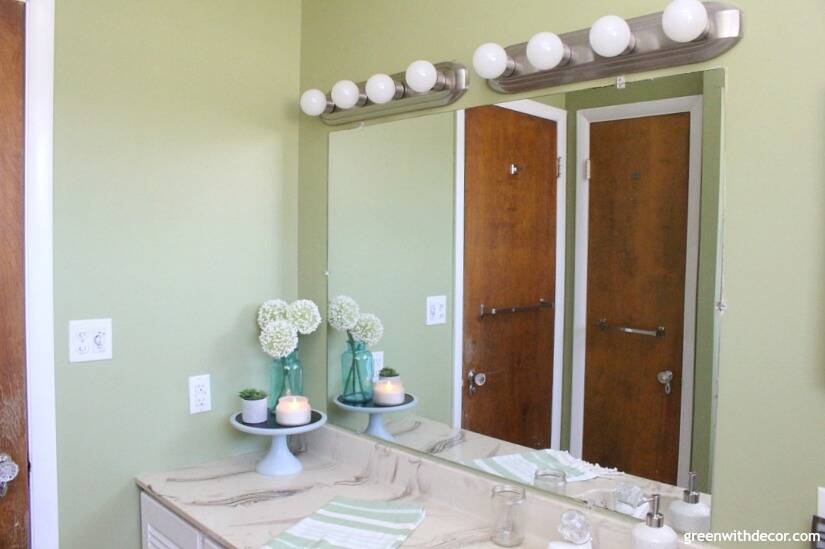 We added the shower curtain, artwork, a rug and some counter decor to make it feel a bit more like 'us.'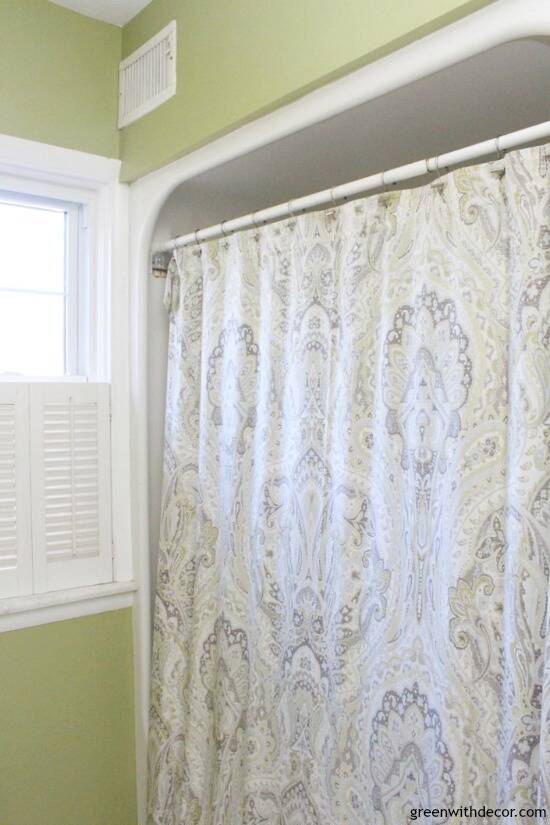 This post contains affiliate links. This means if you click the link and buy something, I may receive a small percentage of sales at no extra cost to you.
I found this soap dispenser that looks like the ones we have in the other bathrooms. (We found the other ones on clearance at a local store, but this one is still a good price.) We reused another old peanut butter jar for a toothbrush holder in here.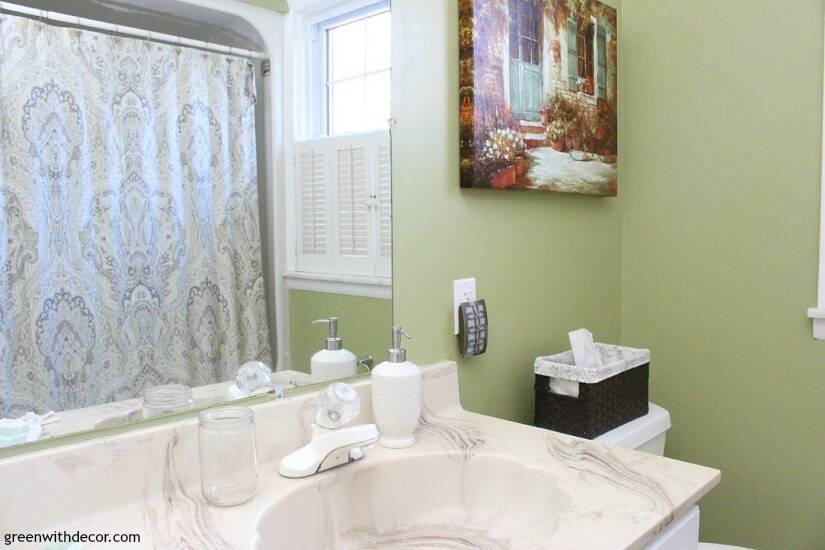 Is it weird to really like a nightlight? Well I love this one. It's more fun than just a plain old lightbulb and comes cheap. It's my go-to for bathroom nightlights.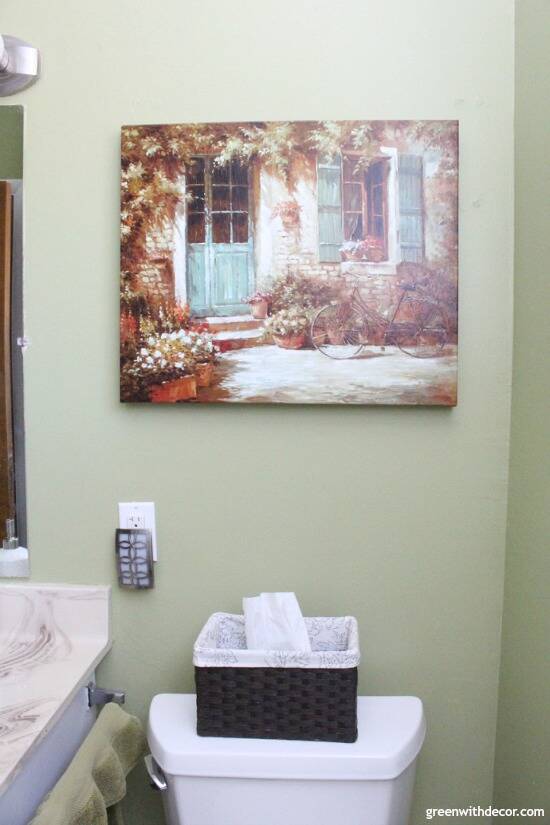 And those baskets are perfect for tissues.
I wanted to add some sort of decor in here. This cake platter (a Goodwill find I painted) with the faux flowers, succulent and candle adds a little something to the corner.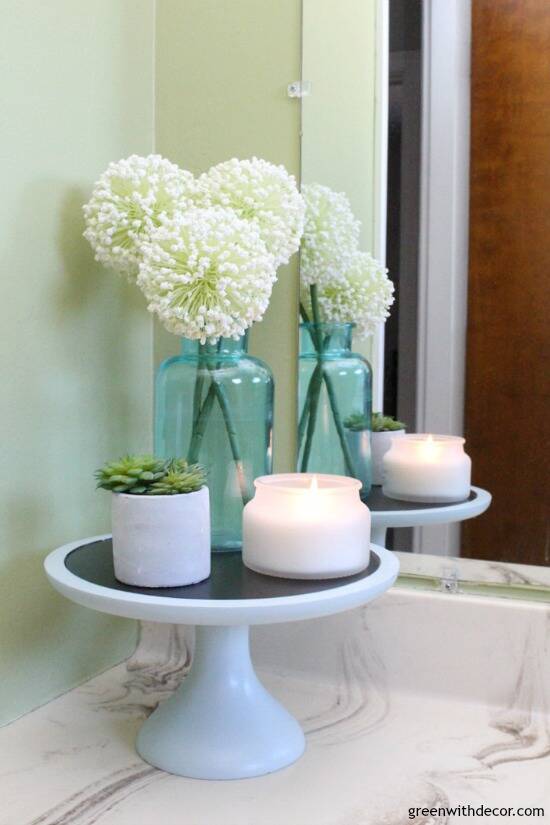 And hopefully distracts you a bit from the swirly counter, ha!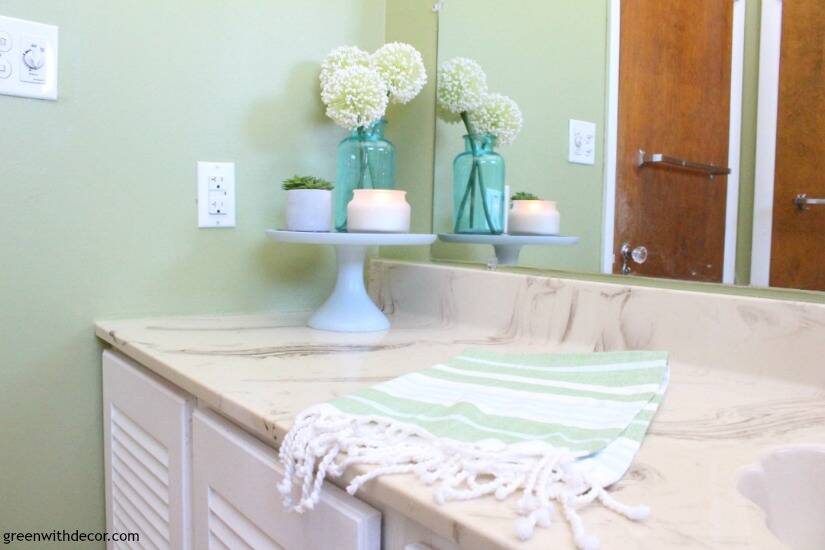 That towel is one of my faves, it's from our trip to Magnolia Market.
Okay and for fun, can we talk about the old red-bulb heat lamp in here?! Old houses are funny.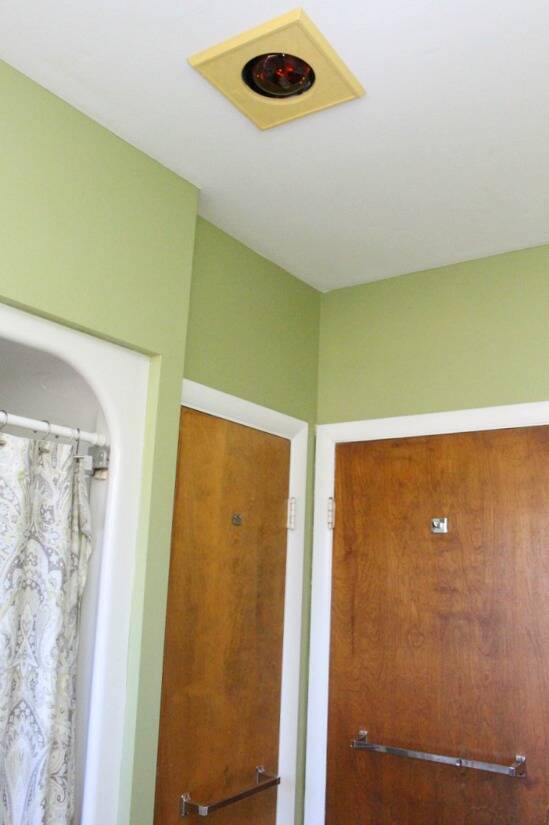 Does your house have any weird quirks like that?
GET THE LOOK:
Since a popular question I get is "Where'd you get that?!," here are links to the same or similar sources:
Wall color: Ryegrass by Sherwin Williams
Glass jar (old peanut butter jar)
Artwork from Bed Bath & Beyond
Aqua vase from Target Dollar Spot
Shower curtain from TJ Maxx
For more bathroom ideas, check out these posts:
Remember to bookmark or pin this post if you want to save it for later!

Pin it!
Want to read more posts like this?
Follow along: Get my emails | Facebook | Pinterest | Twitter | Instagram