Remember in How to Lose a Guy in 10 Days when they say jewelry is the 'frosting' of your outfit? Well I think light fixtures are totally the frosting of any room. They have a way of adding a pop of personality.
But, have you ever looked around for new light fixtures and think they're all gorgeous but, oh wait, too expensive?
I hear ya.
I've been eyeing budget-friendly wood chandeliers for ooooh let's just say many months while we've been working on this coastal rustic dining room makeover.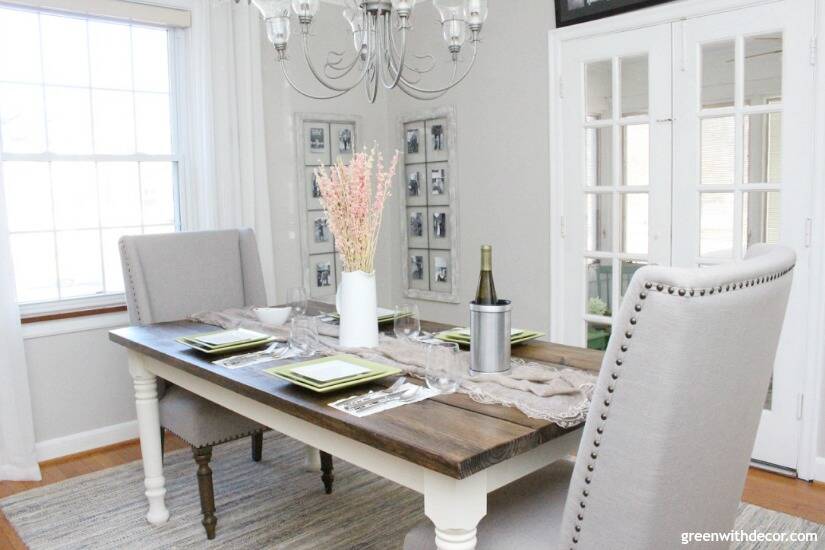 Which means I've had plenty of time to scour the Internet to find pretty chandeliers that don't break the bank. I'm sharing my favorite wood options below if you're on the frosting (light fixture) hunt for your dining room or breakfast nook, too.
All have wood elements, although some have metal mixed in, and some are white washed.
20 pretty wood chandeliers on a budget:
Click any of the images below for more info. (You might have to double click on mobile.)
This post contains affiliate links. This means if you click the link and buy something, I may receive a small percentage of sales at no extra cost to you.

So many pretty options, right?! Which wood chandeliers are you eyeing (or already putting in your shopping cart)? I really like them all. I think that white wood bead one may be a winner, but we'll see!
FYI, a few of those come in larger sizes – which means a bigger price tag – but still are pretty good deals if you have a larger dining space. (Lucky you!)
You can see all progress on our dining room makeover here:
We're getting there! We're finishing up building benches and then this room may just be done!
Oh and fellow IKEA shoppers, I found THE BEST faux eucalyptus there last week that I'll be using as an easy everyday centerpiece. If you've been on the hunt for realistic looking faux ones like I have (so hard to find without spending a million dollars!), you've gotta buy them, too.
Remember to bookmark or pin this post if you want to save it for later!

Want to read more posts like this?
Follow along: Get my emails | Facebook | Pinterest | Twitter | Instagram