Dining rooms are a room we haven't really ever put a lot of focus on. Which is kind of weird when you think about it, because we're pretty obsessed with kitchen renovations.
If you're new around here, you can see our first kitchen renovation here and our second kitchen renovation here.
But somehow that enthusiasm never quite extended into the dining room. We always thought we'd get a 'real' dining room table someday. Well you know how that goes. Someday just stays 'someday' for, well, some time. Until now.
Because guess what!?
We're building a farmhouse dining room table! It has been so much fun, and really, if we can do it without having ever built anything like this before, you can, too. Here's a peek at the top: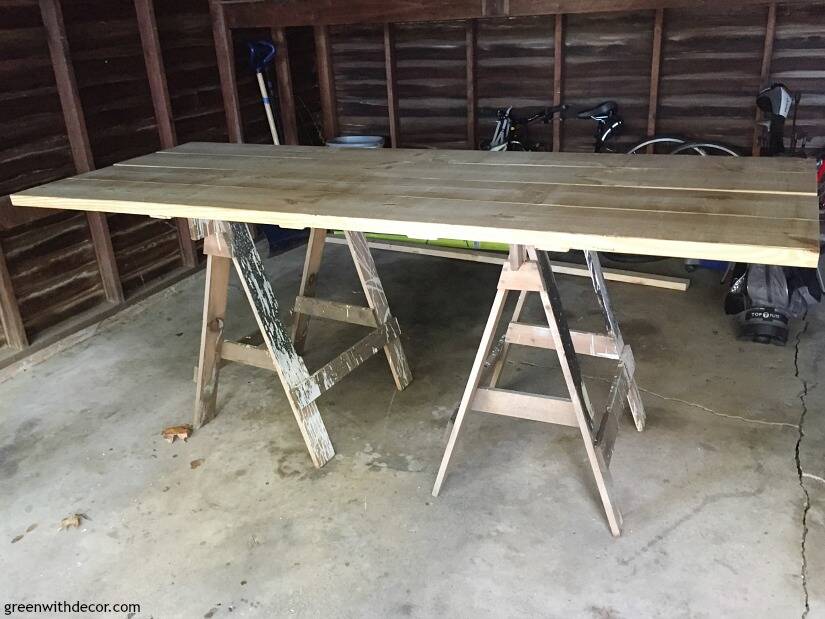 We're finishing it up and I'll have it up on the blog in the next week or two. (Update: Here's the tutorial on how to build a farmhouse dining table!)
Now that the table is coming together, I'm starting to think about how we're going to design the room. It's going to be coastal farmhouse goodness.
Along with the room design, I'm already planning a hundred tablescapes and centerpieces in my head. I am so excited to actually have a table to decorate!
You might remember we painted the room Agreeable Gray by Sherwin Williams over the summer.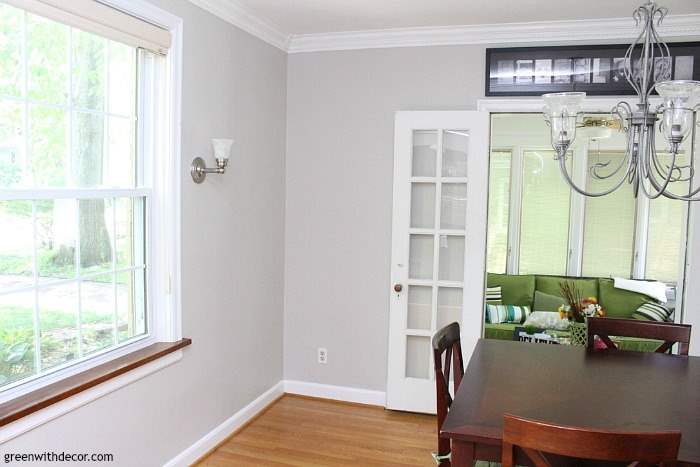 The room started the lovely shade of red: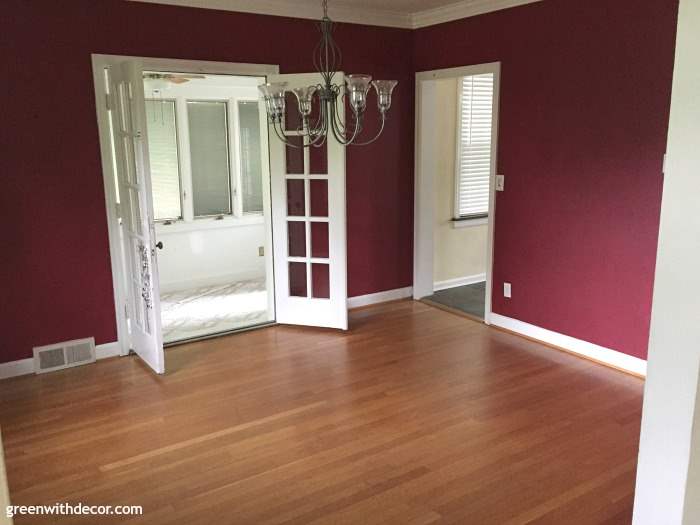 This post contains affiliate links. This means if you click the link and buy something, I may receive a small percentage of sales at no extra cost to you.
We currently have a little desk nook set up in the corner of the dining room. It's not going anywhere, but this room is plenty big enough for a little home office nook and a gorgeous farmhouse table and chairs.
One more thing before we dive into the design plan.
I'm having a LOT of trouble deciding what to do about two things: the light fixture and the chairs so that's why there's a few options in the design plan below. I'll share other posts with all of the options I've been looking at so you guys can weigh in, because I just keep changing my mind. I want them all!
Coastal farmhouse dining room design plan:
You can click any of the images for more info. (You may have to double click on mobile.)


Farmhouse table:
The one we're building looks similar to the one pictured above. (Update: See how we built our table here.)
Light fixture:
I love the beachy chandeliers, but the modern fixtures get me, too. Decisions, decisions.


Benches / chairs: 
We're planning to build benches for either side of the table, but I want two pretty chairs for the heads of the table. Actually I want about 500 chairs, because I'm falling in love with all of them. What do you think?


(Update: here's the post with all of the coastal chairs I've been looking at.)
Wine fridge:
Our handy wine fridge doesn't fit in the rental kitchen, so it's at home in the dining room.
Curtains:
We're using the same pretty airy curtains we have in our living room, along with the same crystal curtain rods.
Ship wheel:
I came across a ship wheel and just had to get it. It's perfect for a little wall decor.
Old windows:
Ironically, the old windows turned picture frames we'll be using in here came from the built-in cabinet in our dining room of our Milwaukee house. (Also, weird, I just remembered that dining room was red when we moved in, too.)
We had painted the window frames black, but I'm lightening them up with some white and tan paint and a dry brushing technique. We're going to hang them vertically instead of horizontally like we'd previously used them. Sometimes I just feel like mixing things up.
Hydrangeas:
For some sort of everyday centerpiece. Although I'm sure we'll be diving into Christmas centerpieces and tablescapes before we get to everyday.
Plate chargers:
Told you I'm excited to decorate a table. These pretty rattan chargers are perfect to go underneath our plates to bring things up a notch in the pretty table department.
Rug:
I want something seagrass or jute (like this rug we have in our kitchen) for a coastal causal feel in here.
(Update: here are the area rugs I've been looking at, all are under $250!)
So that's where we are. More painting, staining and decorating to come. Let me know if you have a favorite coastal light fixture or dining chairs, I'd love opinions on what you love and not so much!
UPDATE: The coastal farmhouse dining room is done! You can see how it all came together in these posts:
Remember to bookmark or pin this post if you want to save it for later!


Pin it!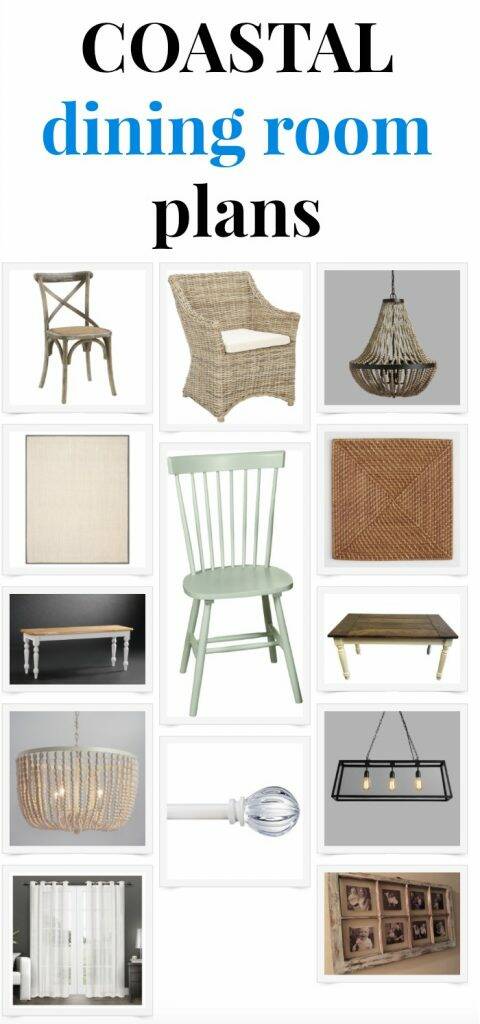 Want to read more posts like this?
Follow along: Get my emails | Facebook | Pinterest | Twitter | Instagram