Thinking about giving a room a fresh look? Here's a list of pretty green paint colors for every room in the house!
Happy St. Patrick's Day, friends!
I know I've been all about green lately, but since today is St. Patrick's Day, that trend is continuing!
Green is my favorite color to decorate with, although I tend to paint walls neutral colors and add green in ways of curtains, throw pillows, and rugs.
I do like a pretty green paint color in a room or two though for a fun pop of color.
Today, I've rounded up green rooms from all over blogland. These are pretty shades of green in rooms from the dining room to the bathroom to the craft room. (Yes, a craft room. Oh my gosh, do I want a craft room instead of just a craft closet!)
What better way to kick off St. Patrick's Day than by looking through pretty green rooms? Then of course, you can get onto your other celebrations, whatever those may be!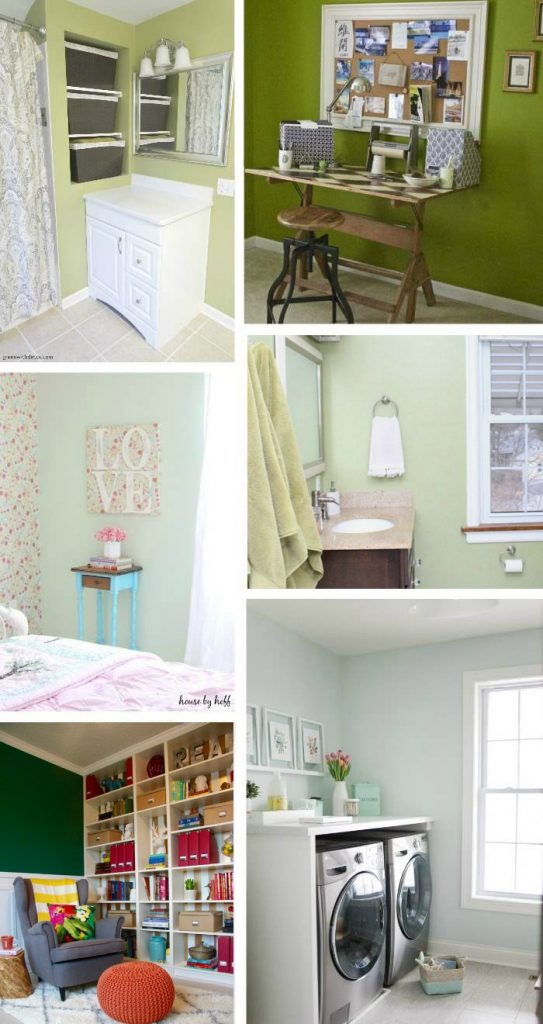 On a side note, who else is obsessed with Fixer Upper? In Tuesday's episode, they painted the living/dining room walls green. What perfect timing for St. Patrick's Day – and this blog post!
The walls in our house are pretty much all tan (Camelback by Sherwin Williams), but we added some color in the bathrooms with green paint.
We went with Sherwin Williams' Ryegrass, and I love it. It pops off the white tile we have in the upstairs bathroom and the powder room.
This post contains affiliate links. This means if you click the link and buy something, I may receive a small percentage of sales at no extra cost to you.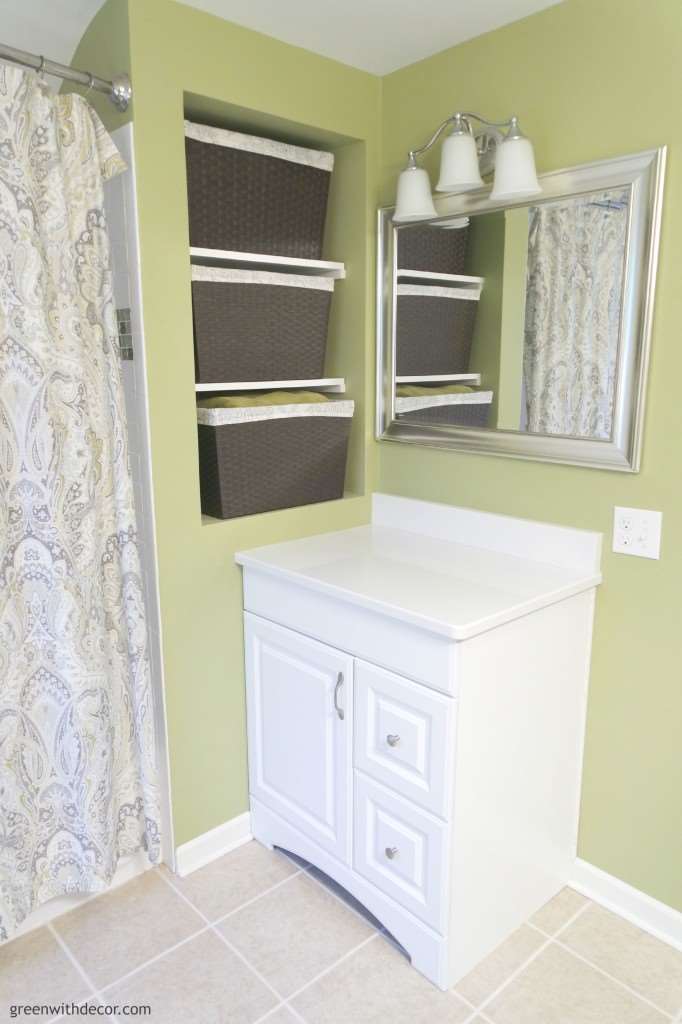 GET THE LOOK: Shower curtain rod | Vanity | Cabinet handle | Cabinet knobs | Mirror | Baskets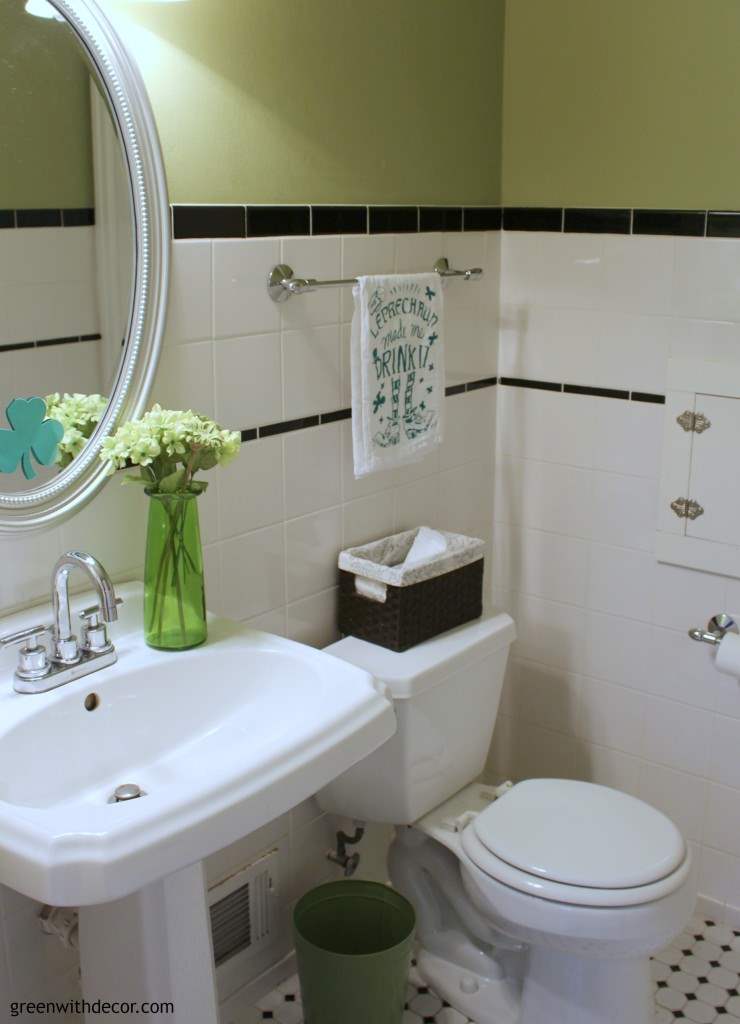 GET THE LOOK: St. Patrick's Day towel | Basket
We have Ryegrass in our rental bathroom, too.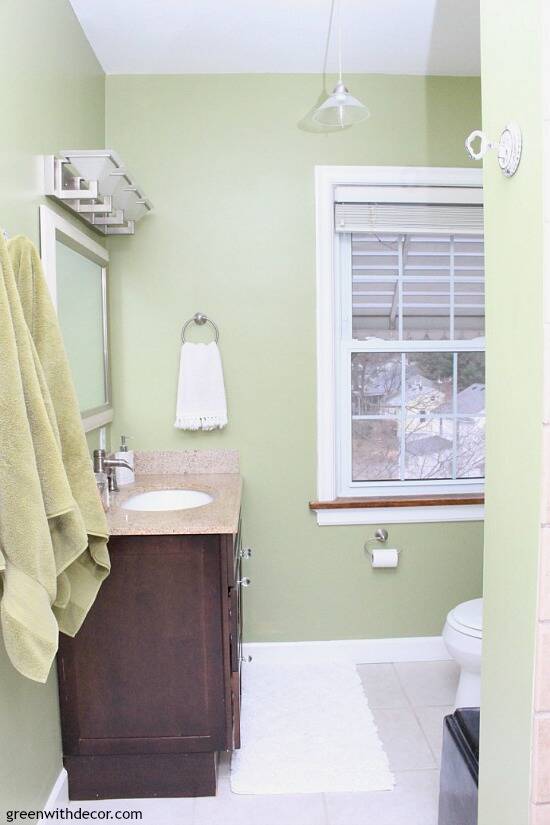 GET THE LOOK: Mirror | Silver towel ring | Hand towel | Soap dispenser | White rug
And the Ryegrass continues in our home office: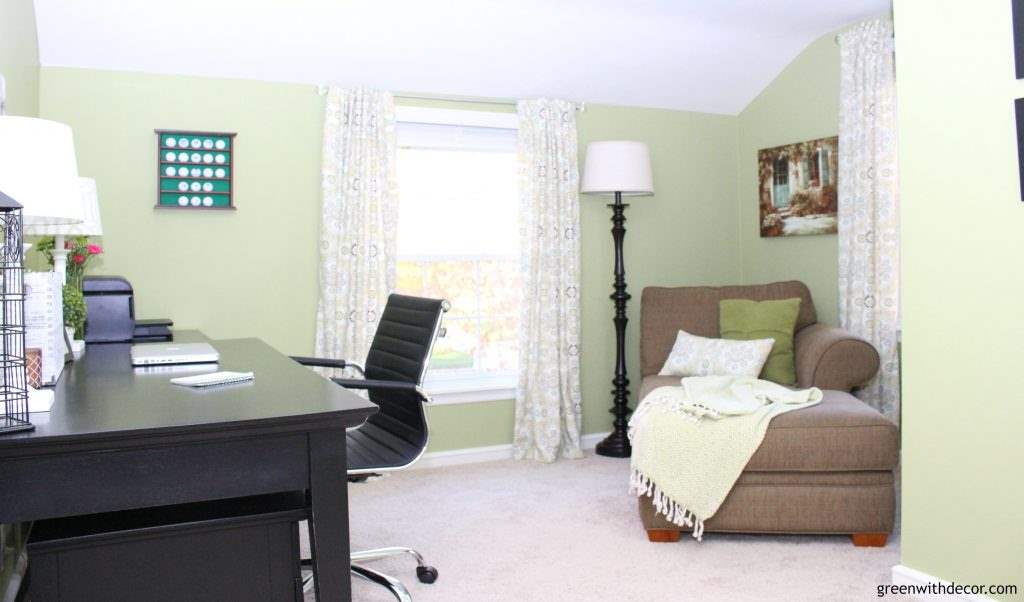 GET THE LOOK: Curtains | Curtain rod | Blanket | Chaise | Lamp shade | Desk
*Please pin all images from the original source.*
And if you're looking for gorgeous green paint color inspiration for the rest of the rooms in the house, here it is:
Laundry room by Live the Fancy Life (Paint color is Fleeting Green by Sherwin Williams.)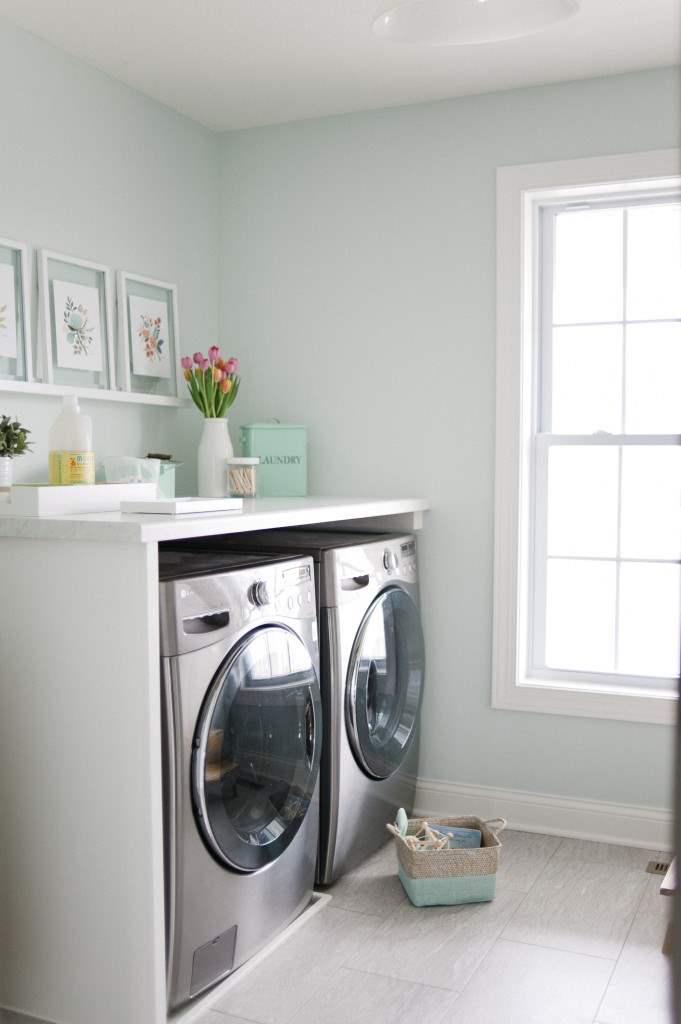 Craft room by 2 Bees in a Pod (Paint color is Sassy Green by Valspar.)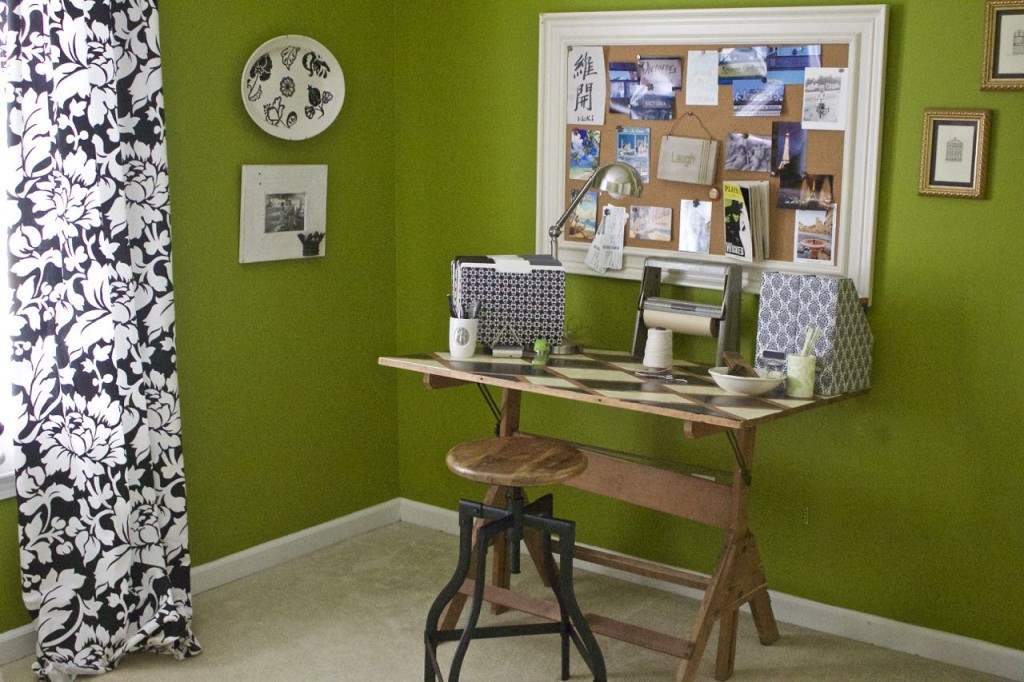 Office/reading room by Love & Renovations (Paint color is Juniper by Valspar.)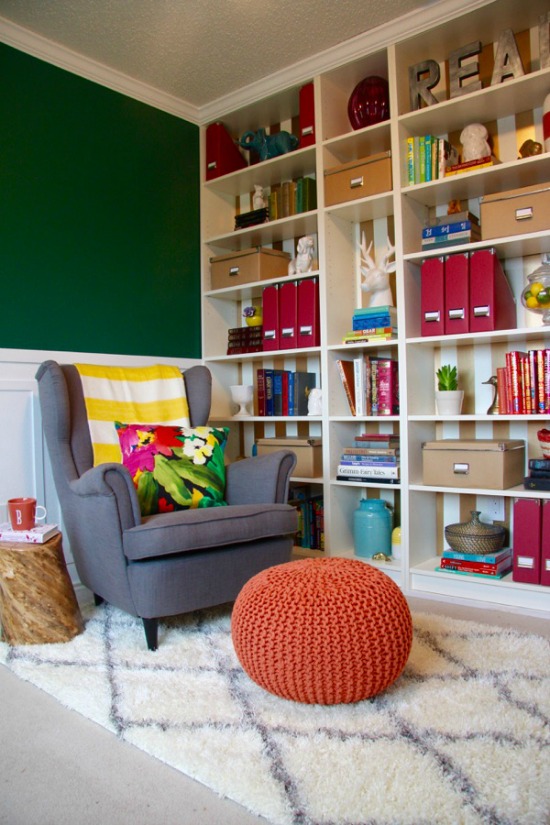 Bathroom by Rain on a Tin Roof (Paint color is Paradise of Greenery by Behr.)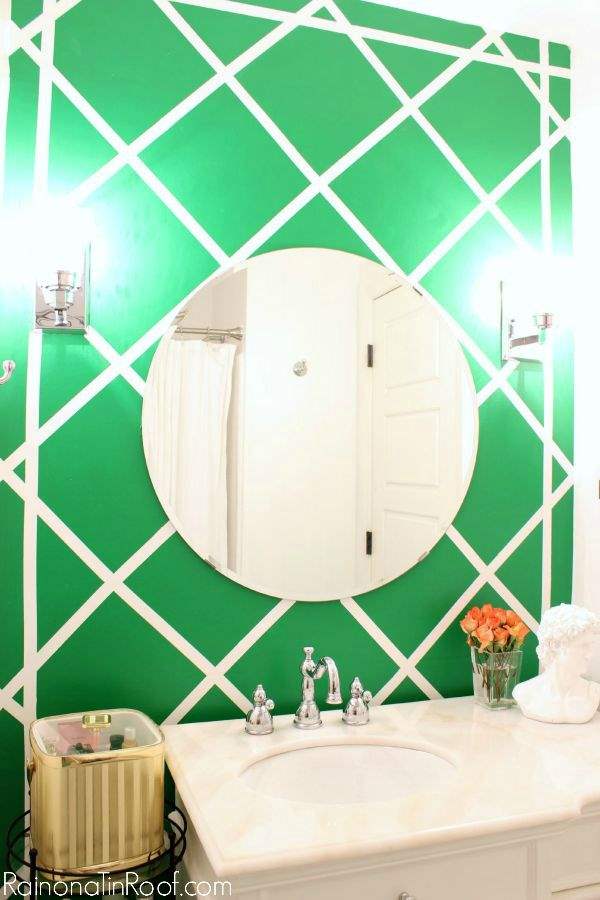 While I wouldn't paint the whole house green, I love seeing all the different rooms painted green in everyone's houses!
What are your favorite green paint colors? Do you have a finished green room? I'd love to see a pic!
Cheers and Happy St. Patrick's Day!
You can see more paint color inspiration here:
Or tips for painting a room here:
Remember to bookmark or pin this post if you want to save it for later!


Pin it!


Want to read more posts like this?
Follow along: Get my emails | Facebook | Pinterest | Twitter | Instagram