I recently shared pictures of the finished living room in my summer home tour.
But I haven't gotten into too much detail on the living room yet, so today I'm talking about how we went from an outdated room to the finished space without spending much money.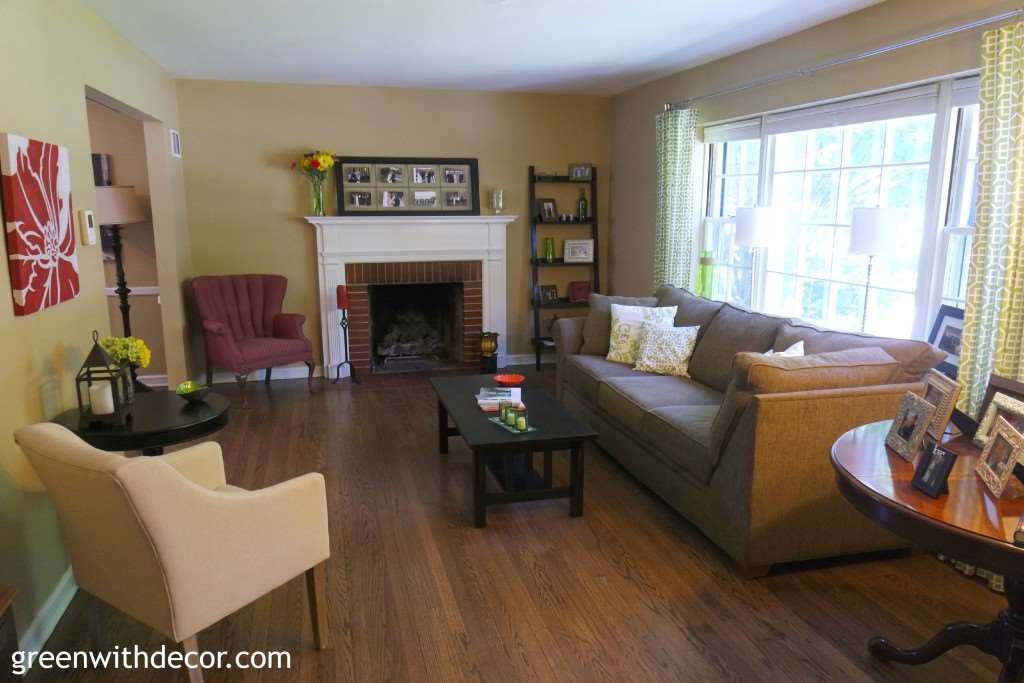 To get the full before and after picture, here is what the room looked like mid-renovation: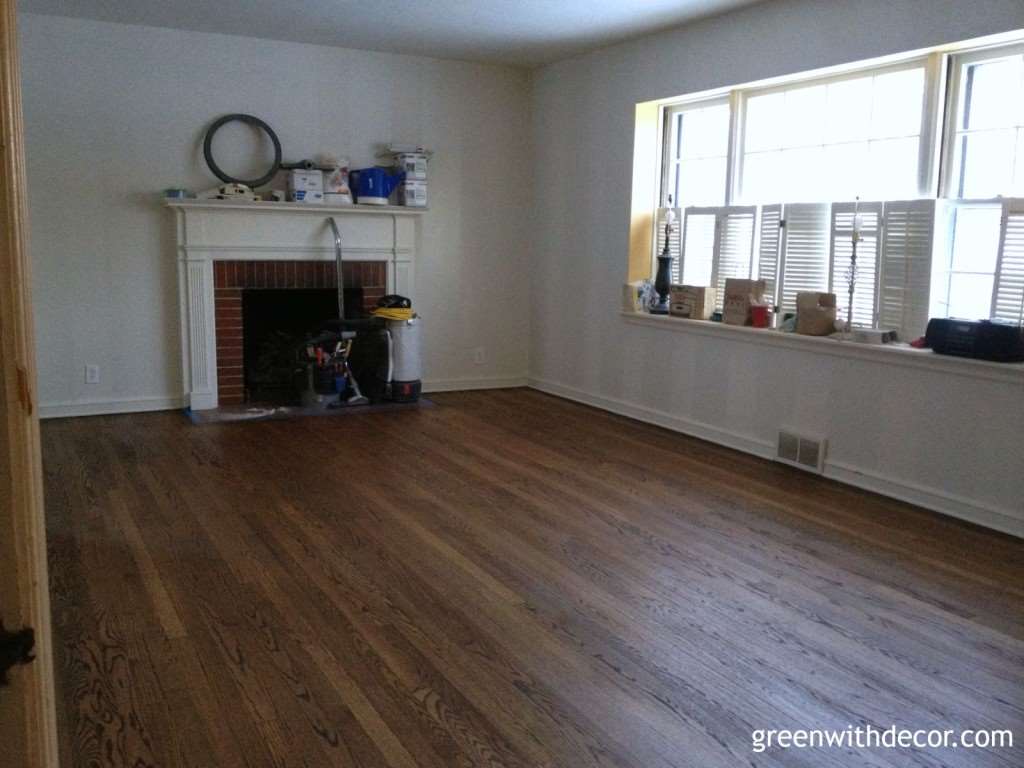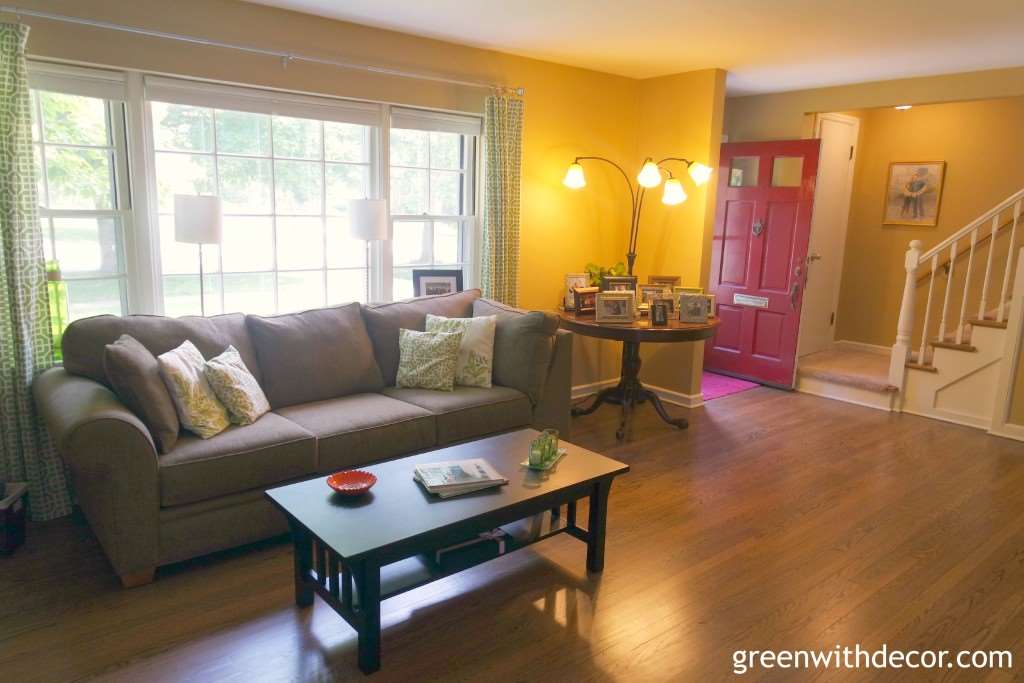 We kept renovations to a minimum in here.
We painted the walls with Sherwin Williams' Camelback and stained the hardwood floors to make them darker.
As for decorating and furnishing the room, this room is all about upcycling, reusing and updating.
UPCYCLING
These windows to picture frames are one of my favorite DIY projects to date.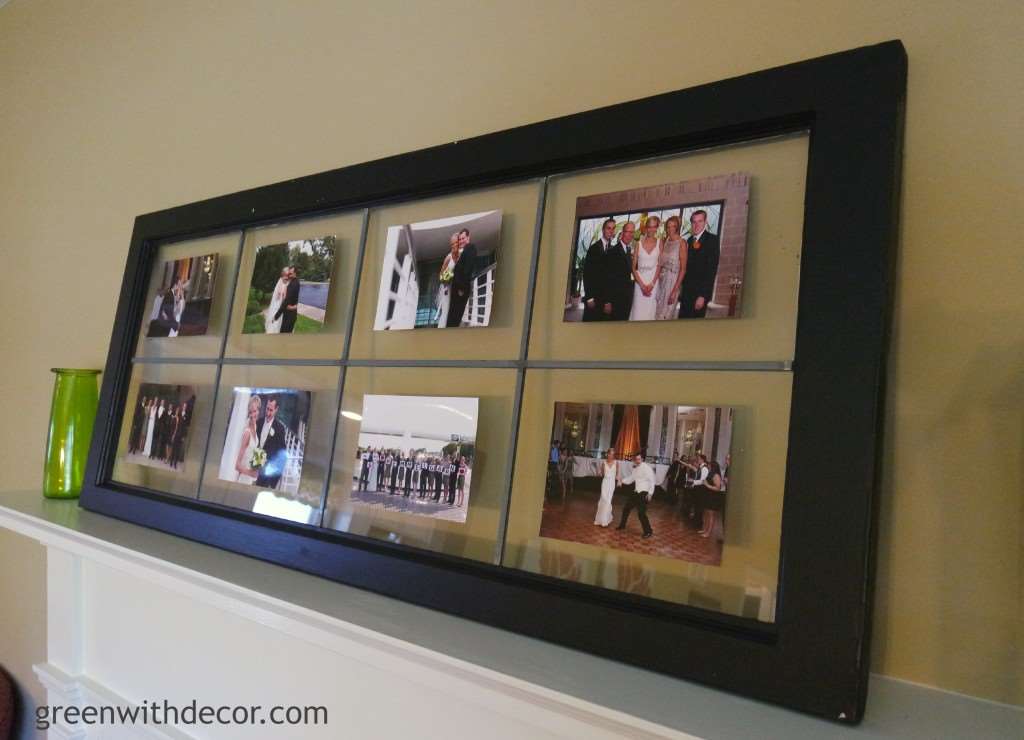 They were originally the doors to a built-in cabinet in the dining room – which we demolished when we knocked down the wall between the kitchen and dining room to make room for our breakfast bar.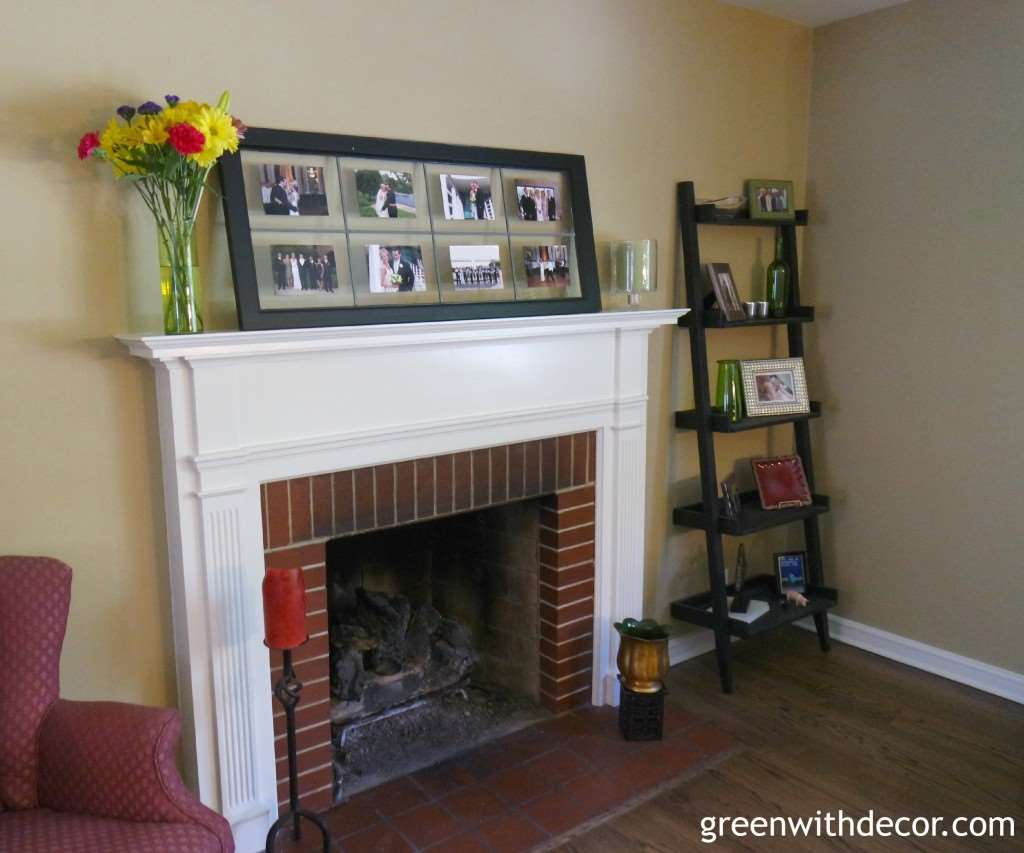 I love that they're original to the house, and that we can use them in a new way – to display our pictures from our wedding, which was pretty much the best day ever.
REUSING
Of course I wanted to add some green to the living room! I looked for cheap curtains and couldn't find any that I liked.
But I did find these tablecloths at Target. They make perfect curtains!
Remember, any fabric can be made into a curtain. Check out how I took a shower curtain to make window valances in the kitchen.
Kalen had this beautiful old dining room table when we met. It's perfect as a display table.
This post contains affiliate links. This means if you click the link and buy something, I may receive a small percentage of sales at no extra cost to you.
I know some designers say not to decorate with too many personal pictures. I disagree.
We don't go overboard, but I love having pictures of us and our family around the house – and this table is perfect for displaying them!
Quick tip: Since we have multiple picture frames sitting on the table, I use books to give the ones in the back some height.
UPCYCLING
If you guys have been reading the blog for a while, you know I love spray painting.
We bought this ladder shelf a few years ago. We really wanted a black ladder shelf and couldn't find one at a good price.
So we bought a brown one and spray painted it. Easy as that!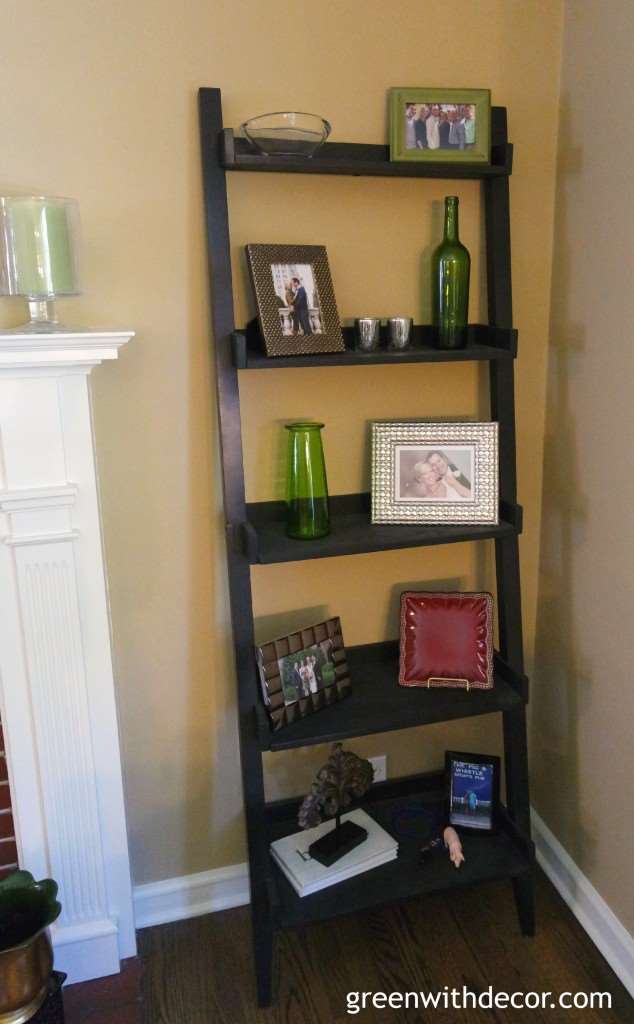 And yes, that is a green wine bottle that I'm now using as decor. An easy upcycle!
This coffee table is from neighbors who were about to throw it out. It was originally blonde wood. A little Rust-Oleum spray paint, and we have a black table!
AS FOR THE REST OF THE ROOM …
This big window is one of our favorite things about this room. It lets in so much natural light, which is something we were looking for when we were house hunting.
I found these pretty lamps at TJ Maxx and set them up on the window box behind the couch, giving it that sofa table look.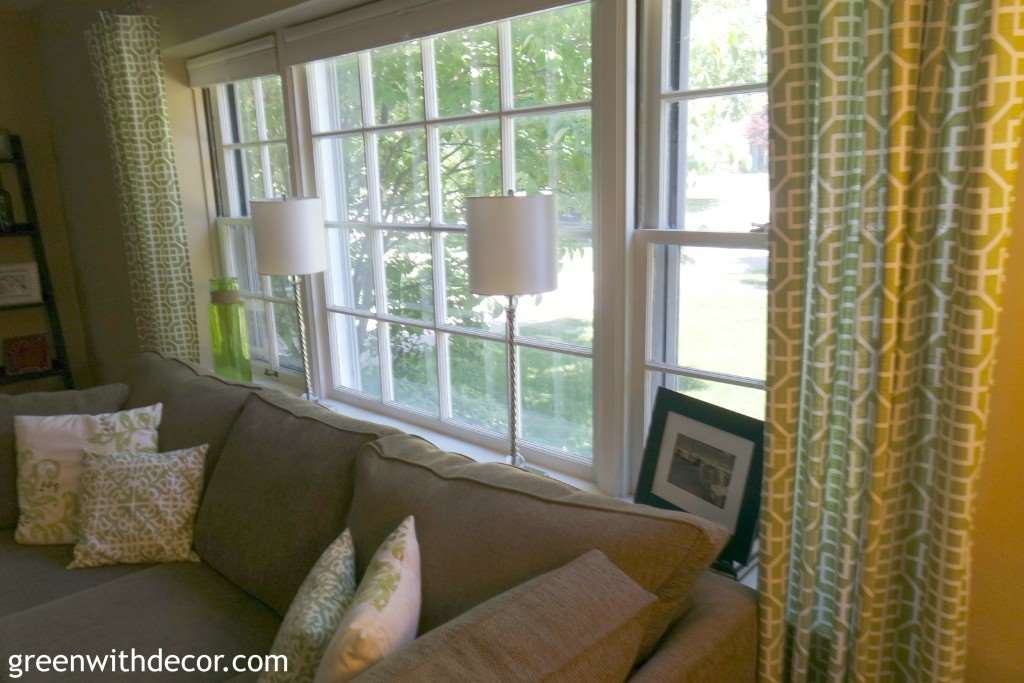 These red and white canvases are from Pier 1 a few years ago.
No joke, when I was holding them in the store getting ready to check out, a lady came up to me and tried to take them out of my hands because she wanted them. It was bizarre.
The chair is from Kirkland's, and the red throw pillow is from World Market.
The table is from TJ Maxx – and it came in black, so we didn't even have to spray paint it!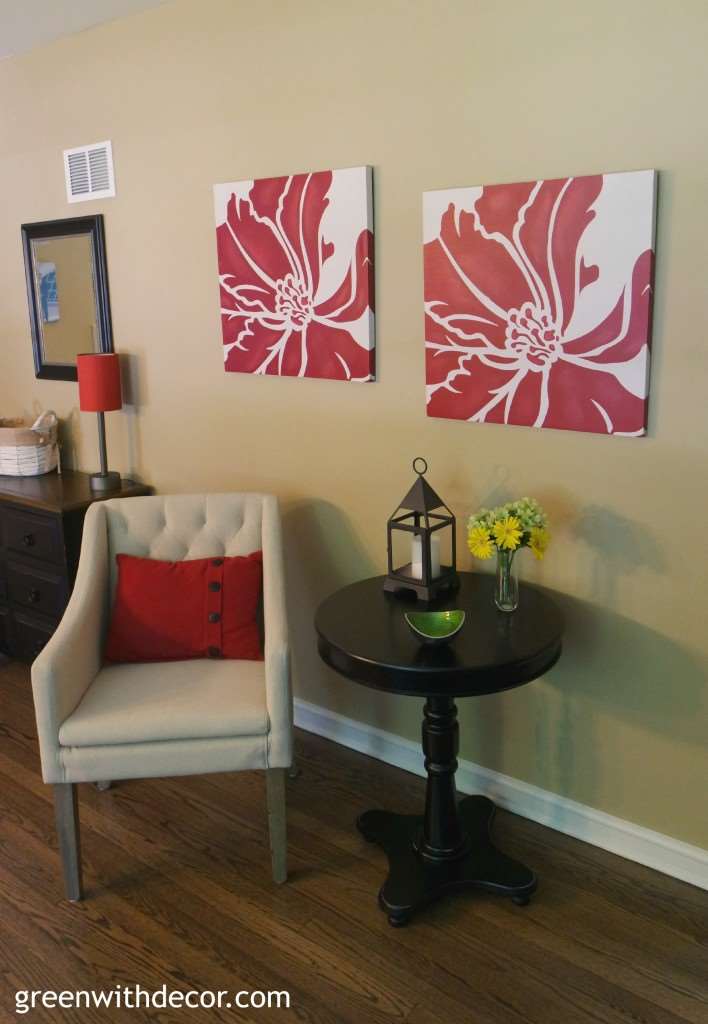 How do you decorate your living room?
For more living room decorating ideas, check out these posts:
Remember to bookmark or pin this post if you want to save it for later!

Pin it!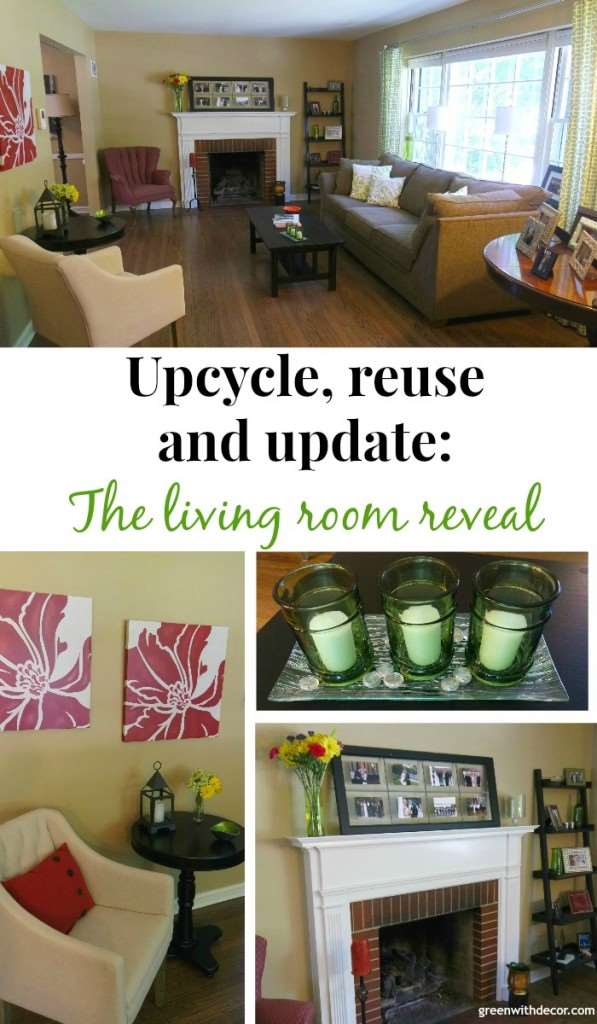 Want to read more posts like this?
Follow along: Get my emails | Facebook | Pinterest | Twitter | Instagram