I realized I never shared a dedicated dining room reveal post, and since we all love those, here we go!
I've shared bits and pieces of our dining room in these posts so you've seen most of it:
But a post all about before and afters is always fun.
If you're new around here (welcome!), we knocked down the wall between our kitchen and dining room six years ago when we bought the house.
The original dining room was dark red, and the kitchen was a small galley. The breakfast bar is now to the right of the doorway in the picture below. The whole room feels way bigger now!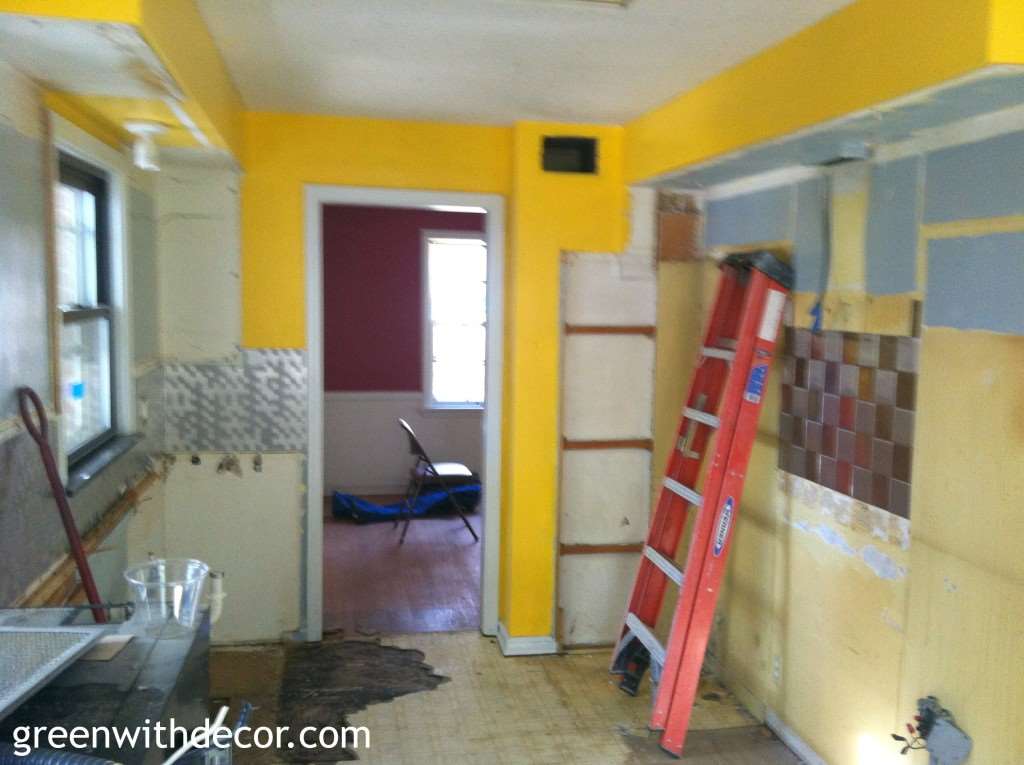 And here's the other side of that pic above. We got rid of that built-in cabinet to make room for our breakfast bar.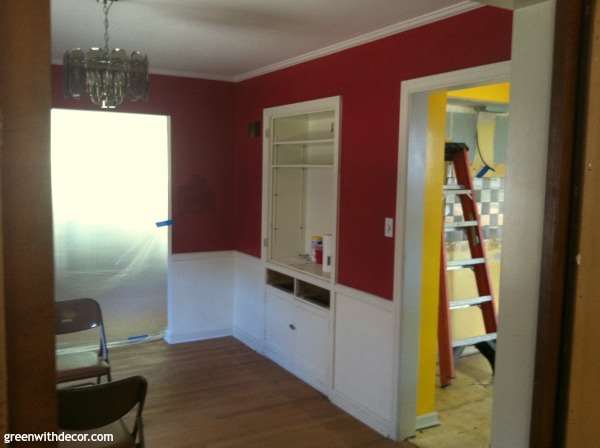 This post contains affiliate links. This means if you click the link and buy something, I may receive a small percentage of sales at no extra cost to you.
Then our dining room looked like this for a while. (Well this pic is decorated for St. Patrick's Day, but it's the best 'in between' pic I could find that shows the whole space!)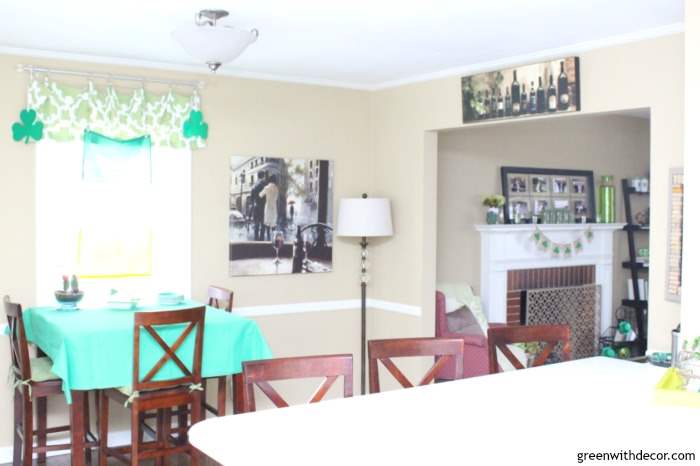 I always like to share those in-between shots, because I think it's too easy to think gorgeous before and afters happen immediately when you're scrolling Instagram!
This square table was never big enough for the room, but we pretty much ate all meals at the breakfast bar before we had our daughter so a new table was never really a priority.
And now: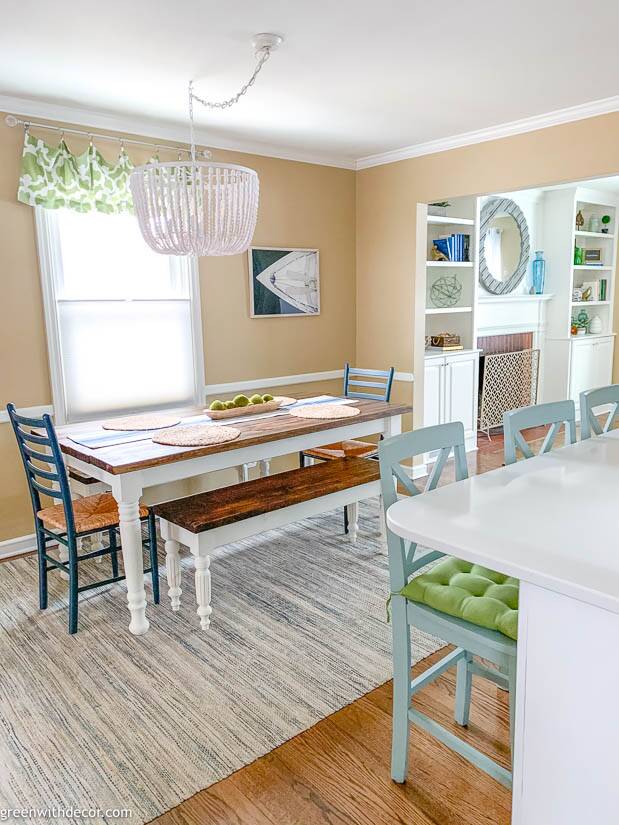 I just love how the boho coastal dining room came together!
And here's another before and after because aren't those the best?!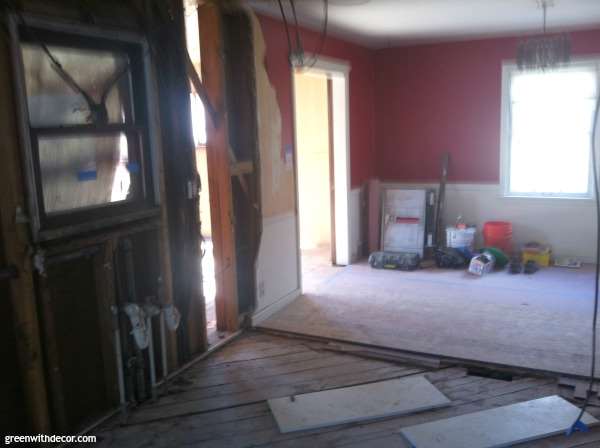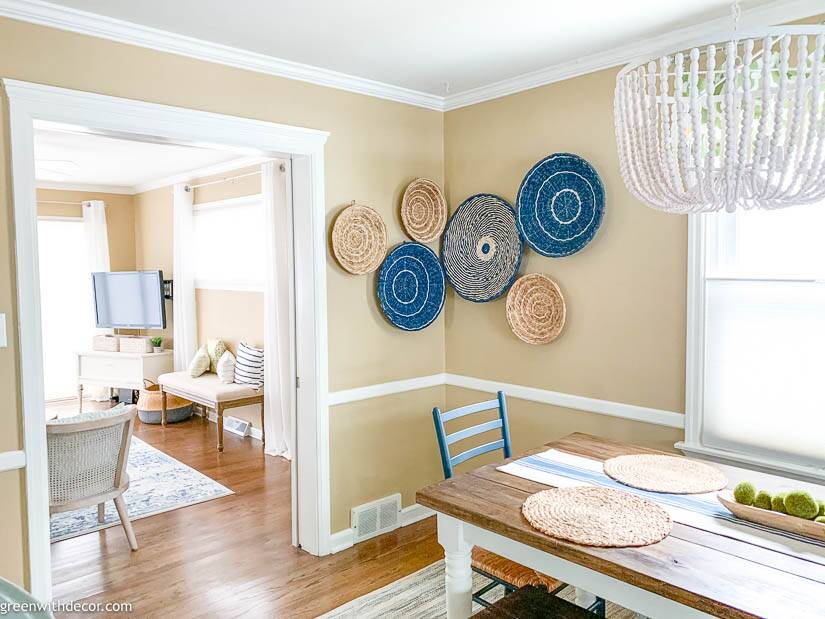 (I'll link to sources for everything at the end of this post in case there's anything you want to get!)
Furniture:
We built a farmhouse dining room table and built benches to match.
We LOVE having a bigger table in here. We eat at this table every day (unless we're out on the patio!). It's the perfect spot for eating and hanging with family and friends.
Wall decor:
The seagrass basket gallery wall is one of my favorite walls. I really just love it!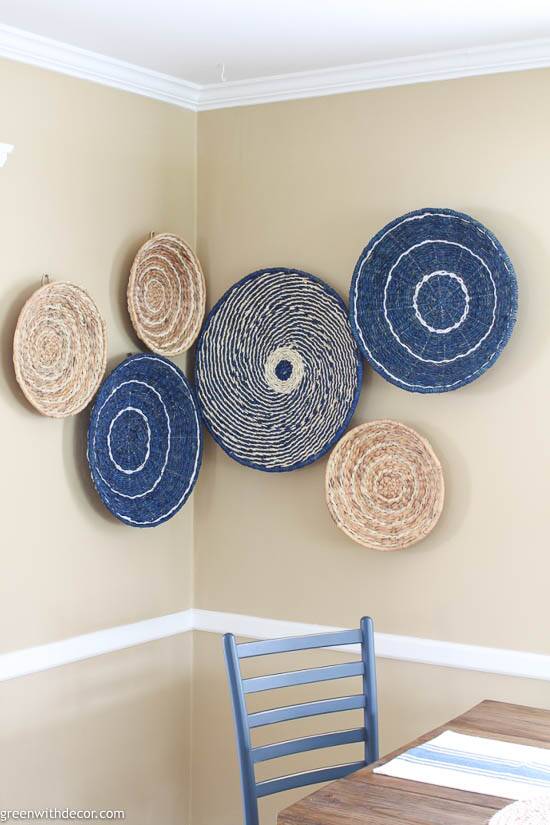 I know a lot you do, too, and I shared where to buy seagrass baskets on the blog last week. (Ours are no longer available so I found a bunch of similar ones – linked in that blog post or also at the end of this one!)
The boat artwork on the other side of the window ties in perfectly with the colors of the seagrass baskets and our wood beaded chandelier.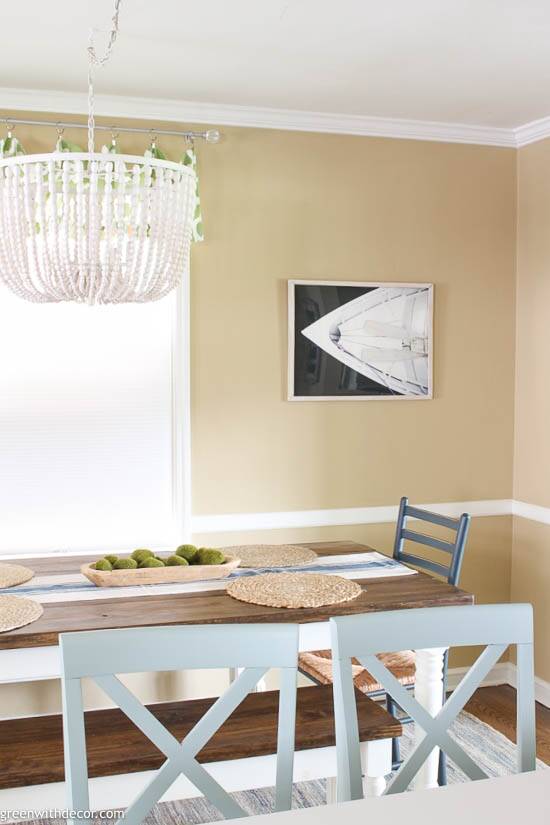 Light fixture:
Speaking of, this gorgeous wood beaded light fixture is by far my favorite light fixture we have in our house. I'm obsessed with it!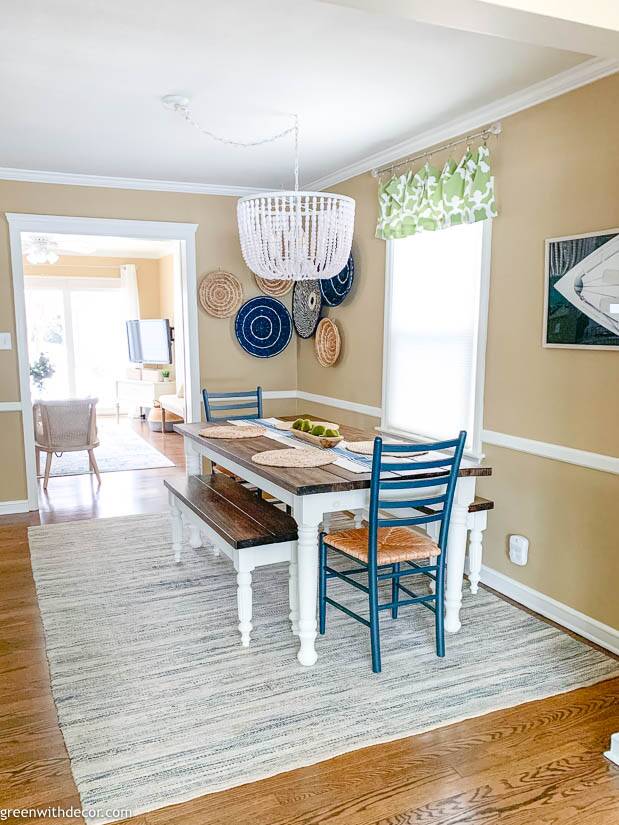 I just love the boho, coastal feel of it, and it's so pretty! It comes in two sizes. We actually bought both so we could see them in the space but kept the larger one.
We used this swag hook to hang it and center it over our table.
Rug:
I'm also obsessed with this rug. It's pretty, not expensive and, most importantly, the colors hide dirt/toddler crumbs just great!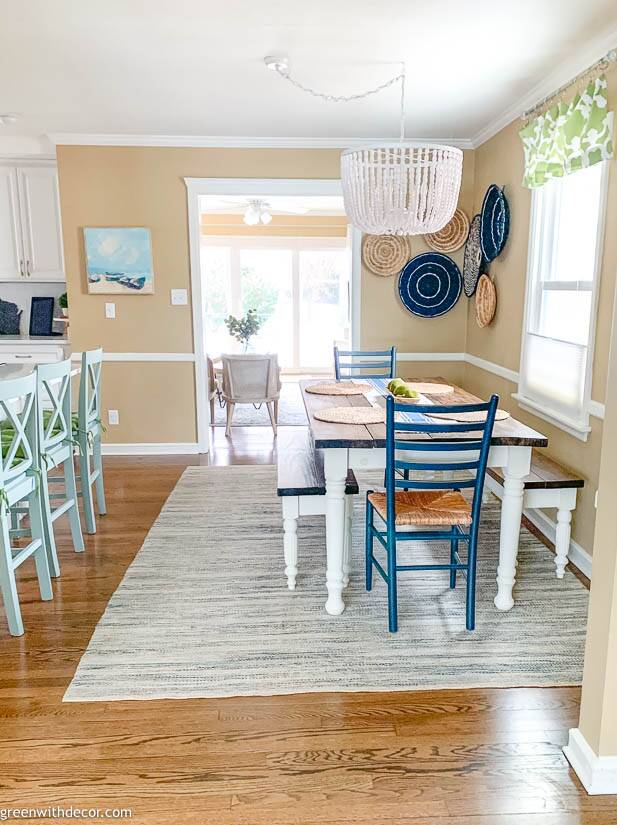 Table decor:
Our everyday table is our cream/blue runner (ours is no longer sold, but that one I linked to is pretty and cheap!) and a bread bowl filled with fake moss balls.
The bread bowl easy to move if needed but low enough you can talk over it without it being in the way, which means we almost always just leave it on the table.
Plus the moss balls must be interesting because almost everyone who comes over picks them up at some point, ha!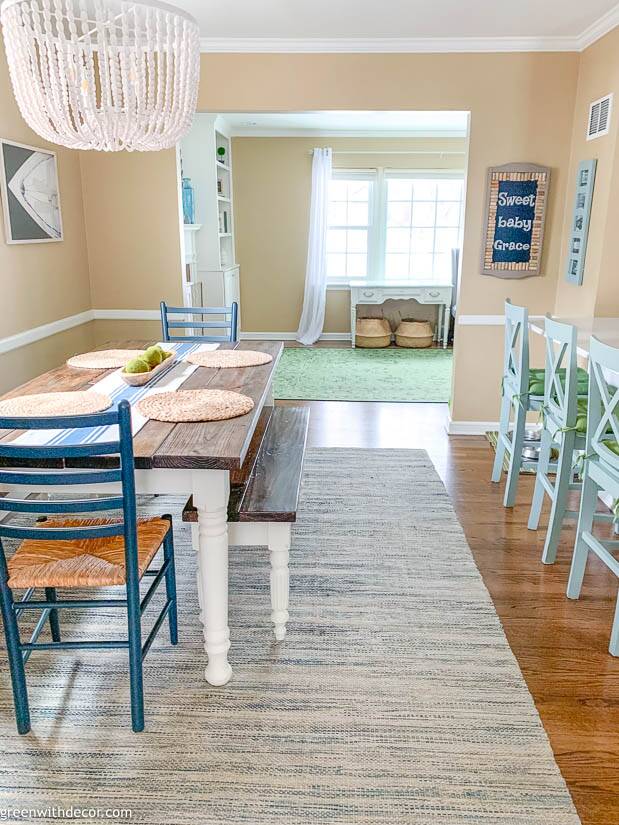 And I love these seagrass chargers for protecting our table and adding a bit more of that boho coastal flair to the dining room.
As I mentioned above, our dining room is open right to our kitchen, which hasn't changed much since our big white kitchen renovation minus some swapping of counter decor and artwork and the painting of the barstools.
(If you want to check out our kitchen, click either of those green links to go right to those blog posts!)
One of these days I'll take pics and share an updated kitchen post!
GET THE LOOK:
Since a popular question I get is "Where'd you get that?!," here are links to the same or similar sources:
Our dining room also opens right into our living room in the front and family room in the back.
The living room is mostly a big playroom at the moment, but you can see a peek in this post: how to decorate bookshelves, and you can see our family room here: casual coastal family room reveal.
And that wraps up our boho coastal dining room! Are you planning any dining room or breakfast nook makeovers?
Remember to bookmark or pin this post if you want to save it for later!


Pin it!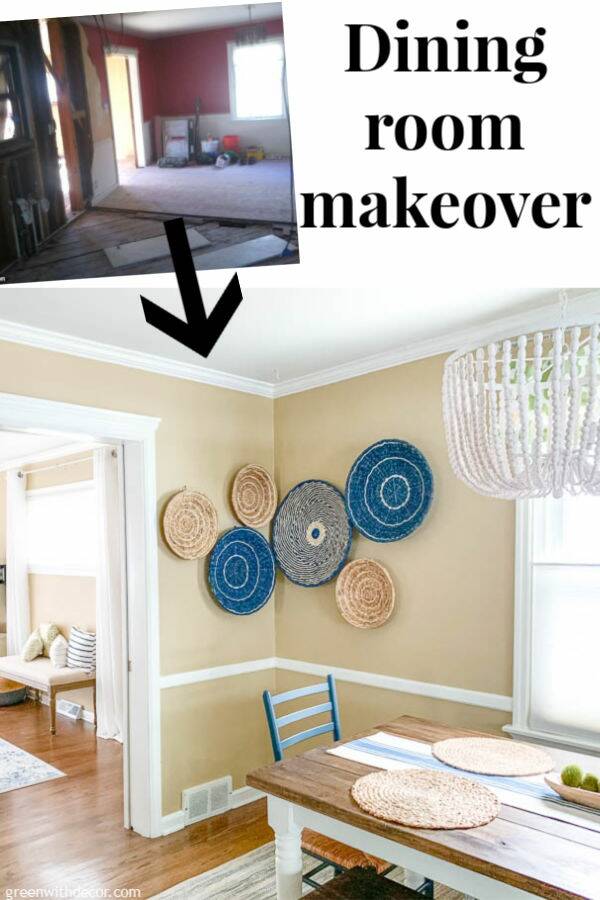 Want to read more posts like this?
Follow along: Get my emails | Facebook | Pinterest | Twitter | Instagram