To officially close things out at the rental house, I figured I'd do one last post sharing some of our favorite projects we did there.
Renting is definitely a challenge. We love to renovate but learned to live with a kitchen and bathrooms that weren't really our taste.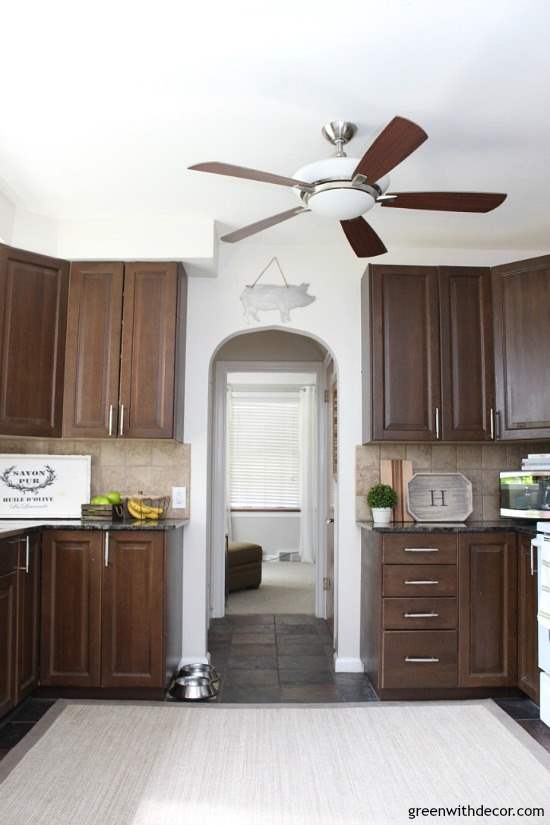 But the rental did give us a chance to decorate new rooms, try out gray paint, start building furniture and try out a few other fun DIY skills. We really tried to take advantage of projects we could do instead of just throwing up our hands, saying renting is too hard and calling it a day.
Not that there weren't days where it felt like a lot of work just for a short term thing! But I did feel better making the house feel like 'us' instead of just living in chaos.
So here are our favorite decorating and DIY projects we tackled at the rental house. Hopefully they give you fellow renters ideas of projects to work on – and for fellow homeowners, these ideas will work for you guys, too, of course!
I'll link sources for the decor pictured below, but since this is a longer post, some things will probably get missed. You can see sources for everything in this house on the 'Get the look: Rental house' page or see a list of the whole house paint colors here if you're curious about anything.
Painting:
I was going to gloss over painting since we've talked about paint colors so many times in the past year.
But since we painted THE ENTIRE HOUSE, I didn't want to totally skip over such a huge project. It was a lot of work but so worth it. I couldn't live with the assortment of wall colors in here (green, red, yellow, blue, orange, brown, you name it!) and didn't even want to try decorating around them.
It was the perfect chance to try out a few paint colors we hadn't use before, specifically Agreeable Gray, Aesthetic White and Krypton.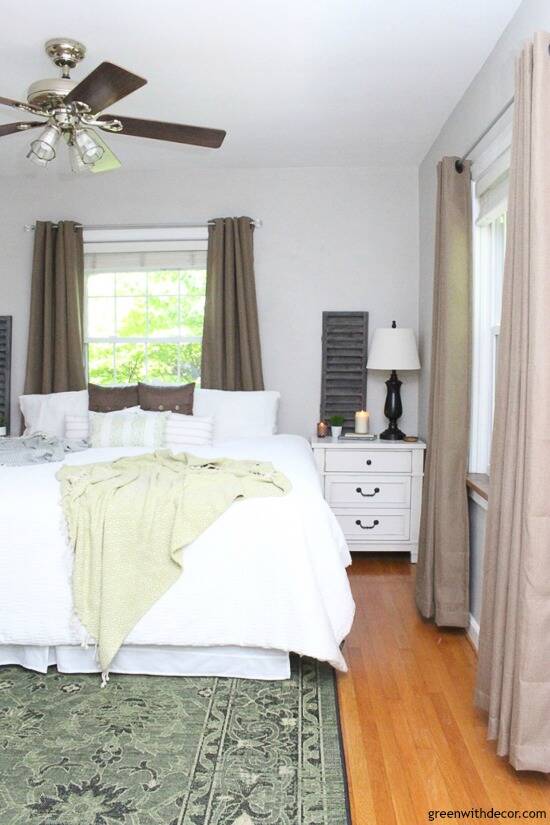 In the tan vs. gray paint world, I can now safely say I'm a tan paint person, BUT I'm so glad we got to try out gray and live with it for a while. I'd highly recommend trying out new paint colors if you're ever in a similar short-term living situation.
Gray is a pretty color, but apparently tan really has my heart. (Which, for the record, I did totally call years ago when we did our kitchen renovation at the Milwaukee house.)
I love Aesthetic White more than I ever thought I could love a white paint color. (See, trying out new colors is good!)
And Krypton is such a pretty shade of blue, you may just see it again around the blog again in the future.
Painting a million rooms also gave us the chance to try out new painting tools, and believe me, if you're painting, painting, painting forever and ever, you'll want to check out these posts on painting a room with the best ever paint rollers and painting a room with a paint sprayer. Both ways will save you time. And sanity.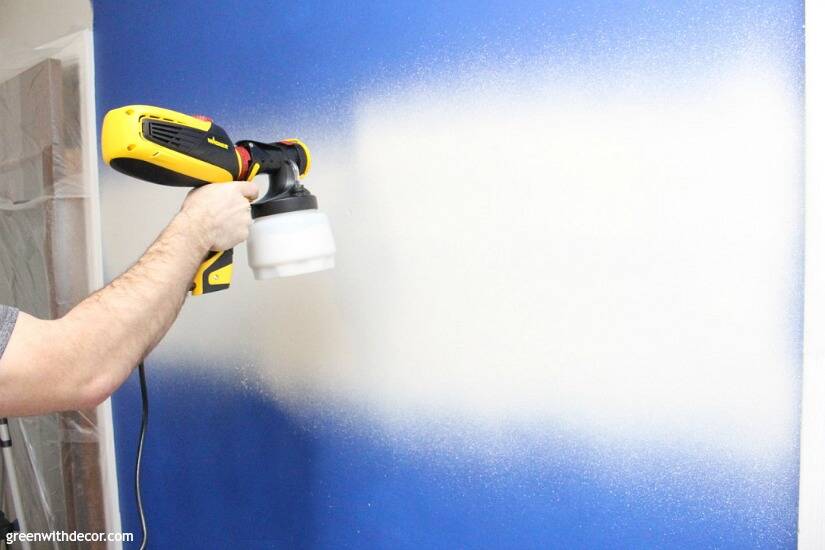 Room makeovers:
Coastal rustic living room reveal
We really loved how this room came together. You have to see a before/after to really appreciate it.
This post contains affiliate links. This means if you click the link and buy something, I may receive a small percentage of sales at no extra cost to you.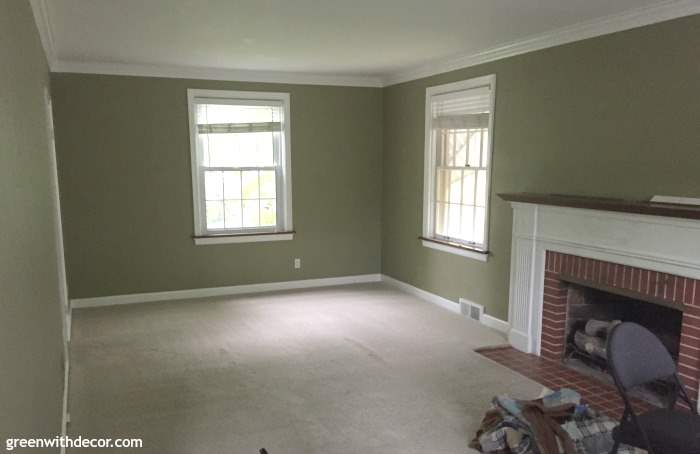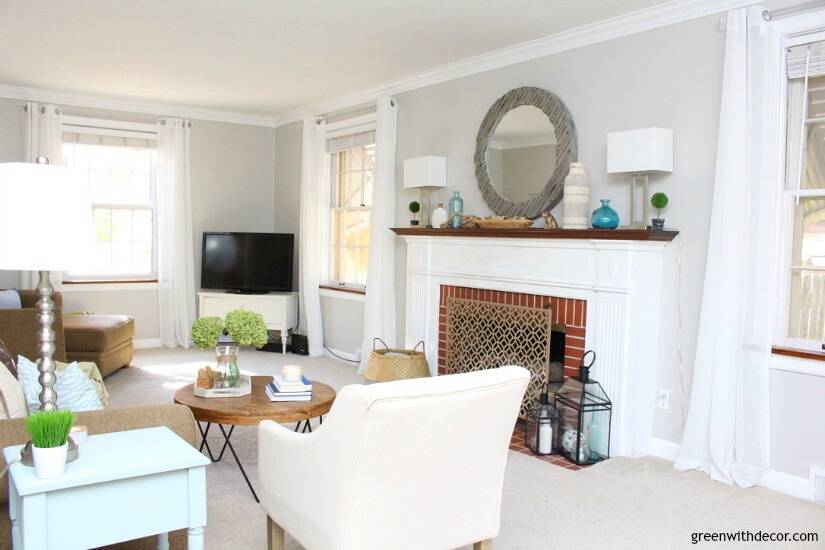 There are so many pieces in here that we just love … the coffee table, that big mirror above the mantel, the crates turned wall shelves, the artwork in the gallery wall, the little side table near the chaise where there wasn't quite enough room for a permanent table, I could keep going.
Plus the chippy farmhouse dresser and TV stand piece I painted.
It's funny how our old family room had a lot of red pieces, and we managed to really go blue and green in this living room while still keeping mostly the same furniture. Using big neutral pieces makes it so much easier to switch out those accent colors!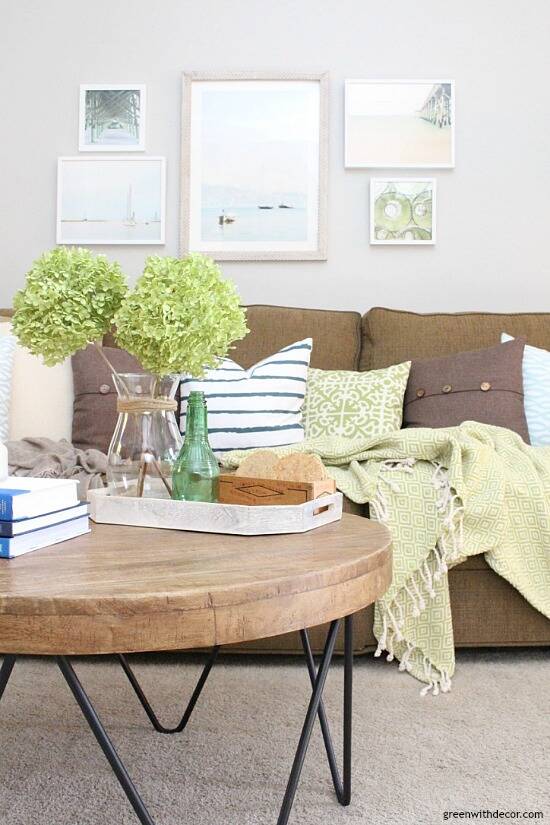 You can see more of the coastal rustic living room reveal here.
GET THE LOOK / LIVING ROOM: Fireplace screen | Topiaries | Wood bread bowl | White + blue vase | Couch | Artwork: Boat 1, Boat 2, Pier, Fishing nets | Pillows: brown, green + white, blue striped | Green + white blanket | Coffee table
Coastal farmhouse dining room reveal
This is another of my favorite room makeovers. I mean, look how this room started!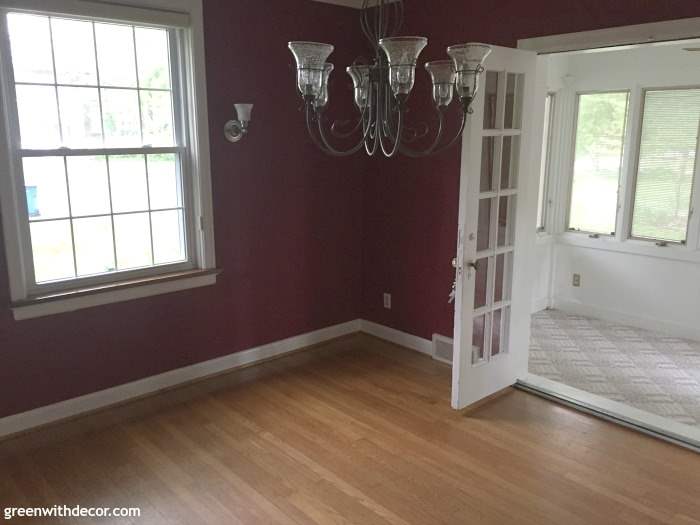 And after: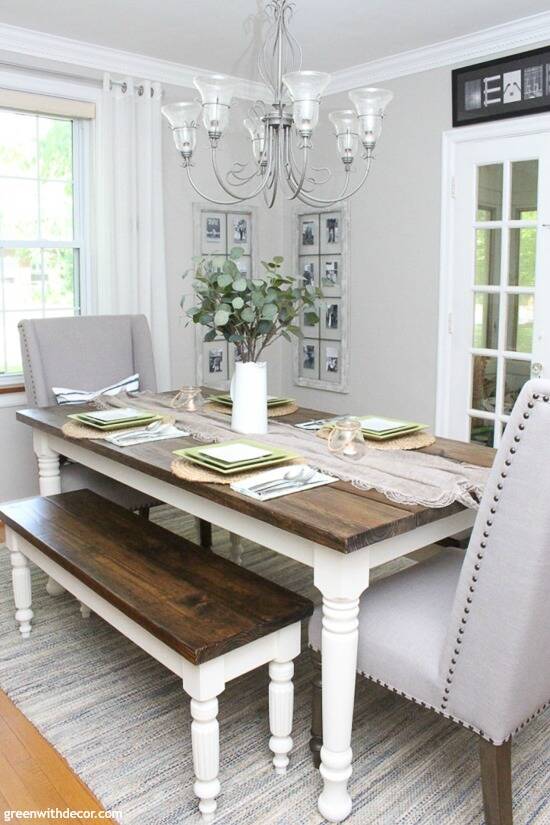 The biggest accomplishment at the rental house was probably building the farmhouse dining table and building the benches. I'm not sure I would have believed you if you told me a couple years ago that we'd be building our own furniture.
The BEST part about building furniture in a rental is that you get to bring it with you! It's a huge project you can actually tackle unlike all the room renovations that are really just for homeowners.
You can see more of the coastal farmhouse dining room reveal here.
GET THE LOOK / DINING ROOM: Farmhouse table (DIY) or similar farmhouse tables here | Benches (DIY) | Jute chargers | White plates | White pitcher | Faux eucalyptus | Rug | Curtains | Curtain rod
Mudroom makeover
This empty wall in our kitchen …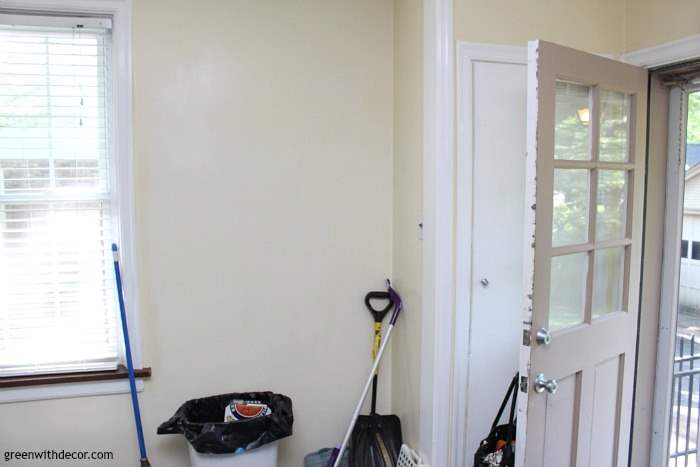 … turned into this.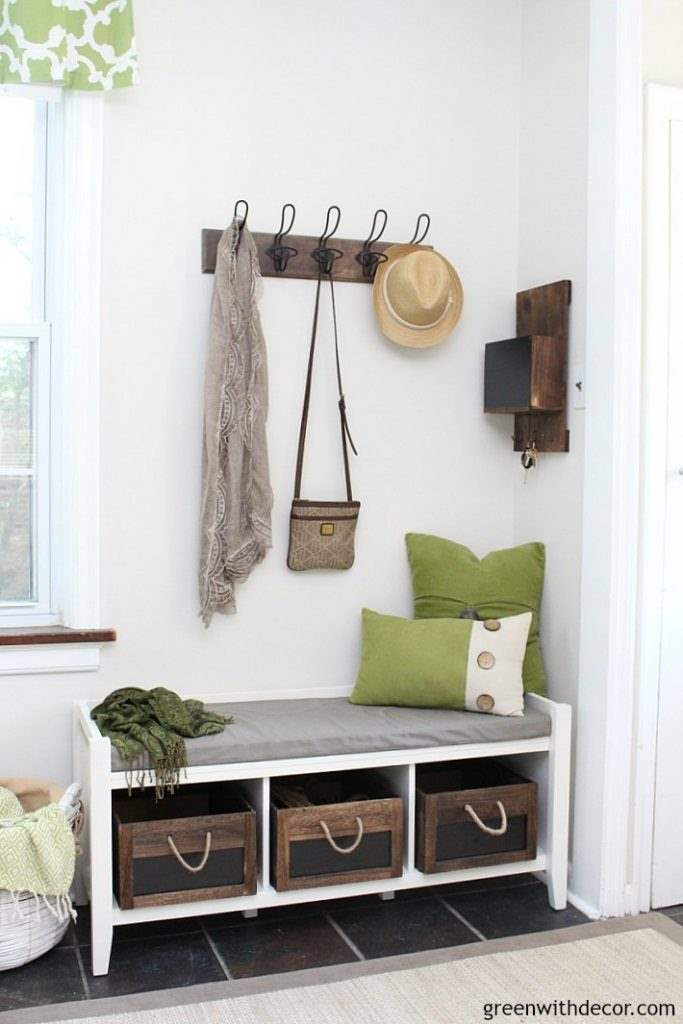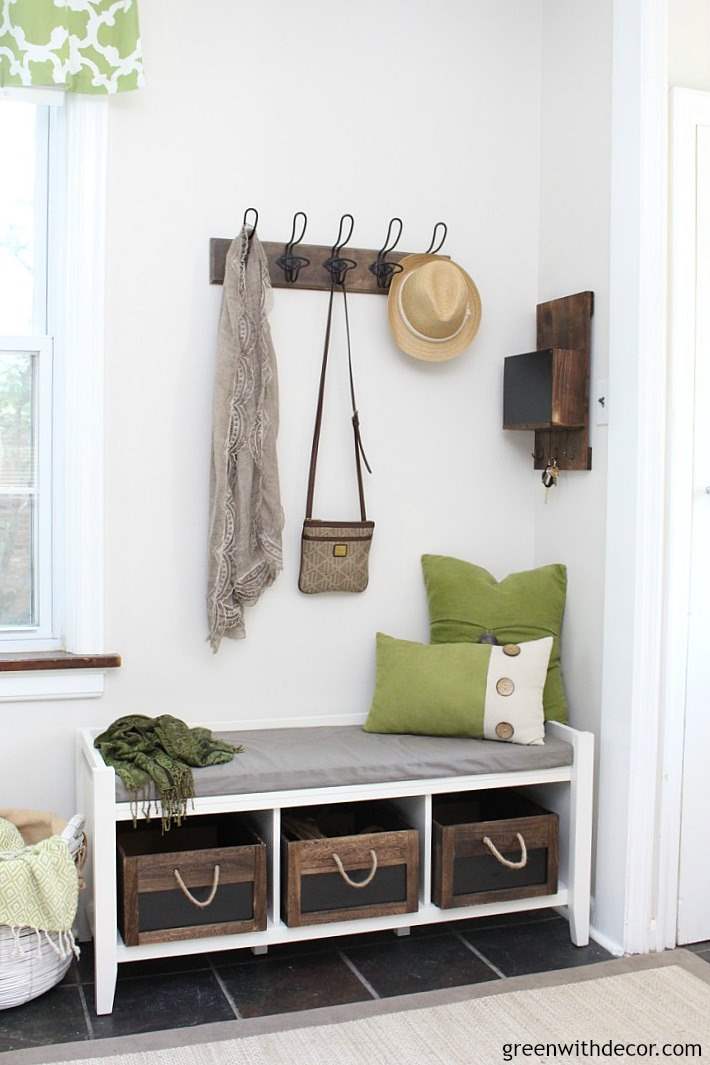 And is it weird that it might be my favorite space of the house?!
It was just so practical AND so pretty, it was really the perfect space.
You can see more of the small mudroom here.
GET THE LOOK / MUDROOM: DIY window valance | Hooks | Brown scarf | Green scarf | Message center | Bench | Crates | Rug
Coastal bathroom $100 makeover
Of all the bathrooms in this house, this little coastal powder room makeover is my favorite. Probably because it had the most to work with without renovating.
Here's how it started: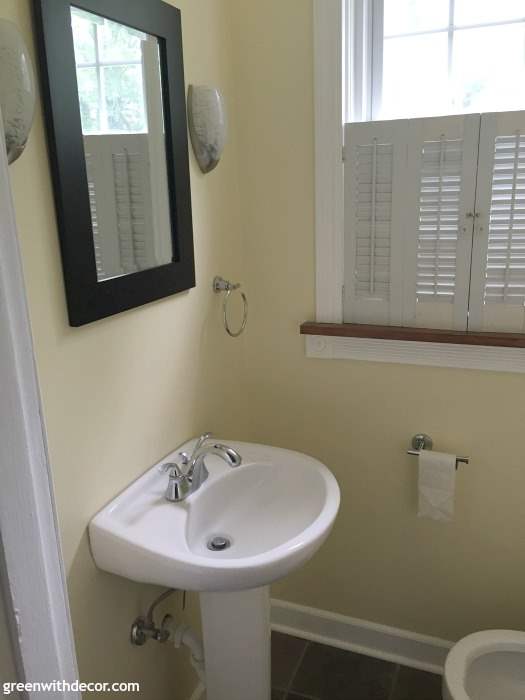 Plus it's the first room we've ever painted blue (Krypton by Sherwin Williams), and I looooove the color, especially paired with the white pieces in here.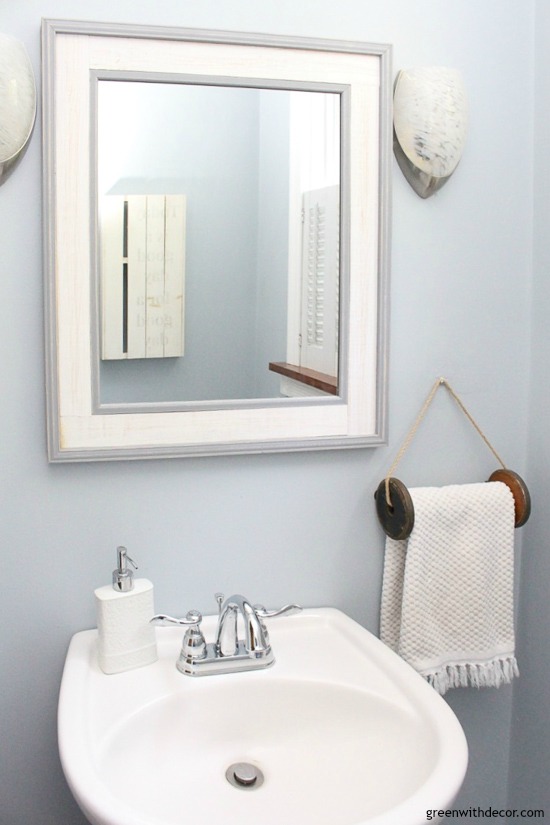 And it's amazing what a difference a new mirror can make.
One of my favorite ever DIYs is this wooden spool turned towel rack. I'm not quite sure where we can use this in our Milwaukee house (our powder room has tile on the walls), but I want to use this idea again.
The best part about this little bathroom makeover is that it only cost us $100 – total proof that you can makeover a room without spending a lot of money!
You can see more of the coastal bathroom $100 makeover here.
GET THE LOOK / BATHROOM: Soap dispenser | Wooden spool towel rack | Hand towel
Rental patio makeover
When your patio starts like this, it's kind of daunting to think you want to turn it into a usable space without really doing anything like pouring a new patio or landscaping.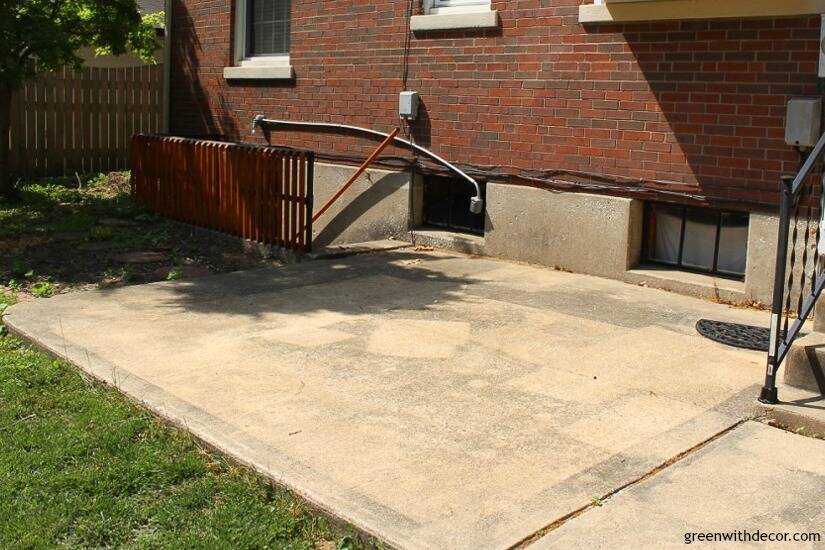 But we did it!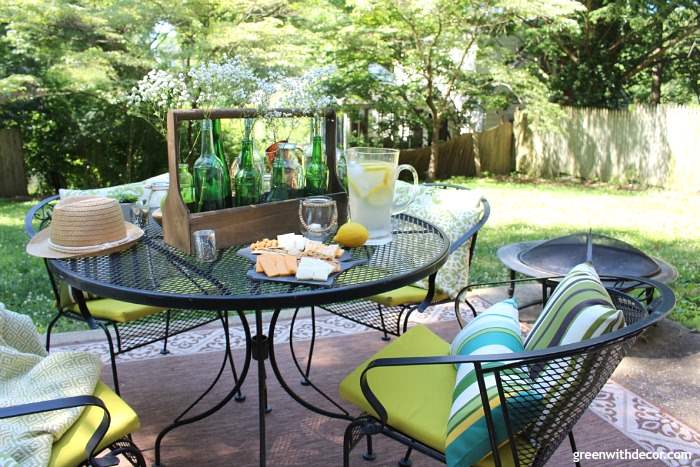 I mean this is all the proof you need that an outdoor rug is worth the money, right!? Just cover up those outdated patios!
And then we painted the metal patio furniture and gave the patio a bit of a new look this summer. I just can't resist new throw pillows.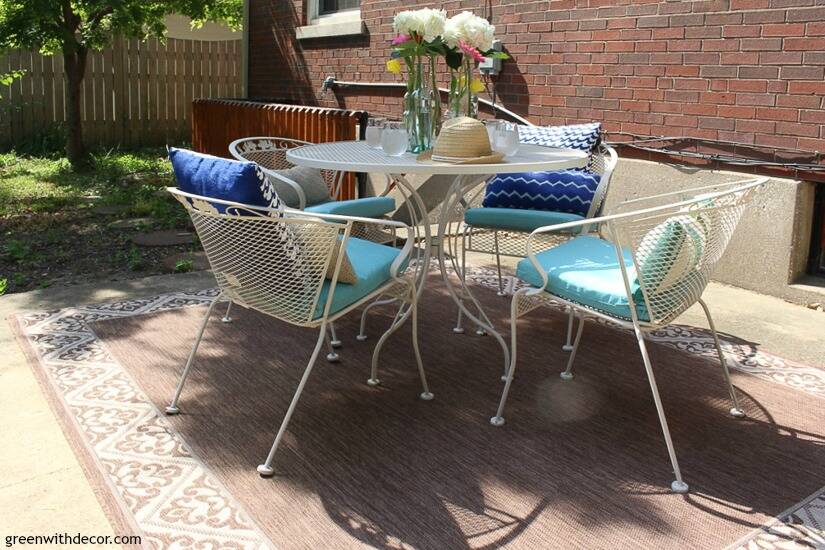 You can see more of my tips for decorating a rental patio or see the updated blue and white patio.
GET THE LOOK / PATIO: Outdoor rug | Green cushions | Wooden toolbox | Blue cushions | Blue + white pillows | Blue + aqua pillows | Tan pillows
For more room makeovers at the rental house, check out the full rental house tour.
Seasonal decorating:
Fall mudroom
I think this was my favorite version of the mudroom, although honestly the mudroom is so darn cute, I love it no matter what.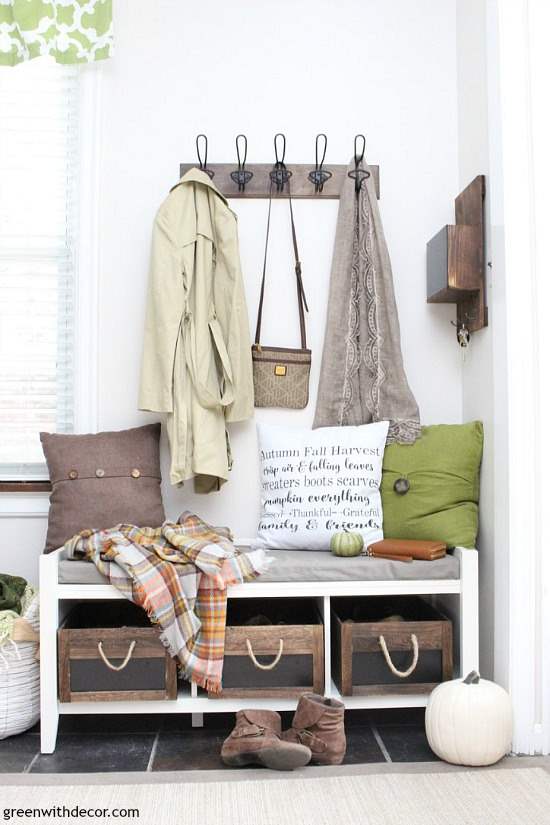 You can see more easy fall decorating ideas.
GET THE LOOK: Plaid scarf | Brown scarf | Fall pillow cover | Green pillow | Pumpkin
Christmas mudroom
I mean, this mudroom! Everything looks good in here.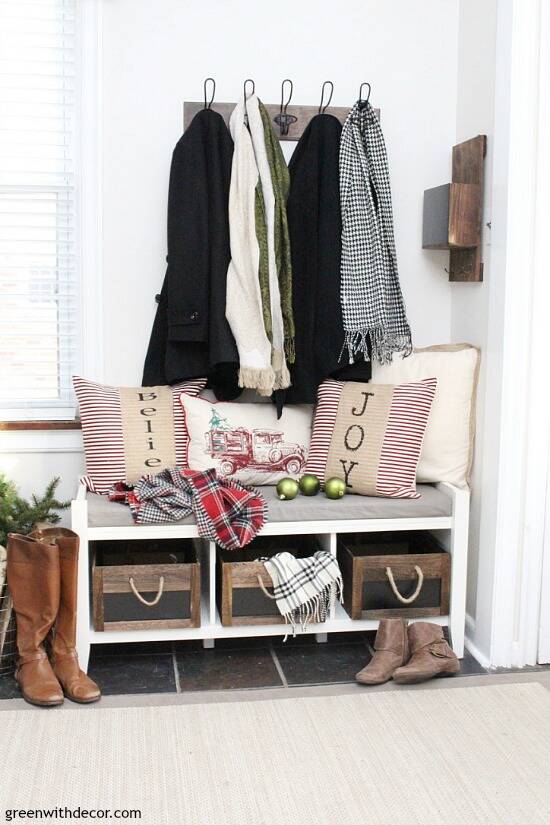 You can see more of the Christmas mudroom.
GET THE LOOK: Boots | Black + white scarf | Green scarf
Christmas mantel
This long mantel stumped me a bit, and throughout the year, I struggled with the red brick against all of our non-red decor.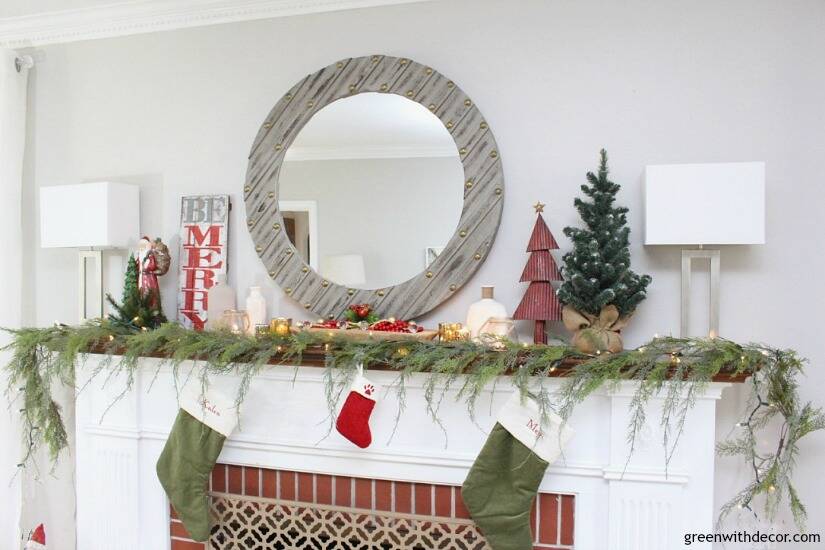 But during the Christmas season, it all just seemed to work! The red brick tied in with the red decor instead of standing out like a sore thumb. This Christmas mantel was probably my favorite mantel I put together in this house.
You can see more of the traditional Christmas mantel.
Christmas decorating in a big window box
If you've been around for the past year, you know the dark rental kitchen was just not my favorite. Everyone has their own style, and that's totally great, but my style is definitely white kitchens with enough counter space to, you know, do something in the kitchen.
We struggled with what the heck to do in the big window throughout the year and honestly never put much effort into it since we spent as little time as possible in the kitchen anyway.
But the kitchen was so festive during Christmas season with the Christmas village in the big box window, it's like the space was made for it.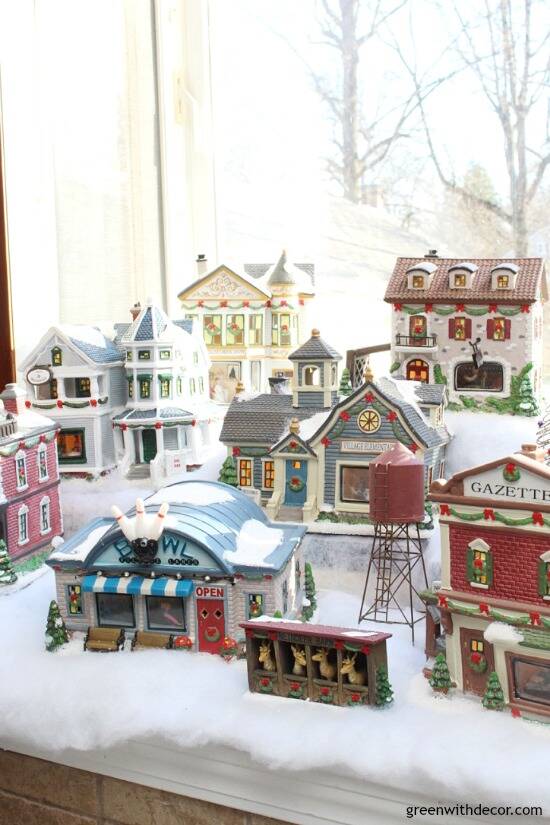 I just loved the village in there. All the credit for this one goes to my brother Stephen for coming up with the idea about five seconds after he first walked in the rental house!
You can see more of the big window box decorated for Christmas.
Painted furniture makeovers:
It's no secret I love painting furniture. It's such a cheap way to get a piece you love, plus I think painting is relaxing.
It's hard to pick favorite pieces because I always seem to love everything I paint, but these are my top favorites I tackled at the rental: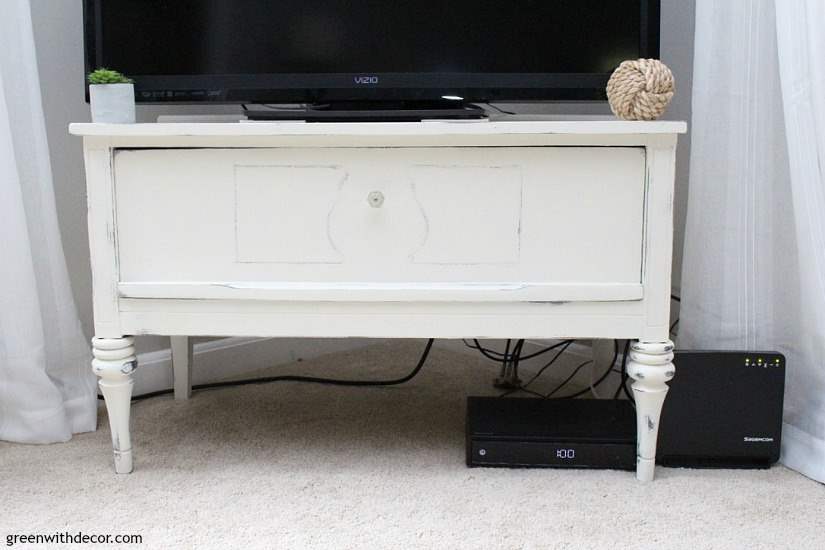 Chippy farmhouse dresser makeover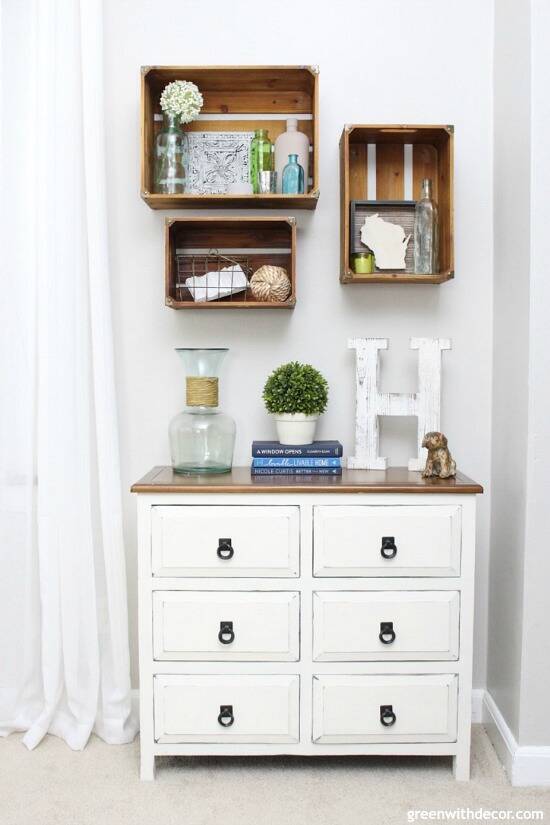 You can see all of my furniture makeovers here.
Furniture builds:
Once again, still a bit surprised and impressed we built these, but we love how they turned out and REALLY can't wait to get them into our Milwaukee house dining room.
How to build a farmhouse table and how to build a bench – if we can build these, you can, too!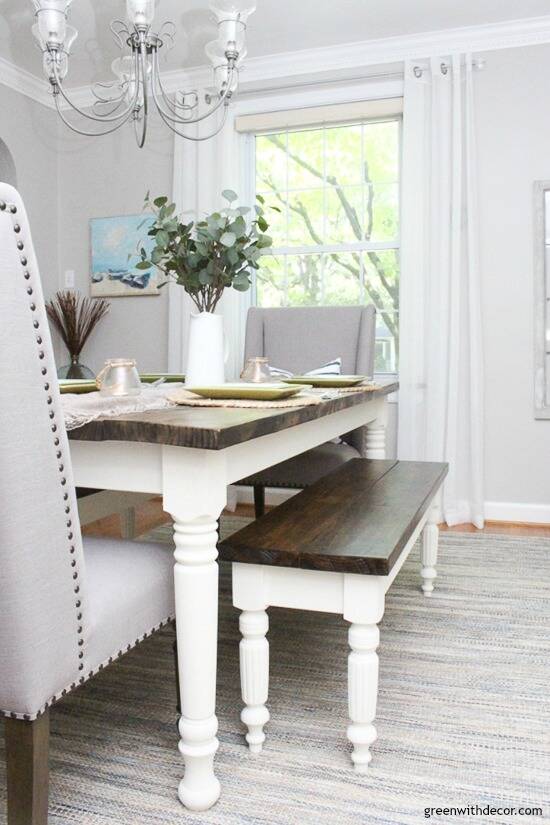 Tablescapes and centerpieces:
The farmhouse table build finally gave me a chance to set up tablescapes and centerpieces! It's so much fun to decorate the table.
I have all of the tablescapes and centerpieces I've done on this page, but here a few of my favorites:
Blue and copper Christmas tablescape 
If you remove the Christmas trees (just put a vase of flowers in the middle of the table instead), this could work year-round.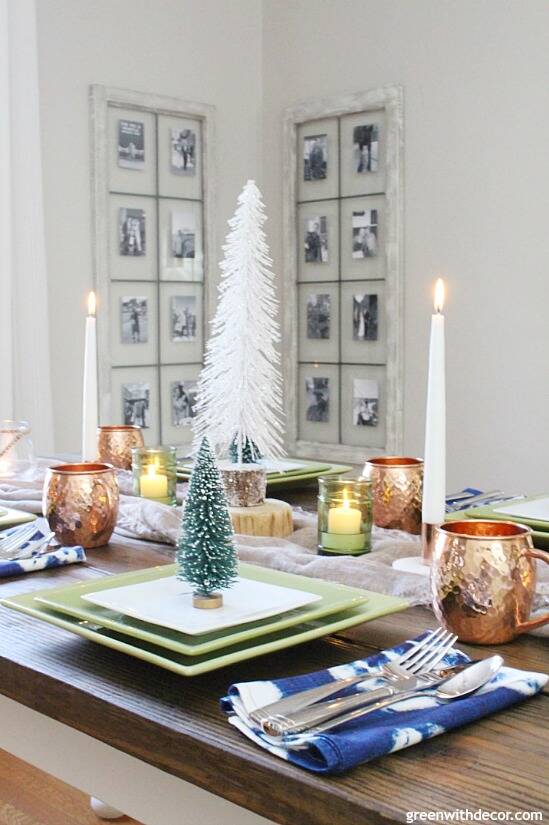 An easy blue and green tablescape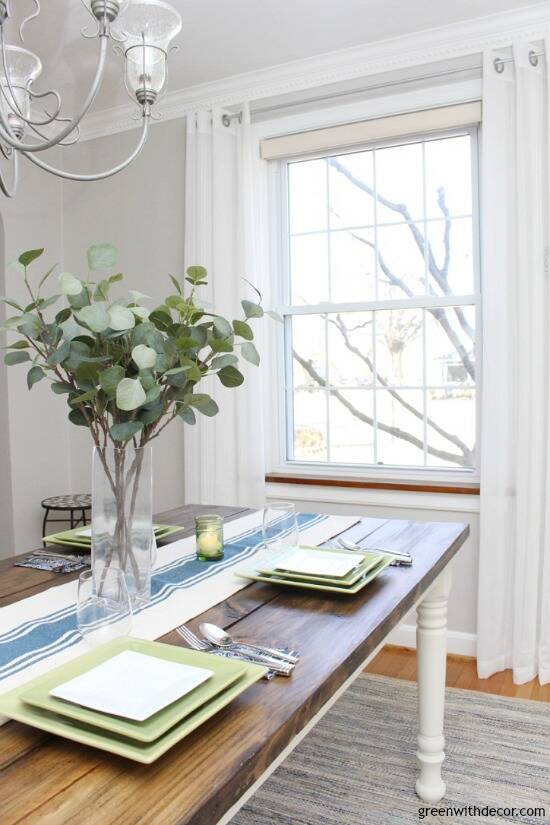 An aqua and green coastal tablescape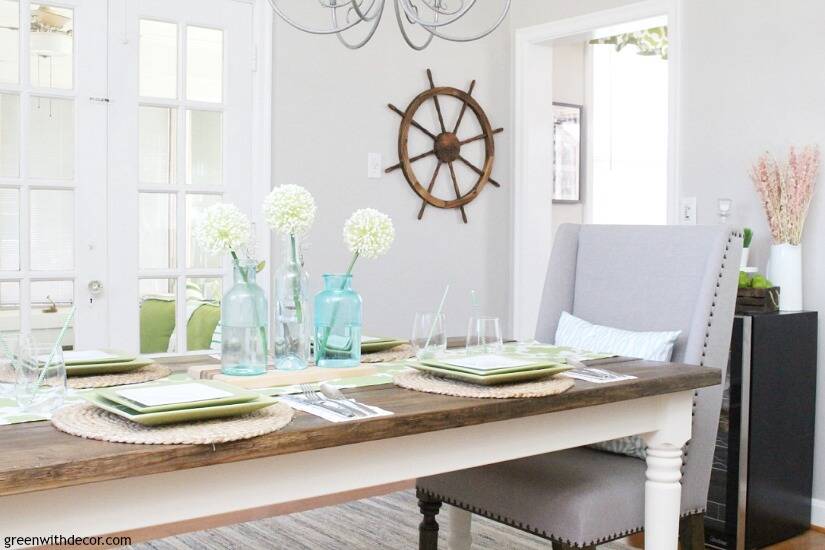 DIY wall decor:
Turns out we did quite a few DIY wall decor projects at the rental house. Oh so perfect if you're renting since, ya know, you can take them with you!
I have all of my favorite wall decor – including DIYs, tips for gallery wall planning, pretty artwork options to buy online and more – on this page. Here are my favorite wall decor projects we tackled at the rental:
Hanging crates as wall shelves in the coastal rustic living room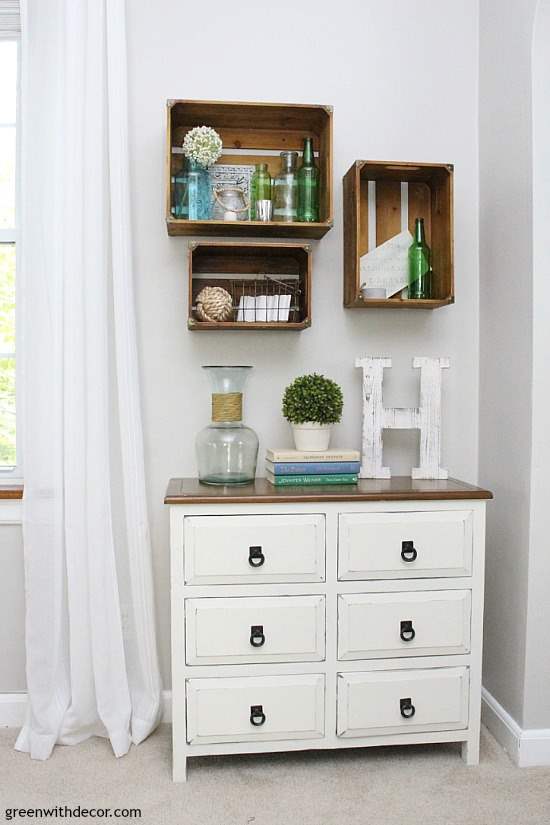 DIY towel rack from a wooden spool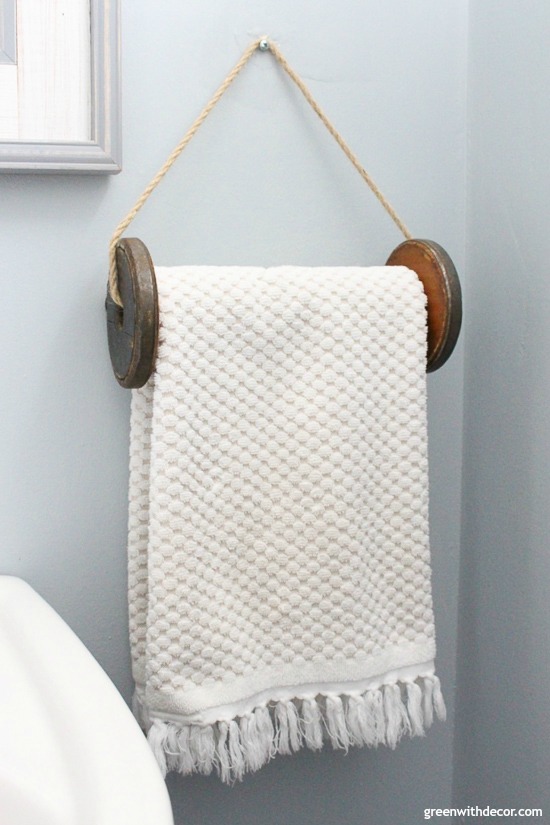 DIY picture frames with a burned wood finish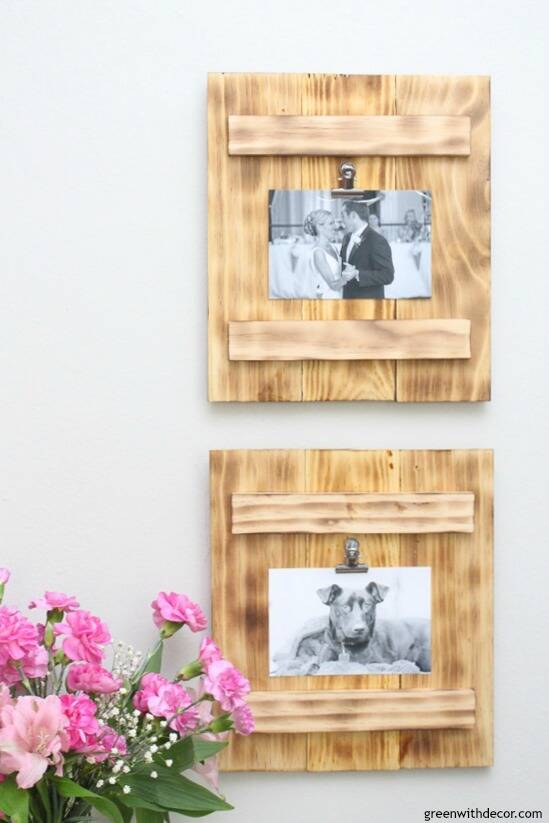 How to dry brush old window frames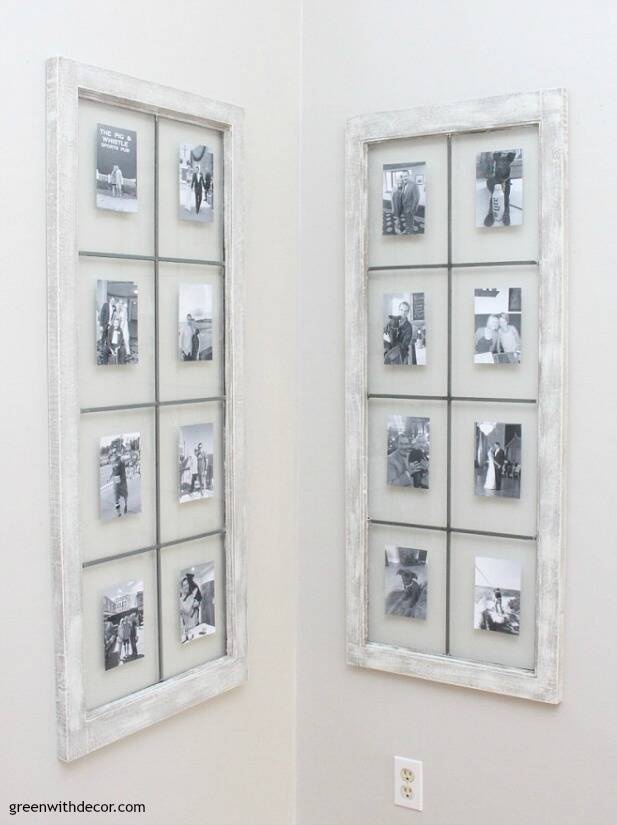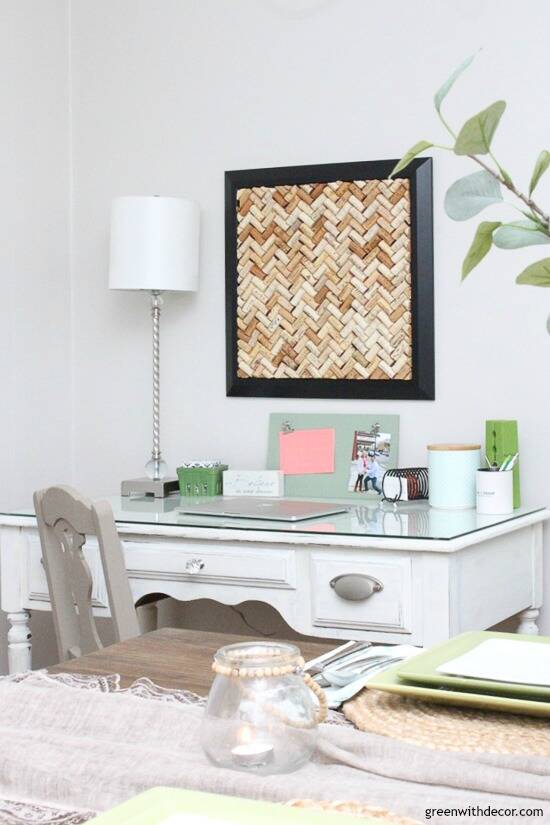 But my favorite project of all?!?! Packing it all up and going HOME!
And that's a wrap on the rental house!
If you want to see a full before/after tour of all of the rooms in the rental house, you can see the full rental house tour here or if you're curious where we got anything, you can see the 'Get the look: rental house' page here.
I'll share more on our Milwaukee house once we're moved back in. (For more details on the move, you can read this life update post.)
Meanwhile, if you want to get caught back up on the Milwaukee house, here's the before/after tour as of when we left it last year!
Have you moved a lot? Lived in a rental? What are your favorite decorating ideas and DIY projects that you keep taking with you from house to house?
Remember to bookmark or pin this post if you want to save it for later!


Want to read more posts like this?
Follow along: Get my emails | Facebook | Pinterest | Twitter | Instagram