This post contains affiliate links. This means if you click the link and buy something, I may receive a percentage of sales at no extra cost to you. 
I've teamed up with some awesome home decor bloggers to share our summer home tours today!
If you're coming over from another blog, welcome! I'm so glad you're here.
My husband, Kalen, and I bought a fixer upper. It's in a great location right outside of Milwaukee, but the whole house was outdated and in major need of updating.
In fact, we were the only people who even came back to the home for a second showing. We saw the potential and were ready to take on a huge project!
We've renovated most of the house (including complete kitchen and bathroom makeovers).
We touched pretty much every surface in the house – painted the walls, refinished the hardwood floors and got new carpet upstairs.
We're just finishing up decorating it to really make it our own.
As you go through the home tour, you'll see I love decorating with neutral whites and tans, and adding pops of green and red for color.
I hope you enjoy our summer home tour!
Entryway
Come on in! This chest is perfect for storage, and the basket holds keys and sunglasses.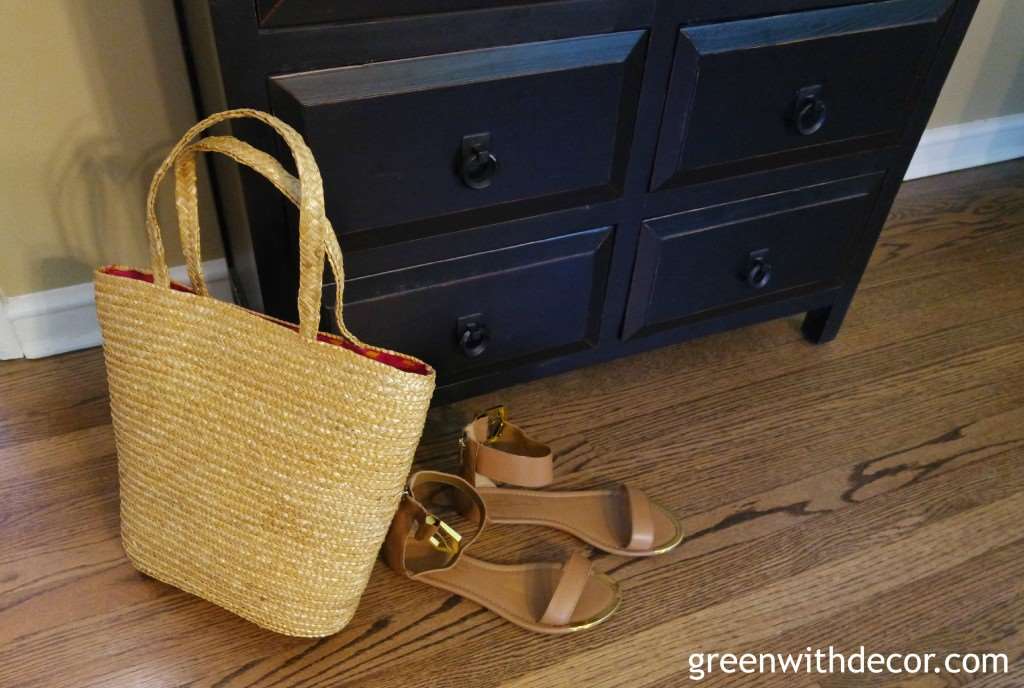 Lamp and mirror from Kirkland's | Basket from HomeGoods
Kitchen
When we bought the house, the kitchen was outdated and closed off from the rest of the house.
We knocked down the wall between the kitchen and the dining room, did a small addition, painted the walls, replaced the appliances, cabinets, counters and faucet, and added white subway tile as a backsplash.
I love how bright and open the kitchen is now! You can read all about the kitchen renovation (and sources) here or over on Delta Faucet's Inspired Living website.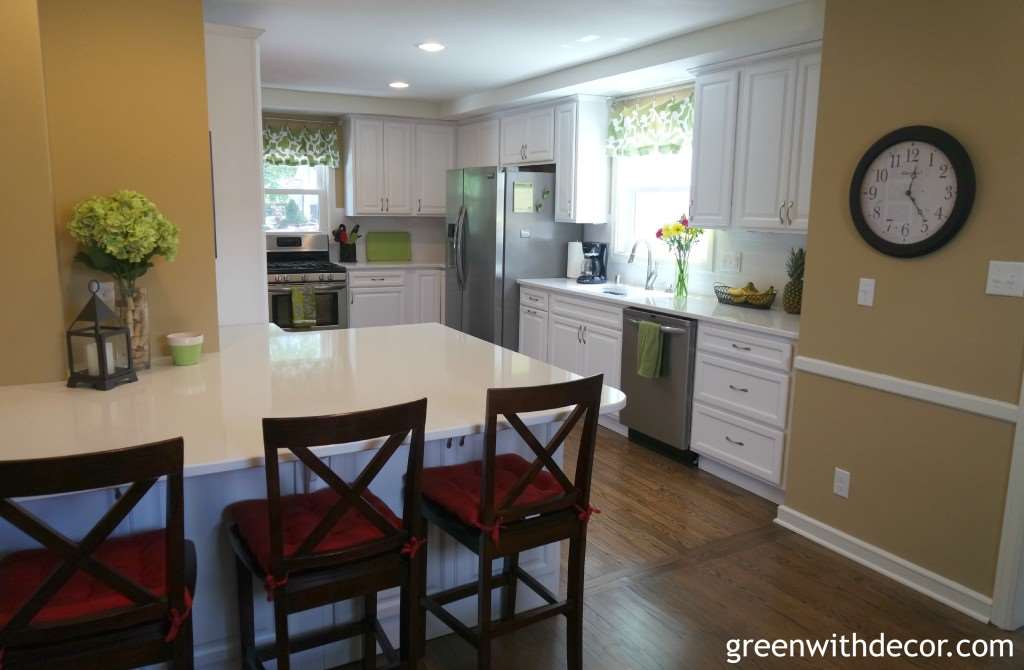 Green hydrangeas | Cushions | Curtain rod | Window valance | Faucet | Cabinet hardware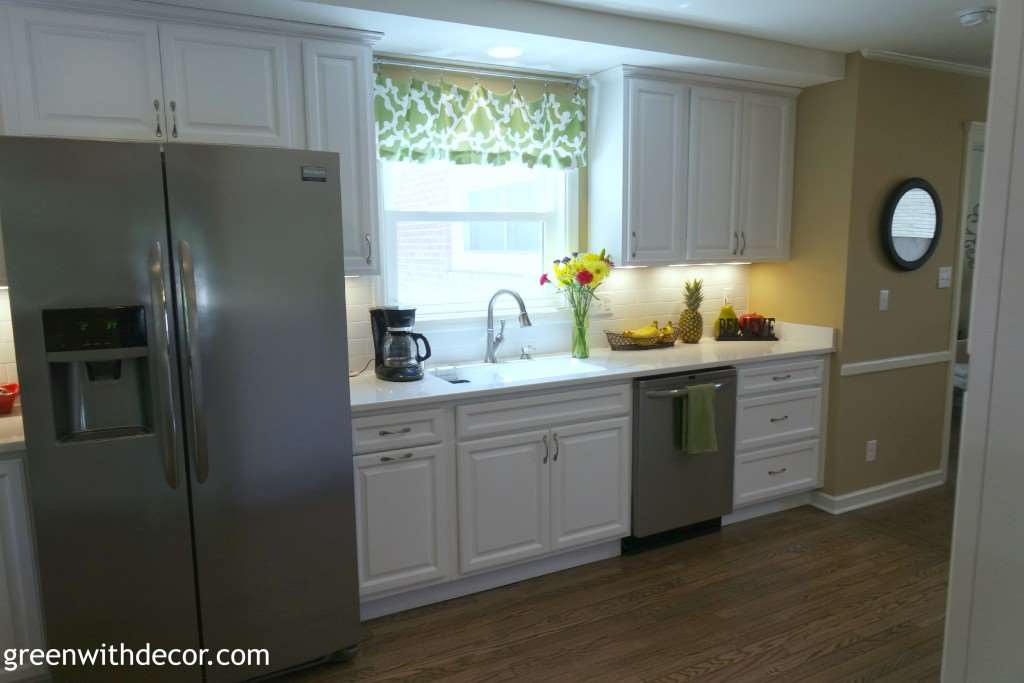 I love decorating with green and use summer as an excuse to add even more green to my space!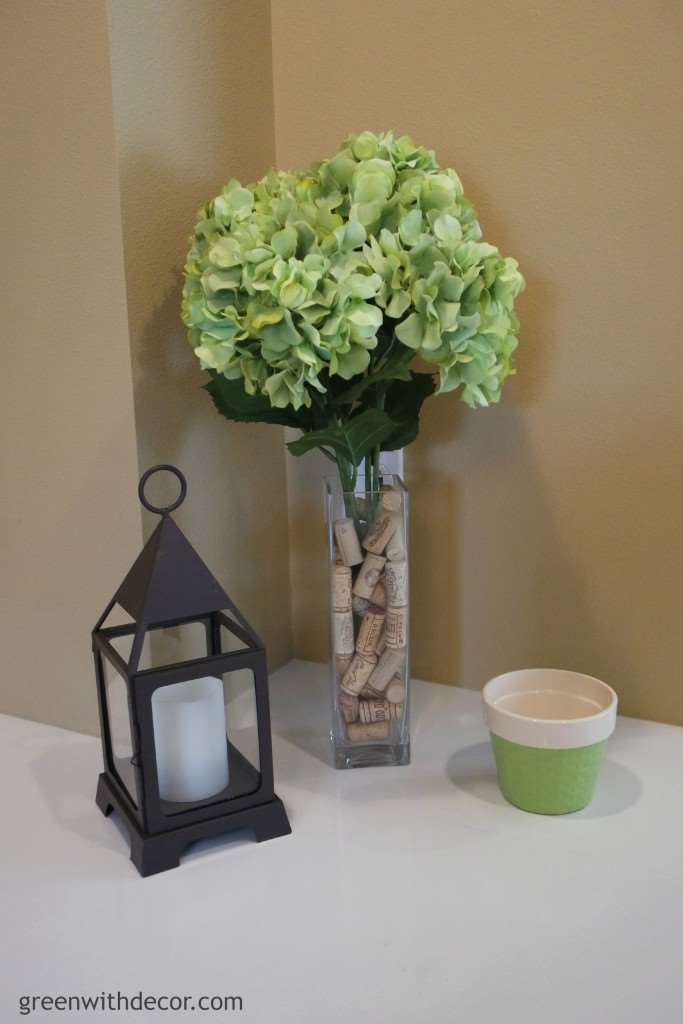 I've added some green hydrangeas and this small flowerpot and tray that I recently spray painted green. (More on those soon!)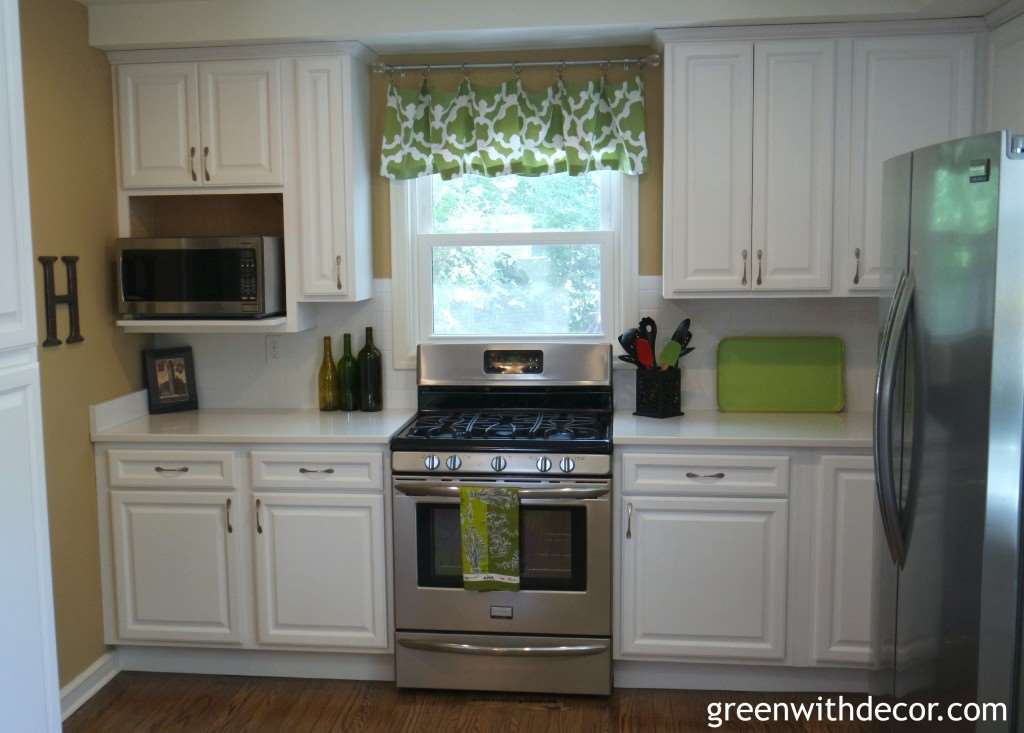 I put together this summer centerpiece using this wooden drink caddy a few weeks ago.
Living room
We love our living room! The big window lets in so much natural light.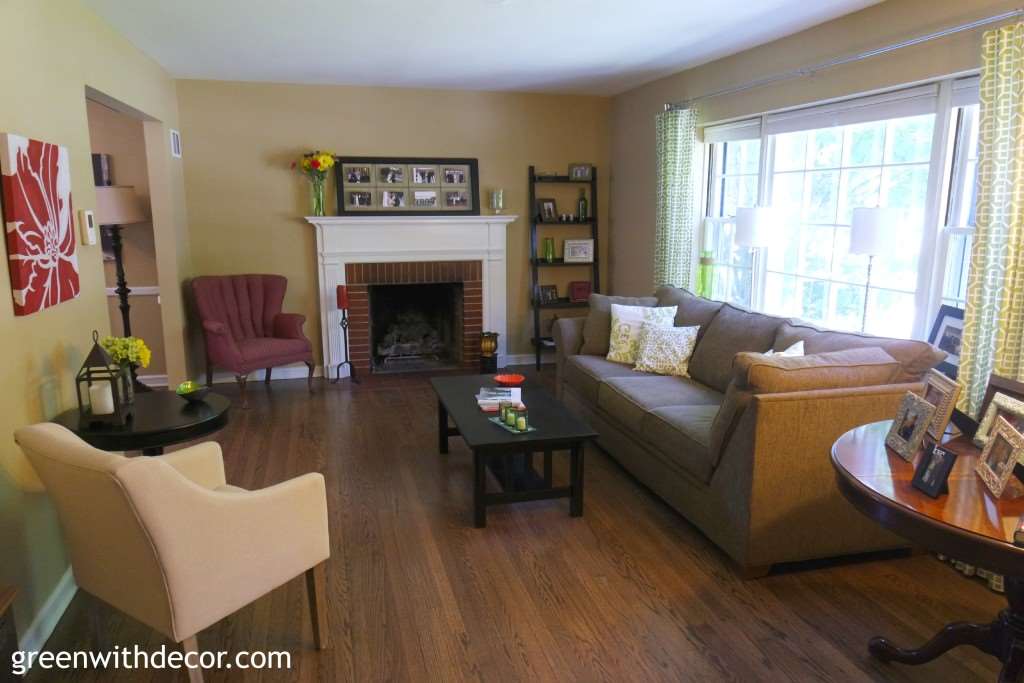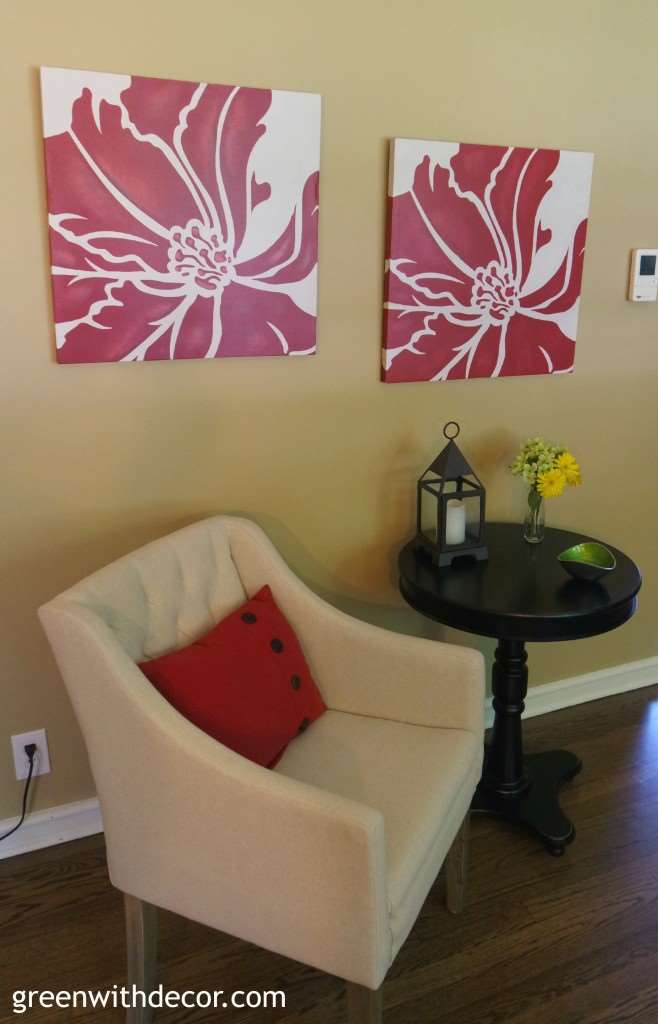 Chair from Kirkland's | Throw pillow | Green bowl | Table from TJ Maxx
I shared a sneak peek of our living room recently when I posted about turning these original doors from the dining room into picture frames.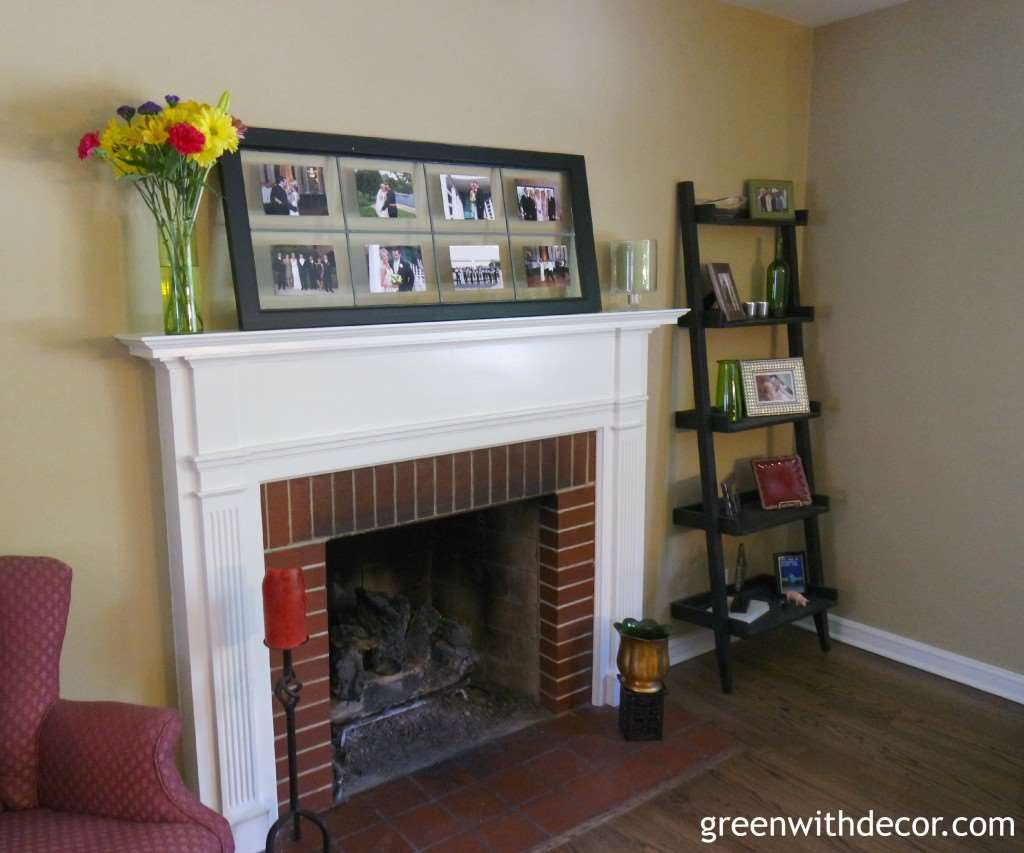 I love having flowers all over the house for summer.
I'll share more details on our living room.
Powder room
We kept the original charming white and black tile on the walls and the floor.
We freshened up the top portion of the walls with a fresh shade of Ryegrass green paint from Sherwin Williams and replaced the old mirror with this silver beaded mirror from Kirkland's.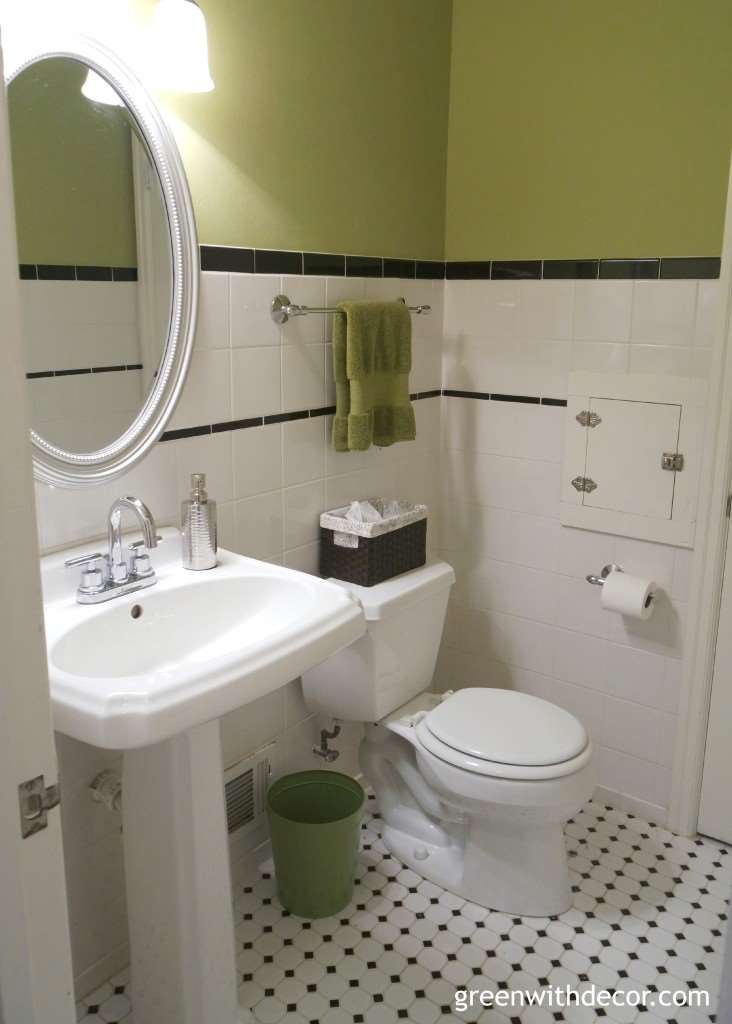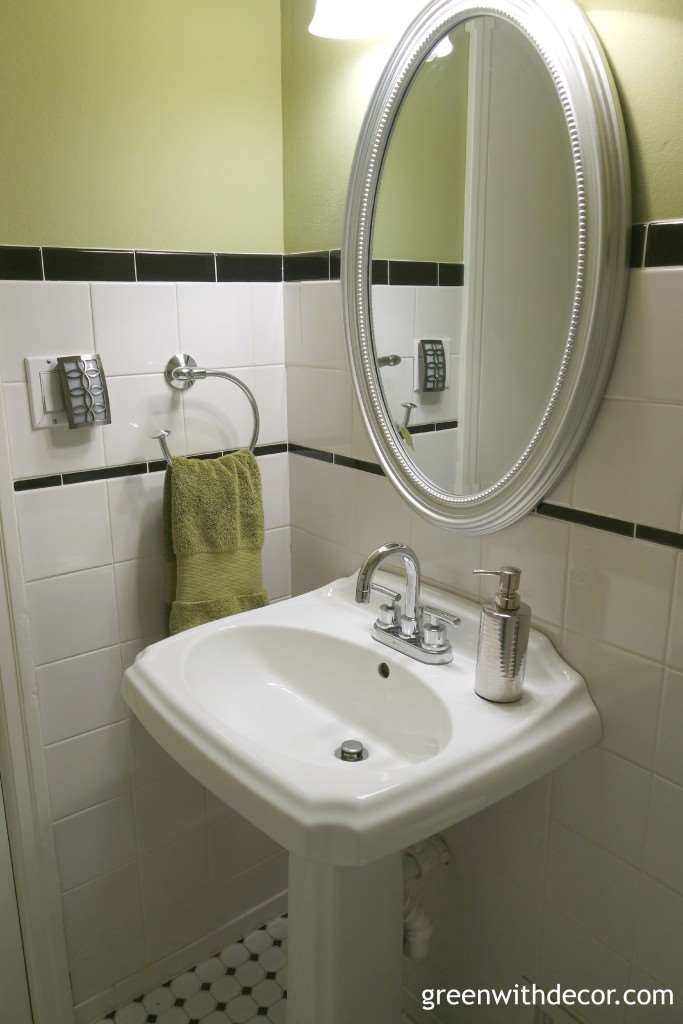 Nightlight | Mirror from Kirkland's | Towels | Faucet | Soap dispenser – similar | Basket – similar
Guest room
We just finished decorating our guest room!
I really love the combo of the curtains and canvas above the bed.
Curtain rod | Comforter set – similar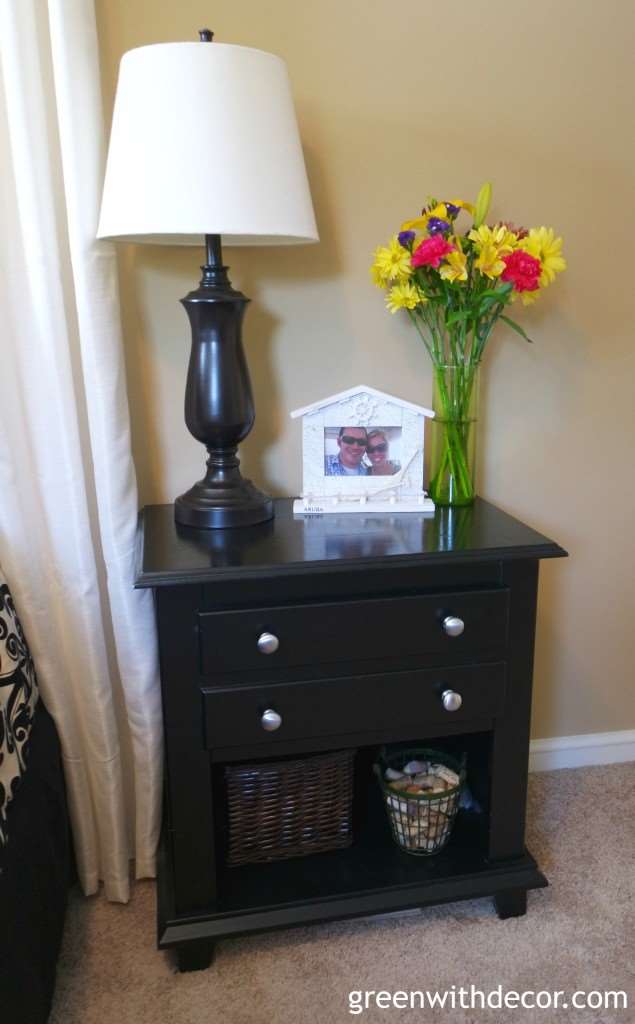 I recently spray painted this dresser.
I've had the little lamp forever, and it fits perfectly on the dresser.
Being in Wisconsin, we are huge Packer fans – so of course, we had to display a picture of Lambeau Field here, too!
More details on the guest room coming soon!
Bathroom
When we bought the house, this bathroom was full of coral tile. Needless to say, we ripped it out right away!
We renovated the entire room, and we love it!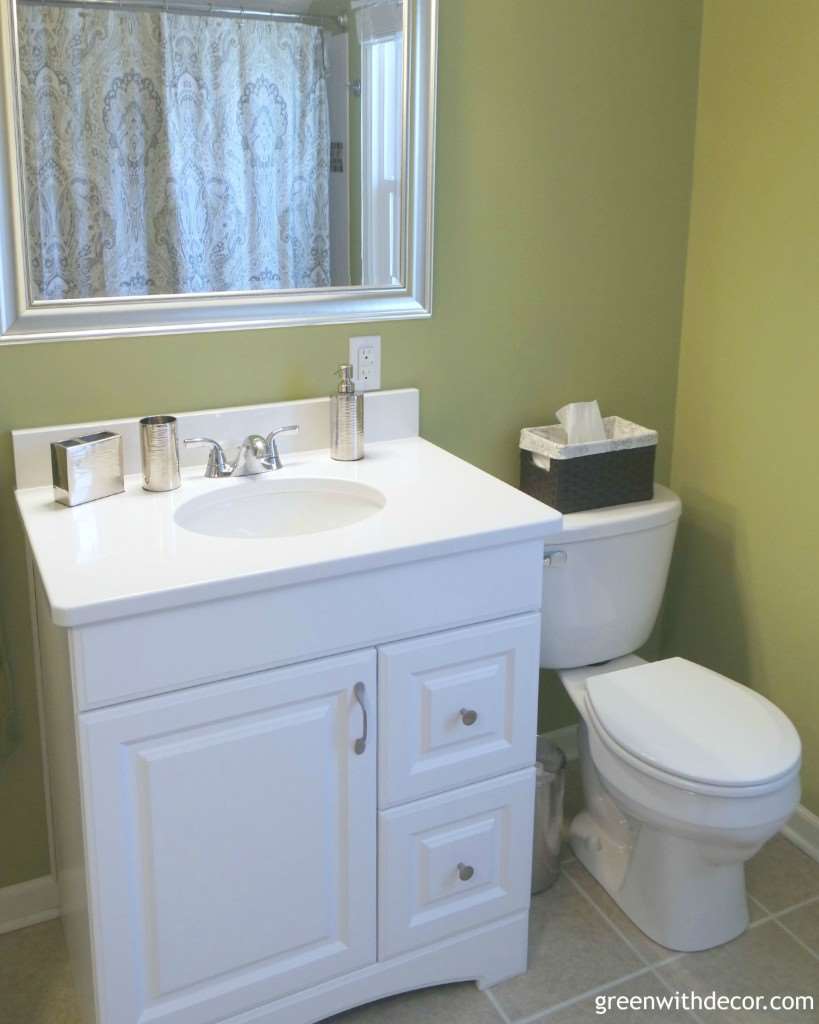 Vanity | Cabinet handles | Cabinet knobs | Faucet – similar | Soap dispenser – similar | Mirror from Target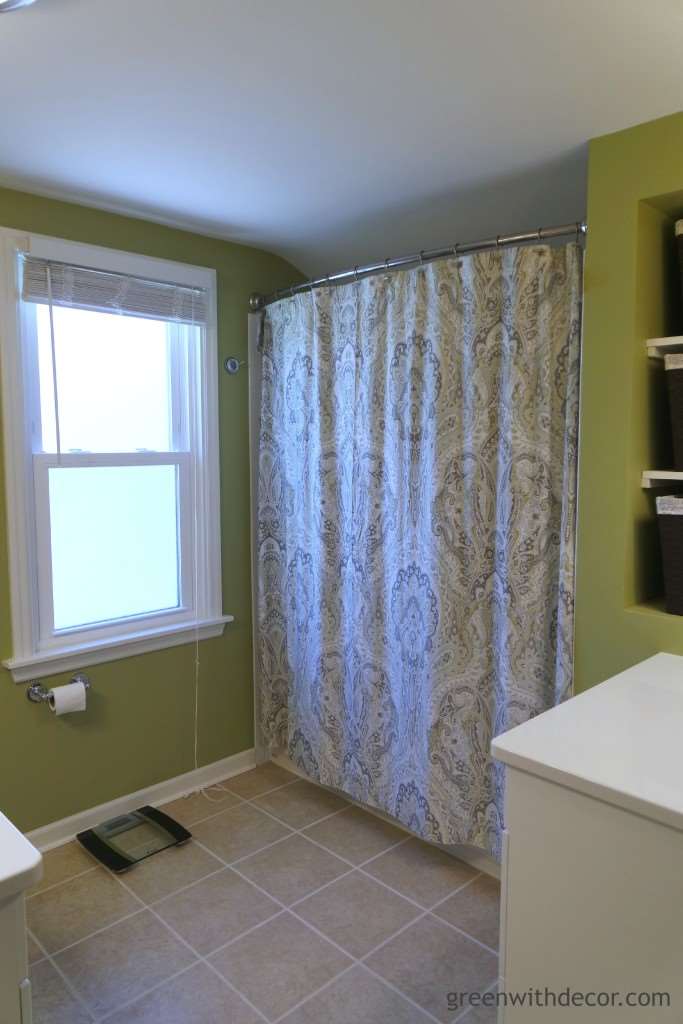 Shower curtain rod | Shower curtain from TJ Maxx
You can read more about the bathroom here.
Deck
When we bought the house, the backyard was pretty awful. But we've been focused on renovating the inside of the house first.
The patio reveal is coming soon!
Meanwhile, we did what we could with the old awful deck that came with the house!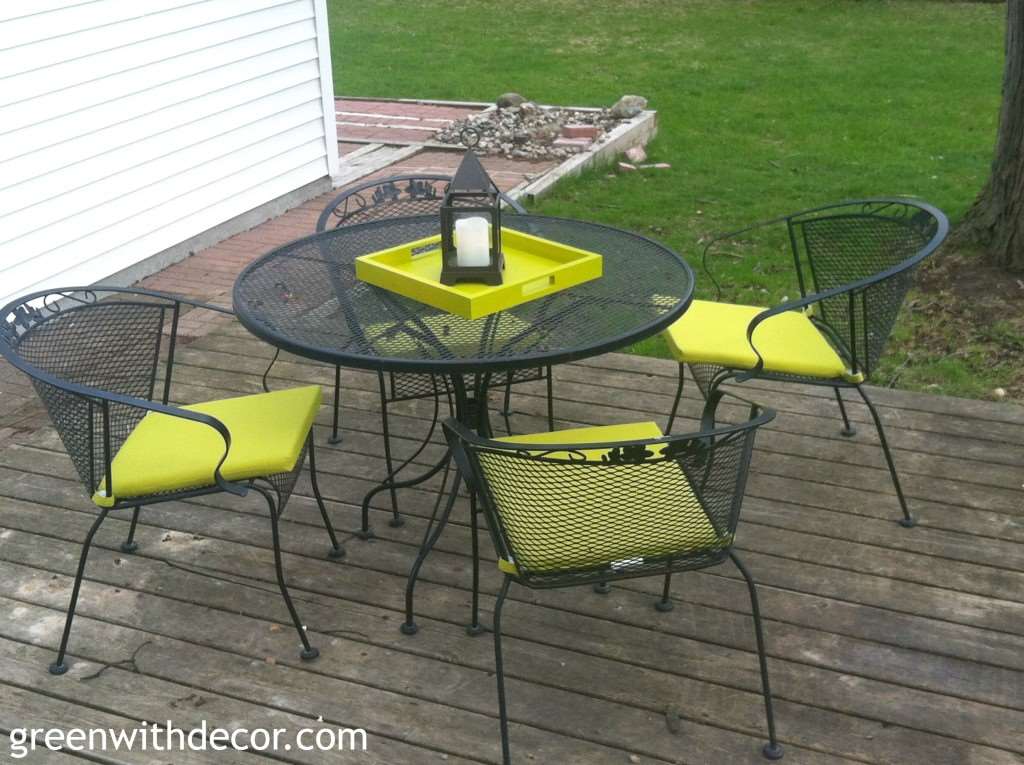 The green cushions and tray are from Crate & Barrel. I love the pop of color they add.
Thanks for stopping by!
We'll be spending the summer focused on finishing decorating the rest of the house (a few more bedrooms and the family room) and landscaping the backyard!
What about you? Do you have any decorating projects planned for the summer?
Remember to check out all the other blogs sharing their summer home tours today – they're all great!
Around the Watts House
Our house, now a home
The DIY Mommy
Casa Watkins
Seeking Lavender Lane
Old House to New Home
Shabby Grace Blog
Refashionably Late
Farmhouse 40

Want to read more posts like this?
Follow along: Facebook | Pinterest | Twitter | Instagram | Google+
If you want to save this post for later, remember to bookmark it or you can pin it here.