It's summer home tour day!
If you're a regular reader, you know home tour posts are always some of my favorites. Mostly because I love seeing how people decorate and change it up over time, and I always love seeing different houses' floor plans and how people use their spaces.
You can see all the other bloggers' home tours by clicking the links at the end of this post.
And I realized, as I always remember when I'm getting ready to take pictures for a home tour, that it's great motivation to actually clean!
We straighten up and put everything away pretty often, but I don't really like cleaning unless it's easy so I usually end up frantically cleaning before we have people over or when I'm taking pictures for home tours (which is kind of like virtually having people over).
Anyway. If you're new around here, welcome!
My husband Kalen and I have lived in our house for a little over two years, which now that I say it, is crazy that it's been that long! It was really outdated when we bought it, and we went through major renovations in the kitchen, bathroom and family room plus painted and got new flooring/carpet everywhere else.
Come on in!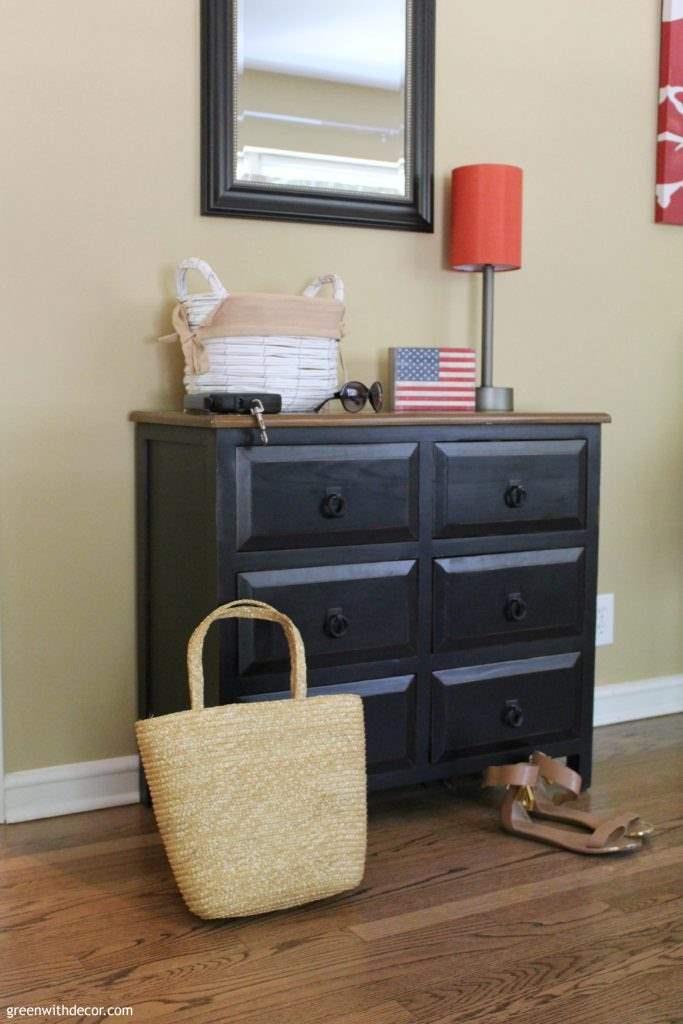 We've been taking Oakley on a lot of walks lately to enjoy the summer weather. Anytime she even hears us moving her leash, she comes running!
I found this little flag at TJ Maxx last year and knew it would be perfect to put out around Memorial Day and Fourth of July.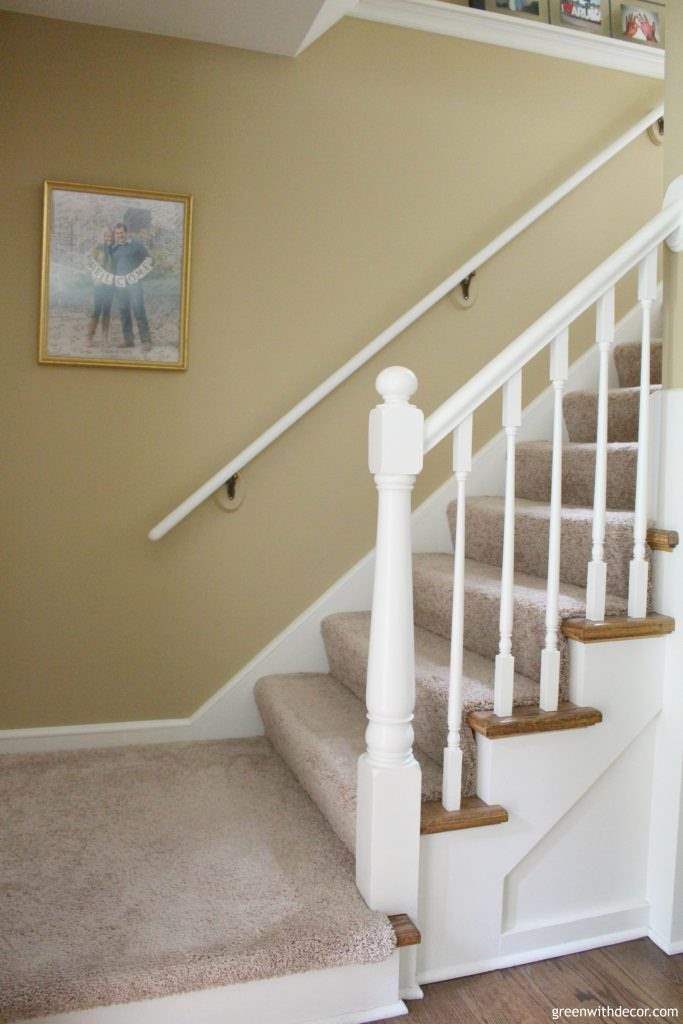 I just painted the banister white (somehow it didn't happen back when we were busy painting every other inch of walls/trim in the house), and I LOVE it!
Our foyer opens into our living room, which is one of my favorite rooms to decorate. It's fun to switch up the decor on the mantle and ladder shelf throughout the year.
This post contains affiliate links. This means if you click the link and buy something, I may receive a small percentage of sales at no extra cost to you.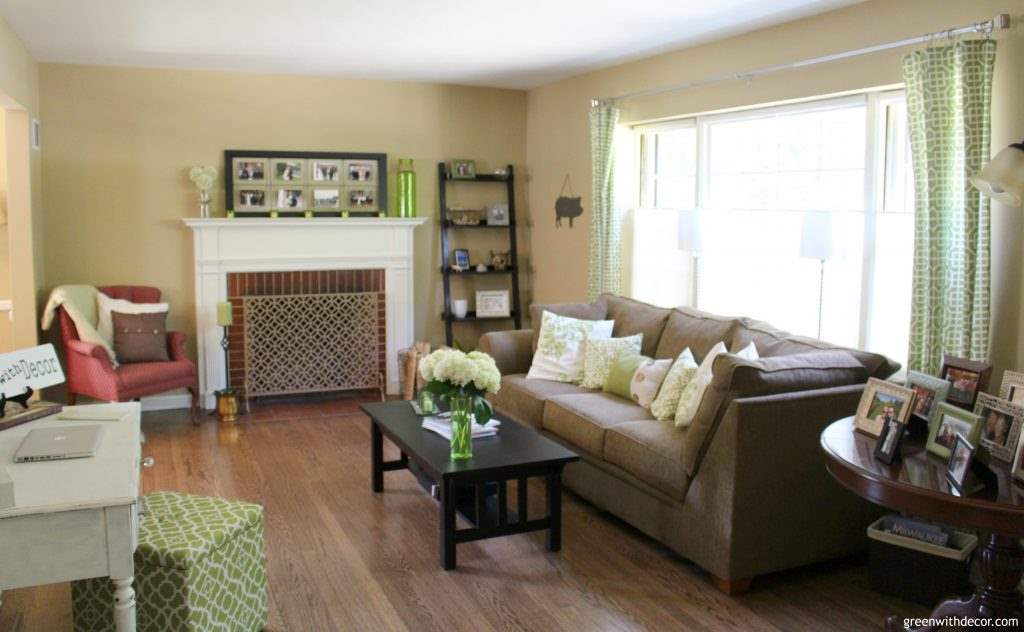 GET THE LOOK: Ottoman | Window turned picture frame (DIY) | Ladder shelf | Green pillow | Curtain rod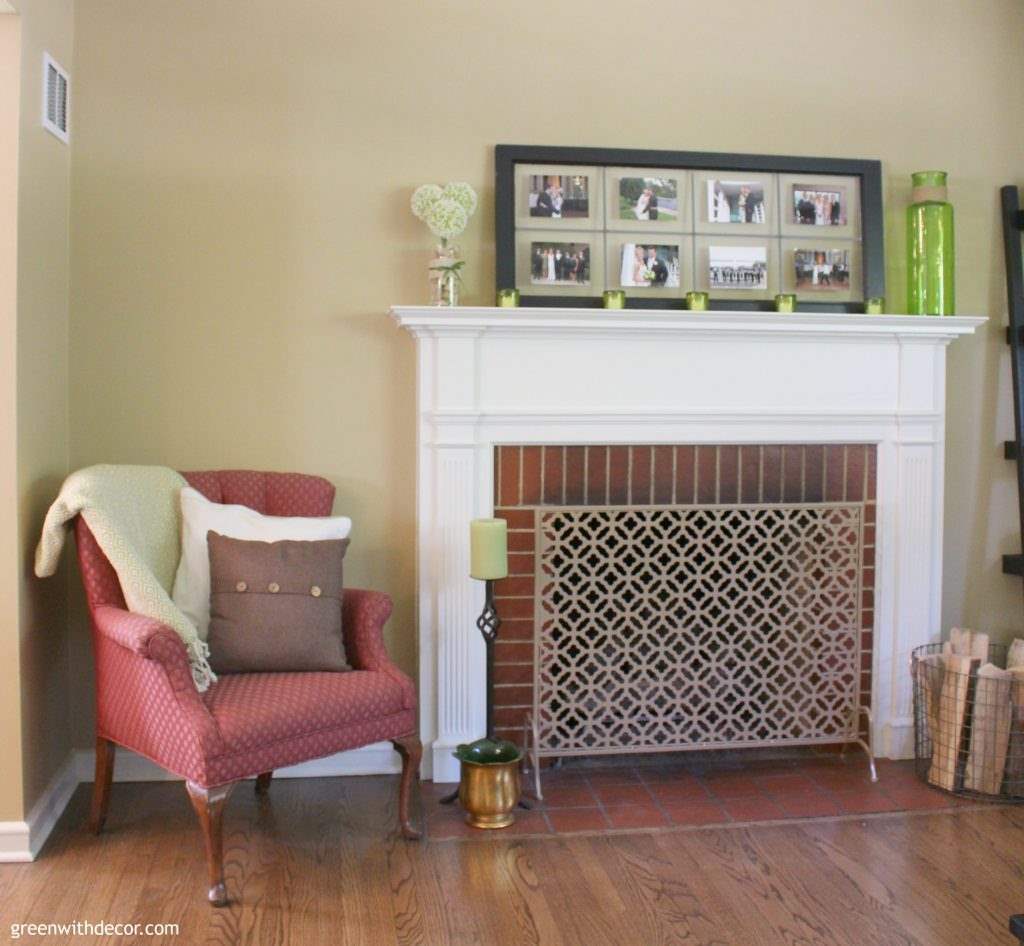 GET THE LOOK: Blanket | Brown pillow
I love the fireplace screen! It was such a great find at At Home.
I want to reupholster the chair (it was my parents for years), but I haven't even looked at fabric yet.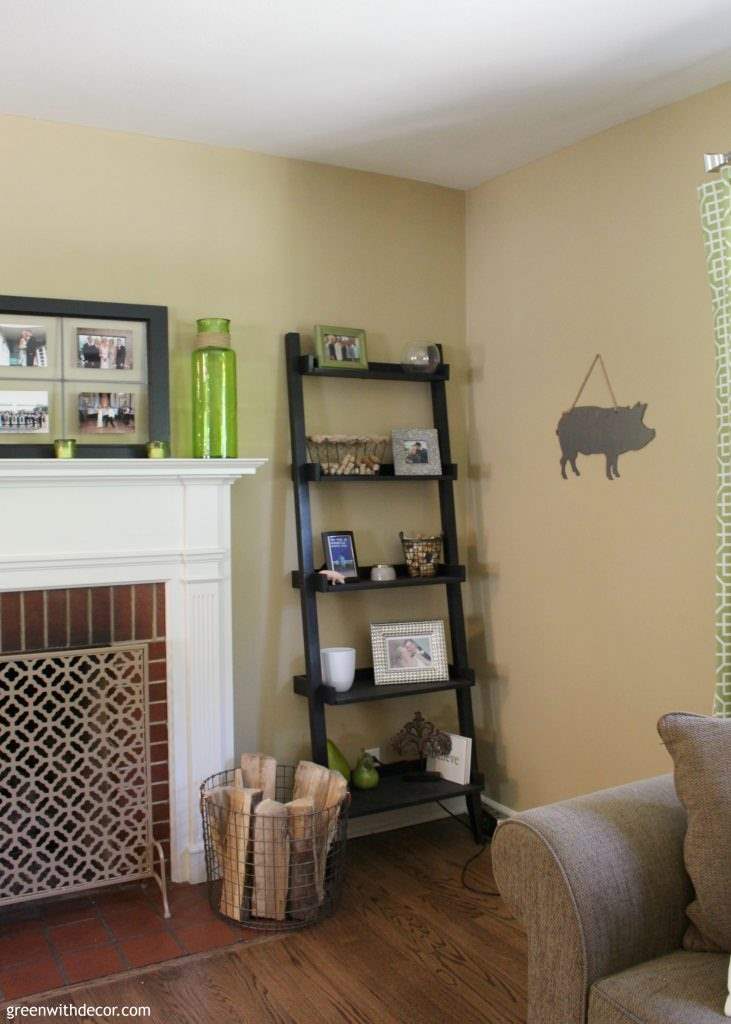 The metal pig is a new addition. Kalen and I met at a bar called the Pig & Whistle.
We don't use our fireplace, but I added the bucket of logs for decor. 🙂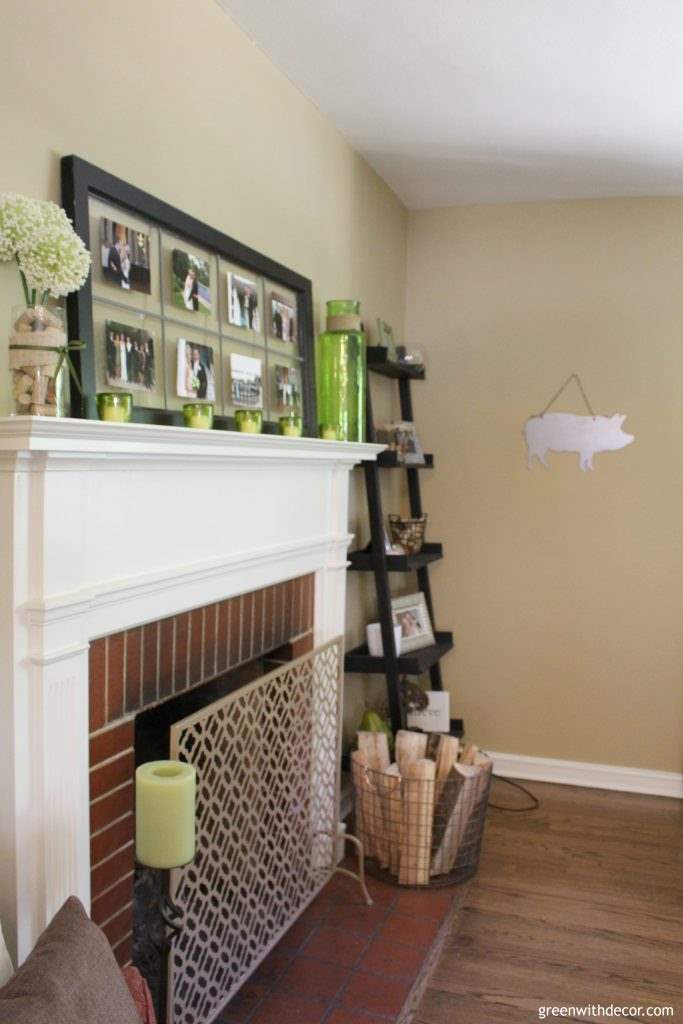 We also recently added my Grandpop's old desk (you can see the desk makeover here) to the living room.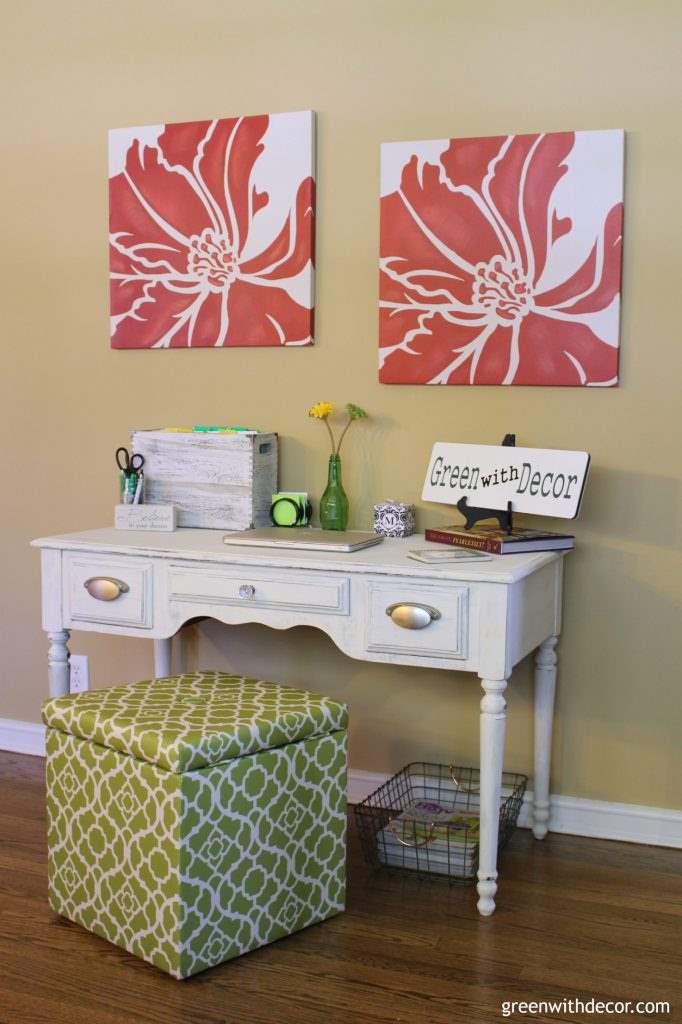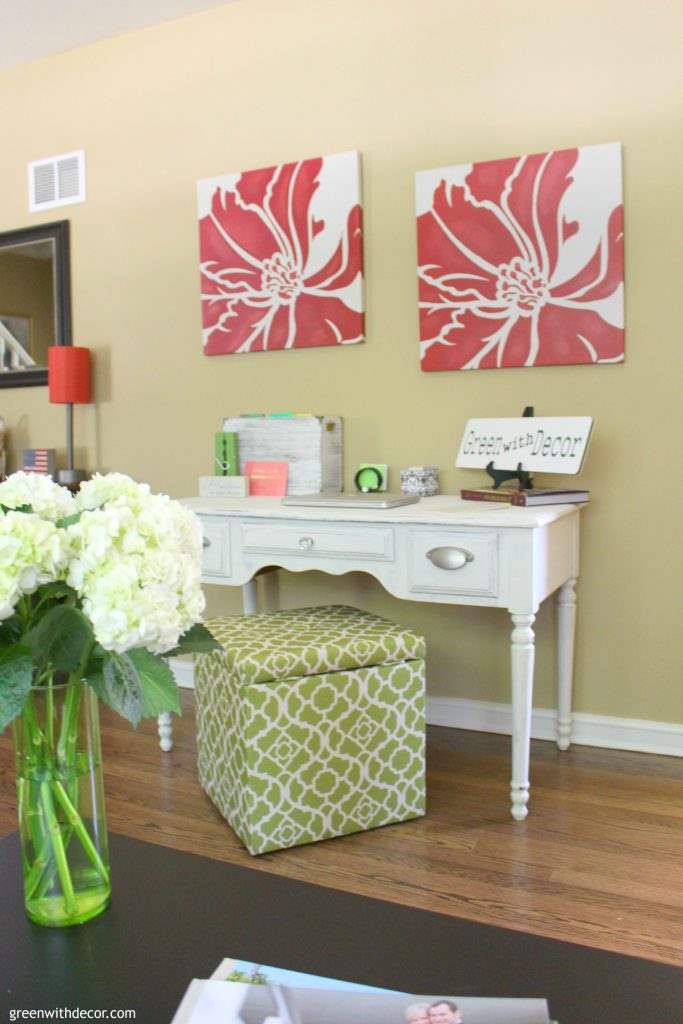 I started working at home a few months ago, and it's great to have a place dedicated to working.
I like being on the first floor, too, rather than hiding upstairs in the office (our third bedroom that we don't use for anything… even as an office even though it's kind of set up as one, ha!).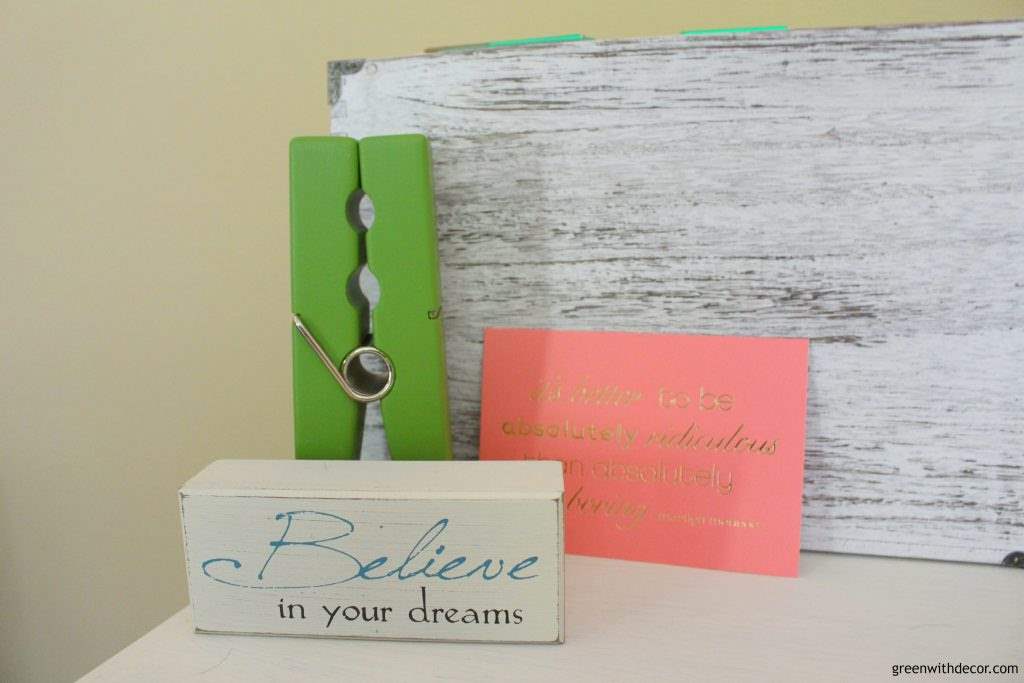 My mom and I found the big clothespin on a Goodwill run. It was pink, so we gave it a quick coat of paint. And I love the word "believe." The sign was another TJ Maxx find, and it's perfect for my desk!
The kitchen renovation is my favorite room renovation we've done. I really love the white cabinets.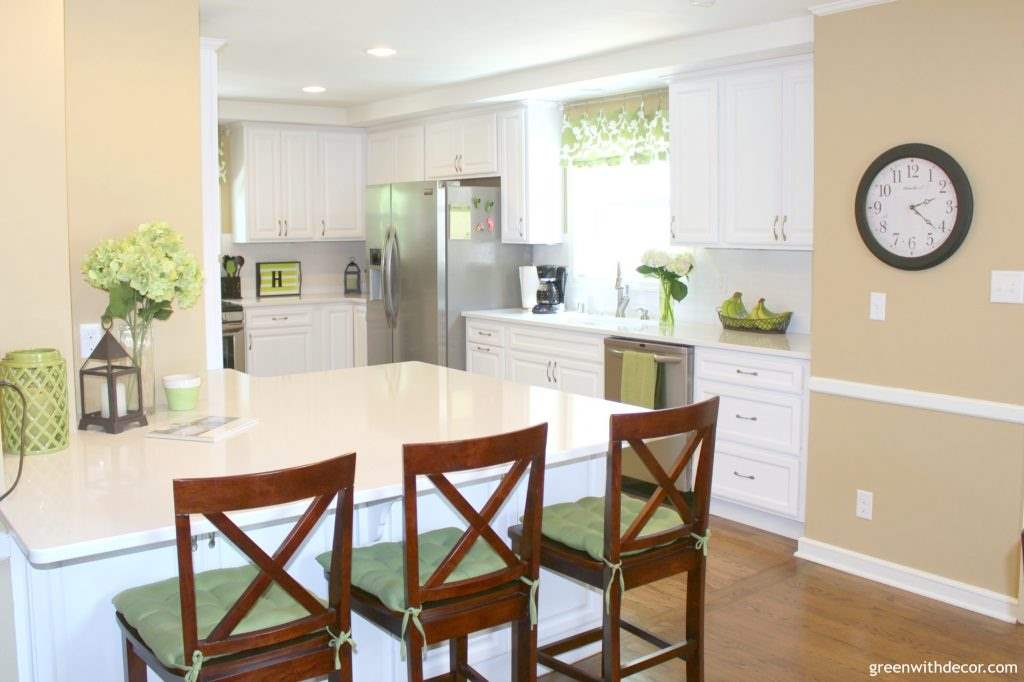 GET THE LOOK: Green hydrangeas | Curtain rod | Window valance (DIY) | Faucet | Cabinet hardware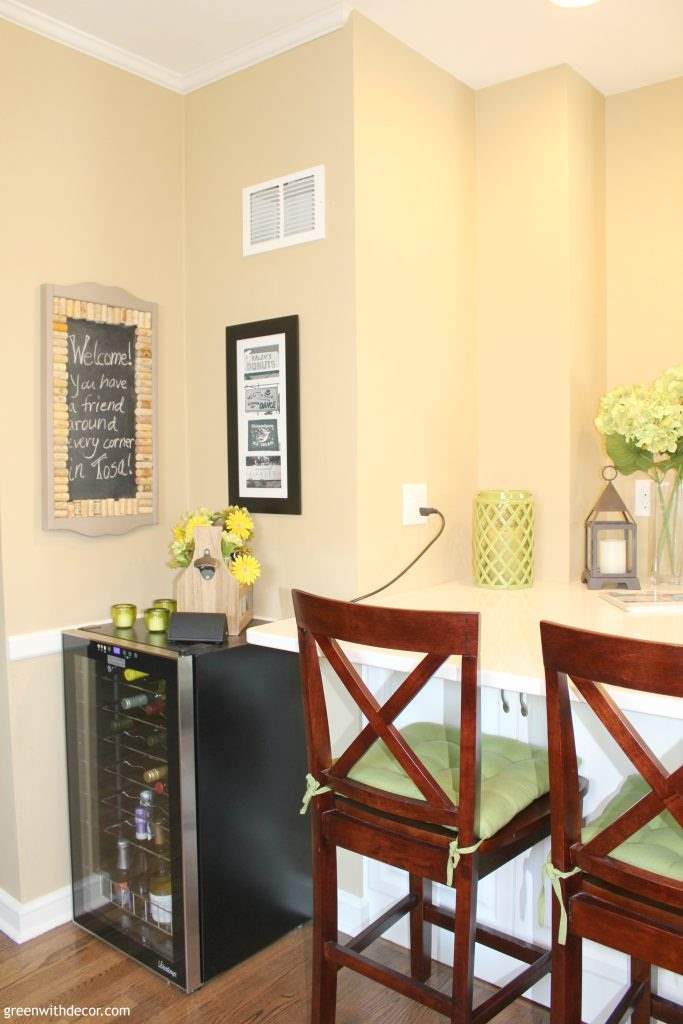 GET THE LOOK: Cork chalkboard (DIY) | Wooden drink caddy | Cushions
I'm thinking of painting the bar stools a lighter color to fit in with the color scheme in here a bit more. What do you think? (Update: See them now: How to paint barstools)
This apple shade of green is my favorite (if you couldn't tell), and I love how it pops against the white and silver in here.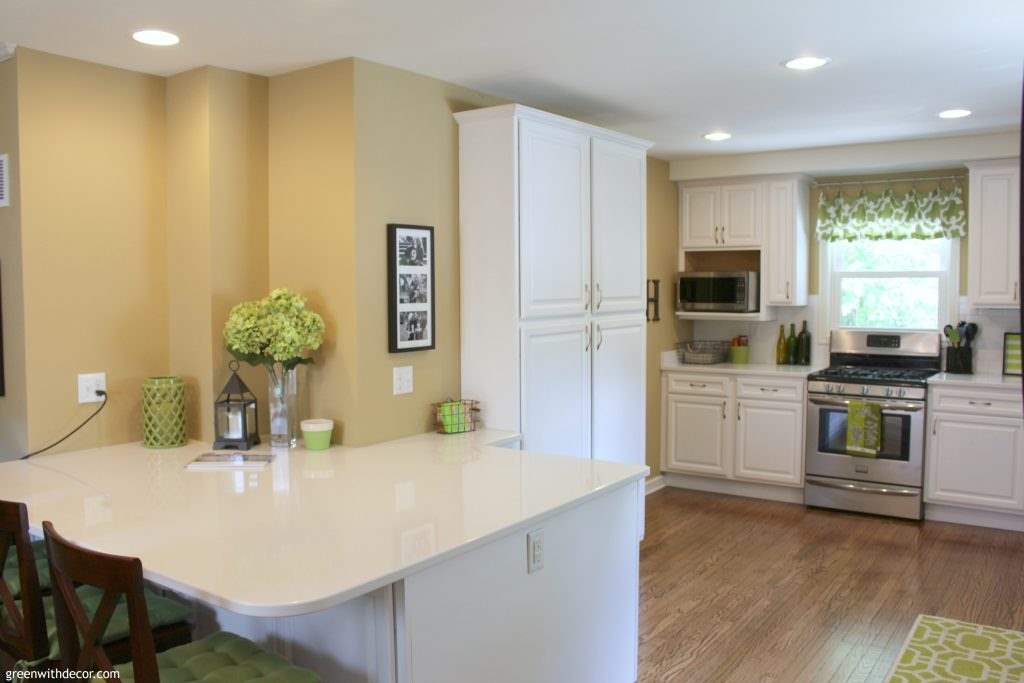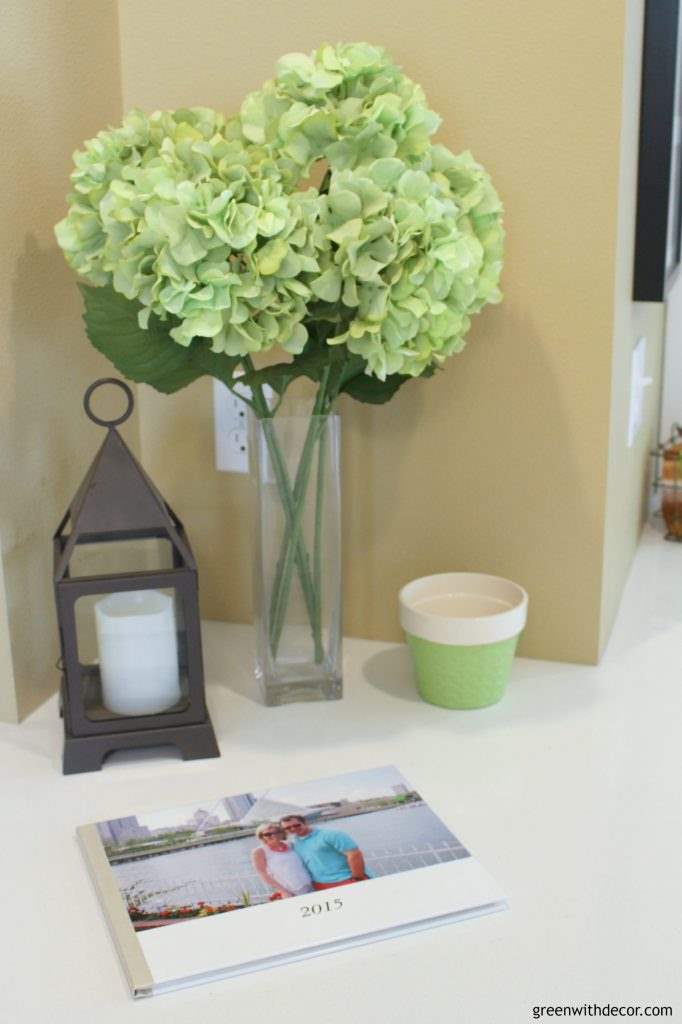 I put a photo book together every year with all the pictures from the year. It's so fun to flip through.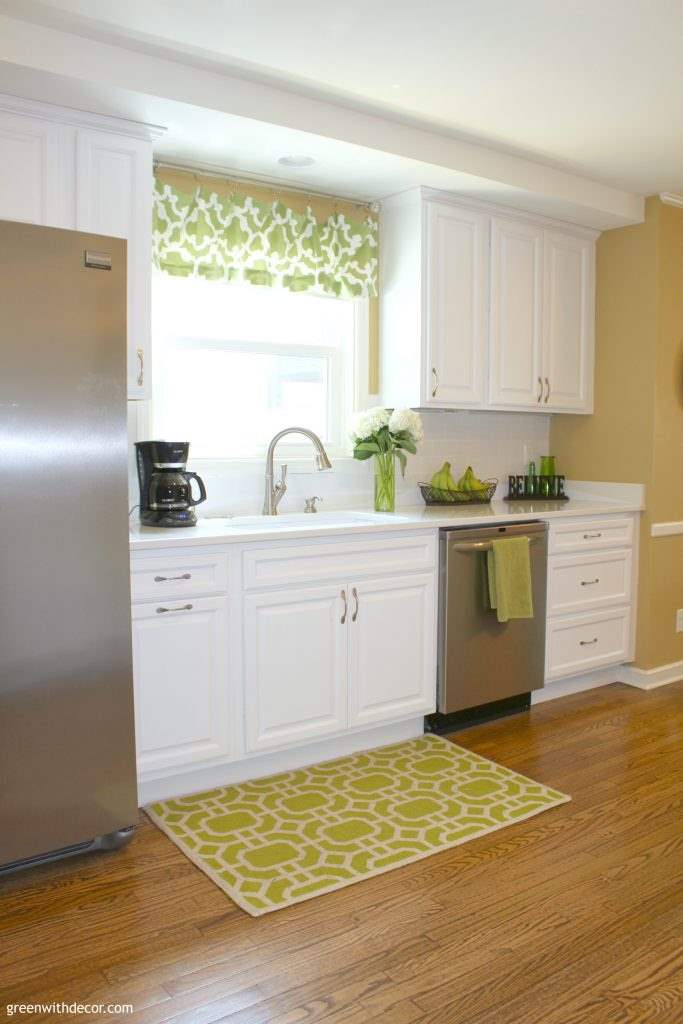 Hydrangeas are my favorite flower!
Kalen came home with these the other day.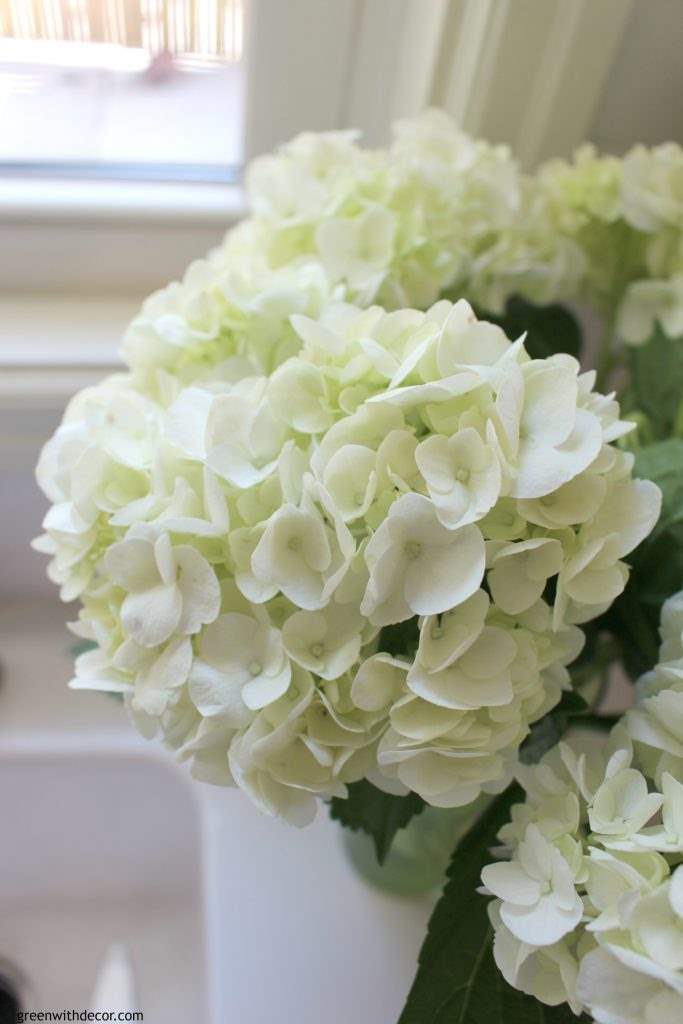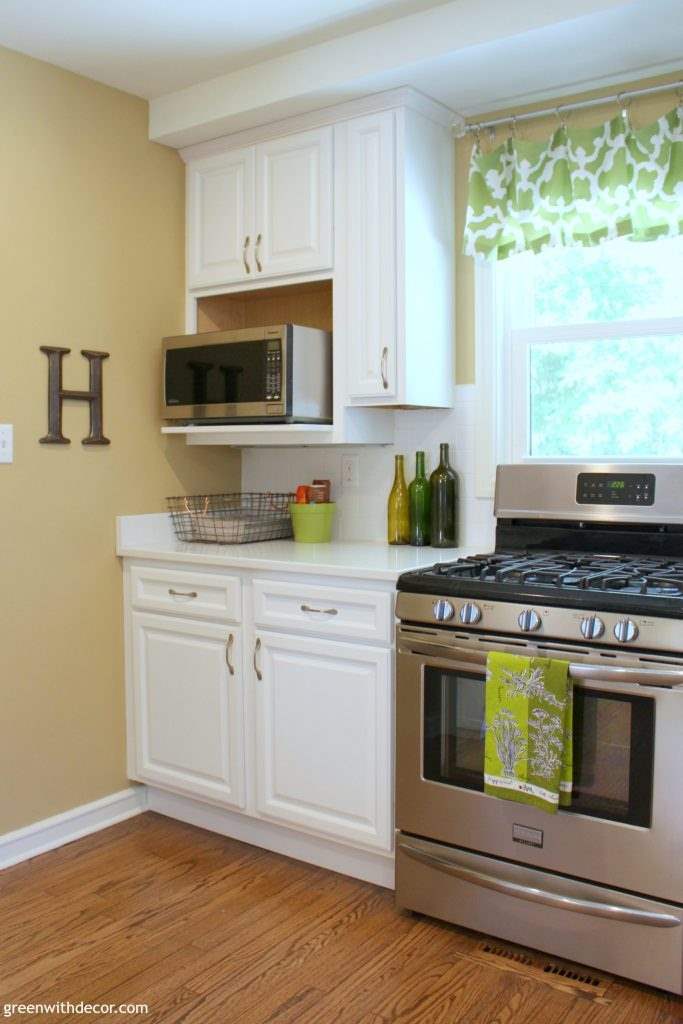 My HGTV magazine collection continues, of course. This flower pot is perfect for holding sunscreen and bug spray.
My mom used to use it to hold pens. I love finding different uses for pieces!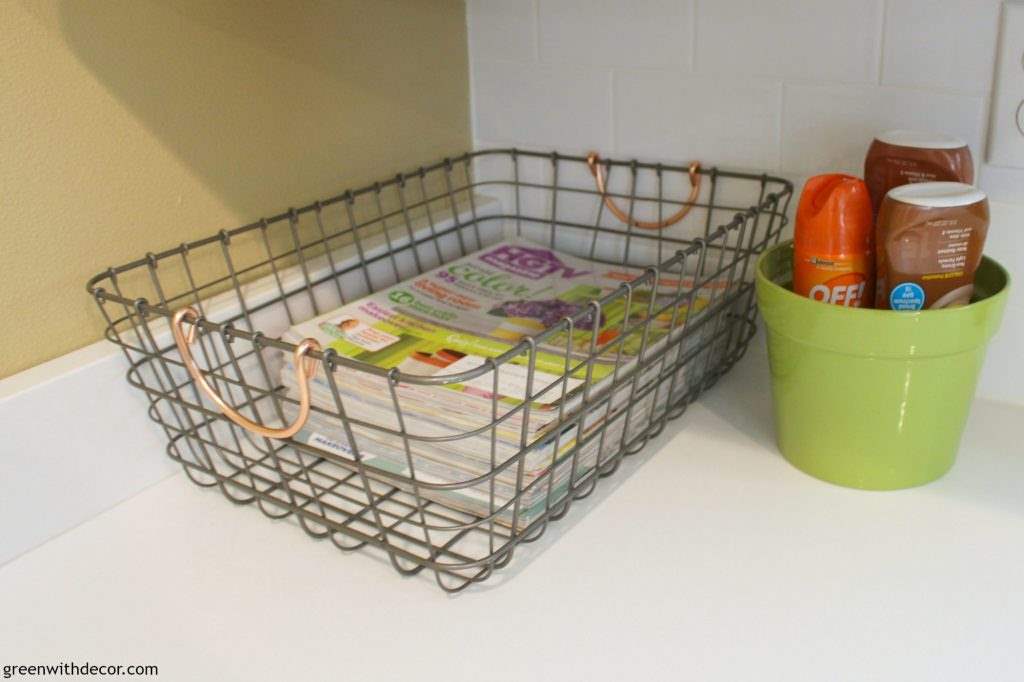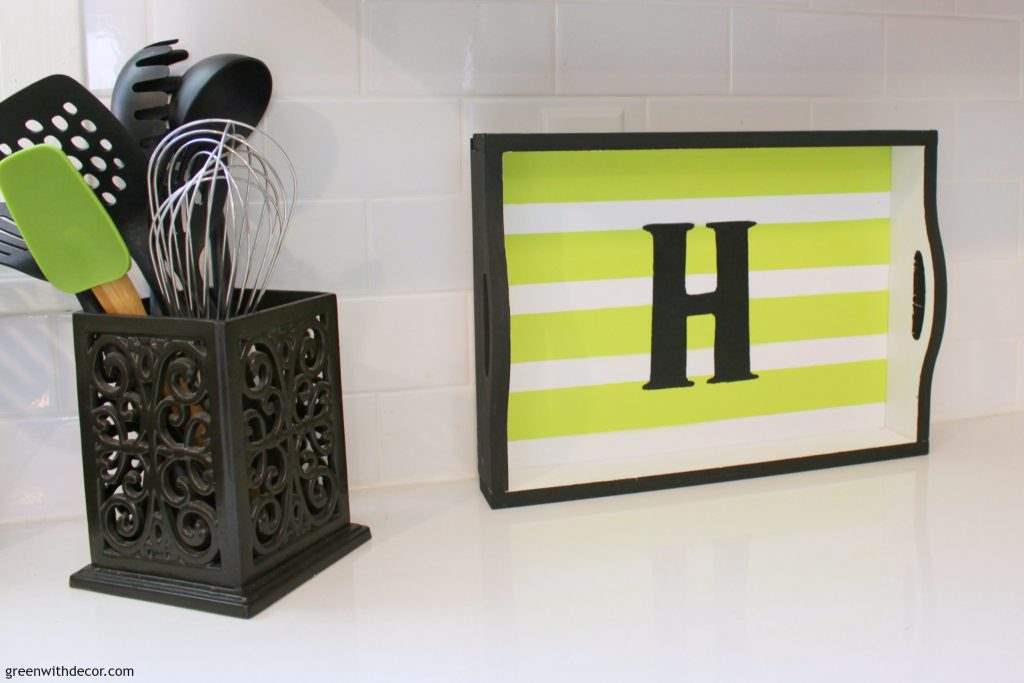 GET THE LOOK: Green spatula | Tray (DIY)
Here's a quick peek at our bathroom. You can read more about the bathroom here.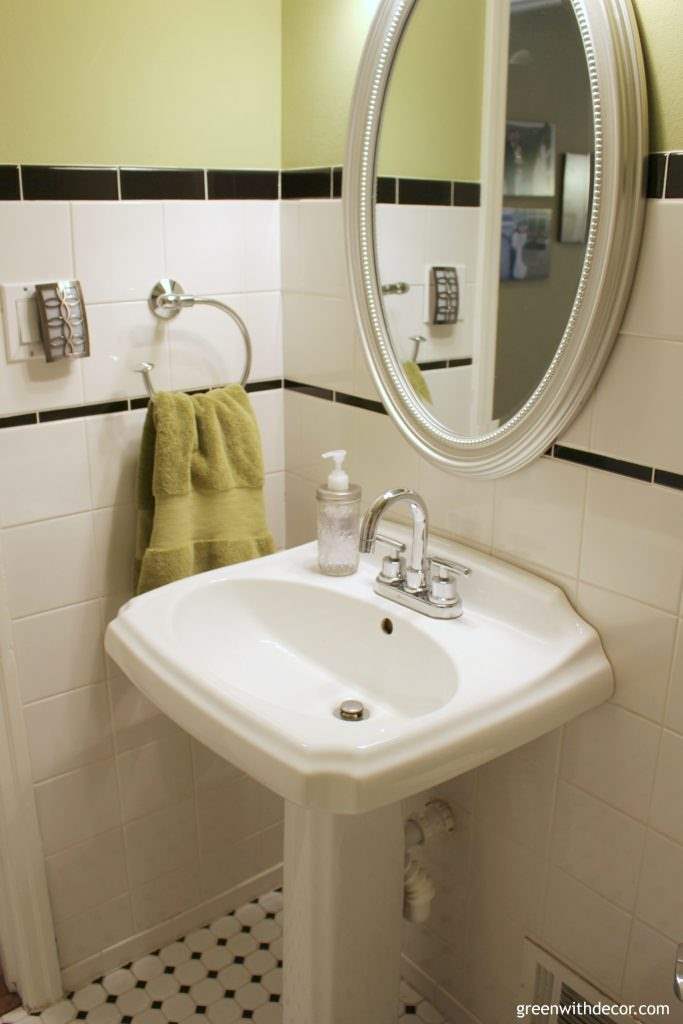 We spend a lot of time in our cozy family room.
Although truthfully during the summer, it sometimes seems like we're just passing through between the kitchen and the patio to enjoy the summer weather!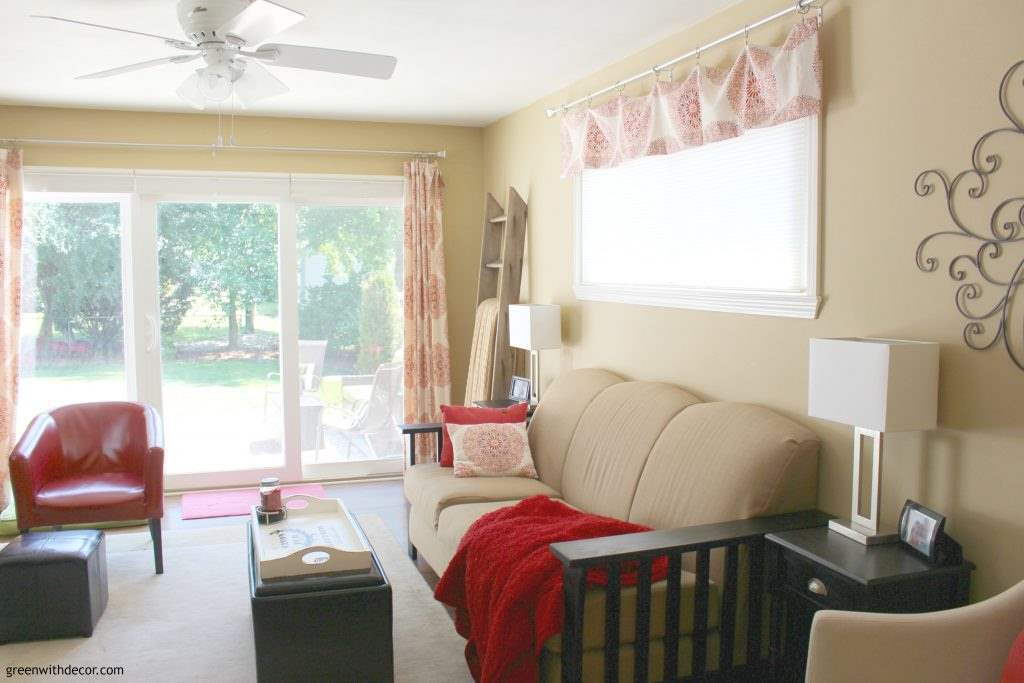 GET THE LOOK: Curtains | Red chairs | Rug | Table lamp | End tables | Red pillow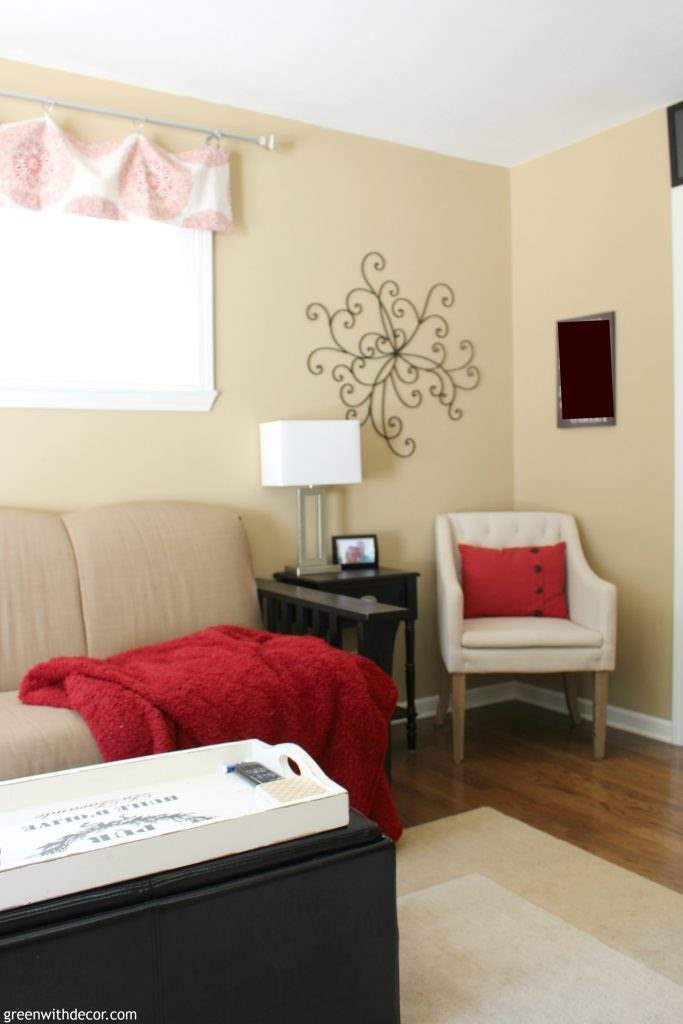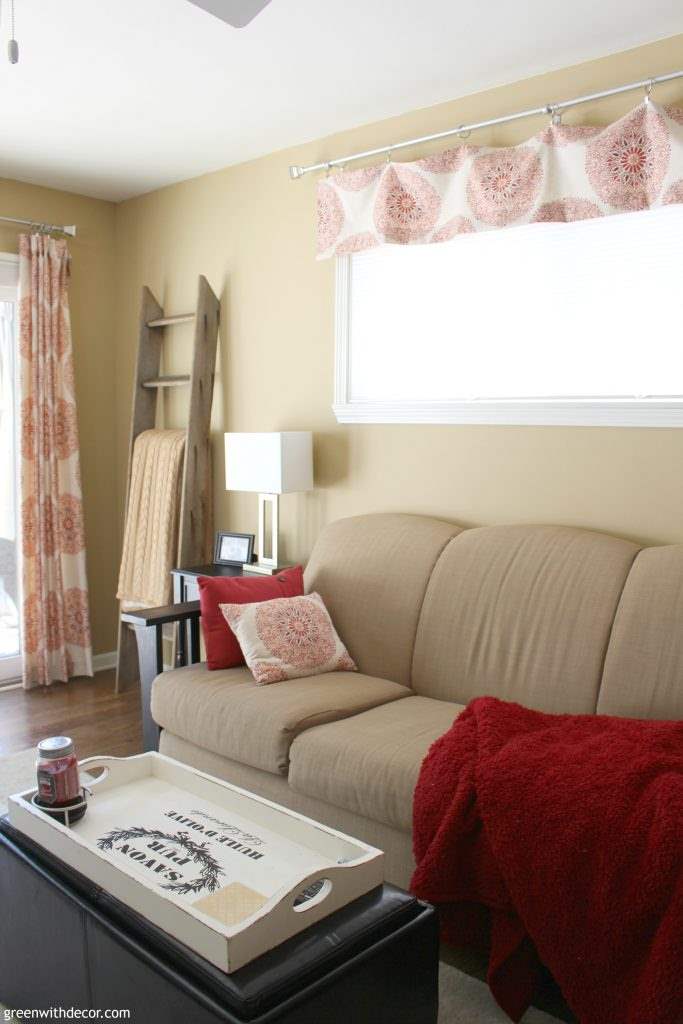 Do you like the new ladder blanket shelf? I LOVE it!
The ladder was in our garage when we bought the house, and I finally got around to sanding and sealing it.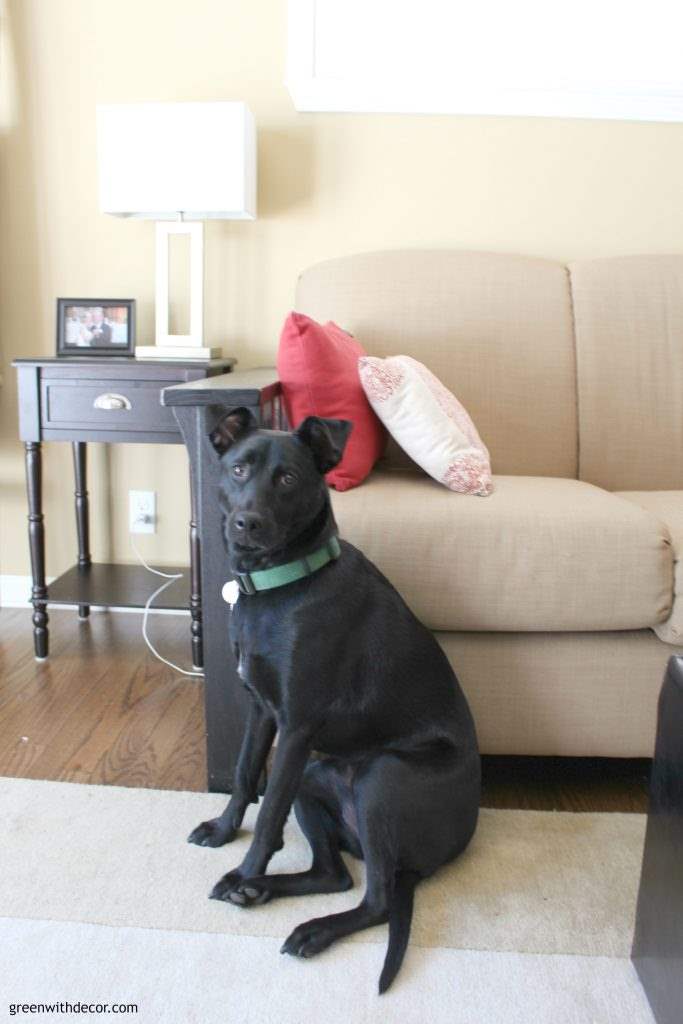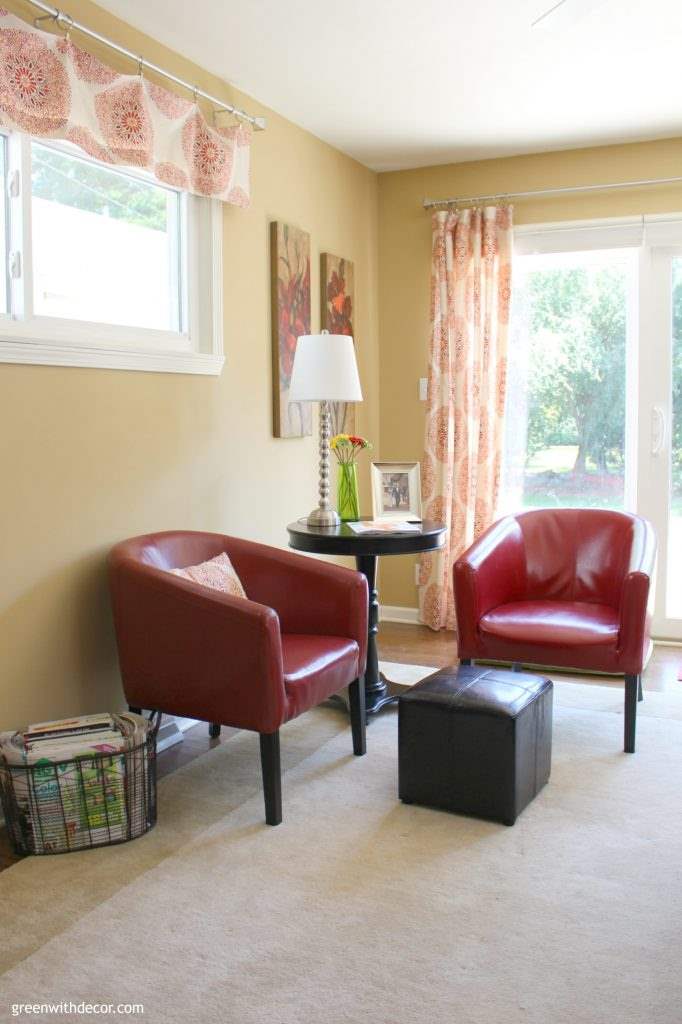 After debating forever, we finally recently cancelled cable. A totally unexpected benefit was getting rid of all the cords/boxes/all that stuff from our TV stand.
The organizer in me is so happy to be rid of it all. Even though I have to watch the Bachelorette on Hulu now instead of DVR… 🙂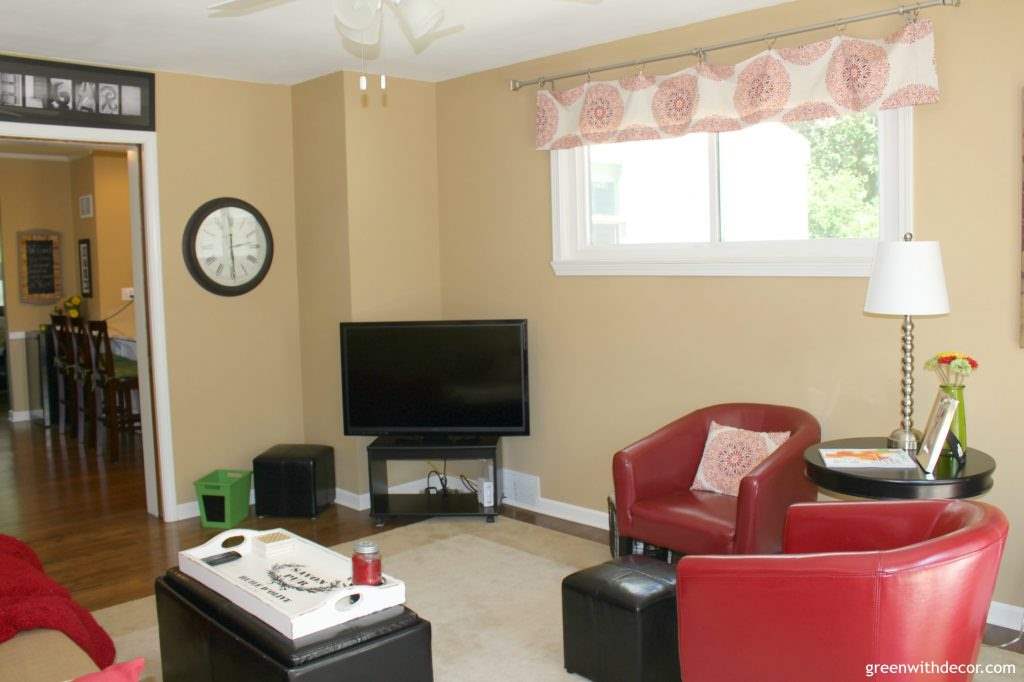 Doesn't it look so nice and clean now with just ONE box instead of 27 of them? Except for the dust that constantly collects on black furniture. Okay so I lied earlier, dusting is a cleaning activity I actually do regularly, because seeing dust and dog hair all over the floor annoys me enough that I'll sweep it up every day or two.
I still don't like our TV stand. It's mine from college, but we haven't decided if we're going to mount the TV or buy a new stand, so it works for now. There's always a list of projects, right?!
We put the patio doors in when we renovated this awful room (it was full of wood paneling), and they are awesome! We get a lot of natural light during the day in here, and Oakley loves laying on her bed staring out the window.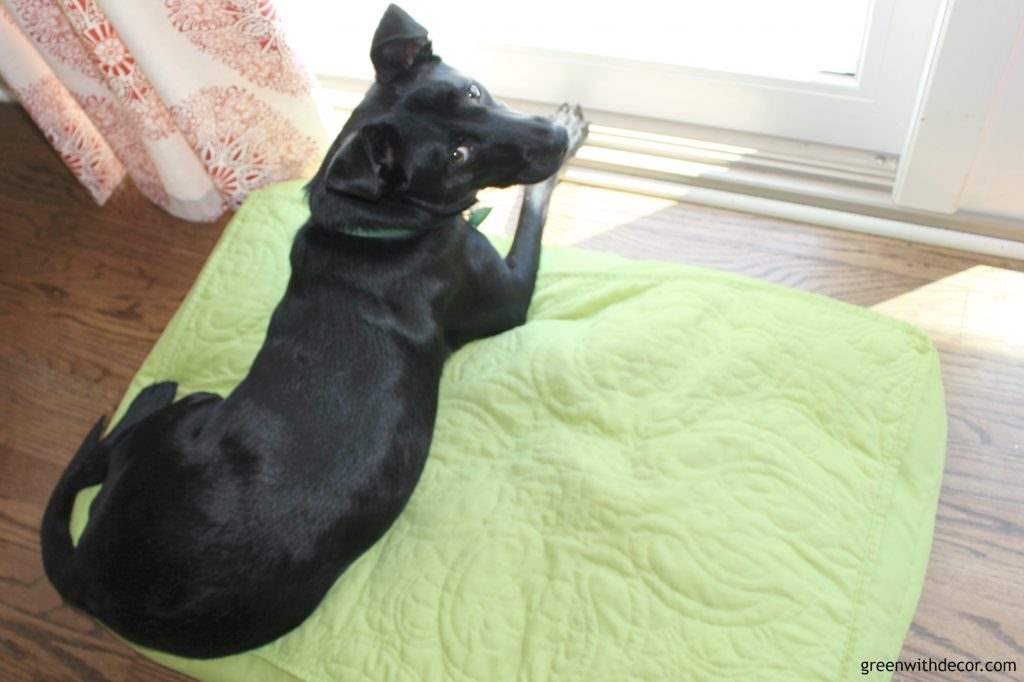 I did a full outdoor and patio tour last week, but I love our yard so much, I'm going to share a few pictures today, too.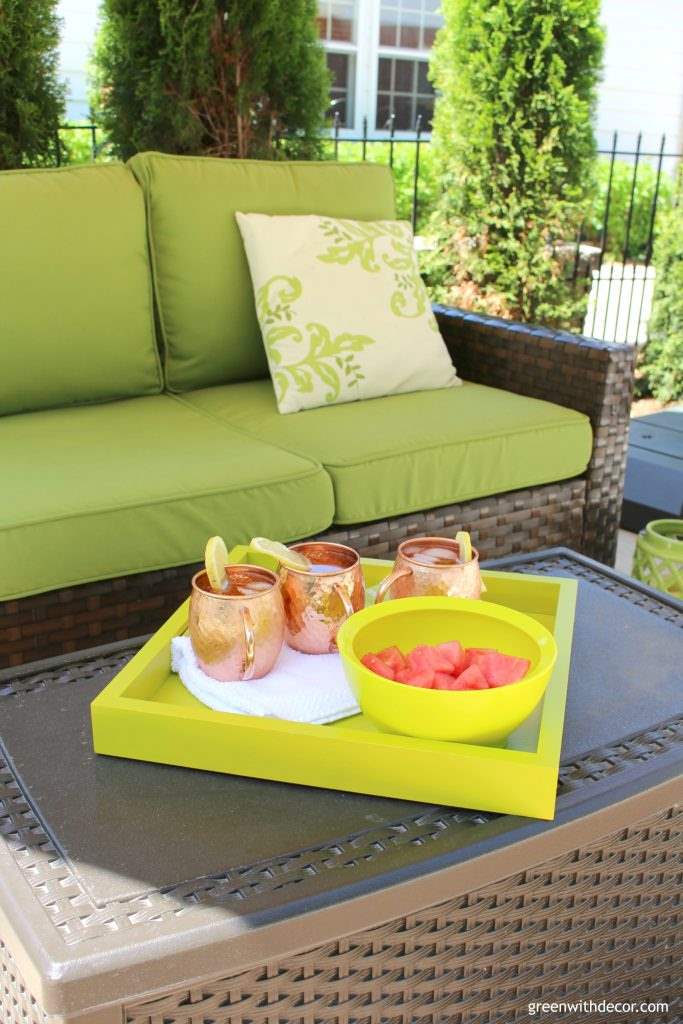 The tray and bowl are from Crate & Barrel. So are the cushions on the chairs by the table. I love the bright shade of summery green!
And the copper mugs are so perfect for keeping drinks cold outside!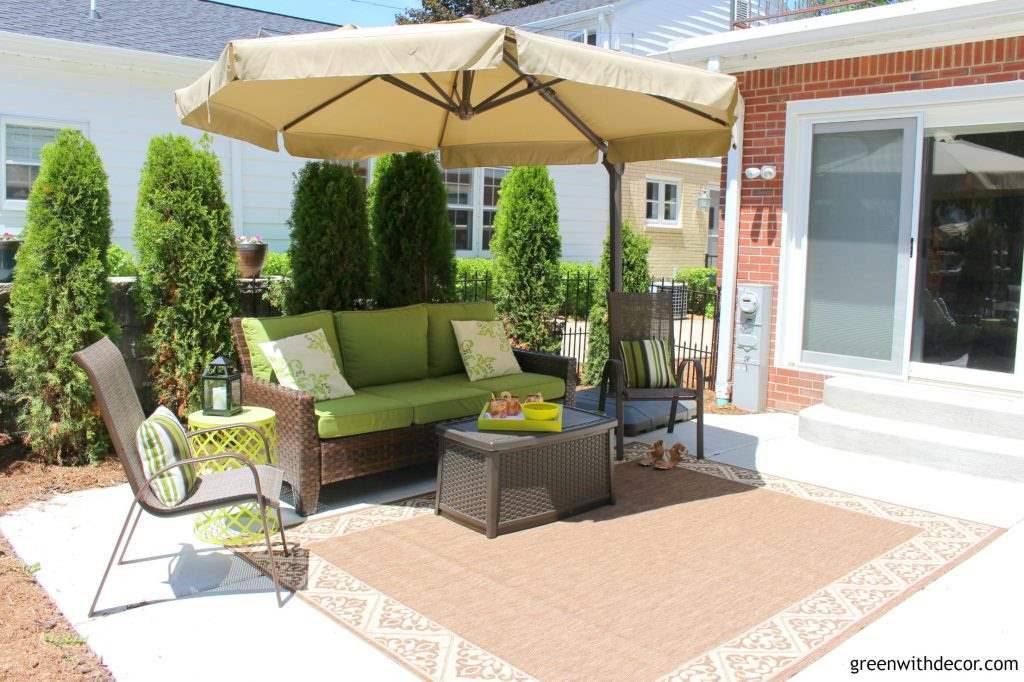 GET THE LOOK: Outdoor couch | Outdoor rug | Green + white pillows | Tray | Moscow Mule mugs | Sandals
We have so much we want to do back here, and I feel like the list just keeps growing, but I'm really happy with the progress we've made so far.
If you're a regular reader, you know I talk about the couch and umbrella a lot, but seriously, they've made hanging on the patio in the bright sunlight sooo relaxing!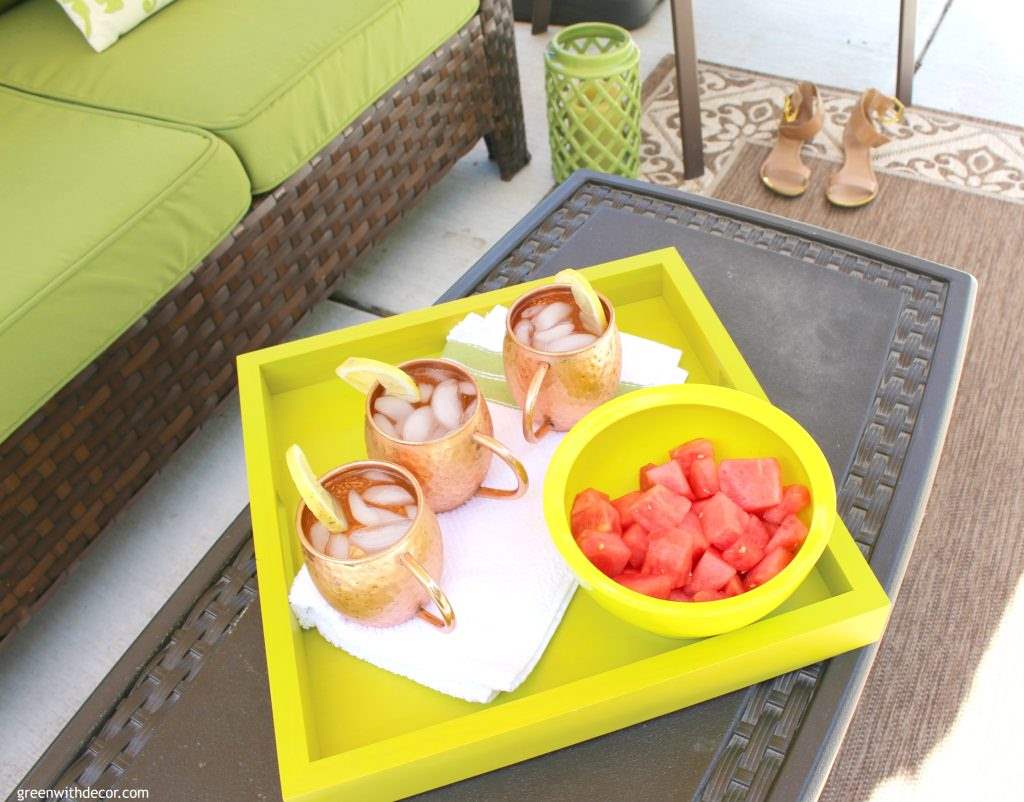 The rug and fire pit are new this year. I was looking through pictures of our patio from last year, and it looks so plain now knowing there's a rug there now.
Funny how that happens.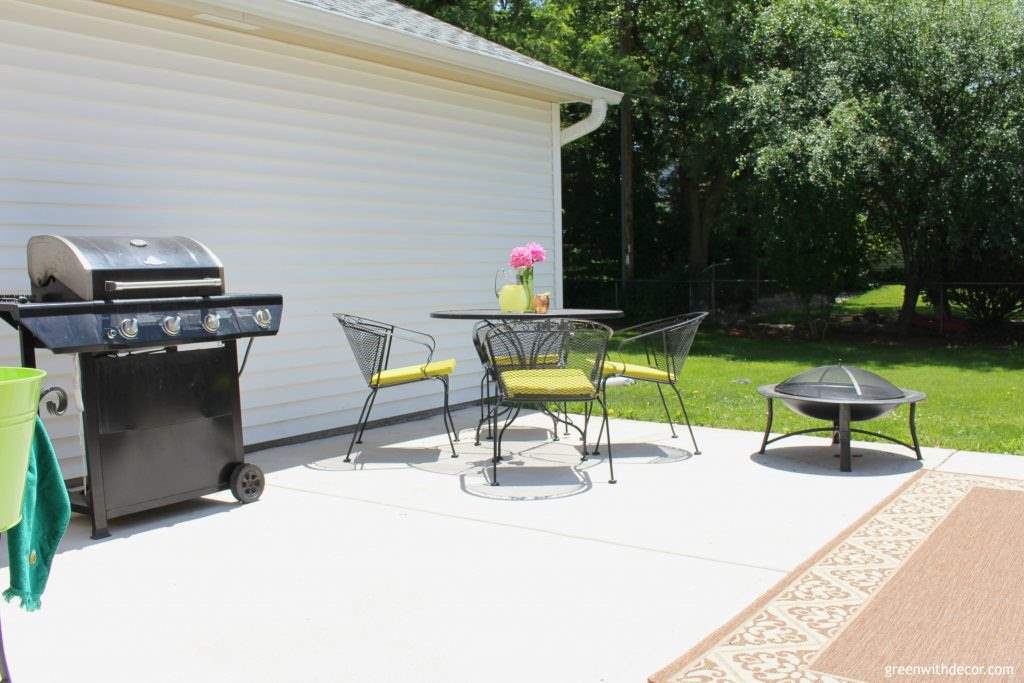 I thought the fire pit would be fun just for something to do on summer nights, but the fact that it keeps the bugs away is so fabulous.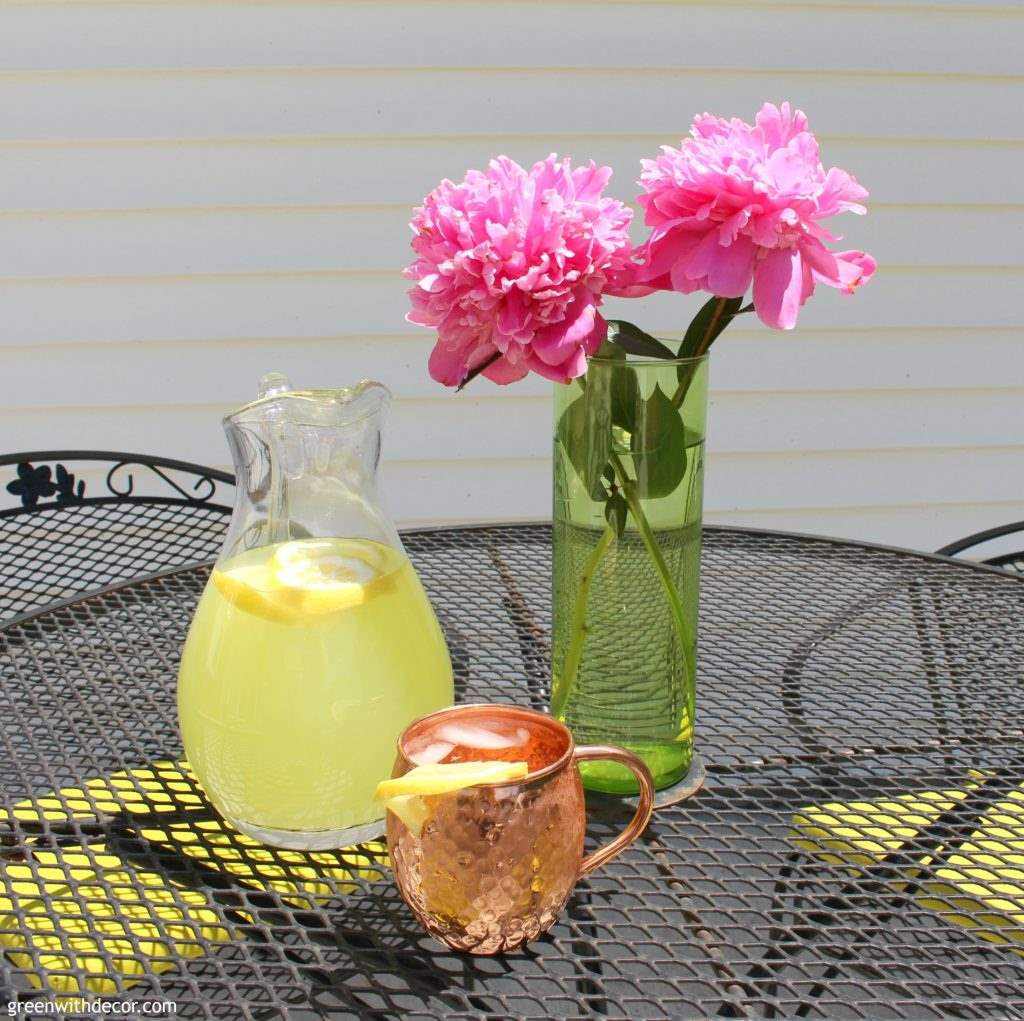 The vegetable garden is new this year, too, thanks to Kalen. We eat a lot of salads, so we're excited. I'm one of those weird people that honestly really likes salads and has one almost every day… I know.
But then I can justify my beer drinking, which is happening more and more on these warm summer days! 🙂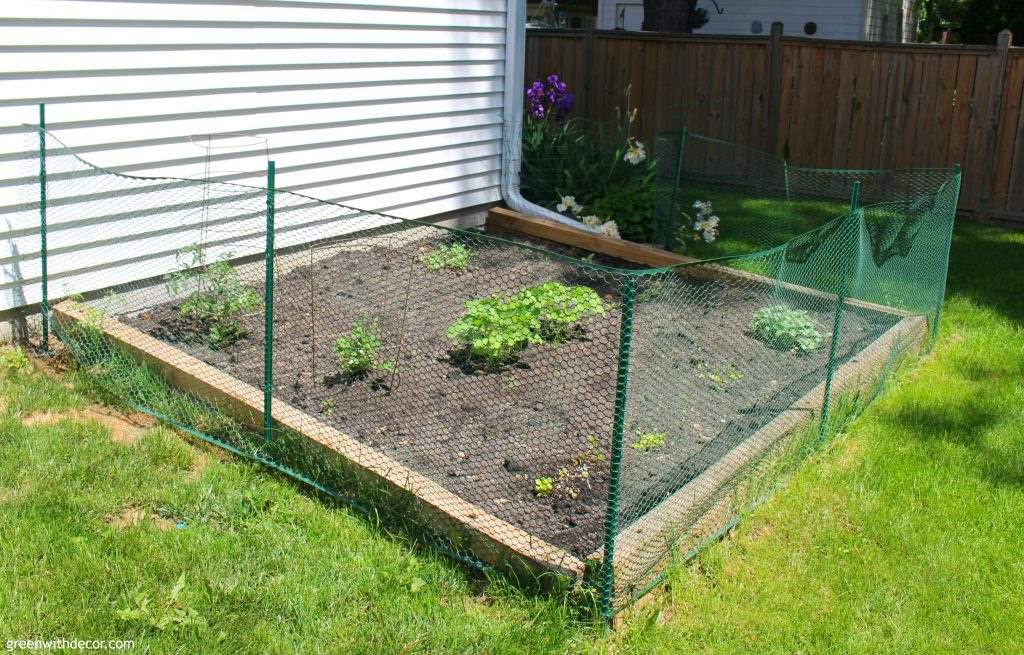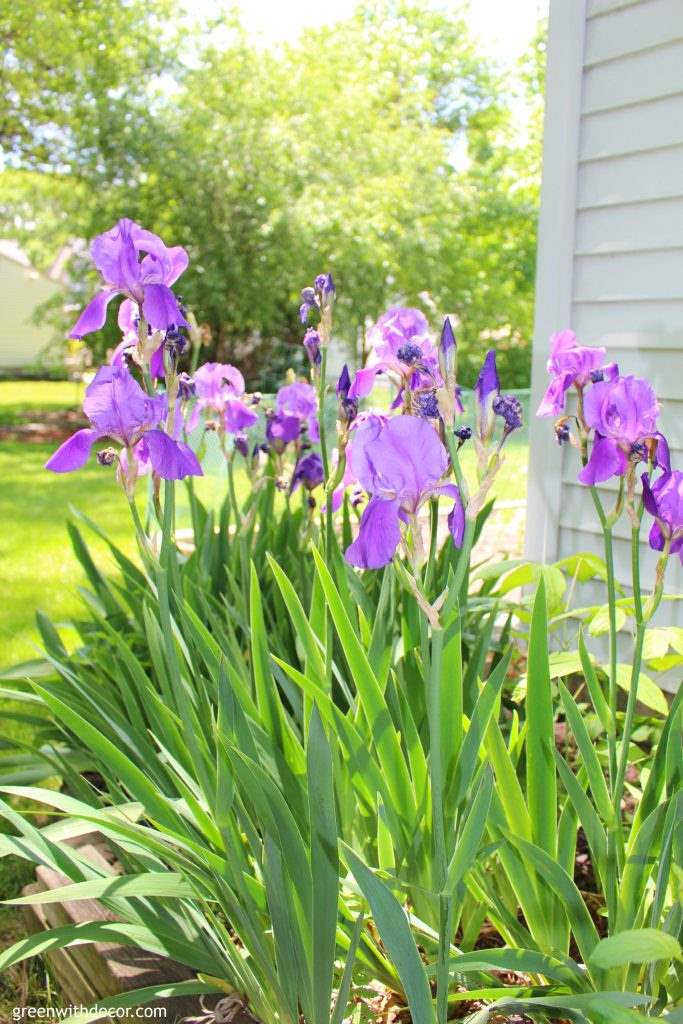 Heading upstairs, here is our master bedroom. We just got new pillows, which I'm really excited about. I'm definitely one of those people that needs my sleep!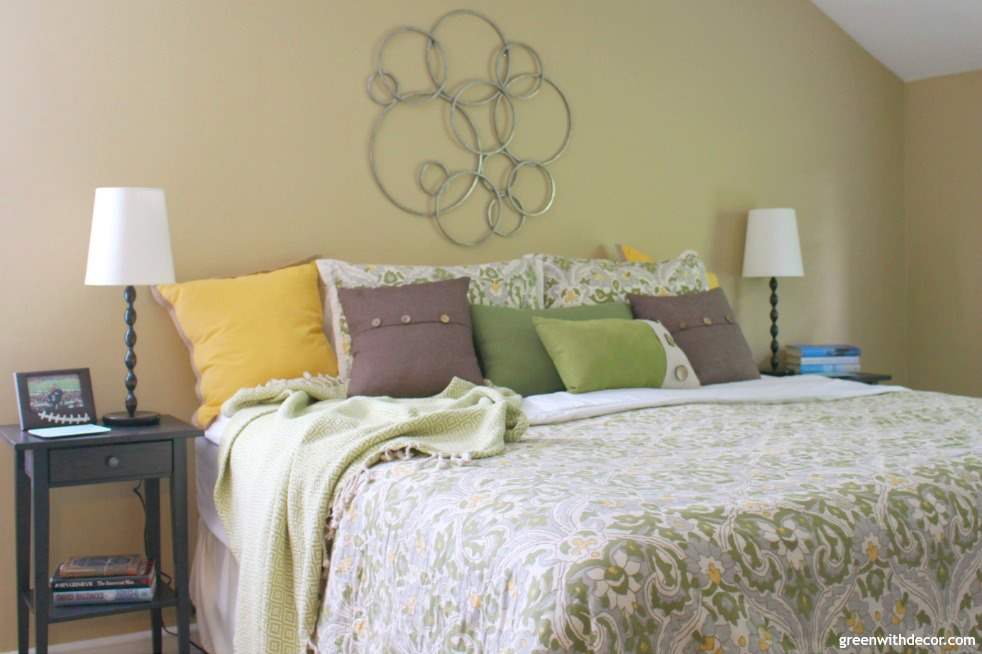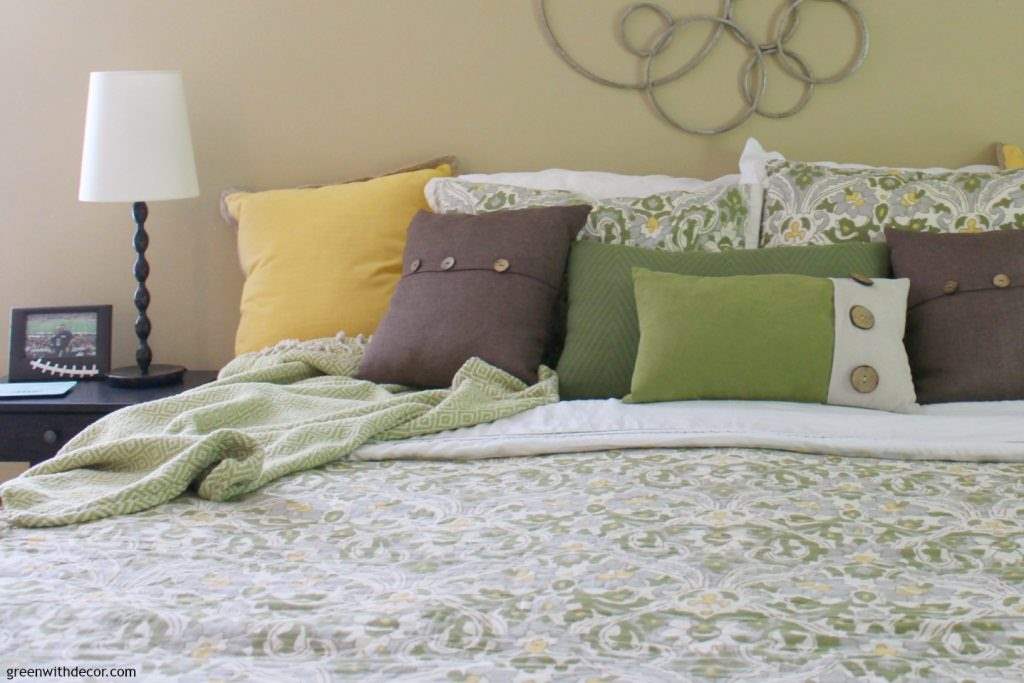 GET THE LOOK: Sheets | Blanket | Green pillow | Brown pillows | Yellow pillows | Wall decor

I love our bathroom renovation upstairs, too. It's my perfect combination of green and white in a room!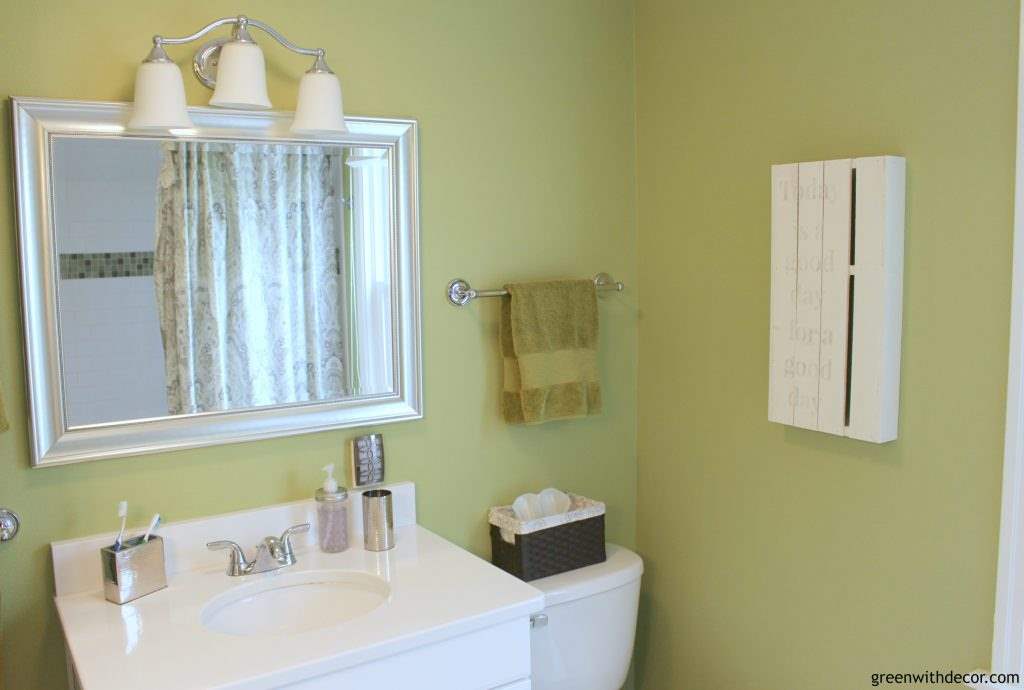 GET THE LOOK: Vanity | Mirror | Faucet | Toothbrush holder | Nightlight | Basket | Wall decor (DIY) or similar here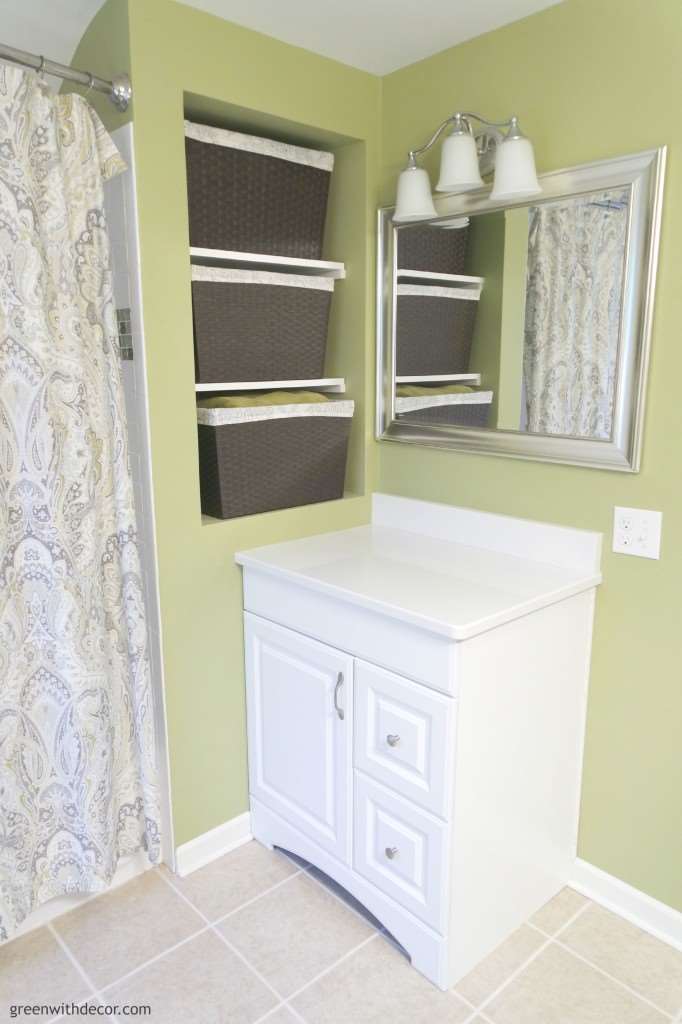 Here's a quick look at our guest room. You can see more here.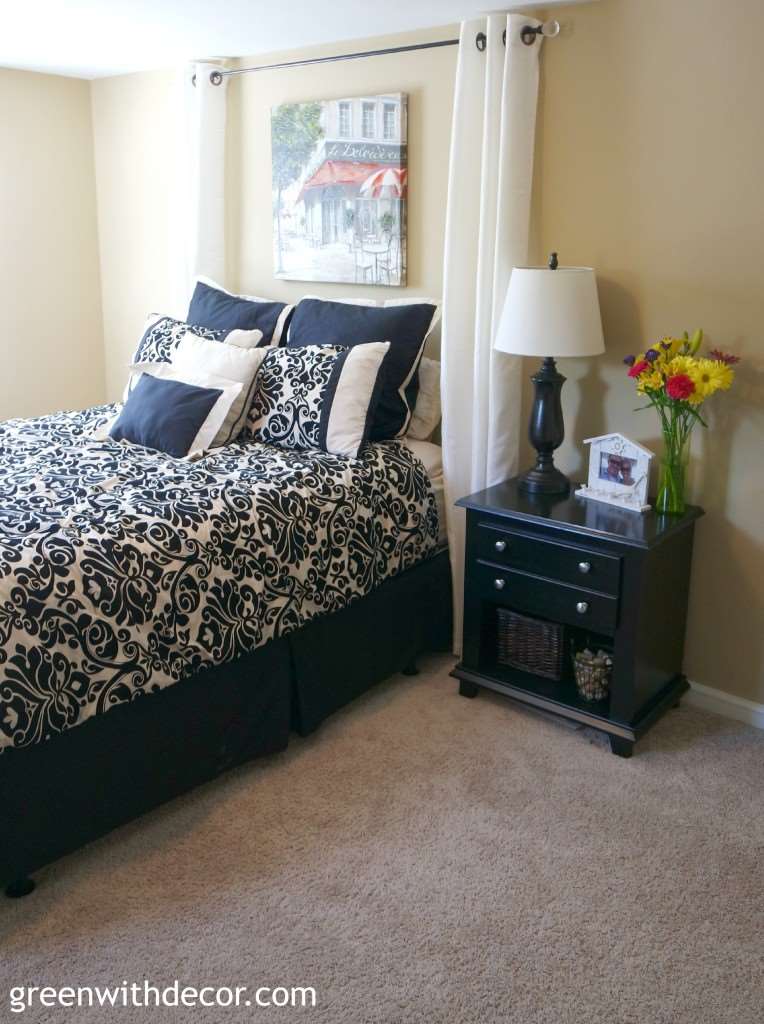 GET THE LOOK: Curtain rod | Comforter set (similar)
Our office/third bedroom is up here, too. I've been on a massive cleaning out spree going through literally EVERYTHING in our house, and the office is the dumping/sorting ground for now.
I'm thinking I'm going to paint the bookshelf in there because it's too dark. I promise I'll share the office some day!
Head on over to the other bloggers' posts to see more summer decorating ideas!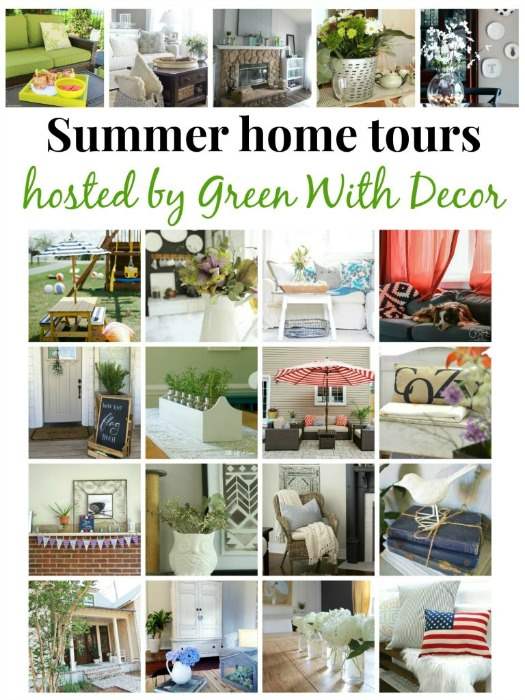 Green With Decor (you're here!) | Iris Nacole | My Life From Home | Refashionably Late
Seeking Lavender Lane | The Weathered Fox | Our House Now a Home
Twelve on Main | Little Bits of Home | Beauteeful Living | My Creative Days | Live the Fancy Life
Architecture of a Mom | Two Purple Couches | The Tale of an Ugly House | 2 Bees in a Pod #1
Simple Nature Decor | 2 Bees in a Pod #2 | Lehman Lane | Farmhouse 40
Remember to bookmark or pin this post if you want to save it for later!


Pin it!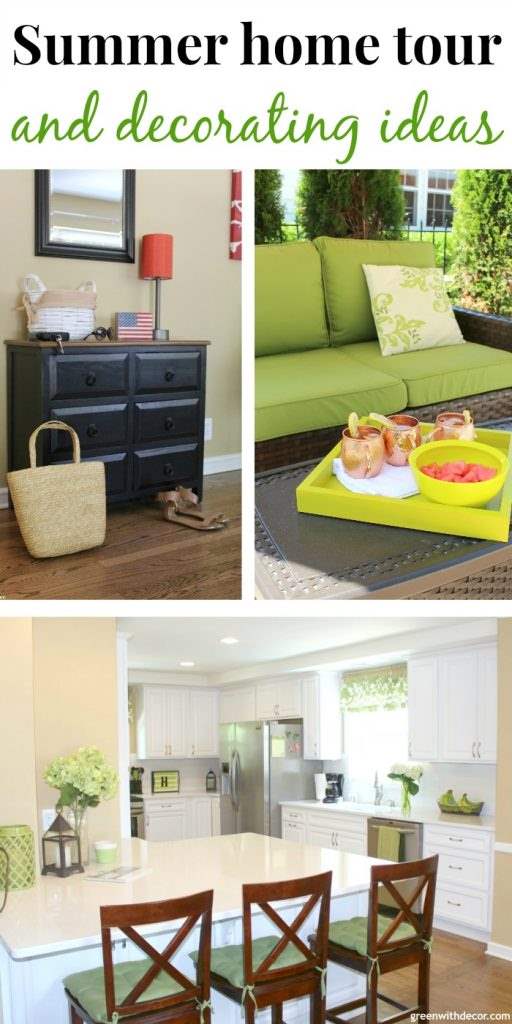 Want to read more posts like this?
Follow along: Get my emails | Facebook | Pinterest | Twitter | Instagram